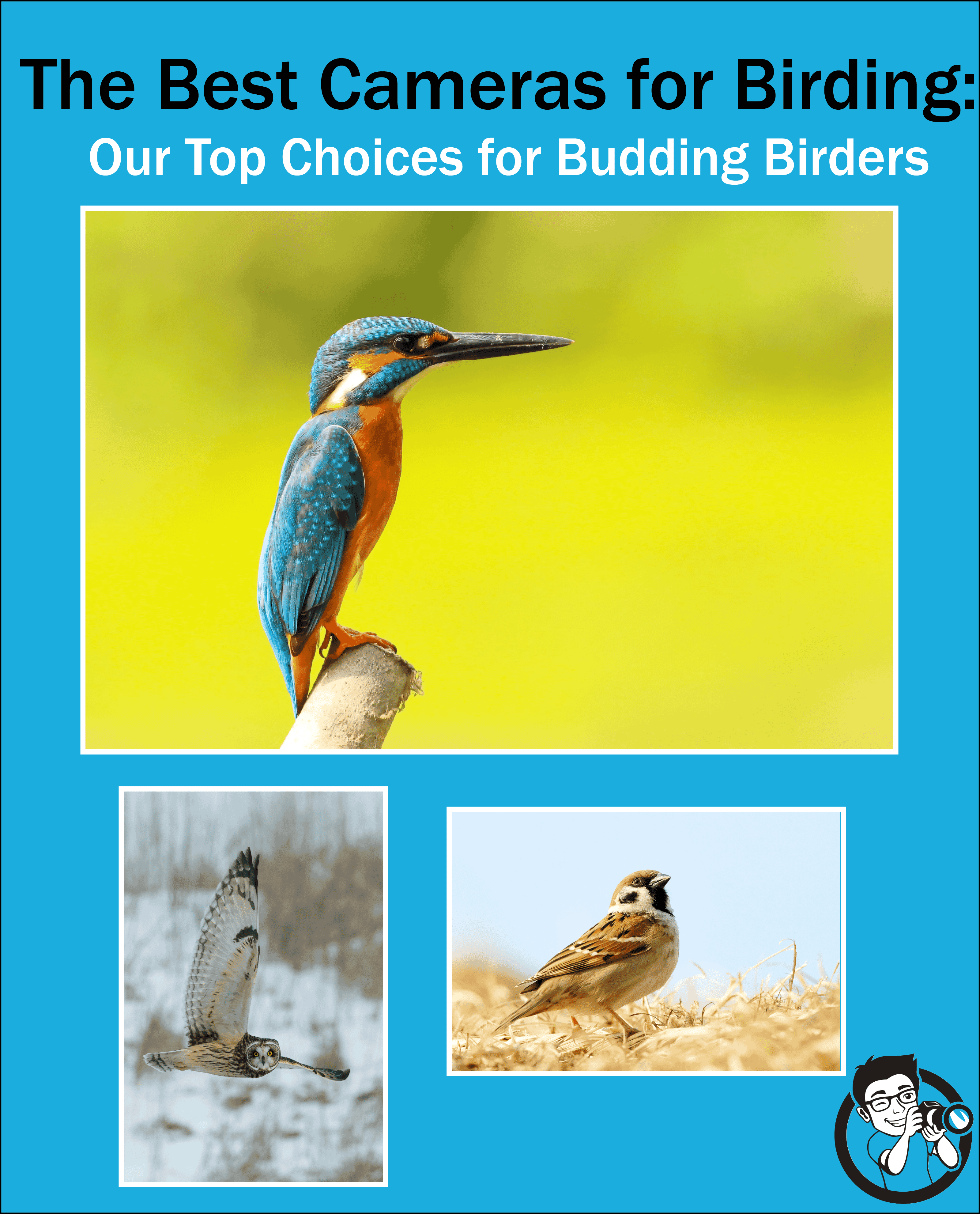 Bird photography can be a challenging pursuit. But with some simple techniques and the right gear, you'll get stunning shots in no time. In this article, we're going to give you a rundown of the best cameras for birding so that you can get started in an exciting pursuit.
When it comes to the best cameras for birding, there are certain factors to consider:
Continuous shooting speed
Build quality
Weather sealing
Autofocusing speed
Quietness
With these factors in mind, we selected the following cameras for birding pursuits:
Sony Alpha a9: Our Pick as the Best Camera for Birding
If you're looking for a flagship camera that boasts high-end specs, the Sony Alpha a9 is the best camera for your birding needs.
This camera really is the best of the best, in all areas. We are, however, only going to discuss the features that make it the best camera for birding.
The a9 gets our praise for many reasons, starting with the fact that it is a full-frame camera. This means that you'll have much better low light performance and a good balance between resolution and noise.
Add to that the frame rate of 20fps. At this kind of rate, you'll never miss a shot again.
Now previously, we mentioned AF points in the range of the 100-200 mark. The a9 triples this, giving you 693-point phase-detection autofocusing. That is some impressive coverage. The AF points cover around 93% of the frame giving you significant freedom to focus wherever you want in the frame.
A final area where the a9 shines is in its weather sealing. This camera can handle practically anything that Mother Nature will throw at it. So don't worry about the inclement weather outside. If there is a picture to be made, this camera will get it.
Related Post: Best Selling Mirrorless Cameras
Sony a9 Full Frame Mirrorless Interchangeable-Lens Camera (Body Only) (ILCE9/B),Black
World's first Full-frame stacked CMOS sensor w/ integrated memory
World's first blackout-free continuous shooting up to 20 fps. Battery Life (Still Images) - Approx. 480 shots (Viewfinder)...
Silent, vibration-free, anti-distortion shutter up to 1/32,000 sec.
693 Phase Detection AF points over 93% frame coverage. Operating Temperature - 32 - 104 degrees F / 0 - 40 degrees C
In-the-box: Power cord, Cable Protector, AC Adaptor, Battery Charger BC-QZ1, Shoulder strap, Body cap, Accessory shoe cap,...
In our recent article on the best cameras for safari, the OM-D E-M1 Mark II made its mark as one of the top choices for budding safari photographers. Once again, the Olympus OM-D E-M1 Mark II has made its mark, as the second-best camera for birding!
The reasons for this camera making such a strong impression are numerous! First up, we have the continuous shooting speed. The OM-D E-M1 Mark II boasts a 15fps frame rate at full resolution, and an 18 fps frame rate when the electronic shutter kicks in. These shutter speeds are perfect for capturing multiple shots of a bird in motion!
A key criterion for birding is a fast autofocusing speed, and the OM-D E-M1 Mark II certainly provides. With a hybrid autofocusing system comprising of 121 phase-detection AF points and another 121 contrast-detection AF points, autofocusing is fast, accurate, and reliable.
A final aspect where this camera shines as the best camera for birding is in its design. The Olympus OM-D E-M1 Mark II has top-of-the-line weather sealing.
OLYMPUS OM-D E-M1 Mark II Camera Body Only, (Black)
New 20.4 megapixel live MOS sensor
New TruePic VIII dual quad core image processor, auto focus points phase detection: 121 (121 cross type), contrast detection:...
60 frames per second S AF, 18 frames per second C AF (silent electronic shutter)
15 frames per second S AF, 10 frames per second C AF (mechanical shutter)
121 point dual fast AF with cross type on chip phase detection focusing
Though DSLRs seem to be fading away, they're still very popular and high-performing cameras that will remain for years to come. With a well-established line up of lenses and accessories, choosing a DSLR can be a wise move. It is for that reason that we have included the Nikon D850 (and a few other DSLRs) in our list of the best cameras for birding.
Nikon's D850 is a powerhouse. It sports a 45.7MP full-frame sensor with an EXPEED 5 image-processing engine.
Though the frame rate of the D850 isn't as high as some of the other competitors on this list, it is still decent, at 7fps. That being said, if you purchase the MB-D18 grip, you can boost the frame rate.
An area where the D850 truly shines is with its autofocusing. With a 153-point phase-detection system, with 99 cross-type AF points, you've got exceptional focusing abilities even in low light and low contrast scenarios.
The D850 also boasts good weather sealing which will serve you well in any less than ideal conditions you may find yourself in.
It is worth noting that the D850 doesn't have any built-in image stabilization, which may mean you need a tripod for your birding photography pursuits, but don't let that stop you!
Related Post: Best Nikon Telephoto Lenses for Wildlife Photography
Nikon D850 FX-Format Digital SLR Camera Body
Nikon designed back side illuminated (BSI) full frame image sensor with no optical low pass filter
45.7 megapixels of extraordinary resolution, outstanding dynamic range and virtually no risk of moiré
Up to 9 fps1 continuous shooting at full resolution with full AF performance
8k6 and 4k time lapse movies with new levels of sharpness and detail; file system : DCF 2.0, exif 2.31, Pict bridge
Tilting touchscreen, focus shift shooting mode, outstanding battery performance and much more; total pixels: 46.89 million
The next camera we are going to talk about is the Panasonic Lumix DC-GH5, this is another mirrorless camera.
Between Olympus and Panasonic, you get some really wonderful lenses which you can use for birding purposes. And since these cameras have the same mount the lenses are suited for use in either body. Which is why you find both types of camera on this list.
The GH5 is one of these selections.
The first feature that highlights the GH5 as one of the best cameras for birding is its continuous shooting speed. At 12 fps it is quite fast. At that frame rate, you can get a lot of frames if you make shorter but more precise bursts.
Another feature that sets the GH5 apart from its peers is the built-in 5-axis image stabilization. Image stabilization is imperative when hand-holding the camera, especially in a situation where you are tracking a bird. The built-in image stabilization will allow you to steady the shot even when you are hand holding a heavy telephoto lens.
Related Post: Best Lenses for the Panasonic GH5
The GH5 is an extremely fast autofocusing camera. The built-in DFD system locks focus in just about 0.05 seconds. Which is lightning quick. This is thanks to the hybrid AF system and 121 cross-type AF points.
Finally, the GH5 is a freeze-proof, waterproof, and dustproof making it perfect for outdoor shooting situations.
Panasonic LUMIX GH5 4K Digital Camera, 20.3 Megapixel Mirrorless Camera with Digital...
Professional photo and video: 20.3 Megapixel micro four thirds sensor with no low pass filter to capture sharp images with a...
Splash or Freeze Proof Design: Freeze proof to 10 degrees the durable magnesium alloy body withstands heavy use in the field;...
Dual image stabilization: 5 axis dual image stabilization corrects all lenses, including classic lenses not equipped with O....
4K video capture: Records silky smooth 4K 60P by 50P (QFHD 4K: 3840 x 2160 ; MOV or MP4) video with internal 4: 2: 2 10 bit...
Connectivity and Ports: 3.5 millimeter audio port, connect to devices with USB 3.0, an external monitor or external Recorder...
This is another mirrorless micro four-thirds camera that makes it onto our list of the best cameras for birding. A mixture of features make this camera a suitable contestant.
To start with, the Lumix DC-G9 includes improved autofocusing through a depth from defocus autofocus technology with 225 areas covered for accurate autofocusing.
The build quality of this camera is stellar. It sports a weatherproof design that can withstand splashes, dust, and even work in sub-zero temperatures that could cause some other cameras to fail. If you want good shots, the design of this camera makes it so you can venture out into the elements.
The final feature that gives this camera a boost is its built-in image stabilization. If you are using a stabilized lens, the sensor-shift type built-in stabilization and that of the lens work together. This forms what Panasonic refers to as Dual I.S. With compatible lenses Dual I.S. the system is able to produce 6 stops of image stabilization.
Panasonic LUMIX G9 4K Digital Camera, 20.3 Megapixel Mirrorless Camera Plus 80...
Professional photo and video performance 20 3-Megapixel (Plus 80-megapixel high-resolution Jpeg or raw in-camera image) micro...
Rugged splash or freeze proof design durable magnesium alloy body withstands heavy use out in the field and is freeze proof...
Class-leading dual image stabilization 5-axis Dual image stabilization corrects all lenses including classic lenses not...
4K 60P video 4:2:2 10bit and slow-motion effects silky-smooth 4K 60P recording (QFHD 4K 3840 x 2160/MP4) in 4:2:2 10bit...
Connectivity and ports listen to headphones with a 3.5mm audio port connect to devices with USB 3.0 and connect to an...
We love the Nikon D500. Being a crop sensor camera it extends the focal length of any compatible lens to make the effective focal length even longer. One disadvantage of the crop factor is the fact that it drops the effective aperture down.
But these days DSLR cameras have incredible high ISO performance. So, you can always compensate by pushing the ISO a bit higher.
The D500 shoots at a maximum frame rate of 10 fps. And you could get a maximum frame rate of 200 RAW exposures before the buffer overruns. That's an awful lot of frames meaning you are never going to miss a shot as long as you have the focusing correct.
And speaking of focus, the D500 has 153 phase-detection AF points with 99 cross-type points. All this means is you will get focus fast, accurate, and with ease, even when the light is low!
Nikon D500 DX-Format Digital SLR (Body Only), Base
20.9MP DX format CMOS sensor. Viewfinder: Eye level pentaprism single lens reflex viewfinder
Expeed 5 image processor; Monitor size: 3.2 inches diagonal
3.2 inches 2,539k dot tilting touchscreen LCD
4k UHD video recording at 30 fps
Multi cam 20k 153 point AF system
In the Canon market, we're big fans of the EOS 90D. We think it is an excellent APS-C camera for birding. Since it is a crop sensor camera, you can use budget telephoto lenses, such as the Tamron 150–600mm f/5–6.3 and get an even further extended effective focal length.
Canon's EOS 90D has 45 cross-type AF points which allow for fast and accurate auto-focusing across the frame. The dual pixel CMOS auto-focusing technology is an especially useful and welcomed addition to the new line of Canon DSLRs.
If you're a birding photographer who likes to compose using the LCD screen then you'll appreciate the added touch-screen functionality for focusing on objects. It is worth noting, however, that you'll probably need to use a tripod to make use of this feature in the birding environment.
Canon DSLR Camera [EOS 90D] with Built-in Wi-Fi, Bluetooth, DIGIC 8 Image Processor,...
High image quality with 32.5 Megapixel CMOS (APS-C) sensor
High-speed continuous shooting of up to 10 fps with no time Lag during ovf shooting
4K UHD 30P/ Full HD 120P video
45-Point All Cross-type AF System supports up to 27 points with an F/8 metering
Use the EOS Utility Webcam Beta Software (Mac and Windows) to turn your Canon camera into a high-quality webcam, or do the...
DSLR Vs Mirrorless
Since the debut of mirrorless cameras, many camera companies have been making the transition to mirrorless, as have many photographers. So you might be wondering, why? The truth is that mirrorless cameras have a slight upper-hand.
DSLRs fall short as cameras for birding because they have a mirror, that moves to capture the image. This creates noise, and while in most cases this wouldn't be an issue. When it comes to birding, noise can cause birds to scare.
Most bird photographers agree that they are some sort of ornithologists first and photographer second. And that is why would prefer to enjoy watching a beautiful bird in its natural habitat, rather than disturb it and get a shot.
For that reason, you might prefer to opt for mirrorless cameras for birding.
The Best Cameras for Birding: Closing Thoughts
Now we've given you the best cameras for birding, it's time to make your camera choice and get out and shoot. With the right lens, some practice, and maybe an instructive online course, you'll be out getting stunning bird photos in no time.
Related Post: Bird Photography Gear and Camera Settings
---
As an Amazon Associate we earn from qualifying purchases. Certain content that appears on PhotoWorkout.com comes from Amazon. This content is provided 'as is' and is subject to change or removal at any time.