Beyond a camera and a couple of good affordable lenses, a photographer's greatest need is a good quality laptop. Specifically, a laptop that can handle the demands of a professional photo editing (or video editing) application.
Now, the industry benchmark for editing applications (i.e., for photography) is Adobe Lightroom. A majority of retouchers, however, prefer Photoshop over Lightroom. The thing is these two applications can be extremely resource hogging.
You simply cannot work without some reasonable amount of computing speed if you are to work with Lightroom and Photoshop. Having said that, a laptop's computing speed and overall performance are directly related to the kind of money you are prepared to invest in.
Unfortunately, not everyone has a high budget to buy the best laptops for photo editing. Enter the best budget laptops. A compromise solution no doubt, but having said that these laptops are no pushovers. Today, we shall be looking at some of the best budget laptops for photography.
Overview: Best Laptops for Photographers on a Budget
1. Acer Aspire E 15 E5-576-
392H 

15.6-Inch FHD Notebook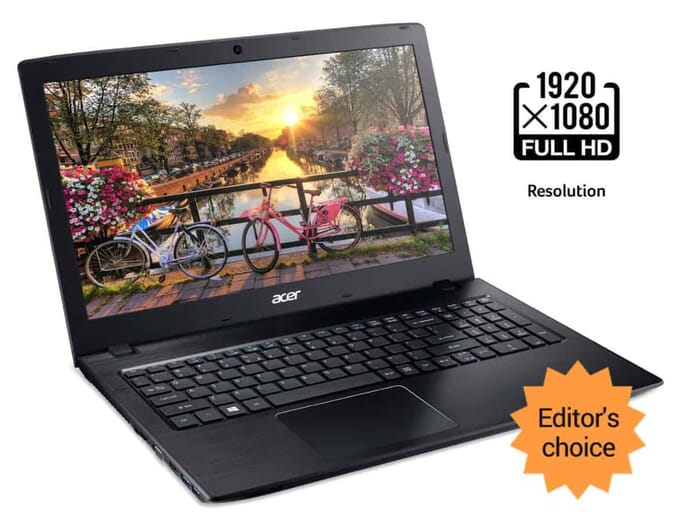 The Acer Aspire E 15 E5-576-392H is a 15.6″ laptop and it is powered by an Intel Core i3 – 7100U 7th generation processor and paired with an Intel UHD Graphics 620.
The operating frequency of the laptop is 2.2 GHz. Built-in memory on the Acer is 6 GB Dual Channel Memory and internal storage is 1 TB (Serial ATA, 5400 RPM). The system comes preloaded with Windows 10 Home Editon.
Among the laptops that we cover in this post, only the Asus Chrome book has a (small) full HD display, making the Acer Aspire E 15 the only low-cost laptop with a large full HD display. This gives the Acer a slight edge when comparing the best photo editing laptops on a tight budget. You certainly will appreciate the extra resolution, especially when editing your RAW images.
Additionally, what a lot of tech junkies love about Acer is how easy it is to upgrade the storage and memory on their laptops. Acer's back panel is easy to remove, unlike some of the other brands. Once you have access to it you can easily upgrade the memory.
Also, the long battery life (up to 13.5 hours), the audio quality, and connectivity (Wi-Fi, USB3 and USB-C) is desent for this price class.
2. HP Business 15.6-inch HD Touchscreen Laptop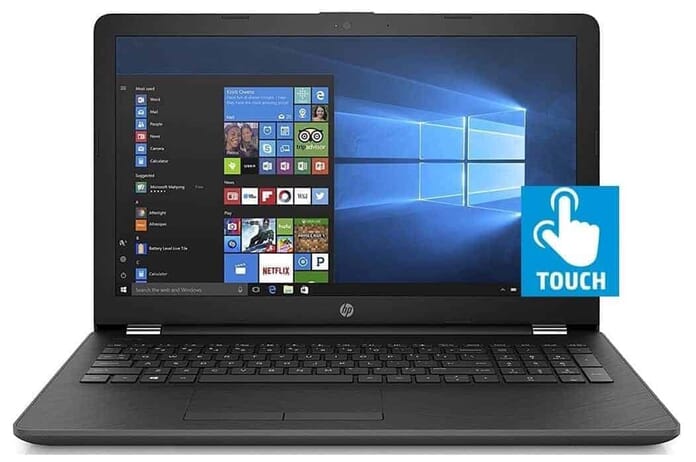 The HP Business 15.6″ laptop is powered by an AMD A12 processor. It can clock 2.7 GHz but can be further boosted to up to 3.6 GHz.
AMD always seem to find their way into the low-cost segment of laptops. I.e., machines that are under $500. This one, however, comes with a decent spec sheet.
It has 8 GB 1866 MHz of DDR4 SDRAM and comes with 1 TB of storage. It also has AMD Radeon R7 graphics and comes preloaded with Windows 10.
The display on the laptop is a 15.6″ HD SVA WLED backlit with a resolution of 1366 x 768. Plus, the display supports touch capabilities as well.
Overall, a nice laptop for basic editing work. Having said that we don't quite like the fact that the display is not full HD. That kind of limits the ability to see the images in large size and in high resolution while editing.
2018 HP Business 15.6-inch HD Touchscreen Laptop PC, Quad-Core AMD A12 Processor up...
AMD Quad-Core A12-9720P Processor 2.7 GHz (Boost up to 3.6 GHz, 2MB cache), AMD Radeon R7 graphics
15.6 inch diagonal HD SVA WLED-backlit touchscreen (1366x768) Display, DTS Studio Sound with dual speakers, SuperMulti DVD/CD...
8GB 1866MHz DDR4 SDRAM memory, 1TB SATA Hard Drive, Full-size island-style keyboard with integrated numeric keypad, Built-in...
802.11 b/g/n, 2 x USB 3.1, 1 x USB 2.0, 1 x HDMI, 1 x RJ45, 1 headphone/microphone combo, Webcam
Windows 10 64-Bit Home Edition, Wireless Mouse & Backpack included, Weighs 4.52 lbs
3. Dell Inspiron 15.6 inch HD Touchscreen Flagship High-Performance Laptop PC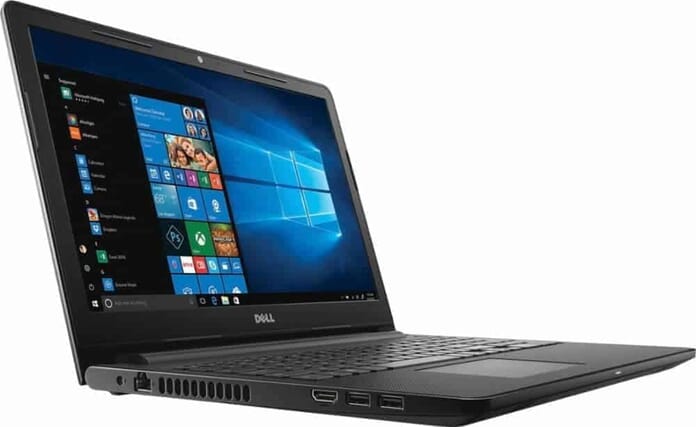 The Dell Inspiron is a 15.6″ touchscreen laptop that comes with a decent spec sheet and is retailed for just under $500. It is powered by a 7th generation Intel Core i5-7200U processor and comes with 8 GB of built-in memory (DDR4 SDRAM). You can further extend the memory all the way to 16 GB. The base operating frequency is 2.5 GHz however the laptop can be overclocked to a maximum of 3.1 GHz.
Compared to the HP above, the Dell comes with 2 TB of built-in memory.
Plus, this one has built-in Bluetooth connectivity and Windows 10 preloaded. But where the Dell does not improve over the HP is in the display area. The Dell's display area is 15.6″ with a resolution of 1366 x 768 and touchscreen capabilities.
Dell Inspiron 15.6-inch HD Touchscreen Laptop PC (2018 Model), Intel i5-7200U 2.5GHz,...
7th Gen Intel Core i5-7200U Dual-Core mobile processor; Intel HD Graphics 620
8GB system memory for advanced multitasking, 2TB hard drive for ample file storage space
15.6" HD 1366x768 touch screen for hands-on control; Built-in HD webcam with microphone;
Bluetooth 4.0 interface syncs with compatible devices; 2x USB 3.0 ports, 1xUSB 2.0;
Windows 10 operating system, Weighs 5.07 lbs. and measures 0.9" thin
4. Lenovo Ideapad 15.6″ HD Premium High-Performance Laptop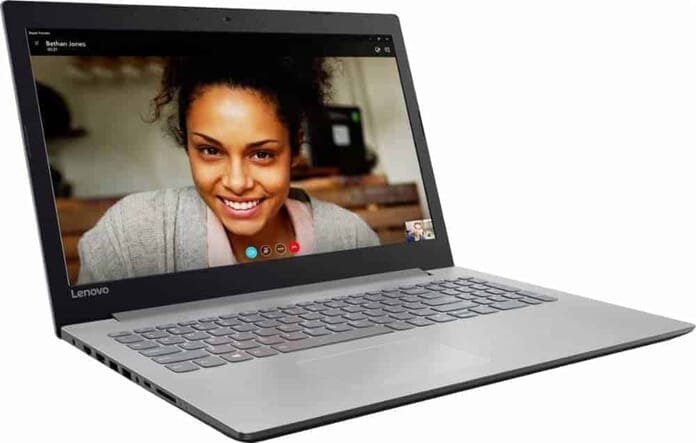 The Lenovo Ideapad is the third entry on this list of the best best laptop for photo editing on a budget.
This laptop also sports an AMD chip at its heart. It is a 7th generation quad-core AMD A12-9720P Quad-core processor capable of clocking 2.7 GHz. It can be up-clocked to a maximum of 3.6 GHz. The performance of this processor is very similar to the competitive Intel Skylake Core i3 CPU (I discuss a Core i3 laptop after this).
Paired with the processor is the integrated Radeon graphics R7 for better and smoother graphics performance. The built-in memory on the laptop is 8 GB DDR4.
Storage on the laptop is 1 TB (5400 rpm). The small budget laptops with AMD processor comes with mostly a sub – full HD display. No exceptions here as the Lenovo too comes with a display resolution of 1366 x 768.
However, unlike the Dell and the HP covered above, the Lenovo does not have touchscreen properties. That said, if you are a photo editor or someone who is proficient with the keyboard and mouse combination and or swear by keyboard combinations you will never miss the touchscreen capabilities.
Personally, I don't quite like the idea of a photo editing laptop with touchscreen capabilities because it tends to become a fingerprint magnet and I have to clean it often.
Apart from USB and Wi-Fi you also have Bluetooth connectivity.
Lenovo Ideapad 15.6" HD High Performance Laptop, AMD A12-9720P Quad core processor...
15.6" HD display with 1366 x 768 resolution, Powered by a 2.70GHz AMD A12-9720P Quad core processor
1TB 5,400rpm HDD hard drive provides plenty of storage, 8GB DDR4 memory
802.11 ac Wi-Fi technology provides Internet speeds up to 3x faster than other laptops, Tray load DVD Drive (Reads and Writes...
Bluetooth 4.1; 10/100/100M gigabit Ethernet, 1 USB Type-C port and 2 USB 3.0 ports; 4-in-1 memory card reader; 2-cell lithium...
4 in 1 card reader, Windows 10
5. ASUS C302CA-DHM4 Chromebook Flip 12.5-inch Touchscreen
The ASUS C302CA-DHM4 is a Chromebook with a unique flip display. The monitor can flip all the way to the back, thanks to the flexible 360˚ hinge, giving you the same feel as a standalone tablet with a backrest. And just to justify all that the screen has touchscreen capabilities as well.
The display is also the smallest of the lot, only 12.5″. Powering the laptop is a 900 MHz Intel Core m3-6Y30 dual-core Processor. The laptop comes with 4 GB of LPDDR3 RAM and a total of 64 GB of eMMC storage.
Interestingly, despite the small screen size, the ASUS C302CA-DHM4 has a full HD (1920 x 1080) display. The system comes with integrated Intel HD Graphics 515. The problem with Chromebooks is that these devices are optimized to work using the internet.
All of the apps and tools that you need are available on the Google Chrome web store. That means when you are not connected to the internet, which can happen on a flight or when you are traveling in a car, or anywhere else for that matter when you don't have access to Wi-Fi, the performance of the device would be hampered.
Also, the fact that the device does not have a significant amount of storage means that when you are traveling or in between photo shoots, backing up your RAW files would be a problem. You will need to carry a portable external storage device to back up your images.
Asus C302CA-DHM4 Chromebook Flip 12.5-Inch Touchscreen Convertible Chromebook, Intel...
The flexible 360 Degree hinge and 12.5 inches full HD touchscreen lets you use the C302 in tablet or laptop mode
Intel Core Processor with 64GB storage and 4GB RAM for fast and efficient performance with a bright backlit illuminated...
Extremely lightweight at 2.65 pounds with the protection of a sleek aluminum metal body
Starts up in seconds and lasts all day, thanks to a long battery life rated up to 10 hours
Make sure latest chrome version is up to date and is using the device in stable channel
Conclusion: Our Pick is the Acer Aspire E 15 E5-575-33BM 15.6
So, which is our pick among the best budget laptops for photoshop and photo editing, ideally costing under $500?
It is the Acer Aspire E 15 E5-575-33BM 15.6 with full HD display and with it's easy to customize architecture.
---
Note: As an Amazon Associate we earn from qualifying purchases. Certain content that appears on PhotoWorkout.com comes from Amazon. This content is provided 'as is' and is subject to change or removal at any time.