Designed to be a perfect supplement for the 24-70mm wide zoom, the 70-200mm lens is what Yin is for Yang, contradictory, yet complementary and inseparable! This staple of any photographer's kit is great to use for portraits, wildlife, action, and so much more. As such, nearly every camera brand has one!
Here is our guide to the best version of the 70-200mm lens you can buy in 2022 for both mirrorless and DSLR cameras!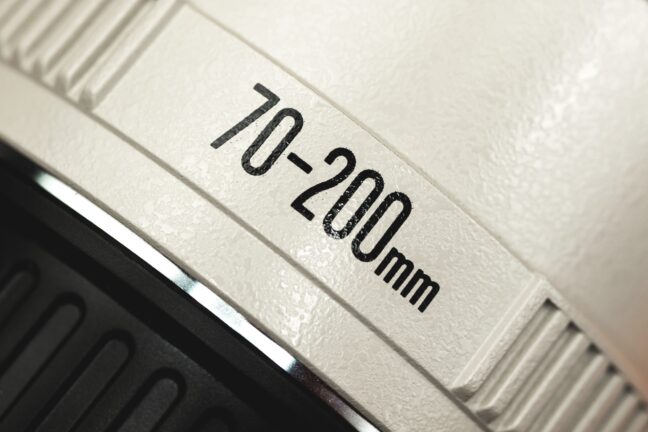 When you buy through links on our site, we may earn a commission at no cost to you. We evaluate products independently. Commissions do not affect our evaluations.
Why Is the 70-200mm So Special?
What makes the 70-200mm so special is that it covers an essential focal length range. Something that starts at the borderline of being the perfect focal length for portraits, i.e., for full-frame systems, and then goes all the way to the medium telephoto range.
Beyond that, the 200mm focal length itself works wonders for your photography. Unless you often need to shoot a moose at 300 yards, the 200mm is all the zoom you'll ever need. For that time when you do need something closer-up, pop in a teleconverter, and all of a sudden you have yourself a wonderful 400mm lens for the price of a 200mm!
Equally so, the 70-200mm being a telephoto lens means that this lens has fantastic optic compression. Optic compression makes your subject's proportions look a little bit more slender and a bit more flattering, making this lens awesome for people photography.
Best Mirrorless Versions
With mirrorless cameras sweeping the industry, new versions of the 70-200mm lens had to be created. These options are all much smaller in stature than DSLR versions because mirrorless technology allows us to prioritize size and weight!
1. Sony FE 70-200mm f/2.8 GM OSS II
Sony's G-Master Extraordinaire
Of course leading mirrorless camera company Sony would have an amazing 70-200mm version.
Pros
Ultra sharp with G-Master quality
An even faster focusing system than ever before
Much lighter than previous versions
Cons
Very expensive
Some minor edge distortion
Considering the fact that Sony is quickly leading the march of mirrorless with their impressive array of cameras, it is to be expected that the company would make a really good 70-200mm lens: the Sony FE 70-200mm f/2.8 GM OSS II!
Lighter than DSLR versions, this lens is trying its best to match the size of mirrorless gear (but it is still large). That being said, weight is reduced by about 29% which may not seem like a large number, but when you're out in the field shooting for hours – you will feel the difference!
What makes this version so special is how effectively it communicates with Sony's now-legendary autofocusing system. The mirrorless cameras have lightning-fast autofocus, but this is only possible with lenses that work with the system. This new 70-200mm lens has a brand new way of doing autofocus which the company promises will focus even faster than ever before!
The G-Master (GM) line of lenses is Sony's luxury division, and this lens is no exception to the promises. Sharp, clear, and vivid, the Sony FE 70-200mm f/2.8 GM OSS II has it all.
There are lots of extra coatings to remedy common problems such as chromatic aberration and smudges on the glass. The aperture blades make for an ultra-creamy bokeh, something lots of photographers drool over.
2. Canon RF 70-200mm f/2.8L IS USM
The Smallest You Will Ever See
Just take a look at the impressive size and you will already be in love with this lens.
Pros
Smallest 70-200mm lens out there
Features brand new Air Sphere Coating to prevent ghoasting
Ultra sharp, clear, and crisp
Canon made a big name for itself with the sleek white 70-200mm lenses for DSLR cameras (which we will talk about below), so when they began shifting to mirrorless cameras, everyone was wondering what would become of the 70-200mm. Instead of converting their current lenses, Canon completely redesigned the famous lens into the Canon RF 70-200mm f/2.8L IS USM.
What is most impressive about this lens (and instantly noticeable) is the stature – this lens is the smallest 70-200mm lens you can find! Sized at nearly the same as many standard lenses, jaws drop when you see this lens. At only 5.8×3.2 inches, you can fit this lens anywhere.
Canon has coated the glass of this lens with their brand new Air Sphere Coating which helps prevent ghosting while maintaining natural light. The Dual Nano USM focusing system makes locking on to your subject easy, even when it's moving pretty fast.
There is even a control ring that can be configured to help you adjust any setting you set to it! The tripod collar can be removed as well.
3. Nikon NIKKOR Z 70-200mm f/2.8 VR S
A Fantastic Mirroless Lens
This brand new lens from Nikon makes big splashes in the 70-200mm ocean.
Pros
Quiet and fast autofocus
Lots of great glass coating to prevent common optic problems
OLED information panel built on the lens
Cons
Expensive
Tripod foot isn't compatible with all systems
Following Sony and Canon's suit is Nikon, making their own 70-200mm for their line of mirrorless systems! Much like Nikon's DSLR versions of this beloved focal length, the Nikon NIKKOR Z 70-200mm f/2.8 VR S also boasts layer after layer of coatings to help the glass bring out superb images.
Chromatic aberration, flaring, ghosting, smudging, fringing, and other such elements are a long thing of the past with the various glass coat technology that Nikon has implemented. The internal stabilizer also helps eliminate human error like camera shake.
What makes this lens super cool is the OLED lens information panel built directly into the lens itself, allowing you to take a peek at vital settings such as aperture, focus distance, and depth of field right on the lens! You can even see this screen in darkly lit places.
4. Canon RF 70-200mm f/4L IS USM
A Lighter Brother of the F/2.8
Great for those on a budget, taking a bit away from the aperture also takes a bit away from the price.
Pros
Great price for what it is
Fairly light weight and compact
Really awesome on-lens controls
Cons
F/4 aperture is not as good in low light conditions
Featuring many of the same perks as the f/2.8 version above, the Canon RF 70-200mm f/4L IS USM has a narrower aperture (so it's not as great in some low light conditions) but this little sacrifice does help with the budget and weight of the lens. Generally, lenses with narrower apertures weigh a bit less.
This lens is weather resistant and will be able to withstand a lot of abuse! Great for sport or wildlife photographers.
The optical stabilizer system allows you to, in a way, compensate for the narrower aperture by stopping your shutter speed down approximately 5 stops on a normal Canon mirrorless camera and up to 7 stops on a Canon mirrorless that has IBIS built-in!
5. Panasonic Lumix S PRO 70-200mm f/4 O.I.S.
The L-Mount Hero
Designed for L Mount cameras such as Lumix, Leica, and SIGMA, this lens brings the beloved 70-200mm to all of these bodies.
Pros
Incredible dual mode autofocus
The lens function buttons on the construction are fully customizable
Freeze-proof as well as dust and splash proof
Cons
Expensive
Heavy and bulky for a mirrorless version
In comparison to the big three (Canon, Nikon, and Sony), Panasonic doesn't always pop right into mind when thinking about photography. However, the Lumix series is truly extraordinary and the fact that there is a 70-200 mm version here is outstanding.
This L Mount telephoto zoom lens is really built for sport, portrait, and eventing – intended to be your most loyal working comrade.
The Panasonic Lumix S PRO 70-200mm f/4 O.I.S. uses a unique focusing system to capture your subject with a tack sharpness, it's a double focus that uses both linear motors and stepping motors (most cameras only use one or the other! Here you have the best of both!). There is also a little clutch to quickly switch between Manual Focus and Auto Focus.
Along with water and dust proofing, this lens is also freeze-proof for weather conditions down to -14°F. Take it out in the snow!
Best DSLR Versions
Although the DSLR versions are much larger and heavier than mirrorless counterparts, that does not mean they are obsolete – these are true workhorse lenses, able to take a beating and be fine!
6. Nikon AF-S Nikkor 70-200mm f/4G ED VR
Nikon on a Budget
For those more price-conscious individuals, this is a great Nikon DSLR version.
Pros
Great price for the quality
Excellent image results
Vibration reduction system built in
Cons
Only an F/4
Bulky in stature, however it is light weight for what it is
The Nikon AF-S Nikkor 70-200mm f/4G ED is a great lens to buy if you are on a (slight) budget and yet don't want to compromise on your quality of gear.
Full-time manual focusing override allows you to switch from auto-focusing to manual focusing even when auto-focusing is engaged simply by turning the focusing ring.
Built-in vibration reduction technology ensures up to 4 stops of image shake compensation. Meaning, you can use a shutter speed up to 4 stops slower than the usually recommended shutter speed as per the built-in light meter.
That's a significant advantage, especially in low light situations where you will struggle to capture enough light for a good exposure.
Nikkor's full-frame lenses are compatible with smaller crop cameras (DX-format) with a corresponding increase in focal length. Actually what happens is that smaller DX-format cameras use only the center portion of the image coming through a lens. It appears as if the image has been zoomed in. That has the same effect as increasing the focal length.
7. Nikon AF-S Nikkor 70-200mm f/2.8E FL ED VR
The Ultimate Nikon Version
For those wanting the best of the best for their Nikon, you've found the right lens.
Pros
Very tack sharp edge-to-edge
Rotating tripod collar
Very sturdy construction with great glass coatings
Cons
Large and heavy
Pricey, even though the lens is fairly old
The Nikon AF-S Nikkor 70-200mm f/2.8E FL ED VR is a personal favorite. This pricey lens comes with an array of coatings and elements we'll take a look at.
First, it has six extra-low dispersion elements to take care of chromatic aberrations. Plus, it has fluorite and HRI coatings. To prevent the lens from getting easily smeared with fingerprints and grime, a fluorine coating has been used.
Overall build quality is also much better. Weather sealed magnesium alloy construction ensures you can use it in almost all conditions. Nanocrystal coating ensures that flares and ghosting are well suppressed.
The lens also features a full-time manual focusing override for faster switching from auto to manual focusing. Another feature of the lens is that you can set it to focus either between infinity to 5 meters or over the full range of the lens. This feature is available on longer tele lenses. This is to assist in faster focusing of the lens and less focus hunting.
Finally, the lens features four stops of image shake compensation. The extra price gets you better suppression of chromatic aberrations and better build quality. The lens sharpness is fantastic. It is sharp all the way. Indeed a major contender for the title of the best 70-200mm zoom lens.
8. Canon EF 70-200mm f/2.8L IS III USM
Canon's Ultimate DSLR Lens
There is a reason there are three versions, this lens just keeps getting better and better!
Pros
Fantastic edge-to-edge sharpness as well
Image stabilization and a flouride lens coating
Tough build
When a Canon lens carries the L moniker, it stands for Luxury, and the Canon EF 70-200mm f/2.8L IS III USM is no exception. These are well-made lenses, much better than the standard non-L lenses. This particular lens comes with some features that should give you enough reasons to cheer. To start off the lens has a nice 8-blade aperture diaphragm.
The presence of fluorite & ultra-low dispersion lens elements ensures that chromatic aberrations are suppressed. In addition, the lens has a full-time manual focusing override, just like the two Nikkor lenses above. Like the more premium Nikkor lens above, this one too has a focus delimiter switch.
The lens has four stops of image stabilization compensation in "Normal IS Mode." This lens has yet another stabilization mode (IS II). IS II image stabilization on Canon lenses works in this way.
Norma Image Stabilization (IS) works by compensating for any involuntary hand movements at the very moment when the image is made. This works for both vertical and horizontal hand movements. But what if your hands are deliberately moving horizontally? Such as when you are trying to pan with a moving subject?
In situations like this, the lens automatically switches to the second image stabilization mode. This mode automatically detects when the camera is being panned and does not attempt to 'stabilize' the horizontal movement.
The Canon EF 70-200mm f/2.8 IS III USM lens is compatible with Canon's 1.4x III and 2x III extenders. That further extends the range of the lens to up to 400mm with the 2x extender. This makes it a serious telephoto zoom lens.
On the flip side, however, you lose a bit of light as the lens' maximum aperture becomes the equivalent of f/5.6 (a loss of two stops of light).
Overall build quality is nice. The lens features a dust- and moisture-resistant construction for all-weather use. This is one of the top 70-200mm medium zoom lenses out there.
9. Canon EF 70-200mm f/4L USM
The Budget-Friendly Version
Featuring all of the same perks at the f/2.8 version but for a substantially lower price.
Pros
Fantastic price
Lighter weight than competitors
Many of the same feaures as the F/2.8 version
Cons
Only f/4, which loses some low light ability
Just like Nikon, Canon also has an f/4 version of the 70-200mm lens which is the Canon EF 70-200mm f/4L USM. This one is a slightly cheaper version than the f/2.8 L above. You lose a stop of light, which can be a bit problematic in some situations. But more realistic pricing means you get more bang for your buck.
Lens construction consists of fluorite elements along with ultra-low dispersion lens elements. Together they suppress chromatic aberrations quite well.
You also get a full-time manual focusing override. We already know what this technology is all about. Plus, even though this is the cheaper version, you have a focus delimiter switch.
Together, these two technologies assist quicker focusing, especially in situations where the subject is a bit further away or the ambient light is a bit weak, and auto-focusing continuously rocks back and forth.
The Canon EF 70-200mm f/4L USM lens is compatible with Canon's 1.4x and 2.0x extenders, just like the f/2.8 version.
This extends the focal range of the range to up to 400x with the longer teleconverter. However, you also lose two stops of light. Resultantly, the f/4 lens will become an f/8 (with the 2x teleconverter). Thus, tackling low light with the lens, when you have a 2x teleconverter on would be a bit tricky.
10. Sigma 70-200mm f/2.8 DG OS HSM SPORT
The Ultra Working Machine
If you need a workhorse lens that won't quit, this one was designed with durability in mind.
Pros
Great price for what this lens can deliver
Ultra sharp, clear, and vibrant
Resistent to all weather and is extremely durable. Bumps won't hurt this lens
Sigma is a third-party lens provider that makes equipment for nearly all of the camera brands. The Sigma 70-200mm f/2.8 DG OS HSM SPORT is a beast of a working lens!
The maximum aperture of the lens is f/2.8, constant over the focal length of the lens. This is perfect for shooting in low light especially when hand-holding the lens, as well as for shooting fast-action sports.
What makes the sport version so special in comparison to other lenses is its impressive durability. You can smack this lens down on something and it will still survive! The best weather sealing around as well, a rainstorm won't stop this 70-200mm lens.
This lens has up to four stops of image stabilization. Sigma calls it Optical Stabilization (OS). This is the same as using a four-stop slower shutter speed when hand-holding the camera-lens combination.
The construction of the lens includes two FLD (F Low Dispersion) glass elements. With a performance of the same standard as traditional fluorite lens elements, these along with three Special Low Dispersion elements ensure better aberration-free images.
The presence of Super Multi-Layer lens coating ensures that ghosting and flares are suppressed.
Which of the Best 70-200mm Lenses Is Right for You?
As a key component of any professional photographer kit, finding the right 70-200mm lens becomes pretty important! However, the decision can be made much simpler depending on what existing cameras you own. All of the lenses on our list are quite superb but tend to be pretty specific as to what camera brands the lens will work with.
That being said, for DSLR users, the Sigma 70-200mm f/2.8 DG OS HSM SPORT is an excellent choice, available in most DSLR brand mounts! This lens is durable and great quality.
For mirrorless users, it's hard to go wrong with the Canon RF 70-200mm f/2.8L IS USM. The size itself is a huge selling point and we can't quite beat that. Those on a budget will favor the Canon RF 70-200mm f/4L IS USM
---
Disclosure/Disclaimer: As an Amazon Associate, we earn from qualifying purchases. Certain content was provided "as is" from Amazon and is subject to change or removal at any time. Product prices and availability: Amazon prices are updated daily or are accurate as of the date/time indicated and are subject to change. Any price and availability information displayed on Amazon.com at the time of purchase will apply to the purchase of this product.