7 Best 70-200mm Medium Zoom Lenses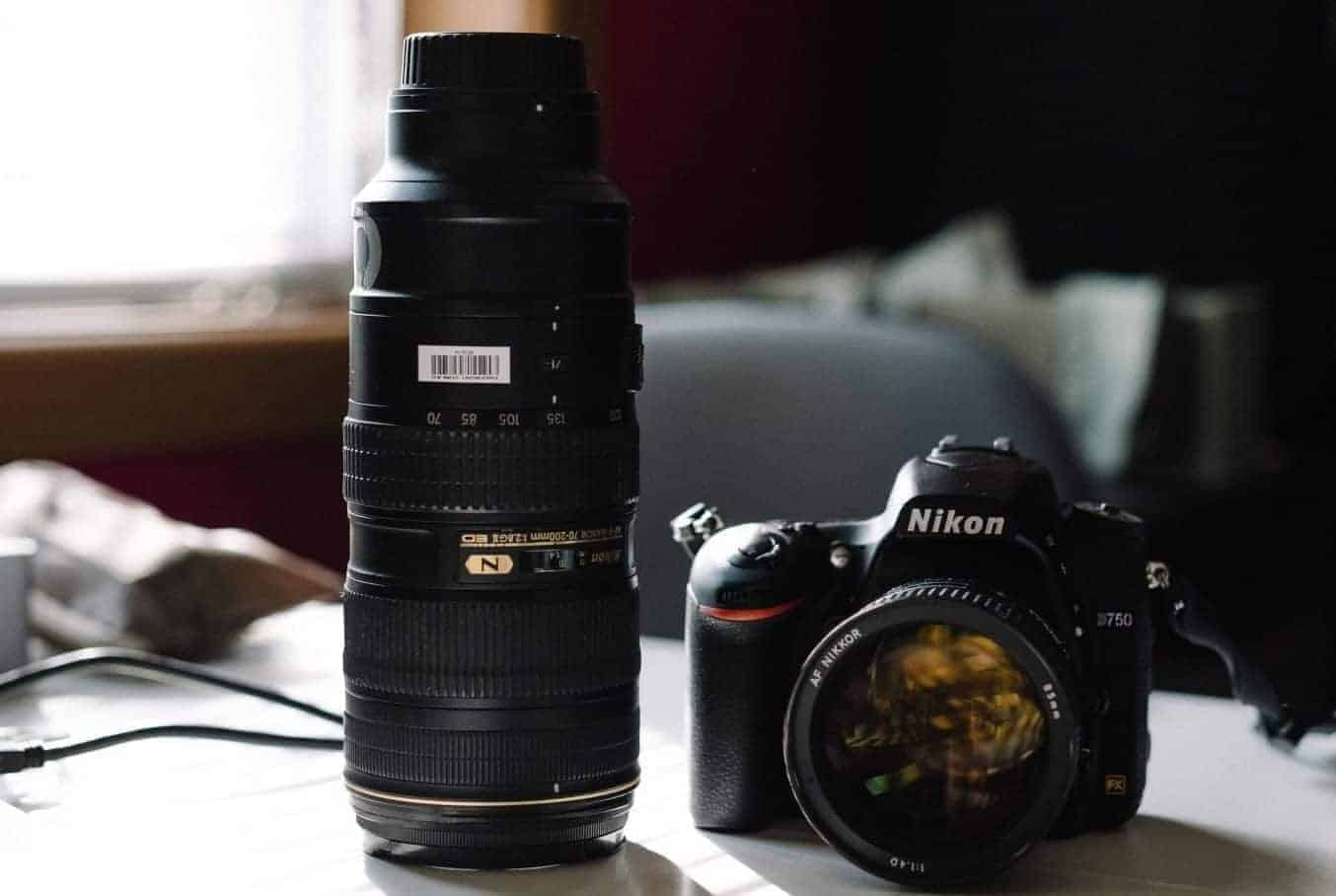 What can be better than the exquisite 24-70mm zoom?
The 70-200mm lens of course. Designed to be a perfect supplement for the 24-70mm wide zoom the 70-200mm is what Yin is for Yang, contradictory, yet complementary and inseparable.
We are here to find the best 70-200mm medium zoom lens.
What makes the 70-200mm so special is that it covers an essential focal length range. Something that starts at the borderline of being the perfect focal length for portraitures, i.e., for full-frame systems, and then goes all the way to medium tele range. Pop-in a teleconverter and all of a sudden you have yourself a wonderful 400mm lens for the price of a 200mm.
Beyond that, the 200mm focal length, just by itself and without any teleconverter attached, works wonders for your photography. Unless you often need to shoot a moose at 300 yards, the 200mm is all the zoom you'll ever need. And if you want to shoot a moose at 300 yards, you could simply borrow a lens from one of the many online lens rental companies. No need to sell a kidney to buy a 600mm prime. 🙂
Now, there are several varieties of 70-200mm zoom lenses available in the market. Varieties, in a sense different mounts, different maximum aperture, and various specifications. Every major camera manufacturer makes at least one 70-200mm for their full-frame mount. Full-frame mount suggests cameras that have a sensor size roughly equivalent to 35mm film.
So, if you have a camera manufactured by one of the three leading brands, you are likely to find a great OEM 70-200mm lens to go with it. And the good thing is there will be a few other non-OEM options as well. So, without further ado, let's check out some of the best 70-200mm medium zoom lens available.
Best Mid-Range Lenses by Brand
Best Nikon Mid-Range Lenses (70-200mm)
Best Canon Mid-Range Lenses (70-200mm)
Best Tamron/Sigma Mid-Range Lenses (70-200mm)
1. Nikon AF-S Nikkor 70-200mm f/4G ED VR Lens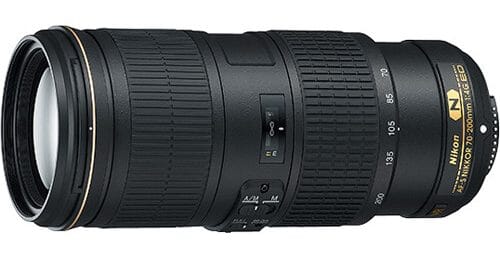 The Nikon AF-S Nikkor 70-200mm f/4G ED VR is a great lens to buy if you are on a budget and yet don't want to compromise on the quality of gear.
There is nothing cheap about this
$1,396.95 lens. The lens has three extra-low dispersion elements, Nano Crystal coating, and Super-integrated coating.
Full-time manual focusing override allows you to switch from auto-focusing to manual focusing even when auto-focusing is engaged simply by turning the focusing ring.
Built-in vibration reduction technology ensures up to 4 stops of image shake compensation. Meaning, you can use a shutter speed up to 4 stops slower than the usually recommended shutter speed as per the built-in light meter.
That's a significant advantage, especially in low light situations where you will struggle to capture enough light for a good exposure.
Nikkor's full-frame lenses are compatible with smaller crop cameras (DX format) with a corresponding increase in focal length. Actually what happens is that smaller DX format cameras use only the center portion of the image coming through a lens. It appears as if the image has been zoomed. That has the same effect as increasing the focal length.
2. Nikon AF-S Nikkor 70-200mm f/2.8E FL ED VR Lens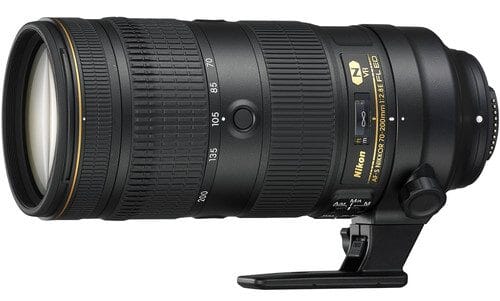 The Nikon AF-S Nikkor 70-200mm f/2.8E FL ED VR a personal favorite.
Being a long time Nikonian myself (but I am impartial here). Smaller the f-stop number wider the aperture of the lens. That means the lens can allow more light to enter the camera.
F/2.8 is exactly one stop wider than f/4. Which means for the same shutter speed, a f/2.8 lens allows double the amount of light that a f/4 lens does. It is an incredible advantage in low light situations.
This
$2,146.95lens come with an array of coatings and elements.
Overall build quality is also much better. Weather sealed magnesium alloy construction ensures you can use it in almost all conditions. Nano crystal coating ensures that flares and ghosting are well suppressed.
The lens also features full-time manual focusing override for faster switching from auto to manual focusing.
Another feature of the lens is you can set it to focus either between infinity to 5 meters or over the full range of the lens. This feature is available on longer tele lenses. This is to assist in faster focusing of the lens and less of focus hunting.
Finally, the lens features four stops of image shake compensation. The extra price gets you better suppression of chromatic aberrations and better build quality.
The lens sharpness is fantastic. It is sharp all the way. Indeed a major contender for the title of the best 70-200mm medium zoom lens.
3. Canon EF 70-200mm f/2.8L IS II USM Lens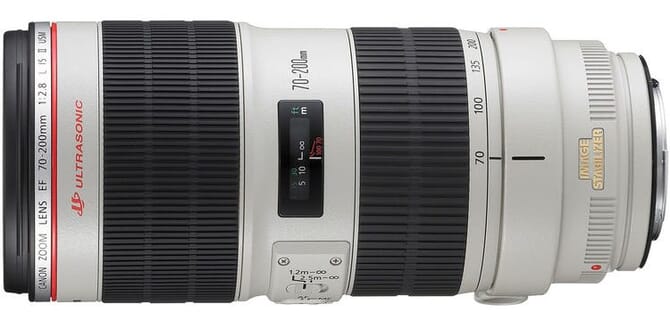 When a Canon lens carries the L moniker, it stands for Luxury. These are well-made lenses, much better than the standard non-L lenses. This particular lens comes with some features that should give you enough reasons to cheer. To start off the lens has a nice 8-blade aperture diaphragm.
The presence of fluorite & ultra-low dispersion lens elements ensures that chromatic aberrations are suppressed. In addition, the lens has full-time manual focusing override, just like the two Nikkor lenses above. Like the more premium Nikkor lens above, this one too has a focus delimiter switch.
The lens has four stops of image stabilization compensation in "Normal IS Mode." This lens has yet another stabilization mode (IS II). IS II image stabilization on Canon lenses works in this way.
Norma Image Stabilization (IS) works by compensating for any involuntary hand movements at the very moment when the image is made. This works for both vertical and horizontal hand movements. But what if your hands are deliberately moving horizontally? Such as when you are trying to pan with a moving subject?
In situations like this, the lens automatically switches to the second image stabilization mode. This mode automatically detects when the camera is being panned and does not attempt to 'stabilize' the horizontal movement.
The Canon EF 70-300mm f/2.8 IS II USM lens is compatible with Canon's 1.4x III and 2x III extenders. That further extends the range of the lens to up to 400mm with the 2x extender. This makes it a serious telephoto zoom lens.
On the flip side, however, you lose a bit of light as the lens' maximum aperture becomes the equivalent of f/5.6 (a loss of two stops of light).
Overall build quality is nice. The lens features a dust and moisture-resistant construction for all weather use. This is one of the top three best 70-200mm medium zoom lenses on this list.
4. Canon EF 70-200mm f/4L USM lens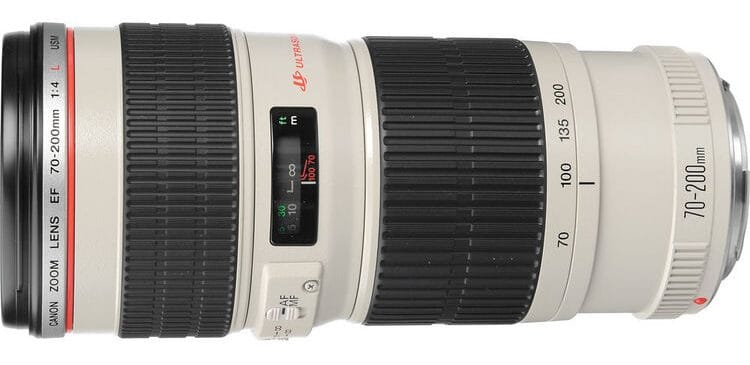 Just like Nikon, Canon too has a f/4 version of the 70-200mm lens. This one is a slightly cheaper version than the f/2.8 L above. You lose a stop of light, which can be a bit problematic in some situations. But a more realistic pricing means you get more bang for your buck.
Lens construction consists of fluorite elements along with ultra-low dispersion lens elements. Together they suppress chromatic aberrations quite well.
You also get full-time manual focusing override. We already know what this technology is all about. Plus, even though this is the cheaper version, you have a focus delimiter switch.
Together, these two technologies assist quicker focusing, especially in situations where the subject is a bit further away or the ambient light is a bit weak, and auto-focusing continuously rocks back and forth.
The Canon EF 70-200mm f/4L USM lens is compatible with Canon's 1.4x and 2.0x extenders, just like the f/2.8 version.
This extends the focal range of the range to up to 400x with the longer teleconverter. However, you also lose two stops of light. Resultantly, the f/4 lens will become a f/8 (with the 2x teleconverter). Thus, tackling low light with the lens, when you have a 2x teleconverter on would be a bit tricky.
Canon EF 70-200mm f/4L USM Telephoto Zoom Lens for Canon SLR Cameras
Focal length and maximum aperture: 70-200mm 1:4.0
Lens construction: 16 elements in 13 groups
Diagonal angle of view: 34 Degree - 12 Degree
Inner focusing system with USM focus adjustment. Closest focusing distance: 1.2m / 3.9 ft.
A circular polarizing filter can be attached and used without difficulty because the front lens element does not rotate...
5. Canon EF 70-200mm f/4 L IS USM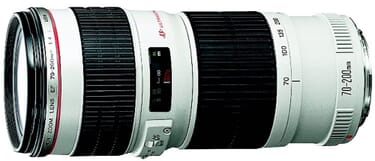 The main difference between this lens and the one we just finished reading about is the image stabilization technology. For a telelens, it is imperative that it has some image stabilization. If you are going to use a teleconverter, it would be even more important. The slightest bit of hand movement will spoil a picture.
This lens has two image stabilization modes. The first one is the standard image stabilization mode. This one will try to stabilize the camera for any and all inadvertent hand movements. This one gives up to four stops of compensation. In other words, you have the leverage to use up to four stops slower shutter speed than is recommended when holding the camera by hand. The other one is designed to assist panning movements.
The actual construction of the lens consists of two ultra-low dispersion elements as well as artificial fluorite elements that cut down chromatic aberrations. Dust and moisture sealing gives the lens some much-needed leverage to be used in bad weather and demanding working environments.
Focus range delimiter ensures that you have a much easier time when targeting subjects much further away. By selecting the appropriate focusing range, you ensure that the lens does not 'hunt around.'
The Canon f/4 IS USM is compatible with Canon's 1.4x II and 2.0x II teleconverters which further extends the focal length to a maximum of 400mm. Plus, you have fulltime manual focusing override for those tricky hard to focus subjects.
Canon EF 70-200mm f/4 L IS USM Lens for Canon Digital SLR Cameras
70-200mm telephoto zoom lens with f/4 maximum aperture for Canon digital SLR cameras
Fluorite UD lens elements produce excellent optical performance in resolution and contrast, Closest focusing distance : 3.94...
Ring-type ultra-sonic monitor (USM) for quick and quiet autofocusing; lightweight construction
Image Stabilizer provides up to 4 stops of shake correction; water- and dust-proof construction
Measures 3 inches in diameter and 6.8 inches long; Weight : 1.675 pounds (lens only) ; 1-year warranty
6. Sigma 70-200mm f/2.8 EX DG APO OS HSM for Nikon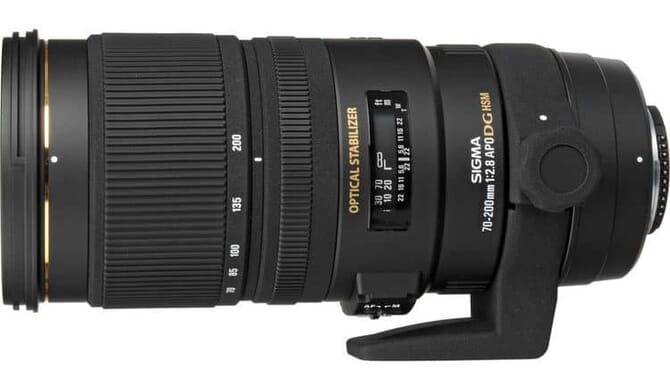 This is a third party lens designed by Sigma for the Nikon F mount (full-frame) system. A similar lens for the Canon EF mount is also available.
The maximum aperture of the lens is f/2.8, constant over the focal length of the lens. This is perfect for shooting in low light especially when hand holding the lens, as well as for shooting fast action sports.
This lens has up to four stops of image stabilization. Sigma calls it Optical Stabilization (OS). This is the same as using a four stops slower shutter speed when hand holding the camera – lens combination.
The construction of the lens includes two FLD (F Low Dispersion) glass elements. With a performance of the same standard as traditional fluorite lens elements, these along with three Special Low Dispersion elements ensure better aberration-free images.
The presence of Super Multi-Layer lens coating ensures that ghosting and flares are suppressed.
The overall construction of the lens is good. A total of 9 aperture blades creates a nice rounded bokeh.
Sigma 70-200mm f/2.8 APO EX DG HSM OS FLD Large Aperture Telephoto Zoom Lens for...
70-200mm focal length, Minimum Focusing Distance :140cm / 55.1inch, Maximum Magnification -1:8.FOCAL LENGTH SIMULATOR:The...
105-300mm equivalent focal length on APS-C cameras, 112-320mm equivalent focal length on Canon APS-C cameras.SIGMA DC lenses...
F2.8 constant maximum aperture; F22 minimum, Ring-type ultrasonic-type AF motor with full-time manual focusing
Image stabilization, 4 stops claimed. Dual mode, normal and panning, 77mm filters
Available in Canon EF, Nikon F (FX), Pentax KAF3, Sony Alpha, Sigma SA mounts. Dimensions (DxL) Approx. 3.4 x 7.8" (8.64 x...
7. Tamron SP 70-200mm f/2.8 Di VC USD for Canon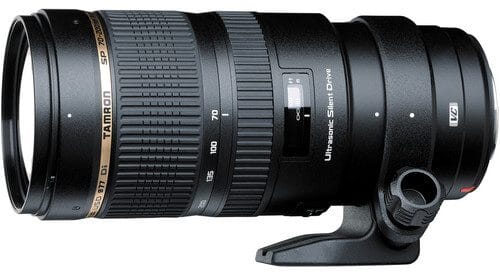 We round this list off with a Tamron lens. But this is no mug.
DxOMark rates this lens pretty high. This is one of the forerunners for the crown of the best 70-200mm medium zoom lens. This the SP 70-200mm f/2.8 Di VC. Di means that this is a full-frame lens.
Plus, the presence of Vibration Compensation (VC) technology suggests that the lens will be easy to shoot with and get blur free imagery even when used hand-held.
The construction of the lens consists of one extra-low dispersion element and four low dispersion elements. Together these reduce chromatic aberrations that tend to affect tele lenses more.
Additionally, a multi-layer coating ensures suppressed ghosting and flares which are common for lenses with a wide maximum aperture. Nine aperture blades create a circular-like aperture for lovely smooth bokeh.
The lens features a near-silent ultrasonic drive powered auto-focusing technology. It also has continuous manual focusing override for easy correction of focus issues.
The overall construction of the lens is good. The lens features a moisture resistant construction. This is however not a completely weather sealed lens.
---
Note: As an Amazon Associate we earn from qualifying purchases. Certain content that appears on PhotoWorkout.com comes from Amazon. This content is provided 'as is' and is subject to change or removal at any time.