5 Cameras Like GoPro but Cheaper
In case you don't want to spent close to $500 for the fancy GoPro Camera and are looking for an alternatives, you have come to the right place. We have shortlisted the best action cameras like GoPro, but cheaper. 🙂
✔ 5 Low Cost GoPro Alternatives
Cheaper GoPro Alternatives
Related Post: Review of the SJCam SJ7 Star Action Camera
A Brief History of POV Cameras
The concept of action cameras has long been around, even before GoPro came about. POV action cameras have been around many years ago, even before someone attached a GoPro to a helmet and hopped on a mountain bike or leaped off a cliff. Albeit, they have all been contraptions in various forms and stages of perfection.
What is a POV Camera?

A POV Camera is a Point Of View Camera, a digital camera designed to capture the scene in front of a person. POV action cameras are normally small and can easily be attached to your helmet or glasses and can record your outdoor sports adventures.
Undoubtedly, GoPro isn't the pioneer action camera. They can, however, be credited for making action cameras available to almost everybody. Thanks to them a bunch of other cameras like GoPro has come along.
Action cameras had come a long way since the days when legendary F1 driver Jackie Stewart wore a Nikon contraption. It had the camera attached to his helmet on one side and what appeared to be a large battery pack counterbalancing the camera on the other side. Though I should add that he never wore the camera in an actual race. That was before the evolution of the GoPro systems.
GoPro Makes Action Cameras Mainstream
Nick Woodman and the GoPro system changed everything. GoPro took over the action camera market with the first ever commercially produced camera, the GoPro Hero 35mm. It was a film camera. It did not shoot videos. But it had something that was revolutionary at the time. An accompanying mount that enabled him to wear the camera on his wrist while surfing in open waters.
As we all know, GoPro systems have come a long way. They have also inspired countless other manufacturers to follow in their footsteps to produce competitive products. This article is a listing of those cameras like GoPro; but only cheaper.
Related Post: GoPro Karma (New Drone)
Detailed Review: 5 Cameras Like GoPro But Cheaper
1. YI 4K Action Camera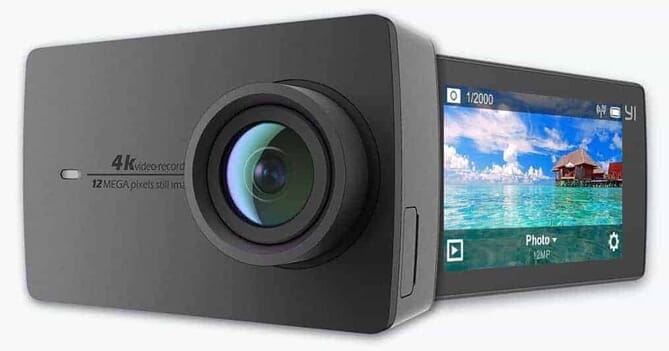 Sensor
The YI is a 4K Action Camera powered by an Ambarella A9SE75 Chip and a Sony IMX377 image sensor.
Lens
The built-in lens on the camera shoots at a wide open f/2 aperture. It is a 7-layer design with an angle of view of 155˚.
Still
The YI is capable of shooting 12-megapixel stills. Thanks to the Sony IMX377 sensor, the quality of the images are surprisingly good even in low light conditions.
Image Stabilization
The YI features an electronic image stabilization system that ensures stable stills and videos. It is powered by a 3-axis gyroscope and a 3-axis accelerometer that can detect the exact position of the camera and when it changes. However, the feature is optically inferior in performance compared to something like the Tough TG-5 that we discussed below.
Video
The YI 4K rivals the GoPro Hero regarding video shooting. It is capable of shooting 4K (UHD) videos at a frame rate of 30 fps. At a scaled down rate of full HD, you can shoot at 120 fps. Additionally, you can cue up 4K time-lapses as well as shoot low motion footages of scenes and keep the camera in loop recording for as long as the memory card supports. A special feature on the YI is its ability to shoot stills while recording videos.
Monitor
The back of the camera is dominated by a 2.19″ touchscreen LCD monitor. Touchscreen simplifies a lot of the camera's controls allowing you to tap your way to photographic nirvana.
The use of Gorilla Glass Retina ensures some amount of protection against scratches and knocks. And if you missed it the LCD screen is larger than the one on the GoPro.
The higher resolution (330 PPI) gives a bright display of the images shot. Additionally, the large 160˚ viewing angle ensures everyone in a group can see what's being captured at the same time.
Weather Sealing
The YI loses out to the GoPro in terms of weather sealing. It does not have any. This is a serious drawback when compared to the GoPro that it competes with.
Other Features
There is a built-in cooling system that prevents the camera from getting overheated when constantly shooting videos. The YI has built-in Wi-Fi and Bluetooth. Wireless ensures remote control of the camera using a compatible smartphone/tablets. The bundled battery lasts for up to two hours of shooting. On standby mode, it would last for 8 hours.
The Yi camera app, which you can download for free will allow you to not only shoot and edit the videos but also share them with the entire world in an instant.
Related Post: DJI Spark (The Drone Everyone Can Fly)
2. Olympus Tough TG-5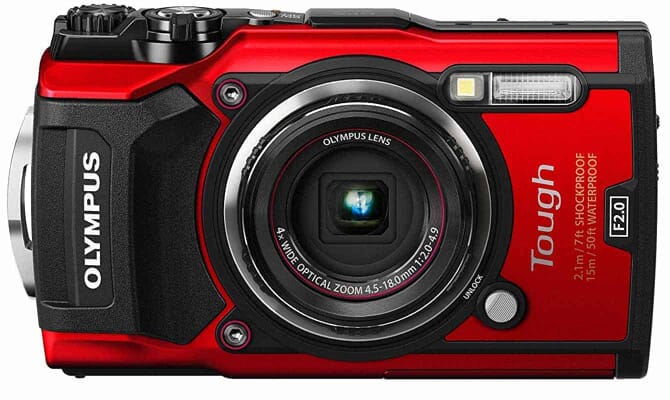 The TG-5 is just about less than a fully loaded GoPro with all its accessories.
Sensor
The Olympus Tough TG-5 is built around a 12 megapixel BSI CMOS sensor and TruePic VIII image processing engine. BSI sensors have their wiring at the back of the sensor. This ensures that the pixels on the sensor have more area to gather light compared to traditional sensors. BSI sensors are known for their cleaner image files even in low light situations.
ISO
The native ISO range of the Tough TG-5 is 100 – 12800. As already explained, BSI sensors have cleaner low light performance. Thus, the native ISO range can be utilized to a large extent when shooting in low light situations.
Lens
The built-in lens on the Tough TG-5 is capable of 4x optical zoom. That is 4.5mm – 18mm in the real world sense. In 35mm parlance that is the equivalent of a 25 – 100mm. The lens has a maximum aperture of f/2 when shooting at wide angle and f/4.9 when shooting in tele mode.
Focusing range of the lens is 3.94″ to infinity when shooting in normal mode and 0.39″ to infinity when shooting in macro mode.
Related Post: Best Waterproof Action Cameras
Still
The 1/2.3″ CMOS sensor with a maximum resolution of 12 megapixels can produce large fine JPEGs and 12-bit RAW files of the size 4000 x 3000 pixels.
The Tough TG-5 is capable of shooting at a relatively fast continuous shooting speed of 20 fps. Being an action camera, you would want the system to be able to capture as many shots as possible.
Image Stabilization
Built-in image stabilization is the sensor shift type. Image stabilization is necessary when shooting in telephoto focal length and especially when shooting in low light conditions.
Video
The Tough TG-5 comes with 4K video capabilities at a decent 30 fps maximum frame rate. If you switch to full HD video shooting, you would be able to shoot at an incredible 120 fps. This is just perfect for shooting action videos and then playing them back in super slow-mo. A built-in mic records a stereo quality sound. The maximum clip length can be 29 mins.
Monitor
A 3″ LCD screen with a resolution of 460,000 pixels is what you get at the back of the camera. The screen covers 100% of the frame.
Weather Sealing
Weather sealing is one of the major features of action/sports cameras. The Tough TG-5 is no different in that department. It is waterproof up to a depth of 50′ (15m). It is freeze-proof up to a temperature of 14 ˚ F (-10 ˚ C). If you happen to drop it from a height of 7′ the camera will likely survive as it is rated shockproof for any fall from that height. Additionally, the camera can withstand the pressure of up to 220 lbf.
Additionally, dustproof-rating of IP6X ensures that the camera's delicate internal components are safeguarded against dirt and dust. Further features built into the camera includes special double-pane glass on the lens that ensures that it will not be affected due to fog and condensation in certain conditions.
Other Features
Apart from its incredible weather sealing, this sturdy camera comes with what Olympus says Field Sensor System. That includes a GPS module, a compass, a temperature sensor and a manometer. All these information is captured along with the image data which is then embedded into the file.
The camera comes with built-in wireless function as well. This ensures that you can transfer images and videos as well as control the camera remotely using your smartphone.
Related Post: Best Point & Shoot Cameras Under $500
3. FITFORT Action Camera 4K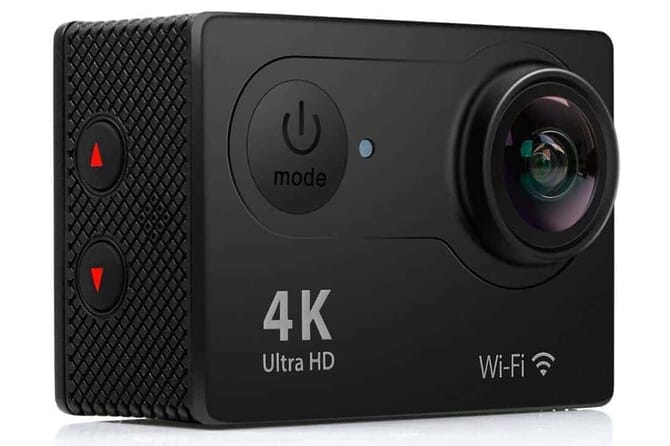 Related Post: Best Cameras for Diving under $500
Sensor
The FITFORT Action Camera is built around a 12-megapixel imaging sensor.
Lens
The built-in lens has an angle of view of 170˚.
Still
The FITFORT action camera is capable of shooting 12-megapixel stills.
Video
The camera can shoot 4K videos at a frame rate of 25 fps. But then there are other options as well. You can shoot at a frame rate of 2.7K at a frame rate of 30 fps, full HD at 60 fps and 720p HD at a frame rate of 120 fps.
Related Post: Ricoh Theta S Review (Make Amazing 360 Degree Videos)
Weather Sealing
The FITFORT features some interesting weather sealing properties. It is waterproof up to a depth of 100′. Certified to IP68 standards. The case is designed in a way so that even at that depth you can access and operate all of the buttons on the camera.
Other Features
The FITFORT comes with two rechargeable 1050mAh batteries. You can use one in the camera and keep one in hand full charged and waiting to be replaced. Each of the batteries has enough power to shoot for 90 mins continuously. An additional power saving feature on the camera is a built-in screen saver. You can set it to 1, 3 or 5 mins delay to save power.
Wireless is built-in. This serves the dual purpose of backing up the camera as well as get a remote control to shoot images from a distance. The remote control works from a maximum distance of 10m and can be worn on the wrist, giving you the option to shoot from a distance.
The camera itself is light enough to be worn on a helmet allowing you to shoot POV clips of all your active adventures.
The compatible app works with both Android and iOS platforms. To download, just scan the QR code to install the 'Ez iCam' app. The app works as a standard camera control, editing and sharing platform.
Related Post: Best Compact Cameras Under $500
4. Maifang Action Sports Camera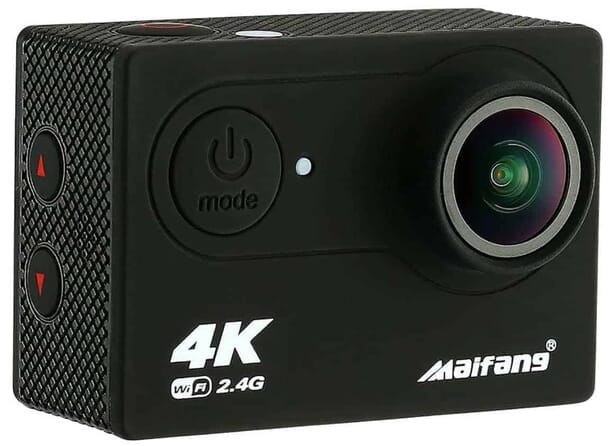 The Maifang is a Sports Action camera that comes with waterproof features.
Lens
The built-in lens on the Maifang has an angle of view of 170˚. It is a six glass lens element with a minimum focusing distance of 12 cm.
Video
The camera is capable shooting at full HD at 60 fps. Additionally, you can also shoot at 4K at 25 fps and a slightly scaled down 2.7K at 30 fps.
Other Features
The camera comes with a 2.4G Remote control. This remote ensures that the camera is capable of being operated from a distance.
Built-in Wi-Fi and other Features
The camera has a built in Wi-Fi connection. You can control the camera via the Ez iCam app. The app downloads your images, saves them to your cloud storage, and even shares them on social media.
LCD Screen
At the back of the camera is a 2″ LTPS LCD screen with a resolution of 320 x 240 pixels.
Weather Sealing
The Maifang comes with an IP68 compliant waterproof case. This ensures that the camera can be used underwater as well as in dusty environments without issues.
Related Post: ODRVM 4K Review
5. Akaso EK7000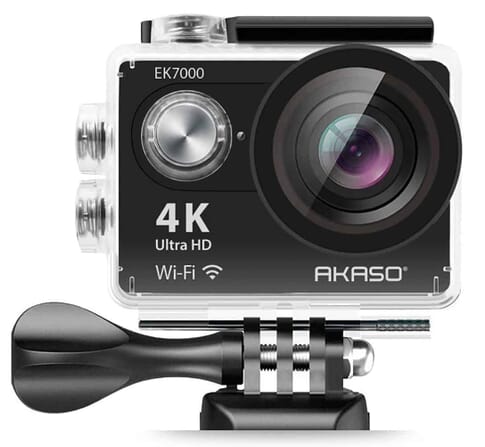 The Akaso EK7000 4K Action Camera is one of the best alternatives for the GoPro.
Let's take a look at the features that it comes with:
Video Recording
The EK7000 captures 4K videos at a smooth 25 fps. That should give you enough frames for smooth playback on a large 4K TV.
Still
The EK7000 can also capture 12-megapixel stills.
Remote Control
The camera comes with a 2.4G wireless remote. With the remote, you can operate most of the camera's features without having to touch the camera physically.
Alternatively, you can also use your smartphone as a remote. Just download the iSmart DV app on your phone. Pair the device with your phone, and you are ready. With a Wi-Fi range of about 10m, you can control the camera from a reasonable distance, shoot images, save the files and share them with the world on the go.
LCD Monitor
The EK7000 has a small 2″ LCD monitor. The display is reasonable with limited pixels.
Weather Sealing
Unlike some of the other POV/sports action cameras available in the market, the EK7000 does have weather sealing. Weathers sealing ensures that you can use the camera under water, in inclement weather as well as in dusty environments.
These features, the very affordable price (currently retailing at
Check on Amazon), and the positive ratings from other buyers on Amazon, make the Akaso EK7000 the best pick in the category "action cameras like GoPro but cheaper".
Related Post: GoPro 5 vs GoPro 4
---
Note: As an Amazon Associate we earn from qualifying purchases. Certain content that appears on PhotoWorkout.com comes from Amazon. This content is provided 'as is' and is subject to change or removal at any time.