Slideshow makers are useful tools that can be used to create fun and beautiful multimedia creations.
Maybe you have photos from a recent trip you wish to share?
Or perhaps you want to create a business presentation?
While the applications of this presentation style are endless, it can often be difficult to find a decent free slideshow maker that gives you enough features and customization.
In this article, we give you a review of a good-quality free slideshow maker, the Canva Slideshow Maker.
In this review, we look at how to use Canva, what the program offers in terms of customization, and finally, whether it's worth it to upgrade beyond the "free" model.
When you buy through links on our site, we may earn a commission at no cost to you. We evaluate products independently. Commissions do not affect our evaluations.
About Canva
Before we delve into the Canva Slideshow Maker review, let's take a look at the platform behind it. Canva is a tool made for designers and businesses. You can create a wide range of multimedia projects such as infographics, flyers, social media icons, and presentations with relative ease.
You can also create individual social media posts such as Instagram feed posts using templates that fit the specific parameters of the social media app. It appears to be a comprehensive platform that would be beneficial for small businesses and design teams that utilize web media and social media on a daily basis but don't have a graphic designer or the necessary design programs.
Availability and Benefits of Creating an Account
Canva and its tools are free to use – this includes the Canva Slideshow Maker. The free version has its limits, however. For example, the library of fonts, photos, and other elements is greatly reduced compared to the premium price plans. You also only get limited storage for your completed projects.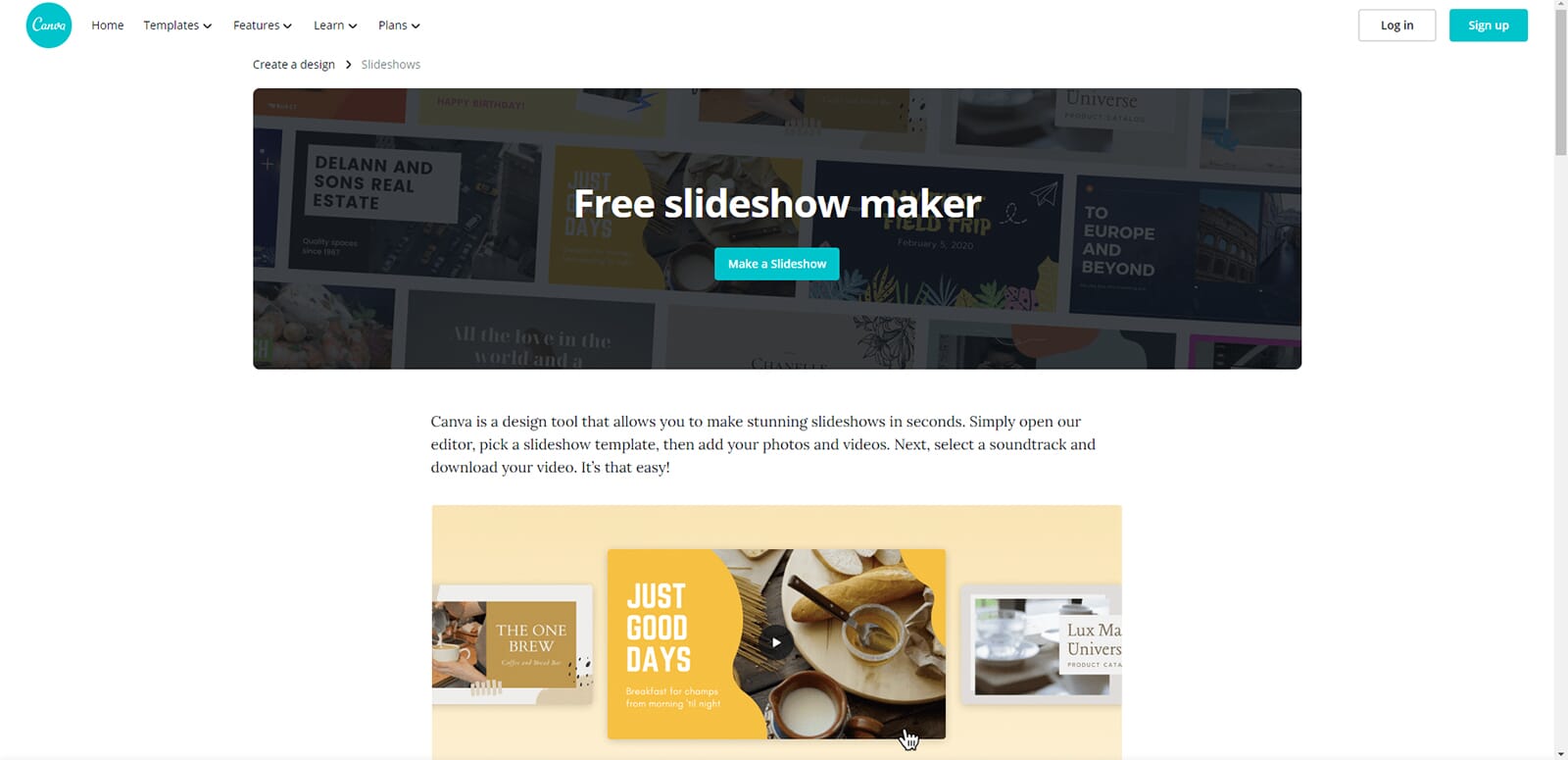 If you intend to use Canva regularly for business, you may benefit from upgrading to the Canva Pro plan which costs $9.99 per month. This provides access to the full library (which includes 3000+ fonts, for example), and 100GB storage for your projects.
As a minimum, we advise creating a Canva account to use the slideshow maker. You can easily create an account or even login using Google or Facebook. If you create an account and sign in, you can save your slideshows, and upload your own multimedia. If you do not sign in, you are limited to only using the various template elements provided.
Canva Slideshow Maker Review – What Can You Expect?
When creating this Canva Slideshow Maker review, we created an account and spent time testing the various features and tools. We love playing with apps like this and ended up creating some slideshows of personal photography and recent trips! In the sections below, we have described the different features you can use. We then looked at important aspects like usability and customization.
Key Features
Canva Slideshow Maker has a simple toolbar on the left-hand side with different features you can add – this includes templates, elements, text, and backgrounds. These features are what you will use to form the basis of your slideshows.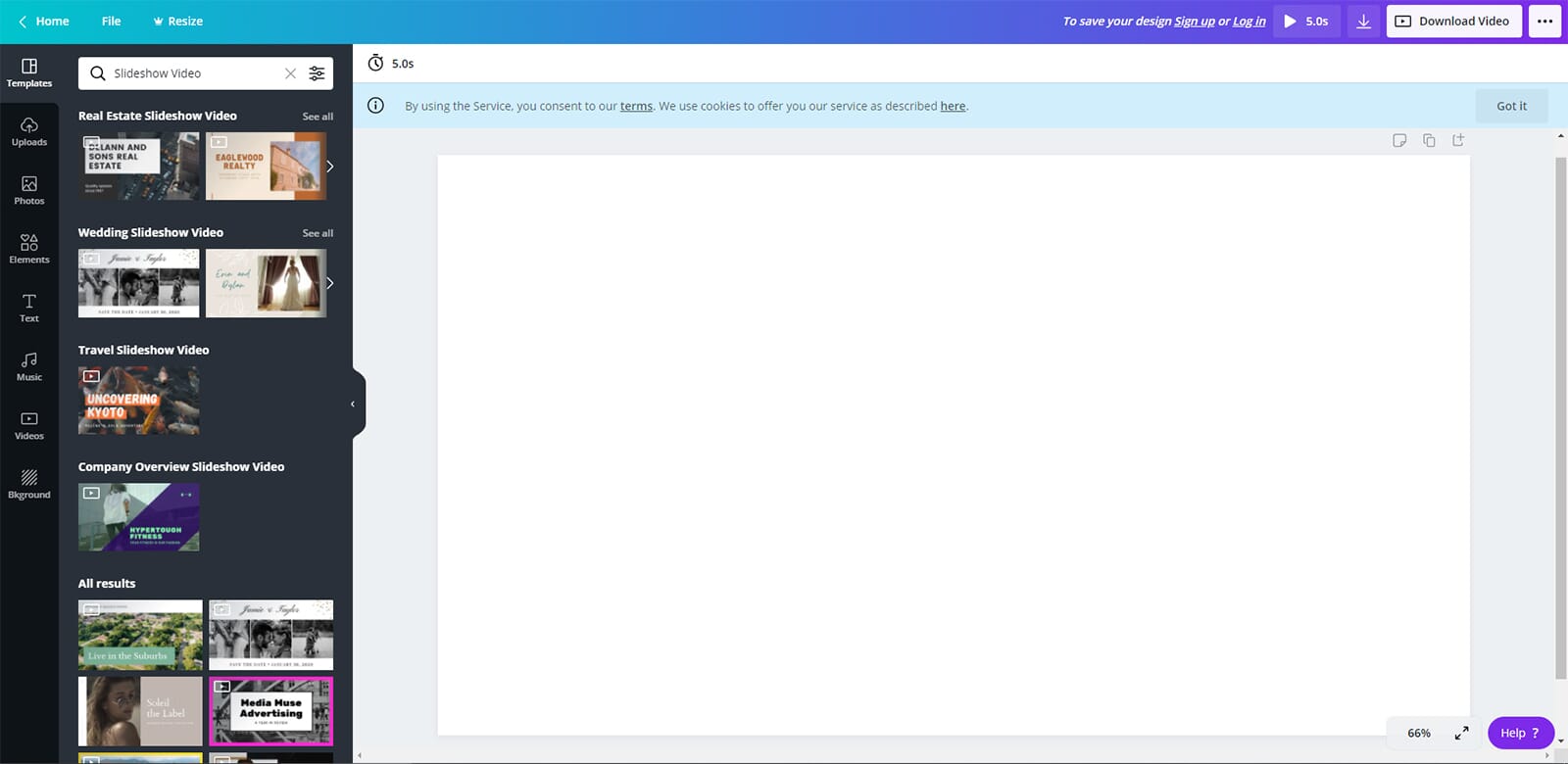 Templates
If you are struggling for inspiration or don't really know where to start, Canva Slideshow Maker has a large range of pre-built templates to use. The templates are broken down into different categories like travel, real estate, marketing, and sales.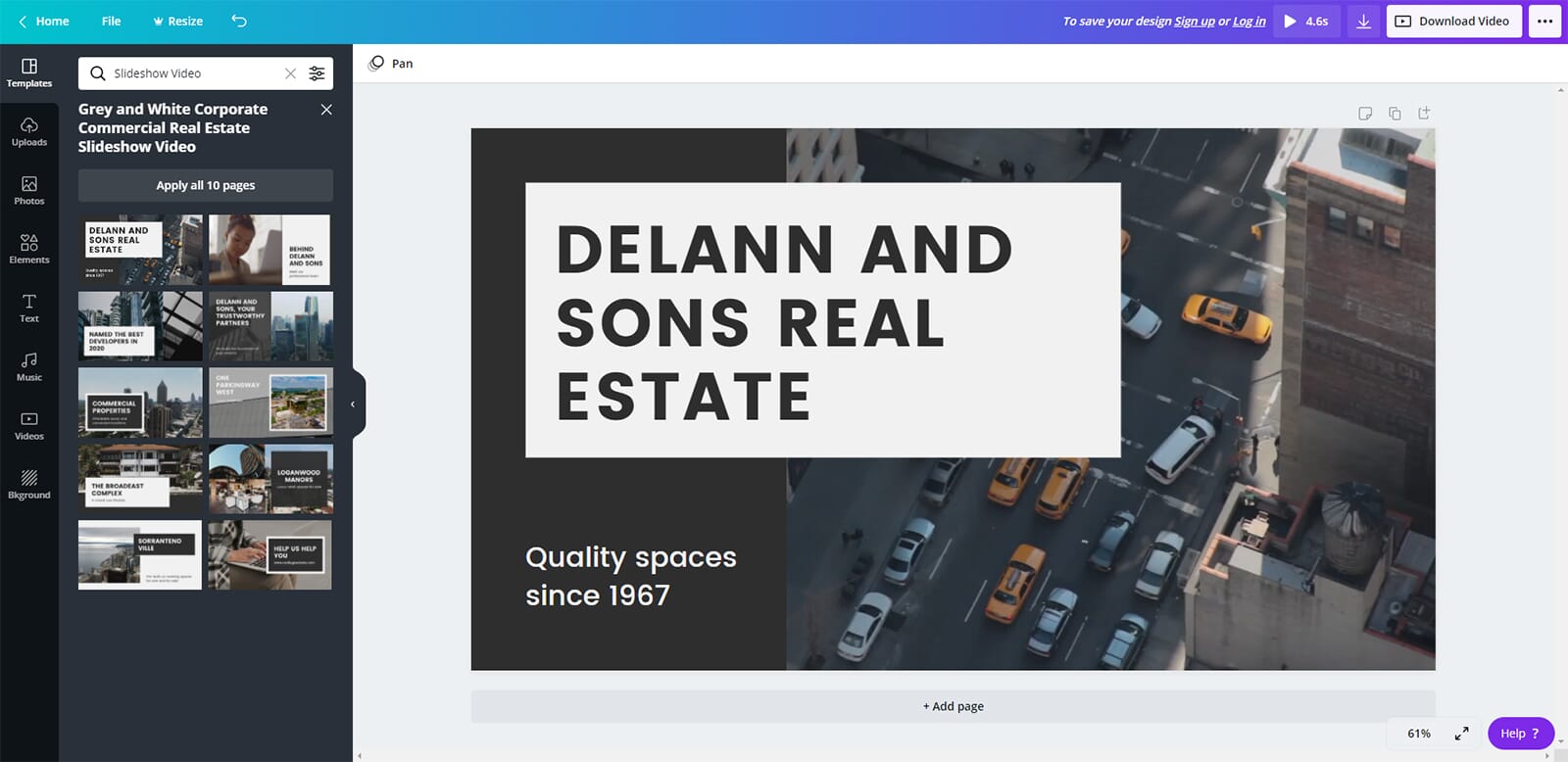 The templates are fully searchable, and each template has keywords assigned so you can easily find them. Once you have found a template you like, you can choose to insert either a single slide or the full presentation into your current project.
The quality of the templates is solid – they look professional and utilize a good range of colors. They are also incredibly easy to use and once a template is applied, you can freely edit all the elements.
Elements
Next, we have elements. These are pre-built graphics that you can use to improve the quality and depth of your slideshows. We could really see the benefit of these elements to create unique and stylish slideshows.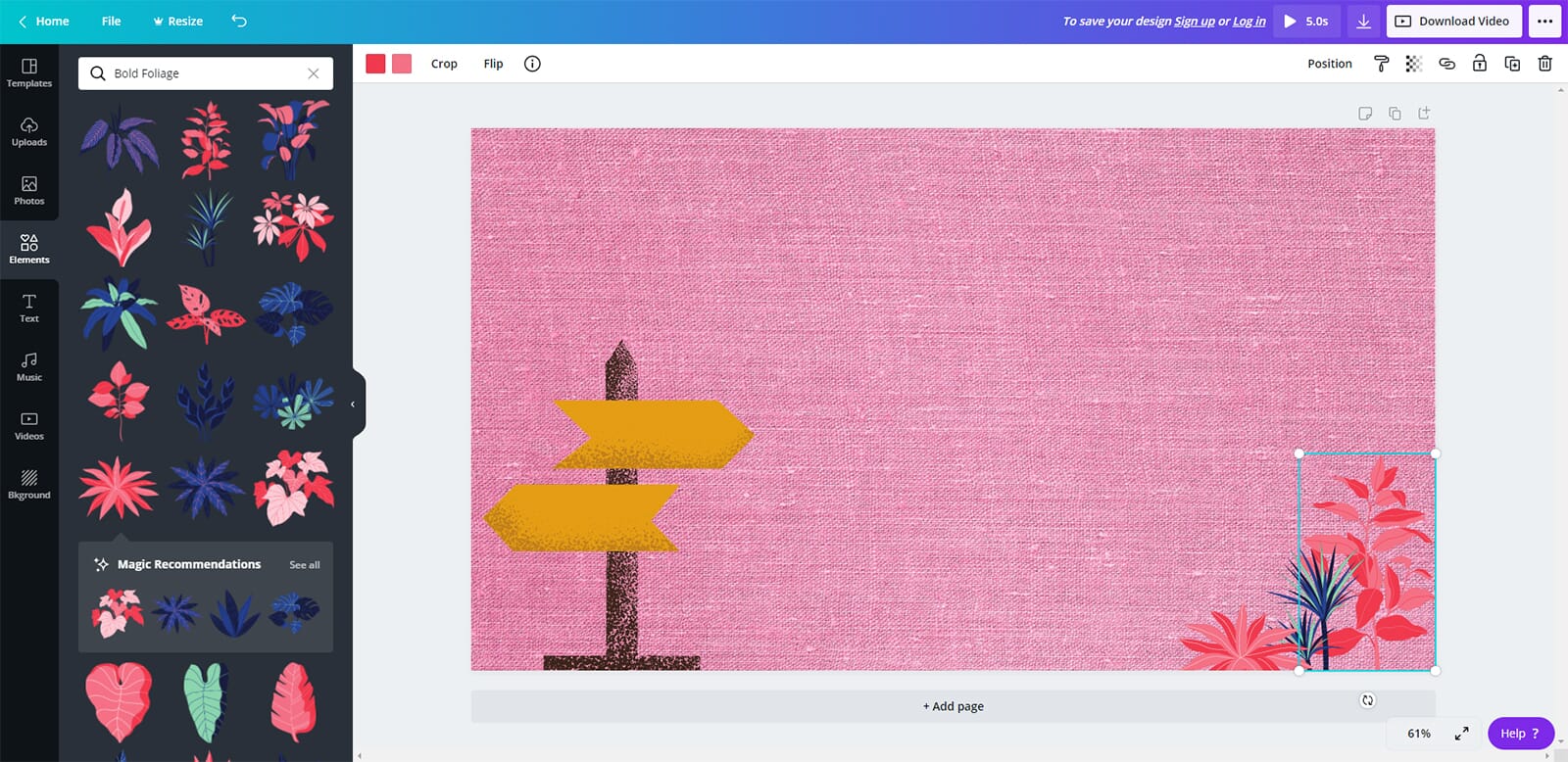 The elements include objects like lines, simple geometrical shapes, charts, stickers, gradients, and artwork. We particularly liked the different artwork – you can add hundreds of small artworks to your slideshows like flowers, animals, and zodiac signs.
This gives you great creativity, and all of the elements are customizable. You can resize the elements, for example, and on certain objects, you can change the main colors.
Text
What slideshow would be complete without text overlays? The text toolbar allows you to insert custom text entries. You can use a large array of font combinations to add a real personal touch. The custom text has three presets – heading, subheading, and body text. You can then insert the text and change parameters like font size, color, and alignment.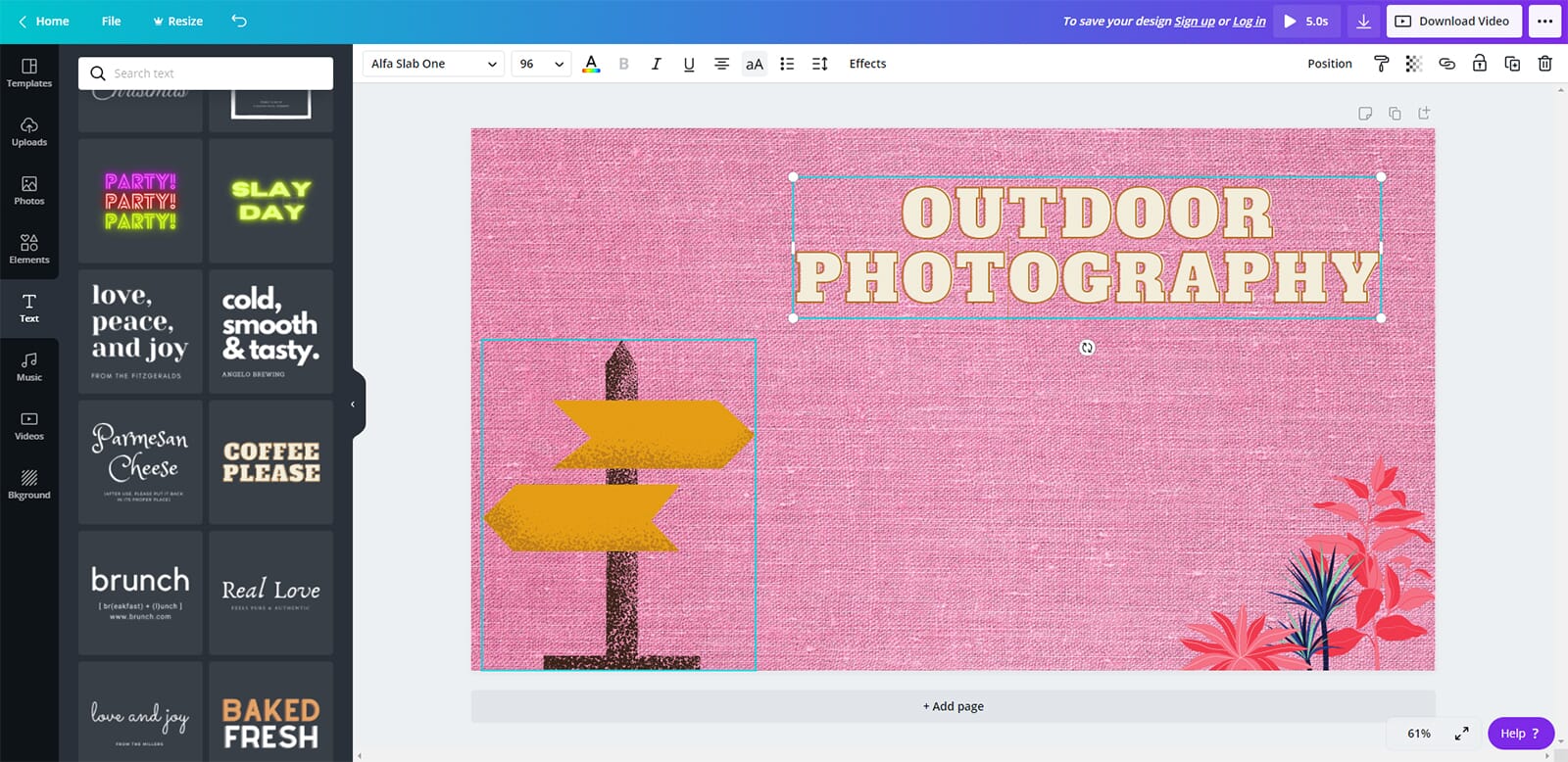 Alternatively, you can use the font combinations. These are fun and stylish designs almost like the old Word Art feature in Microsoft Word. If you use these pre-built font styles, you can customize them once they are inserted into your slideshow.
For me, this was one of the most fun parts of this Canva Slideshow Maker review. There is a large selection of fonts to choose from, even in the free version. The combinations also give some stylish designs that can be used to create emphasis in your slideshows.
Music
If you want to add atmosphere and depth to your slideshows you can insert music! There is a decent selection of template tracks that you can use for free. However, the number of tracks available is limited compared to the pro upgrade.

You can also upload your own music and audio files. This means you can personalize your slideshows, but also add speech if you wish. A downside is that there is limited control over the audio. You can insert music into your slideshow, but you can't edit the track in any way – it simply plays as the slideshows cycle through.
Backgrounds
The basic of any slide is its background. In this Canva Slideshow Maker review, we tested the backgrounds and were pleased with the large variety of options. Firstly, you can simply choose a block color for your background using pre-set colors or the color selector.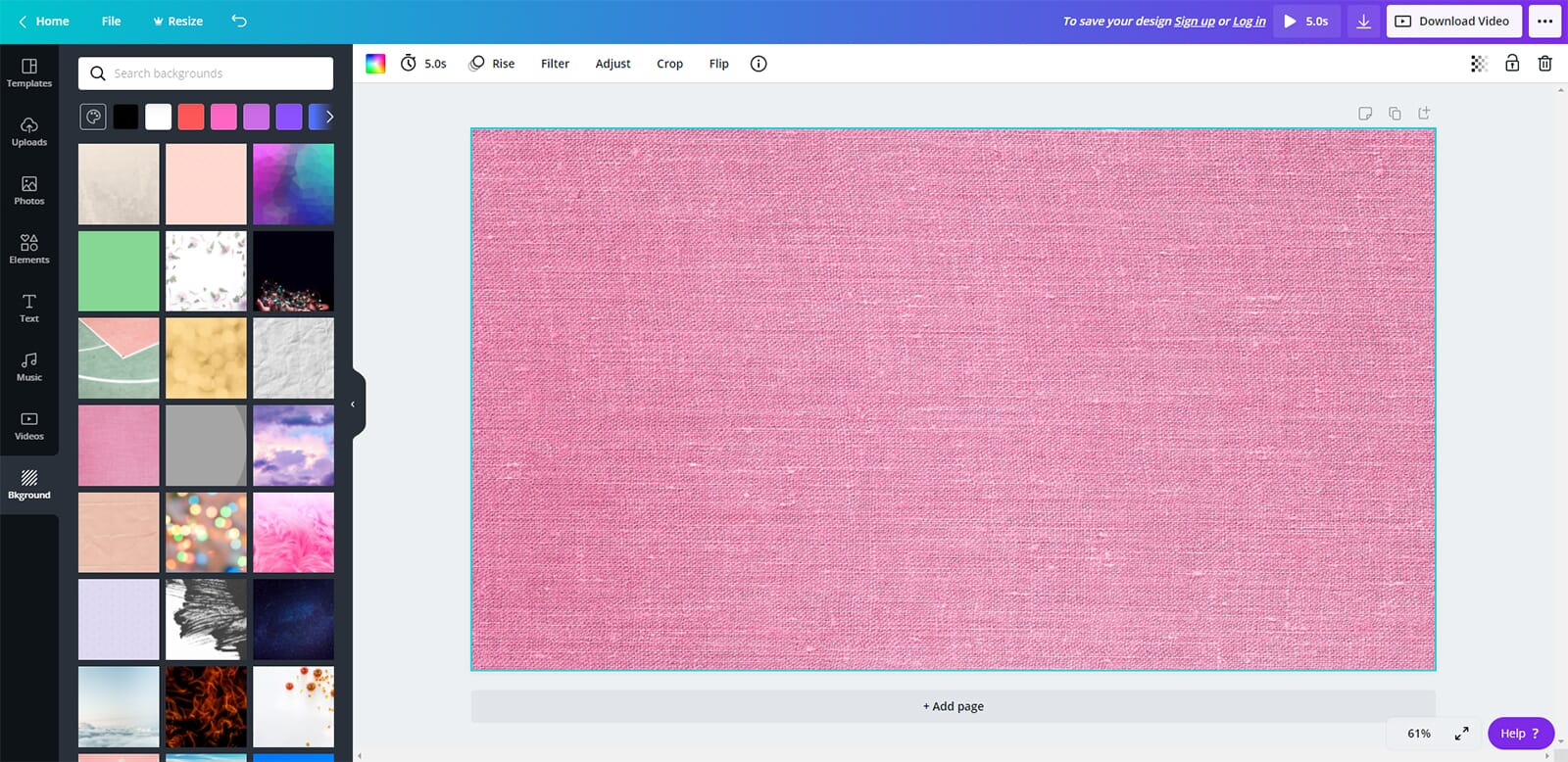 Alternatively, Canva Slideshow Maker has hundreds of photos and artwork to choose from as backgrounds. The quality is excellent, and there is a great variety. This includes textured backgrounds like fabric and bricks, simple gradients, or stylish photos.
The backgrounds are also fully searchable and tagged with keywords. For example, you could type in flowers and it would show a host of backgrounds with flowers.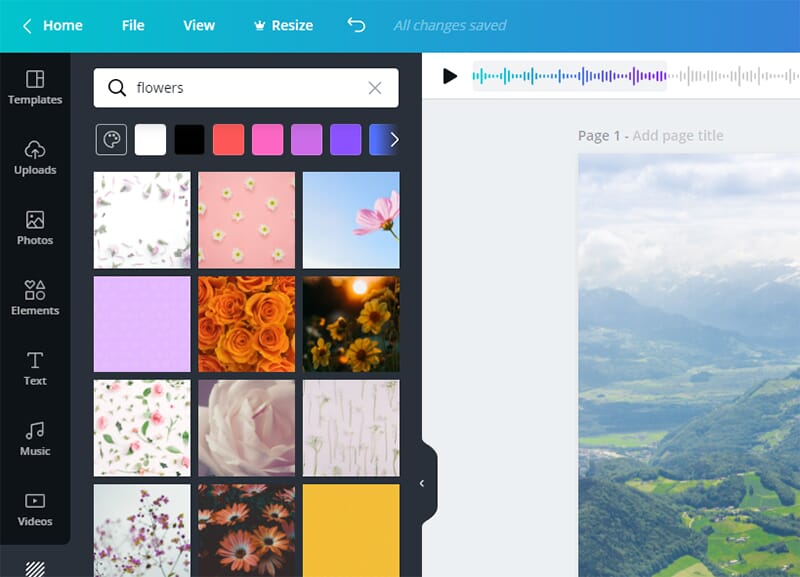 Uploaded Files
If you don't want to use the templates and elements, you can upload your own files. You can upload videos and images relatively easily. You can either upload from your device, or upload from other sources like Dropbox, and social media.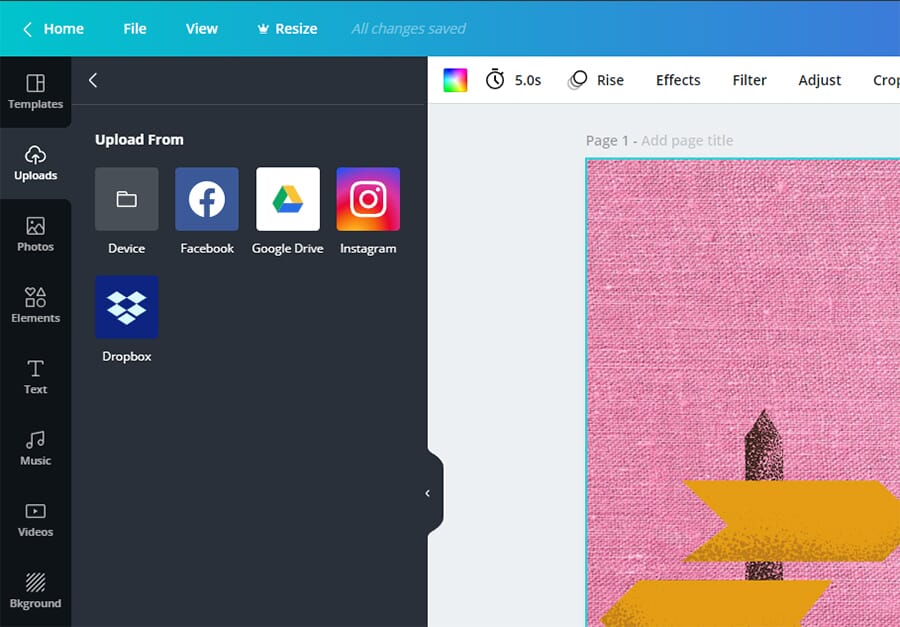 The file upload toolbar shows thumbnails of your uploaded content and you can quickly insert them into the slideshow with a single click.
Slide Transitions
Who doesn't love a good slide transition? The transition options for Canva Slideshow Maker are OK but not amazing. The free version provides just five different transitions. If you upgrade to the pro version, there are 10 in total.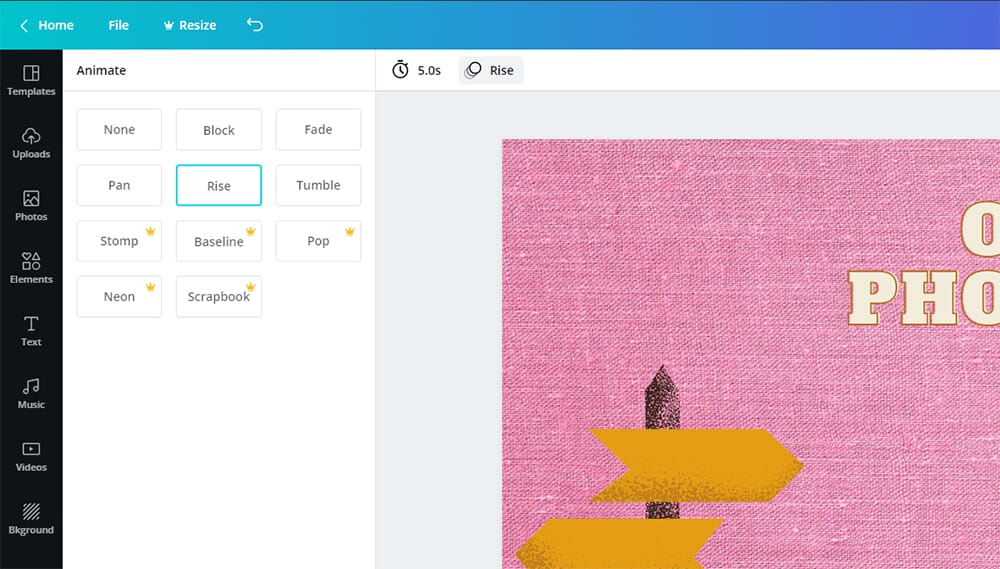 This isn't a huge choice compared to some other slideshow makers. The transitions are of great quality and look fantastic, but you are limited. Also, you cannot customize the transitions. Simply select the transition you want, and it is automatically applied to the elements within the selected slide. You can also choose to apply the transition to all slides at once.
Customization
The customization offered is outstanding in some areas but lacking in others. We found great customization for the preset items that you can insert into your slides such as elements, text, and backgrounds. For example, when you insert the text you can change a host of features including font size, alignment, and transparency.
Also, for the artwork and elements, you can change the overall color scheme, rotate the images, and fully resize them. We also like the customization of the slides themselves. If you click on the timing icon of a slide thumbnail, you are given a whole set of parameters to change.
This includes the timing, but you can also apply filters to the slide. Basic parameters of the slide including brightness, contrast, and vignetting can also be edited. This gives you greater control and allows for some artistic edits.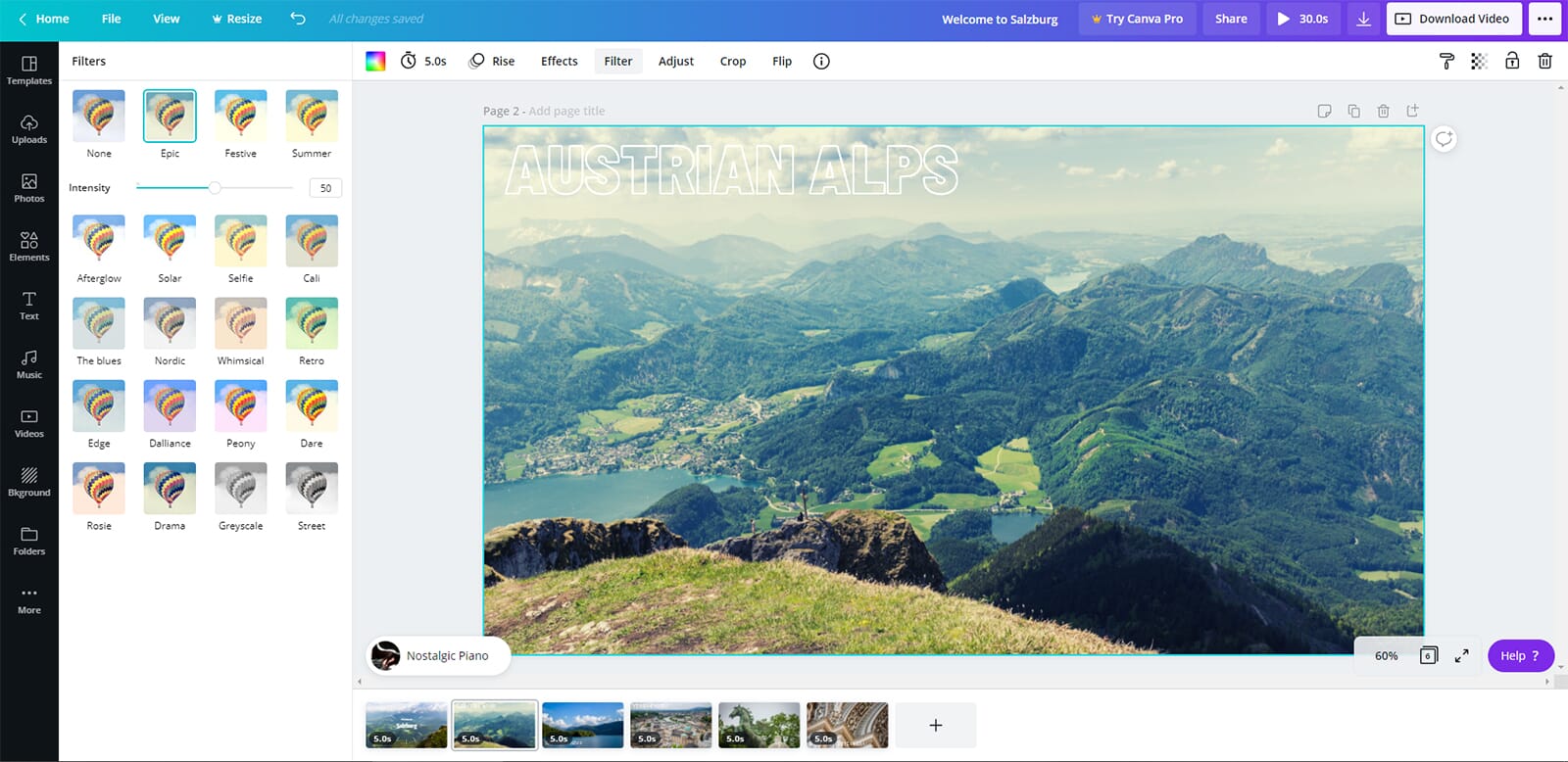 As previously mentioned, the main area Canva Slideshow Maker falls down in when it comes to customization is the transitions. You can only apply transitions to whole slides, and you cannot customize them at all.
Usability
When using Canva Slideshow Maker we generally found it easy to use. The main toolbar is accessible and simple to understand. It uses a simple drag and drop or single-click interface that anyone can grasp quickly.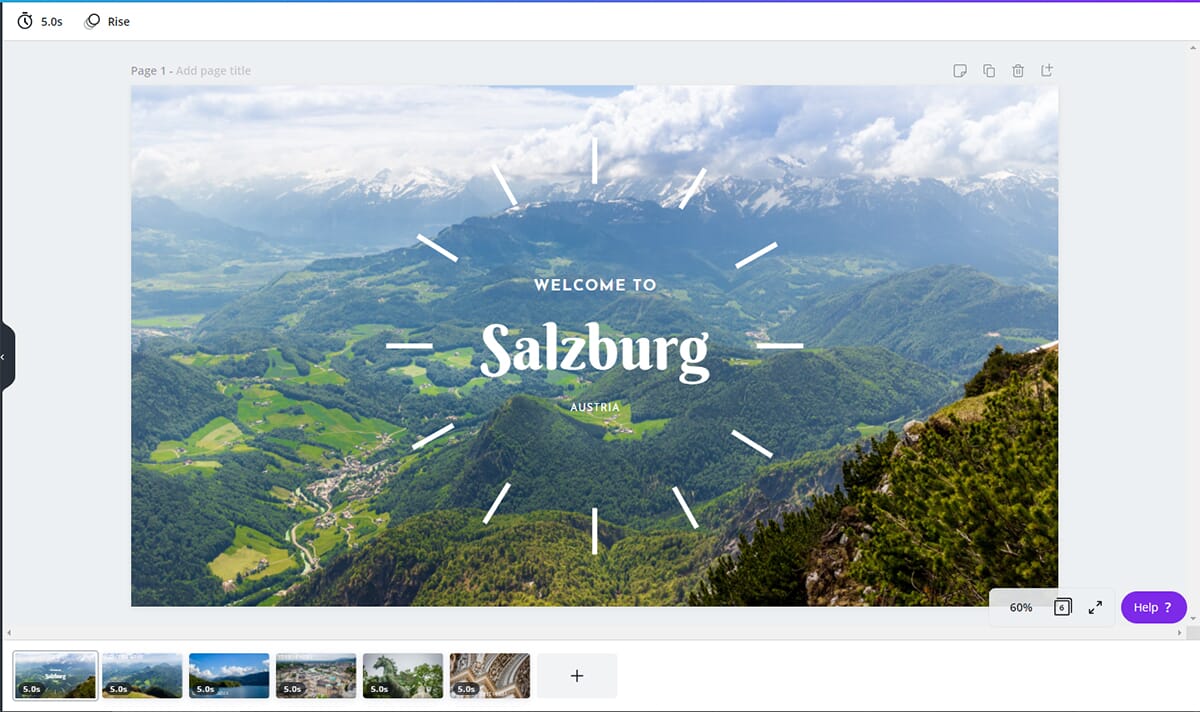 We feel that some of the features and tools could be made more visible or explained better. Sometimes, we found that we had to spend time searching for certain features. At first glance, everything isn't clearly visible. As a result, we advise spending some time getting used to the platform and where everything is.
Essentially, using the different tools and features is easy, but finding them is not always obvious.
Quality
We can't fault the quality of Canva Slideshow Maker at all! The pre-built elements and templates that you can use are all high quality. Where some slideshow makers give low-quality objects or items that look childish, everything in Canva looks professional and stylish.
The overall quality of the finished slideshows is great. The transitions are smooth, the graphics are sharp, and you can create professional-grade slideshows. You can see a sample slideshow we made – it's nothing special, just a simple photography slideshow with photos from Salzburg!
Canva Slideshow Maker Review – Final Thoughts
Canva Slideshow Maker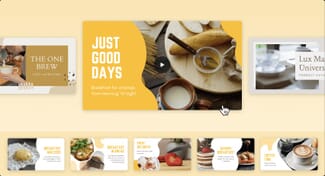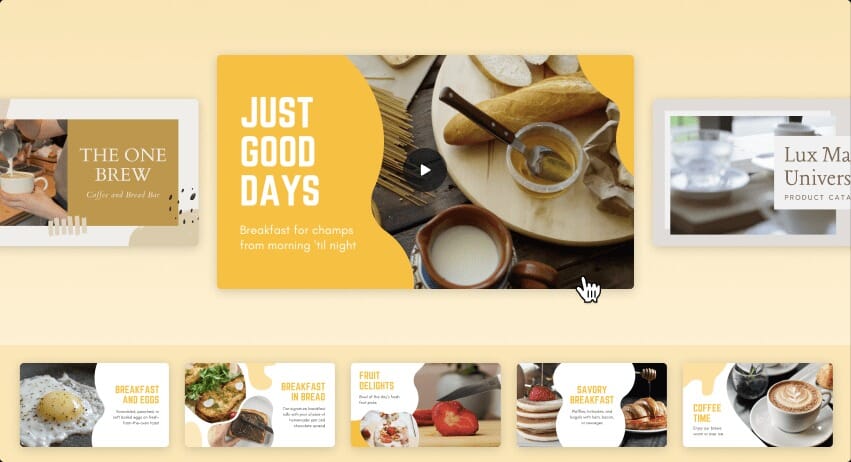 Product Name: Canva Slideshow Maker
Product Description: Canva is a online design tool that allows you to make stunning slideshows in seconds.
Brand: Canva
Offer price: 0.0
Currency: USD
Availability: OnlineOnly
Layout

Customization

Usability

Quality
Canva Slideshow Maker Review Summary
Canva Slideshow Maker is a solid web-based app with a great selection of features. You can create detailed slideshows using the vast library of content, or your own multimedia files.
Pros
A large range of professional templates
Excellent customization
A simple interface and toolset
Cons
Limited flexibility for transitions
Some advanced features are not immediately visible
We enjoyed using Canva Slideshow Maker. It is simple to use, and it has an extensive library of elements and templates to use – even for the free version. Standout features we enjoyed include the pre-built font combinations, the stylish element artwork, and the in-depth customization of the different elements.
If we were to pick flaws, they would be the lack of customization for the transitions, and the occasional difficulty finding some of the advanced features. Otherwise, this is an excellent free slideshow maker for personal use and business.