We've had plenty to say in the past about CanvasChamp's on-demand canvas print service. You may even recall a CanvasChamp review we posted a few months ago covering the service's metal and their split canvas prints.
Today, we're revisiting CanvasChamp to take a look at their photo pillows that often get overlooked among some of the site's flashier options. As their name implies, most of CanvasChamp's customers order a canvas.
However, in order to compete with the likes of Shutterfly and Snapfish, they seem to be expanding beyond straightforward photographic prints to include novelty products including custom-made photo calendars and stickers.
Among their products are personalized photo pillows, which I took the liberty of ordering and assessing on my own. You may recall from my previous post that I had mixed feelings regarding CanvasChamp's service and delivery.
However, I tried to keep an open mind with my latest order. While there were many parallels to my first experience with the service, there are a few differences that I took note of this time around.
CanvasChamp Photo Pillow Review
What We Love
👍 Affordable Pricing. There's no way around it – CanvasChamp has the most affordable prices around when it comes to custom photo printing. With pillows available in a gamut of sizes, even their most expensive option does not exceed $40 total. See our detailed price chart below:
CanvasChamp Pillows
Size
Discount Price
12×12″
$11.45
12×18″
$15.99
14×14″
$13.99
16×16″
$14.99
18×18″
$18.99
18×24″
$23.99
20×20″
$22.99
22×22″
$29.99
24×24″
$34.99
26×26″
$39.99
The savings CanvasChamp has to offer are tempting, to say the least. Regardless of what your photo project happens to be, they are consistently less expensive than their main competitors.
👍 (Relatively) Fast Shipping. If you're an Amazon Prime addict, CanvasChamp may come as a disappointment. However, considering that the company is based thousands of miles from my front door, I was impressed.
My order arrived in just six business days. My canvas order from months ago also made it in less than a week. Therefore, I think that it's safe to say that CanvasChamp boasts a quick turnaround, making it an appealing choice for those ordering gifts for the holidays or prints on a deadline.
What Could Change
👎 Clunky Navigation and UI. As much as I hate to sound like a broken record, I sadly have to reiterate just how awful CanvasChamp's UI is. It's unnecessarily difficult to navigate the international version of their website (my only option as an American citizen).
Unfortunately, this flaw is a little bit more than a slight aesthetic annoyance. Because of the site's confusing layout, it's hard to accomplish simple tasks such as choosing colors with an eyedropper tool.
It's incredibly easy to accidentally order a wrong size, tack on an unnecessary charge, or otherwise make a mistake in your design without realizing it. I personally recommend previewing your final product and sweeping over your receipt before finalizing any orders.
👎 Questionable Material/Build. Last time, I gave CanvasChamp credit for using seemingly high-quality, eco-friendly materials. However, I quickly found after my CanvasChamp review was published that my purchase wasn't all that durable. With just a light scratch, the pigment of my canvases came off. For this reason, I'm hesitant to give my stamp of approval on CanvasChamp's pillow.
Unlike their canvas prints, I was unable to find much information on what went into their pillow production. According to the tag attached, both filling and pillowcase are composed of 100% polyester.
My CanvasChamp Experience
Now that the basics are out of the way, I'd like to talk a bit about my personal experience with CanvasChamp. I was asked to order a 16×16″ throw pillow, which is one of the midrange options available. The first step to doing so was using the site's internal design program (the PillowMaker) to piece together my order.
I won't go much into the site's design feature – I've thoroughly detailed my gripes on the mechanics. One uncharacteristically promising feature that I noticed was a gallery of royalty-free images provided by Fotolia that could be plastered onto pillows automatically.
Related Post: CanvasChamp Framed Photo Prints Review
Initially, I considered using one of the site's suggested images for my order. However, I quickly discovered that the large Fotolia watermark plastered across each picture did not disappear upon preview. Not willing to take the chance of ordering a stock photo site advertisement as a piece of home decor, I instead opted to utilize a photo collage piece that I've had saved on my desktop for some time.
I was disappointed to find that there wasn't a default option to print my photograph on both sides of my pillow. While it's not impossible to accomplish, CanvasChamp tacks on an additional $1.99 fee.
In the scheme of things, it's not a huge price to pay. However, in my experience, most printers offer the choice between a solid colored or mirrored image backing free of charge.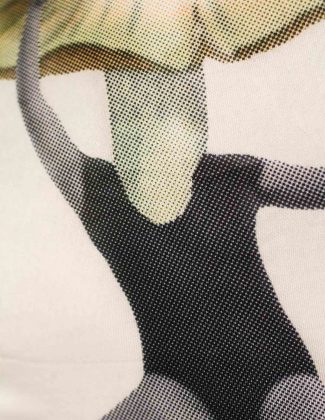 Admittedly, the quality of the print I received impressed me.
The image was quite clear, and the colors came out precisely as I had hoped. Unlike some photo pillows I've encountered, the CanvasChamp polyester model feels silky and doesn't have a whole lot of visible texture to it. I feel that this may have actually worked to the benefit of printers, as bulkier woven materials don't always seem to print quite as clearly.
Despite the potential boost in image clarity, I had mixed feelings about the pillowcase provided. On one hand, I was thrilled to see that the zippered pillowcase was, in fact, removable and machine-washable.
However, a closer inspection left me less than impressed with the craftsmanship of my pillow. For starters, the inner seam arrived frayed. An order number printed directly onto the pillowcase material was left behind. Furthermore, the material itself came wrinkled. Inserting the stuffing didn't seem to help the situation.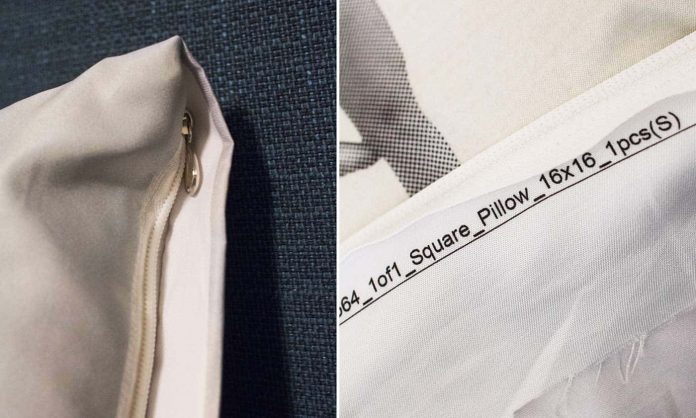 Finally, the pillow itself was comfortable enough. However, it was a bit understuffed. The filling also seemed to sort of clump up in certain areas, giving it a slightly lumpy feel.
Summary
CanvasChamp Photo Pillow Review
Price

Print Quality

Pillow Quality

Delivery Speed
Summary
Overall, the CanvasChamp photo pillow print quality is good. The price is very low and hard to beat. The pillow did, however, have some aesthetic flaws. If you want the best quality photo pillow prints, you may want to opt for the Canvaspop pillows.
All in all, I wouldn't say that this throw pillow is a bad addition to my living room.
It's got a few aesthetic flaws, but the print itself came out really well.
I'm not usually a fan of polyester, but I do like the silkiness of this particular product. That being said, my expectation were a bit higher having already seen the quality of photo pillows from other companies.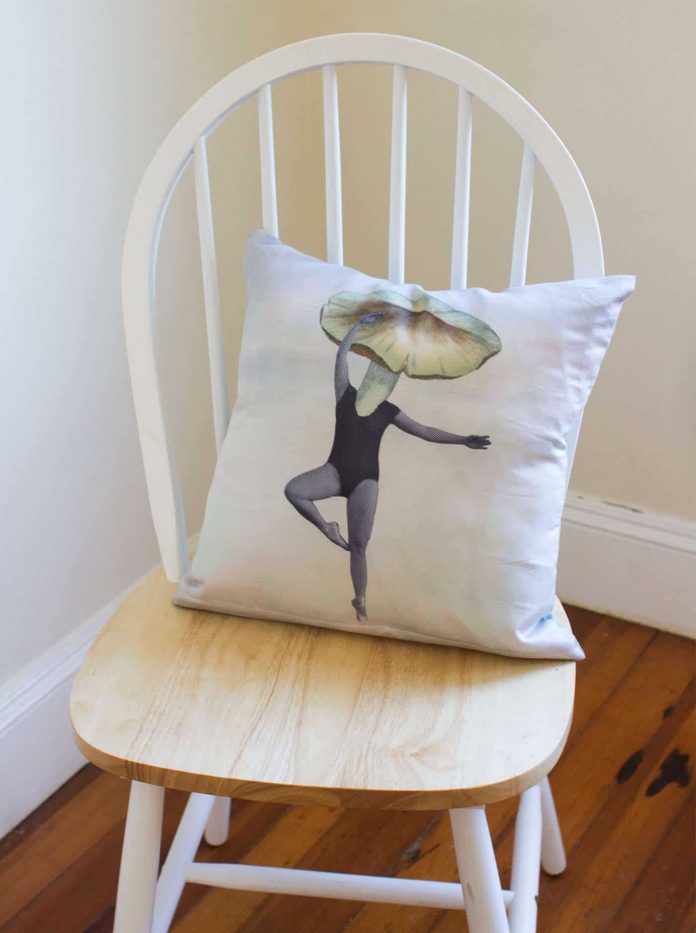 You won't find a bargain better than what CanvasChamp has to offer. However, the cheapest option isn't always the best option. There are flaws that may be too much for some potential customers to overlook.
From a pure functionality standpoint, this photo pillow gets the job done. From an aesthetic viewpoint, it's more than passable. But for many perfectionists, the low price may not be enough to give it the seal of approval.