How to Use Drones to Do Stunning Aerial Photography
You've seen those beautiful images of picturesque houses on cliffs. Or what about that bird's eye view of parks, trees, streets, you name it.
Luckily, we get to enjoy these shots thanks to the innovative technology of aerial photography. But just how do photographers take these types of images? What does the process look like? What are the benefits of aerial photography?
In this article, you'll learn about:
What aerial photography is
The benefits of aerial photography
How to use photography drones so you can create amazing aerial pictures yourself
And more…
So, what are you waiting for? Read more to learn about aerial photography basics!
What Exactly is Aerial Photography?
If you look up aerial photography, here's a general definition of what you'd find: aerial photography is a photographing technique that takes images of Earth and all of its many features. Cameras are mounted on rockets, aircraft, or satellites and spacecraft — and, yes, drones too.
As we've mentioned, aerial photography captures those hard-to-take pictures. Because, let's face it, other than a photographer getting in an airplane themselves and physically taking the pictures, it'd be close to impossible to get that bird's eye view pic.
While technically that still is aerial photography, what we are trying to say is cameras on flying aircraft makes taking these images easier. Speaking of which…
Benefits of Aerial Photography
Below are several benefits of aerial photography, and why you may want to consider trying it out for yourself.
1. Makes Taking the Impossible Images Possible
We'll keep this brief since we just mentioned this: Google Earth would probably not be around if aerial photography was not invented. Enough said.
2. Less Hassle for Photographers
Using drones or other aircraft, photographers don't have physically be with the camera when taking the pictures. This saves the photographer time and money.
3. Aerial Photography Is a Very Specific Niche
Clients who need aerial photography can't just hunt down any photographer. Remember, much of aerial photography is done by drone. The photographer needs to know how to fly the drone and take the images.
This makes finding an experienced aerial photographer a must, as you don't want drones crashing into trees or poor images from photographers who cannot handle the drone. For photographers wanting a specific niche and willing to go through the learning curve, aerial photography may be a niche you want to consider.
(As for people looking for aerial photographers, conduct thorough research, which includes checking review sites and reviewing multiple portfolios.)
Related Post: Best Drones for the Pro Photographer
4. Aerial Photography Offers Unique Photos
No matter what photography technique photographers use, other than aerial photography, you are still getting ground-level images. Which brings us to our point: aerial photography offers a very unique photographing experience and unique images.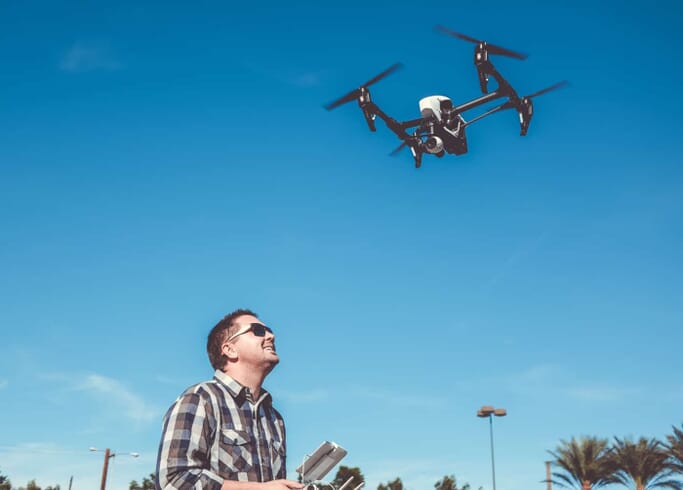 How Do You Get Those Beautiful Images?
While drones used to be extremely cutting-edge some years ago, nowadays, you can easily find them online or in-store. Thankfully, features are more user-friendly, which helps with the learning curve. Also, know that prices vary depending on the specific drone you want. So, some research will help.
After you buy your drone, here are some tips to help you use it and take those amazing pictures.
1. Know that You're Not Going to Be a Pro Right Away
Flying a drone and taking pictures with a camera are two entirely different processes. New or seasoned, photographers will need to undergo a learning curve before they can handle the drone with ease. Remember, be patient and have realistic expectations.
2. Familiarize Yourself with Your Drone
Take your drone to the park to go practice. See how far up it can go. Play around with the features and take a bunch of pictures. Go into this as a practice round where you are not just encouraged to try different flying techniques but fail.
While we don't advocate for crashing your drone into a tree, it's better to get out the poor images and close crashes now than when you are on site with a client.
3. Look into Photography Services That Can Make Photographers' Lives Easier
Photography software can make a photographer's job more manageable. This goes for aerial photography as well. Look into PhotoShop, accident scene mapping with PhotoModeler, and other photography services you can put in your arsenal.
4. Join a Photography Class that Offers a Drone Photography Course
Joining an online photography class can help you develop your drone photography skills. We recommend you join the KelbyOne Pro Membership which also has a course on drone photography.
Related Post: Best Drones under $400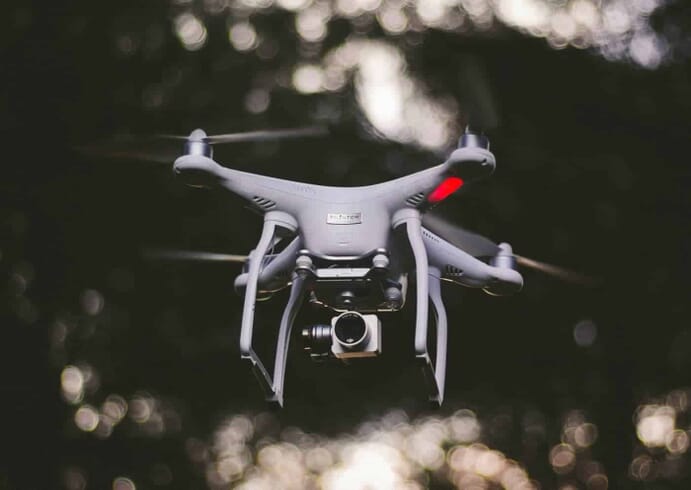 What Industries Can Benefit from Aerial Photography?
Now that you are a pro at flying your drone and taking stunning aerial pictures, who do you market your services to?
Real Estate Industry
You've seen those houses located on a cliff or some other physically hard-to-get-to area. Homeowners and real estate agents looking to sell such homes will need aerial photographers to get those types of shots.
Related Post: Best Software for Real Estate Photography (Top 3 Picks)
Construction Industry
Construction needs to see all of the work site, aerial photage included. Specifically, surveyors and project managers can benefit from this type of photography.
Marketing Industry
Marketers need aerial photography to help sell hotels, parks, large public areas, and sports stadiums. Particularly, marketers specializing in tourism, hotel and restaurant, and sports may be good contacts to start out with.
Final Thoughts: Ready to Become a Drone and Aerial Photography Expert?
Luckily, with some practice, flying a drone and taking amazing aerial shots can be rewarding. Whether hobby or career, aerial photography is another skill that can benefit you wherever you go—who knows who you'll run into that needs an aerial photographer?
While it can get frustrating at times, we recommend that you practice, practice, practice. As we said, it does eventually get easier—and fun. What has your aerial photography experience been like? What other tips do you recommend for newcomers starting out in the aerial photography field? Be sure to leave a comment below.
Related Post: Best Software to Edit Drone Videos (Amazing 6 Desktop Apps)