In this DxO PhotoLab 5 review, we look at what the latest version offers compared to PhotoLab 4 – and we also explore PhotoLab 5 as a standalone program for those looking to swap programs or purchase their first post-processing software.
So, is DxO PhotoLab 5 worth buying? Read on to find out.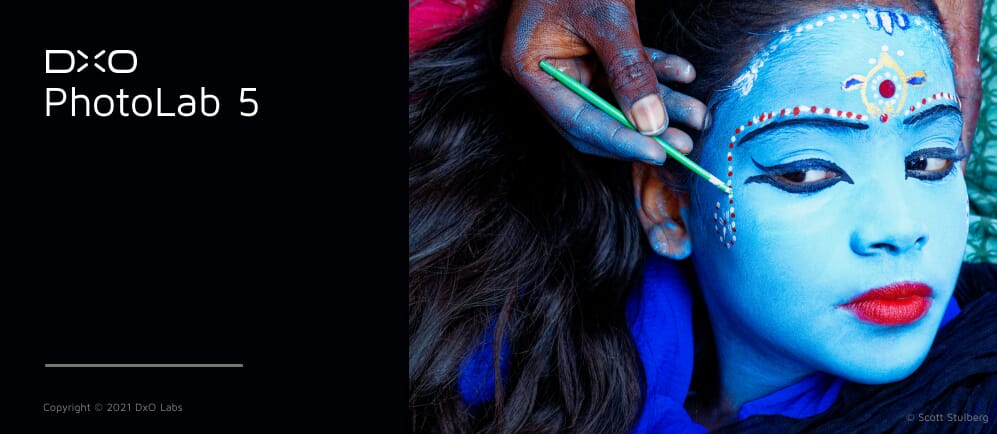 When you buy through links on our site, we may earn a commission at no cost to you. We evaluate products independently. Commissions do not affect our evaluations.
DxO PhotoLab 5: Overview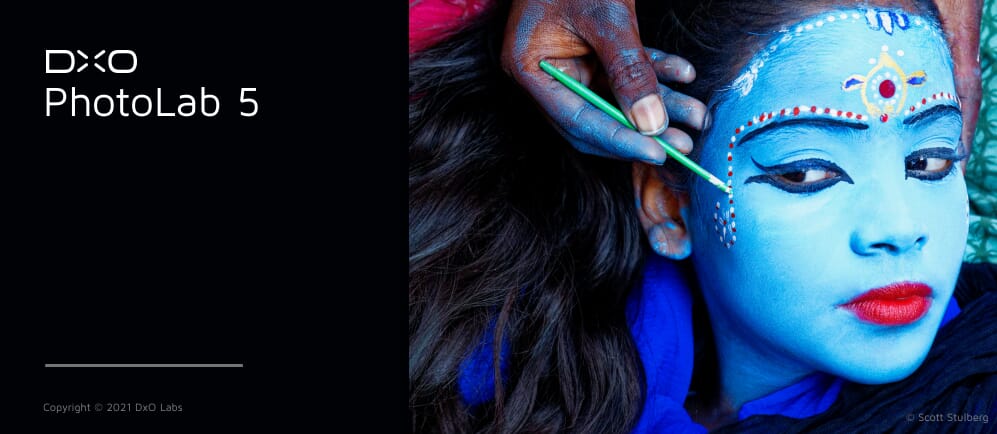 Great for complete photo management
PhotoLab 5 offers both file management and photo editing. It also benefits from various AI options such as the DeepPRIME denoise tool.
Pros
Extensive file management tools
The ability to add keywords and edit metadata
Create projects to combine photos from multiple folders
Detailed local adjustment tools
Simple workflow and tabbed layout
Cons
Has relatively high system requirements
Performance may lag on basic computers
DxO PhotoLab 5 is a full-fledged photo editing and photo management software. You can completely edit RAW photos using an array of standard and local adjustment tools. Compared to other post-processing software, PhotoLab 5 is no slouch; it is easily on par with programs like Lightroom, Luminar 4, and ON1 Photo RAW.
DxO PhotoLab 5 also excels at photo management. While it may not have the advanced collection and database management features of other programs, you can use it to effectively manage and organize your images. This includes adding ratings, assigning keywords, and simple folder management.
Overall, PhotoLab 5 is a great program to use and will appeal to many different users. It is not without its potential drawbacks, however. For example, people with basic computers may experience some minor performance issues due to the higher system requirements.
What's New in DxO Photolab 5?
DxO PhotoLab 5 contains some important upgrades over PhotoLab 4 that are of genuine benefit, including:
Improved U Point technology
Metadata management for images
Improved keyword management
DeepPRIME AI noise reduction
Support for Fujifilm X-Trans cameras
The U Point technology is a type of precise local adjustments for targeted editing. Previous versions of DxO PhotoLab offered some form of U Point tech, but version 5 adds new selection tools and improves the functionality for enhanced precision when adjusting specific parts of your photos.
We also like the addition of Metadata editing. For each image, you can edit the EXIF and IPTC metadata, such as GPS data and author data. This improves search functionality but also allows you to assign greater meaning and relevance to your photos.
The addition of the DeepPRIME tool is great for professional photographers requiring high-level denoising. The processing time is fantastic, and the end results are high quality.
DxO PhotoLab 5 Review
To create a detailed DxO PhotoLab 5 review, we spent time testing the software using large photo catalogs. We have divided the review into simple sections, including file management, ease of use, performance, and editing features.
Interface and Ease of Use
The interface of DxO PhotoLab 5 remains largely unchanged from previous versions. Photo management and editing are split into two tabs: Photo Library for file management and Customize for editing. This simplifies the process and creates a clear division between the two areas.
The interface is also largely customizable. For example, you can collapse any tabs you do not use to increase workspace simplicity.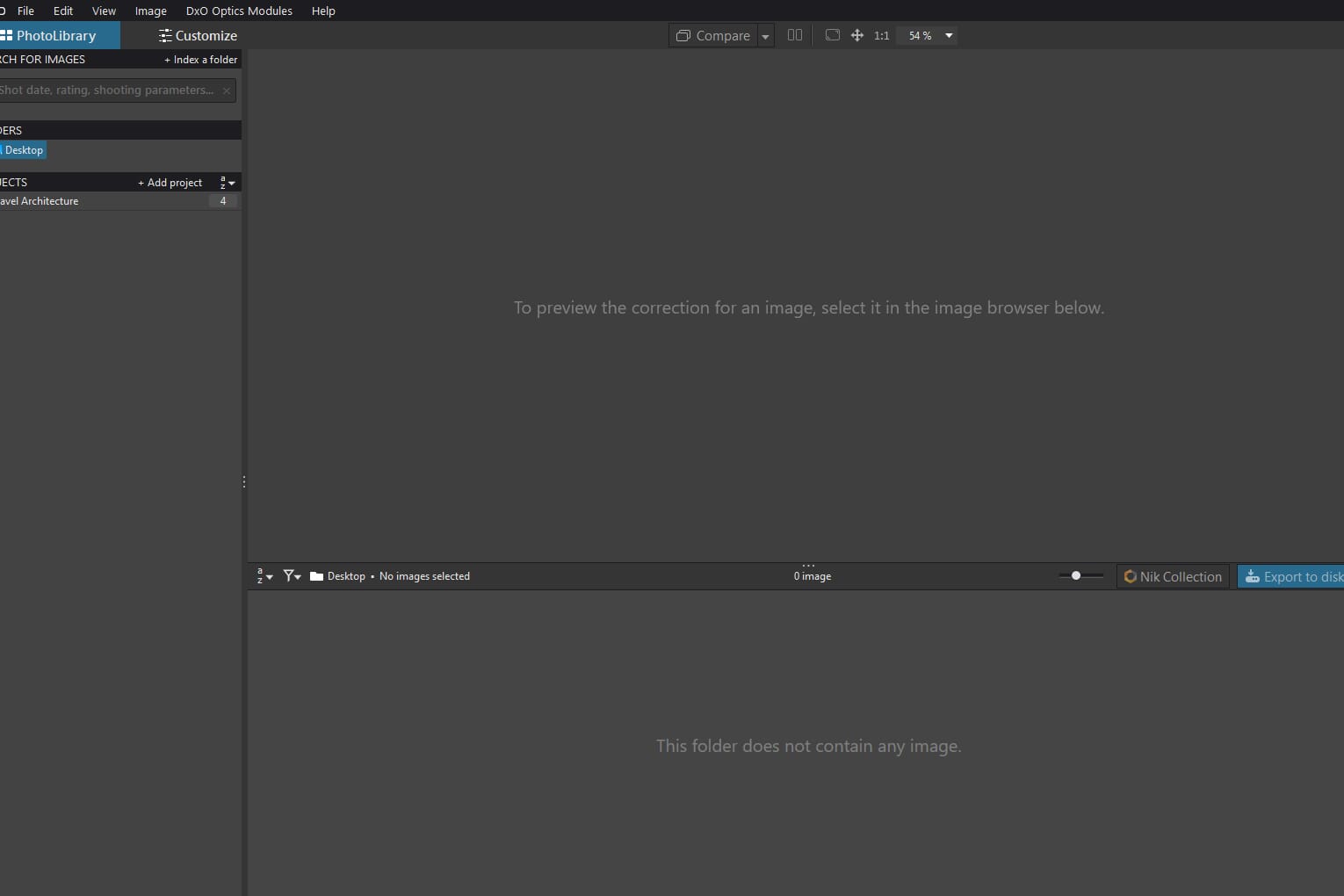 In both the Photo Library and Customize tabs, you can change the preview display to full screen, 1:1, fit screen, and more. We also like that you can compare images via a side-by-side comparison view.
Some beginners may find the editing tools of the Customize tab a little overwhelming; compared to software such as Lightroom Classic and Luminar AI, the editing tools are not as simplistic and can feel a little cluttered.
File Management
Unlike some editing software, DxO PhotoLab 5 has full photo management capabilities.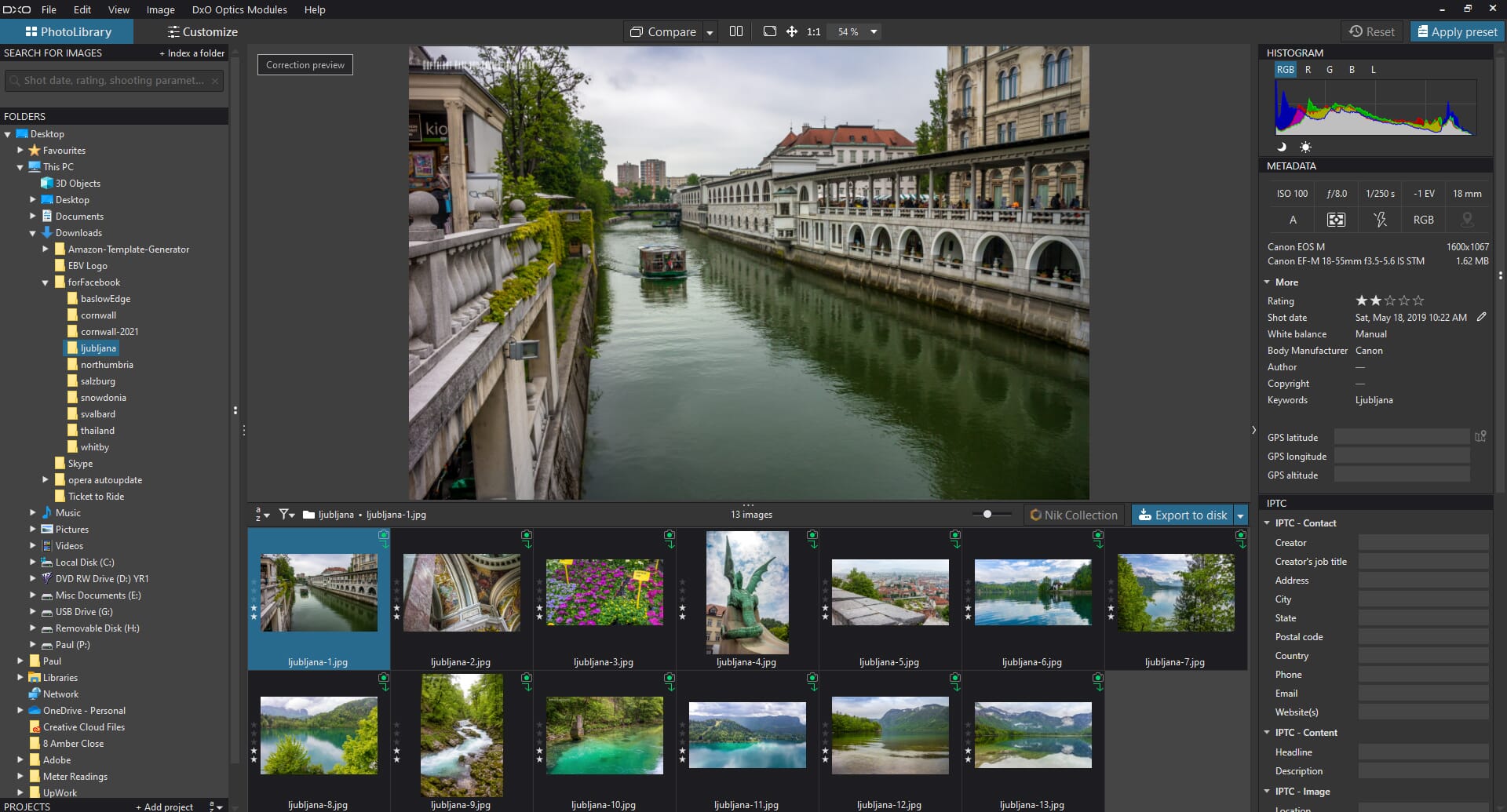 The left-hand side of the Photo Library tab features a folder view where you can directly edit your folder hierarchy and structure. For example, you can delete folders and create new folders. The central panel contains a preview of your open image, as well as thumbnails of the photos in the currently selected folder. And on the right-hand side, there is a histogram, metadata, and keywords.
This Photo Library tab is incredibly easy to use and allows you to quickly manage and organize your photos. It also has some additional features that make cataloging large quantities of photos simple, including:
Projects
Projects are a useful feature akin to Collections in Lightroom Classic. They also allow you to create themed groups of photos that span multiple folders but without destroying your folder hierarchy – think of them as virtual folders.
You can create a new project and then drag or add photos into it. The original location of the photo is not moved; a virtual copy is simply added to the project. You can see this in action below. I created a project called "Travel Architecture" that includes photos from several different folders: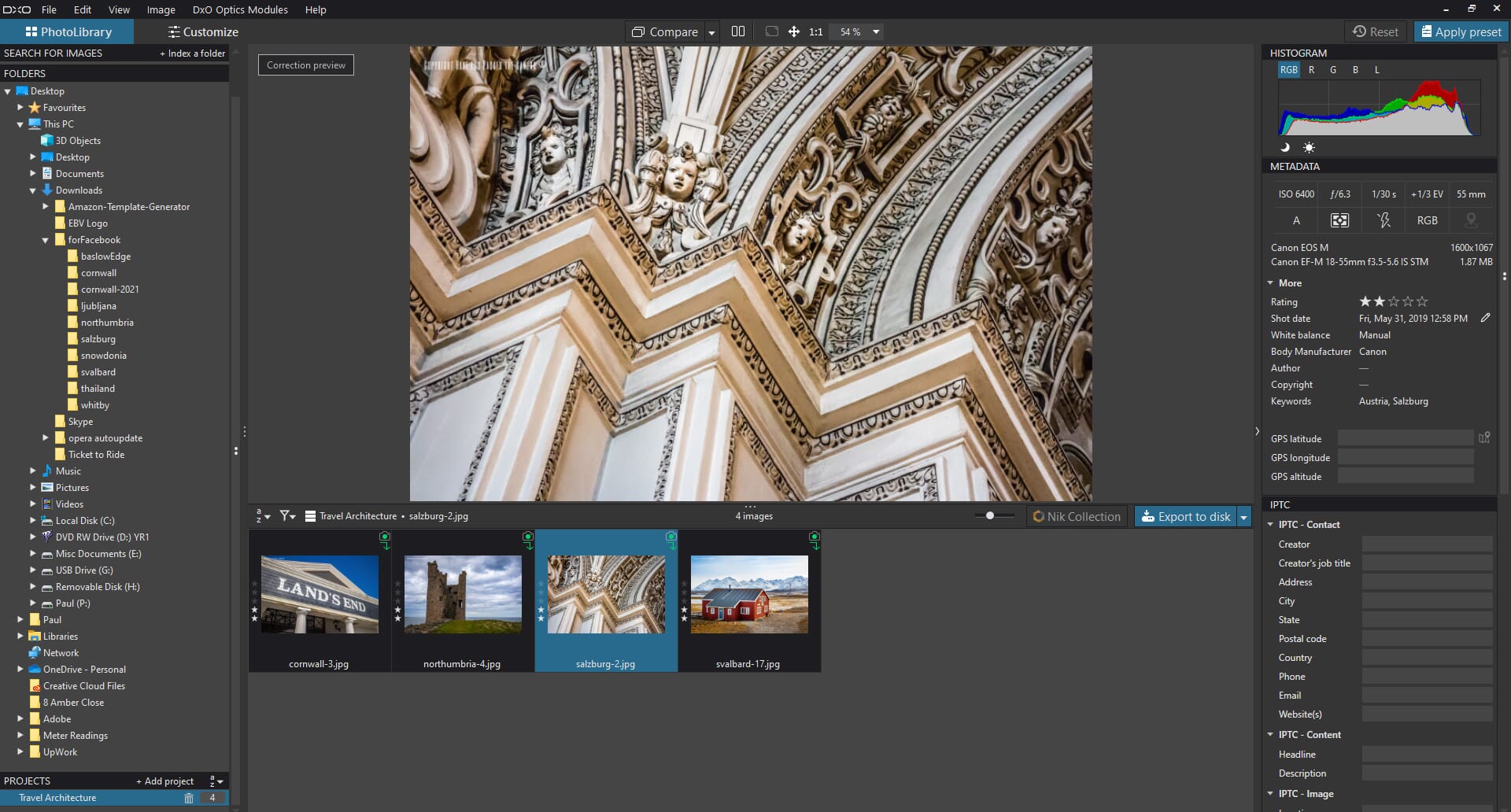 Ratings and Keywords
DxO PhotoLab 5 does not have as sophisticated a rating system as other photo management programs. With software like Lightroom and Excire Foto, you can give files a color to help identify them or to designate them for specific tasks, but PhotoLab 5 doesn't offer this option. You can, however, select a star rating for each photo, and flag files as picks or rejects.
We do like the keywording functionality, however. As you can see below, you can easily add keywords to images. PhotoLab 5 also lists all keywords found in your image collections, so you can keep your keywords organized. We also like that it shows how many photos have a specific keyword assigned.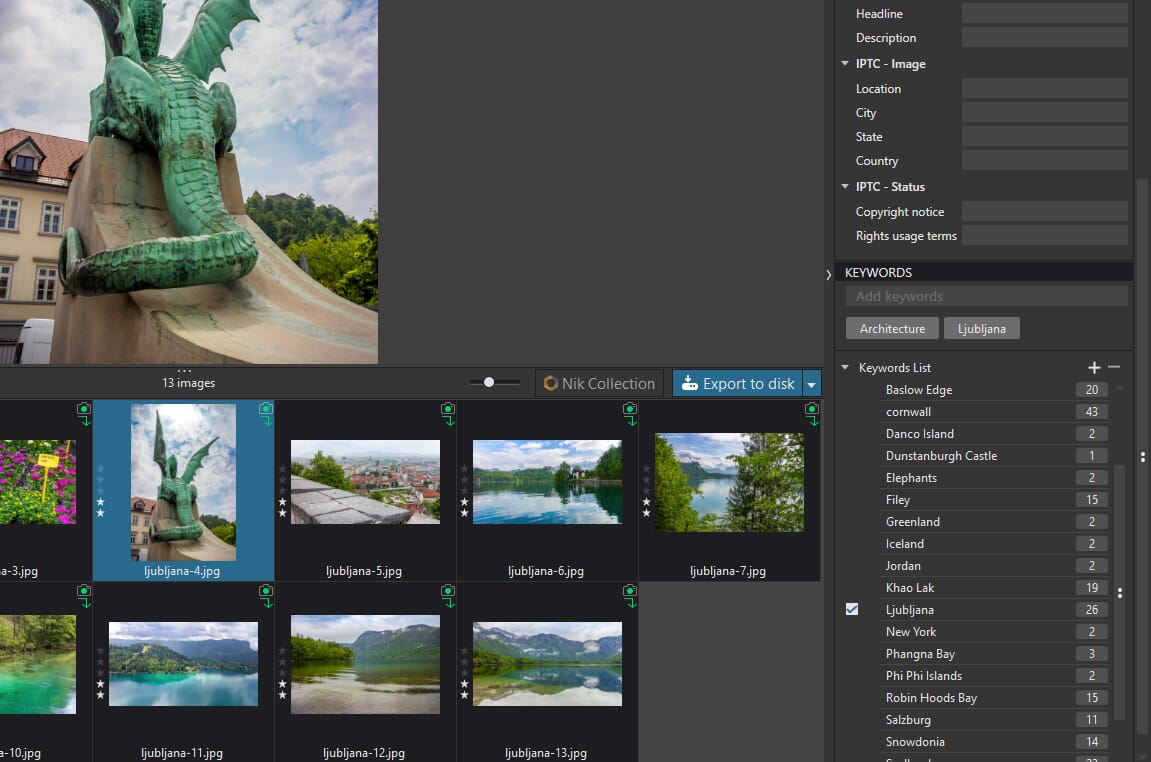 You can use the search function in the top left-hand corner to find specific photos. This is not as easy to understand as some other search tools. You first have to enter a word.
For example, I could search for "Ljubljana" as a destination I have taken photos of.
Once the term is entered, it returns a list of potential search options. These include keywords, folders, IPTC data, and more.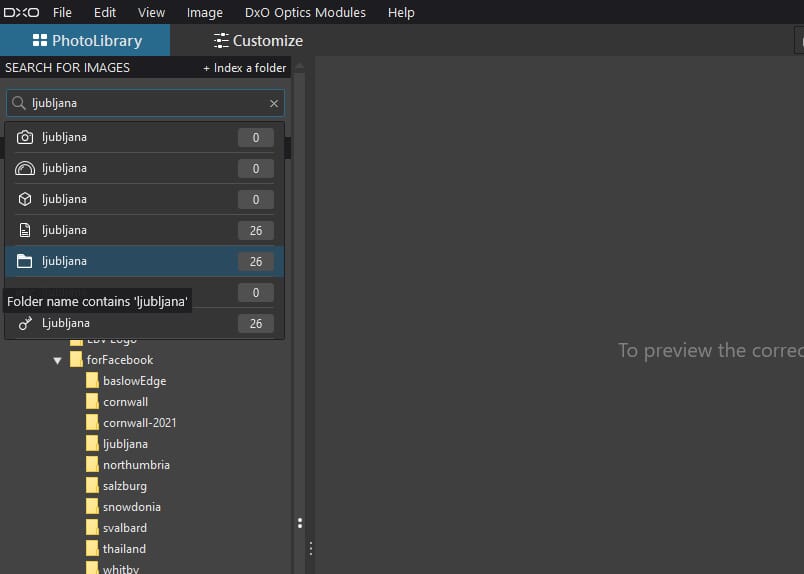 Metadata
DxO PhotoLab 5 also has a great section for editing Metadata. This includes EXIF and IPTC metadata. You can quickly add author information such as an address, email, and website. You can also add GPS data and copyright information.
Editing Features
Below we look at individual aspects of the editing suite of this software:
Customize Tab
The Customize tab is where the editing takes place. The tab has a relatively simple layout. On the lefthand side, you can see a file's complete editing history and easily undo changes. The center has a large live-view preview, while the actual editing tools are located on the righthand side. The editing options are split into different categories:
Light
Color
Detail
Geometry
Local Adjustments
Watermarks & Effects
These tabs have a logical flow and conveniently organize the editing process. For example, the Geometry tab contains the Crop tool, transformation tools, and lens correction tools.
We also like that each menu within the separate tabs has a hover-over tooltip that explains what the tools do (and offers a visual demonstration).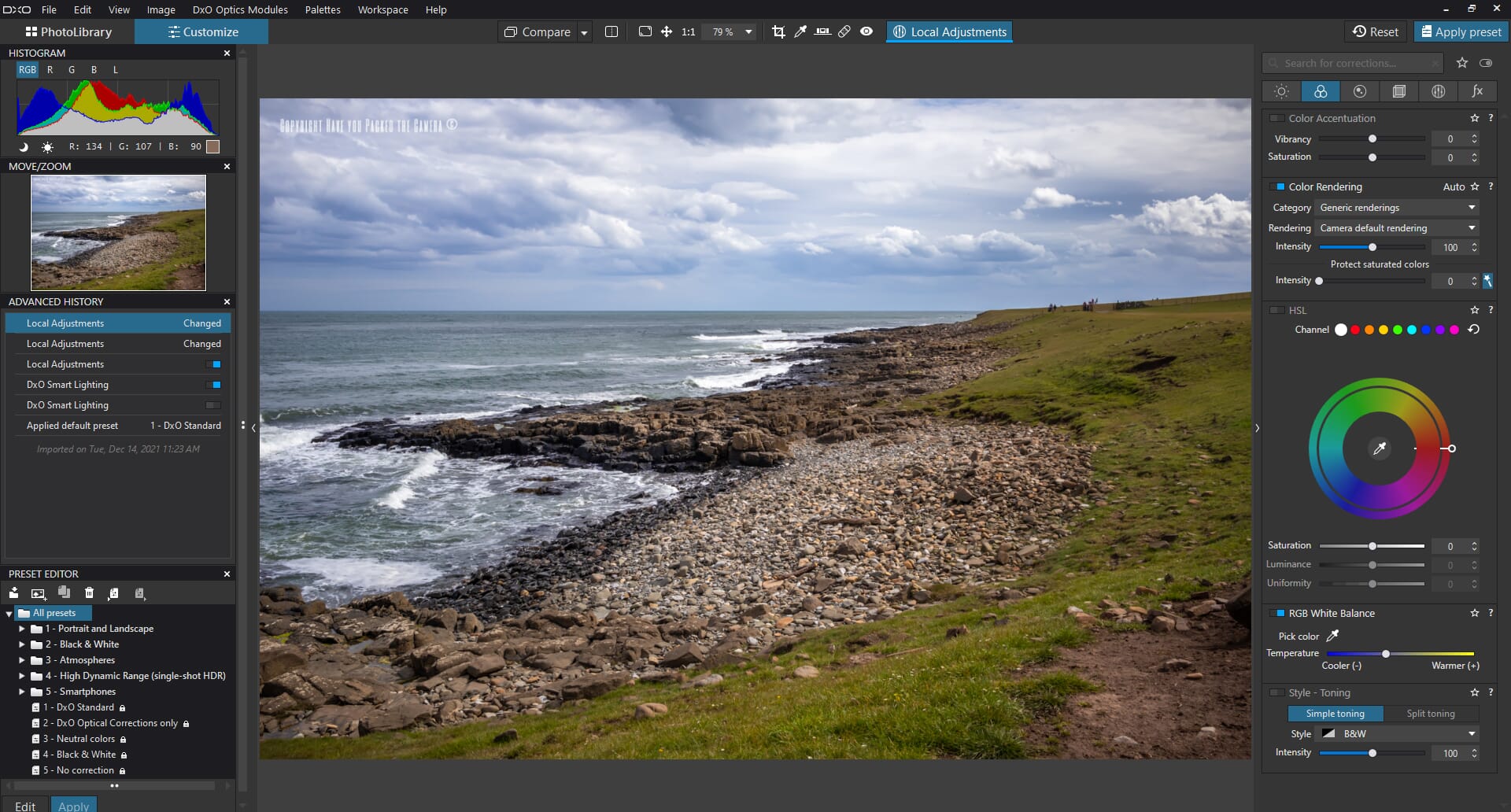 If you want to edit multiple photos using similar settings, you can also create editing presets. There is a dedicated preset editor where you can create, edit, and delete presets. You can also use this editor to easily apply presets to multiple photos simultaneously.
DxO Denoising Technologies
In the detail tab, you also have three different denoising tools to work with: High Quality, PRIME, and DeepPRIME. These are all automated using AI technology and can greatly boost the quality of your images.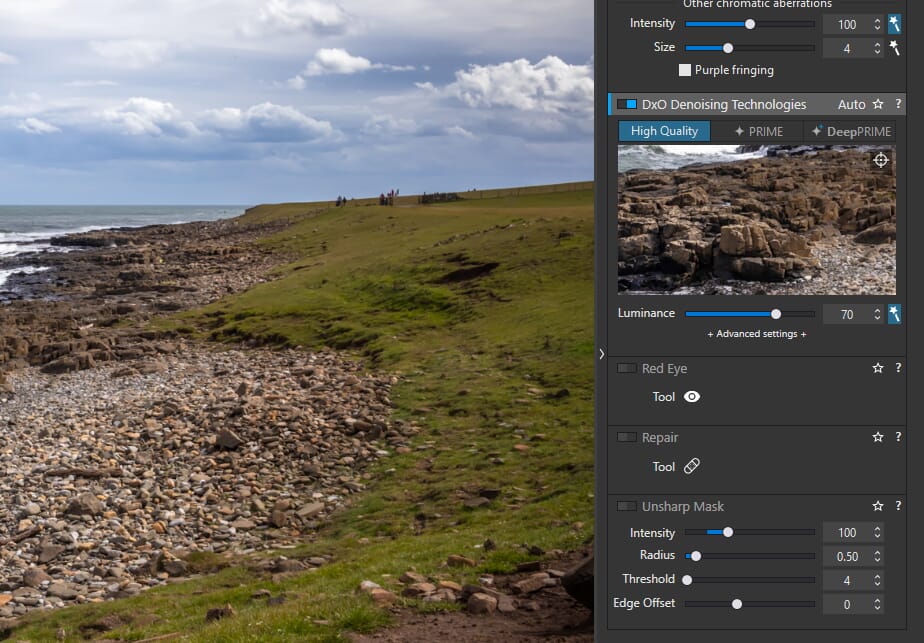 We also like that, for each tool, you can individually change the parameters and access a range of advanced settings.
Local Adjustments
If you want more control over your edits, you can use the local adjustment tools in DxO PhotoLab 5. We find these tools a little more complicated to use than comparable tools in software like Lightroom. However, once you get used to the control wheel, you can edit specific parts of your photos with ease.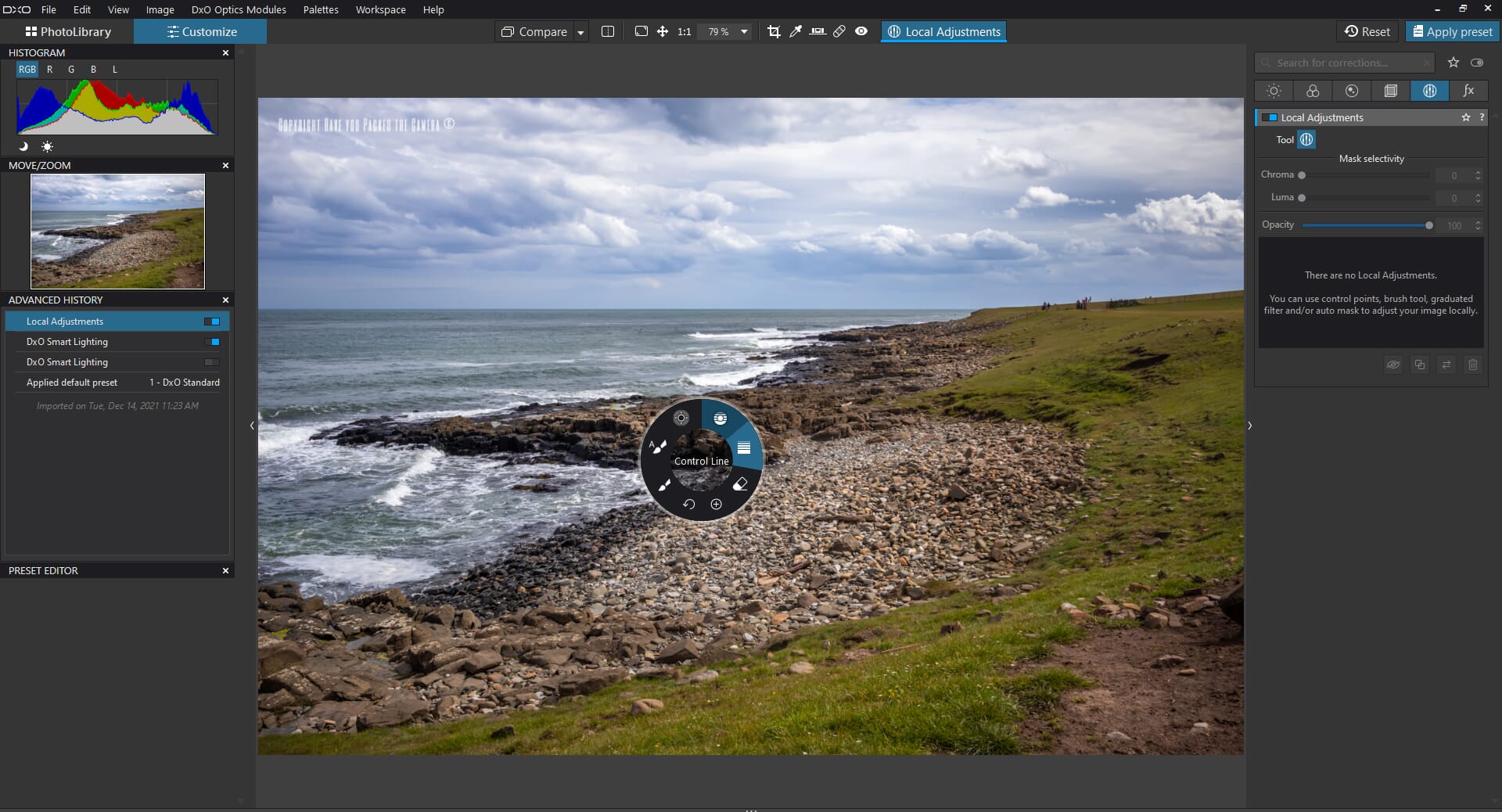 The local adjustments include graduated filters, brushes, masks, control points, and control lines. For each local adjustment, you can change parameters like contrast, highlights, clarity, and temperature. We like that once you have added a local adjustment, a list of the adjustments applied to the photo is then shown on the righthand side and you can individually edit or delete each one.
Performance
The following are the recommended system requirements for DxO PhotoLab 5 – that is, the ideal specs for the program to run:
Windows Recommended System Requirements
Processor: Intel Core-i7 or AMD Ryzen or better
Memory: 16 GB
Graphics: NVIDIA GTX 1060 or AMD Radeon RX 5500 or better
Storage Space: 6 GB
Mac Recommended System Requirements
Processor: Intel Core-i7 or Apple Silicon or better
Memory: 16 GB
Graphics: AMD Radeon Pro 580X or better
Storage Space: 6 GB
These system requirements are quite hefty! The best PCs for photo editing will have specs such as these, but many standard computers will not.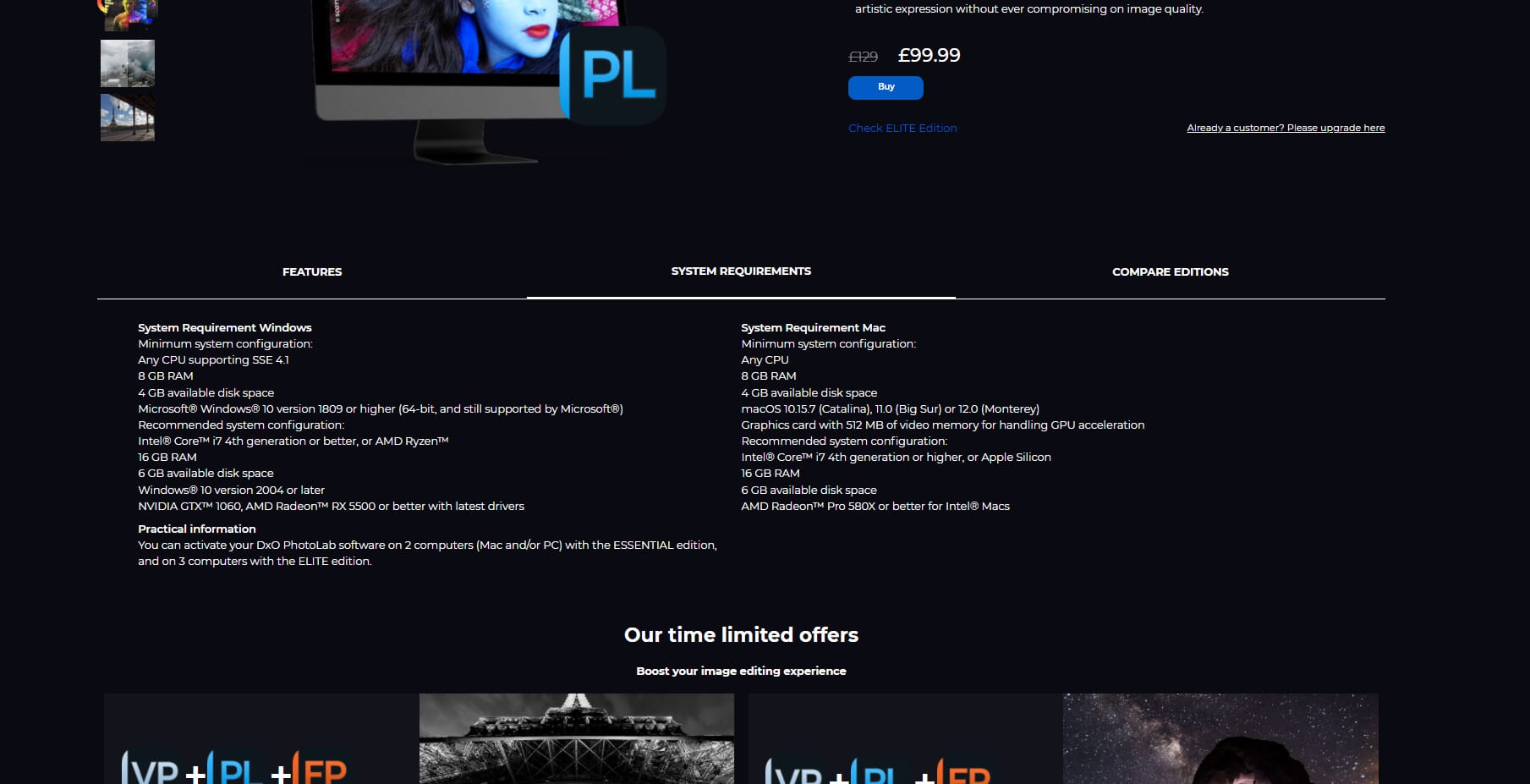 Note that the minimum system requirements are 8 GB of memory and any CPU supporting SSE 4.1. As a result, this software may not be suitable for simple laptops or basic computers.
We tested DxO PhotoLab 5 on a PC featuring 24 GB of RAM, an Intel Core-i5 processor, and an NVIDIA GTX 1050 graphics card. The performance was okay but not 100% smooth. For example, when loading images into the Customize tab, there was a small delay while the previews rendered. And when switching between folders in the Photo Library tab, there was also a small delay while the preview thumbnails loaded.
As a result, if you do not have a decent spec modern computer or Mac, you may struggle somewhat with the performance of this software.
Pricing
When looking at upgrading or purchasing DxO PhotoLab 5, you must consider the price. PhotoLab 5 is still available as a one-off purchase, though with two available versions:
DxO PhotoLab 5 Essentials: $139
DxO PhotoLab 5 ELITE: $219
The ELITE version includes the following additional features:
DeepPRIME
Fujifilm X-Trans RAW file support
DxO Clearview Plus
Anti-moire tool
Batch renaming
Various color calibration tools and support
If you are a hobbyist and simply want a comprehensive photo editor, the Essentials version should be fine. However, professionals could benefit from the ELITE version due to the additional color support and the advanced editing tools.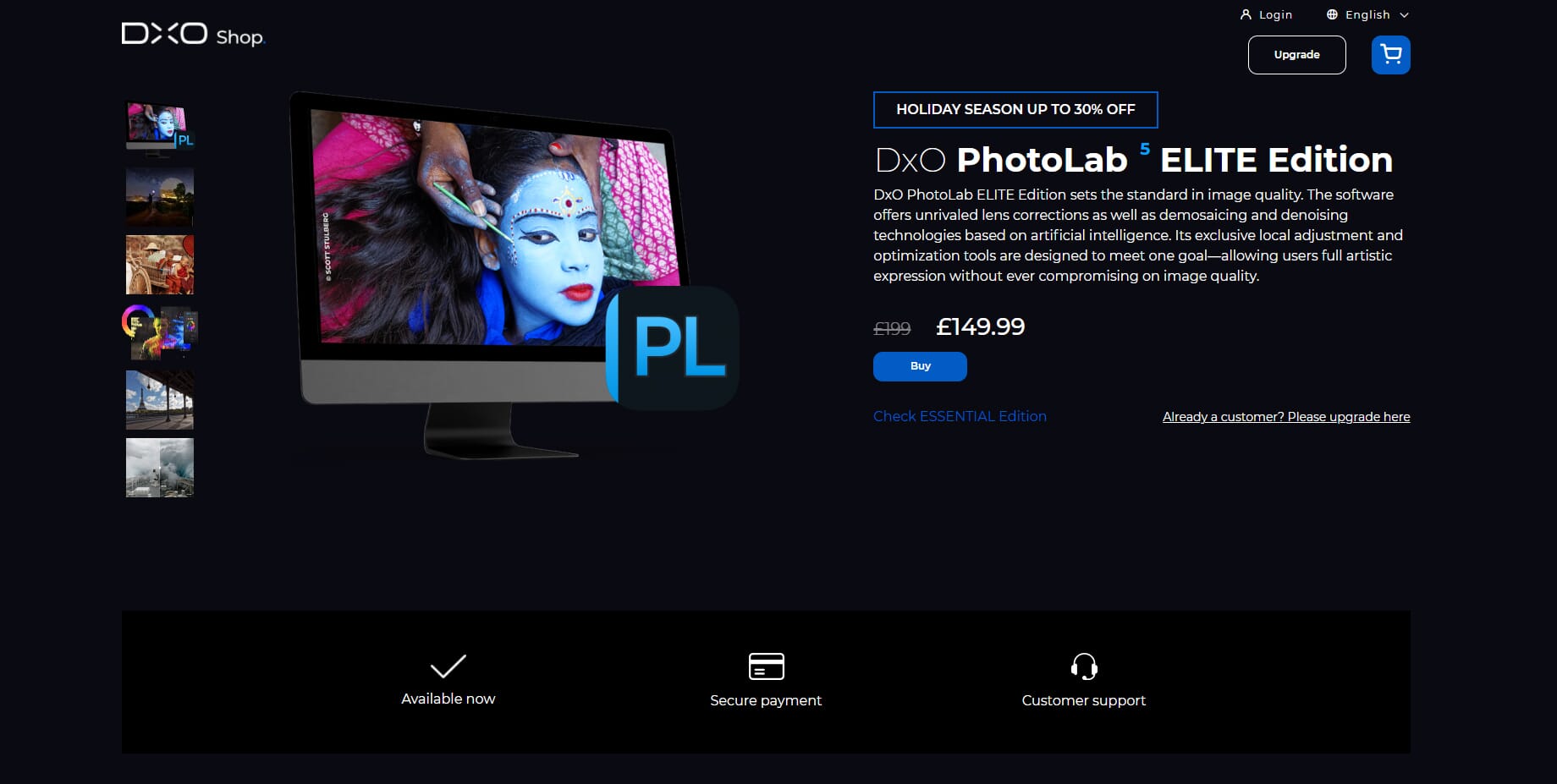 DxO PhotoLab 5 is not too far apart from other photo editors. For example, ON1 Photo RAW 2022 costs $95, while Capture One 22 has an annual subscription cost of $179. Adobe Lightroom has a minimum annual subscription cost of $120.
Ultimately, PhotoLab 5 is reasonably priced compared to other editing programs.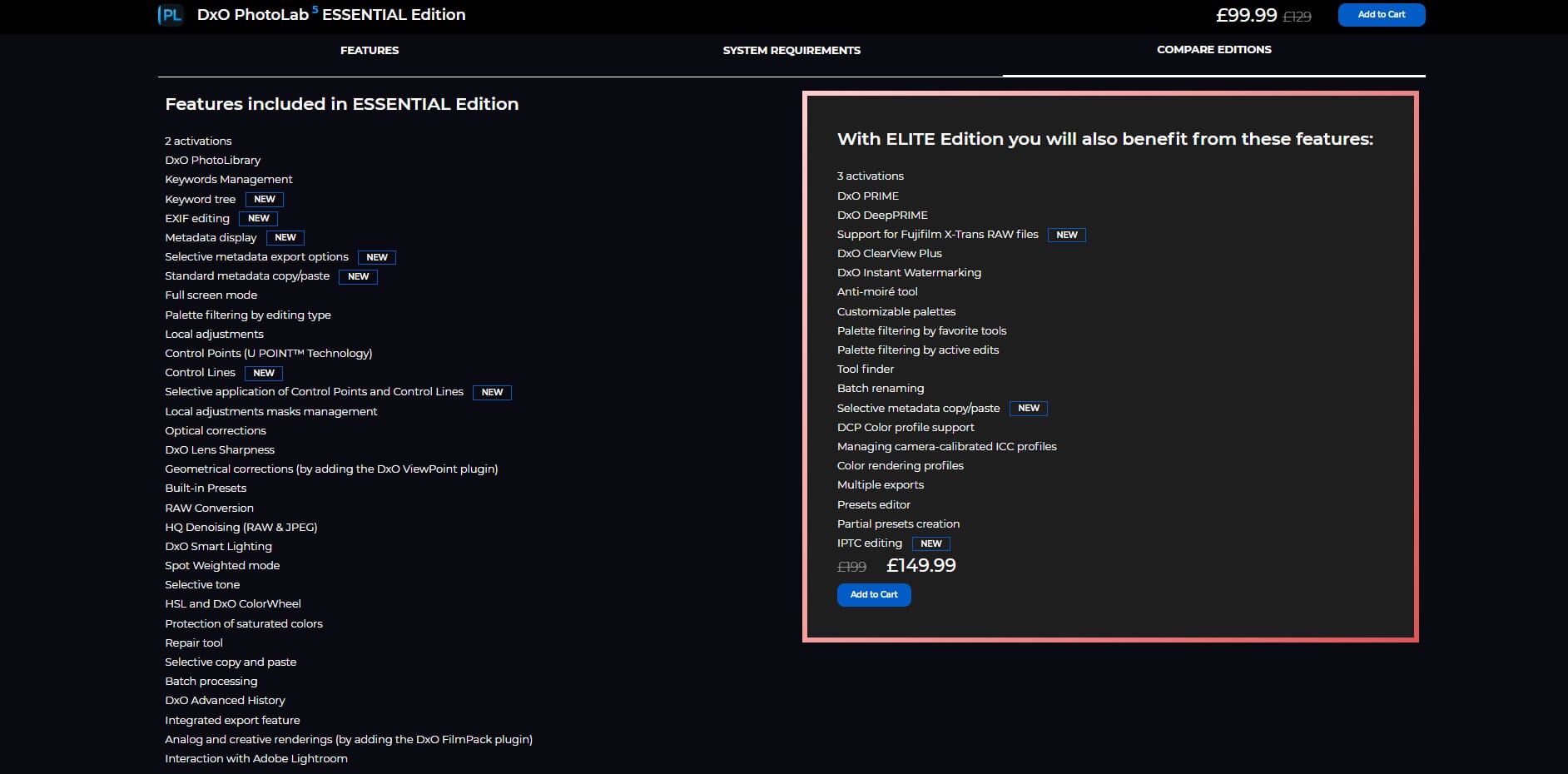 Is DxO PhotoLab 5 Right for You?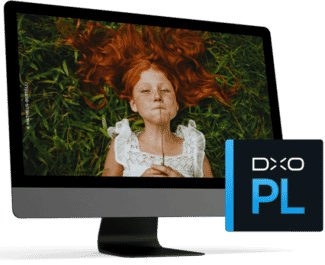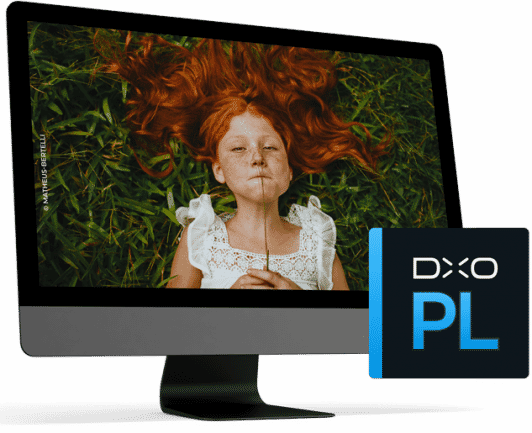 Name: DxO PhotoLab 5
Description: DxO PhotoLab 5 offers both file management and photo editing tools. It also benefits from various AI functions such as the DeepPRIME denoise tool.
Offer price: 219
Currency: USD
Operating System: Windows, Mac
Application Category: Photo Editing
Author: DxO
Price

Usability

Performance

Photo Editing

Photo Management
Summary
DxO PhotoLab 5 is a powerful post-processing program that also features file management capabilities. As a result, it could easily be used as a one-stop-shop editing program.
Pros
Extensive file management tools

The ability to add keywords and edit metadata

Option to create projects that combine photos from multiple folders

Detailed local adjustment tools

Simple workflow and tabbed layout
Cons
Has relatively high system requirements

Performance may lag on basic computers
We hope you have enjoyed this DxO PhotoLab 5 review! If you currently own PhotoLab 4 and are a professional photographer, the upgrade to version 5 is certainly worth it. You can benefit from the advanced Denoise technologies, Metadata editing, and improved local adjustment tools.
Alternatively, if you are looking for basic photo editing software, PhotoLab 5 is a great buy. It has excellent file management tools and the improvements to keyword utility and metadata will help you manage large photo collections. The editing tools are also comprehensive and certainly on par with similar programs like Lightroom and Luminar 4.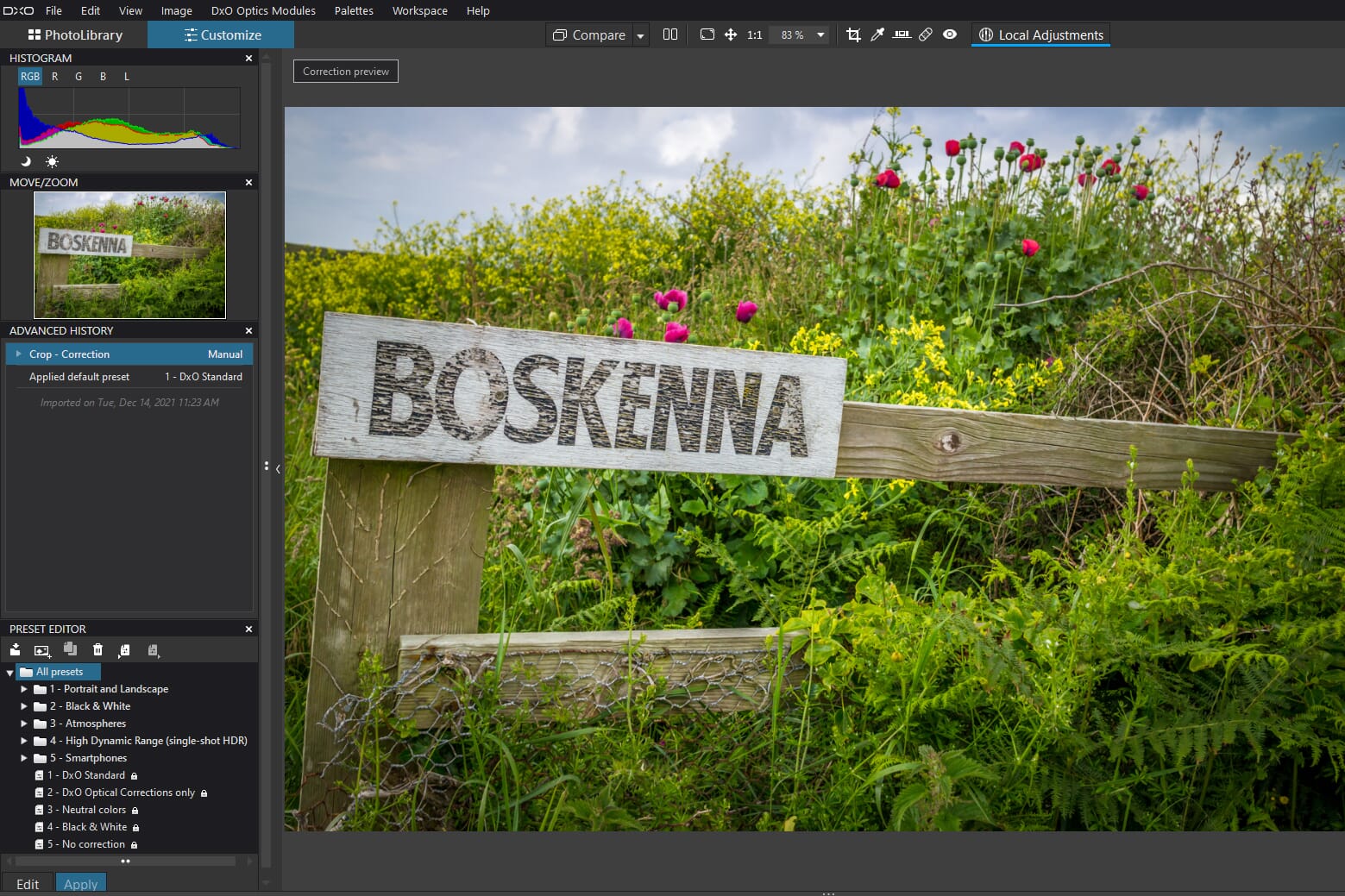 One item to keep in mind, however, is your computer's performance. DxO PhotoLab 5 is more power-hungry than other editing programs like Luminar 4. If you only have a basic computer or Mac, you may notice some lag and delay when managing larger photo collections.
Is DxO PhotoLab 5 available as a plugin for any other editing software?
Yes, PhotoLab 5 has a plugin option for Lightroom Classic.
Is there a trial version available for DxO PhotoLab 5?
Yes, you can download DxO PhotoLab 5 ELITE for free and test it for 31 days.
Does PhotoLab 5 have a smartphone companion app?
Currently, no. DxO PhotoLab 5 is only available for computers.