DxO PhotoLab 4 is the latest version of this popular editing software. In this version, we see numerous improvements including some epic AI technology for professional denoising. DxO users also benefit from a fully customizable workspace and a revamped editing history. But how does this software compare to other editing programs and is it worth the investment? I delve into this in the DxO PhotoLab 4 review to show exactly what this editing software has to offer!
DxO PhotoLab 4 Review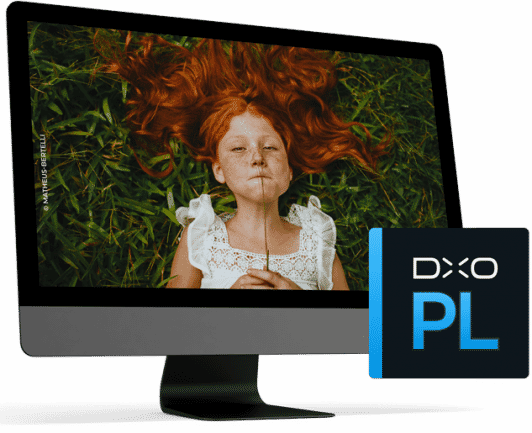 Name: DxO PhotoLab 4
Description: Powerful editing tools and advanced denoising. DxO PhotoLab 4 is a top contender and one of the best options for professional photo editing available.
Offer price: 199
Currency: USD
Operating System: Windows, Mac
Application Category: Photo Editing
Author: DxO
Price

Usability

Performance

Editing Quality

Features
Summary
Powerful editing tools and advanced denoising. DxO Photolab 4 is a top contender and one of the best options for professional photo editing available.
Pros
Good image organization tools
Fast performance on various operating systems
Impressive noise reduction
Cons
One-time purchase option only
Steep learning curve to some features
DxO PhotoLab 4 Overview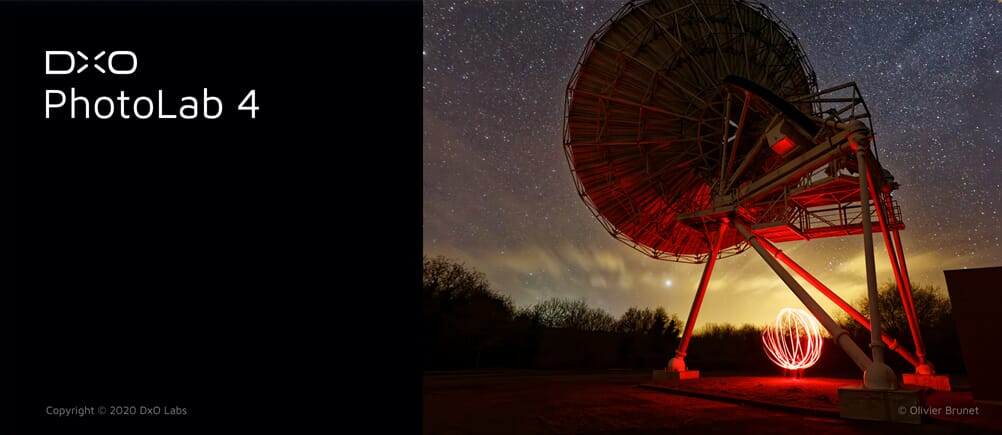 DxO PhotoLab 4 is a powerful editing program that gives you full control over your editing process. Using this software, you can edit RAW images in excellent detail and get professional results from your photos. It also has extensive photo management tools. As a result, you can organize large catalogs of images with minimal effort.
Overall, it is a solid editing program and definitely up there with the best-known products like Adobe Lightroom, Capture One, and ON1 Photo RAW 2021. It does have the advantage of having one of the best denoising tools available in the industry, too.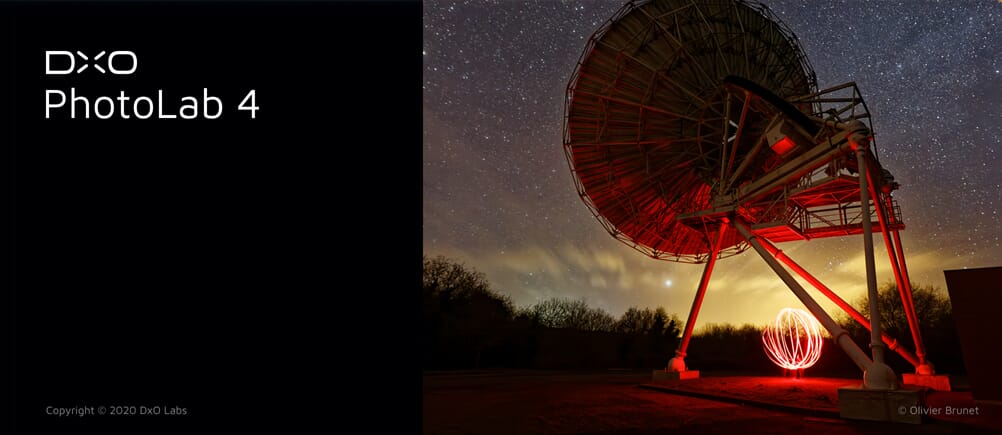 A powerful editing tool
DxO PhotoLab 4 is a fantastic editing tool for those who require advanced editing and photo management. It also utilizes advanced AI technology such as DeepPRIME for sophisticated noise removal.
Powerful noise reduction
Excellent workflow customization and flexibility
Great photo management features
A comprehensive set of editing tools
Limited compatibility with other programs
Elite version is a little expensive
The DeepPRIME noise reduction is processor-hungry
What's New in DxO PhotoLab 4?
DxO PhotoLab 3 was a great improvement and saw many changes. DxO PhotoLab 4 goes one step further and takes this editing software to the next level. In this iteration, we see a concentration on AI technology and usability improvements that generally make editing easier and more convenient. The following are the new features of DxO PhotoLab 4:
DeepPRIME
DxO Smart Workspace
Batch file renaming
Improved editing history
Improved edit synchronization
Customized watermarks
DeepPRIME technology is something that DxO is pushing to the forefront – it looks to be one of the main features they want users to embrace. This is a form of AI technology that reduces digital noise with incredible efficiency. The results are fantastic and it certainly outperforms other editing software for denoising. However, this feature is only available in the Elite version which is more expensive than the essential version.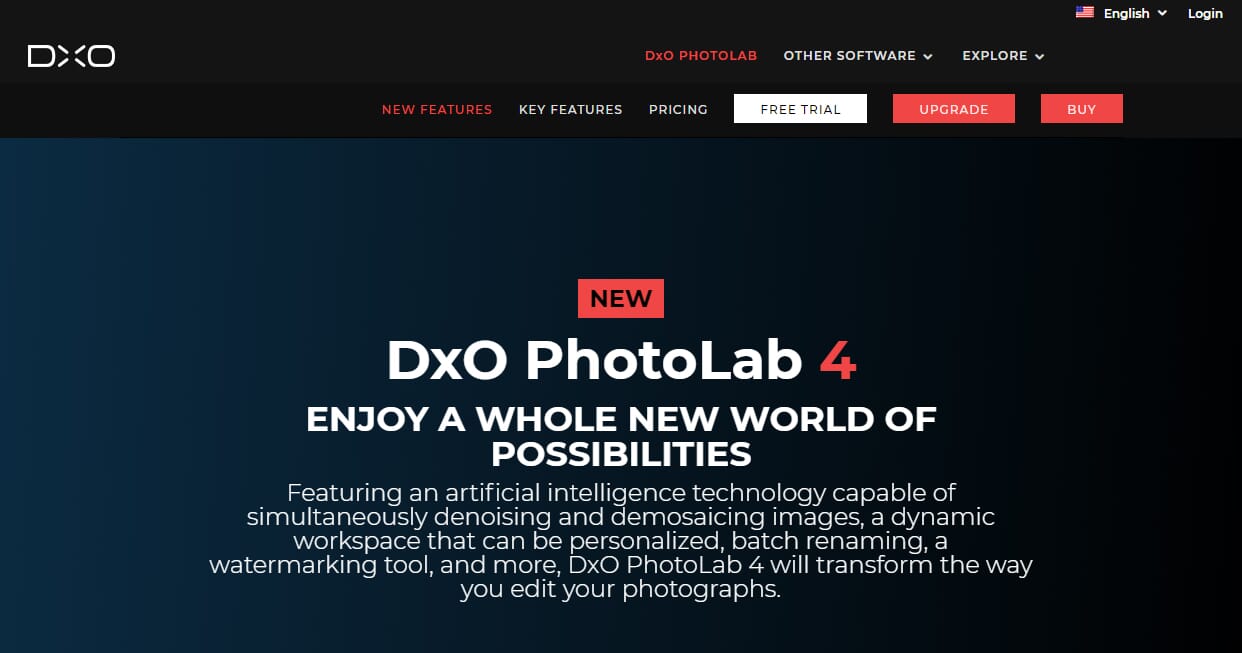 This iteration of PhotoLab also has a user interface (UI) overhaul in the form of the smart workspace. This is a major upgrade and allows you to customize the UI to suit your needs. You can hide elements, move toolbars, and generally change the UI to complement your workflow.
I also like the new batch renaming feature. It can be difficult and time-consuming trying to rename entire folders of photos – DxO PhotoLab 4 makes this process easy. You can quickly rename files with a single click and create sequential naming too.
Finally, DxO has improved the PhotoLab editing history feature. Most popular editing software has some type of editing history so you can quickly undo changes you don't like or didn't mean to make. DxO PhotoLab 4 takes this one step further. It provides a full editing history. However, it also shows group adjustments. For example, you can look at the history of all edits relating to the image contrast. This gives excellent control and allows you to undo specific changes as opposed to changing the entire photo.
DxO PhotoLab 4 Review: Breakdown
For this DxO PhotoLab 4 review, I looked at different areas that are important for photo editing. This includes the interface, how easy the software is to use, and photo management. I also dived into the editing tools, the performance, and pricing structure:
Interface and Ease of Use
DxO PhotoLab 4 is a double-edged sword. For the most part, the tools and features are easy to use. However, some of the tools certainly need improving.
Overall, the main layout is simple and easy to understand. It has just two tabs – one for photo management, and one for editing. Each of these tabs has an intuitive layout with a clear set of toolbars. Also, one of the best aspects is that you can fully customize the workspace. For example, in the photo library view, you can collapse the different toolbars to give more space for your image preview.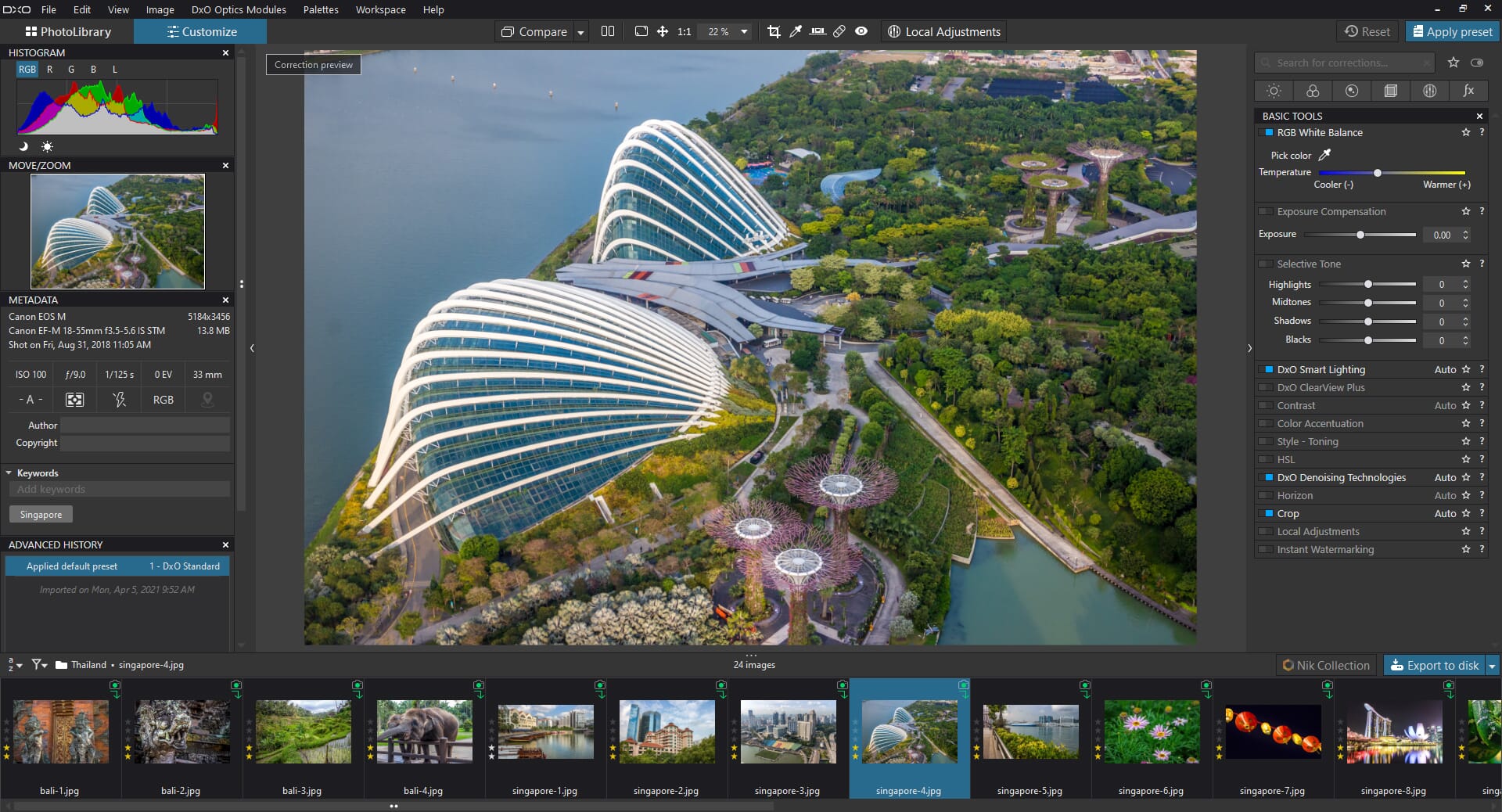 Also, in the editing tab, you can collapse any of the individual editing tools. This means you can improve loading times, and only show the tools you frequently use
The two main issues you may find, are the editing tabs and the local adjustment tool. As described below, the editing tools are split into 6 different tabs. Unless you extensively use editing software, it may take some time to find where the different tools are.
The local adjustment tool also is not the easiest to use. I describe this in greater detail below, however, I was disappointed with how it works. You can make detailed local adjustments, but there is a steep learning curve associated with the tool.
File Management
DxO PhotoLab 4 is not just a photo editor. It also has a full complement of file management tools. This is great for those who have large catalogs of images – like a wedding or events photographer, for example. It has two tabs – PhotoLibrary and Customize. The PhotoLibrary tab is where you manage and organize your photos and we can see the layout below: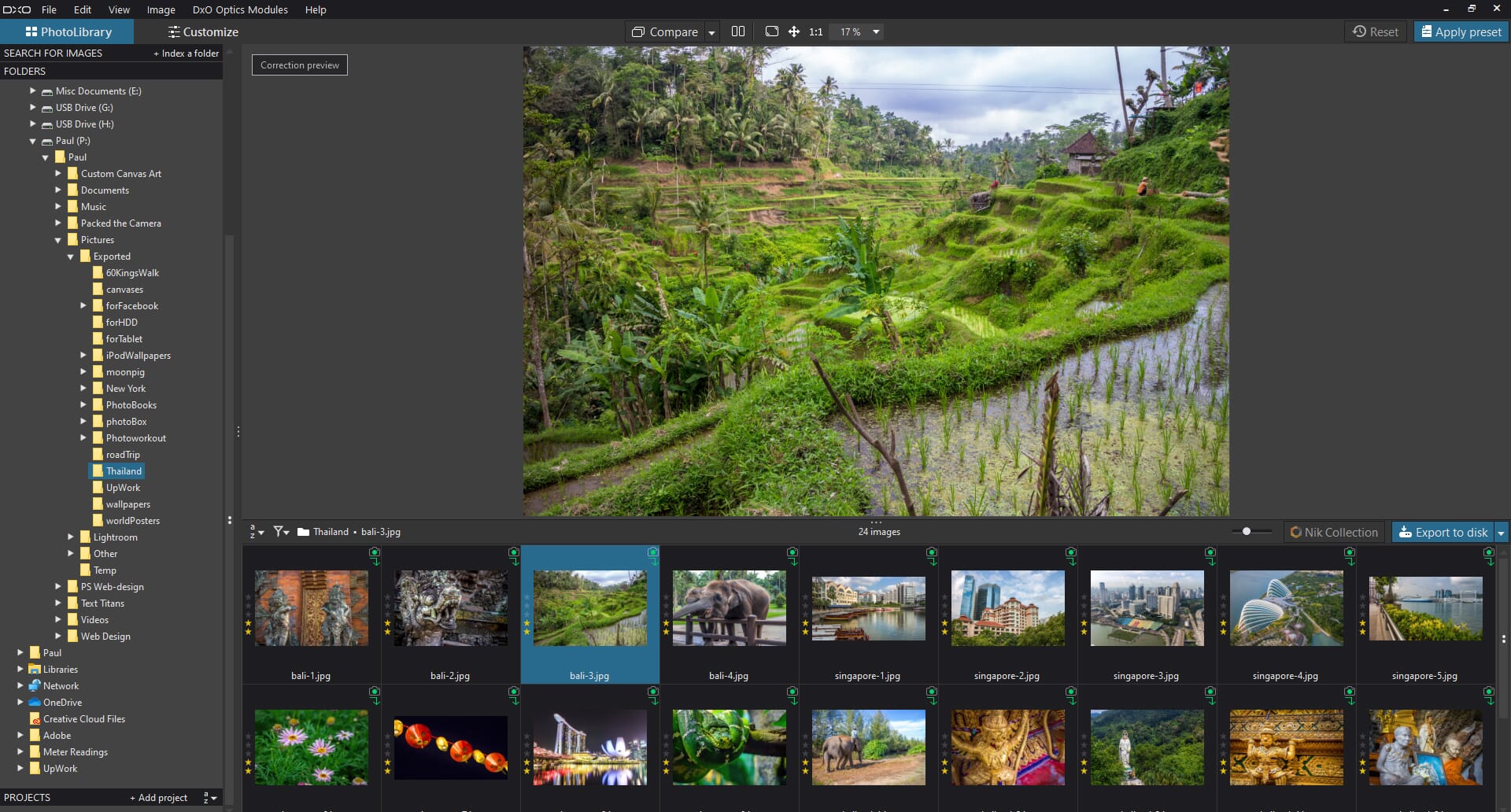 On the left, there is a full folder view. Here you can manage your folder hierarchy easily. This includes the usual features like renaming, adding, and deleting folders, and moving photos within the folder structure. There is also a project tool which I like. Using this feature, you can add photos from different folders to a project – similar to Lightroom's collection feature.
On the right, you can see a preview of the selected image, as well as thumbnails of all other images in the same folder. This layout is simple and easy to understand and makes photo navigation quick. If you hover over a thumbnail, you can also see important EXIF data, keywords, and file format info: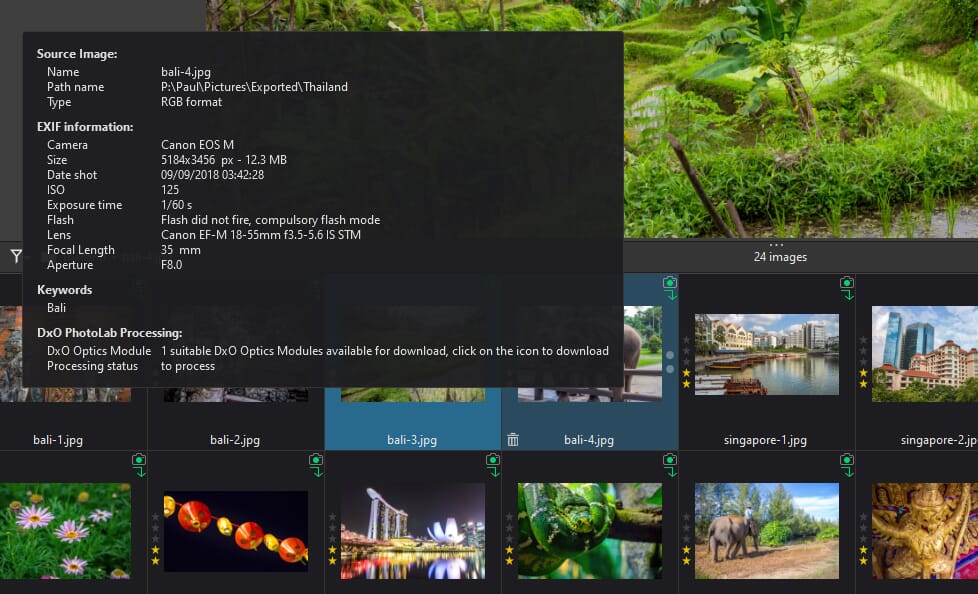 For sorting images, you can also set a star rating from 1 to 5 as well as a picked or unpicked rating (red or green). This allows you to quickly sort and mark different photos once you have uploaded them from your SD card. There is, however, no color rating option. In Lightroom and other software, for example, you can assign photos a color that some people find useful.
Overall, the file management tools are excellent. Aside from the lack of color assignment, DxO PhotoLab 4 is fantastic for organizing large volumes of photos.
Editing Features
When creating this DxO PhotoLab 4 review I spent time editing photos and testing the different tools. The editing tools are segmented into different tabs which provides a logical workflow, allowing you to separate different aspects of editing. The editing tabs are located on the right-hand side and are as follows:
Light
Color
Details
Geometry
Local Adjustments
Watermarks
These are fairly logical, but someone with minimal editing knowledge may not know where to find specific features. For example, the geometry tab contains crop and transformation tools. Regardless, each tool within a tab has its own section, and you can collapse the individual sections to only show those you extensively use. Also, the different tools have sliders and are simple to apply.
AI Tools
DxO PhotoLab 4 has a couple of interesting AI editing tools – DxO Clearview Plus, and DxO Smart Lighting. Both of these tools use AI technology to automatically apply the best parameters for the photo. The results are quite good!
DxO Clearview Plus automatically improves contrast and sharpness. It achieves this by analyzing the photo and removing any atmospheric haze and fog. You can change the intensity of this filter but it is set at 50% by default. The effect is great and this allows you to quickly boost the basic quality of your images.
DxO Smart Lighting effectively sorts the highlights, shadows, whites, and blacks automatically. You typically change each of these filters manually to get a desirable lighting balance however, this tool does it for you. I like how you can select different settings like slight, medium, or strong. This allows you to automatically adjust the lighting to the style of photo you wish to create.
The below photo was editing using both the Clearview Plus and Smart Lighting tools: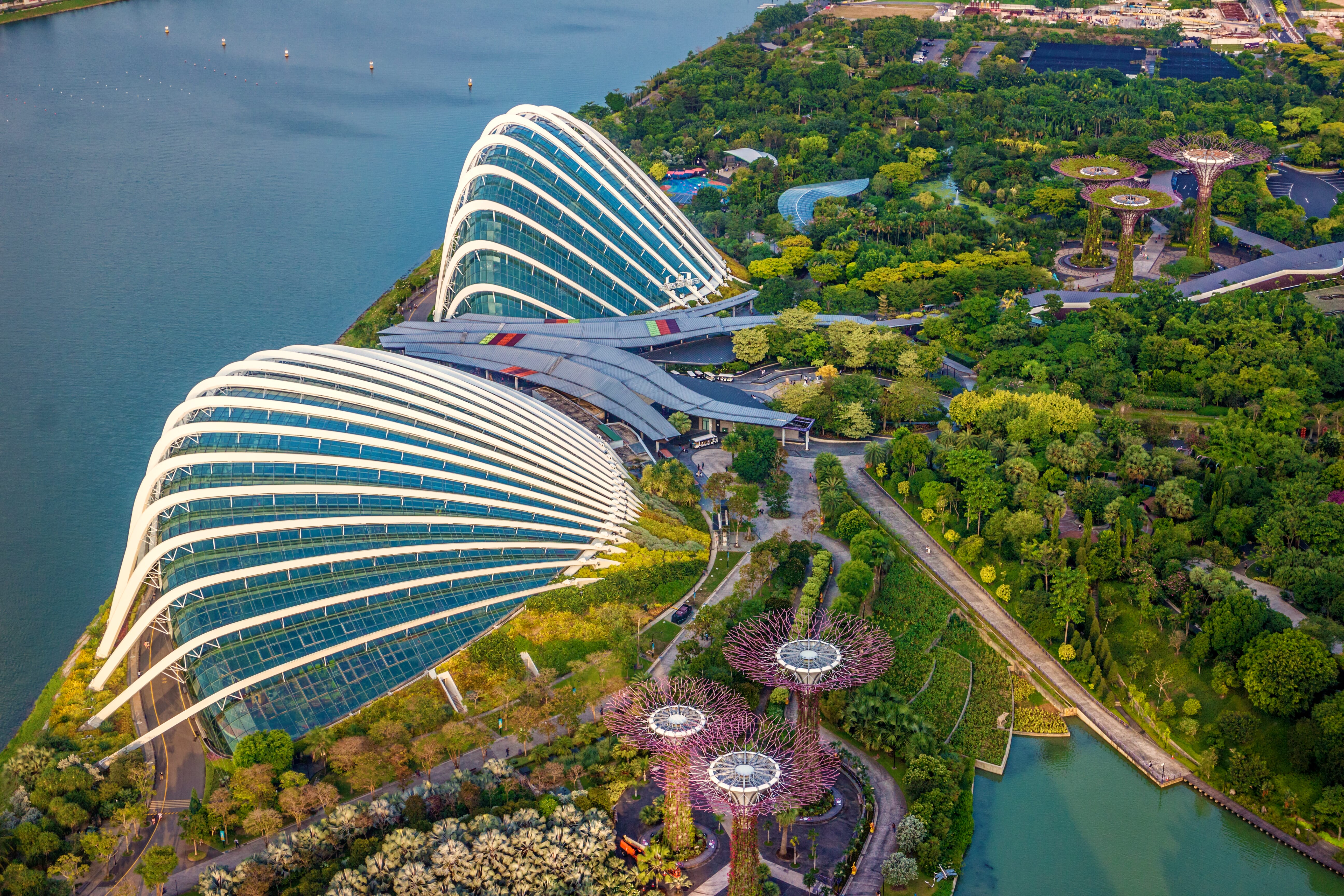 Other Tools
The other editing tools are relatively straightforward and comparable to other editing programs. You can fully crop and transform your photos with ease. The software will also automatically detect the lens you used to take the photo and can automatically correct for lens distortion.

There is also a local adjustment tool. This is not as easy to use as other programs like Lightroom. I found the controls and layout of this tool quite difficult to use at first and it is not intuitive. You first have to activate the tool and right-click on the photo – this opens the circular toolbar as shown below.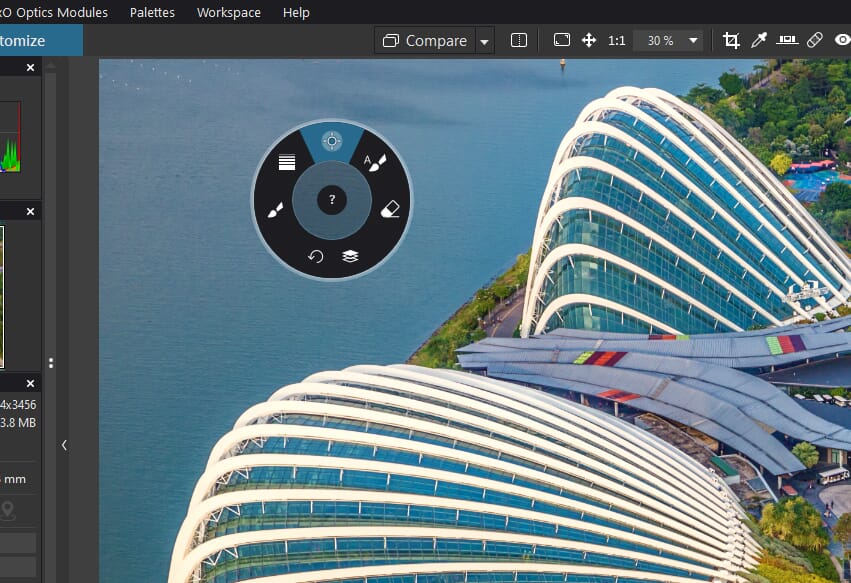 From here, you can then select the type of local adjustments such as graduated filter, eraser, or brush. From there, you can then make the local selection on the photo and adjust the parameters. As you can see, you are adjusting a histogram and not actual figures – some may not like this approach. It does provide great control, however, it is not the easiest tool to use.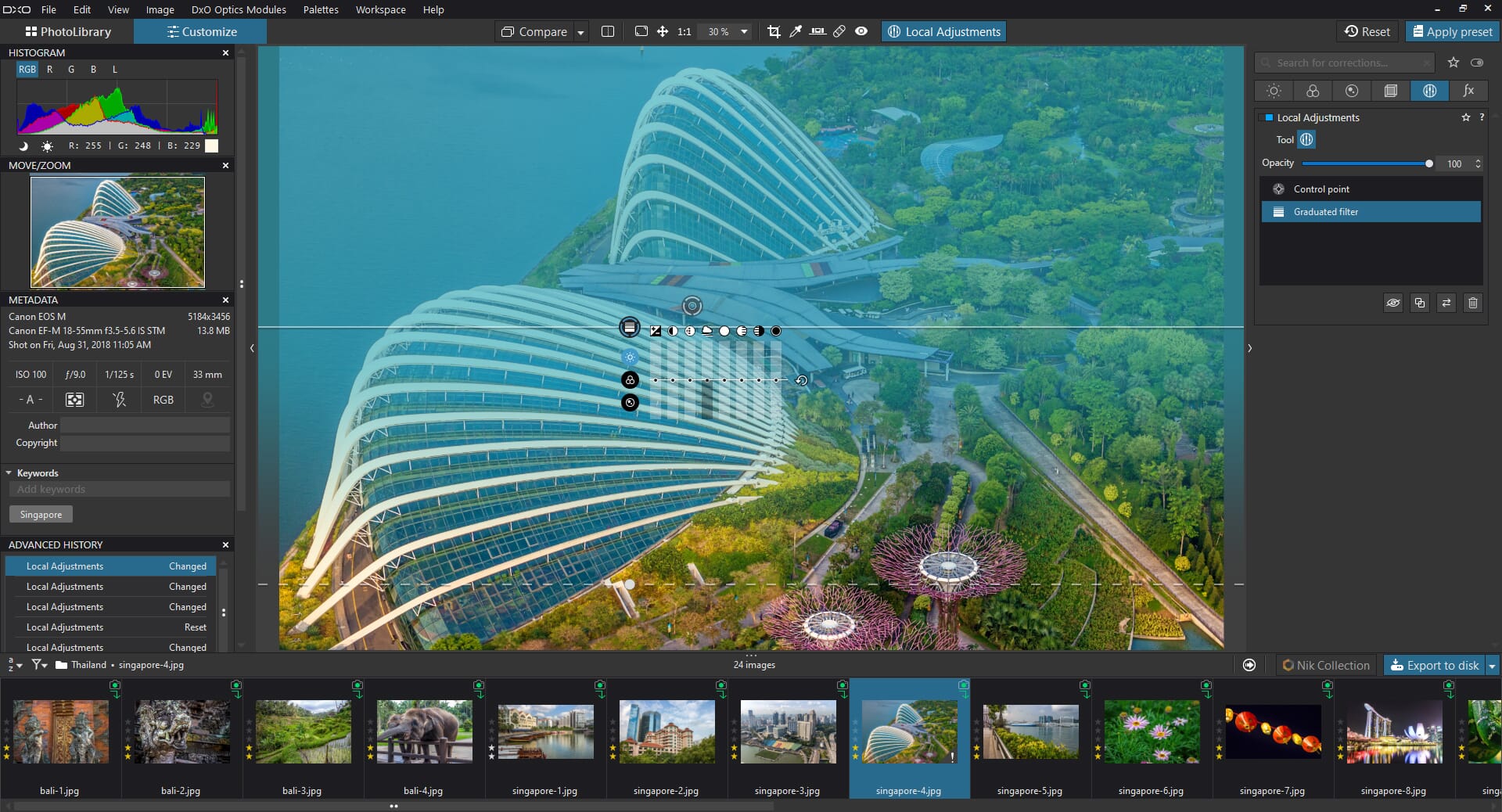 Watermarking
DxO PhotoLab 4 also has an advanced watermarking feature. Using this tool, you can add either an image or text watermark to your photos. The tool offers much more than that, however. You can create watermark presets and change many details about the positioning and style of the watermark. For individuals wanting to protect their photos for public access, this is an excellent tool.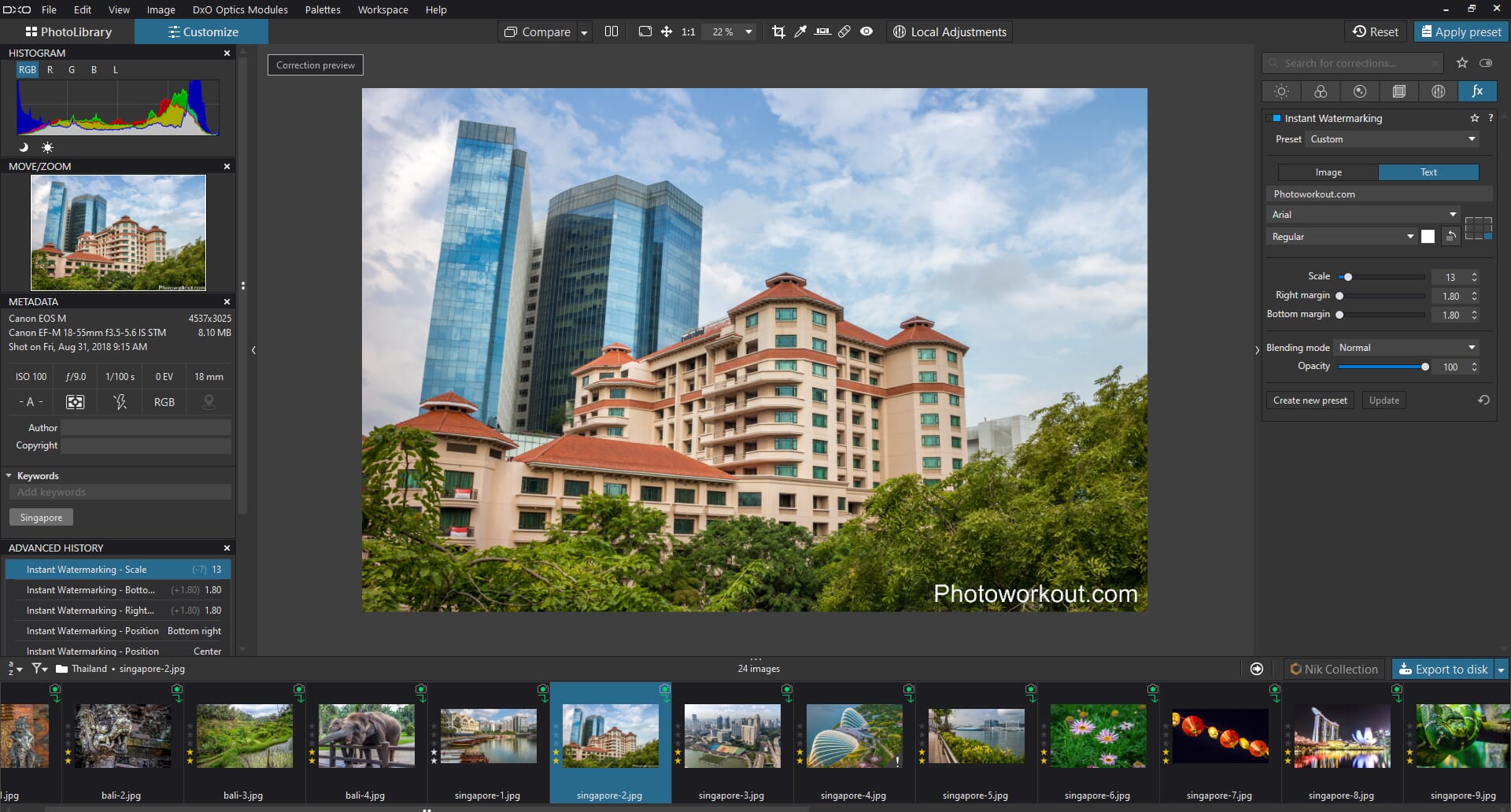 Denoising
Denoising is a big feature of DxO PhotoLab 4 – particularly the DeepPRIME tool. It should be noted that the DeepPRIME tool can only be used on RAW images. However, the denoising feature is still fantastic for JPEGs or other compressed photos.
I was impressed with the results of the DeepPRIME tool. The below photo had a lot of background noise initially. I applied the DeepPRIME AI filter and it removed virtually all of the background noise whilst still retaining the sharpness and clarity of the objects. If you often work with high ISO photos then you will benefit from the amazing quality of the DeepPRIME tool.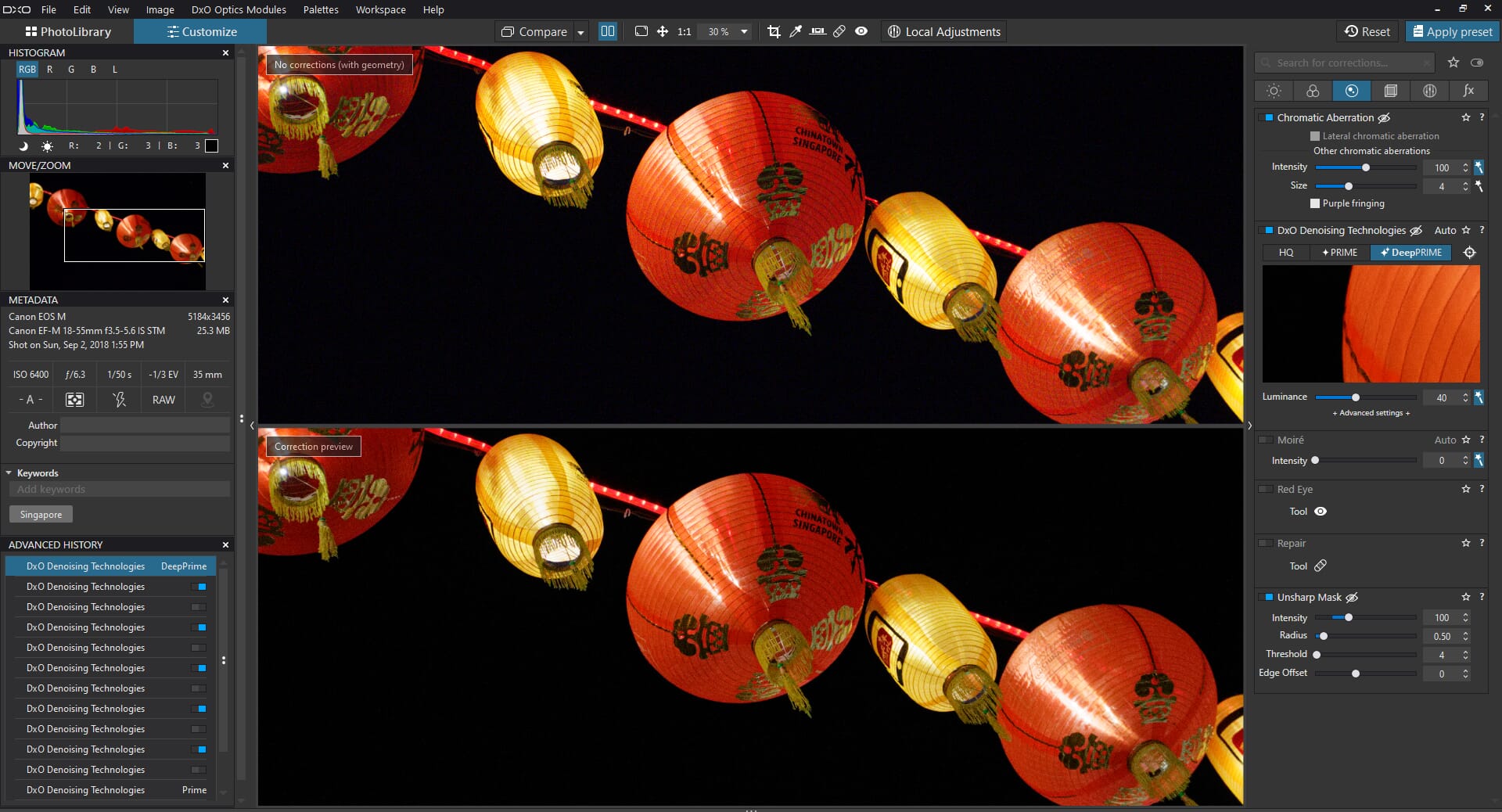 Performance
The performance of different editing software can vary greatly. Some software like Affinity Photo can run on minimum system requirements whereas others like ON1 Photo RAW are relatively power-hungry. For this DxO PhotoLab 4 review, I looked at the performance to see how it shaped up and what type of device you need to run it.
System Requirements
DxO PhotoLab 4 does require a decent spec computer to run effectively but it doesn't require as much processing power or system resources as ON1 Photo RAW 2021. That being said, a basic computer may struggle to give you smooth performance. The following are the system requirements for Windows and Mac devices:
Windows
Processor: Intel Core 2 or AMD Athlon 64 X2 or higher
Memory: 8GB of RAM (16GB Recommended)
Storage: 4GB
Graphics: NVIDIA GTX 1060 or similar
Mac
Processor: Intel Core i7 4th generation or higher
Memory: 8GB of RAM (16GB Recommended)
Storage: 4GB
Graphics: A GFX card with 512MB of video memory or more
Performance
System requirements are one thing, but how does the program actually perform? I created this DxO PhotoLab 4 review using a high-spec computer with 24GB of RAM. Needless to say, the program ran smoothly. I didn't notice any performance issues.
When using the photo library view, I could navigate through my large photo collection quickly. There was no delay when loading images. Also, when using the different editing tools the photo preview updated virtually instantly.
Although the computer I used was more than the recommended system requirements, I do not think performance is an issue with DxO PhotoLab 4. It appears to run smoothly and can cope with detailed editing of RAW images easily. It should also be noted that whilst using this program, I also had Photoshop, Skype, and a range of other programs open!
Pricing
So how does DxO PhotoLab 4 compare to other editing software in terms of price? Is it competitive? Unlike many other editing software, DxO PhotoLab 4 is only available as a one-off purchase or upgrade. There is no subscription service that many companies like Adobe are offering. You may prefer this as many people do not want to commit to a monthly fee for the software.
There are two versions of DxO PhotoLab 4 to buy – Essential, and Elite:
Essential – $129.00
Elite – $199.00
The essential version can be activated on two devices, whereas the elite version can be activated on three. Also, the elite version has the added features:
PRIME Denoising
DeepPRIME Denoising
DxO Clearview Plus
Anti-Moire Tool
DxO Instant Watermarking
DCP and ICC Profile Support
Multiple Exports
Presets Editor
Batch Renaming
Which version you purchase depends on what you intend to use the software for. The advanced denoising tools are a great feature, and the extra file management features would also help when managing large photo catalogs. Whether the extra $64 is worth it is up to you, however.
Overall, DxO PhotoLab 4 is more expensive than other editing software that can be bought as a one-off purchase. However, it is on par in terms of overall cost compared to software like Adobe Lightroom and ON1 Photo RAW 2021.
You can also upgrade from DxO PhotoLab 3 to the current version for a reduced price although you have to have an account to get the exact price – upgrades start from $61.00. There is also a 30-day free trial if you wish to test the software beforehand.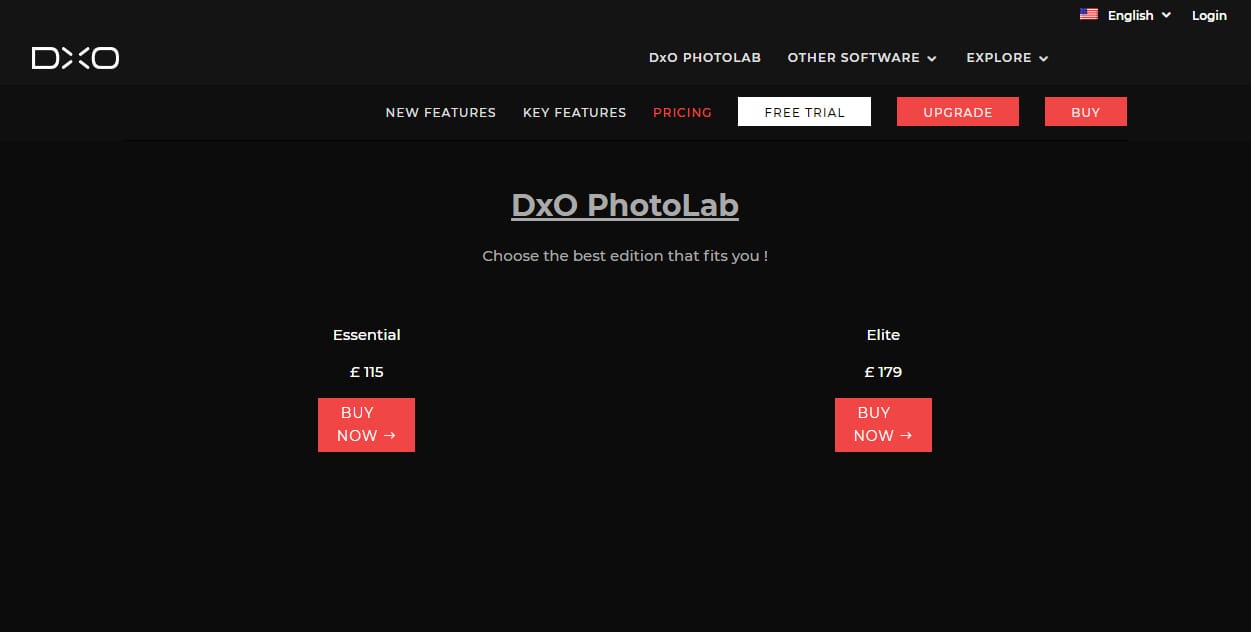 Is DxO PhotoLab 4 Right for You?
We hope you have found this DxO PhotoLab 4 review useful. It is a fantastic program that is great for advanced photo editing. For those wanting a simple editing program for casual usage – DxO PhotoLab 4 is not really suitable. There are cheaper alternatives available that offer more user-friendly features.
However, for professional editing, this is an excellent choice. The advanced editing tools and file management features make this a great contender to programs like Adobe Lightroom and Capture One. Also, for those who regularly work with high ISO photos, the DeepPRIME denoising tool is a must-have feature.
DxO PhotoLab 4 FAQ
Is DxO PhotoLab 4 available as a plugin?
Yes, there is an Adobe Lightroom plugin that comes with the standard license of DxO PhotoLab 4.
Is DxO PhotoLab 4 better than Lightroom?
These two programs are both fantastic for advanced RAW editing. There is little to choose between both options, although DxO PhotoLab 4 currently has better usage of AI technology like the DeepPRIME technology.
How much storage space does DxO PhotoLab 4 take?
For the full installation with Lightroom plugin, you need 4GB of HDD space.
Can I upgrade my previous version of DxO PhotoLab to DxO PhotoLab 4?
Yes, there is an upgrade option available which is cheaper than the full license. Upgrade prices start from $61.00.