iPhone X, 8 and 8 Plus (Camera Specs)
Apple recently announced the launch of 3 new powerful iPhones – the iPhone 8, the iPhone 8 Plus and the iPhone X.
All these iPhones have the same basic A11 chip and the same operating system the iOS 11 underneath. But they differ vastly regarding their other features and especially the camera. As photographers, that's exactly what we are interested in – the camera.
Related Post: Best Smartphone Cameras 2018
Tim Cook stated while announcing the iPhone X that it is the biggest leap forward since the original iPhone. That can only mean good things for the discerning photographer who frequently uses a smartphone to make snapshots.
For us, things like white balance adjustment, larger aperture, optical image stabilization, and a variable lens are pretty important stuff.
Yes, we need the faster processor, we need better video shooting capabilities as well, but deep down it is the image making capability in particular that we are most excited about. Let's find out more about these iPhones.
|   | iPhone X | iPhone 8 Plus | iPhone 8 |
| --- | --- | --- | --- |
| Primary Rear camera | Dual 12 megapixel camera | Dual 12 megapixel camera | 12 megapixel camera |
| Secondary front facing camera | 7 megapixel | 7 megapixel | 7 megapixel |
| Aperture | Wide angle f/1.8, telephoto f/2.4 | Wide angle f/1.8, telephoto f/2.4 | f/1.8 |
| Digital Zoom | Optical zoom, digital zoom of up to 10x | Optical zoom, digital zoom of up to 10x | 5x |
| Elements | 6 element lens | 6 element lens | 6 element lens |
| Video Capture | 4K | 4K | 4K |
| Flash | Quad-LED True Tone flash with slow-sync | Quad-LED True Tone flash with slow-sync | Quad-LED True Tone flash with slow-sync |
| Exposure Control | Available | Available | Available |
| Optical Image Stabilization | Dual | Single | Single |
| Auto Image Stabilization | Available | Available | Available |
| Auto HDR | Available | Available | Available |
| Video Mode | 4K video at 24 – 60 fps | 4K video at 24 – 60 fps | 4K video at 24 – 60 fps |
TrueDepth Camera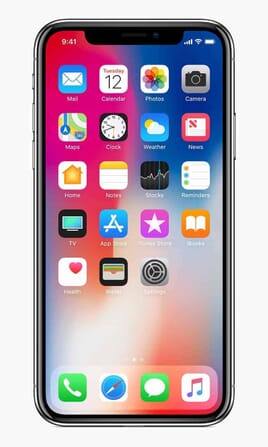 The TrueDepth camera is a new design keeping in mind the requirements of Apple's Face ID. In older iPhone models you would find the front-facing camera or the FaceTime camera in this place. Apple calls the new design TrueDepth camera.
Though technically more than half of iPhone X users will be using it for selfies, under the hood, the new camera is now part of a completely new way to unlock your phone – using Face ID.
How Does it Work?
FaceID
The Face ID aspect of the TrueDepth camera works by using a series of tools including infrared camera (that works even in the dark), flood illuminator, ambient light sensor, the 7-megapixel front facing camera and proximity sensor, among other things.
Related Post: The New Sony RX0 – What Can You do with it?
Together they map your face using no less than 30,000 dots that create an extremely detailed 3D map of your face. Infrared is used to capture the images of your face. Thus, this detailed map can work for reference in all lighting conditions.
Proximity sensor and the ambient light sensors tell the phone when the user is close enough to activate the sensor and how much the ambient light is (in other words how much-infrared light has to be thrown into reading the face).
With all that technical mumbo-jumbo about the Face ID technology, it is easy to overlook that the front-facing camera is also the primary camera for selfies. That's what a majority of users will use it for and not just use it to unlock their phone. So what does all that new technology augers for the selfie-obsessed consumer?
7MP Front Camera & A11 Bionic Chip
The resolution of the front camera is 7 megapixels. Which is Ok, and nothing out of the ordinary. But under the hood with the new A11 Bionic chip, you have an extremely powerful tool. It is, along with the ambient sensors and the proximity sensor, is capable of assessing the ambient lighting and give you better lighting for much better professional looking portraits.
Portrait Mode Selfies
The new front facing camera now has
Portrait Mode and
Portrait Mode Lighting
two things that promise better selfies in a host of lighting scenarios.
We have seen the Portrait Mode in the previous iPhone 7 Plus.
Portrait Lighting: the New Feature
This mode can simulate a host of lighting scenarios which help you create professional studio quality portraits in no time.
Additionally, the camera is capable of reproducing the shallow depth of field effect that is reminiscent of traditional fast DSLR lenses. This produces much better professional quality portrait results compared to older iPhones and other phones.
Related Post: Corporate Portrait Photography Tips
OLED Screen vs. LCD with IPS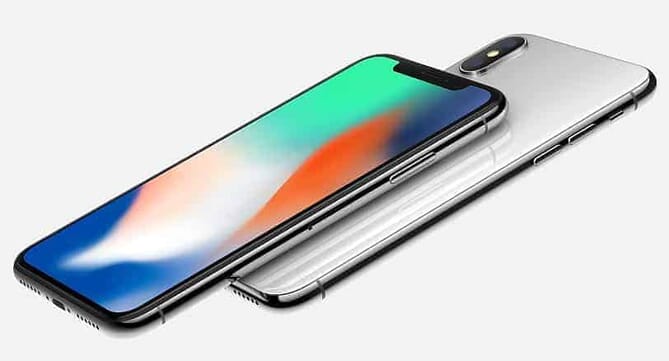 New iPhone Screen
The OLED screen on the iPhone X promises superior contrast, especially when shooting and reviewing high contrast scenes. This, when compared with the LCD screens on the iPhone 8 and the iPhone 8 Plus with the IPS technology, is a much better solution.
In traditional IPS displays, the black areas in the image, which should ideally be represented by completely turned off black pixels, are actually not completely black.
Because on IPS displays even black pixels are not turned off. This affects the contrast of your images.
On OLED displays black pixels are turned off to represent black pixels. That gives deeper blacks and better contrast. It also results in improved battery performance.
Dual Camera (X and 8 Plus) vs. Single Camera (iPhone 8)
The iPhone 8 has a single rear and front camera.
The iPhone X and the iPhone 8 Plus, on the other hand, come with dual rear cameras and a single front camera. The extra rear camera has a different focal length and maximum aperture.
Aperture
Further, the iPhone X's telephoto lens has a maximum aperture of f/2.4 compared to f/2.8 on the iPhone 8 plus. This gives you a slight advantage when shooting in low light.
Optical Image Stabilization (OIS)
Both the rear cameras on the iPhone X has image stabilization. That is a big advantage. You can shoot steady blur-free images even in low light conditions with this camera.
But only the wide angle rear-facing lens on the iPhone 8 Plus comes with OIS. The telephoto camera, which is more susceptible to shakiness, has no OIS.
Related Post: Best Drones for Photography
Other Camera features
All three phones have the following still shooting features in common –
Six-element lens architecture.
Quad-LED True Tone flash with Slow sync (this promises better handling of background lighting.
Hybrid IR filter
Backside illumination sensor
Auto-focus with Focus Pixels
Tap to Focus with Focus Pixels
Burst mode
Geo-tagging
Live Photos with stabilization
Video Mode
All three new iPhones have the ability to shoot 4K videos at a frame rate of 24, 30 and 60 fps.
Alternatively, you can shoot in full HD and shoot at a frame rate of 30 or 60 fps.
There is a slow-motion video mode which shoots full HD (1920 x 1080p) at 120 fps and 240 fps. Play it back in normal speed for 10x slow motion.
Optical Stabilization for Video and 6x Zoom
All three iPhones have optical image stabilization for the video mode, as well as a 6x digital zoom (iPhone 8 Plus and iPhone X only). You get continuous auto-focusing in the video mode as well.
The camera has the ability to shoot and process time-lapse video with image stabilization. This is something that would interest landscape photographers. You will need a small tripod/support system for your iPhone though.
Related Post: DJI Spark (The Drone Everyone Can Fly)