Luminar 3 (with Libraries) is Finally Here
December 20th marks the release of Skylum's latest iteration of the Luminar photo editing software series. Since it's released in 2012, it has gathered a sizable following among hobbyists and drawn the curiosity of professionals.
However, it's always lack of the cataloging capabilities prevented it from becoming a viable substitute for industry leaders like Adobe Photoshop. That is, until now.
This past week, I was granted access to the Luminar 3 beta. While the official release will likely have a few tweaks and differences, I can confidently say that this program is one worth marking your calendars for.
Try the New Luminar 3 with Libraries for Free
Exciting New Features and Capabilities
To be honest, I didn't know what to expect when I booted up Luminar 3 for the first time. Though I'd dabbled with earlier iterations briefly, I've primarily relied on Lightroom for my photo organizing and editing needs for the past decade. When I'm not writing, I even spend some time tutoring less experienced photographers on how to use the software. Quite often, my students and clients will complain about how cumbersome and difficult to understand Lightroom can be. Despite being well versed in the program, it's easy to see where they're coming from.
The very first aspect of the Luminar 3 beta that impressed me was how easy it was to jump into. Because of my experiences with Adobe, I expected that I would have to go through a lengthy upload process just to get some images to play around within the library.
Fast Image Import
Instead, the program automatically identified and imported hundreds of RAW images within a matter of seconds. Aside from being organized chronologically, Luminar included an accompanying folder hierarchy that showed exactly where my files were being pulled from. If Skylum was seeking to make a good first impression on me, it did an excellent job of doing so.
Rcommended Photo Software (Free Trial Download)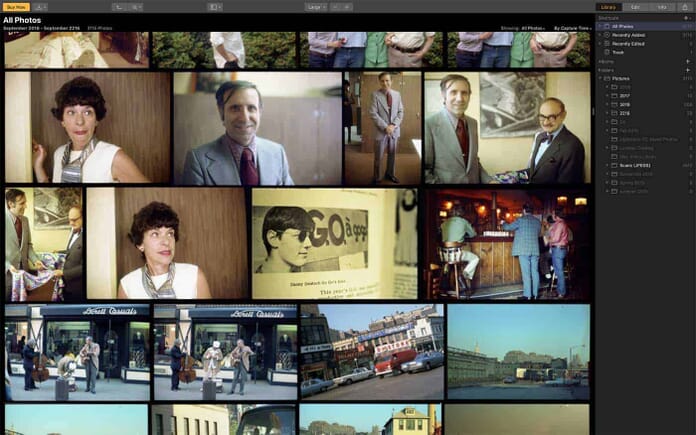 Admittedly, Lightroom and Luminar look similar to one another on a superficial level. That being said, Skylum's added some impressive editing tools that its rival can't match.
Unlike Lightroom, there are no baseline sliders/editing options automatically included in the edit module. Instead, you apply the filters that you want to use. Of course, the two editors both share the ability to make quick changes to aspects like clarity, color balance, and exposure.
Automatic Filter Sets
However, Luminar also has presets that automatically generate filter sets based on what you'd like to do with your image. For instance,
the aerial preset includes options to adjust the top and bottom lighting separately.
The portrait preset, on the other hand, generates options for radiance and vignetting.
Furthermore, Luminar has included unique AI filters that can automatically boost accents and enhance skies.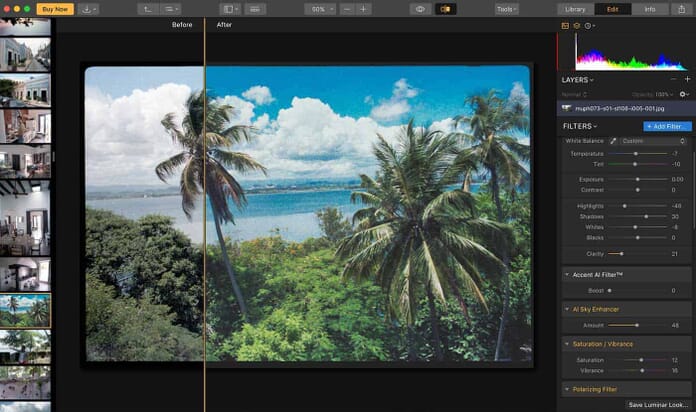 As if that weren't enough, Luminar users can expect even more in upcoming updates. With an emphasis on emerging technologies, Skylum has planned and promised free updates for Luminar 3 all the way through 2009.
Sleek UI/UX Upgrades
We've established that Luminar 3's credentials look good on paper. But how does it work in practice? More specifically, how does it feel in comparison to its biggest competitor?
The truth is, I'm still getting the hang of making edits with Luminar 3. However, I think that this can be attributed more so to my existing Lightroom habits than any shortcoming on Skylum's part.
While I've had to retrain my reflexes and using the program feels a bit unnatural, Luminar does a great job of making its functions clear and navigation easy to understand.
Luminar's large selection of filters provides a great example. Thoughtfully, the developers divided into categories based on the purpose each filter accomplishes. But, as if that weren't enough, you can also get a written description and example of what each filter brings when you hover over an option.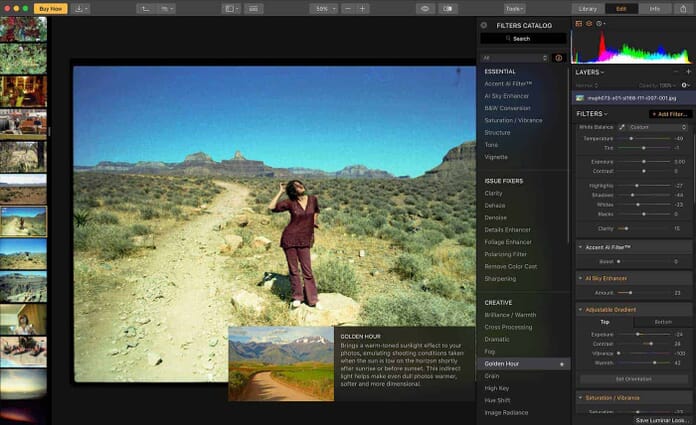 Syncing Adjustments
Another excellent feature Luminar boasts is the ability to sync adjustments across large batches of photographs.
While Lightroom does has a similar feature, it's not nearly as intuitive a process based on what I tested in the Luminar beta. Considering that users may apply multiple filter sets to a single image, this capability can significantly expedite any editing process.
Working with Layers
For more advanced users, Luminar 3 also includes the ability to work in layers (a la Photoshop).
Often times, I find myself transferring more intensive edits out of Lightroom because of its incredibly clunky adjustment brushes. While Luminar doesn't offer ultra advanced selection or layering options, it's a clear cut above its Adobe counterpart.
With easy to use brushes and gradients as well as the ability to mask areas of a layer, this may be my single favorite addition to the Luminar lineup.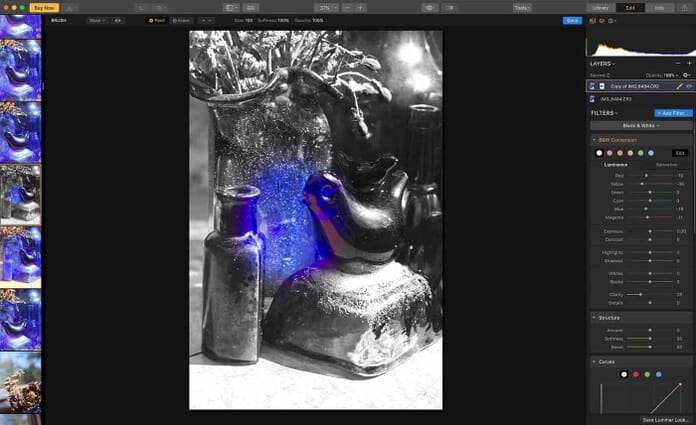 Some Minor Hiccups
You may want to take this section with a grain of salt – as I've only had the chance to test the beta, some of what I say concerning technical issues may not still be applicable. However, I'd be lying if I said that this program was perfect. I have a few gripes that I feel any potential customer should be aware of before diving into Luminar.
Disappointingly, Luminar did not sync as well with companion programs (i.e. Aurora HDR) as one would expect. Going forward, one can only hope that Skylum will improve upon its synchronicity and make the task of transferring between software a bit easier.
One area in which Luminar comes up short is metadata. One of Lightroom's greatest assets as an organizer is its ability to add custom keywords and adjust image file properties. While Luminar does allow you to rate and flag images, it does not offer much else in that regard. (Read more in our post about Luminar vs Lightroom)
As of this post, Luminar does not support certain older RAW files. Those working with older, extensive libraries may want to proceed with caution
A Reliable and Revolutionary Option
Luminar isn't perfect – nothing is. However, this exciting update may be the first to be able to compete with the likes of Adobe Lightroom.
For those that have never "clicked" with the cataloging program, Luminar 3 may offer a ray of hope. Even as a long time Lightroom user, the prospect of switching services is a tempting one.
Existing Luminar 2018 users will be able to upload to Luminar 3 free of charge. In addition, upcoming updates and tweaks (at least for the foreseeable future) will be included with the upgrade.
For those looking to switch over or try their hand a photo library, now's a better time than ever to make the necessary purchase.
Right now, you are able to try Luminar 3 for free or buy it for a one-time fee of $69 $59 (with Promo Code "PHOTOWORKOUT").