In this PaintShop Pro 2019 Ultimate review, we dissect what this program has to offer. Corel first created PaintShop Pro in 1990. Since then it has remained one of the most popular graphics and photo editing programs on the market.
The current 2019 version of this fantastic program is PaintShop Pro 2019 – this was initially released in August 2018 and remains the flagship product. During our review, we look at:
Costing / Trials / System Requirements
Before we look at the features and performance, you must be aware of the minimum system requirements and costing information. From previous editions, the system requirements have not increased much. To ensure that your edition of PaintShop Pro performs at its optimum, we do recommend using a PC with greater specs than listed below.
Trial Version
– Trial version available to download
– Lasts for 30-days
– Provides full access to PaintShop Pro 2019
– No card information required to download
Download the PaintShop Pro Trial Version
PaintShop Pro 2019 – Full Version
Basic software version
Typical price ranges from between $49.99 to $69.99
Corel sometimes offer a 25% discount
PaintShop Pro 2019 Ultimate – Full Version
Advanced version with more features
Also includes 4 other programs, plus a collection of brushes and textures
Typical price ranges from between $69.99 to $89.99
Minimum System Requirements
Operating System: Minimum of Windows 7 with latest service packs installed
Processor: Minimum of Intel or AMD 1.5GHz, SSE2 Support and Multicore preferable
Memory: 2GB (4GB will give better performance)
Storage: 1GB (2GB is recommended to provide space for saving files etc.)
Screen Display: 1280×768 res / 16-bit color
Graphics Drivers: DirectX 9 or later
As you can see, the minimum requirements are not too stringent. When formulating our PaintShop Pro 2019 review we based performance on these minimum specs. If you want super-fast performance, we advise using a PC with 8gb of RAM, a 2.0GHz or higher processor, and a high power NVidia graphics card.
New Paint Shop Pro 2019 Features
With every new version of PaintShop Pro we usually we a host of new features – 2019 is no exception. In this section of our PaintShop Pro 2019 review we briefly look at those features that weren't present in the 2018 program:
360 Degree photo editing
Pic-to-paint plugin to transform your photos into iconic art styles
A whole new host of brushes, color pallets, and textures
More responsive crop tool
Improved tools such as cloning and photo fix
Part 1 – Performance
Now we come to the actual PaintShop Pro 2019 review. We spent time using the free trial. We used a variety of features and tools to see what the program was capable of. We split the review down into 4 sections – performance, usability, key features, and summary.
In this first part of the PaintShop Pro 2019 review, we looked at how the actual software performed. How quick is it? How fast can you edit images? How quickly can you apply textures and effects?
Software load time – Short and simple, the program loads quickly and is ready to use in a matter of seconds even on the minimum requirements spec PC.
File loading times – Opening photos and image files appear to be quite quick and painless too. There was a slight delay when creating a new document, but only a few seconds.
Menu navigation – The menu style is really simple and thus opens quickly and the rollover animations are seamless.
Editing/Using Filters etc. – Again this was quick, even the complex filters were applied in a matter of seconds.
Overall, PaintShop Pro 2019 runs quickly even on a PC with only the minimum requirements.
Part 2 – Usability
The performance is really good – it's one of the best points about this program.
But what about the usability?
How easy is it to actually use the different features and tools. Is the program intuitive?
Can you easily edit your image and its parameters?
In this part of our PaintShop Pro 2019 review we look exclusively at the usability of tools, materials, and navigation:
Tools
The main editing and graphic design tools can all be found in a window on the left-hand side called "tools". This includes all the simple tools you need to manipulate your image – the basic tools you would expect a graphics editing program to have:
Zoom
Pick
Dropper
Selection
Crop
Fill
Red Eye
Paint Brush
Eraser
Clone
Text
Rectangle
We found this toolbox logical and all the items were things you would commonly use. It was great to have them all in one place.
Furthermore, you can move the toolbox where you like and even move it outside the confines of the program. Each tool has a small drop-down arrow next to it which expands additional features such as "zoom" or "pan" on the zoom tool.
Materials
Color pallets and color pickers is an important aspect of any graphics/photo editing software. PaintShop Pro 2019 has a dedicated materials toolbox location on the right-hand side.
This toolbox provides you with color selection. It also gives you a range of color pallets to work with. You can view the pallets either as swatches, an HSL scale, or sliders. We found this toolbox to be really useful – especially if you are doing graphic design work and want to only work with a select group of colors.
The following are some examples of the different preset color pallets available:
Earth
Miami
Monet
Skin Utopia

Navigation
During our PaintShop Pro 2019 review, we looked at the usability of the navigation. By navigation, we mean the menus and toolbars. The main menu bar at the top is in a similar format to most editing programs. It is logical, intuitive, and all the tools are in the menus you would expect them to be in. The main menu has the following categories:
File
Edit
View
Images
Adjust
Effects
Layers
Objects
Selections
Window
Help
Pretty straightforward and easy to use! Each menu has a keyboard shortcut too which can speed up the process.
Generally, we think the PaintShop navigation and menus are excellent.
Part 3 – Key Features
In the third part of our PaintShop Pro 2019 review, we look at the actual features.
What can you do with your images?
How does PaintShop Pro let you manipulate them?
A graphics editing program without extensive features is useless – so how does PaintShop Pro 2019 size up?
Effects
PaintShop Pro 2019 has a number of cool effects. These are effects that you can easily apply to your image or photo. We tried out a handful of the different effects to check on their quality.
Overall, we felt that the effects were not as refined as Photoshop. They were good, but sometimes too evasive and in your face. On some of the effects, we found the parameters difficult and complex to change. The following are some of the effects offered:
Photo Effects: Infrared, Sepia, Vignette
Art Media Effects: Charcoal, Brush Strokes, Pencil
Artistic Effects: Chrome, Enamel, Halftone
Texture Effects: Fur, Leather, Tiles, Weave
The below is an example of the Textured Fur effect and preview box: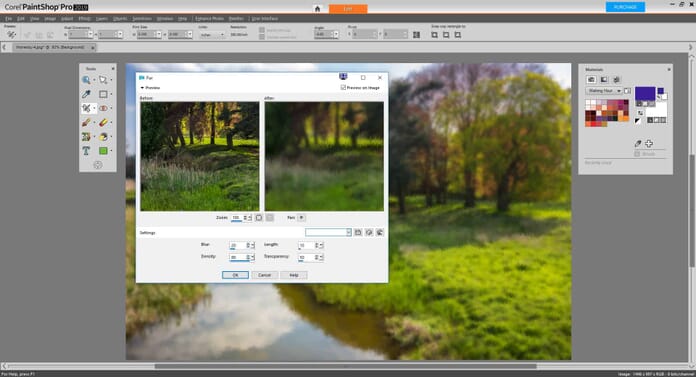 Adjustments
Basic adjustments are an important aspect of graphic design and photo editing. You must be able to easily change colors, brightness, and other parameters.
PaintShop Pro 2019 has an extensive array of adjustments – you can easily morph your image and turn it into something completely different. Moreover, you can easily correct any anomalies in your photos such as overexposure or white balance.
The following are some adjustments available:
Brightness and Contrast
Hue and Saturation
Add/Remove Noise
Sharpness
Softness
Red Eye Removal
Chromatic Aberration Removal
We found these tools to be easy to use and really effective. The number of adjustment tools available gives you a high degree of control over your image. If you want to use PaintShop Pro 2019 for photo editing then you can really improve your final compositions.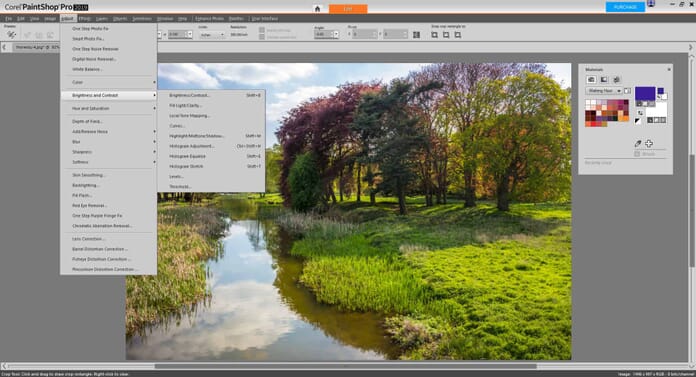 Image editing
Aside from the adjustments, PaintShop Pro 2019 also gives you a selection of image editing tools. By this, we mean things such as resizing, cropping and rotation. Basic tools if you need to edit the overall parameters of your image. The crop and resizing tools are easy to use – you can change the basic shape of your image in no time at all.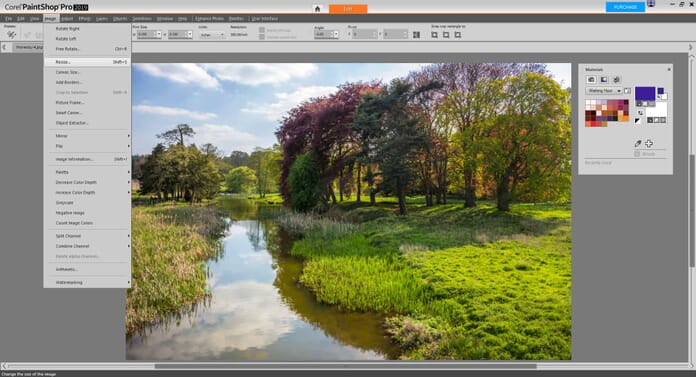 We tried out two advanced image editing features too – Smart Carver and Object Extractor.
Smart Carver basically cuts out an object of your choice and then re-stitched the surrounding image.
Object Extractor, on the other hand, can be used to cut out certain object so that you can place them in other images.
We found them both really useful and the technology involved in the processing was fantastic. In the below image you can see the Object Extractor in use:

Enhance Photo
When creating this PaintShop Pro 2019 review, we also looked at the photo enhancement features. This program has several interesting features that can quickly improve the quality of your digital photos. These tools include one step photo fix, smart photo fix, white balance, noise removal, and tone mapping. We found these features to be excellent quality – if you had a large batch of photos, you could easily use these tools to improve their basic quality.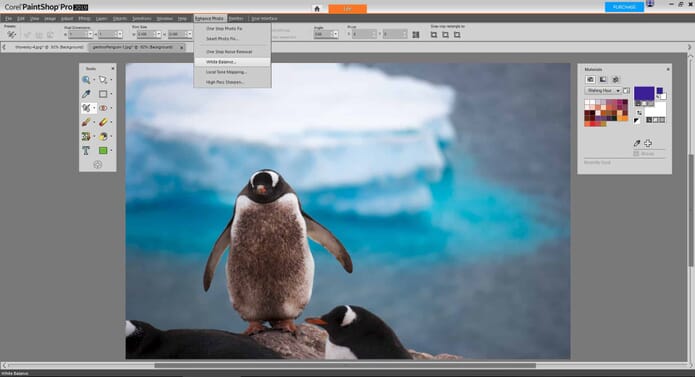 Part 4 – Summary / Pros & Cons
So what did we summarize from our PaintShop Pro 2019 review?
To start with, the latest version certainly builds upon the 2018 version. It looks better, has more features, and is much easier and quicker to use.
It is clear that Corel has made usability a priority and understand that users want to get things done quickly – you can certainly do this with PaintShop Pro 2019.
Corel has also clearly taken into consideration the user feedback. They have built PaintShop Pro 2019 with the end user in mind and made changes that were specifically requested on their forums.
This program feels robust and well-built. Everything works fantastically. It is extremely quick and you can perform image editing functions in no time at all.
If you have a high-end PC built specifically for graphic design, PaintShop Pro 2019 will run like an absolute dream.
If you want an alternative to Adobe Photoshop then PaintShop Pro 2019 is certainly a contender. It does everything that you would need and more. It can be used for both graphic design and photo editing and of course, can be expanded with various plugins, brushes, and textures too.
Don't forget that you can also edit RAW photos using the Aftershot3 function too. We hope you have found this PaintShop Pro 2019 review useful – we will finish with a handful of pros and cons:
Pros
– Extremely fast interface and runtime
– Intuitive navigation and toolbox layout that is logical
– Useful editing features such as smart carver and object extractor
– A large set of tools for photo editing and correction
Cons
– Effects are limited and not as high quality as Photoshop