Chicago is one of those cities that is pleasantly surprising. Although it takes the title of the second most visited city in the US (after New York City), Chicago doesn't seem overcrowded. Famed for its skyscraper architecture, the wide avenues and various bodies of water make it feel open and spacious.
I visited Chicago with my husband a few years ago on a weekend trip. I didn't expect it to be so photogenic! In just a few short days of exploration, I successfully managed to capture Chicago's essence and charm with my Canon DSLR camera.
If you're planning a Chicago photography trip, here are my suggestions for 10 fabulous photo spots in Chicago!

Best Photo Spots in Chicago:
1. The Loop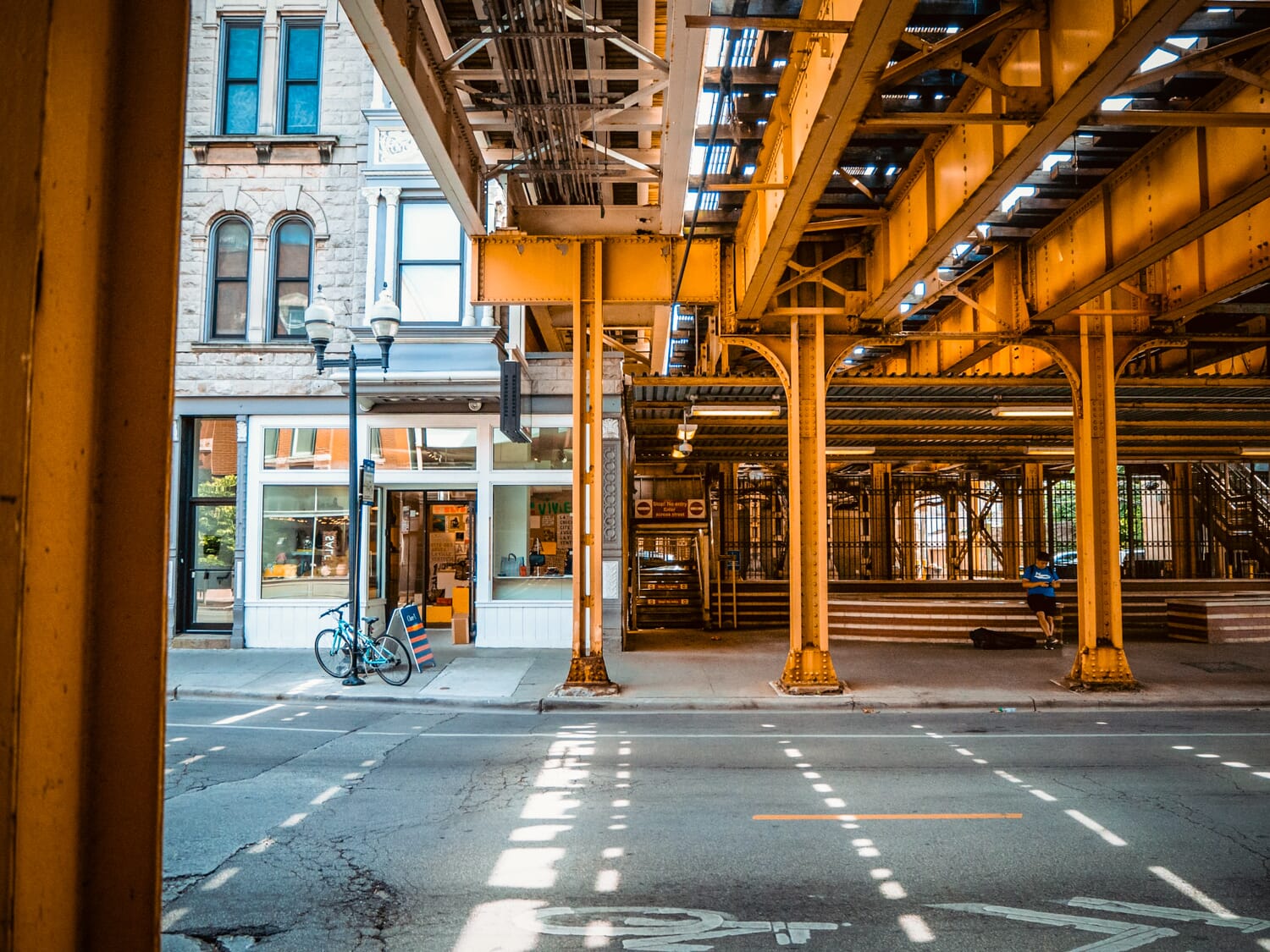 The Loop refers to the central downtown area where the metro is arranged in a circle around the city centre. This spot provides some excellent photography opportunities as the elevated steel tracks create interesting leading lines as they wind overhead, following the roads.
The Loop can be photographed from above at track level or below at street level. Photos can incorporate the industrial steel beams holding up the tracks which feature thousands of small rivets, or capture the movement of the trains as they hop between stations.
2. Chicago River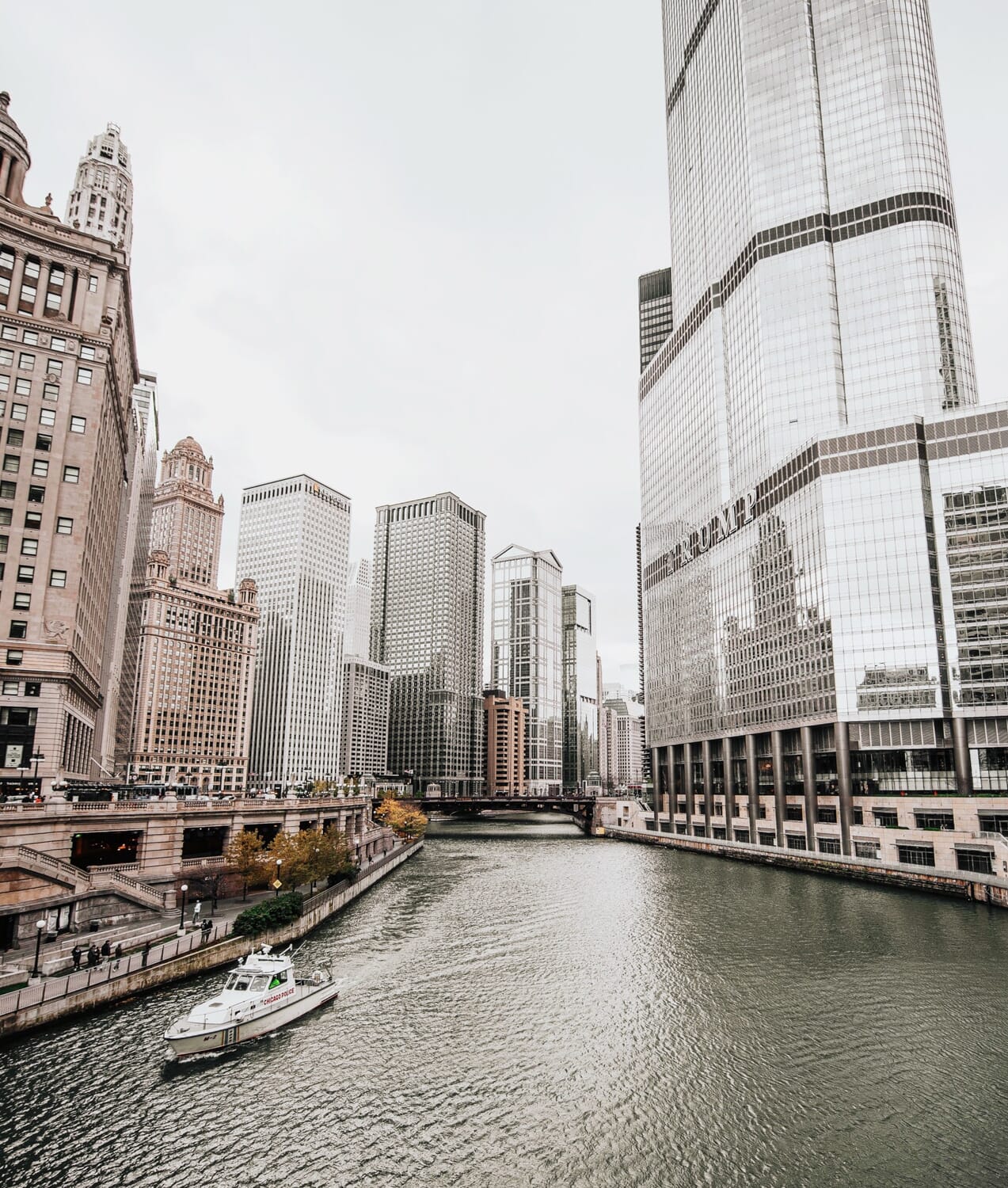 Chicago is famous for having interesting skyscraper architecture, and the Chicago River is the best place to see it. A wide angle lens will be essential here as the impressive towers will take up a large portion of your field of vision.
Wander along the Chicago Riverwalk to pick out a few photography spots. Some suggestions are the Wells Street Bridge with its angled beams, or the DuSable Bridge which has an outlook over some of Chicago's best-known buildings.
3. BP Pedestrian Bridge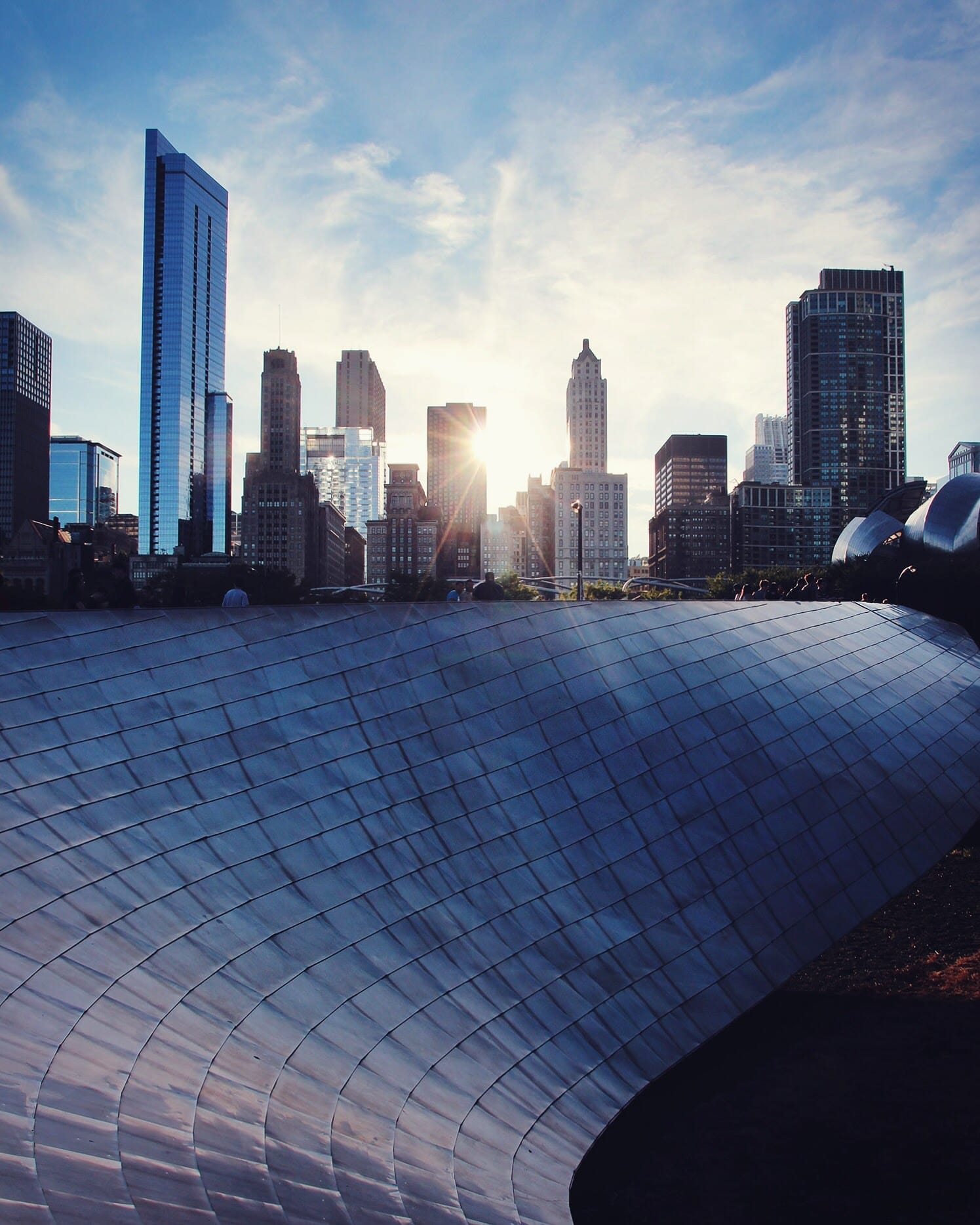 Connecting Millenium Park with its neighbour Maggie Daley Park is the BP Pedestrian Bridge, designed by famed architect Frank Gehry. The steel panels that slope down the side of the pathway reflect the light of the sky and make curious patterns beneath the city skyline.
I found that sunset was a great time to visit this Chicago photo spot, as the sun peeked out from behind the skyscrapers creating a bright sun flare against the afternoon sky.
4. Cloud Gate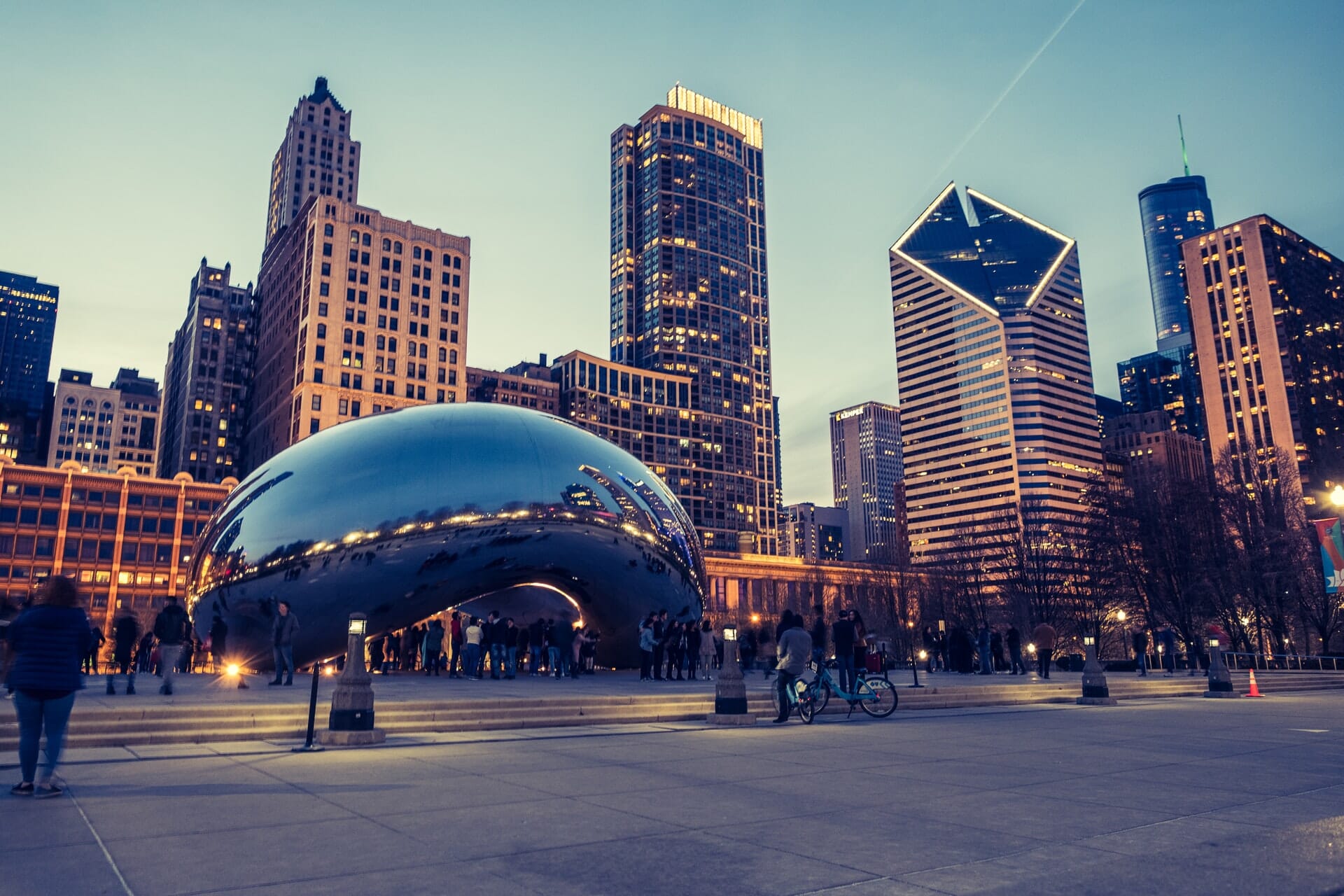 It may be one of the most popular photo spots in Chicago, but there's a good reason. The Cloud Gate sculpture in Millenium Park looks somewhat like a shiny kidney bean with a warped reflective surface, making its surroundings appear as though they're in a fun house mirror.
Because of the high number of visitors this spot receives, you should plan to arrive super early in the morning, preferably before sunrise. This way, you'll have a peaceful time grabbing shots of Cloud Gate reflecting the soft glow and city lights during blue hour.
5. Chicago Theatre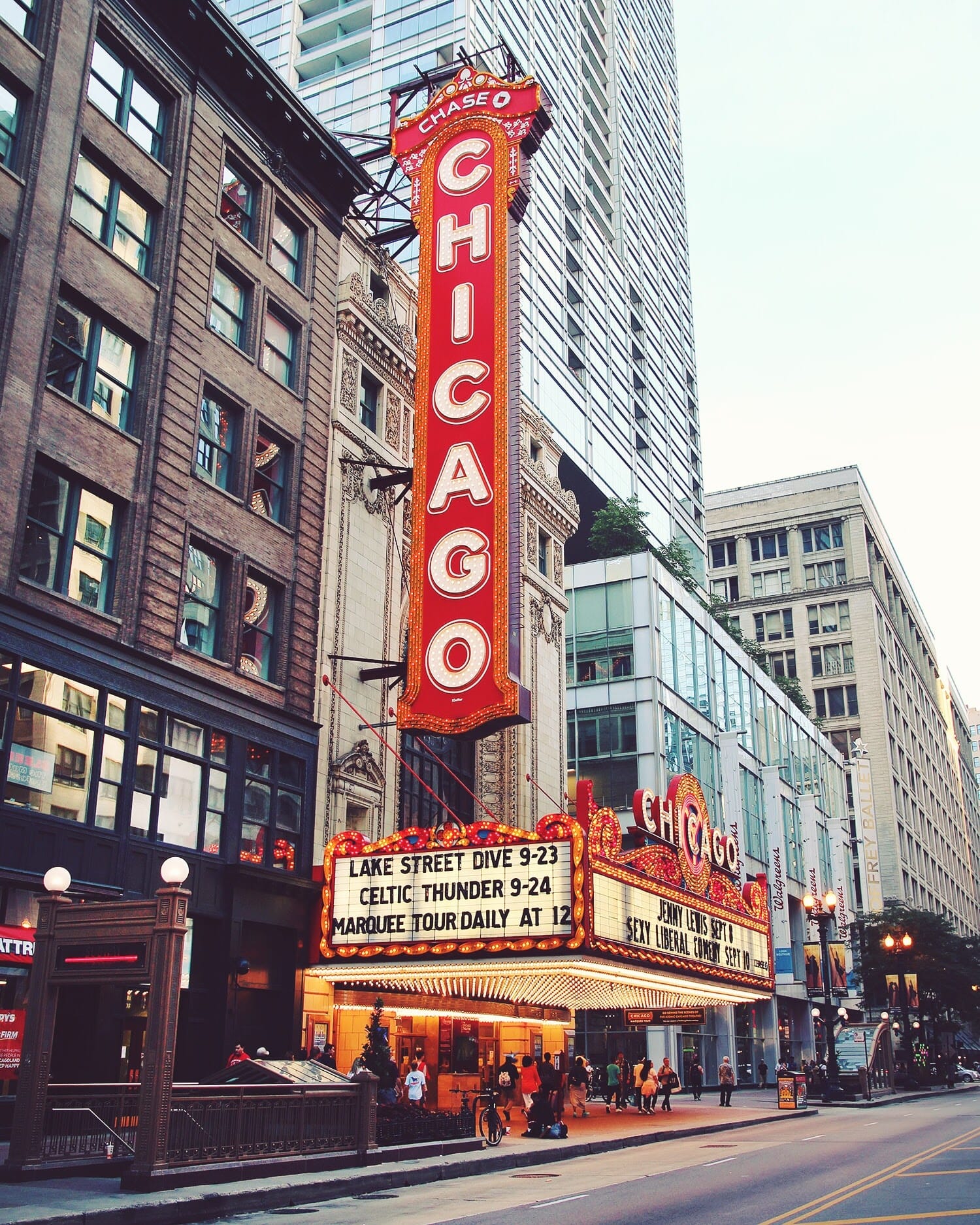 The Chicago Theatre is one of Chicago's most famous and photogenic landmarks. Built in 1921, the vintage sign out front has broadway-like vibes and looks fabulous when the bulbs are lit up in the early evening.
Photographers often enjoy setting up across the road at an angle with a tripod to capture the car headlights and pedestrians as they move back and forth in front of the theatre.
6. Navy Pier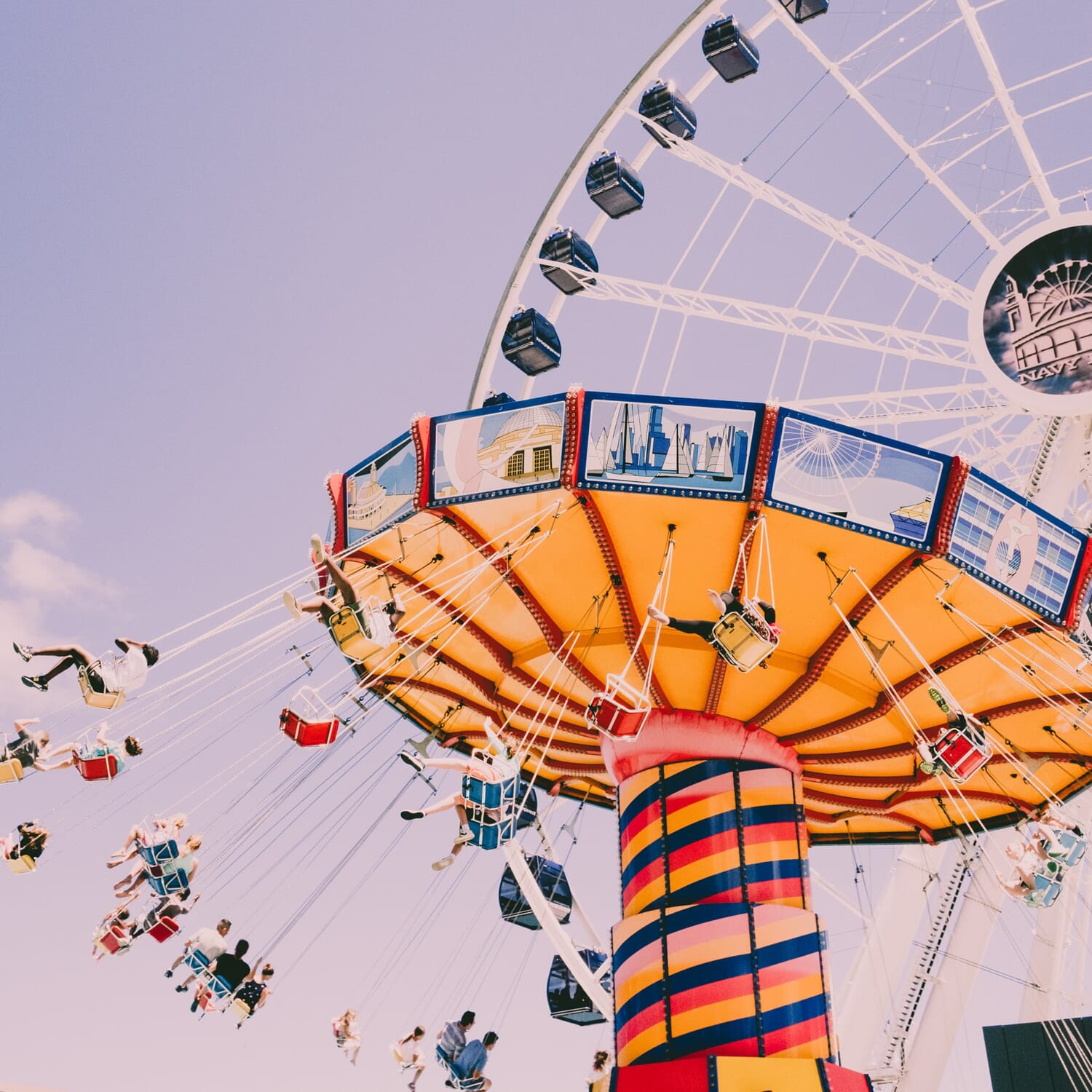 Seeing as the original ferris wheel was invented in Chicago for the World's Fair in 1893, it seems logical to do some photography of this iconic amusement ride while you're exploring the city. Navy Pier holds a large ferris wheel which can be easily spotted from a distance.
A popular photo spot is located just in front of the Wave Swinger amusement ride, where you can use shutter priority mode to capture people on the moving swings with the ferris wheel in the background. If you're interested in maritime history, you can also walk out to the end of the pier to see the Chicago Harbor Lighthouse with Lake Michigan as a backdrop.
7. John Hancock Building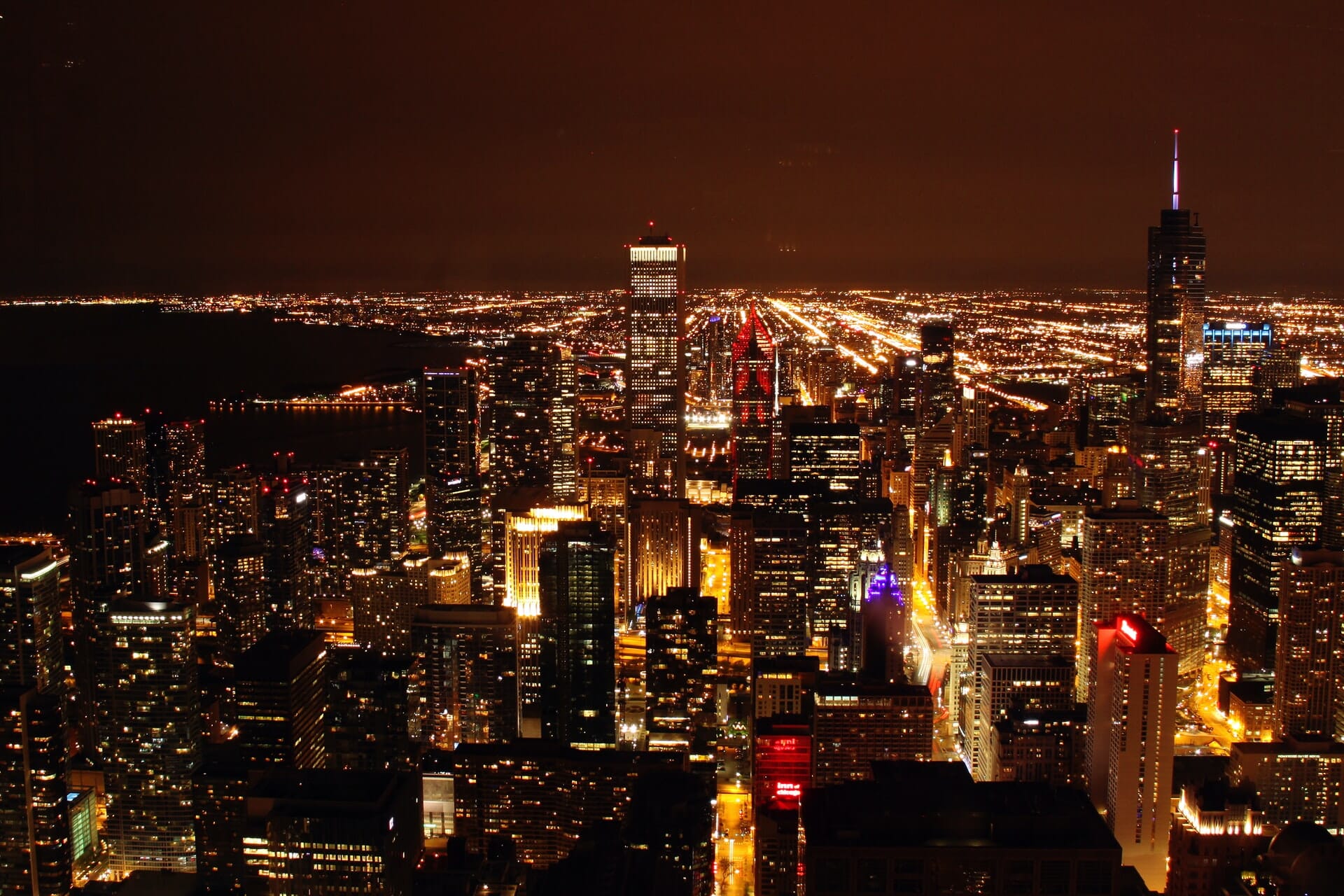 If you're hoping to capture the city from above, the upper floors of the John Hancock Building are a great location for elevated views. The skyscraper features the 360 CHICAGO observation deck with floor-to-ceiling windows on the 94th floor. The views from this spot look particularly spectacular at night.
Alternatively, you could head up to The Signature Lounge on the 96th floor to take a few stealthy shots along with a cocktail. If you go with this option, avoid going up at sunset because it gets super busy and don't take a tripod with you. Also be sure to order something off the menu and adhere to the dress code*–this is a reasonably classy venue so you may be denied entry if your attire is inappropriate.
*Traditional Upscale; no shorts or athletic wear. Jacket and tie are optional. Ripped or torn jeans are not permitted.
8. North Avenue Beach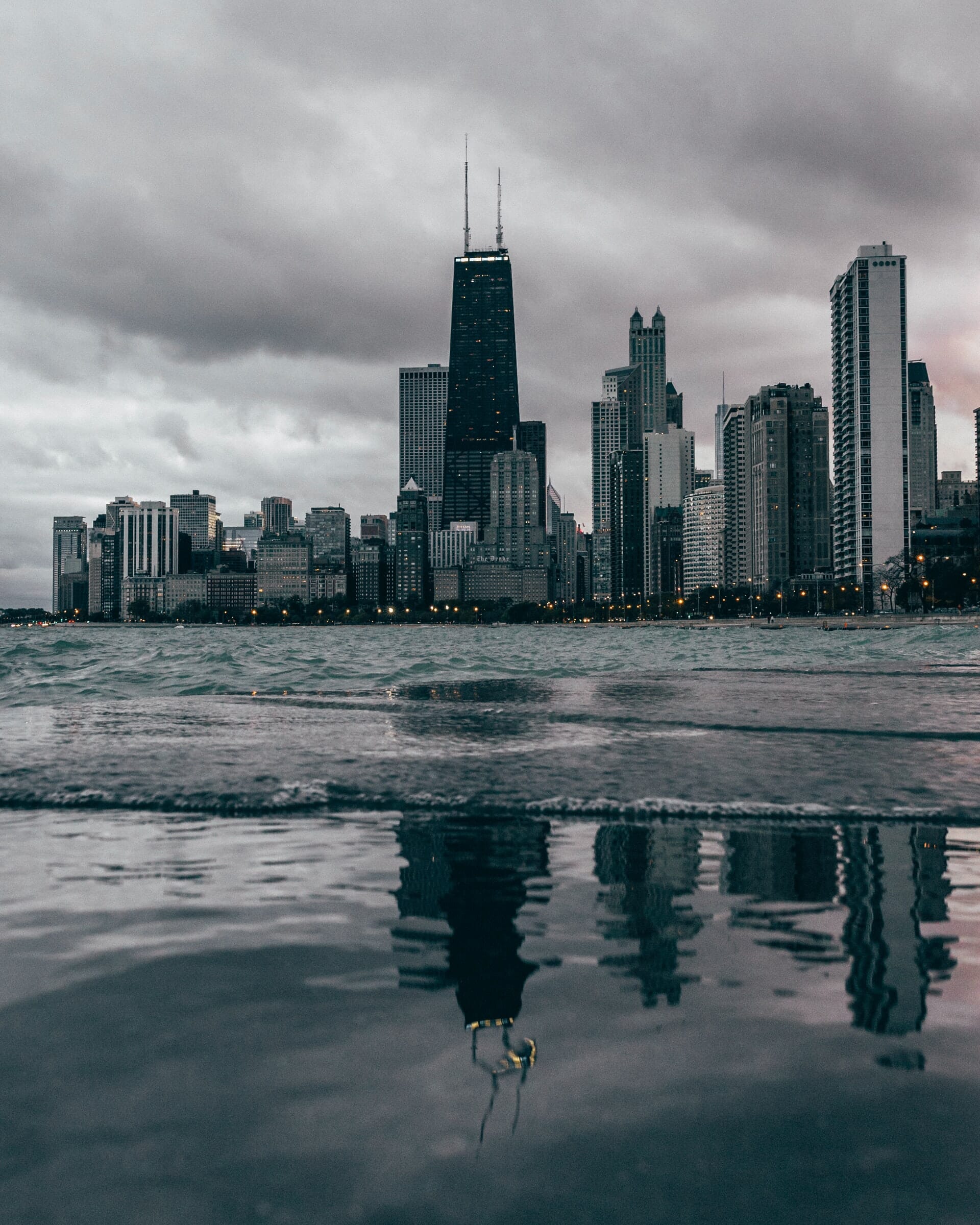 Lake Michigan has plenty of beaches, some of which are located very close to downtown Chicago. North Avenue Beach is one of the best for photography as you can see the city skyline from the sand.
Head to 'Photography Point' at the south end of the beach for the best view. This spot can be good to visit on both sunny and moody weather days. Be sure to take a polarizing filter to reduce any reflections off the water.
9. Lincoln Park Conservatory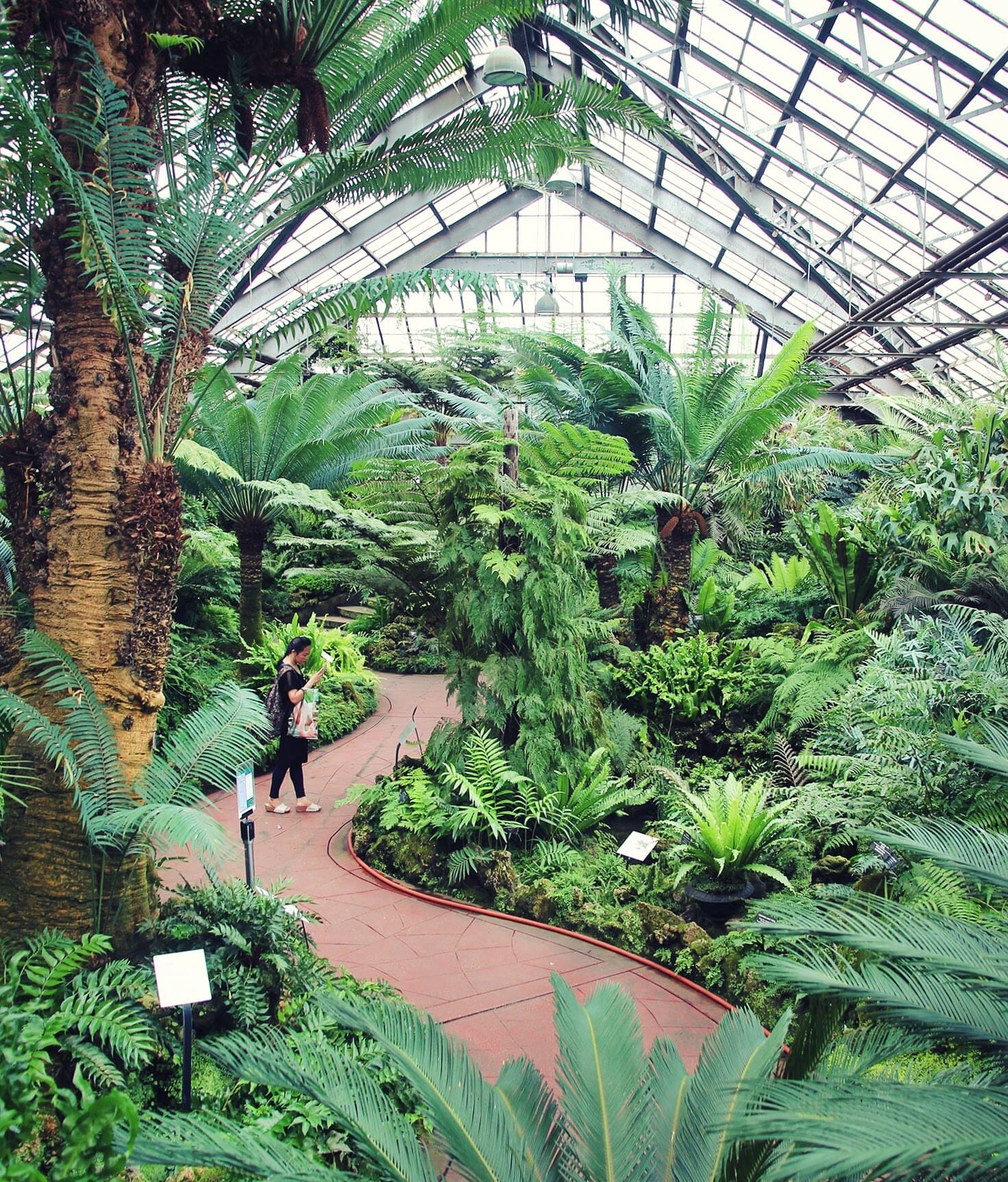 Inside of Lincoln Park Conservatory is a curved brick pathway that leads visitors through a tropical plant display. Built in the 1890s, this historic conservatory is both spacious and pretty.
Lit brightly by the Victorian Era glass house ceiling, the conservatory is an excellent location for model photography. As this place is a popular Chicago Instagram spot, be prepared to elbow a few social media influencers out of your way while shooting.
10. Wrigley Field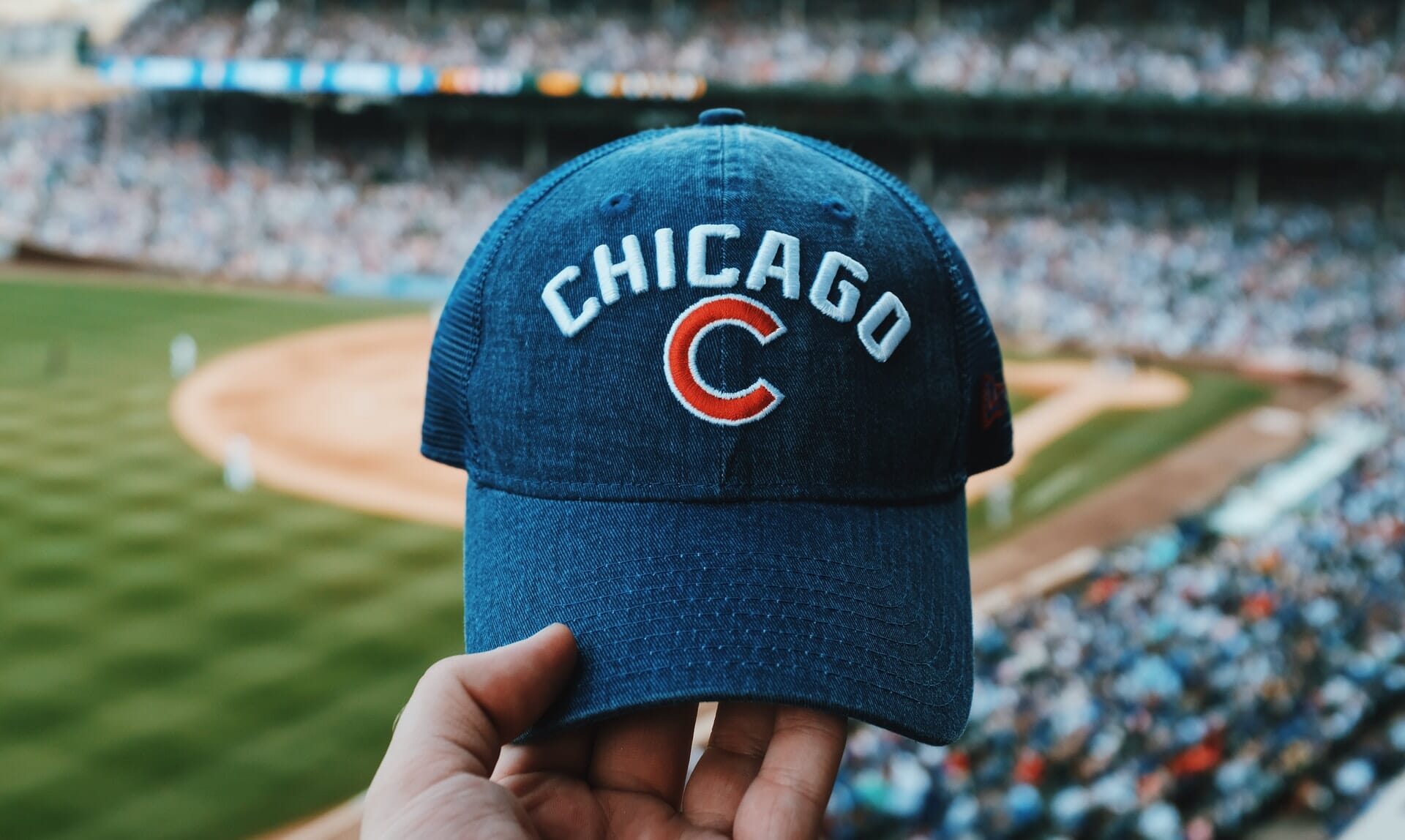 With a similar charm to Fenway Park in Boston and built only two years later in 1914, Wrigley Field offers an array of snapshot options for lovers of baseball or those interested in sports photography.
The stadium interior features gorgeous ivy-covered walls and a stunning retro scoreboard. On the outside you'll find the iconic 'Wrigley Field, Home of Chicago Cubs' sign which lights up in neon at night, and some decorative iron balustrades at the field gates.
Some Chicago Photography Tips:
Chicago is a great place for street photography. The downtown area has endless corners, crossings, laneways, shops, and metro stations that are perfect for urban shots. Take a friend or model along if you want to make the most of these opportunities on a photography trip. Make sure to also read our street photography tips.
People, trains, boats, cars… there are things moving around in Chicago's city centre at all times of the day and night. Try to incorporate that aspect of the city into your photography. We have a full tutorial on how to capture movement in photography.
These Chicago photography locations are mostly accessible year-round in any type of weather, which is great news for photographers who are on a limited schedule or are travelling to the city on specific dates. You should be able to get photos at all of these spots by spending just a few days in Chicago.