Conferences and exhibitions are a great way to get into the world of photography, learn about the latest technology, and stay informed. If you are a hobbyist, you can check out new cameras and lenses and maybe pick up tips from speakers or even attend hands-on sessions.
Alternatively, if you are a professional with a photography business, these exhibitions and shows provide networking opportunities, allowing you to expand your relationships with key industry players and potentially find new clients.
However, there are a lot of different options spread out across several continents, and it can be tough to choose the right one. If you're itching to dive deeper into the world of photography, I have scoured the web and found the best photography events from around the globe for the rest of the year. The list includes general trade shows, as well as many upcoming exhibitions focusing on specific photography genres.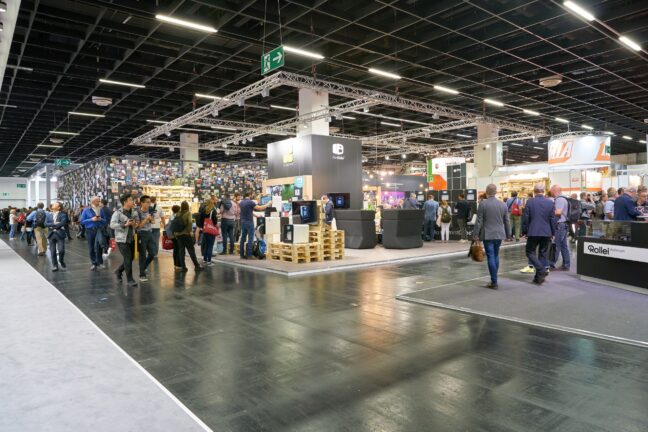 The Best Photography Events in 2023/Early 2024:
When you buy through links on our site, we may earn a commission at no cost to you. We evaluate products independently. Commissions do not affect our evaluations.
1. PhotoIreland Festival 2023 – June 30-July 23, 2023 – Dublin, Ireland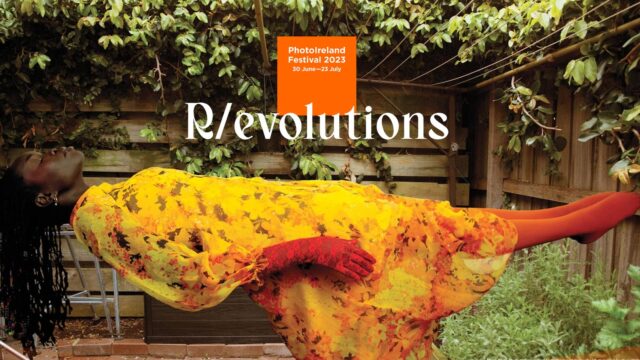 The PhotoIreland Festival is held at various locations in Dublin across a period of three weeks, so there is always something going on.
It's the 14th edition of Ireland's International Festival of Photography, and this event features a range of exquisite exhibitions mainly found at the Museum of Contemporary Photography of Ireland (a great place to visit if you are interested in fine-art photography!).
There are plenty of activities spread across the weeks, including talks from the exhibition curators. Some notable artists and photographers showcasing their work include Aida Silvestri, Atong Atem, Bernice Mulenga, and Heather Agyepong.
2. Image Today – July 21-23, 2023 – Chennai, India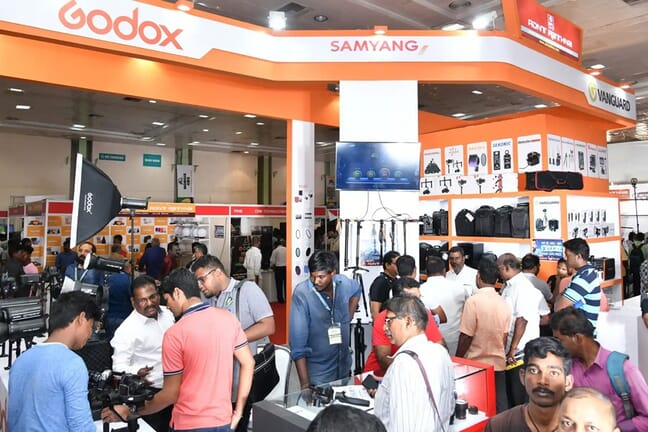 Image Today is one of the largest photography events in India, and this year it is expected to be attended by over 50,000 budding photographers. The event will be held July 21-23 at the Chennai Trade Center, an interesting location with some cool architectural features on the grounds.
Throughout the exhibition, you can expect an incredible display of photography and imaging equipment as well as an emphasis on photo-editing and video-editing software. There will be over 200 exhibitors including booths from the top camera manufacturers.
This is a great event to explore new photography technology, and you can expect to find plenty of gear and camera accessories on display that you can play with. You can even learn from experts who will talk you through the equipment and give you live demonstrations. For aspiring photographers in India, this is a must-attend event.
3. ClickCon – August 1-4, 2023 – Chicago, USA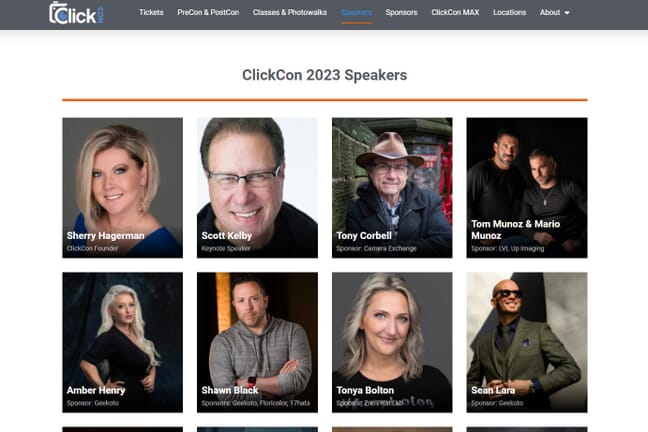 ClickCon is another huge conference where you can get everything from hands-on camera experience with live models to presentations from world-renowned photographers and even photography learning sessions. If you want a photography event that's more than just walking around trade booths and looking at gear, ClickCon is a top option.
This year, ClickCon will run from August 1-4 in Chicago at the iconic InterContintental Chicago Magnificent Mile hotel, which is located in the middle of the shopping district in downtown Chicago. As a result, you'll have plenty of opportunities for fun and entertainment outside the event, too.
An aspect of this exhibition that I like the most is the physical photo- and video-shooting locations. While many conferences provide lessons inside, ClickCon takes you out onto the streets of Chicago to a range of predetermined photoshoot locations. These include places like Chase Plaza and Congress Garden as well as some cool hidden spots like brooding alleyways and graffitied walls.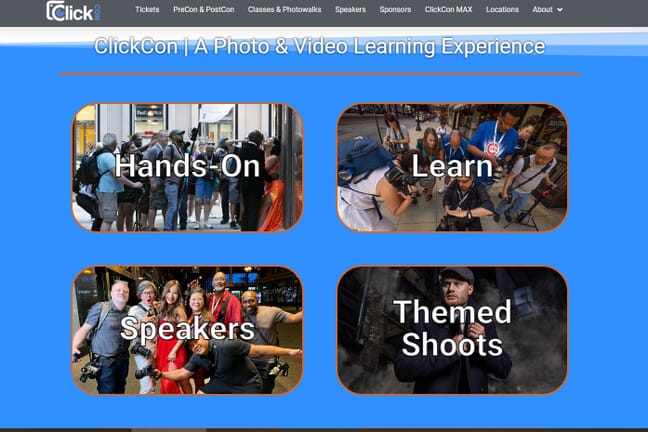 This series of outdoor lessons is great for those wanting to learn street photography, but you can also stay indoors and listen to keynote speakers like Scott Kelby from Kelby One (who creates amazing online photography courses).
4. Photo & Imaging Shanghai 2023 – August 10-12, 2023 – Shanghai, China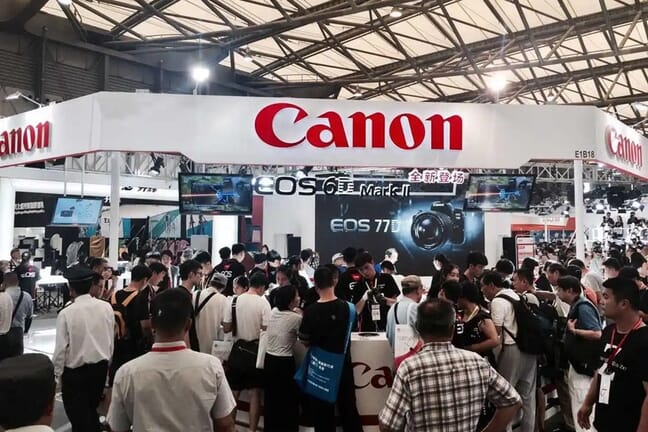 The Photo & Imaging Shanghai exhibition continues to be the biggest in China. This year, it runs from August 10-12 and will be held at the Shanghai New International Expo Center. This epic complex is in the heart of the city, and the event has an expected turnout of 70,000+ people.
Entry is free, which is a major plus, and the center will have plenty of food and drink, too. Across the three days, you can get your hands on both enthusiast and professional photography gear from major global brands, and top companies like Canon will have dedicated stalls.
For tech geeks and those who love to try out new camera equipment or keep up to date with camera and lens releases, this exhibition is a treat.
5. PHOTOFAIRS New York – September 8-10, 2023 – New York, USA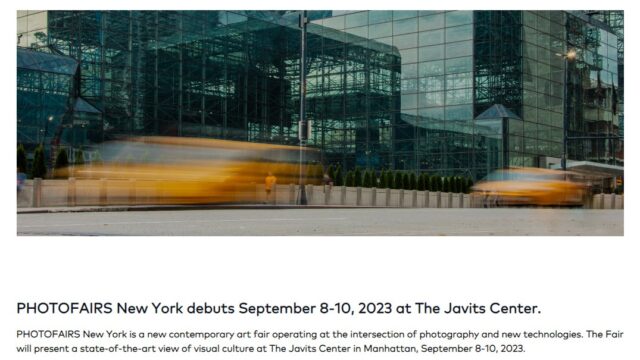 PHOTOFAIRS New York is a new event that is concerned with contemporary art, photography, and technology. It is being held from September 8-10 at the iconic Javits Convention Center in Manhattan; in fact, you'll probably want to spend some time just admiring this glass structure because it boasts an amazing design and provides some fantastic photo opportunities.
The event showcases a range of photography exhibits, primarily from New York-based photographers and art companies. It's a show that's aimed more toward collectors and fine-art photographers as opposed to general hobbyists, so if you happen to love high-level art and you'll be in New York City in mid-September, consider attending Photofairs!
6. The Portrait Masters Conference – September 11-14, 2023 – Arizona, USA
The Portrait Masters Conference offers something different and is a specialized event aimed at portrait photographers. The conference takes place over four days at the start of September and is held at the amazing Arizona Grand Resort. Please note that tickets are limited, so if you are interested, make sure you book early.
This event is designed on a more intimate scale compared to larger exhibitions. You get seven live photoshoot presentations and two keynote presentations from world-renowned portrait photographers. There is also the option to sign up for one-on-one mentor sessions if you want to develop your skills.
The ticket also gives you one photoshoot per day where you can test your skills and gear across 25 different photoshoot bays. If you're looking to capture better indoor portraits, this can be a fantastic use of your time. I like that there is also a general tradeshow element to the event, which includes displays from 28 different vendors.
This photography event is even more enjoyable because you get lunch provided and several nighttime parties (including a silent disco and karaoke contest!).
7. Taipei Photography & Video Device Exhibition – October 12-15, 2023 – Taipei City, Taiwan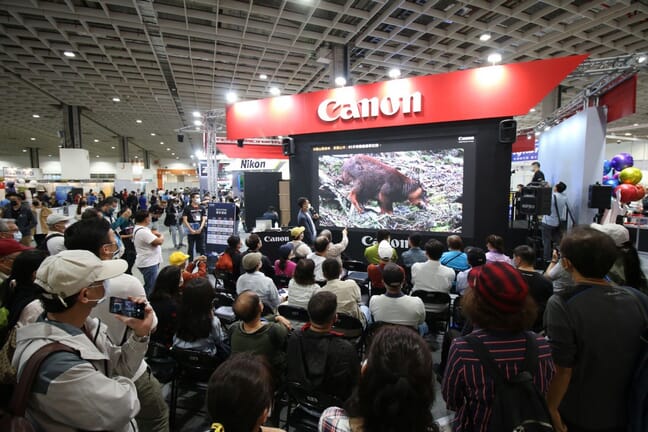 The Taipei Photography & Video Device Exhibition is the place to go if you love tech and really want to check out the latest cameras, lenses, and gear. This exhibition is held in the fantastic Nangang Exhibition Center in Taipei City, which has multiple floors and an incredible amount of space.
As a result, you can expect the show to be packed full of everything related to photography. It's your typical exhibition-style event with different vendors promoting their gear. You can expect the top brands to be present, including Canon, Nikon, Manfrotto, BenQ, and Panasonic.
But what will you see? Expect plenty of new gear, and you'll almost certainly be able to get hands-on experience with the latest cameras, lenses, and accessories. I like that alternative forms of tech are represented such as photography drones. Basically, whatever type of photography equipment you want to see, you'll be able to find it.
8. Photography Fair – October & November 2023 – Belgium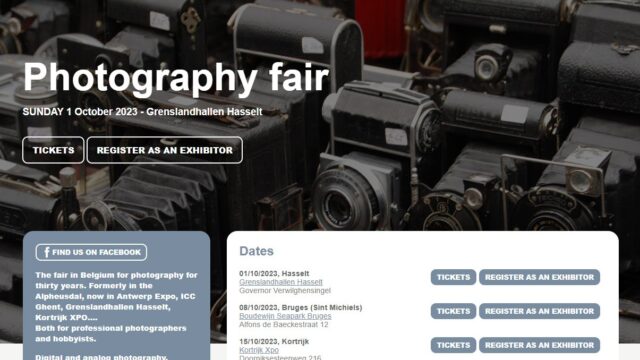 Photography Fair has been running in Belgium for over 30 years. This year it will be held at several locations, including Antwerp, Leuven, and Kortrijk. The fair runs for just one day at each location, and the running time is typically 10 a.m. to 5 p.m.
The fair begins in Hasselt on October 1, then moves to Bruges on October 8, Kortrijk on October 15, Antwerp on November 5, Leuven on November 19, and Ghent on November 26. Each daylong event should be an exciting affair, and you can expect a host of photography gear that's both modern and retro, new and secondhand. Photography Fair events are especially great for those who want to find bargains and grab some different cameras and accessories.
9. Imaging USA – January 28-30, 2024 – Louisville, USA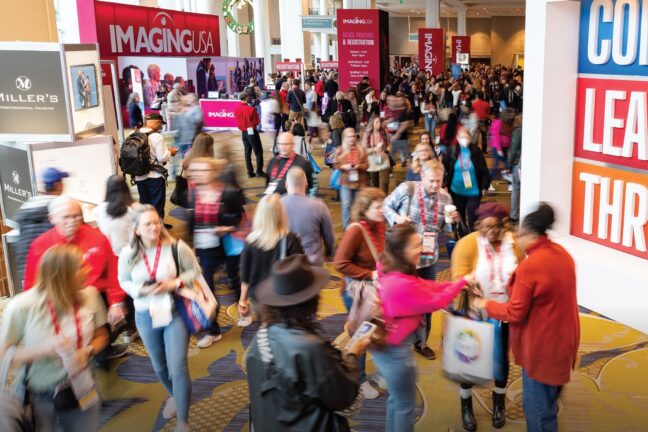 Imaging USA is arguably the largest photography event in the world; it's certainly the biggest in the USA and will be held at the impressive Kentucky International Convention Center in Louisville. The venue is packed with amenities and is easily accessible, plus it's surrounded by plenty of restaurants, bars, and entertainment.
What can you expect from this exhibition? Everything! You get a host of keynote speakers who provide amazing talks on different aspects of photography, including the business side of things, which comes in handy if you want to develop your photography enterprise.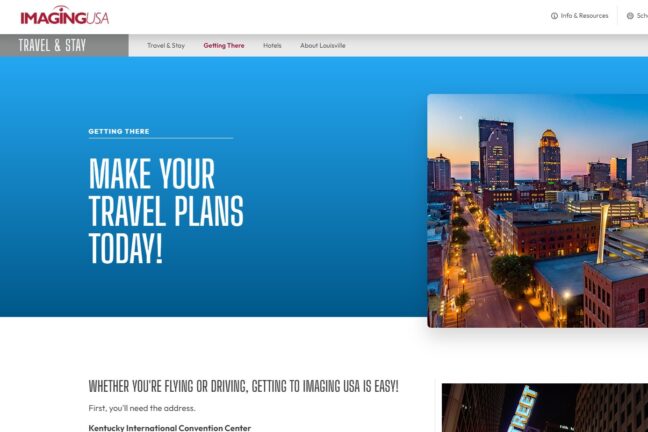 The conference space itself is packed with stalls from various vendors, and you can expect all the big brands to come. I like that there are also plenty of hands-on opportunities for improving your photography skills as you can find various live models and photoshoot activities around the center.
10. ShutterFest – April 2-4, 2024 – St. Louis, USA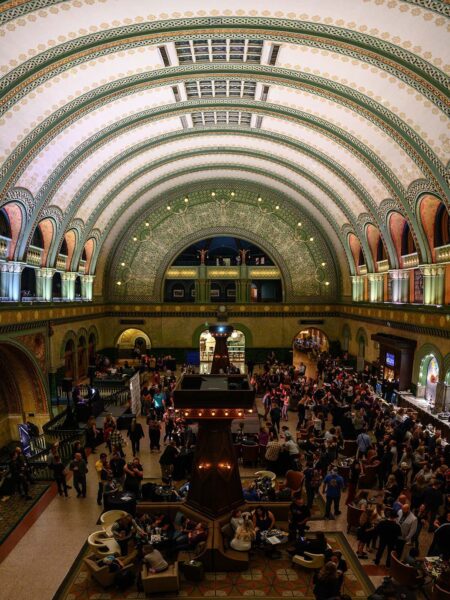 ShutterFest is my top pick for anyone seeking a hands-on photography festival and an amazing time. This event is held in the incredible St. Louis Union Station, which features grand architecture and fine impressive details that'll get your creative juices flowing.
The event is spread across four days in April, and it is like nothing you've ever seen. There are trade-show elements where you can check out the latest equipment from all the best camera brands, and there are also talks and workshops from reputable photographers.
What's more, there are lots of live photoshoots that you can get involved in. You can tailor your ShutterFest experience to your goals, whether you want to improve your photography skills, check out new tech, or just have a blast and meet other photographers.
Enjoy Some Superb Photo Events!
This year is shaping up to be outstanding for photography fanatics, and I can't wait to see how these exhibitions and events unfold. If you want to keep up to date with the latest trends and technological developments, or you simply want to have lots of photography fun with other hobbyists and professionals, then attending one or more of these events is a great idea.
If none of the best events are local, then why not consider making a trip and combining a conference with a photography adventure? You could use the event to gain inspiration or even to get your hands on some new gear so you can go out and explore the city!
Finally, make sure to check this page regularly as we will keep it updated with shows spanning through 2024.