In 1872, Yellowstone was declared the world's first ever national park.
Bears, bison, wolves, elk, deer, and coyotes are just some of the animals that are frequently spotted in this area. This protected natural reserve acts as a habitat for wildlife, as well as a place that humans can view some of the most incredible natural formations and phenomenons that Earth has on display.
I've visited Yellowstone twice; once in both the summer and winter seasons. Each visit had me intrigued by the way this geothermal area has formed such extraordinary features that are limited to this particular region. Yellowstone's uniqueness creates amazing photo opportunities for those interested in outdoor photography.
Here's some suggestions on where to find all the best photography spots in Yellowstone National Park!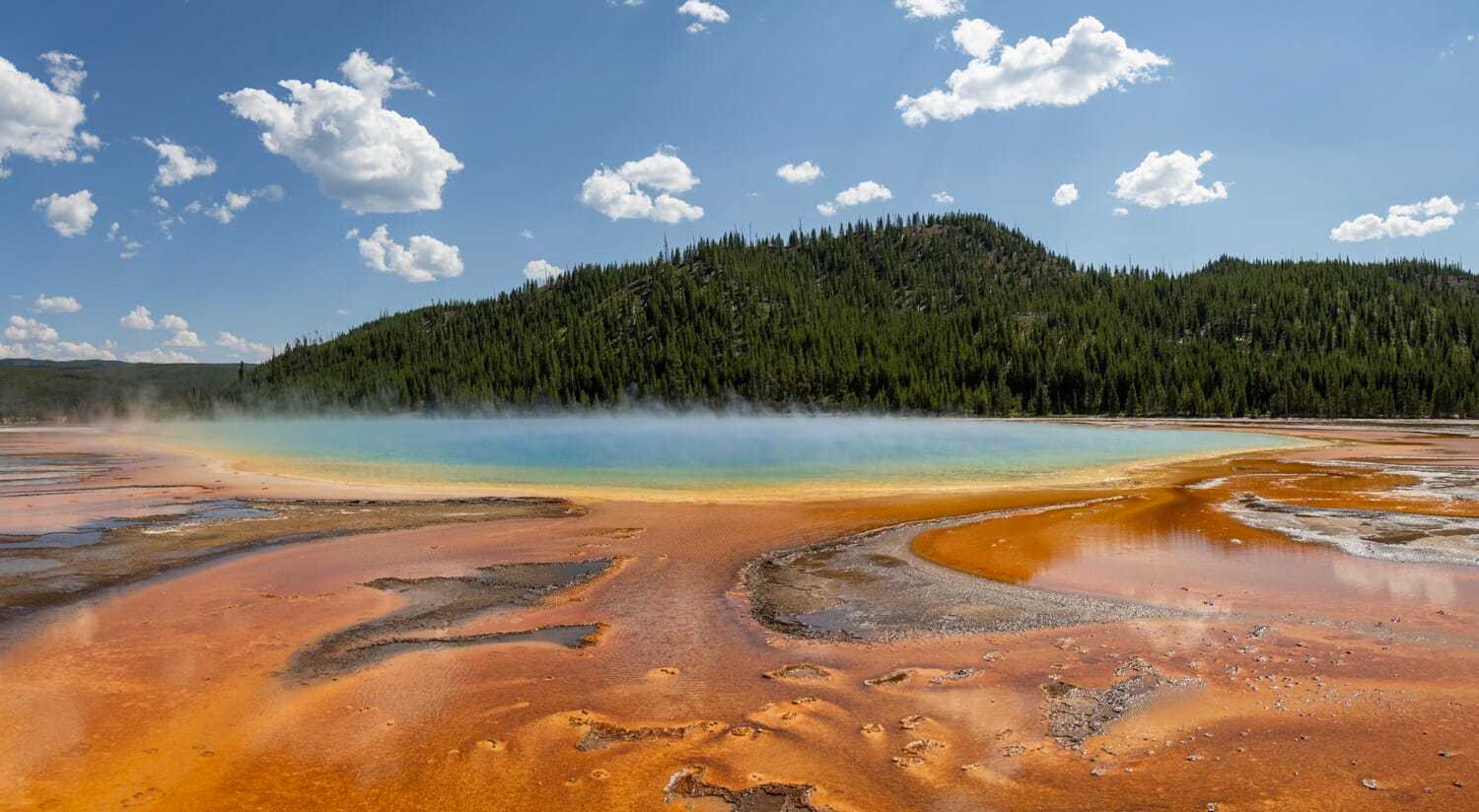 Tips for Visiting Yellowstone:
Yellowstone is accessible via car from late April to early November–you'll just need to buy a national parks pass for your vehicle at the park entrance. It's busiest during the summer break when families with kids are road tripping around the country.
The shoulder months can be the best time to visit Yellowstone as the park isn't as crowded as it is in summer, and you'll also get the chance to see some wildflowers in the spring or the changing colours of trees in the fall.
Winter in Yellowstone is a whole different story. Most of the park is closed to cars, but you can enter via snowcoach or snowmobile on a guided tour. I went with the snowmobile option on my second visit to the park, and I was completely awed by the way Yellowstone looks at this time of year–it was utterly magical.
Some of the winter tour operators offer photography options for those who are looking to capture the snow-covered park in all its frozen beauty. These tours can be somewhat pricey, though I highly recommend spending the money on this activity as it's something that only a small percentage of people get to see and experience.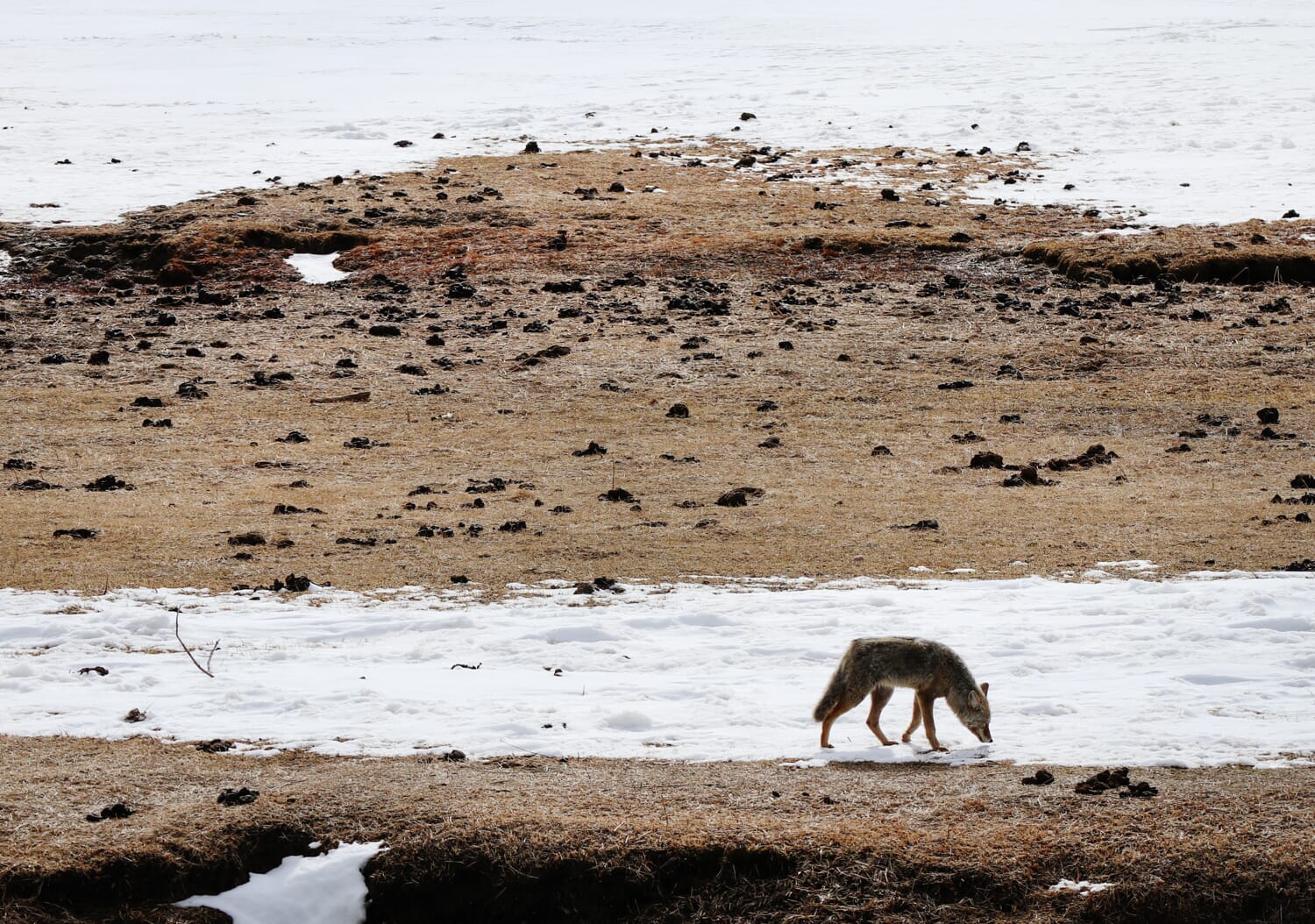 Yellowstone Photography Tips:
Stick to the path. If you're not careful, Yellowstone can be a dangerous place for photography. It may be tempting to walk off and find a quiet spot to set up your tripod, but the ground here is incredibly thin and it contains boiling pools under the surface that could potentially kill you!
Keep your distance from wildlife. The NPS recommends staying 100 yards (91 meters) away from bears and wolves, and 25 yards (23 meters) from all other animals. Even bison can be aggressive if you get too close, and you do not want to be head-butted by one of these beasts. Be sensible and use a telephoto lens if you want close up shots of the wildlife.
Stay out of the way. It's common for roads to be blocked or boardwalks to be clogged up when people stop for photos (usually when they have spotted a wild animal), but this can create dangerous situations when others are trying to pass. Be sure to leave others plenty of space for safe movement while you take your photos.
Don't take a drone. You may have seen some amazing aerial shots of the springs inside Yellowstone, but unfortunately it's prohibited to operate a drone inside of the national park. Leave this gear out of your travel kit… you don't want to risk a fine!
Stay a few days. Yellowstone is huge (over 2 million acres or around 9 thousand square kilometres) so it would be impossible to see all of the Yellowstone photography locations in just one day. There are campgrounds inside the park or lodging at the towns around the park entrances, so do yourself a favour and stay a few nights in the area.
Photography Spots in Yellowstone National Park:
Lower Falls of the Yellowstone
Mammoth Hot Springs
Old Faithful Geyser
Grand Prismatic Spring
Black Pool at Yellowstone Lake
Norris Geyser Basin
Fountain Paint Pot Trail
Lower Falls of the Yellowstone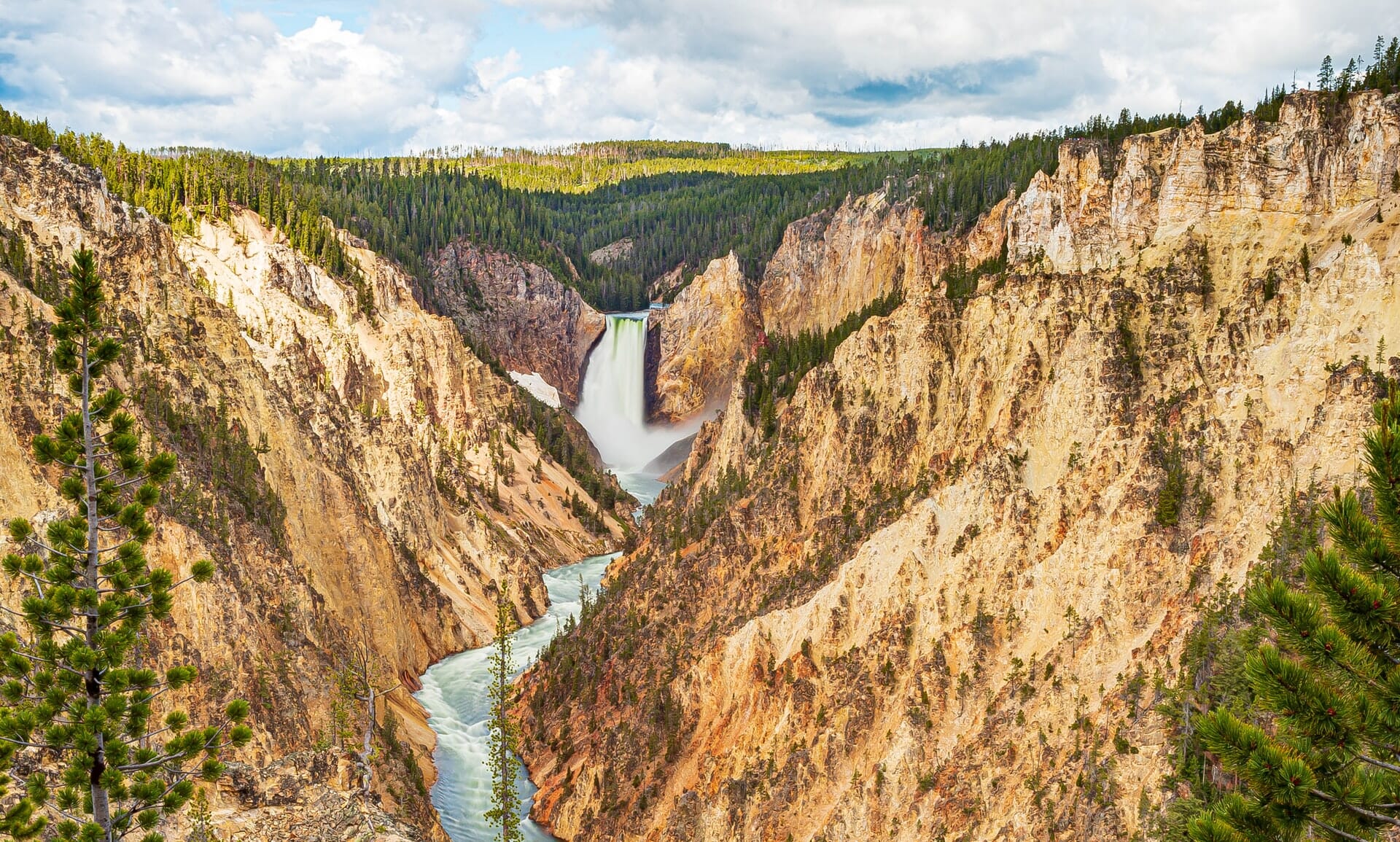 The Lower Falls at Grand Canyon of the Yellowstone (not to be confused with Arizona's Grand Canyon!) is one of the park's most scenic locations. Photographers will find that it's one of the rare few waterfalls which look better when captured from a distance. The landscape surrounding the impressive falls features the yellow rock cliffs that give Yellowstone its name as well as a scattering of deep green fir trees.
The falls can be captured from various angles, with Lookout Point and Artist Point being some of the popular choices for spectacular views. It's best to head to the canyon when the lighting is soft or on a cloudy day as harsh sunlight will likely mess with your exposure.
Mammoth Hot Springs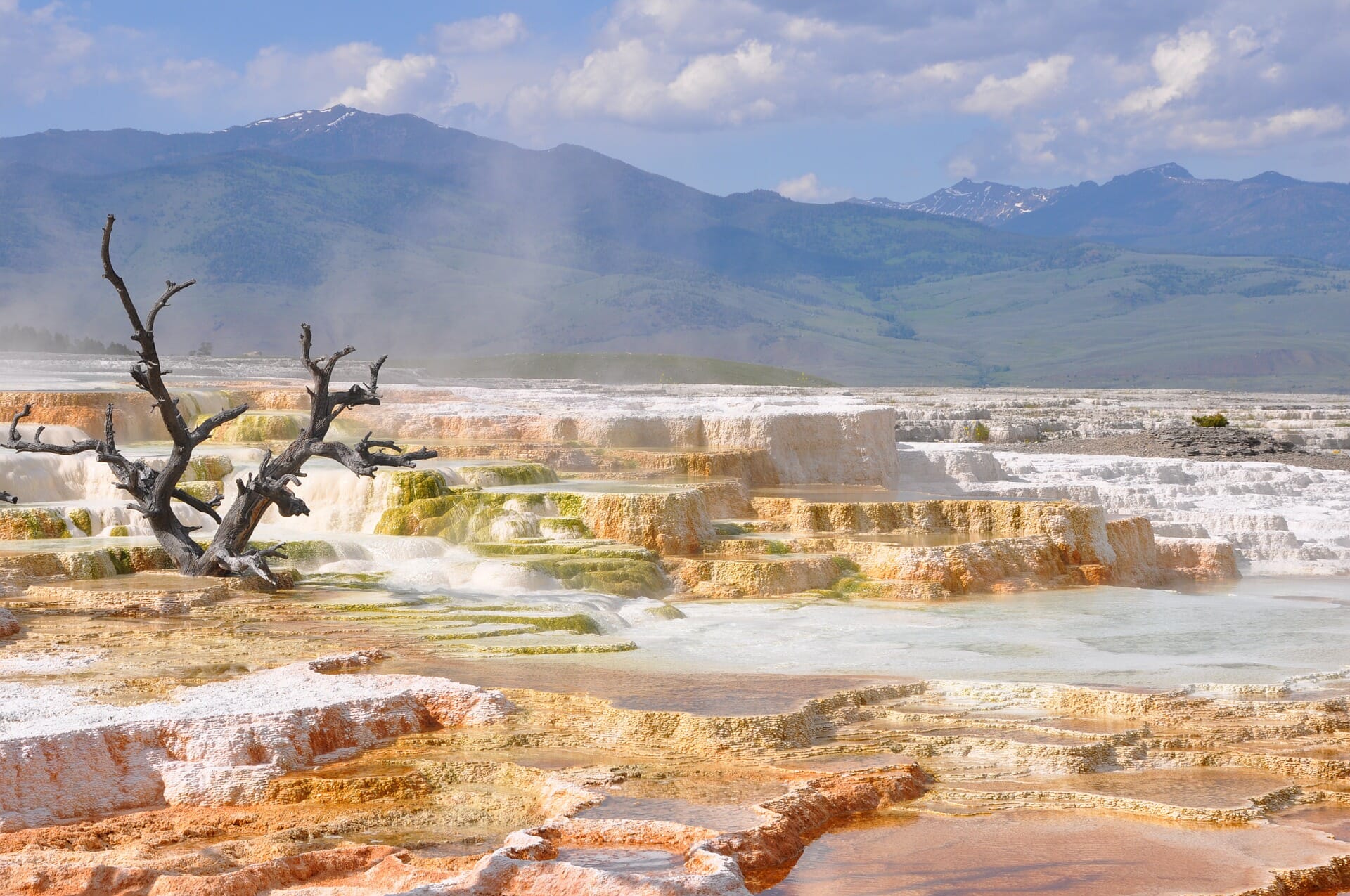 Mammoth Hot Springs, located at the north end of the national park, is a truly curious natural phenomena. Boiling water carrying calcium and bicarbonate bubbles up through a fault line in the earth creating an ever-changing landscape of travertine terraces.
These terraces are made up of a range of colours from bright white to reds and greens, and can look great photographed up close or from afar. There are a combination of walking paths and roads that take you around the upper and lower terraces, so make sure you put aside a few hours to explore them all.
Old Faithful Geyser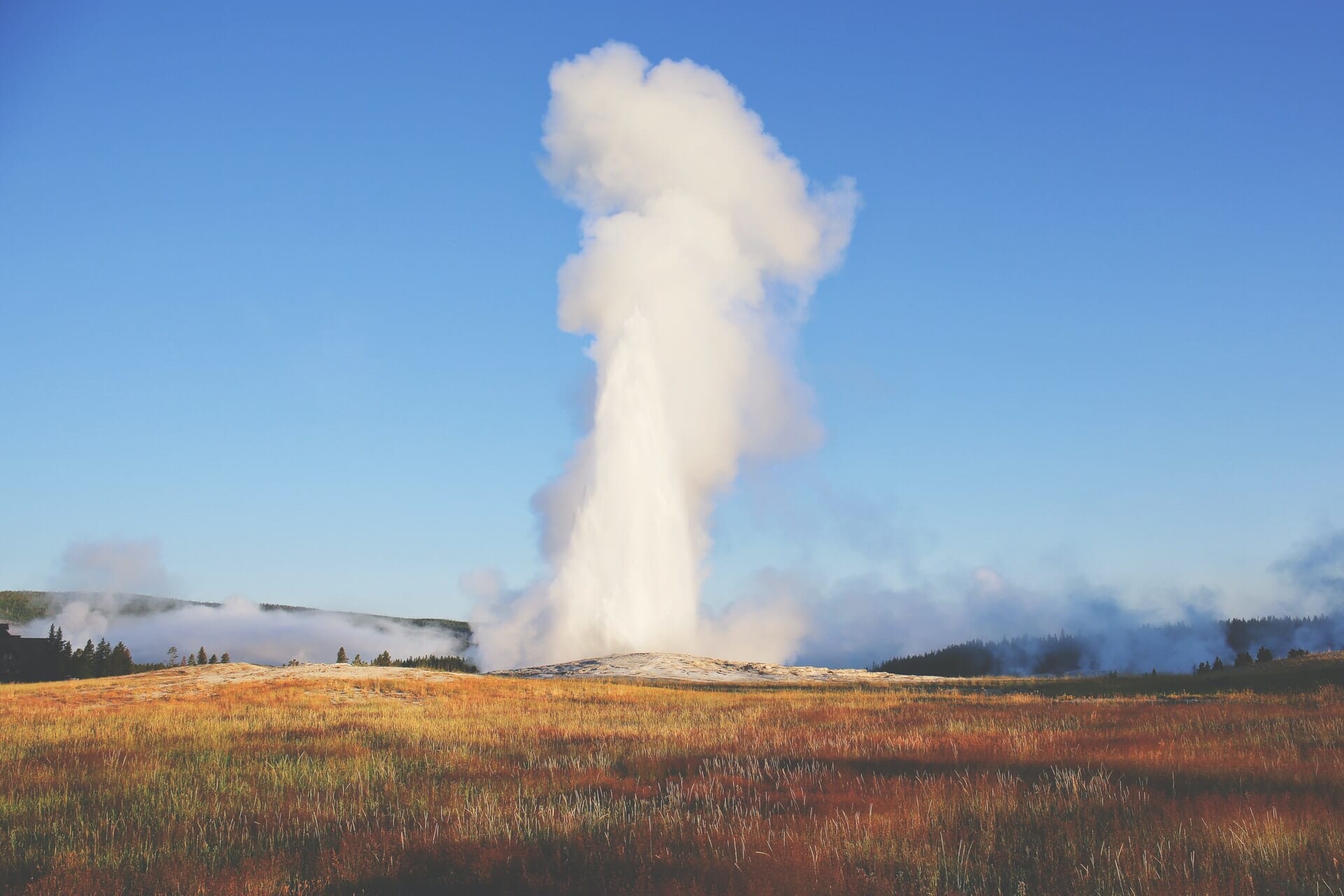 Old Faithful is one of the most visited locations in Yellowstone. It's easy to understand why everyone wants to see it–this huge geyser lets off an impressive burst in a somewhat predictable fashion around every 90 minutes. The steam and water exploding 145 feet (44 m) into the air is sure to wow even the most skeptical photographer.
There is a generous viewing area at Old Faithful, but if you're planning on taking a tripod to this geyser (which is especially useful if you'll be getting a video of the event), it might be best to visit in the early morning or late afternoon to avoid the busiest part of the day and ensure you have the space you need.
Grand Prismatic Spring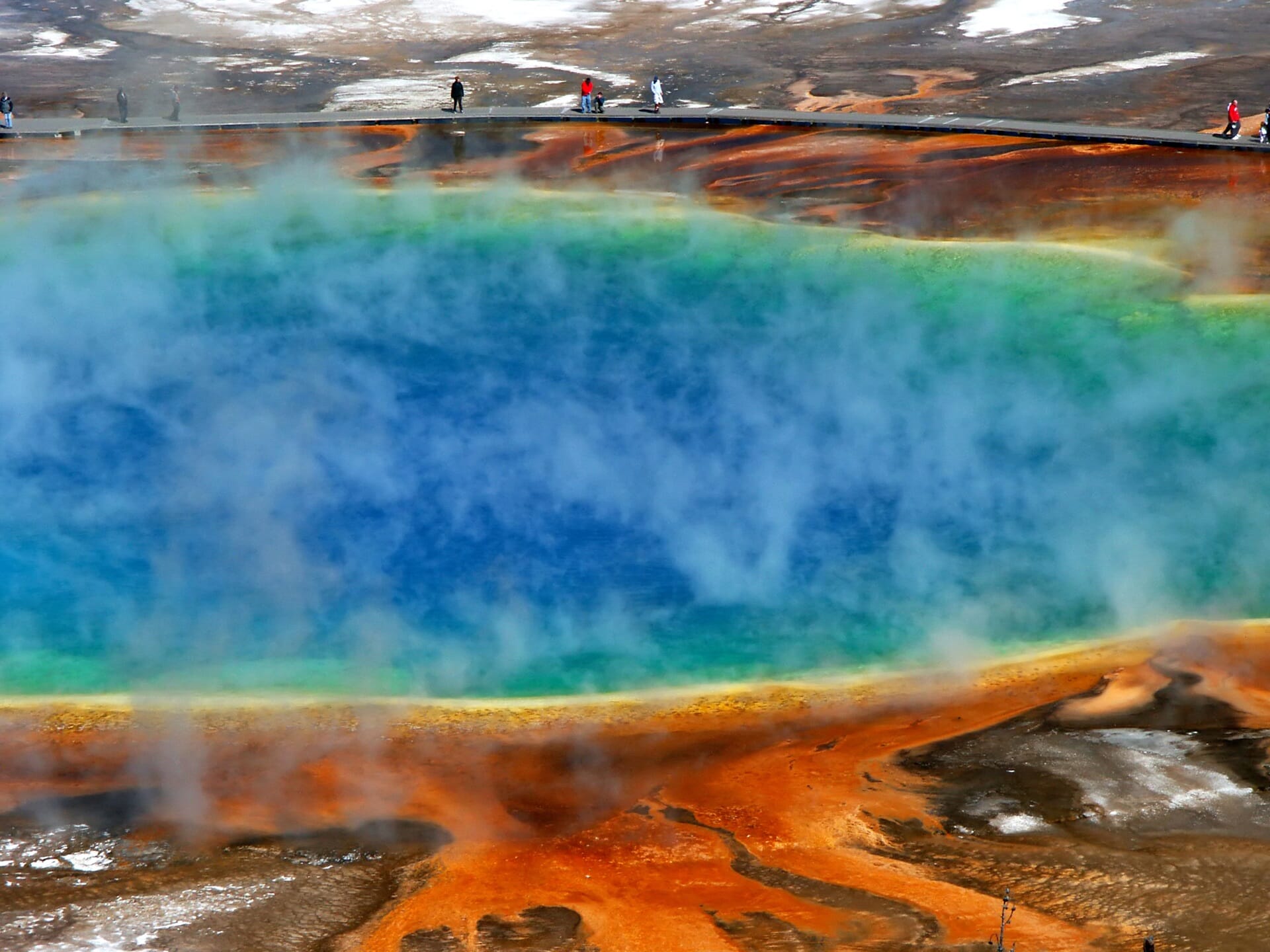 Known for its vibrant rainbow of colours as well as its gigantic size, Grand Prismatic Spring is the third largest hot spring in the world and the biggest in the US. The deep blue pool fades to a pale blue nearer to the edges, and then greens, yellows and oranges follow around its rim.
The boardwalk that surrounds this impressive pool offers plenty of photo opportunities. Take a wide angle lens to capture the full breadth of the spring from the path.
Black Pool at Yellowstone Lake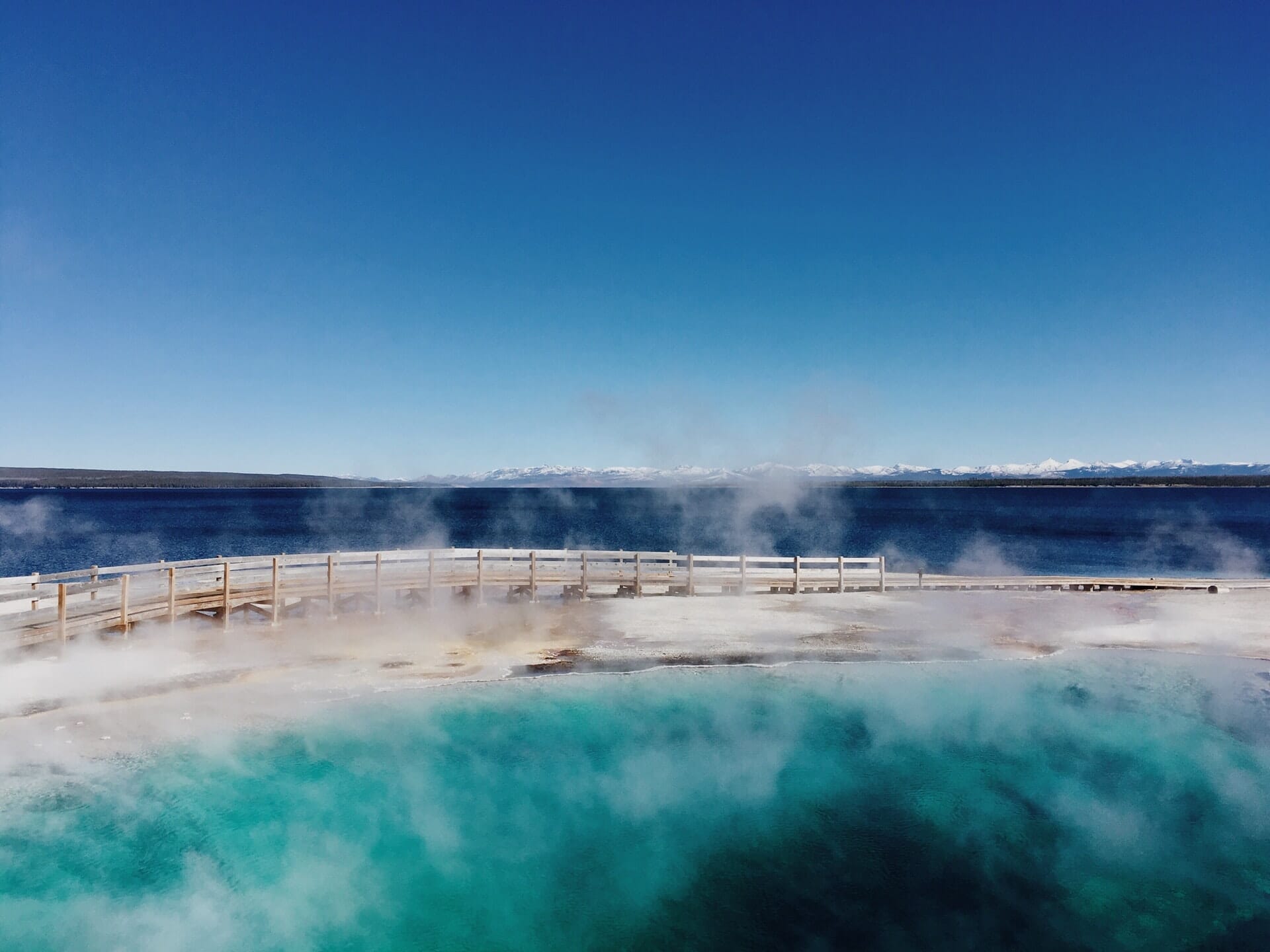 Yellowstone Lake is popular with photographers. Reflections on the lake's surface and an easterly aspect from Grand Loop Road make it an exceptionally good option for sunrise shots, and kayakers gliding along the still water echo the tranquility of the area.
West Thumb Geyser Basin Trail at Yellowstone Lake will take you to a neat spot where hot springs and geysers sit right beside the lake's shore. Black Pool is one of the most photographed locations here as you can see the colours of the hot spring with the deep blue of the lake right behind it.
Norris Geyser Basin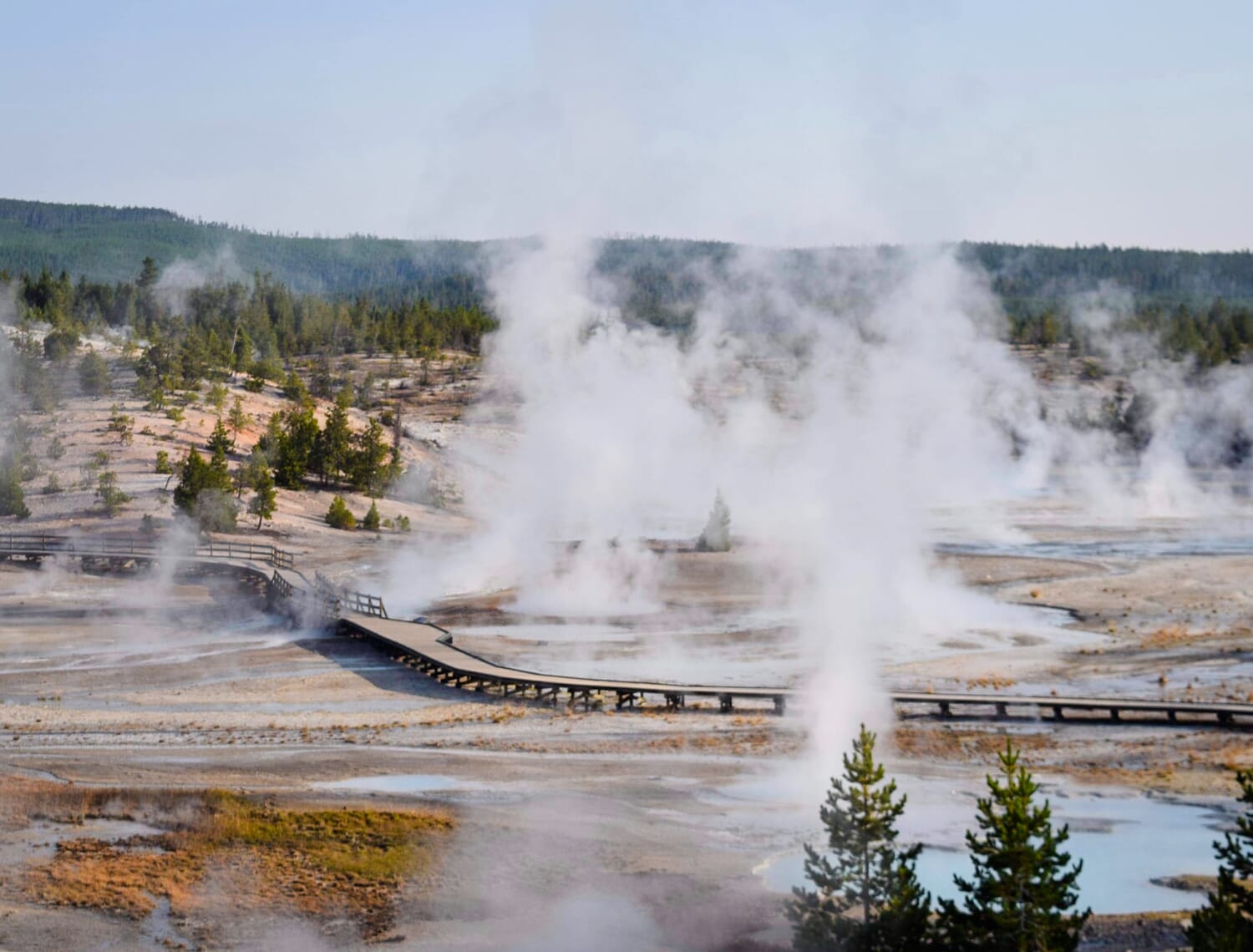 Norris Geyser Basin is an interesting spot for silhouettes of distant people in front of the rising steam clouds. The boardwalks through the basin stretch around the thermal pools and offer loads of opportunities to capture groups of tourists as they appear tiny in comparison to their grand surroundings.
Timing might be tricky with the changing movements of the people and the steam clouds, so take your time here to find a good spot and wait for the perfect moment to arrange your shot.
Fountain Paint Pot Trail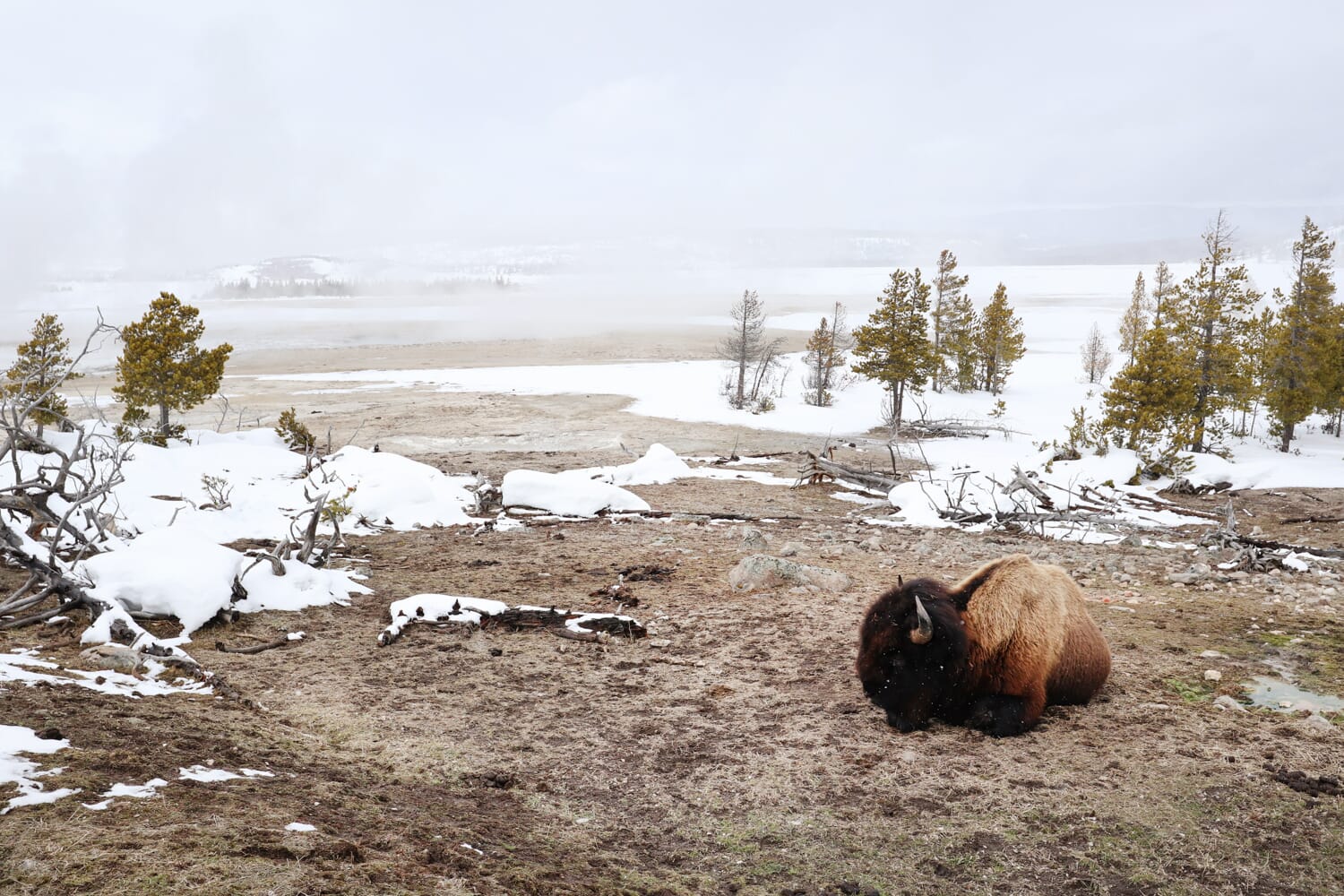 Fountain Paint Pot Trail was one of my favourite spots for photography. In the winter, I found it to be a great place to capture creepy dead tree trunks jutting out of the barren ground and also the nearby bison sitting close to the steam vents for warmth.
Although the geysers and springs around here aren't quite as spectacular as some of the other Yellowstone photo spots, the ground surrounding this trail has the unique feature of bubbling pink-tinged mud in the spring and summer which sets into a solid formation in the fall.