Canon EF 40mm Lens Review
Canon's new stepping motor auto-focusing technology makes its way into the smallest EF lens ever.
The Canon EF 40mm f/2.8 STM Lens is really small; so small that some photographers actually refer to it as the 'pancake'. It looks like a midget when placed side by side to something like the EF 50mm f/1.8 II.
Canon Cameras US 6310B002 EF 40mm f/2.8 STM Lens - Fixed Black
40mm focal length, Lens not zoom able, 64mm equivalent focal length on Canon APS-C Cameras
Minimum focus distance at 0.30m/11.81 inch, F2.8 maximum aperture, F22 minimum
Stepper type AF motor with full time manual focusing
52mm Filters, Lens Construction: 15 Elements in 12 Groups
Focal Length and Maximum Aperture: 100mm 1:2.8
Stepping Motor Technology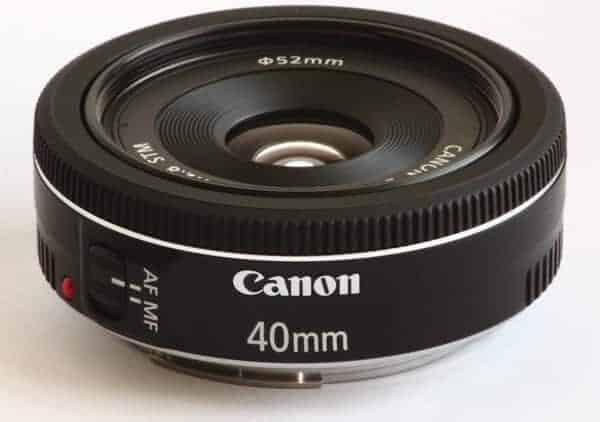 The new stepping motor technology is tagged as an improvement over the older USM (Ultrasonic Motor) technology.
Related Post: Canon 500d close-up lens
If you compare the focusing speed of this lens with a standard USM lens, the STM lens is going to be slower, but at the same time, it is definitely going to be smoother, precisely what you would want when shooting videos. Fast focusing with the associated jerk isn't at all desirable when shooting videos.
Canon 40mm f/2.8 STM Lens Test Video:
The system has been designed to work in tandem with the new movie-servo focus technology that we can see in the latest Canon 70D
Almost 80% of the sensors on that camera actually has two photodiodes instead of one. The sensor thus acts as an onboard phase detection system. This vastly improves movie autofocusing performance when traditional phase detection autofocusing is unavailable.
Related Post: The Best Canon Prime Lenses
This AF technology is more silent than the older USM technology which makes it suitable for video shooting.
The lens has manual focusing override. All you need to do is turn the focusing ring to correct focus, even when auto-focusing is engaged. This is something street photographers would love to have.
The Ideal Street Photography Lens
The biggest plus for this lens is that it is has a perfect focal length to be the ideal walk around lens for street and everyday photography if you are using a full-frame camera.
Why? Because the focal length of 40mm is near equal to what the human eye sees – guaranteeing you the standard perspective that both 35mm and 50mm lenses promises but fail to give.
However, if you have an APS-C camera, the focal length will get increased by a factor of 1.6 making it a 64mm lens.
Another big bonus and what makes it so suitable for street photography is it is wafer-thin making it almost non-existent. If you want to shoot with a full-frame DSLR and make street photos, this is the lens you should carry.

Related Post: Best Full Frame DSLR Cameras
Maximum aperture
The maximum aperture of the lens is f/2.8. That's great for capturing a lot of light in most lighting conditions. Stepping down by about two stops will improve the performance of the lens.
Construction
Optically there is very little happening inside and the 6 elements arranged in 4 groups is a testimony to that fact. The design and construction is built to cost though. Don't expect too much weather protection from it.
Related post: Best DSLR Lenses for Beginners
If you feel like it this lens can be used as a cap for your full-frame body, and yet have an optically excellent lens mounted on your camera ready to use when you need it. Much better than carrying a useless UV filter which neither enhances image quality nor add any protection (for filters, check: which filter do I need for my DSLR camera).
Conclusion: Review Canon 40mm Lens
It is a great add-on lens for your Canon DSLR, ideal for street photography and video shooting.
---
As an Amazon Associate we earn from qualifying purchases. Certain content that appears on PhotoWorkout.com comes from Amazon. This content is provided 'as is' and is subject to change or removal at any time.