Taking a Trip to Ginza's Sony Showroom!
In Tokyo's upscale Ginza district, it's easy to feel overwhelmed. The towering skyscrapers, dazzling neon lights, and an endless stream of pedestrians are enough to sweep anyone off of their feet. But there's one place all photographers should make a point to visit: the flagship Sony Showroom!
Sprawled across three floors, the store is nestled just above Nissan's showroom at Ginza Place. An 11-story behemoth fitted with over 5,000 aluminum panels, the structure is almost impossible to miss.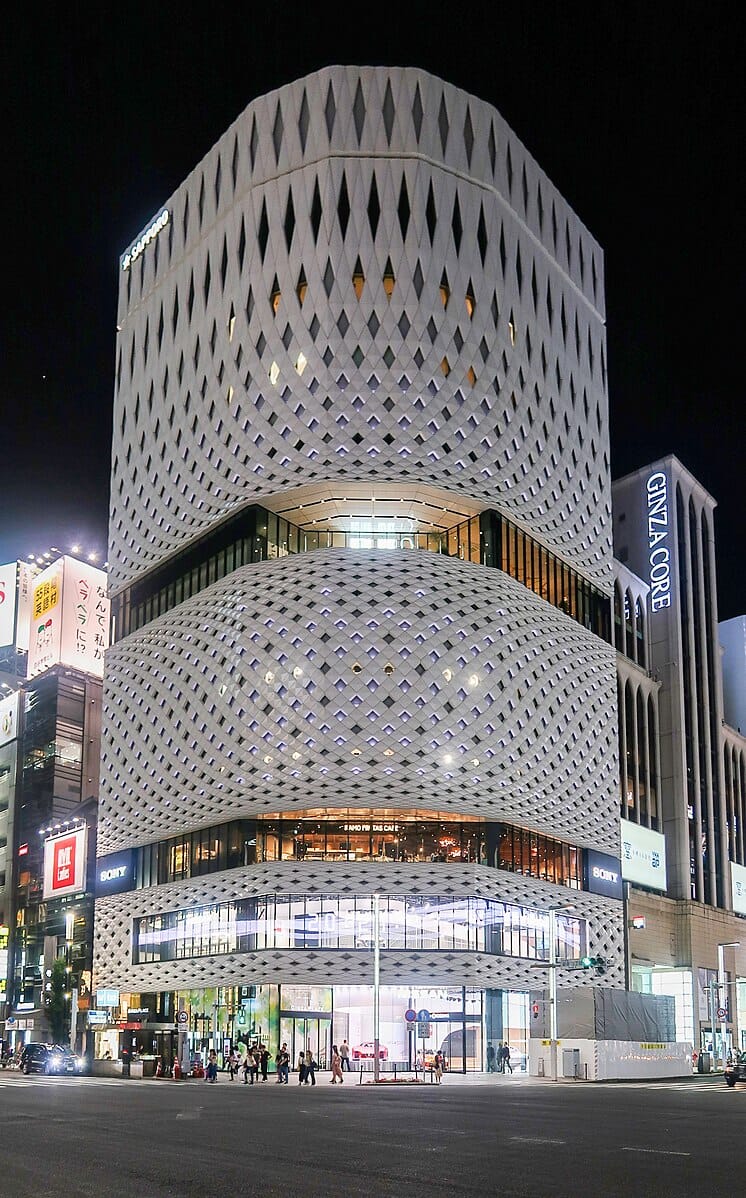 Recently, I had the opportunity to check out this photographer's heaven for myself. Here's what you can expect – and how much you can expect to pay – should you find yourself in the neighborhood.
Sony Store Highlights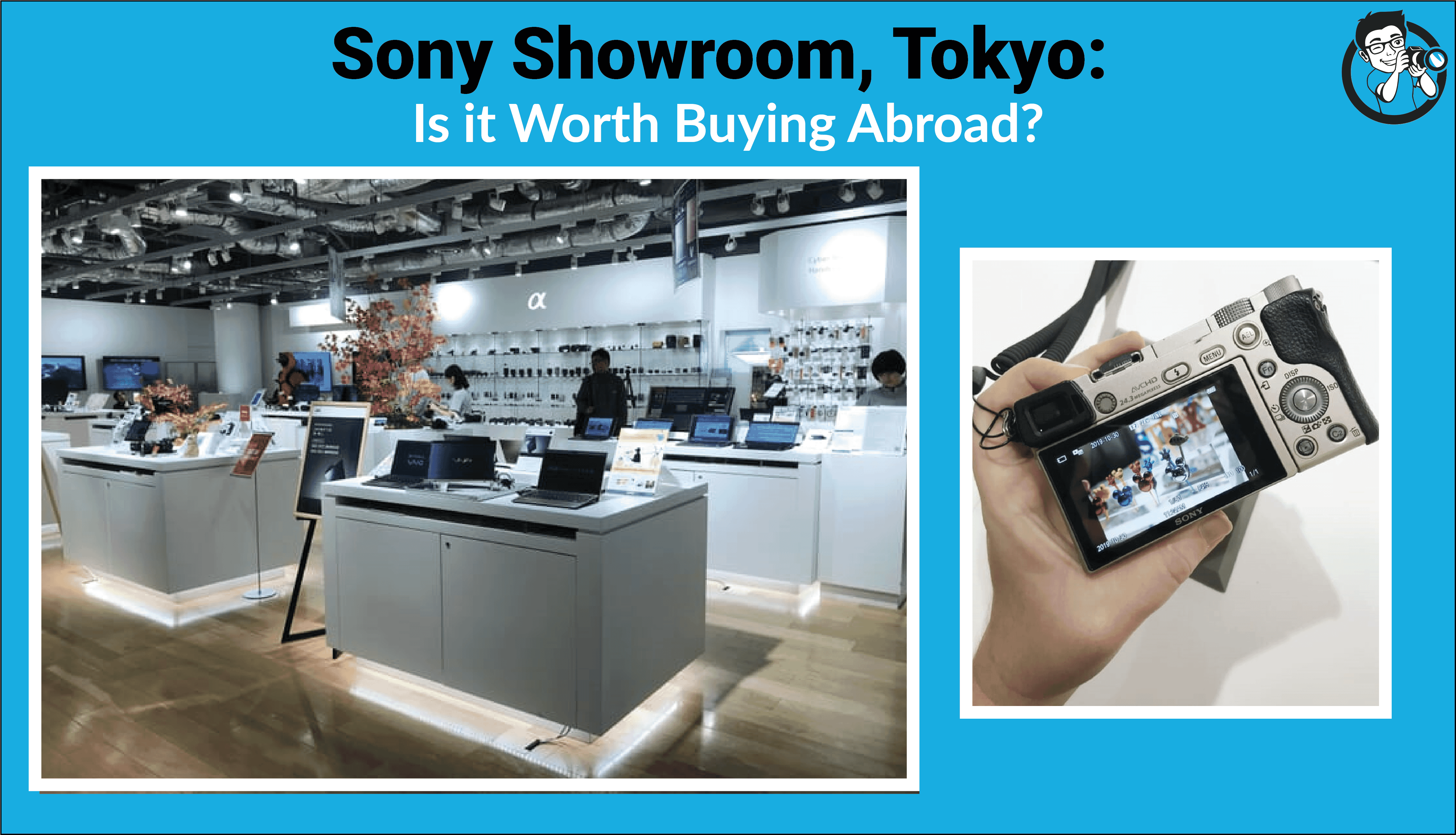 A few days prior, I had stopped into one of Tokyo's twenty-five Bic Camera locations. Navigating through the endless narrow aisles, I felt like I was drowning in electronics. This was not at all the case with Sony.
Slick and modern, it's easy for photographers to feel like kids in a candy store when perusing the Sony Showroom. The store had plenty to keep me occupied. However, it was also organized in a way such that I wouldn't miss out on any of the showroom's most popular products. Because of the floor's open design, customers never have to worry about clamoring over one another to get a look at a camera.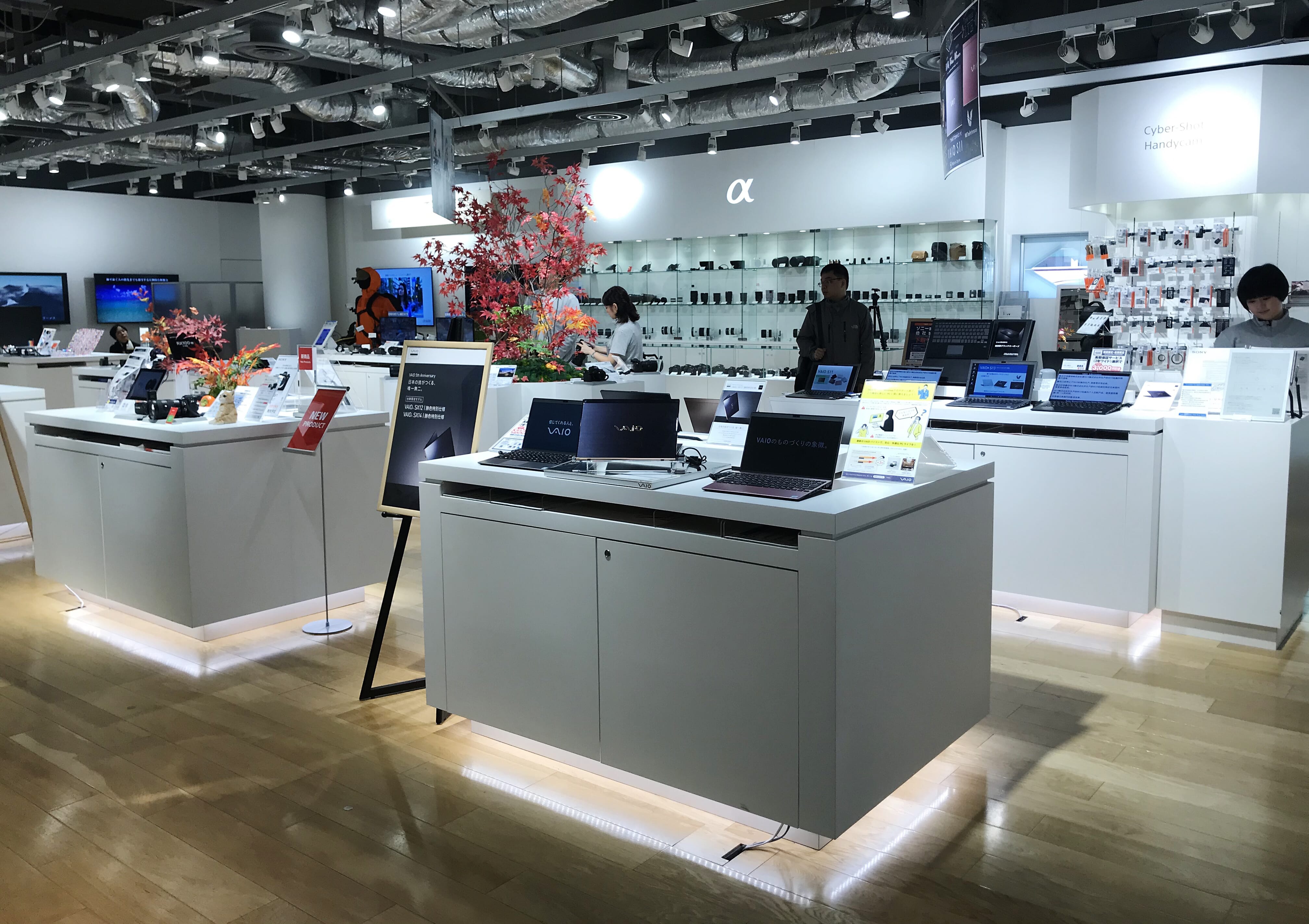 As such, I spent quite a bit of time exploring everything the store had to offer. Here's are just a few things that blew me away during my visit.
Tax-Free Merchandise
The main draw of Sony's top floor is its selection of tax-free merchandise. For all those visiting from abroad, this section is a must-visit spot.
In short, Japan enforces a flat consumption tax of 10% on almost everything outside of food and drink. However, tourists making purchases over ¥5000 (about $50 USD) may shop free of tax at certain locations so long as you bring your passport along. That means that you can avoid paying unnecessary fees for any gadgets you plan to bring back home with you!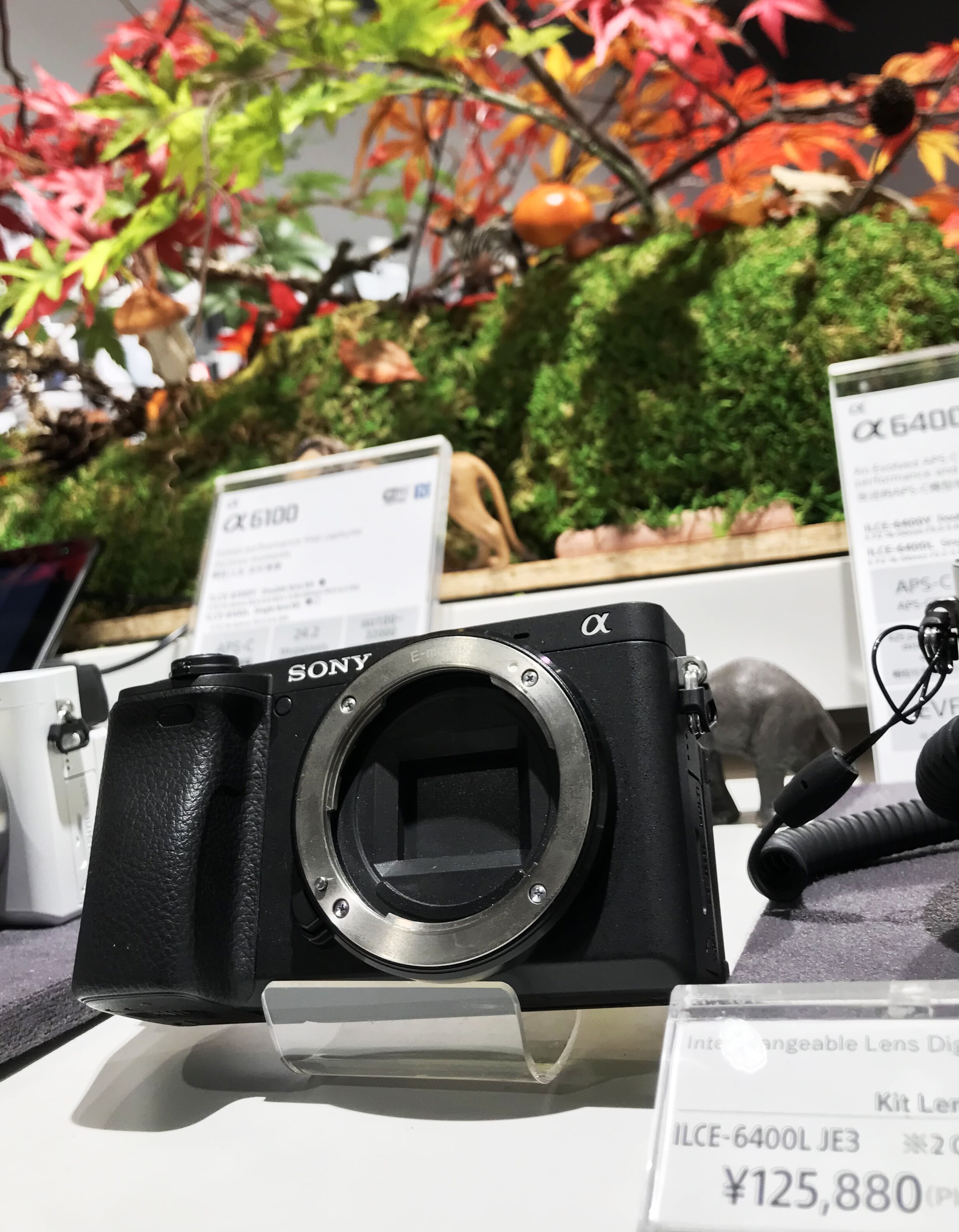 While the tax-free selection is a bit limited compared to what you'll find throughout the rest of the store, it's still worth taking a look into. With any luck, you may even stumble upon brand new products not yet released in your home country!
Sony Imaging Gallery
Not a Sony loyalist? The in-store imaging gallery is dead-set on changing your mind.
Featuring rotating exhibitions, this sizable gallery displays all that Sony imaging is capable of. During my visit, an artist by the name of Masashi Mitsui was showing. In the form of large, vibrant prints, Mitsui's body of work displayed just what a skilled hand armed with Sony equipment could accomplish.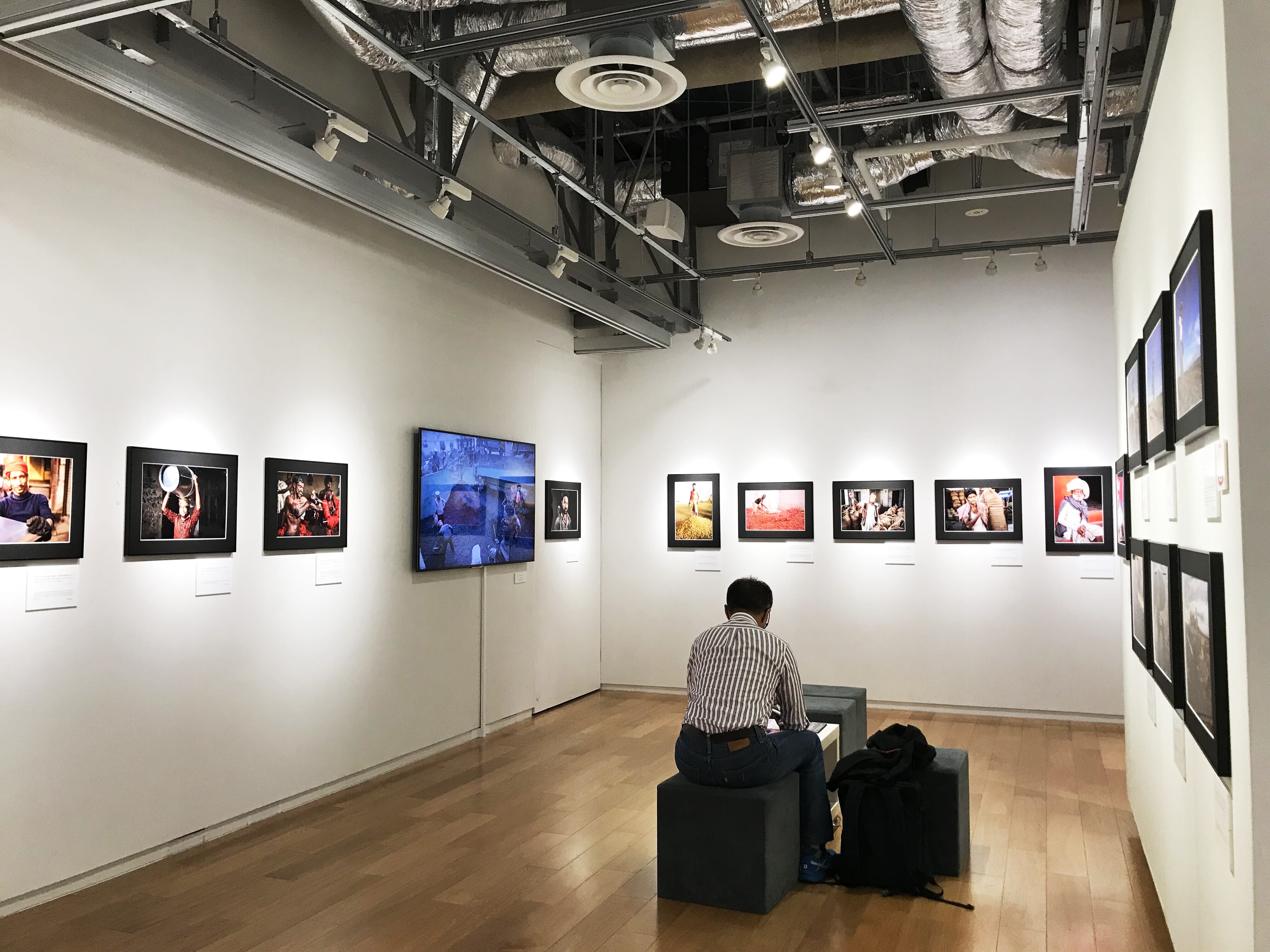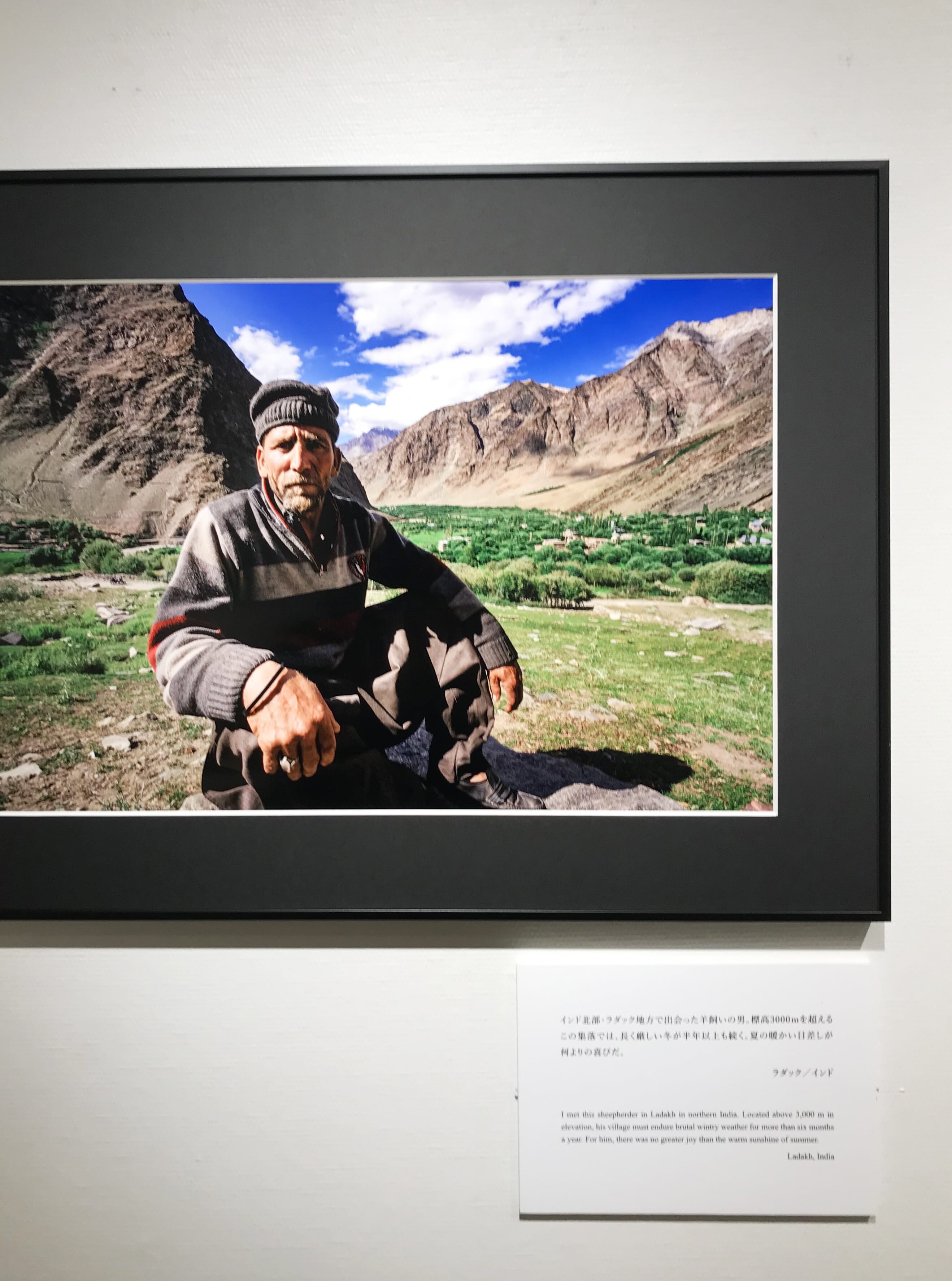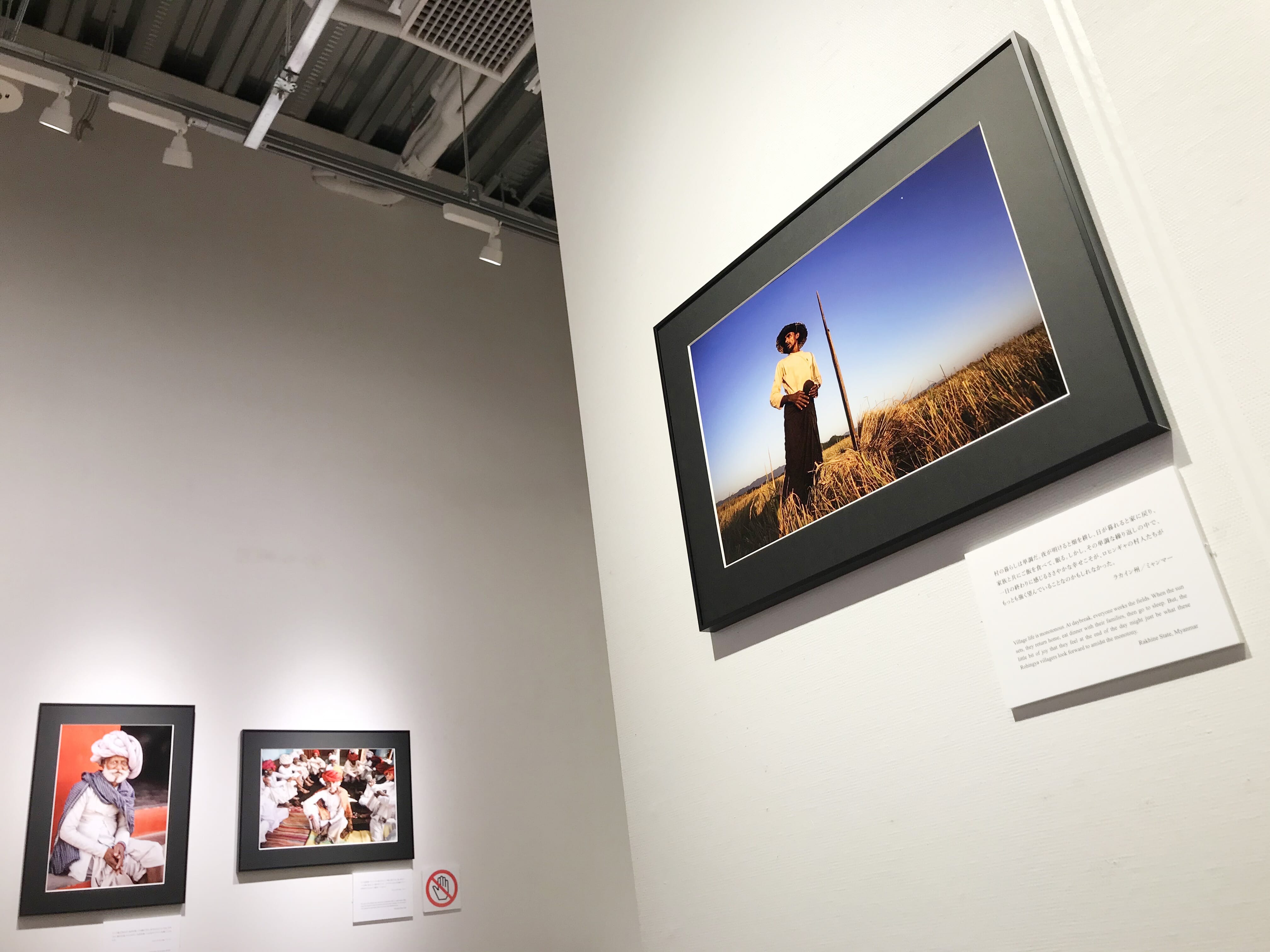 In particular, I enjoyed this brief reprieve because it provided a chance to learn about an artist I likely wouldn't have encountered. But I'd be lying if I said I didn't spend a minute or two wondering whether the gear Mitsui used to make his portraits was going for a good price a few feet away. No matter how you slice it, Sony's strategy of showing what its products can do is an effective one.
Theater Room
Sony has so much to offer in terms of photography that it's easy to forget that the electronics giant sells plenty outside of cameras and lenses. Their middle floor is devoted to the likes of headphones, gaming accessories, and of course, televisions.
Not everything on this floor is a realistic purchase for buyers traveling from overseas. When push comes to shove, it's just not worth it for most people to try getting a large smart TV through customs. Nevertheless, it's still a cool area to check out if you need to step away from temptation for a moment.
Interactive Product Demonstrations
Just showing customers what Sony has to offer is enough to get most photographers drooling. But what truly gets visitors excited is the hands-on experience the showroom floor has to offer.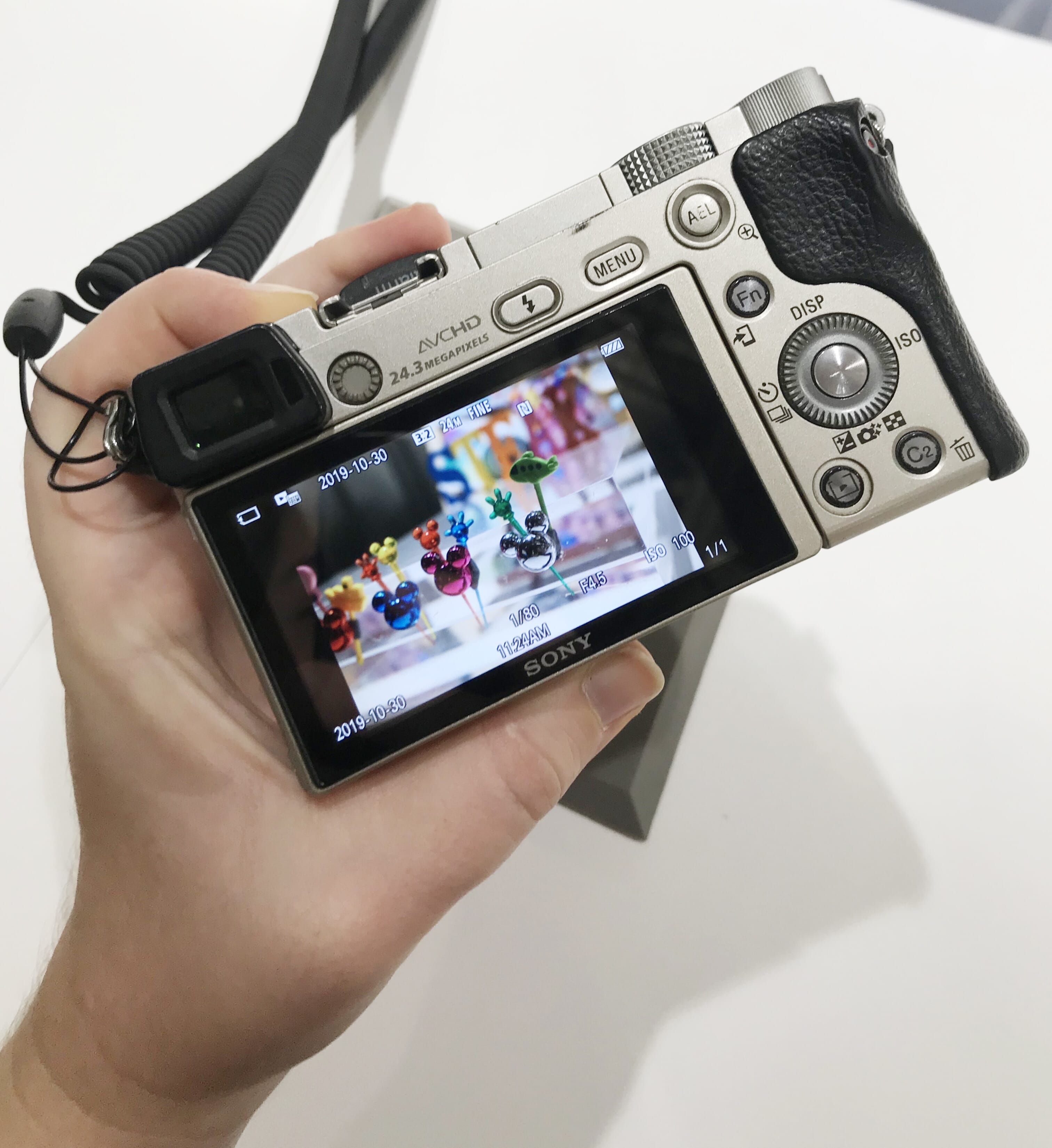 There are several stations set up where you can pick up a camera on your own and experiment. At the time of my visit, there were areas for customers to test out the following features:
A motion simulator illustrating internal stabilizers for video recorders
"Curtained" scenes for showcasing low light capabilities.
Still lifes for illustrating lens focal length differences and bokeh.
And that's not including displays outside of the photo supplies. If you're interested in testing out some earbuds, there's an array of headphones connected to MP3s ready to peruse. You can even take some time to play with Aibo, a mechanical dog on prominent display!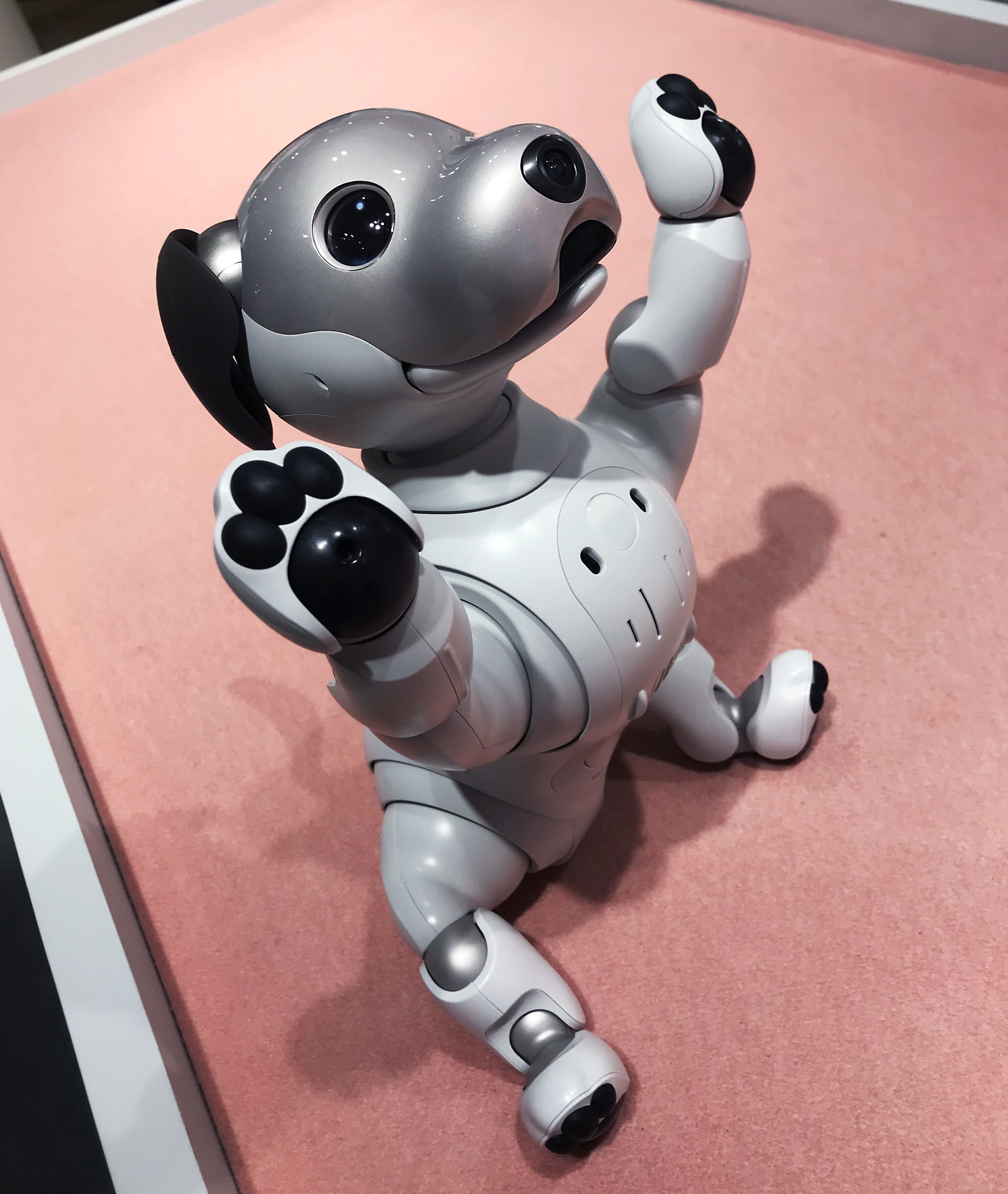 Is it Worth it?
The big question on every photographer's mind upon walking through the doors of the Sony store?
"HOW MUCH CAN I SAVE FROM A VISIT TO THE SHOWROOM?"
Unfortunately, the answer isn't all that straightforward. In fact, in some cases, you may be in better shape ordering online from the comfort of your couch. Here's the breakdown of what I found from my visit and a little bit of outside research.
Tip #1: The more recent the release, the less you're likely to save.
It's easy to get fired up about your brand's most recent release. After all, it's only natural to want the latest and greatest for ourselves. But if you're seeking exclusive offers on in-demand products, you'll leave feeling disappointed.
The majority Sony's newest camera bodies sport price tags in-store comparable to what you'll find online. However, if you're in the market and willing to settle for older camera models, shopping at Sony may be a worthwhile endeavor. With markdowns as much as 15% off, you can easily save a few hundred dollars on a camera body or bundle purchase.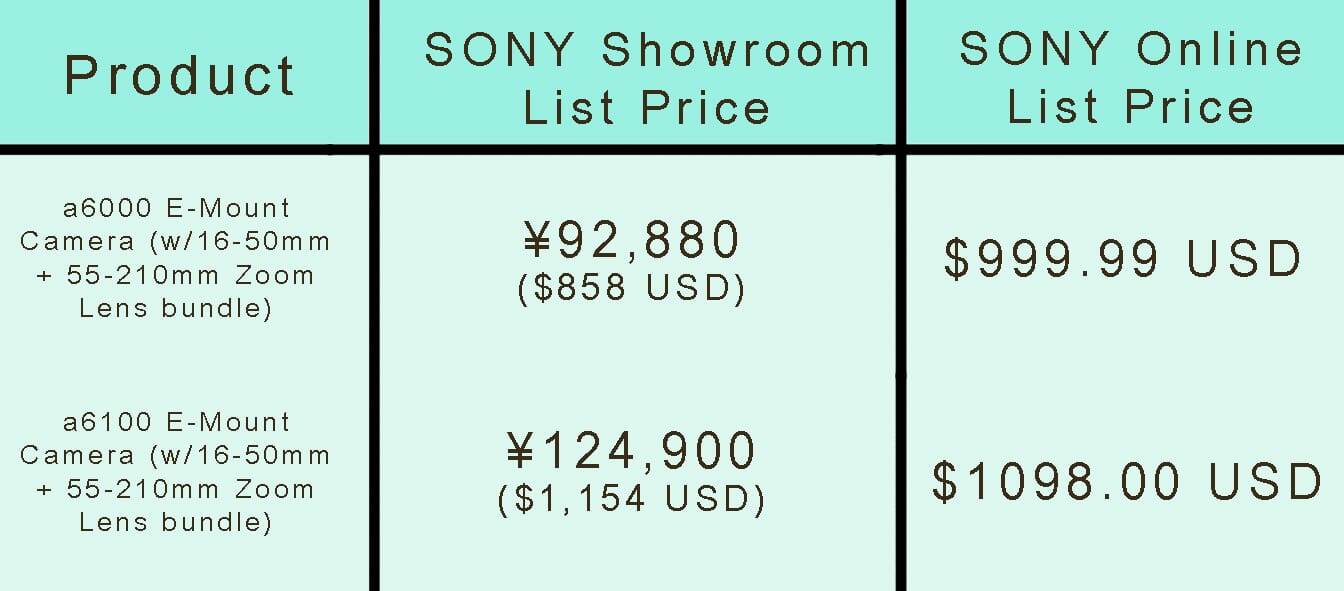 Tip #2: Stock up on lenses!
When it comes to photography gear, many of the best deals you'll find are among the lenses. Not every line of Sony lenses are available at a sales price. However, you can find everything from basic prime lenses to high-quality Zeiss models available at a discounted price.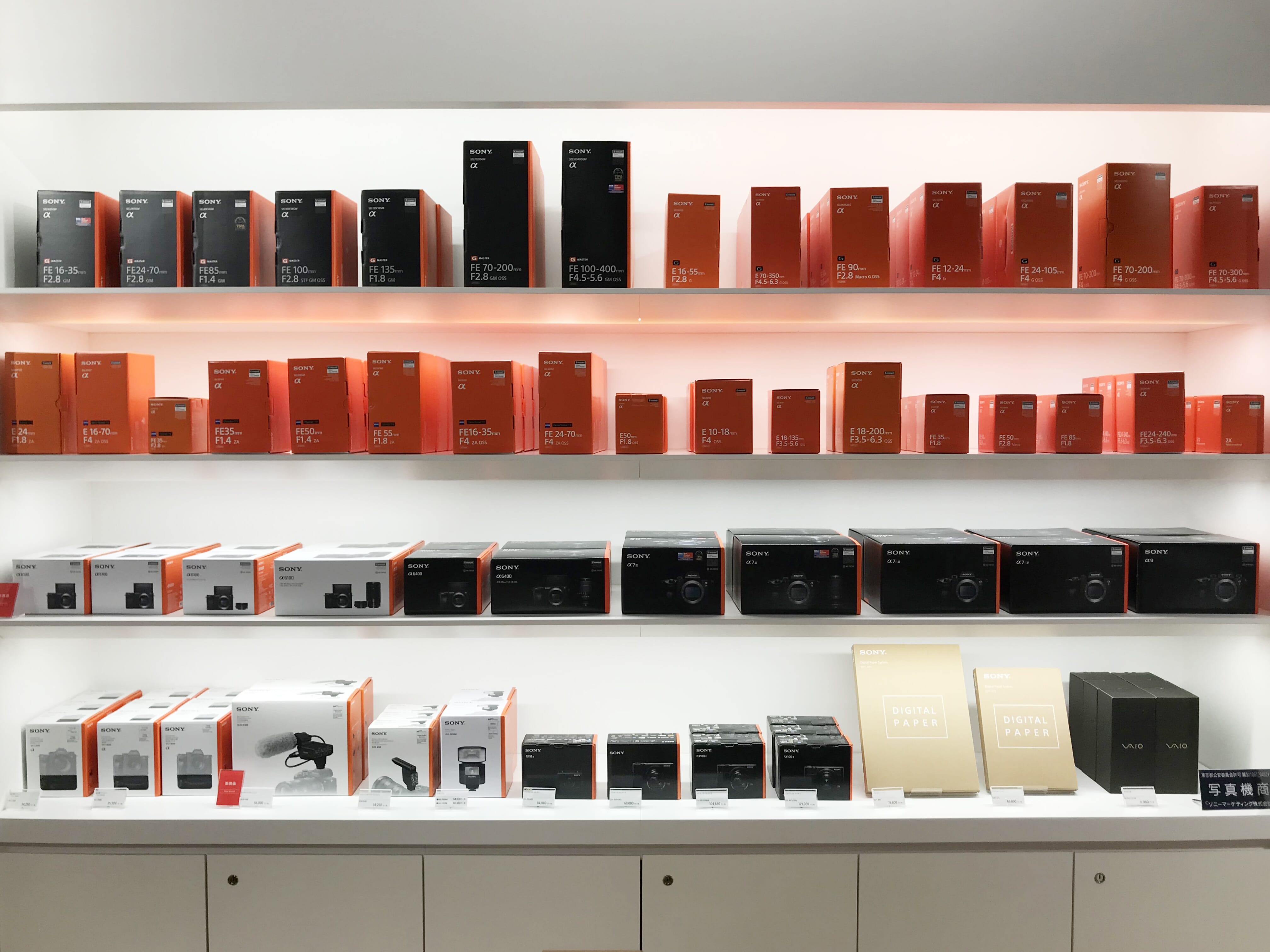 When you do find a deal, markdowns can be as high as 26% off. For example, I stumbled upon a Zeiss Sonnar 24mm lens for ¥89,100 (apx. $825 USD). With an online listing of $1099.99 USD, that's nearly $275 off!
Tip #3: Not all potential purchases are a bargain.
Filled with bright lights and shiny equipment, it's tempting to get your wallet out and make a purchase. However, there are certain products that actually cost more at the store than they do online.
Of course, there are always exceptions. However, I found camcorders and action cams were consistently priced 10-15% higher than US listing prices. Accessories such as speed lights, adaptors, and radio receivers often don't yield any savings, either.
Tip #4: Do your homework ahead of time.
If you have something that you're specifically in the market for, take the extra time to look up its price online. Without some idea of what Sony's usual asking price is, you may end up overpaying for certain items or completely bypassing great deals.
For foreign tourists, converting Japanese yen to another currency can further complicate things. Keeping a currency converter on hand for price comparisons can help browsers come to a quicker conclusion on whether a purchase is worth it.
Our Take:
Without a doubt, Tokyo's Sony Showroom is an impressive feat. Whether you're a seasoned photographer or an avid enthusiast, there's plenty to keep image-makers interested. If you want a close look at the latest releases or test-drive some of Sony's incredible features, it doesn't get much better than this tech cornucopia.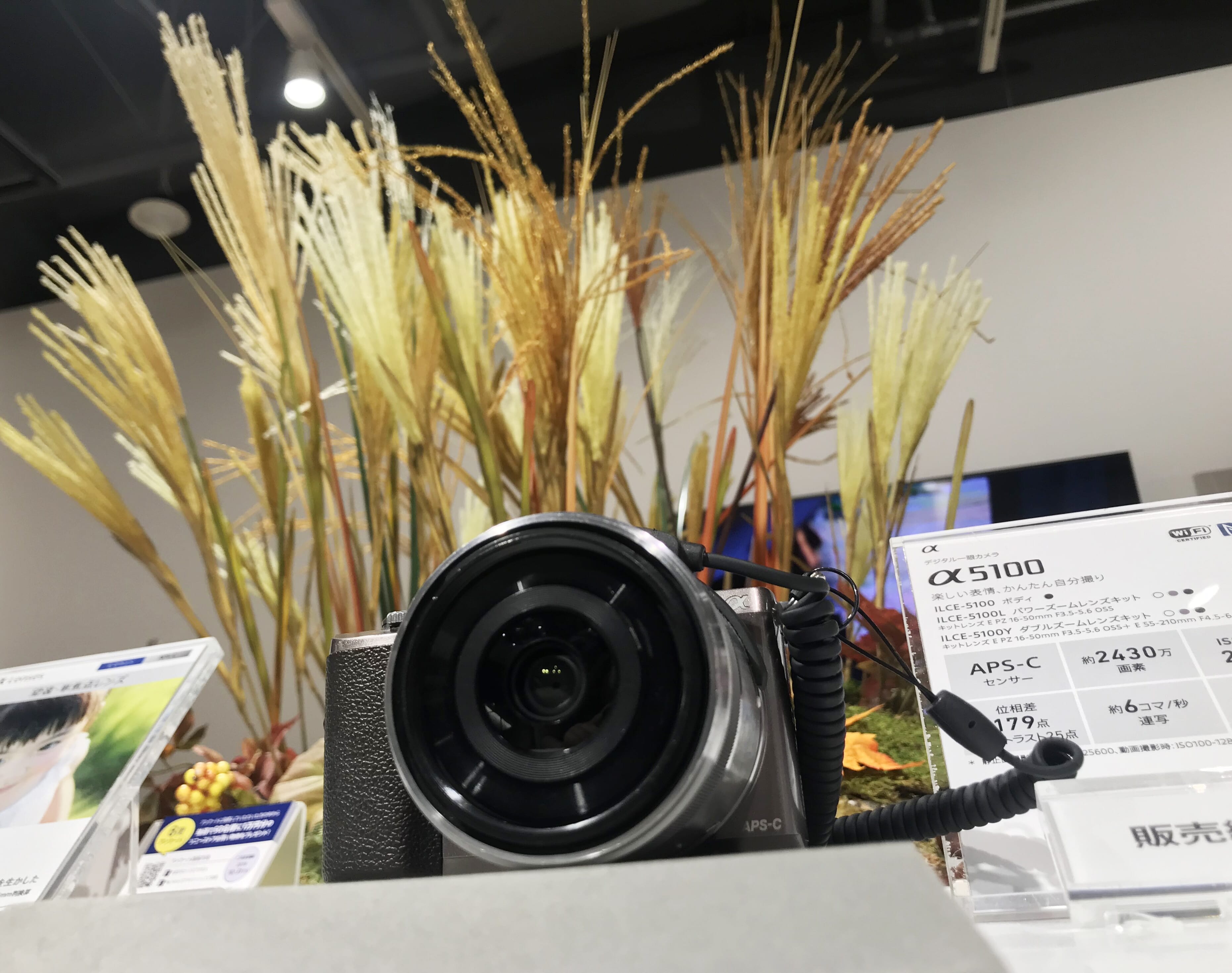 However, if you're actually looking to make a purchase, buying from the Sony Showroom isn't always the most frugal choice.
Even with bonuses such as tax-free merchandise, not every item is available at a discount. Customers can potentially save hundreds on gear by shopping at the showroom. However, finding those savings requires a little bit of foresight and homework on the customer's end.
That being said, it's worth popping into Sony just to window shop. Flaws aside, the store is one of the establishments that defines Ginza as a world-renowned shopping district. Whether you walk away with a bag of goodies or just want to see innovative technology firsthand, Sony has it all for electronic lovers.
---
As an Amazon Associate we earn from qualifying purchases. Certain content that appears on PhotoWorkout.com comes from Amazon. This content is provided 'as is' and is subject to change or removal at any time.