Zoner Photo Studio X is a powerful editor that intends to merge the greatest features of Photoshop and Lightroom into one easy-to-use program. But does Zoner succeed? And is it good enough to replace both of Adobe's top performers?
As a photographer with an Adobe-centric workflow, I looked to determine whether Photo Studio X might be a better fit. And after plenty of thorough testing, I'm ready to share my findings – in this hands-on Zoner Photo Studio X review.
So, how well did Zoner Photo Studio X do? Let's find out.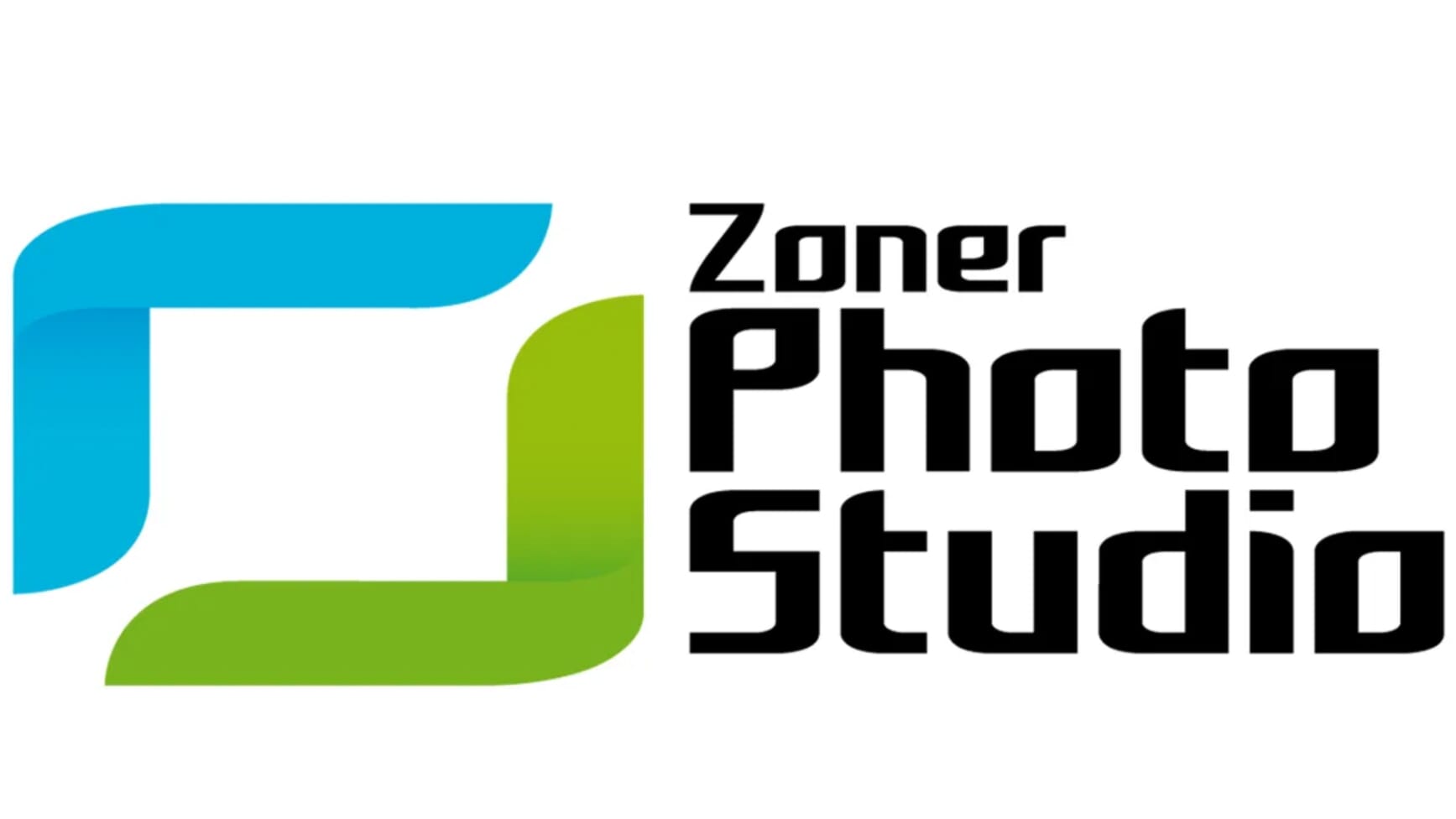 Zoner Photo Studio Review:
When you buy through links on our site, we may earn a commission at no cost to you. We evaluate products independently. Commissions do not affect our evaluations.
Zoner Photo Studio X: Overview
Created by photographers for photographers, Zoner Photo Studio X was conceptualized back in the wee days of 1993 and is now a grand alternative to popular post-processing programs. In 2021, Zoner Photo Studio X won the prestigious EISA Best Product for the Photo Software category – making Zoner a force to be reckoned with in the editing space.
Zoner Photo Studio X is a powerful photo editing program, allowing you to do everything from basic exposure adjustments to advanced color grading and removal of objects. From layers and masks to effects and presets, Photo Studio X can handle pretty much every operation a photographer might need. However, the program is PC-exclusive, so Mac users are out of luck, at least for the moment.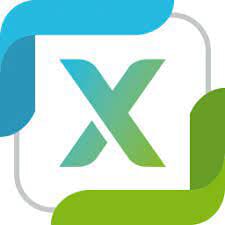 A powerful editing program
This post-processing program aims to combine the best of Adobe Lightroom and Adobe Photoshop into one neat package.
Pros
Fantastic layout and design; a great fusion between Adobe Lightroom and Adobe Photoshop features
You can view photographs on a map via the GPS capability
Excellent noise reduction options, color grading tab, and great addition of HDR as a slider
Wonderful price for a subscription service
Cons
Windows-exclusive (no Mac version)
Very slow and glitchy with large files
The Editor part of the app needs a lot of work; beloved tools like the Clone Stamp were difficult to use and the results were mediocre
Payment is an ongoing subscription, not a one-time fee
First Impressions and Layout
Starting at the beginning: The Zoner website is beautifully designed. The branding is on-point, and Zoner definitely demands respect and attention. Downloading the 30-day trial was a breeze (the button can be found everywhere!).
Once downloaded, you are prompted to make an account with Zoner. Honestly, these days all trials require your email address, so just spend five seconds making an account and head on in.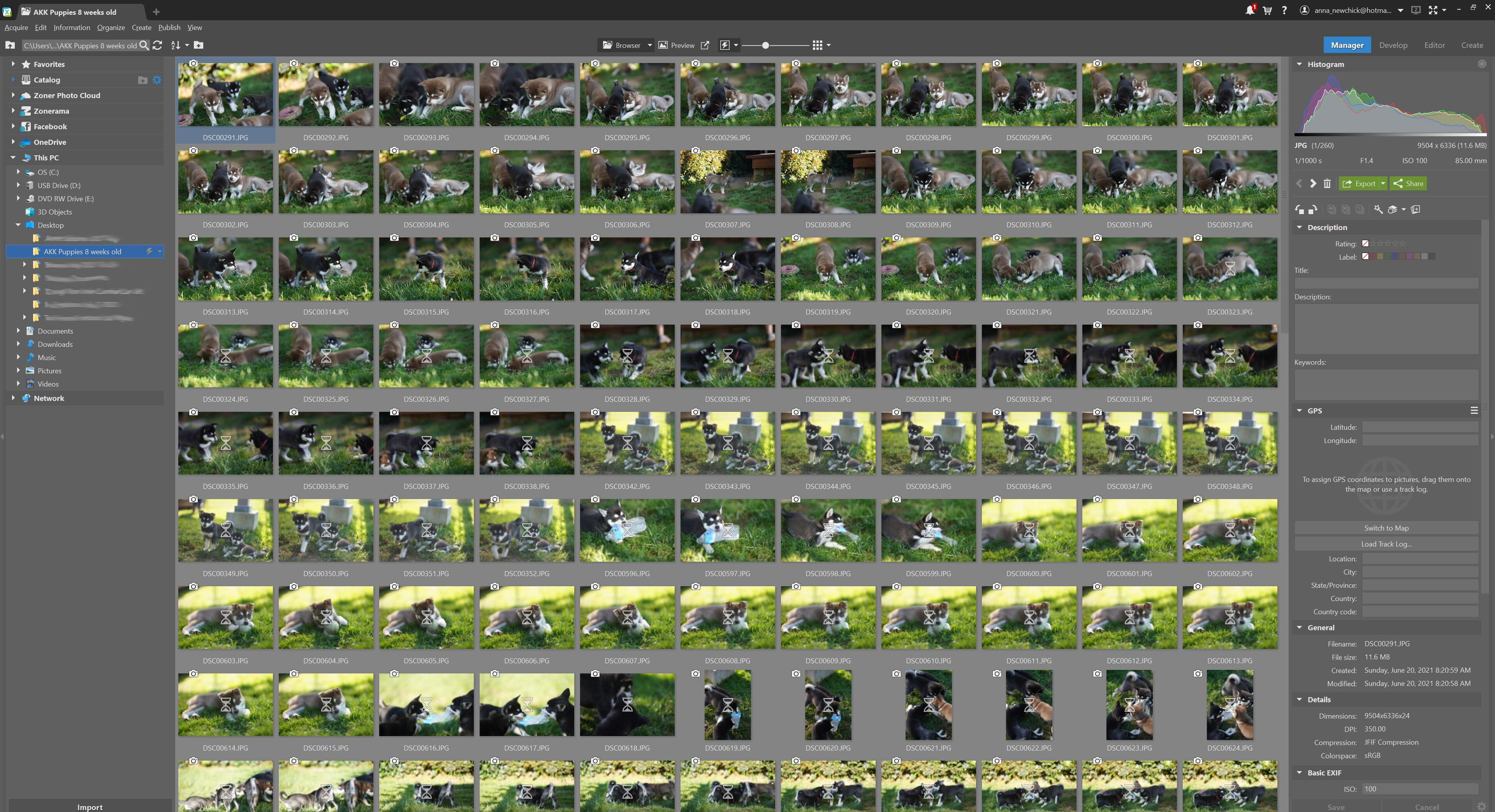 At first glance, the program feels like a fusion between Lightroom and Photoshop; it maintains many Adobe features and layouts. You can open and close various tabs, switch between different modules, and you'll frequently run into options that, for an Adobe user like myself, seem very familiar.
I liked what I saw, as I instantly felt at home with the layout and design. Everything was easy to find.
Image Sorting and Organization
The first part of my workflow is sorting and organizing the images from my shoot, and Zoner Photo Studio X presents you with organization tools right off the bat. Thanks to the panel on the left-hand side, it's quite easy to access desktop folders and automatically load them into the program. If you have images on a memory card, you can use the Import function to bring them into Zoner Photo Studio X.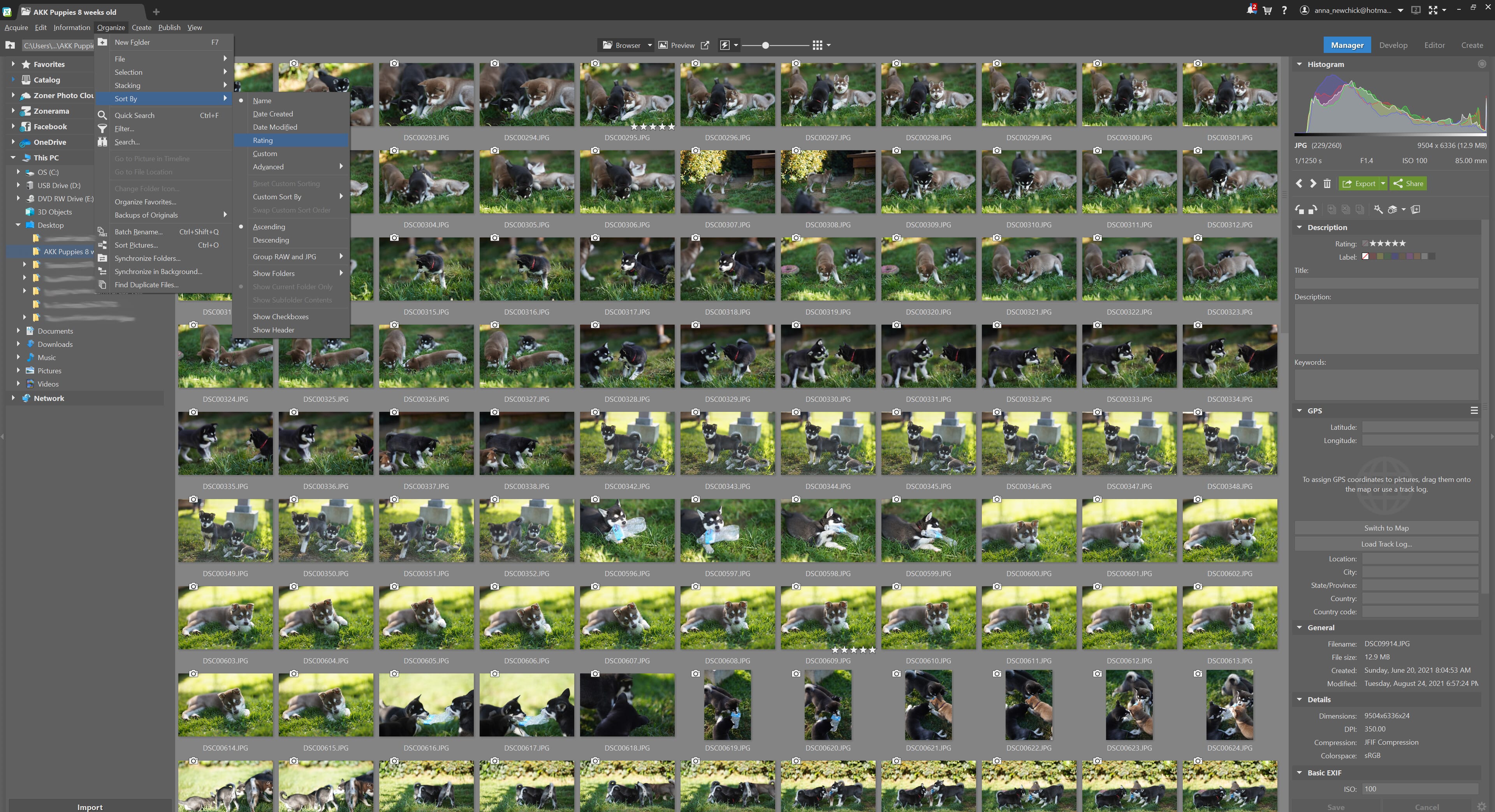 You can sort in a variety of different ways; Zoner offers a star rating system, labels, and more. It was quite easy to do quick selections on the images I wanted to pick. You can preview images using either the Preview button at the top-center of the screen or by using the full-screen preview function.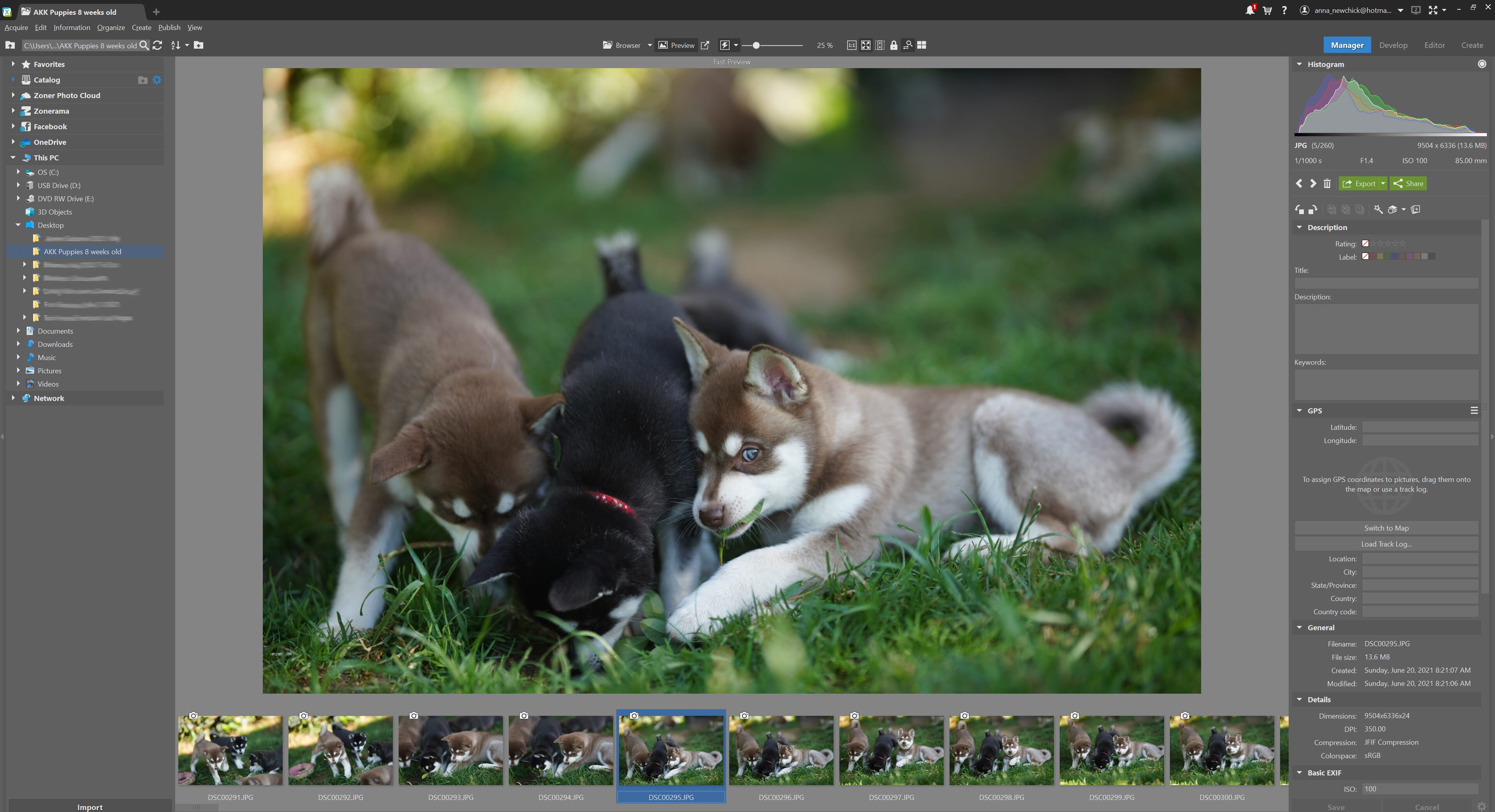 One interesting feature is viewing images by map. Although I have disabled GPS on my cameras, if you do use your GPS, you'll see a map displaying the image capture location.
Editing Functionality and Ease of Use
Now for the moment of truth: the photo editing part of the equation. There are a lot of tools, a lot of presets, and a lot of options, so unless you want to read a novel, we can't deep dive into them all. However, I've covered the primary aspects of my editing workflow.
Once I selected the images that I wanted to edit, I quickly jumped over to the Develop tab. My first thought? This looks eerily similar to Adobe Lightroom. And it really does, though while most of the tabs, sliders, and tools are the same, there are little modifications here and there. For example, there is no Texture slider, and there is a Polarizer slider, which definitely isn't offered by Lightroom.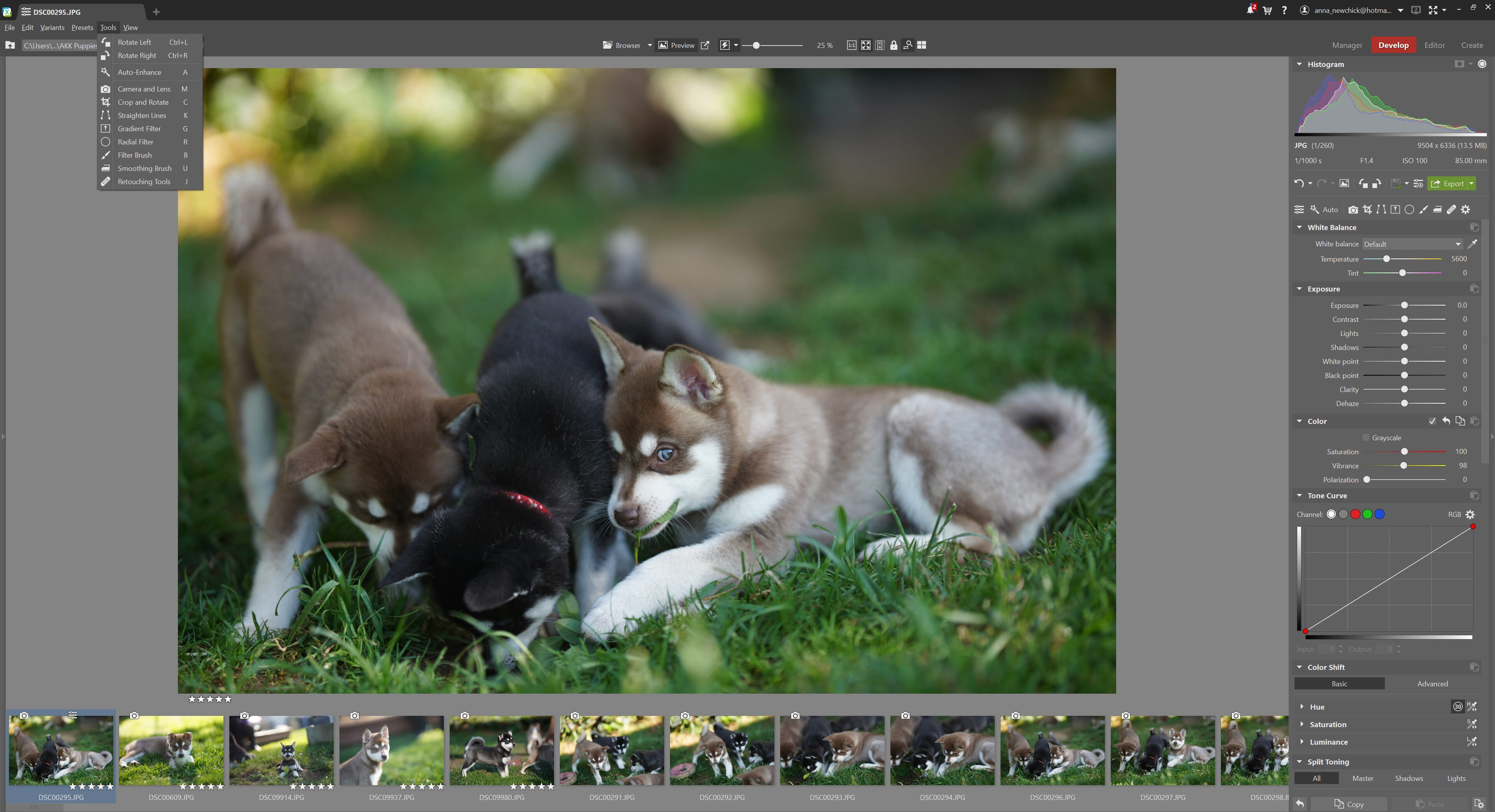 Nevertheless, I began making some quick adjustments and zoomed in to check out the results. The preview was sharp and excellent, but the program was a little too sensitive at points – I'd make a small motion, and the slider would jump too far in one direction, which made subtle edits a bit more difficult.

I am a color buff, so I was eager to jump down into the color grading panels. And when I finally did, I couldn't have been happier. From multiple tabs and panels to options out the wazoo, you can make all of your color grading dreams come to life (and using options that are absent in Lightroom and Photoshop, no less).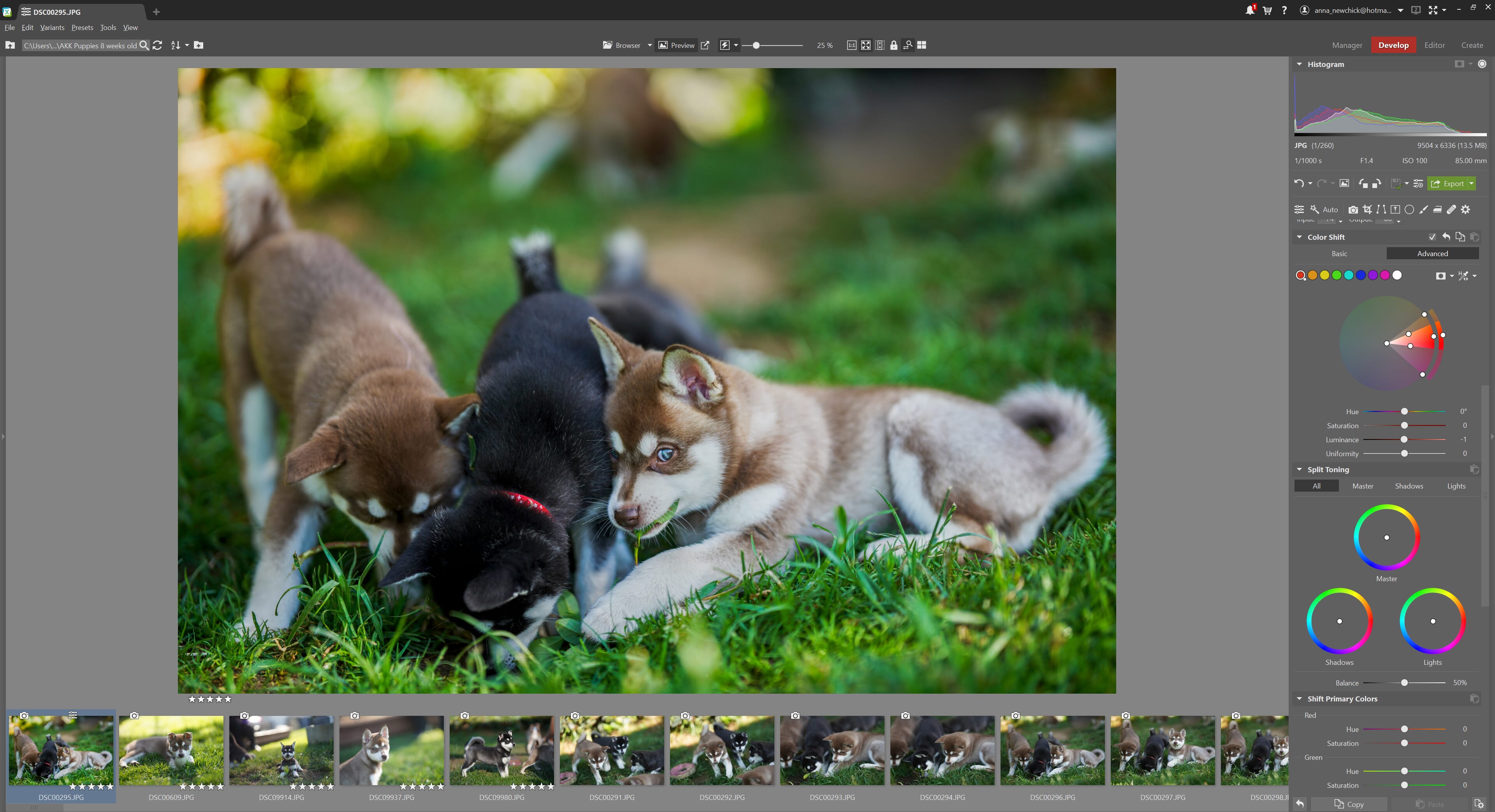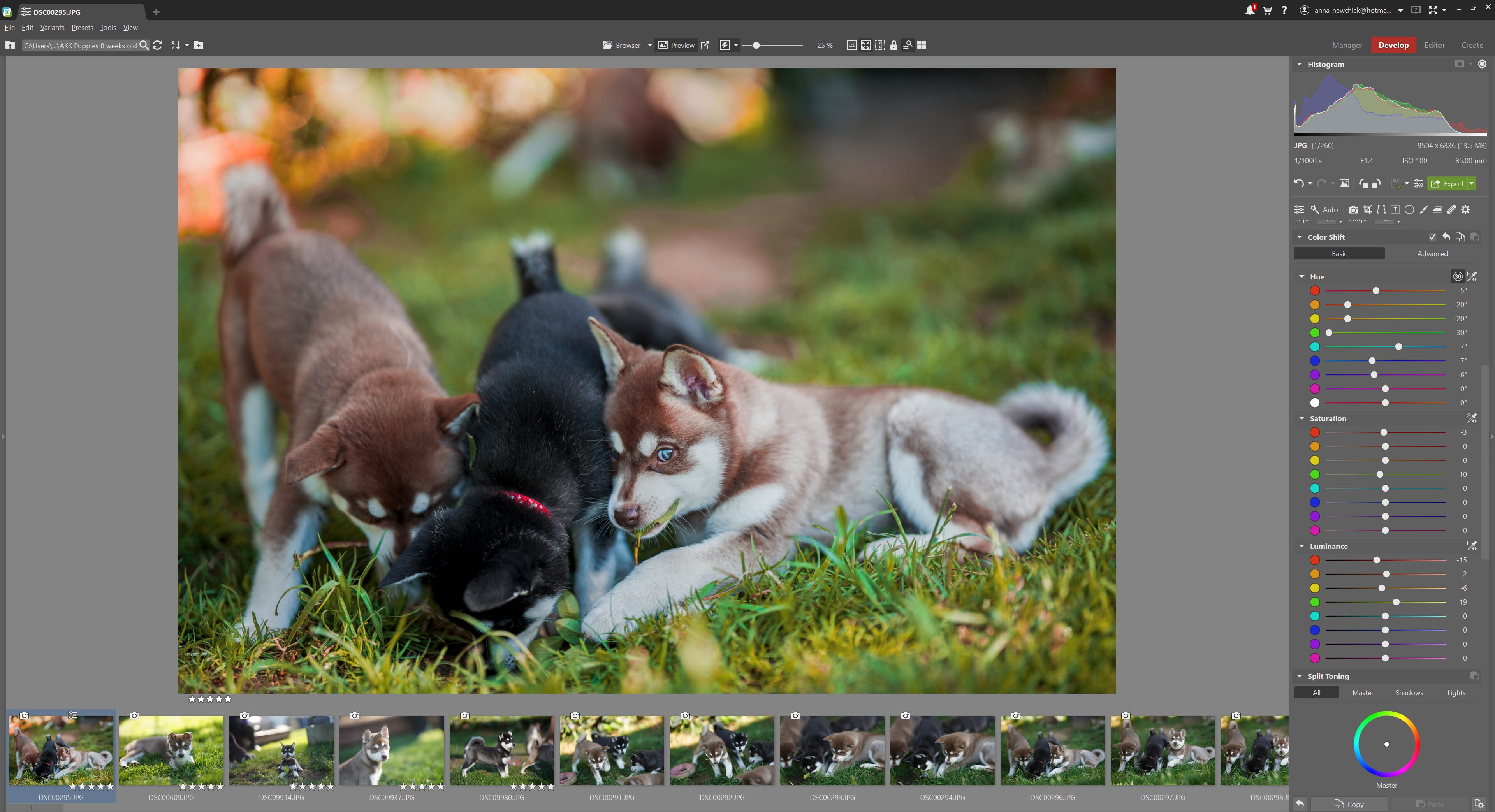 Similar to Lightroom, you can copy your adjustments from one image and paste them onto another, effectively performing a batch process. Batch processing speeds up your workflow tremendously (though Zoner Photo Studio X took a very long time to render; more on that later).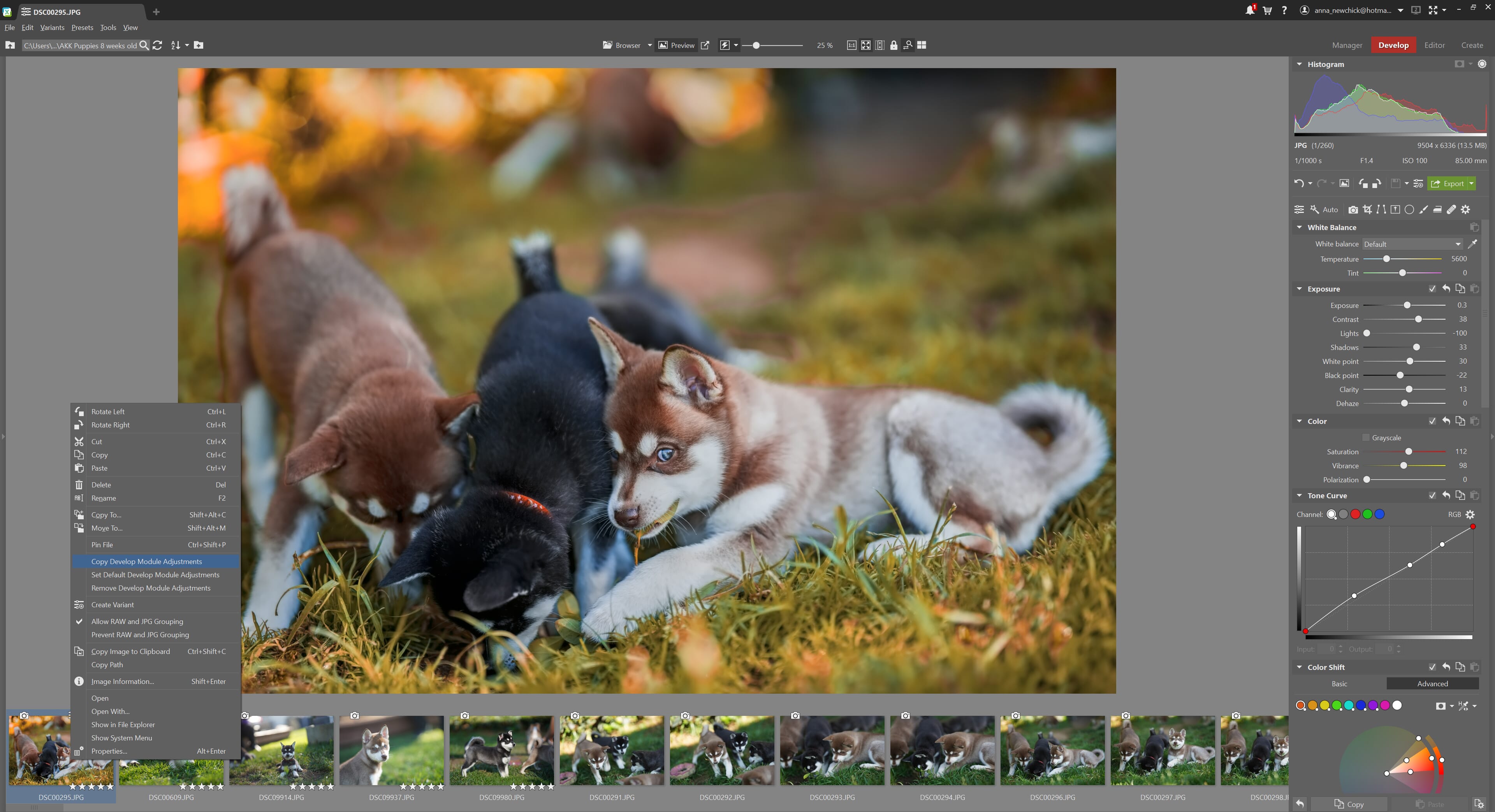 What I enjoyed about the batch processing window is that, if you select multiple images, they all pop up on the screen. Once you apply the copied Develop settings, all the images render at the same time, on-screen. When selecting multiple images at once, I also realized that Zoner Photo Studio X actually allows you to do exposure settings on all of the images at the same time – a super useful feature for many photographers, myself included.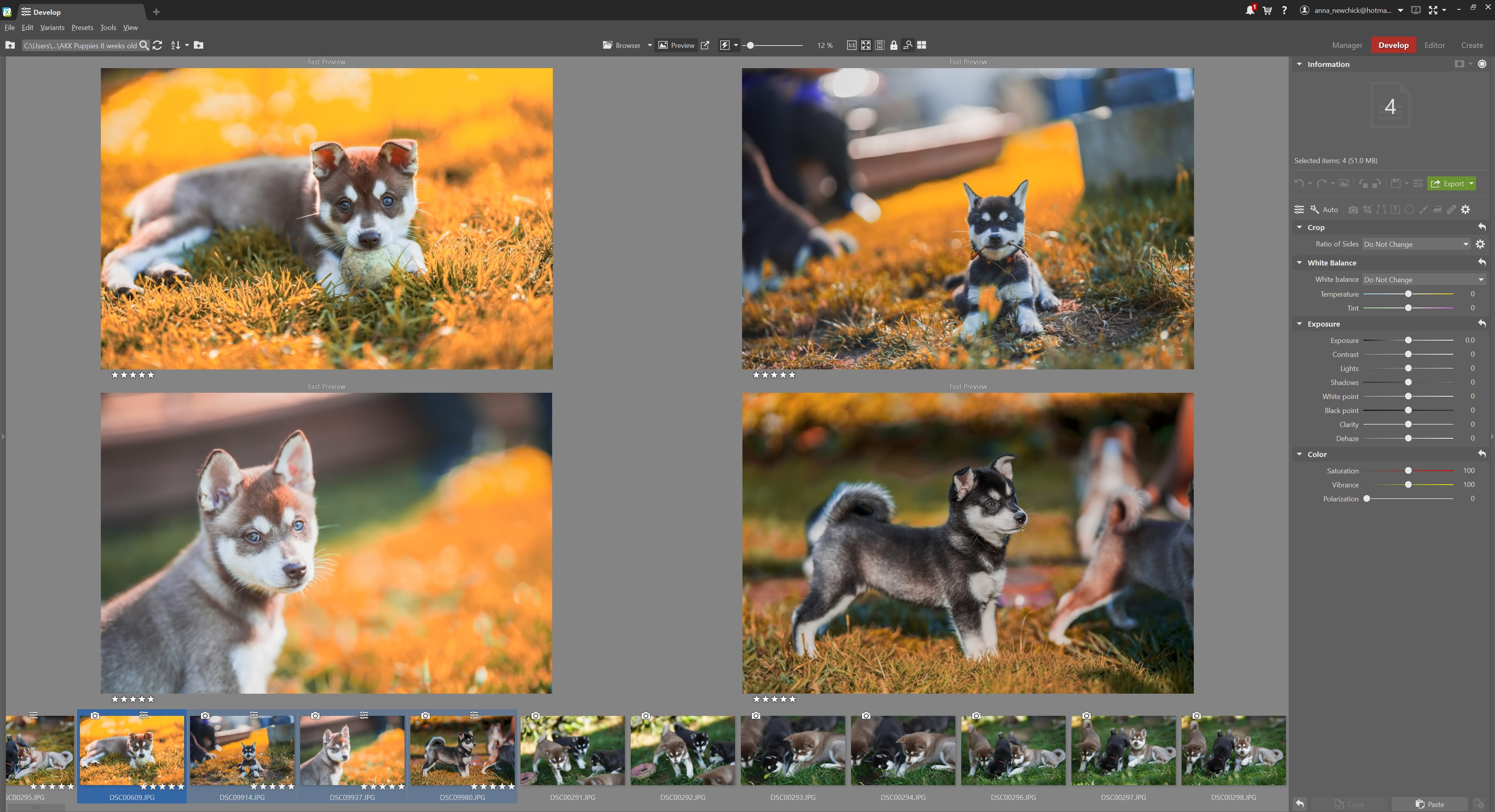 Jumping even further down the tab list, you get Noise Reduction and HDR panels. I wanted to bring both to attention because they're quite superior to competitors, at least in my experience. The Noise Reduction panel had detailed options for reductions, including a very nifty Color Stain slider. The HDR panel was a nice touch, which helped me bring some of the blacks out in the puppy: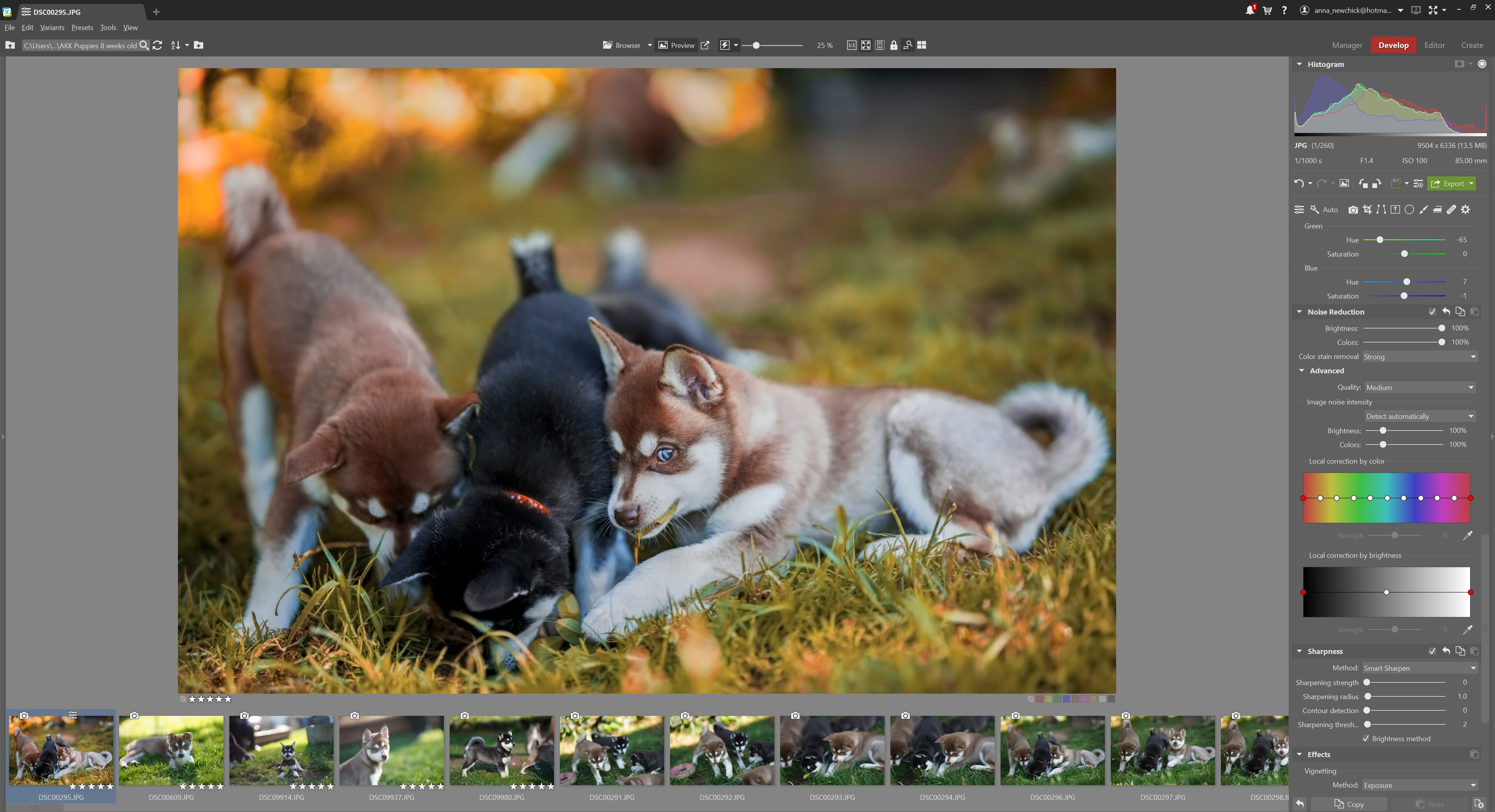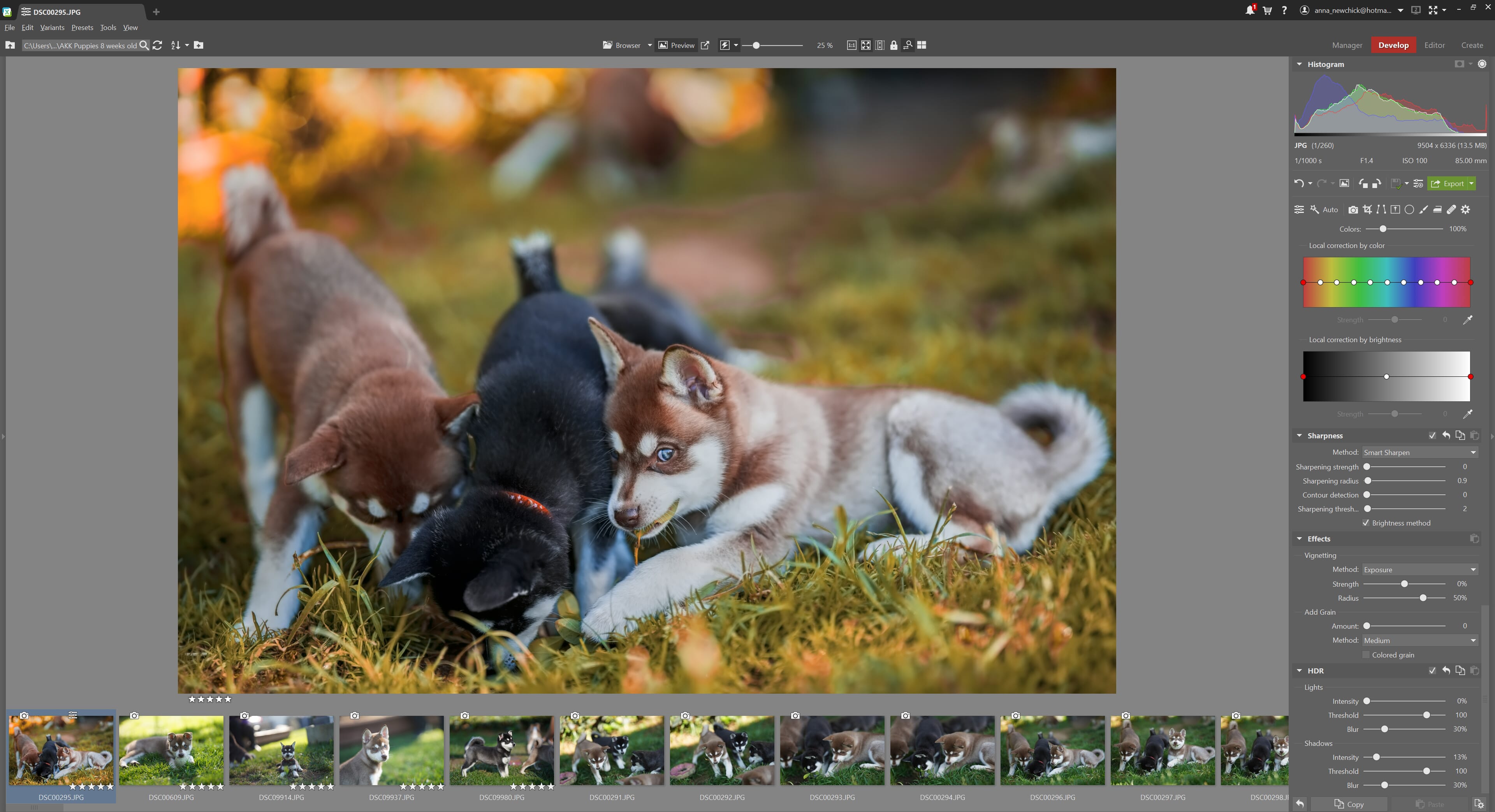 The Develop tab was very easy and convenient to use, so no complaints here (minus some lag). I then jumped over to the Editor tab. This is where things started breaking down a bit. Compared to Photoshop, Zoner Photo Studio X was much clunkier to use, at least in the hand-editing portion.

But first, the good: the inclusion of layers and masks is superb (I would argue editing software should never be without these!).
All the tools and effects were easily at one's disposal, and access was simple. It's great to be able to apply various effects in new layers without unnecessary complexity.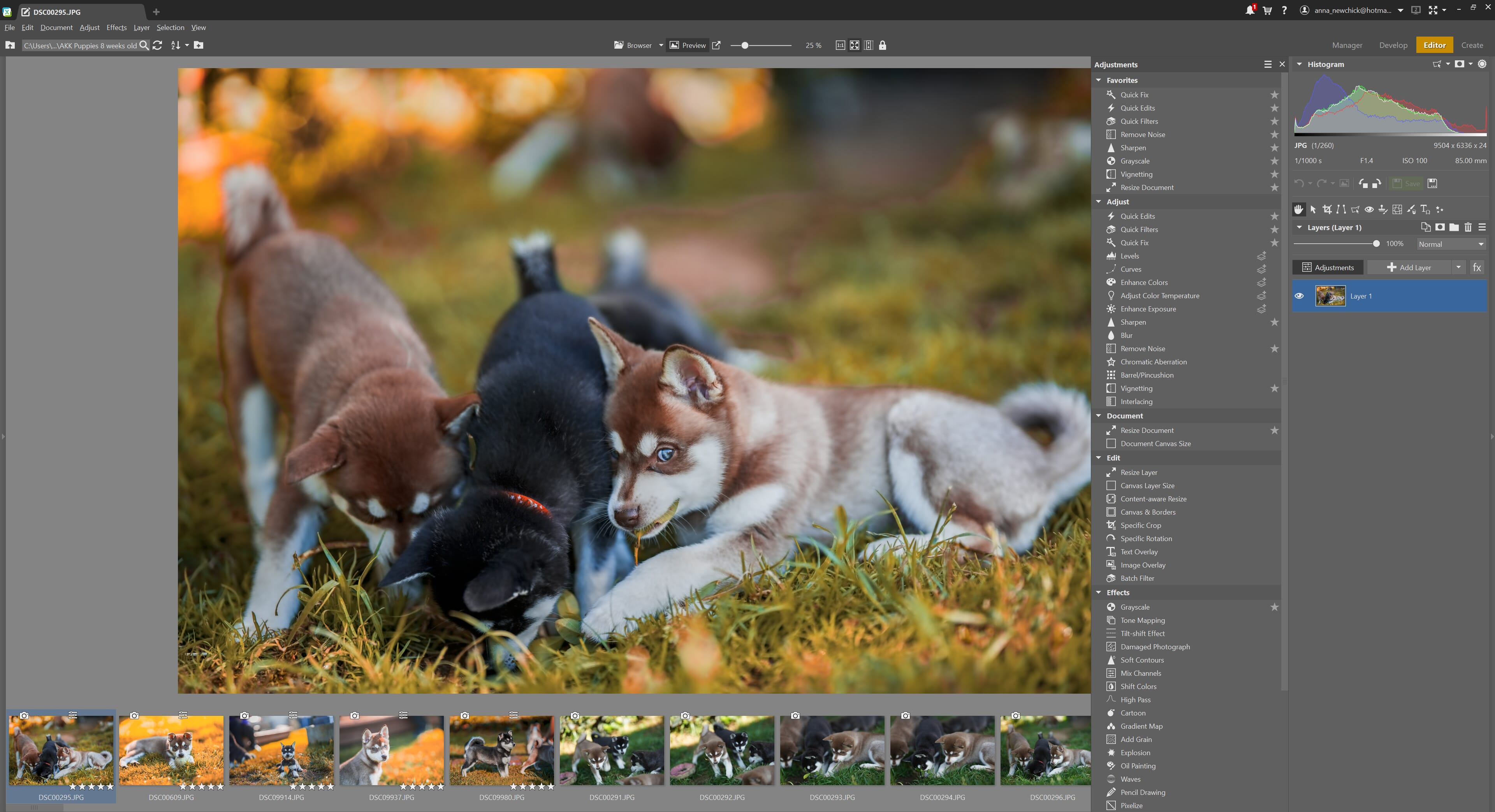 I started to have problems, however, when using some of my most beloved tools, such as the Clone Stamp Tool. I found the slider menu unintuitive, and the results kept causing me frustration. I am sure that some practice and finagling could do the trick, but I found that it was easier to use this tool in many other programs (even mobile applications on my cell phone) than it was in Zoner Photo Studio X. The Spot Healing Tool had the same problem, as did many other tools.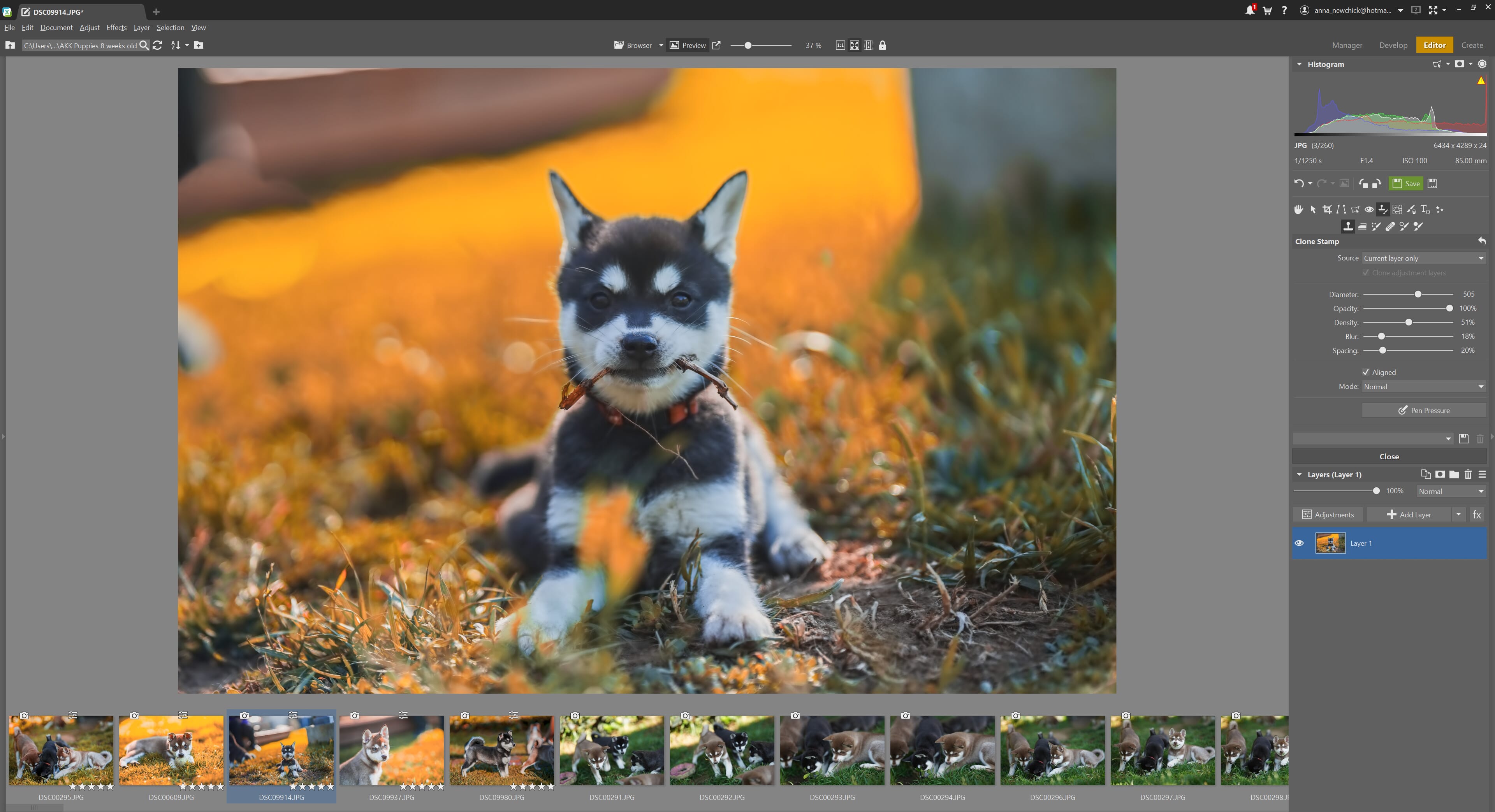 And while I'm being nitpicky, simple features that can easily be missed or forgotten didn't exist, and that stood out to me, as well. For example, with the Crop tool, you couldn't double click to apply the crop – you had to click Apply. Not a big deal, but something worth mentioning. Little details like this became more and more noticeable as I used the program.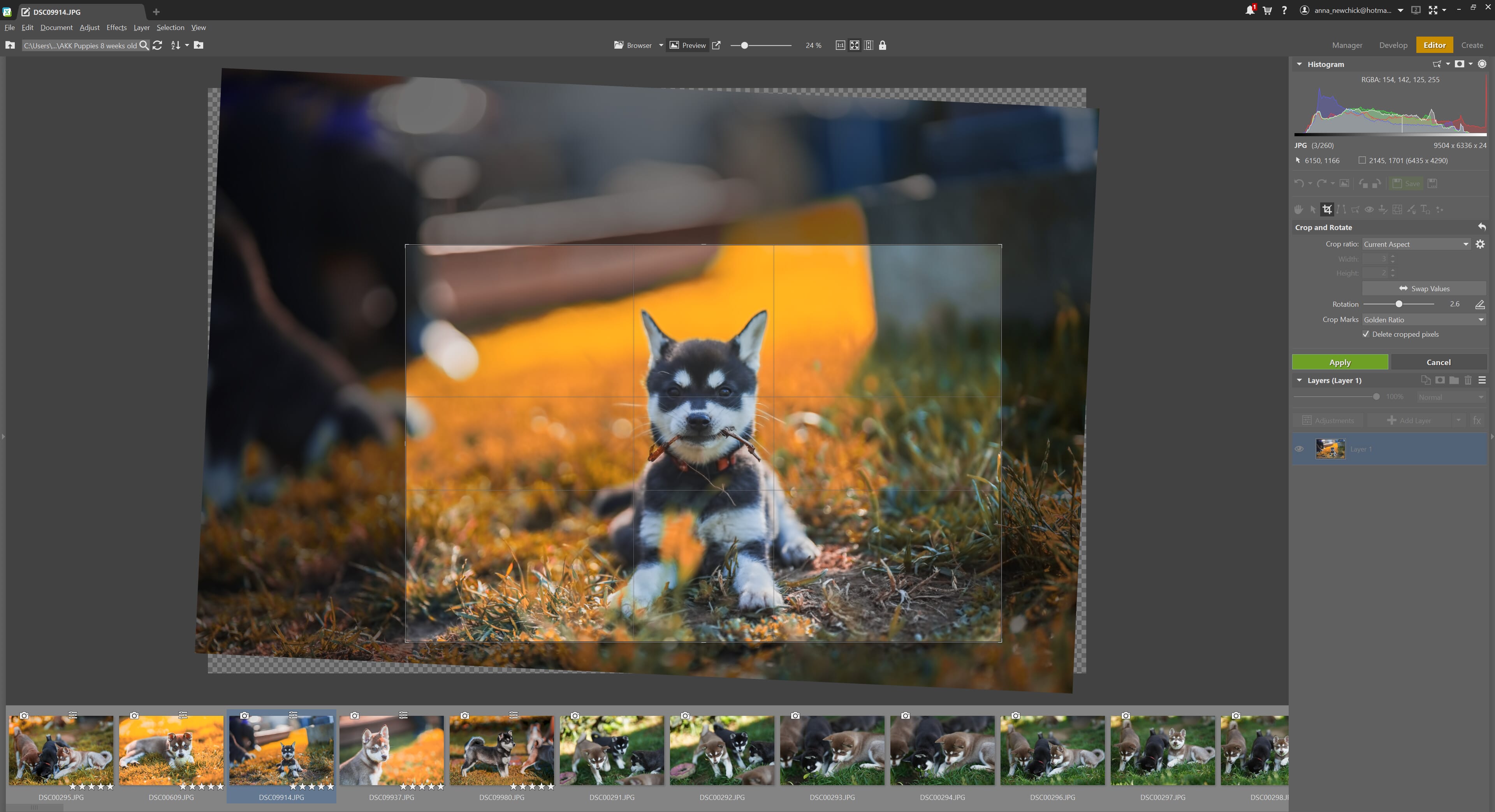 Finally, the Create tab will likely thrill any photography studio; there are a lot of great options here, all fairly easy to use. Many are great for printing products for clients or as gifts, and the inclusion of a simple video editor is quite nifty. I quite enjoyed the Collage tab, which packed a very easy drag-and-drop interface.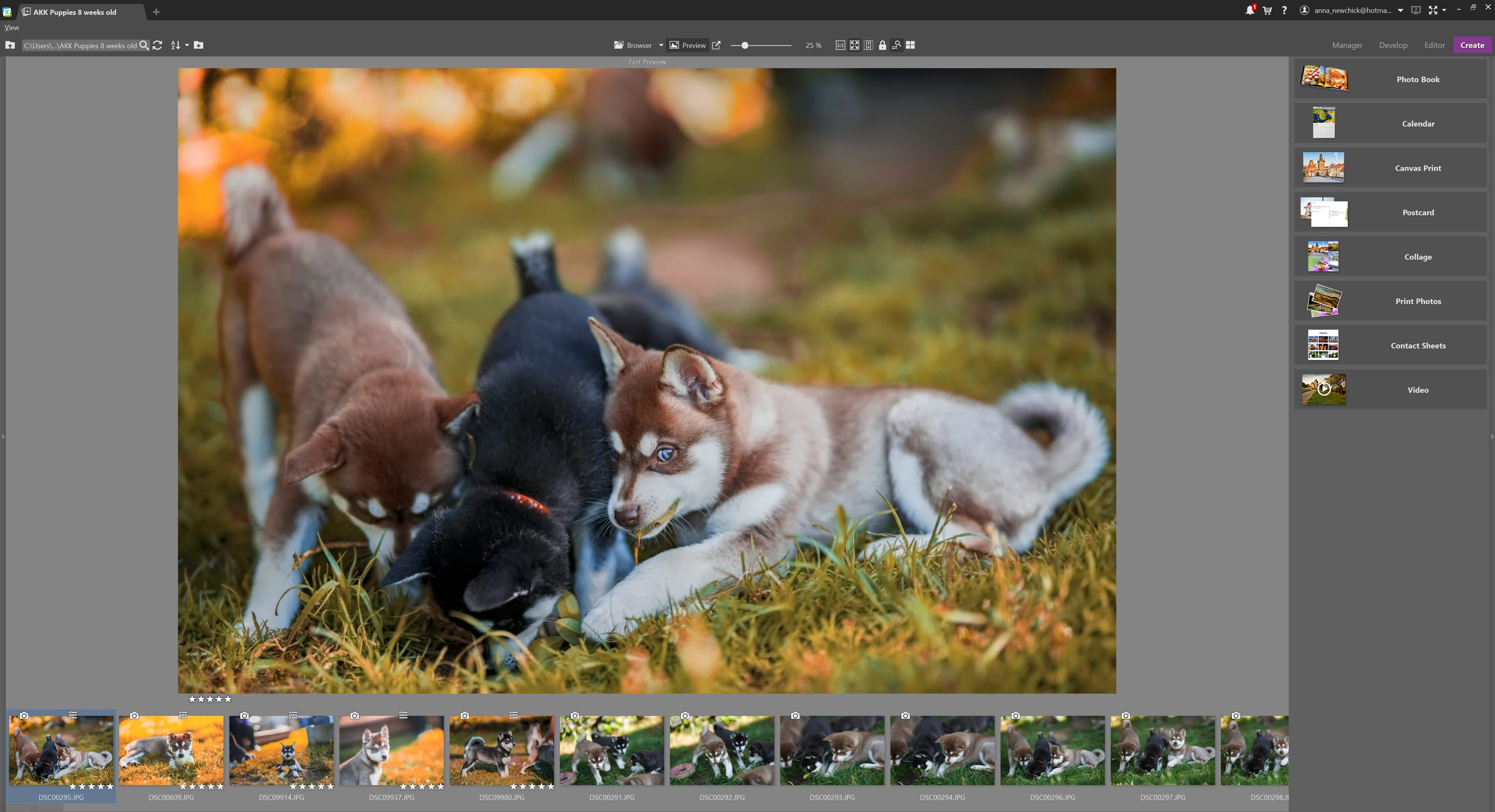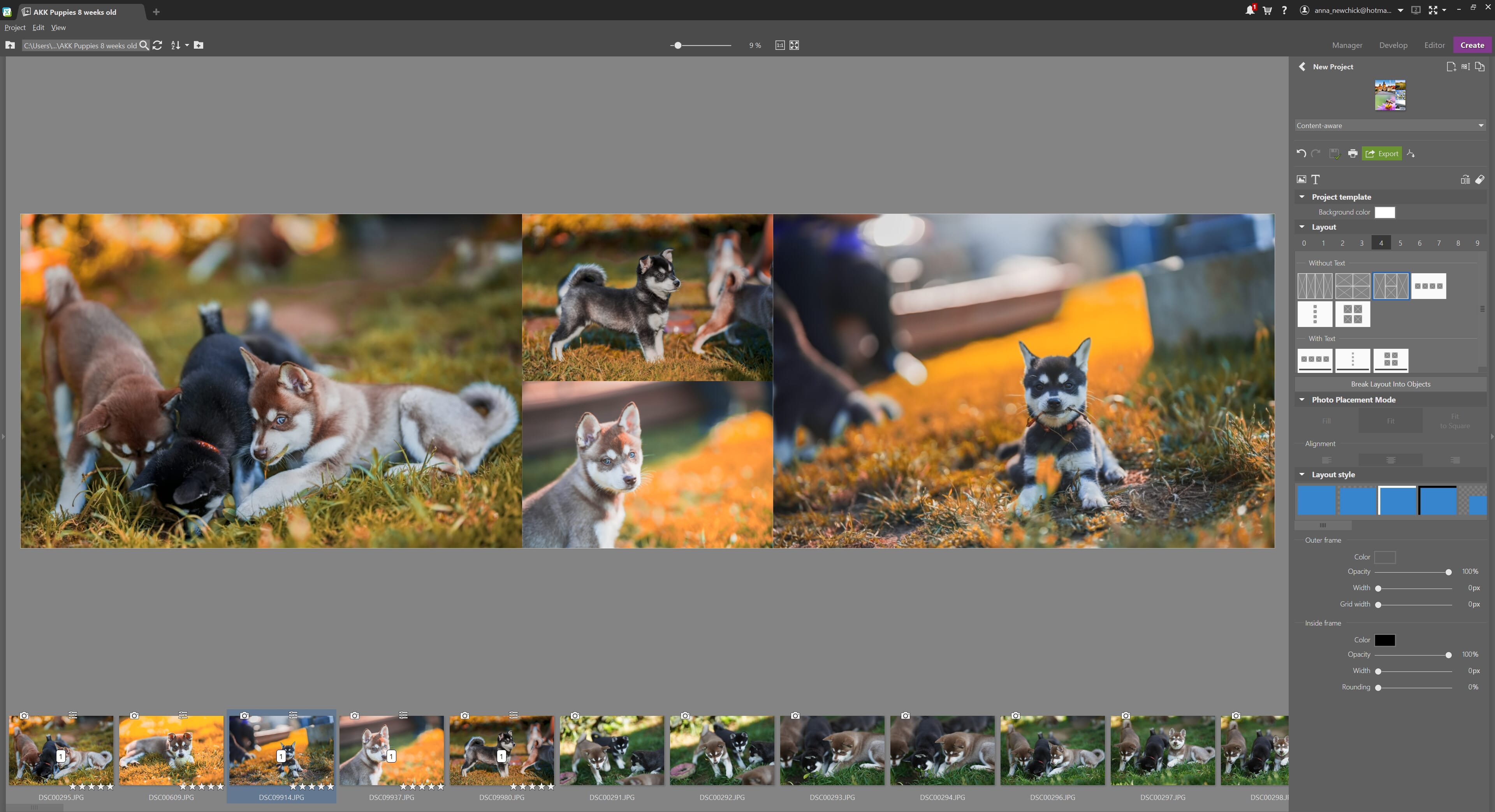 Overall, the ease of use was great, but Zoner Photo Studio X's editing suite still needs refining.
Software Performance
This is where the whole thing breaks down for me. I loaded up around 300 images taken with a Sony A7R IV (a 61-megapixel camera). This is about the average amount of images I tend to process at any given time, so I wanted to do an accurate test of my actual business workflow.
Also, I am not really a computer or tech person, so my knowledge of computers is limited. Computer buffs reading this review will have a better understanding than myself. I am simply expressing my experience.
Now, the computer I am running this on is a custom-built desktop PC workhorse, with the specs averaging at 64 GB of installed RAM, 1 TB SSD, a tremendously powerful new NVIDIA graphics card, and an Intel Core i7-8700k CPU @ 3.70GHz.
This. Program. Was. A. Snail.
Which is shocking because, technically, its system requirements are less than that of Lightroom, which works like lightning on the same setup.
It took an absolutely ridiculous amount of time to load even basic functions. From the gallery display to rendering an effect, I was clawing my eyes out. I am an impatient person, but I knew how quickly comparable programs function – such as Exposure X6, and (you guessed it) Lightroom and Photoshop – and Zoner Photo Studio X was the slowest I've tried. I set it to render low-resolution previews, and it still took eons per image.
If I was working at a hobby or leisurely pace on my desktop, I wouldn't be so bothered, but if this was for a client, I would be hurting.
It All Comes Down to Price
As for the price: Zoner Photo Studio X is not bad at all.
It's not offered as a one-time purchase, which might rub some users the wrong way if they're looking to escape the popular subscription model. However, at only $4.99 USD per month or $49.00 USD per year, the price is pretty hard to beat! (The lowest you can get Lightroom and Photoshop is around $120.00 per year, give or take a buck or two.)
The best part about Zoner Photo Studio X's pricing: if your subscription payment lapses, you don't lose access to any of your images or your work; you just won't get new updates. This makes Zoner Photo Studio X's subscription model superior to others, at least in my book.
Alternatives to Zoner Photo Studio X
The alternatives to Zoner Photo Studio X are quite clear: Adobe Photoshop CC and Adobe Lightroom Classic. Especially with the interface build. However, Adobe's programs are much more expensive than Zoner Photo Studio X and tend to have a steep learning curve.
As for other comparable programs, Exposure X6 comes to mind. Exposure X6 is a mighty photo editing program with many of the same types of functionalities and purposes, though the interface and layout is vastly different from Zoner Photo Studio X.
Other relevant alternatives include Skylum's Luminar and Serif's Affinity Photo. Both share features with Zoner Photo Studio X, but as with Exposure X6, the interface differs significantly. Also, these are all one-time purchase programs, not subscriptions. 
Is Zoner Photo Studio X Right for You?
So did Zoner Photo Studio X shake up my world and take over as my favorite photo editor?
Not just yet. There are functionalities that were missing, and the performance and rendering issues really frustrated me; these latter issues are the reason I can't quite integrate Zoner Photo Studio X into my workflow.
Then who is Zoner Photo Studio X right for? In all honesty, it's probably right for many people! You have to remember that I'm pushing the program to its maximum extent, running hundreds of 61-megapixel files and trying to process images as quickly as possible. Many other users shoot with 24 MP cameras and take fewer photos per session, and if that's you, the program may run far faster. (That's what the free trial is for. Get it and see if it runs!)
Zoner Photo Studio X does cost significantly less than an Adobe subscription and could make a great alternative. The noise removal and color grading features are especially advanced, the program is chock-full of everything you'd want, and the learning curve is not very steep. Even if you're already an Adobe user, you could make the switch in a couple of days!
Zoner Photo Studio X Review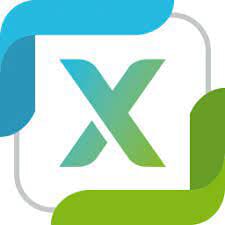 Product Name: Zoner Photo Studio X
Product Description: Created by photographers for photographers, Zoner Photo Studio X is a one-stop-shop for all of your editing needs, including Developing, Editing, and Creating.
Layout

Ease of Use

Software Performance

Price
Summary
This post-processing program aims to combine the best of Adobe Lightroom and Adobe Photoshop into one neat package.
Pros
Fantastic layout and design – a great fusion between Adobe Lightroom and Adobe Photoshop features
You can view photographs on a map via GPS capability
Excellent noise reduction options, color grading tab, HDR as a slider
Lots of great built-in presets and tools
Wonderful price for a subscription service
The Create tab has an easy drag and drop interface
Cons
Windows-Exclusive (no Mac version)
Very slow and glitchy with large files
The Editor part of the app needs a lot of work; beloved tools like the Clone Stamp were difficult to use and the results were mediocre
Missing small details that speed up the workflow, such as double-clicking to make a selection
Payment is an ongoing subscription, not a one-time fee