Mirrorless cameras seem to be the way forward for photographers. These models are generally smaller than traditional DSLRs but still offer amazing features. Sony is a leader in the field and has a superb range of mirrorless options for all types of photography and experience levels.
If you're looking to upgrade from a point-and-shoot camera, or you simply want to move beyond DSLR photography, we can help. We've chosen the seven best Sony mirrorless cameras on the market, ranging from high-end professional models to compact options!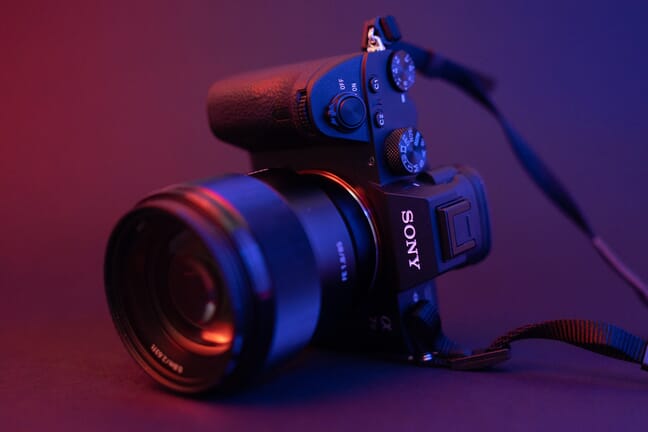 Top Sony Mirrorless Cameras in 2023:
When you buy through links on our site, we may earn a commission at no cost to you. We evaluate products independently. Commissions do not affect our evaluations.
1. Sony Alpha 7R V
Our Pick
Great for subject tracking
The Sony a7R V builds on the success of its predecessor but adds a next-gen processor and a variety of advanced autofocus modes.
Pros
Can record 8K/24p video
Improved autofocus system
Image stabilization for video recording
Amazing image quality
Cons
Extremely expensive
The Sony Alpha 7R V is an absolutely fantastic camera, and while it's wildly expensive, it has a plethora of upgrades to enhance the already superb performance of this camera series.
The a7R V is a professional photographer's dream but could also be comfortably used for high-end videography. You can record in 8K, and you get gyroscopic stabilization for smoother footage.
The sensor uses the same 61 MP CMOS full-frame technology present in the a7R IV (listed below), so you can create highly detailed files that can be turned into wall-sized prints. You can also expect outstanding low-light performance and breathtaking dynamic range.
Finally, the upgraded processor relies on AI learning for improved camera intelligence, which makes for an incredible autofocusing experience. The camera includes several new focusing modes so you can track vehicles, insects, and more as they move. The Sony a7R V is great for photographers of all stripes, and you can certainly use it to take your photos to incredible heights.
2. Sony Alpha 7R IV
Also Great
Great for professional image quality
The Sony a7R IV has a 61 MP sensor that captures gorgeous RAW images, making it the perfect choice if you want to take the plunge and start shooting professionally.
Pros
61 MP full-frame sensor
Advanced AF
Fully rotatable touchscreen
Cons
Still quite expensive
The Sony Alpha 7R IV has been a top mirrorless camera for a while now, and it remains an amazing option despite the release of the a7R V (featured above). It's a great full-frame mirrorless camera that is designed to create high-end files featuring outstanding detail and colors.
The impressive image quality is thanks to the epic 61 MP back-illuminated sensor, which allows you to create superb RAW images with ease. The a7R IV is also one of the smallest full-frame cameras, and it just looks fantastic with the iconic orange ring around the lens mount. You should find it comfortable to hold, and you'll appreciate the many control options so you can make quick adjustments to your settings without relying on the screen.
Possibly the best feature of the a7R IV, however, is the autofocus system. It offers some amazing real-time recognition and tracking features; you can track fast-moving objects easily, and you'll rarely misfocus.
The Sony a7R IV has a fully rotatable touchscreen, so you'll have much more flexibility in the positioning of your camera when capturing stills and recording video. If you want a powerful camera for professional-grade photography, it's an amazing choice.
3. Sony Alpha 9 II
Great for sports photography
The Sony a9 II is a specialist camera meant for sports photography thanks to an amazing 20 FPS burst mode and an excellent AF system.
Pros
Up to 20 FPS burst shooting
Advanced AF with various tracking modes
Great connectivity
Cons
Only has a 24.2 MP sensor
Very pricey
The Sony Alpha 9 II is one of the best cameras for sports photography you can buy. While it doesn't compare to the a7R IV and V in terms of raw resolution (it has a 24.2 MP full-frame sensor), it was designed to capture split-second action rather than create huge prints.
If you want to specialize in sports photography where you need speed and consistency, the a9 II is an amazing pick. The full-frame sensor does a fantastic job, and you can guarantee you'll get the right shot due to the 20 FPS burst mode that captures full-resolution files.
The camera's sports capabilities are enhanced thanks to an autofocus system that is capable of up to 50 calculations per second. If you are tracking a player in the middle of a game, you should be able to quickly acquire and maintain focus even when shooting at wider apertures.
When you are taking a large volume of photos during a sporting event, you'll appreciate the voice memo function. This allows you to attach .wav voice recordings to your photos to give them context so you can interpret them later.
We would pick the Sony a7R IV or V over this camera for general photography due to the combination of speed and resolution, but for sports and other action photography, the a9 II is a magnificent device and Sony's best current option.
4. Sony Alpha 7 III
Great as a mid-tier option
The Sony a7 III is cheaper than the a7R models, yet it still offers pro-level capabilities.
Pros
Fantastic AF
Ergonomic design that's easy to handle
Durable camera body
Good low-light performance
Cons
Only 24 MP of resolution
Sony's a7R cameras are great, but they're also relatively expensive. Happily, there is a midrange alternative that offers powerful shooting capabilities but won't break the bank: the Sony Alpha 7 III. Although it is an older camera, it's still a great pick for serious enthusiasts and even some professionals.
The a7 III's impressive technology will allow you to try out a range of photography types. The 24.2 MP full-frame sensor offers consistently excellent image quality, and its high-ISO capabilities are perfect for all types of low-light photography.
The AF system is a little older, but it still has 693 phase-detection and 425 contrast-detection AF points for excellent coverage and accuracy. It's perfect for slower-paced photoshoots, and you can even use it for sports photography and photojournalism thanks to the 10 FPS burst mode. If you're looking for a more powerful option, you might consider the newer a7 IV, but it's significantly more expensive; that's why we still recommend the Sony a7 III.
5. Sony Alpha 6400
Great for versatility
The Sony a6400 has it all, including a high-resolution sensor, amazing AF capabilities, and plenty of lens options.
Pros
Durable body
Ergonomic design that's easy to handle
Up to 11 FPS
Very compact
Cons
The LCD touchscreen doesn't fold out fully
APS-C sensor
Still somewhat expensive
If you want something simpler (and less expensive) than the professional-grade full-frame cameras featured above, the Sony Alpha 6400 is a great pick.
The a6400 is compact and lightweight, plus it offers the ability to test out Sony's impressive array of E-mount lenses. It also boasts fantastic image quality, and while the 24 MP APS-C sensor can't compete with the models listed above, it still does a solid job in tough situations. The Sony a6400 is an especially suitable option if you are looking to upgrade from a basic point-and-shoot camera but aren't ready to shell out thousands on an a7R V or an a7 III.
Tracking and focusing should also prove easy for you due to the excellent AF system, which ensures that focusing is accurate even in chaotic scenarios. You can also nail focus on moving objects like people and animals.
You can purchase the a6400 with the 16-50mm kit lens, which is one of the better Sony wide-angle lenses and also gives you portrait and street photography capabilities. Additionally, you have your pick of other lenses that'll allow you to specialize in different genres, such as macro, landscape, and event photography.
Related Post: Review of the Sony E 16-50mm f/3.5-5.6 OSS
6. Sony Alpha 6100
Great for beginners
The Sony a6100 offers outstanding image quality for an impressively low price.
Pros
Comfortable hand grip and controls
Inexpensive
Beautiful RAW files
Cons
The LCD touchscreen is a little limiting
Not especially durable
The Sony Alpha 6100 might be on the older side, but it remains our favorite Sony mirrorless camera for beginners. It's a great little unit that's easy to use but gives you plenty of room to grow.
The style and build quality of this mirrorless camera are fantastic, and it is quite compact (even with a lens attached). The large grip on the right-hand side allows you to hold the a6100 firmly, and it has plenty of controls and dials so you can change settings as needed.
You do get a touchscreen, but it can only be flipped upward and cannot be rotated out to the side. This means that you can use it to preview selfies and recordings, but it doesn't quite offer the flexibility of some of the other cameras on this list.
When it comes to actual image quality, the Sony a6100 does an outstanding job. You get a 24.2 MP APS-C sensor that boasts great low-light performance, so you can create beautiful shots indoors and at night. You can also focus on moving objects due to the advanced AF system, which makes the a6100 a great camera for sports photography beginners. The price is also reasonably low; that way, you don't have to worry about blowing your whole budget on a single camera.
7. Sony Alpha ZV-E10
Great for content creators
The ZV-E10's compact size combined with its video and still photo capabilities make it a great choice for vloggers, hybrid shooters, and more.
Pros
Fully rotatable touchscreen
Extremely compact
Advanced autofocus system
Great price
Cons
No electronic viewfinder
Image quality could be better
Our last pick is a bit different and is a great choice if you like videography and still photography. The Sony Alpha ZV-E10 has everything you might need as a content creator. It's also a solid way to move beyond smartphone shooting and really improve the quality of your files.
This camera is primarily meant for vlogging and gives you excellent 4K/24p recording capabilities, but it also has a nice 24.2 MP APS-C sensor so you can capture high-resolution still photos. You get a great processor, too, so you can expect the autofocus to perform well in fast-paced scenarios and in low light.
Perhaps the best thing about the Sony ZV-E10 is that it's incredibly compact, so you can use it as a travel camera and carry it on your adventures without difficulty.
Finally, there are plenty of amazing lenses you can mount on the ZV-E10, including telephoto, wide-angle, and specialist macro models. You'll need to pay extra for the best glass, of course, but it's often worth the cost.
Pick Your Sony Mirrorless Camera
As you can see, there are plenty of fantastic Sony models to choose from. When it comes to picking the right camera for you, however, be sure to think about your level of photography and what you want to do with your camera. Also consider your budget and how much you really want to spend.
If you need a camera for professional photography, the Sony a7R V and the Sony a7R IV are favorites of ours (their 61 MP sensors make a huge difference!).
Alternatively, if you're upgrading from a point-and-shoot camera, consider budget and mid-tier options like the Sony ZV-E10, the Sony a6100, and the Sony a6400.
---
Disclosure/Disclaimer: As an Amazon Associate, we earn from qualifying purchases. Certain content was provided "as is" from Amazon and is subject to change or removal at any time. Product prices and availability: Amazon prices are updated daily or are accurate as of the date/time indicated and are subject to change. Any price and availability information displayed on Amazon.com at the time of purchase will apply to the purchase of this product.