We've curated a list of the best budget cameras for sports photography beginners to help you start your sports photography journey.
Sports photography is primarily rooted in action shots. Beginners who want to try their hand at this type of photography should consider getting a camera with a high frequency of continuous shooting, a significant maximum shutter speed, and a good zoom or telephoto lens.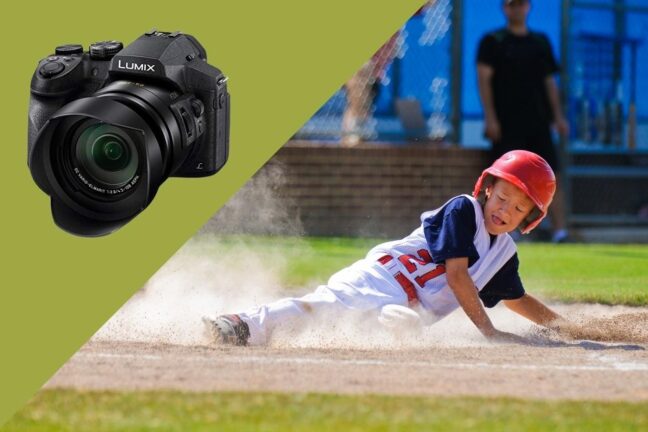 Best Sports Camera in 2023 (for Beginners):
Here are our camera picks, which, we believe, are the best budget cameras for sports photography beginners:
When you buy through links on our site, we may earn a commission at no cost to you. We evaluate products independently. Commissions do not affect our evaluations.
1. Panasonic LUMIX DMC-FZ300
OUR PICK
Best for low budgets
This camera gives you high frame rates with a significantly lower energy consumption for up to three hours of continuous shooting.
Pros
Small and portable
Splash-proof and dust-proof
Affordable price
Has a fast and accurate autofocus system
Cons
Average image quality
Fixed lens
The Panasonic LUMIX DMC-FZ300 is a 12.1 megapixel (MP) camera with a high sensitivity MOS sensor, and a Five-Axis Optical Image Stabilizer.
If you hate getting blurry images, then these features can definitely help you with that dilemma. It is one of the brand's bridge cameras, so it's like your usual DSLR but with long and fixed lenses.
Its f2.8 Leica DC Vario Elmarit fixed lens guarantees that your photos will still look good even in low lighting, making it a great companion for photoshoots at any time of day. Though you can't change your lenses around, its built-in 25-600mm still allows you to shoot at both long and short distances.
The FZ300 has pretty decent color reproduction and very accurate exposure control. It is also splash- and dust-resistant, perfect for taking outdoor and water sports photos.
2. Canon EOS Rebel T6i
ALSO GREAT
Best mix of low-budget and good specs
Canon's EOS Rebel T6i is a DSLR camera with more cross-type autofocus points which translates to faster image focus and precision.
Pros
Great for beginners
Has easy manual controls
Increased autofocus system performance
Cons
The plastic of the body feels a little cheap
Can only shoot at maximum 5 fps
The Canon EOS Rebel T6i comes with a 24.2MP APS-C CMOS sensor and an advanced autofocus (AF) system that both contribute to this camera's good autofocus performance and detailed results.
Compared to Panasonic's FZ300, the Canon EOS Rebel T6i has more advanced processing attributed to its higher number of megapixels, though it can only shoot at a maximum of 5 fps.
Thanks to the Canon Digital Imaging Integrated Circuit (DIGIC) image processor, it has excellent light sensitivity, with an ISO of 100 that can be expanded up to 2560. This allows for higher resolutions and less noise when shooting in low light or dark surroundings.
3. Panasonic Lumix FZ1000 II
Best for taking quality photos on the go
This hybrid camera provides better quality compared to its sibling, the FZ300.
Pros
Light and portable
Good image colors
High-quality and detailed photos
Cons
Doesn't provide the best zoom range
Fixed lens
Another of Panasonic's long-zoom bridge cameras, the LUMIX FZ1000 II also comes with a fixed lens, the Leica 16x DC VARIO ELMARIT 25-400mm. It is built with a one-inch 20.1MP MOS sensor that reduces the signal-to-noise ratio when shooting at a high ISO that can be extended to 25600.
The FZ1000 II's touchscreen enables users to select a specific in-focus area even after shooting. The focus system also includes a linear motor and Light Speed AF that is adapted with DFD (Depth from Defocus) technology, which shortens the focus time.
Lastly, this camera can withstand washouts under strong sunlight thanks to its high-speed burst shooting in RAW, with a mechanical shutter at 1/4000 seconds and an electronic shutter at 1/16000.
4. Nikon D500
Best tried and tested
This extremely popular DSLR camera boasts of a 20.9MP APS-C sensor with a rather impressive frame rate and autofocus system.
Pros
Great for night and action photography
Has a fast shooting speed with a large buffer
Offers dual memory card slots
Cons
Lacks built-in image stabilization in the sensor
The Nikon D500's multi-cam 20K module provides 153 AF points, 99 of which are cross-type, while 55 can be manually selected. This helps deliver a fantastic subject acquisition performance and a near full-width coverage.
The camera also lets the user select from two parameters to tune AF tracking. You can either specify the type of subject movement or the response to another object blocking your preferred subject to refine your focus.
The maximum ISO sensitivity is at 51200, but it is still expandable to Hi5 or ISO 1640000. Add in a 10 fps rate with a large buffer, and this camera becomes a great option for those wishing to get high-speed action shots.
Related Post: Best Nikon Lenses for Sports Photography
Despite being an older model, released in 2016, the D500 remains one of the best APS-C DSLRs, providing dual card slots and even its own mobile application.
Though some users have said that it can be a little shoddy at times, the fact that you can connect your camera to your phone and download your photos from there is a pretty convenient feature.
5. Nikon Coolpix P950
Best for shooting at large distances
The Nikon Coolpix P950 is a wonderful cross between its P900 and P1000 versions. It has the more advanced features of the P1000 with the more compact body of the P900.
Pros
Massive zoom range
Impressive stabilization
Higher resolution
Cons
Limited aperture range
Struggles in low-light shooting
Nikon's Coolpix P950 has a 16MP CMOS sensor. 16MP is admittedly lower than the other cameras on this list, and the P950 may not be your go-to for night shoots, but an outstanding zoom range and image stabilization more than makes up for that.
This small sensor telephoto lens camera comes with an 83X optical zoom lens and an impressive focal-length range of 24-2000mm. This makes it great for taking shots from the top of high bleachers. Its Dual Detect Optical VR (Vibration Reduction) provides a really reliable stabilization and reduces image blurs. Moreover, its increased buffer capacity allows you to fire two consecutive bursts in continuous high-speed shooting mode at 7
The Coolpix P950 works magnificently on sunny days, and is still pretty decent in overcast weather. It is also an excellent option for macro photography.
6. Canon EOS 7D Mark II
Best for beginners
This camera flaunts an AF system with 65 all cross-type AF points, allowing for high-precision and high-speed shooting.
Pros
Can shoot at 10 fps RAW
Has dual memory card slots
Has numerous available accessories
Cons
Not great for low-light or high ISO shots
The Canon EOS 7D Mark II offers a 20.2MP CMOS sensor and dual DIGIC6 image processors. These features let you capture up to 1090 JPEG, 31 RAW, and 19 RAW + JPEG shots in one single burst.
Its AF tracking system has algorithms tailored to recognize faces and colors. This is a remarkable feature to have when capturing shots like an athlete's reaction to scoring a three-pointer.
Related Post: Best Canon Sports Lenses
Another advantage to this camera is its Intelligent Subject Analysis (ISA) system, which employs an independent RGB light sensor with an approximately 150,000-pixel resolution. The dual memory card slots are great for photographers who need to have backups for their photos, or who just want additional space to store their files.
7. Sony A9 Full Frame Mirrorless
Best for those willing to invest a lot for a good camera
Sony's Alpha 9 is a mirrorless camera that features a full-frame stacked sensor, allowing for high-speed burst shooting at 20 fps with AF/AE (Auto Exposure) tracking and an impressive shooting buffer.
Pros
Full frame sensor
Can shoot at 20 fps
Allows for blackout-free and silent shooting
Cons
Expensive
The mechanical shutter can be rather loud and annoying
The Sony A9 Full Frame Mirrorless has an Exmor RS CMOS processor with 24.2MP that helps improve low-light performance and provides sharper pixel-level imagery. It flaunts a total of 693 phase-detection AF points that occupy approximately 93 percent of the image area to ensure detection accuracy even in poor lighting.
Its non-mechanical electronic shutter eliminates blackout in your usual SLR mirror action, granting an uninterrupted view of the subject even during shutter release. This also allows for silent shooting, ideal for taking photos of subjects that demand as little distraction as possible.
Another extremely useful and practical feature the Sony A9 has is the presence of an Ethernet port. Having an Ethernet port allows photographers to concentrate on taking photos, while another team simultaneously edits them. Plus points for efficiency!
8. Canon EOS 90D
Perfect for those looking for versatility in their camera lenses
The Canon EOS 90D is one of the best mid-range DSLR cameras.
Pros
Has a good DSLR & mirrorless interface
Great resolution without sacrificing dynamic range or low-light performance
Has a lot of third-party support for lenses
Cons
Not the best autofocus performance in viewfinder mode
The Canon 90D has a 32.5MP APS-C CMOS sensor and a maximum shutter speed of 1/8000. A higher shutter speed like this is especially useful for fast action shots, like an athlete running or scoring the winning goal.
This camera is also equipped with the DIGIC 8 image processor, great for high-quality images in low light. With an AF system made of 45 all cross-type points, it's very handy for shooting fast-moving objects.
It allows high-speed burst shooting of up to 10 fps in viewfinder shooting and 11 fps shooting in live view shooting. It has an autofocus feature that works much better in live view than viewfinder shooting.
Finally, it's also compatible with most EF (Electronic Focus) and EF-S (Electronic Focus-Shortback) lenses that have a maximum aperture of f/8 or higher.
9. Fujifilm X-T4
Best for film style photos
The X-T4 has an interesting retro design and can replicate the gorgeous colors that Fujifilm patented all those years ago. It also features faster shooting and phase-detection pixels across the entire frame.
Pros
Unique retro design
Can shoot 15 fps during burst shooting
Gorgeous colors
Cons
Pricey
Touch controls on the screen aren't that good
Another great mirrorless camera is the Fujifilm X-T4. As the creator of the original 35mm film stock used in old Hollywood films, it just makes sense that Fujifilm would create a camera feature that allows them to reproduce that. With the ETERNA Bleach Bypass, photos can have a high-contrast look with low color saturation, a color design that was used back in the day for analog films.
This X-T4 is fitted with a 26.1 Megapixel X-Trans CMOS sensor, which allows shooting at 15 fps or 20 fps at 26MP with an electronic shutter. But if you're willing to drop your resolution to about 20MP, then you can shoot at an impressive 30 fps. It has a greatly improved AF tracking that can go as fast as 0.02 seconds, and color or shape recognition to accurately focus on a preferred subject.
The camera also provides amazing in-body image stabilization with its five-axis IBIS system, allowing for maximum freedom when creating handheld images. Its 63-point weather resistance, meanwhile, can protect from dust and moisture as well as create images in temperatures as low as 14° F (-10° C). Truly, an all-around camera.
10. Sony Alpha 6600
Best for high action shots
Like one of its direct competitors, the X-T4, the Sony Alpha 6600 has the world's fastest AF at 0.02 seconds which helps it to achieve an outstanding AF accuracy.
Pros
Small and compact
Excellent ergonomics
Great autofocus system
Cons
Apart from its AF system, its other specs are not that great
Finally, we give you the Sony Alpha 6600 mirrorless camera. It is equipped with a 24.2MP APS-C Exmor CMOS sensor and an advanced autofocus system.
Its impressive AF system includes real-time tracking and eye autofocus that help maintain a steady focus on your chosen subject. You can even seamlessly switch between smart object and face tracking, making it a truly ideal camera for high-action shots.
The A6600 also supports S-Log Shooting, featuring a wide dynamic range that helps minimize whiteout and blackout. This provides a wider scope for color grading in post-production.
Which Sports Camera Is Right for You?
The Canon EOS 7D Mark II is the best companion for beginners in sports photography. But if you're looking for an all-time favorite and reliable sports camera, then the Nikon D500 is the one for you.
Investing in a good camera for sports photography can give you better shots and the opportunity to learn the technicalities of what gives you the best photos in the field.
So, have you decided on yours yet?
---
Disclosure/Disclaimer: As an Amazon Associate, we earn from qualifying purchases. Certain content was provided "as is" from Amazon and is subject to change or removal at any time.