Do you want to start taking amazing photos, right now?
You've come to the right place.
PhotoWorkout is one of the most popular photography resources on the web, having produced hundreds of articles for millions of yearly readers.
And our goal is to help you take your photography to the next level, through our tips, tutorials, videos, courses, and more.
We cover every imaginable genre of photography, including (but not limited to!):
portrait photography
nature photography
landscape photography
product photography
fashion photography
macro photography
astrophotography
street photography
We also specialize in gear reviews, highlighting the best cameras, lenses, and accessories on the market today. We'll tell you everything you need to help you decide the perfect camera equipment for your needs.
And then we'll help you use it.
So if you're looking to improve your photography skills, then you're where you belong.
What Can PhotoWorkout Do for You?
At PhotoWorkout, we care about one thing: Helping you to become a great photographer.
What does this mean?
It means showing you how to find the best gear for the best prices.
It means telling you how you can use that gear to capture amazing photos, consistently.
It means explaining how you can create gorgeous compositions with a few simple guidelines.
It means demonstrating photography lighting techniques, from beautiful natural light to flash photography in your home.
And it means tutoring you in post-processing, so your photos can have that extra professional touch.
That's what PhotoWorkout can do for you. That's why we publish up to seven articles a week, all offering free access to some of the best photography advice on the planet.
So if any of this speaks to you, then look around the PhotoWorkout site. Check out our latest gear reviews, our photography tutorials, and our software instruction.
And then go outside and start practicing! Because with our knowledge combined with your effort, you'll be going places–fast.
Independence
PhotoWorkout creates independent buying guides and reviews for photography enthusiasts.
Our content is planned by the editorial staff, keeping the benefits of the reader it's primary objective.
Reviews and buying guides are created without any business considerations. We may place affiliate links on some of our posts and earn a commission from qualifying purchases. Those posts disclose that we may earn commissions.
PhotoWorkout does not make paid endorsements, nor do we create sponsored content.
We do not accept gifts or compensation from vendors.
Comprehensive and Reliable: PhotoWorkout's 2024 Product Ratings Explained
Our unique rating score provides a comprehensive evaluation of cameras and lenses, focusing on several key factors to ensure you get a clear and reliable assessment. Here's a general overview of what goes into the score:
Customer Reviews: We heavily factor in customer opinions from major retailers. This ensures that our score reflects real-world experiences and satisfaction.
Review Volume Bonus: Products with a high number of reviews receive a small bonus to their score. This is because a large number of reviews can indicate a well-tested and widely accepted product.
Age Factor: We slightly adjust the score for older products. The idea is that newer models might offer more advanced features or improvements.
Price Consideration: We understand that value for money is important. Therefore, very expensive products might have a slight reduction in their score to reflect their higher price.
The final score is presented on a scale from 1 to 100%, making it easy to understand at a glance how well a product is rated. A higher percentage indicates a better overall rating based on customer satisfaction, value, and up-to-date technology.
Meet the PhotoWorkout Team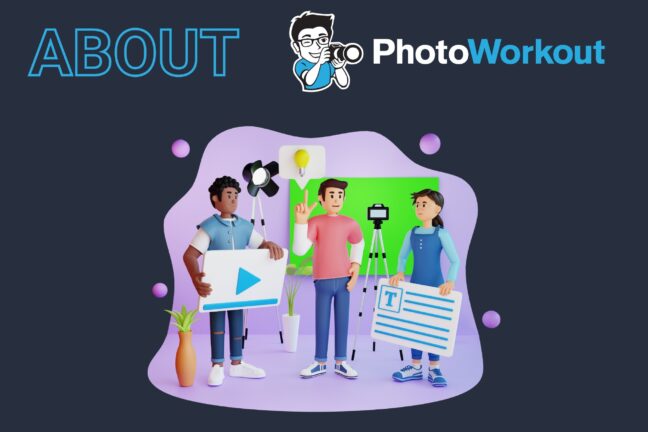 No photography resource is complete without the team that runs it–a team that knows everything there is to know about photography, and then some.
And here at PhotoWorkout, we pride ourselves on our photography experience. Because our team has a combined five decades working behind the camera, researching photo techniques, and writing about photography.
This includes the PhotoWorkout founder, Andreas De Rosi, who is a seasoned marketing consultant with a passion for photography that dates back to his teenage years when, at the age of 14, he transformed his bathroom into a darkroom to develop black and white films. Presently, he holds a leadership role in the editorial process at PhotoWorkout, where he brings his expertise and experience to the forefront, guiding the publication's content and direction.
Jaymes Dempsey, writer and photographer, who has twelve years of experience in the photography niche, and whose work has been published on sites such as Digital Photography School, PetaPixel, PhotoTraces, and more.
Gemma Dempsey, writer, editor and graphic designer, who took her first job in the photography industry at the age of 10, and consistently strives to take PhotoWorkout to the next level.
Anabel DFlux is a talented photographer known for her captivating visual storytelling and unique artistic perspective. Her work demonstrates a keen eye for detail and a deep understanding of the emotional impact that photography can convey.
Paul Skidmore, travel photographer, post-processing expert, and all-around software extraordinaire, who reviews up-and-coming software for our readers.
Rajib Mukherjee, avid travel photographer and overall shutterbug, who has over ten years of experience writing about cameras and lenses.
And Meghan Boilard, an artist and writer whose work has been featured internationally in dozens of photographic exhibitions and publications.
The PhotoWorkout team also has a diverse set of specialties, from technical gear matters to nature photography to portrait photography to travel photography and more.
So no matter the topic, PhotoWorkout is ready–to share it with the world.
How You Can Become a Part of PhotoWorkout
PhotoWorkout is always looking for the best photographers and writers around–to create content on everything related to photography.
So if you'd like to be considered as a possible PhotoWorkout contributor, mail us at info@photoworkout.com with a description of why you think PhotoWorkout would be a good fit for you and what you can bring to the PhotoWorkout team.
---
Contact Information
Email: info@photoworkout.com – Please visit our contact page for more contact options.
Our Admin HQ
Our administrative office is located in Berlin, Germany, but we are a remote team serving English speaking countries globally.
PhotoWorkout Owner and Publisher
Andreas De Rosi
Waitzstr. 26 Berlin
10629 GERMANY
Phone: +49 (30) 220 78778
Email: andreas@photoworkout.com
VAT: DE320611828
PhotoWorkout is a registered trademark of Andreas De Rosi.