Amsterdam is a cosmopolitan city that has enthralled travelers for decades. As the capital city of the Netherlands, it plays an important role in the country's economy. With a greater metropolitan population of over 8 million, it is one of the largest conurbations in Europe.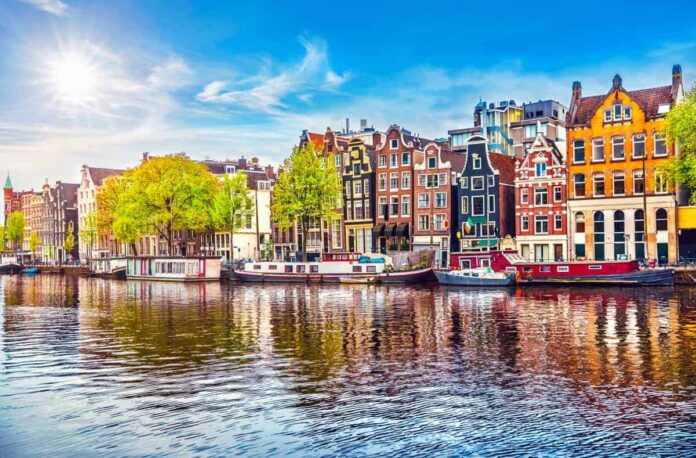 What to photograph in Amsterdam can be a tricky subject – the city has literally that much to offer! Amsterdam is renowned for its canals, cannabis culture, and of course the red light district – there is so much more to offer, however!
It is one of the most visited tourist destinations in Europe. People literally flock from around the world to see what the fuss is about. When you consider the list of sites and attractions available here it is easy to see why.
Amsterdam boasts the stunning Rijksmuseum, the modernist Van Gogh Museum, and the historical Anne Frank House for example. Those are just a few of the well-known sites too – as you delve deeper, you will see just how much this sublime city is hiding.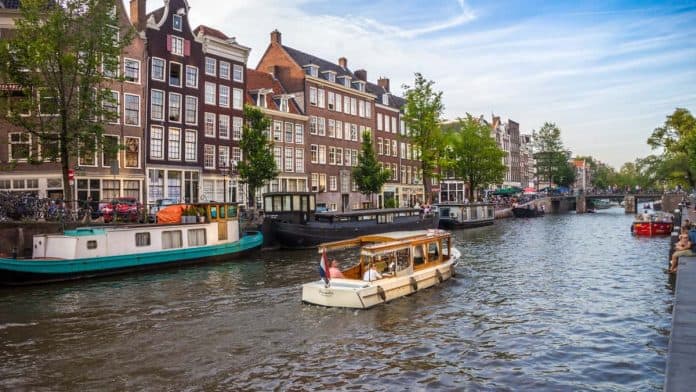 For photographers, Amsterdam is a dream – it is such a varied place. In this article, we look at what to photograph in Amsterdam. We also provide a host of useful tips and must-see attractions – enjoy!
Amsterdam Photography Tips
First, we will offer our photographic advice. To help choose what to photograph in Amsterdam we have listed several tips. You will find new twists and turns around every corner. It really is a fantastic city that is waiting to be explored.
Remember to make use of the I Amsterdam card – this excellent discount card gives you a reduced access price to numerous attractions such as the Artis Royal Zoo, NEMO Science Museum, and Rembrandt House. The following are some useful photography tips for your Amsterdam adventure:
1. Take photos during both day and night
Amsterdam looks completely different during the day and night. Yes, we appreciate this might be obvious, but it is surprising how many photographs neglect different times of the day. Consider taking the same photo at different periods.
Related Post: Best Photography Spots around the World
For example, you could snap a pic of a canal early in the morning at sunrise. You could then return again during daylight, dusk, sunset and night time. Each photo will look completely different – the reflections of the water will differ, and things like street lights will change the ambiance.
2. Take a tripod or mini tripod for long exposure shots of the waterways
As you will see below, one of the main features of Amsterdam is its canals. Long exposure shots of canals and waterways create some beautiful end results. Don't you just love to see that silky smooth effect where the water looks like a blanket? You can create this effect too if you take a tripod with you.
Consider taking a small portable tripod such as a Gorillapod. Alternatively, if you have the storage, you could take a full-size tripod. A tripod will give you stability and allow you to take long exposure photos of the canals and bright neon lights at night.
3. Don't take photos in the red light district at night!
This is a huge no-no and can land you in serious trouble. The red light district is the main attraction in Amsterdam. It is famed for its gaudy neon lights, window displays, prostitution and an array of weird and wonderful shops.
If you take photos here at night, you really are taking a risk. There have been many instances of club owners and bouncers smashing cameras of those taking pics – it's literally not worth it. Even if you are sneaky it's not worth getting caught – be content simply exploring this strange area of the city!
4. Be mindful of bicycles and pedestrians
Amsterdam is packed full of bicycles – it is what the city is known for. Moreover, it is extremely busy with tourists. When taking photos, always be mindful of your surroundings and watch out for cyclists! Don't simply stand out in the middle of the road or block a pavement for example. Furthermore, protect your camera and be patient when snapping shots of famous locations – you may have to jostle with a crowd of like-minded tourists!
Bear these tips in mind when choosing what to photograph in Amsterdam. Most of all, have fun and enjoy the experience!
5. What to Photograph in Amsterdam?
Now we come to the main part – what to photograph in Amsterdam. I found it extremely difficult to narrow this part down. There is literally that much to choose from! When I visited Amsterdam it felt like a whirlwind. I saw some cool sites and made the most of my time there. I know however that I only just scratched the surface of this magnificent place. The following are some of the main sites and attractions in Amsterdam for your benefit:
Rijksmuseum (an Awesome building full of European art)
Anne Frank House (Museum and House where Anne Frank lived during WWII)
Dam Square (Impressive square with central monument)
Vondelpark (Beautiful park with lakes and greenery)
Heineken Experience (Epic tour through the Heineken brewery)
Bloemenmarkt (Gorgeous waterside flower market)
Amsterdam Museum
Science Center NEMO
Madame Tussauds
Aside from the above, as you will see there is a host of other cool things to see in Amsterdam. In the below section, I look at what to photograph in Amsterdam and also share some of my pics from my time in this amazing city:
6. Canals / Waterways
This is one of the main reasons I was excited to visit Amsterdam. Its canals are renowned throughout the world. I couldn't wait to explore these waterways and look at the surrounding buildings and houseboats. The following are some of the notable canals in Amsterdam:
Singel
Herengracht
Keizersgracht
Prinsengracht
Brouwersgracht
I would strongly recommend simply walking through the city and exploring the canal systems. Don't plan a specific route – simply walk and see what you can find. This should certainly be top of your list of what to photograph in Amsterdam. There is so much opportunity – ornate bridges, beautiful houses, and intriguing houseboats to name a few examples. Each canal will present something different.
Also, consider taking a boat ride on the canals to photograph them from a different perspective.
7. Bicycles
If you don't see a bicycle during your time in Amsterdam I would be hugely surprised. Did you know that Amsterdam citizens cycle approximately two million km per day combined? You can check out some other cool bike facts here. I saw hundreds of bikes – some were personalized with cool colors. Some were worn out and battered. Some had cute storage baskets.
You could literally spend a whole day photographing different bikes if you wanted! The classic shot is a bicycle leaning against a canal bridge as you can see in my example below. Be creative though! You can create some cool and interesting shots with bicycles if you think out of the box.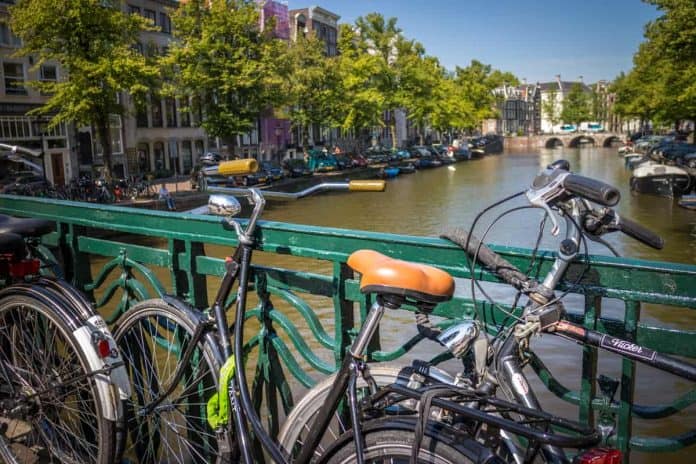 8. Tulips
Now I personally didn't photograph any Tulips but the Netherlands is renowned for this beautiful flower. You can see tulips during certain seasons and events in and around Amsterdam. This flower blossoms during the springtime and this is when the country bursts into color.
In Amsterdam, you can visit Dam Square on National Tulip Day as it becomes covered in a blanket of the colorful flowers. Moreover, during the month of April, the city holds their national Tulip Festival – the streets become awash with flowers. During these periods you can get some absolutely fantastic shots that show Amsterdam in a completely different light. If you want a day trip you can visit the iconic Flower Strip which boasts row after row of tulips and other delights.
9. Gable houses and architecture
Amsterdam is famed for its amazing architecture. The canals are lined with thin narrow four and five-story houses. Most of these houses are extremely old and are topped with beautiful gables in a myriad of shapes. This type of architecture should certainly be high up on your list of what to photograph in Amsterdam. If you walk down the canals you can see the evolving styles of the gables and how the architecture of the city has changed over the years.
Aside from the gables and canal rows, Amsterdam also has some iconic buildings. You can create some fantastic photos of these landmarks. The Rijksmuseum and Royal Palace, for example, are two 19th century buildings with ornate facades. See what you can find and try and capture these buildings in interesting compositions.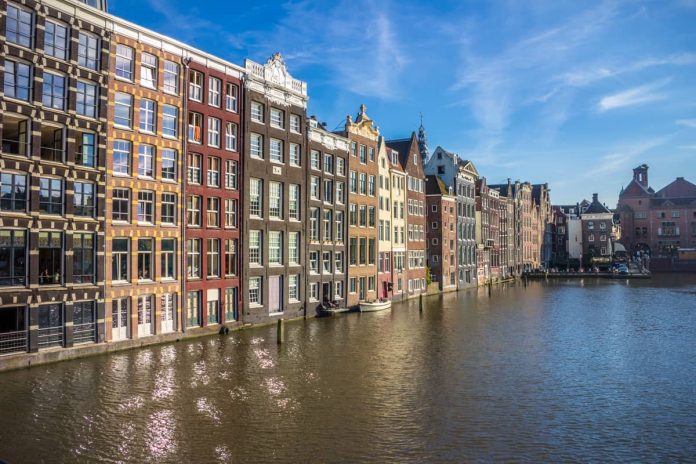 10. Parks
Not only does Amsterdam have some amazing architecture, it also has some beautiful green areas. When I visited the city, I spent time strolling through the sublime Vondelpark – it was simply gorgeous. If you love the outdoors and nature, these parks are havens inside the city. Furthermore, they present fantastic photographic opportunities. The following are the top parks for your list of what to photograph in Amsterdam:
Vondelpark
Westerpark
Amstelpark
Beatrixpark
Rembrandtpark
Vondelpark is possibly the most famous – it has some amazing sculptures, statues and bridges. The other parks are just as fascinating too. You can photograph the trees and plants, or take landscape shots of the different gardens and arrangements.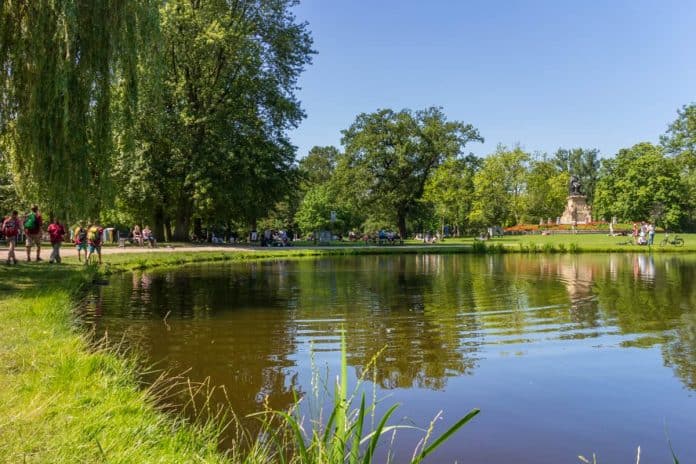 11. Docks and Port
Outside the canals and Centrum of the city, Amsterdam has a huge port. This area is extremely interesting and is a hive of activity. The port area is packed full of commercial activity with container ships and other vessels – this provides some excellent photographic compositions. Moreover, many cruise ships dock here to add an extra layer of depth to the goings-on.
I took a boat tour of the canals which actually led out into some of the port area – you could see the various ships and yachts and it was a superb experience, especially for photography.

12. Coffee Shops
When people talk about coffee shops in Amsterdam, they generally mean ones at which you can partake in a legal high. This may not be your thing (I didn't touch any during my trip), but the whole culture surrounding this part of Amsterdam is fascinating. Furthermore, the coffee shops themselves are often quirky and simply magnificent to photography.
The Bulldog, for example, has exterior walls that are covered in graffiti and interesting artwork – inside it is filled with cannabis memorabilia. Alternatively, Barney's Coffee Shop is housed within a 16th-century building and looks like an ancient apothecary. Consider venturing into one of these shops to see what the fuss is about, and to take some unique and interesting photos.
13. Bloenemarkt
Last but not least on our list of what to photograph in Amsterdam we have the amazing Flower Market. I had to include this iconic attraction – it is just too good to miss! It is the only floating flower market in the world and over the years has expanded. It is mainly located on the Singel canal between Muntplien and Koningsplein but there are many surrounding stalls too.
Within this awesome place, you can find hundreds of stalls selling anything and everything. I enjoyed walking through the market and looking at the multicolored displays of flowers, crafts, food, and clothing. It really is interesting! The different stalls provide endless photographic opportunities.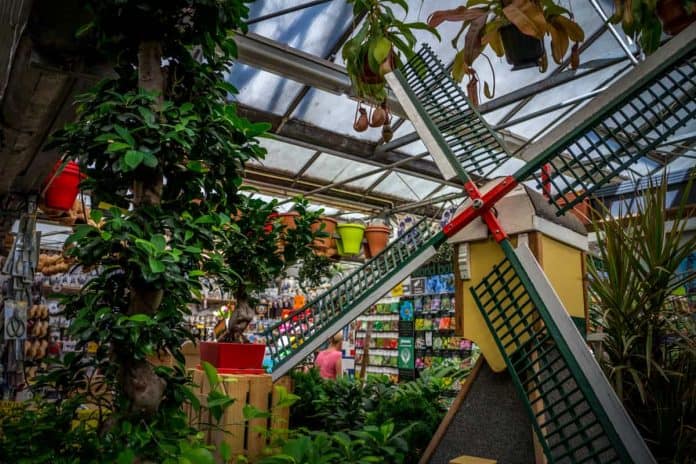 I hope you have found this article useful! Amsterdam really is a fascinating place. It is certainly one of the top cities I have visited in Europe to date. You should now have a clearer idea of what to photograph in Amsterdam and the wonders this place holds. If you have visited the capital of Holland, drops us a line and show off your snaps!