Kyoto is one of those cities that often gets talked about as a good destination for travel photography, and I have to say, it totally lives up to expectations. It's known as a place where photographers can spot the glamorous Geisha alongside exquisite Shinto shrines. There's no shortage of beautiful photography spots while exploring Kyoto.
I visited Kyoto in the summer and had an enjoyable photographic experience, though next time I'd choose to go back in one of the shoulder seasons as it would be even more special to see the city with vibrant autumn leaves or pastel cherry blossoms adorning the major sites and streets.
If you're planning a trip to Kyoto and are looking for some Japan photography inspiration, here are my suggestions for all the best photography spots in Kyoto!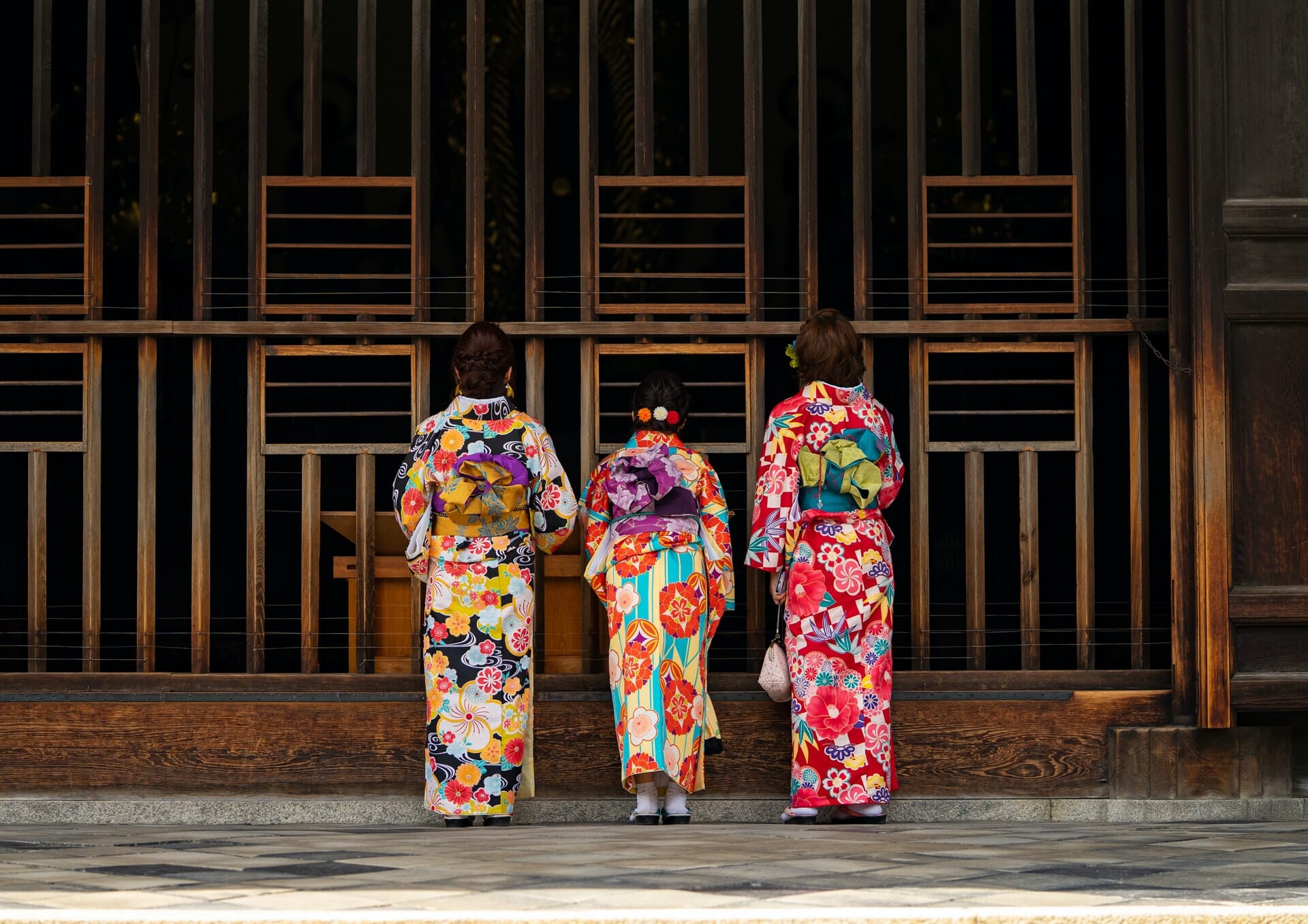 Best Photo Spots in Kyoto:
Kyoto Photography Tips:
Each season looks drastically different in Kyoto. Many people visit to see the cherry blossoms (sakura) blooming in spring, or in autumn to see the Japanese maple trees as their leaves change color. In summer, the forests surrounding many of the temples appear a beautiful deep green, and in winter you might be lucky enough to see a light covering of snow on the ground. There is, unfortunately, no way to capture all of the major sites in Kyoto at their seasonal best without visiting on four separate occasions throughout the year, so you'll just have to come back another time if you aren't satisfied with the seasonal photography options on your first trip.
You might want to know how long you should put aside for a Kyoto photography trip. I'd suggest that you definitely take a few days, maybe even a week, so that you have plenty of opportunities to visit the most popular spots at times when they aren't crowded.
It's important to note that Japanese culture is quite different from western cultures, so read up on the local etiquette before you visit Kyoto. You don't want to accidentally offend people because you didn't take off your shoes before entering a temple, or by talking on the phone while using public transport, or by blowing your nose loudly in public! All of these things are considered inappropriate while traveling around Japan.
1. Fushimi Inari Shrine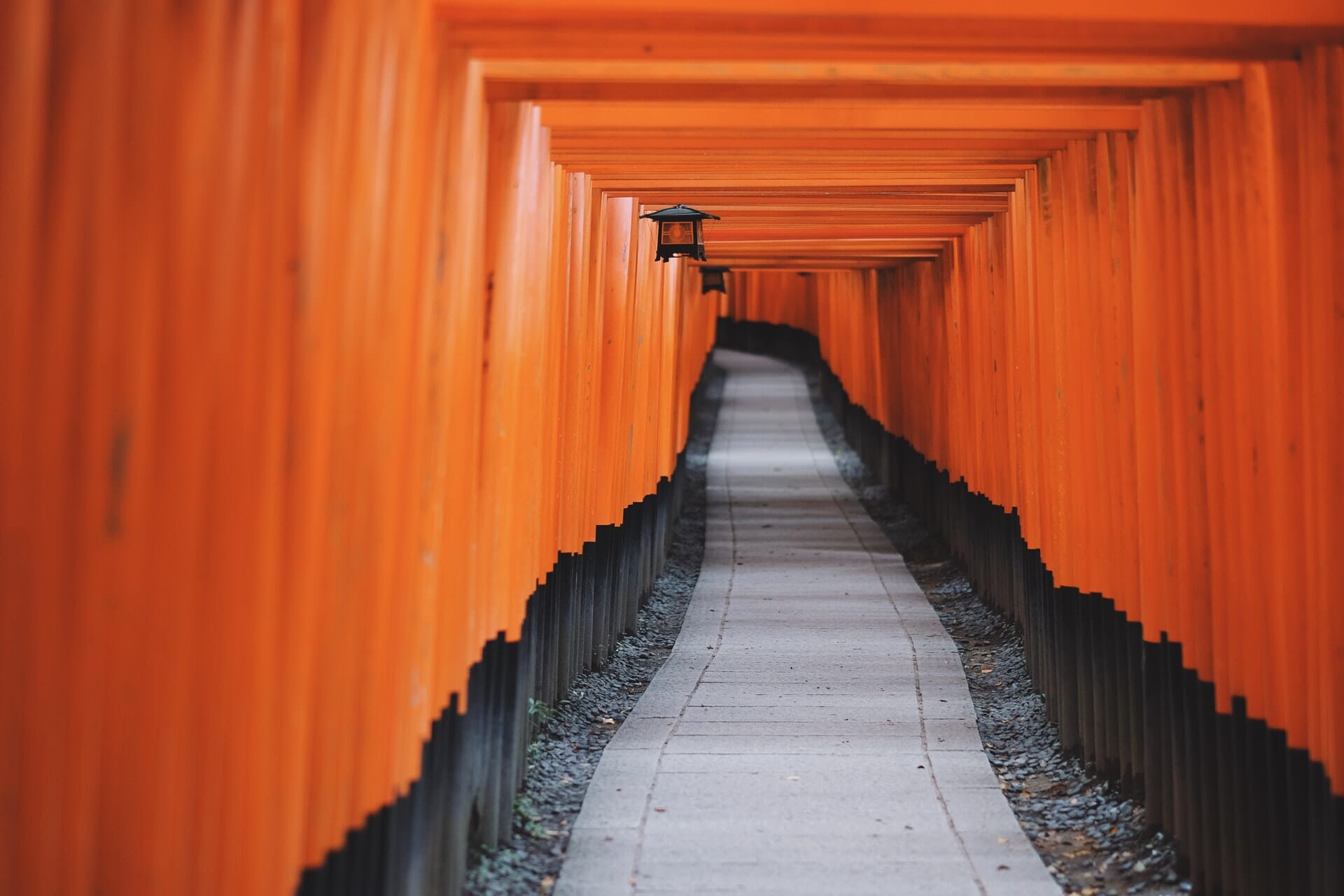 Fushimi Inari is one of the most visited Kyoto Instagram photography spots. It's easy to see why every camera-ready social media influencer is obsessed with getting their photo taken here–the captivating Shinto shrine features endless rows of bright red torii gates which look fabulous no matter what angle you capture them from.
Because of its popularity with tourists, it's best to visit early in the morning while the shrine is still quiet. The torii gates are fortunately spread over a large area on a mountainside, so you can also follow the Fushimi Inari Pathway uphill to get some distance from the crowded entrance where most people stop for photos. Experiment with wide and narrow apertures for varying depth of field, or play with long exposures to capture the movement of people as they walk along the path.
2. Arashiyama Bamboo Forest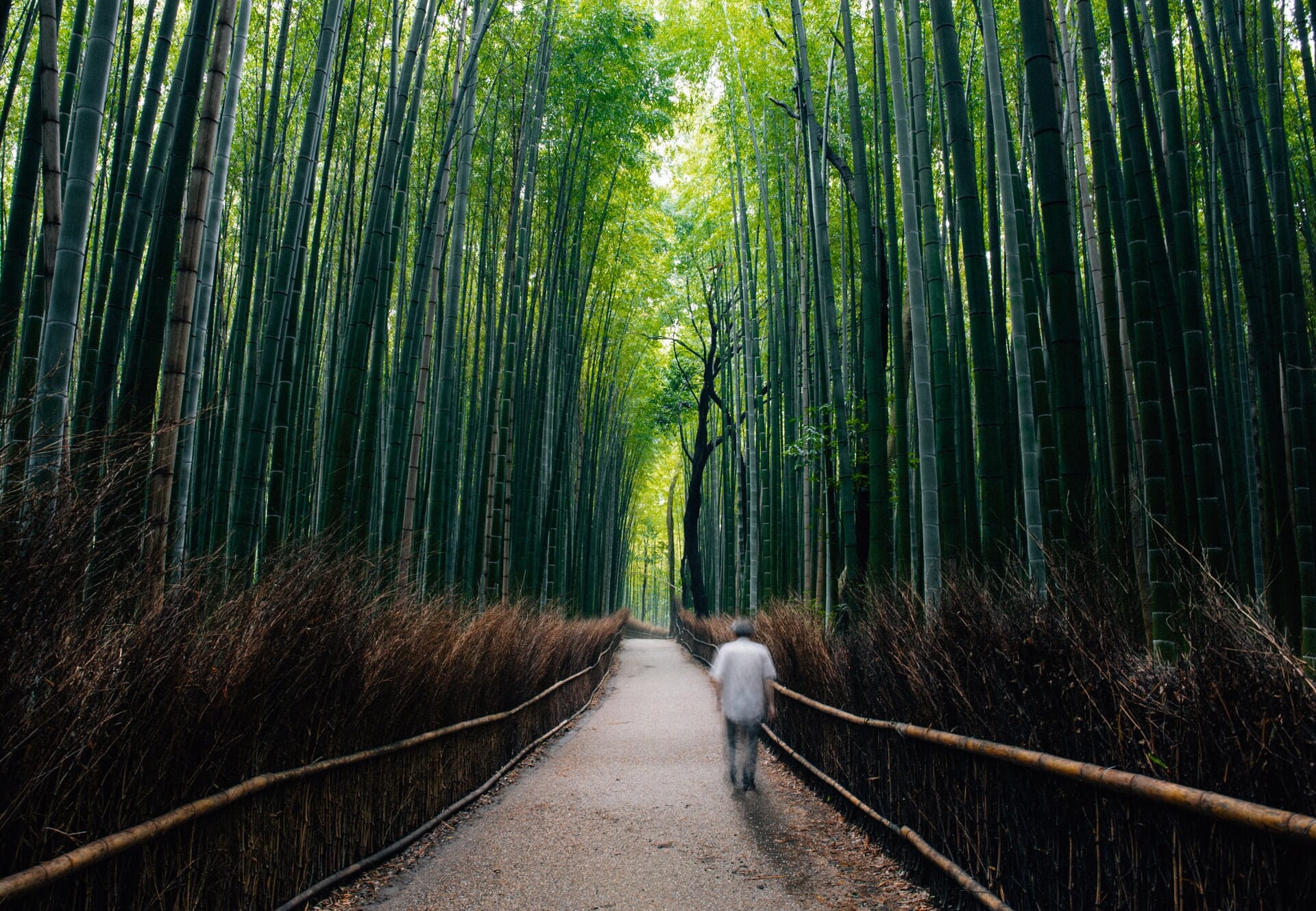 The Arashiyama Bamboo Forest features a walking path through towering bamboo trees and is one of the most enticing photography spots in Kyoto. Unfortunately, it is also one of the most visited, and getting a good photo is near impossible when you're battling the busloads of tourists that arrive throughout the day.
As with Fushimi Inari, the best way to capture the bamboo forest is to arrive early, and I mean very early, in the morning. Take a tripod with you for using a slow shutter speed on the shaded path, and an extreme wide angle lens to capture an upwards perspective of the bamboo trees.
3. Kameyama Park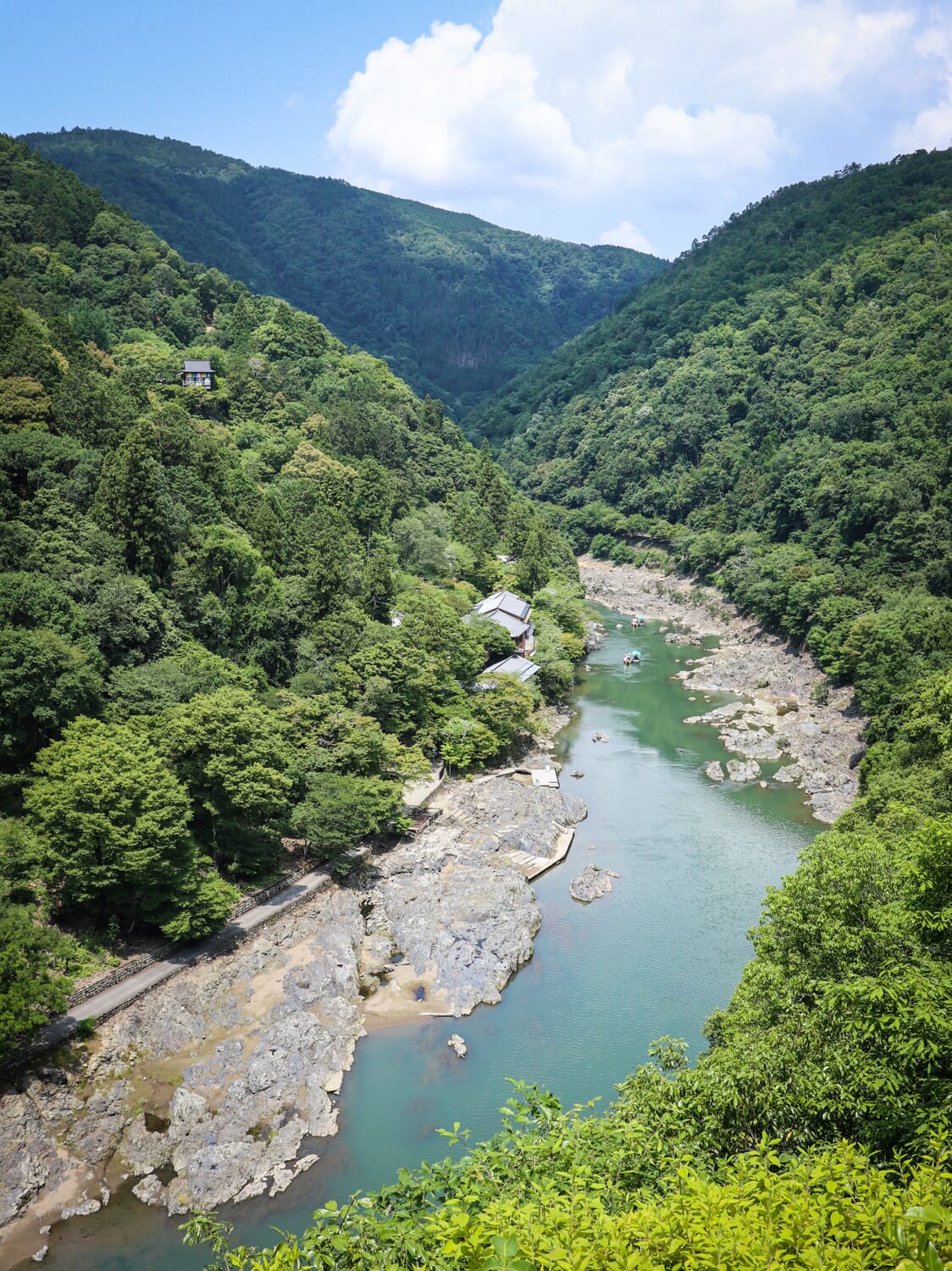 Right next to Arashiyama Bamboo Forest is Kameyama Park, and contrary to the busyness of its neighbor, this spot gets barely any tourists. A short hike through the park will take you to the Arashiyama Park Observation Deck where you can find a stunning vista of the Katsura River and valley, including some historic Buddhist temples nestled into the forest on the distant hillside.
4. Otagi Nenbutsu-ji Temple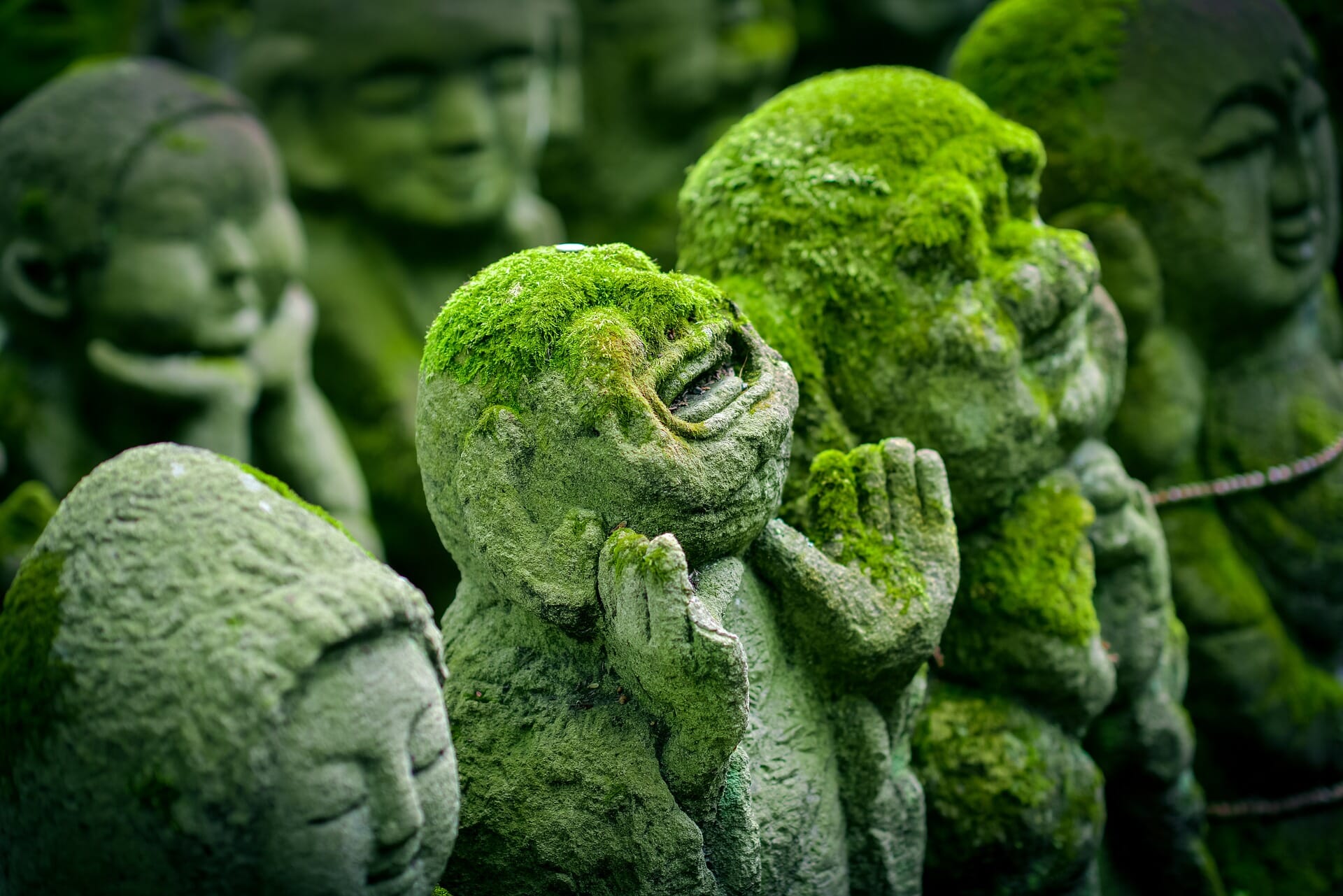 The Buddhist temple of Otagi Nenbutsu-ji sits on a hill near Arashiyama. It's known for having thousands of stone figures scattered around its grounds which were carved by worshippers who came to learn stone carving techniques from the monks. Their stone faces make some unique photography subjects–take your prime lens to capture the detail in their expressions.
5. Daigo-ji Temple
Daigo-ji is famed for its gorgeous garden, which is most dazzling when the Japanese maple trees are colored brightly during the autumn season. This Buddhist temple also features a photogenic reflective pond plus a charming red footbridge and five-story pagoda. Be sure to take a polarizing filter to reduce the reflections and saturate the colors at this Kyoto photo spot.
6. Kinkaku-ji [Golden Pavilion]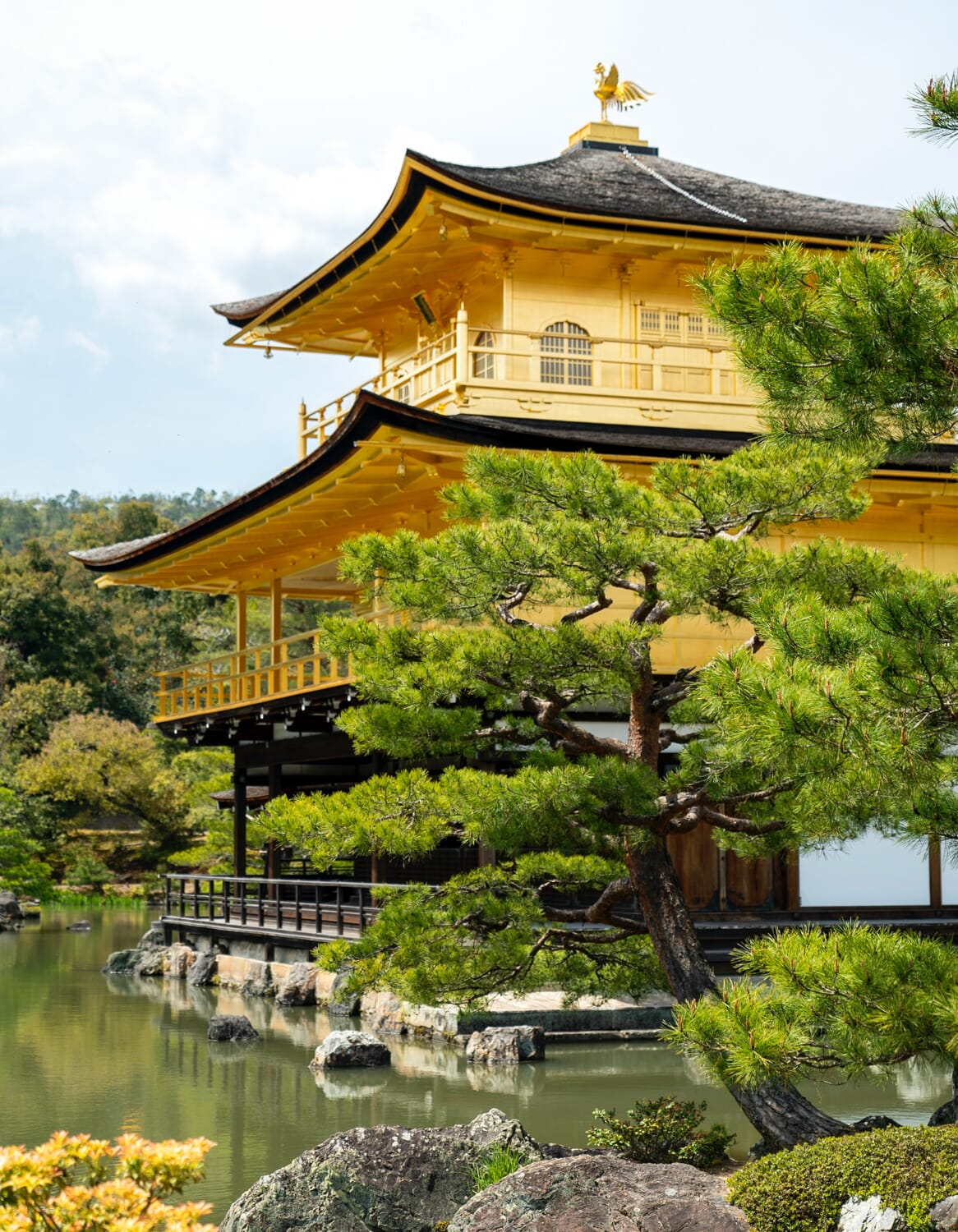 Kinkaku-ji is a Buddhist pagoda that was built to store precious relics and is now a beautiful temple. Its shiny exterior is most visually stunning in the summer as the gold-leaf walls contrast with the rich greens of the surrounding native forest.
The Golden Pavilion is often visited by busloads of tourists during their Kyoto day tours, so time your visit at the start or end of the day to do some natural light photography while avoiding the crowds.
7. Gion District

Gion is the area to spot Geishas in Kyoto. I wasn't lucky enough to see any of these elegant ladies during my visit, but I did spot plenty of regular people wearing traditional kimonos while wandering around this historic district.
Head to Yasaka-dori for what could be considered the most iconic Gion photo spot, as this street has a stunning aspect downhill towards the 5-story Buddhist pagoda at Hōkan-ji Temple. Gion is also a superb place to practice street photography as there is plenty of action happening around every corner.
8. Yasaka Shrine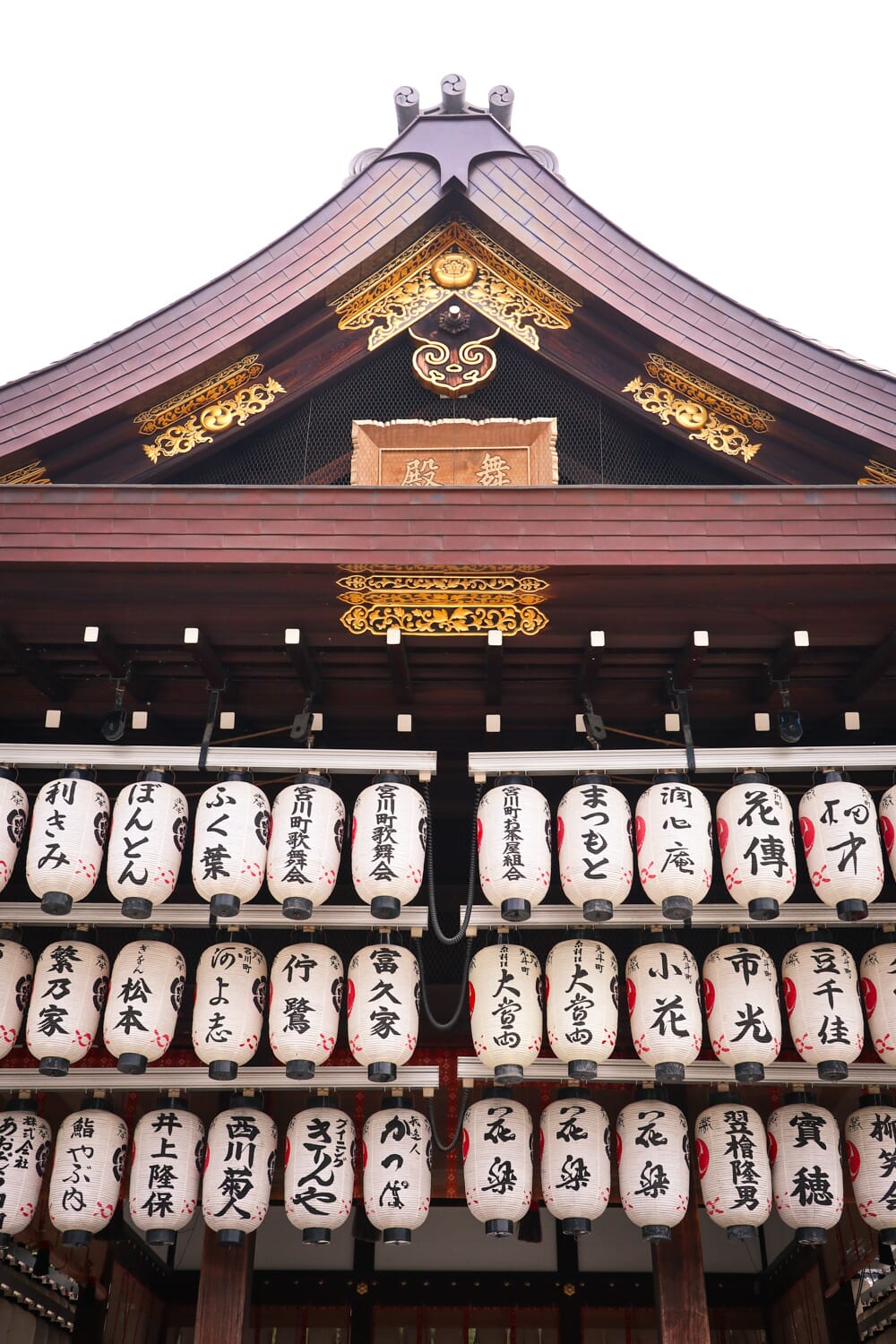 Yasaka Shrine is positioned in a large city park which is recognized for its beauty during cherry blossom season. The Maidono was my favorite part of this Shinto shrine as its rows of white lanterns hanging from beams on the wooden structure looked particularly nice in their neat lines.
Yasaka is also a great location to see local people dressed in kimonos and doing Shinto prayers out in the open. Take a telephoto lens so that you can capture this religious ritual from a respectful distance.
9. Kiyomizu-dera Temple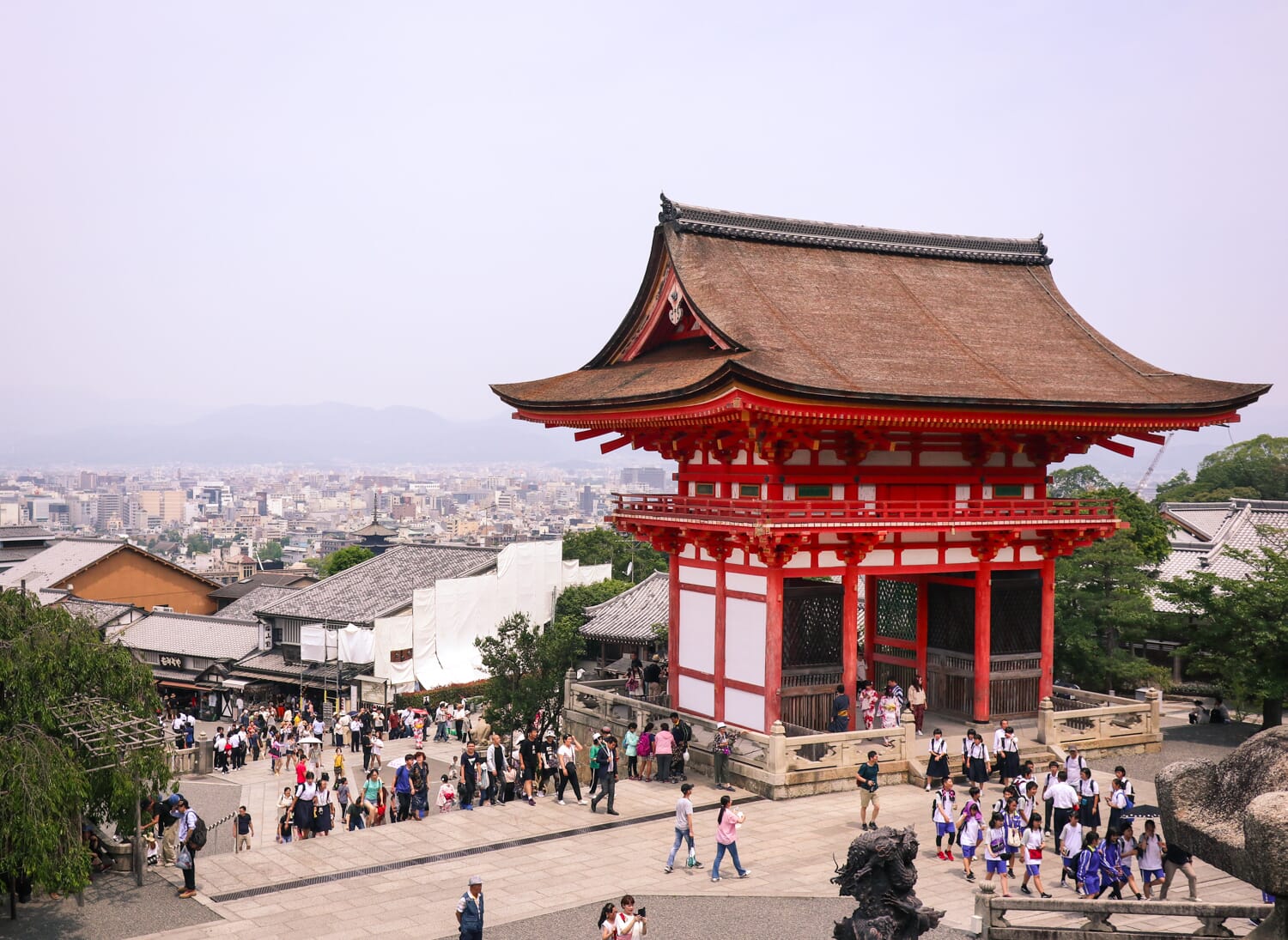 The pagodas and gates that surround Kiyomizu-dera provide some fabulous architectural photo opportunities, but I think the best part of this temple is the views. The UNESCO World Heritage site is positioned on a hillside with a fabulous vista over Kyoto, making it an awesome photography spot. You can easily walk around to find photo spots where the historic buildings are featured in the foreground and the modern city is sprawled out in the distance.
10. Tofuku-ji Temple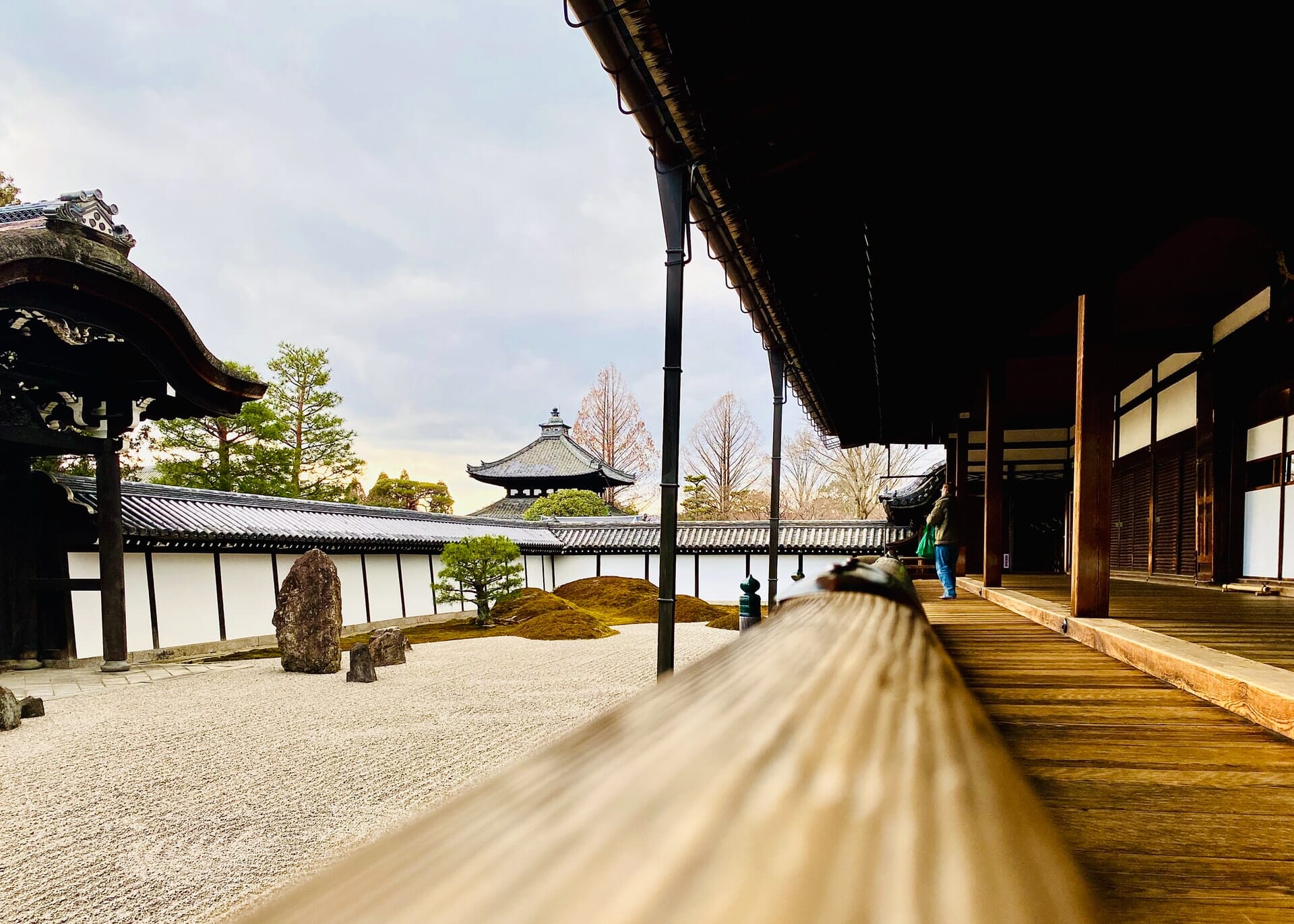 Tofuku-ji is a temple of Zen Buddhism, so if you're looking to capture delicately drawn lines of pebbles in a large zen garden, this is the perfect location for it. Japanese maple trees and moss-covered stepping stones are some of the other photogenic aspects of the grounds at Tofuku-ji, so you can take this opportunity to practice your garden photography.
11. Kiyamachi-dori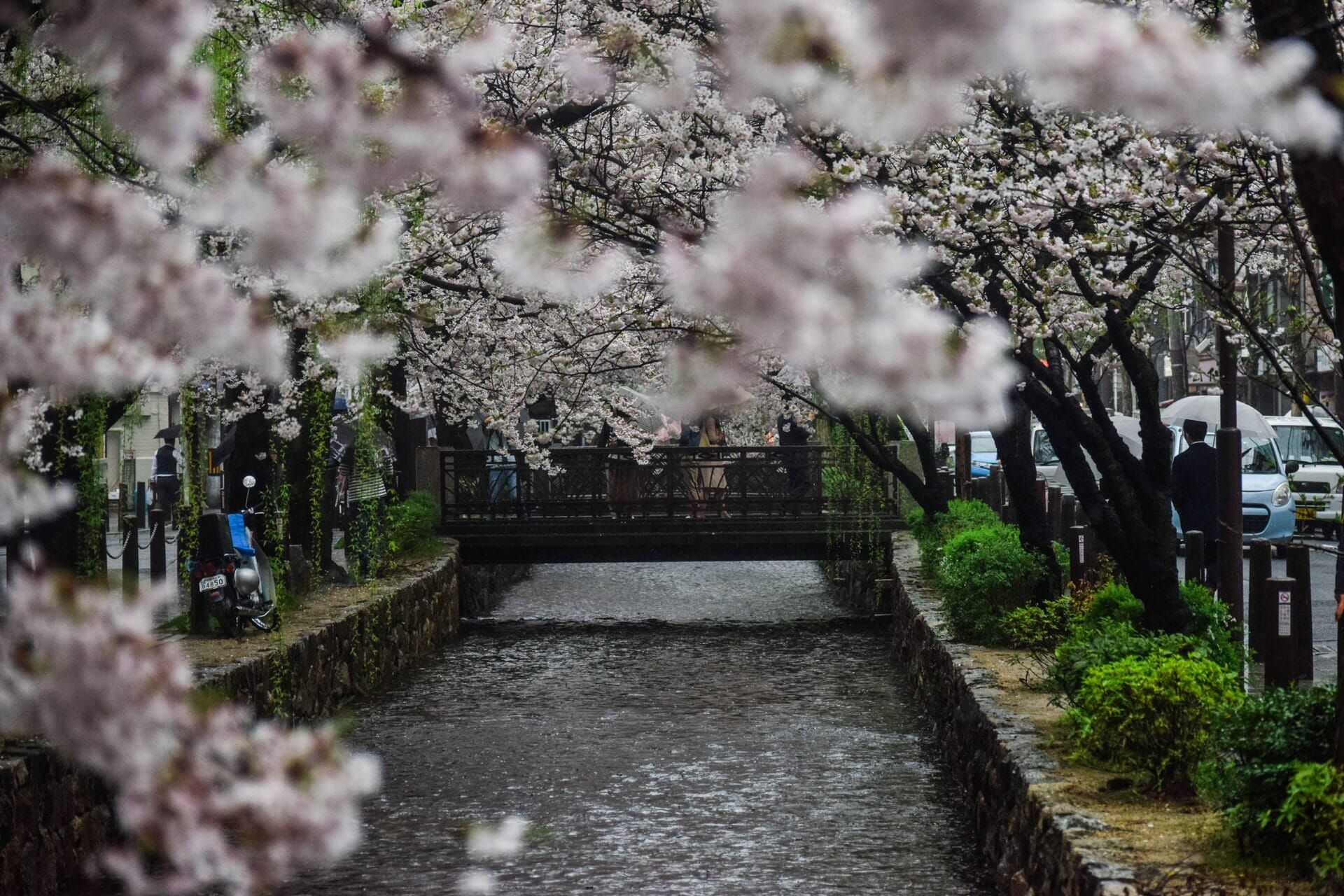 Kiyamachi-dori is a pretty, tree-lined street that follows a canal south of Kawaramachi station. This is one of the best spots for capturing cherry blossoms in spring and is also a popular location for outdoor photoshoots.
The street features restaurants with traditional Japanese entrances, street lanterns that light up after sunset, and a handful of cute pedestrian bridges that cross the canal. Kiyamachi-dori is most lively in the evening when people are heading out for dinner, but you'll find some opportunities for urban photography at any time of the day.
12. Suirokaku Water Bridge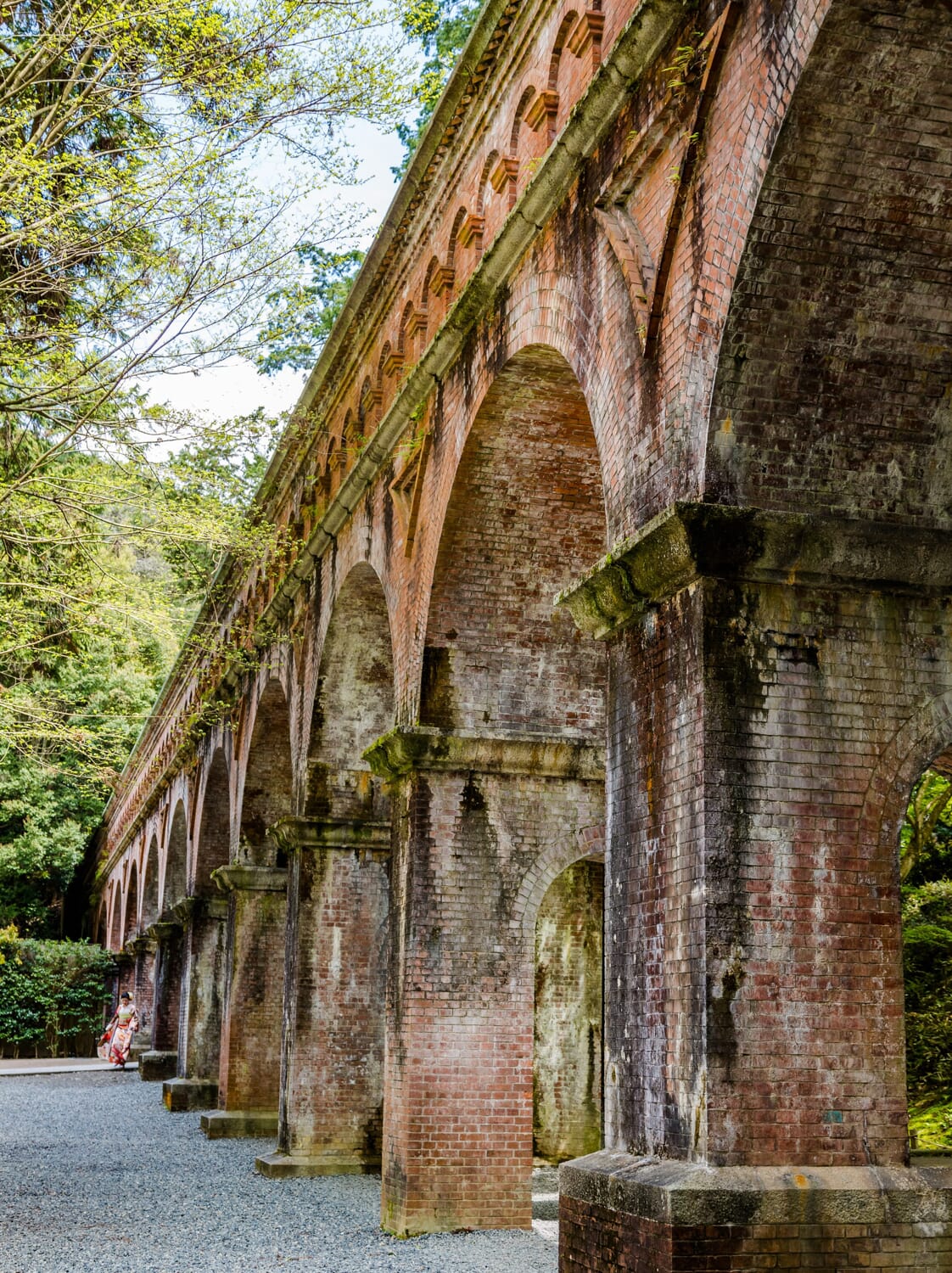 For something a little different to Kyoto's historic shrines and temples, the Suirokaku Water Bridge is sure to pique your interest. This brick aqueduct in a city park was built in the 1890s and is still in use today.
Photographers can enjoy various angles from the pebble-covered ground surrounding the base as well as looking through the center of the arches underneath the aqueduct. This spot can also be a great location for portrait photography if you'll be visiting Kyoto with a friend.