While action cameras allow you to record special moments, exciting adventures, and epic sporting clips, they can often be expensive. I know that not everyone wants to pay top prices for cams offered by GoPro and DJI, especially if they're just looking to record a few videos to share on social media.
That's where the best action cameras under $100 come in handy! There are a handful of options that won't break the bank, and their affordability doesn't come at the expense of quality and features. These models offer 4K recording, excellent image stabilization, and a host of accessories.
Sorting through all the different cameras can be tough, but I've done the research so you don't have to, and I share the seven most impressive options below. If you're looking for a budget action cam to capture your adventures, one of these outstanding units is bound to do the trick!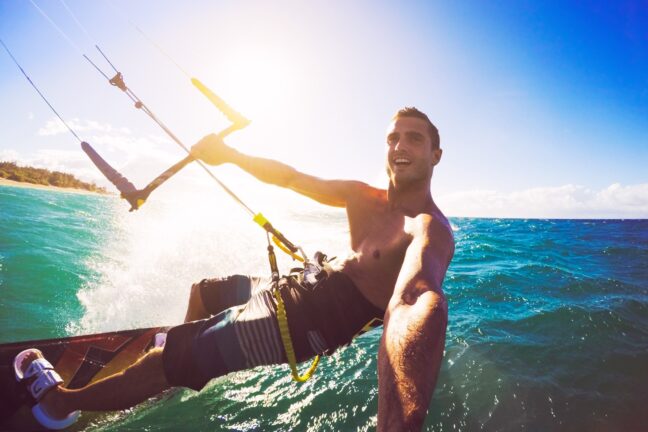 The Best Affordable Action Cameras:
When you buy through links on our site, we may earn a commission at no cost to you. We evaluate products independently. Commissions do not affect our evaluations.
1. AKASO EK7000 Pro
Our Pick
Great for sports
The AKASO EK7000 Pro is equipped with EIS to keep your footage stable, and the 4K/30p recording is perfect for sports and outdoor adventures.
Pros
2-inch IPS touchscreen for easy playback
Waterproof up to 131 ft (40 m) when used with the housing
20 MP photos
Cons
The lens design isn't flush with the camera body
The basic kit doesn't include many mounts
My top pick is the AKASO EK7000 Pro, which is the absolute best budget action cam to date. If you want to get started filming and photographing right away, there's a nice kit that includes a 64 GB microSD card that's still under $100.
AKASO has nailed the recording quality here. You can capture 4K/30p and HD/60p footage for some very cinematic results. I like that you can take still photos at 20 MP, a resolution that beats many budget point-and-shoot cameras. Playback is pretty easy, and I appreciate the 2-inch touchscreen that gives great visibility regardless of the lighting conditions.
For thrill-seekers and adventure vloggers, the built-in electronic image stabilization certainly helps. It means you can use the camera for extreme sports like mountain biking, snowboarding, and climbing. Depending on the look you want to achieve, you can also change the lens from super wide to wide, medium, and narrow.
The camera does have underwater capabilities, and you can use it safely up to 131 ft (40 m) when it's housed in the waterproof case. The only downside is that the basic package is a bit basic and only comes with a single mount.
2. AKASO Brave 4 Pro
Also Great
Great for selfies and vlogging
The AKASO Brave 4 Pro features dual screens so you can vlog, capture selfies, and get a live preview as you film.
Pros
Dual display for selfies and vlogging
EIS to keep your footage sharp and stable
Waterproof up to 131 ft (40 m) with the waterproof housing
Various recording modes
Cons
The AKASO app can be a little clunky
The expected battery life may be overstated
The AKASO Brave 4 Pro boasts a dual-screen design, which means you get screens on both the front and back of the device. The front-facing screen makes this an ideal selfie camera, while you can use the rear screen to get a live preview of your recordings when shooting cinematic videos.
I like trying different compositions when I film, and the Brave 4 Pro is great for this. You can change to a narrow lens mode to give a close-cropped look, which is excellent if you want an emphasis on the main subject as opposed to the surroundings. You can then switch to a wide field of view; this looks especially great when doing travel vlogging where you want to showcase what's happening around you.
Most of the other features are similar to those on the EK7000 Pro. For instance, this affordable action camera offers 4K/30p recording and 20 MP still photos. You also get clear and stable footage due to the upgraded image stabilization.
The unit does support an external mic, although AKASO states that you should only use its own mics. I haven't tested a non-AKASO mic on the EK7000 Pro, but as far as I can tell, the connection should interface with a standard external mic, so this might just be a marketing tactic.
3. AKASO V50 X
Great for adjustable angles
The AKASO V50 X lets you adjust the lens angle from 170 degrees to 70 degrees to capture a wide range of action compositions.
Pros
Built-in EIS for smooth footage
Excellent touchscreen for easy playback
2K/60p recording for cinematic footage
Includes 2x batteries with a total life of 180 minutes
Cons
The kit doesn't include many accessories
Yes, another AKASO action camera! The AKASO V50 X is a fantastic buy and comes in at just under $100. It's comparable to the EK7000 Pro and serves as a nice alternative, and it boasts a variety of recording modes including 4K/30p, 2.7K/30p, and 2K/60p.
I like the intuitive touchscreen, which allows you to preview photos and playback footage easily so you can be sure you've captured the recordings you want. If you're on a longer outdoor adventure or have a range of activities planned, the two included batteries should be more than adequate as they provide a combined recording time of 180 minutes.
The variable angle of view really helps to give you some creative freedom. You can change the angle to 70 degrees, 110 degrees, 140 degrees, and 170 degrees (essentially from portrait to wide angle), and I definitely recommend you try switching between these different options at the first opportunity.
The basic kit includes two batteries, the camera, a waterproof case, and a single mount. This is decent when you're just starting out, though I would like to see a few more mount options and a speedy microSD card included in the package.
4. HLS HCAM20
Great for creative videos
The HLS HCAM20 comes with lots of cool recording modes so you can get creative and have fun.
Pros
Includes wireless wrist remote control
4K/30p recording quality
The package includes three batteries
Wi-Fi connectivity
Cons
The battery life may not be fantastic
Only supports microSD cards up to 64 GB
The HLS HCAM20 is a great action camera if you want to get creative, though it's also a top choice if you're just experimenting with these devices and haven't yet found your niche. It boasts a variety of cool video modes for capturing time-lapses, slow-motion footage, loops, and footage while driving.
In other words, you can have some real fun with this action camera, and you can expect crisp videos thanks to the 4K/30p recording capabilities.
And if you're interested in still photography, the HCAM20 can do that, too. With the wide-angle lens, you can capture 20 MP images that you can turn into beautiful large prints. Connectivity shouldn't be a problem thanks to the model's 2.4 GHz Wi-Fi capabilities; you can easily transfer files to your smartphone or laptop for editing and sharing.
If you enjoy water sports or just being in the water, this action camera is waterproof up to 100 ft (30.5 m). Just make sure you encase it in the included waterproof housing! I also appreciate the protection the housing provides, as it means the lens won't get scratched or dirtied when underwater.
5. AKASO EK7000
Great for camera control
The AKASO EK7000 includes a remote that doubles as a wrist strap, which makes controlling this 4K camera a breeze.
Pros
4K/30p and 2.7K/30p recording
Built-in Wi-Fi
Waterproof up to 98 ft (30 m) with the included housing
High-quality display screen
Cons
Not as many recording modes as the EK7000 Pro
The AKASO EK7000 is slightly more basic than the EK7000 Pro, but it's still a fantastic budget film camera, and there isn't too much compromise on quality and features. You get fewer recording modes but can still produce video at 4K/30p and 2.7K/30p.
The waterproofing is also reduced to 98 ft (30 m) as opposed to 131 ft (40 m) with the Pro, but this should still be sufficient for some snorkeling and playing around in the pool on vacation! I like that two batteries are included – with a recording time of 90 minutes each, you can capture a substantial amount of 4K footage.
Transferring photos is quite easy thanks to the HDMI port, though you can also connect to Wi-Fi and quickly export files to your video editing computer or smartphone. I appreciate how easily you can control the camera thanks to the remote control (though the remote isn't waterproof, so don't try to use it while swimming!).
The remote is really handy, and you wear it with a wrist strap. It's equipped with two buttons – one for video and one for photos – so you can capture footage without having to touch the camera.
6. SJCAM SJ4000
Great for beginners
The SJCAM SJ4000 comes with a 32 GB microSD card, a waterproof case, and a simple menu system. It's everything you need to get started for cheap!
Pros
40 MP still photos
Ultra-wide field of view
Several recording modes
Includes a waterproof case
Cons
The head mount can be fiddly to use
The SJCAM SJ4000 offers a no-fuss approach to action vlogging. I chose this option for those who want to get started immediately without having to buy different accessories – not only do you get an affordable action camera well under $100, but the package also includes a 32 GB microSD card, which means you can start recording as soon as the camera is charged.
The unit is relatively easy to control, either via the rear screen or by connecting a smartphone to the device. If you do hook it up to your smartphone, you can then work with the camera from a distance; for instance, you can start and stop recording, manage files, and export to your phone or cloud storage.
If you want to try your hand at underwater recording during your snorkeling and diving adventures, this model is waterproof up to 98 ft (30 m) as long as you use its waterproof case (which won't reduce the recording quality!).
The SJ4000 can film at 4K/30p in addition to a range of other resolutions, including 720p at 120 FPS for slow-motion shots. I do wish the unit could shoot 1080p footage at 120 FPS – most of the best slow-motion cameras have this capability – but for less than $100, that might be asking too much.
7. Wolfang GA100
Great for car use
The Wolfang GA100 has a car mode, and you can attach the unit to your windshield as a dash cam or an in-vehicle vlogging device.
Pros
Waterproof up to 131 ft (40 m)
Various recording modes include 4K/30p
Smartphone connectivity via Wi-Fi
Decent accessory pack with remote and mounts
Cons
Slow motion only available at 720p
Photo capabilities are not amazing
If you want a general action camera that can be used while on vacation and when driving, the Wolfang GA100 is the model I'd recommend.
I like that it can be used as a dash cam, and with the included sticky mount and upside-down recording capabilities, you can easily attach it to your car's windscreen and start filming. You could film as a security measure, and you could also vlog while driving and/or record your epic car journeys.
Speaking of recording, you get a range of quality settings including 4K/30p, 2.7K/30p, and even 720p at 120 FPS for slow-motion recording. I would prefer if the latter were 1080p, but the quality is still decent for social media. You can also take beautiful still photos with a maximum resolution of 20 MP.
The EIS (electronic image stabilization) works well, so you can get smooth footage even when things get bumpy, such as when you're on a mountain bike. I also like how you can transfer videos to your smartphone using Wi-Fi.
Capture Breathtaking Shots with the Best Action Cameras Under $100!
I hope you're thinking about all the awesome content you can make with these affordable action cams! As you can see, you don't have to break the bank to get a waterproof camera that offers great recording capabilities.
If you just want a cheap device that can record nice footage, the SJCAM SJ4000 and the Wolfang GA100 will do a good job and are both available for less than $50.
Alternatively, if you're looking for more features and even better quality, options like the AKASO Brave 4 Pro, the AKASO V50 X, and the HLS HCAM20 are all fantastic picks.
Overall, however, my top pick is the AKASO EK7000 Pro. It has a slight edge in terms of functionality, it boasts superior waterproofing for underwater adventures, and it can record 4K/30p footage and take 20 MP photos. If you want the best of the best without going over $100, the EK7000 Pro is the right choice.
---
Disclosure/Disclaimer: As an Amazon Associate, we earn from qualifying purchases. Certain content was provided "as is" from Amazon and is subject to change or removal at any time.