You can use action cameras to vlog, share your travel adventures, record sports, shoot cinema-quality videos, and more.
However, they can often be expensive! But don't worry. If you're on a budget, we have found seven of the best action cameras under $100.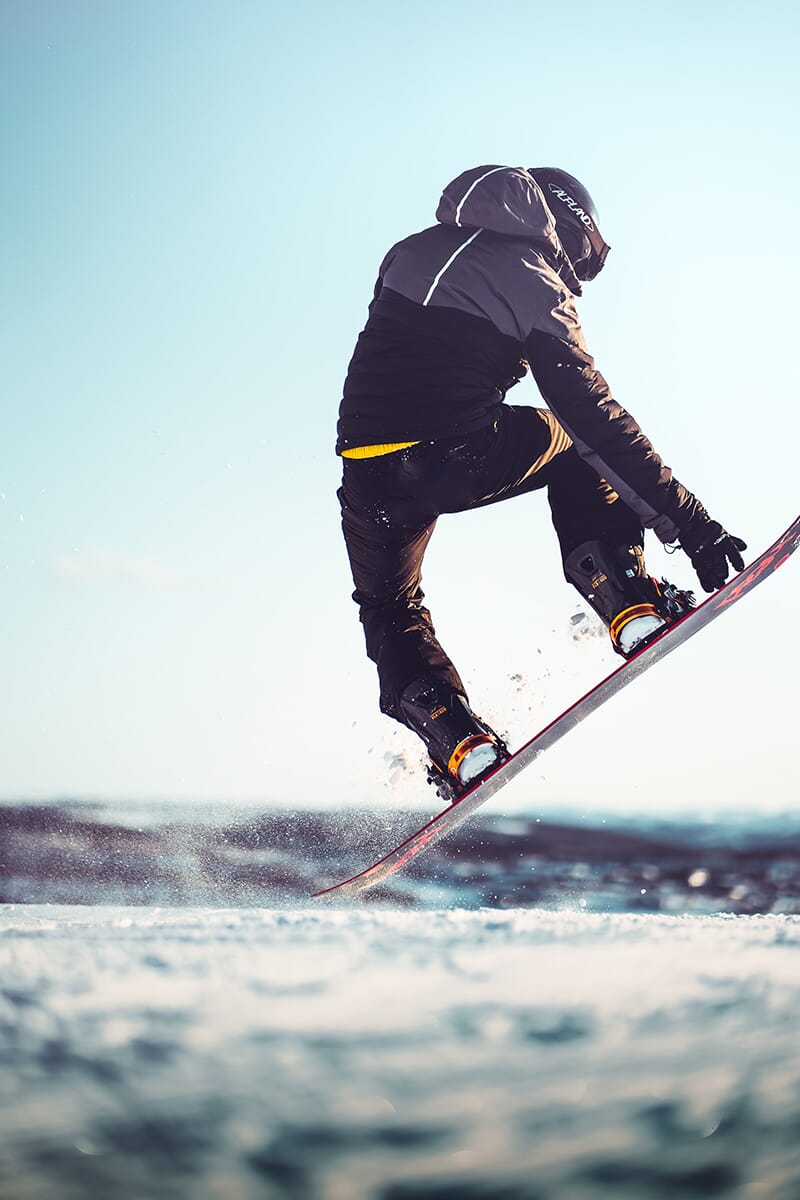 When you buy through links on our site, we may earn a commission at no cost to you. We evaluate products independently. Commissions do not affect our evaluations.
1. Dragon Touch 4K Action Camera
Our Pick
Great for underwater use
The Dragon Touch 4K Action Camera is a versatile device that comes with a huge array of accessories including a waterproof housing.
Pros
Includes a waterproof housing
Can record slow motion at 1080p/60 fps
Includes a range of mounting accessories
Cons
Not the smallest of cameras
Our favorite action camera for under $100 is the Dragon Touch 4K Action Camera, which offers an excellent starter kit at a price way below $100.
In the basic package, you get the action camera, a remote, two batteries, and a complete mounting accessory kit – everything you need to start using the camera immediately. The mounting kit allows you to fix the Dragon Touch 4K action camera to a helmet, a chest strap, or even on your wrist. You can then use the Bluetooth remote to easily control the camera.
If you enjoy water sports, you can also house the camera in the included waterproof case. This makes it waterproof for up to 100 ft/30 m, perfect for diving and snorkeling.
The Dragon Touch Action Camera can record in 4K at 30 fps and 1080p at 60 fps. This means that you can capture cool slow-motion footage, too. For still photography, you get a capable 16MP resolution sensor and a basic zoom. For ease of use, the camera also has various shooting modes, such as loop recording, slow motion, and a driving mode.
If you want a versatile action camera for sports and underwater pursuits, this is one of the best budget choices available.
2. Yolansin 4K Action Camera
Great for versatile videographers
The Yolansin 4K Action Camera has a great range of video formats, including 1080p/60 fps.
Pros
Wide-angle lens for more detail
Built-in WiFi for media transfer
Built-in 3-axis image stabilization
Cons
Does not have any zoom capabilities
Some GoPro alternatives have a limited range of video recording types, but that's not the case with the Yolansin 4K Action Camera. If you want a beginner action camera specifically for video recording, this is a great option.
What makes the Yolansin 4K Action Camera so great? It can record in 4K/30 fps, EIS 4K/30 fps, 2.7k/30 fps, and 1080p/60 fps, so you have a wide range of shooting modes and settings to choose from. The 1080p/60 fps option also means that you can slow down the footage for cool slow-motion videos.
We also like the lens, which features a 170-degree super wide-angle field of view that gives you so much more depth and detail. This means that you can capture the action, but also give a brilliant look at your surroundings too.
For those who want instant file access quick sharing to social media, this Yolansin camera also has WiFi. It features a 2.4 GHz WiFi connection, which you can quickly connect it to your smartphone. It also comes with an associated app, so you can quickly transfer footage and upload it for the world to see.
For accessories, this action camera has a waterproof case that works up to 40 m/131 ft. It also comes with an attachable external microphone and wireless remote control.
3. Actman 4K 20 MP Action Camera
Great for still photos
The 20MP resolution sensor of the Actman 4K Action Camera offers beautiful detail for photographers.
Pros
Can record super slow motion at 720p/120 fps
Includes two mounting kits
Built-in image stabilization
Cons
The battery may not have the longest charge
Next on our list is the Actman 4K 20 MP Action Camera. It's a great little device featuring a high-resolution sensor that's more than suitable for still photography. As the name suggests, the sensor is 20 MP, and you also get built-in image stabilization. This means that you should easily be able to take high-quality stills even when moving.
The action camera itself is also relatively small and one of the lighter models available. In the product kit, you get 2x Li-ion batteries (that take 2-3 hours to charge and have a life of up to 90 minutes), a waterproof case, a remote control, an external microphone, and mounting kits.
In terms of mounting, this is one of the more versatile action cameras; you get both a bicycle mounting kit and a helmet mounting kit. This means you can use the camera on the go, and the external microphone can easily be clipped to your jacket for vlogging.
As for video quality: the Actman 4K 20 MP Action Camera can record at 4K/30 fps, 2.7K/30 fps, 1080p/60 fps, and even 720p/120 fps. Although 720p is not the best quality today, at 120 fps you can record fantastic super slow-motion videos.
We also like that this camera has a time-lapse mode so you can capture epic sunsets, sporting events, and more.
4. Akaso Brave 4
Great for detailed underwater footage
The Akaso Brave 4 has a 5x digital zoom and an excellent underwater casing, so you can explore the ocean depths in great detail.
Pros
Can record in 4K/30 fps
Maximum viewing angle of 170 degrees
Small and compact design
Cons
It may not be the toughest camera without a casing
The Akaso Brave 4 benefits from one of the better zoom lenses plus a solid underwater casing. If you want to capture more detail or record amazing underwater worlds in fantastic clarity, it's a great option.
This 4K action camera has a 20 MP sensor for still photos and can record video at a maximum resolution of 4K/30 fps. It also has a great 5x digital zoom for underwater close-ups. When combined with the included waterproof housing, you get an affordable camera for snorkeling and diving.
Now, the waterproof casing protects the camera up to 30 m/100 ft, and you can expect the 5x digital zoom to still work. To ensure your videos and photos are smooth and in focus, this action camera also has a built-in smart gyroscope for anti-shake and stabilization functionality.
For those want to share photos and video on social media, the Akaso Brave 4 includes a WiFi connection. The WiFi works for a range of up to 10 m/32 ft, and you can transfer media using the free accompanying app.
Lastly, this action camera also includes two rechargeable batteries, a remote control with a wristband, and 19 accessories for various mount configurations.
5. Akaso EK7000 Pro
Great for utility
The Akaso EK7000 Pro has a high-quality touchscreen, built-in WiFi, and a wireless remote control, which makes it highly usable and convenient.
Pros
Has shooting modes like loop recording
Includes a great set of mounting accessories
Waterproof casing protects up to 40 m/131 ft
Cons
It may not have the longest battery life
If you are looking for a little more quality and functionality, the Akaso EK7000 Pro has some extra features compared to the Akaso Brave 4.
Firstly, this compact action camera has a high-quality LCD touchscreen. This makes the camera incredibly easy to use and means you can preview your footage quickly and conveniently. You can change the shooting settings, switch between different camera modes, and preview your media without using any buttons.
This camera also takes underwater shooting one step further, thanks to the high-quality waterproof casing. It protects the camera up to 40 m/131 ft, which makes it an excellent choice for diving and is on par with some of the best diving cameras on the market.
You can change the viewing angle of the lens to capture different types of photos, up to an impressive maximum viewing angle of 170 degrees. You can also guarantee that your sports footage will be smooth due to the electronic image stabilization.
The basic kit includes a USB charger, two batteries, and a large mounting accessory kit. The only thing you need to purchase is an external memory card.
6. HLS Video Action Camera
Great for extreme sports
The HLS Video Action Camera has two slot motion recording modes so you can capture epic tricks, jumps, and twists.
Pros
Built-in WiFi
Includes a waterproof casing
20 MP resolution for still photos
Cons
The instruction manual is not the easiest to understand
If you want to photograph sports or record your extreme sporting adventures, the HLS Video Action Camera is a good option, thanks to its range of recording settings, a 20 MP sensor, and a nice range of shooting modes.
When recording sports, you can utilize different shooting modes like slow motion, time-lapse, and driving mode. Also, for sports like snowboarding and skateboarding where tricks are involved, you can record in 1080p/60 fps or 720p/120 fps, both of which are slow-motion frame rates and will allow you to capture every millisecond of different tricks and grinds.
This action camera also has a wireless remote control and WiFi that reaches up to 33 ft/11 m. The remote control also has a wrist strap, so you can attach it to your wrist for easy control if you are recording first-person perspective footage.
The HLS Video Action Camera also has two lithium-ion batteries, each of which should last for up to 90 minutes and have a relatively quick charge time of 2-3 hours.
7. Apexcam Action Camera
Great for multipurpose use
The Apexcam Action Camera has some versatile features, including a wireless remote, waterproof case, and built-in WiFi.
Pros
Lightweight and compact design
Includes a carry case
Also includes 2x Lithium-ion batteries
Cons
It may not have the best zoom capabilities
Our last pick is the Apexcam Action Camera, another multipurpose action camera that can be used for high-definition videos or decent still photos.
For video recording, it has the following shooting modes: 4K/30 fps, 2.7K/30 fps, 1080p/60 fps, and 720p/120 fps. As a result, you can capture anything from simple HD video to awesome slow-motion videos; for still photography, you get a 20 MP sensor and built-in image stabilization.
You can also comfortably use this camera underwater, as it comes with a durable, IP68 waterproof casing that works in depths of up to 40 m/131 ft. Therefore, it's a good option for water sports like sailing, rafting, diving, and swimming.
If you want to control the camera while recording, you can also use the wrist-mounted remote. You can also mount the Apexcam Action Camera to your helmet, then use the remote control to start and stop recording.
Which Action Camera Under $100 Is Right for You?
As you can see, you don't have to own an expensive GoPro or DJI action camera to get great action footage and photos; any of these best actions cameras under $100 will do a great job.
But which is right for you? For watersports and underwater adventures, something like the Dragon Touch 4K Action Camera, or Akaso Brave 4 are great options thanks to their durable waterproof casing.
Alternatively, if you want a well-rounded camera for both photography and video recording, models like the Actman 4K 20MP Action Camera, and Yolansin 4K Action Camera are excellent choices.
---
As an Amazon Associate, we earn from qualifying purchases. Certain content was provided "as is" from Amazon daily and is subject to change or removal at any time.