Finding the best point and shoot camera under $300 is not an easy task. The market in this area is much slimmer and finding a quality camera takes patience and a lot of research. The good news is that we've put in the hard work to compile a list of some of your best options on the market! With one of these point and shoot cameras, you're going to get stunning shots with ease!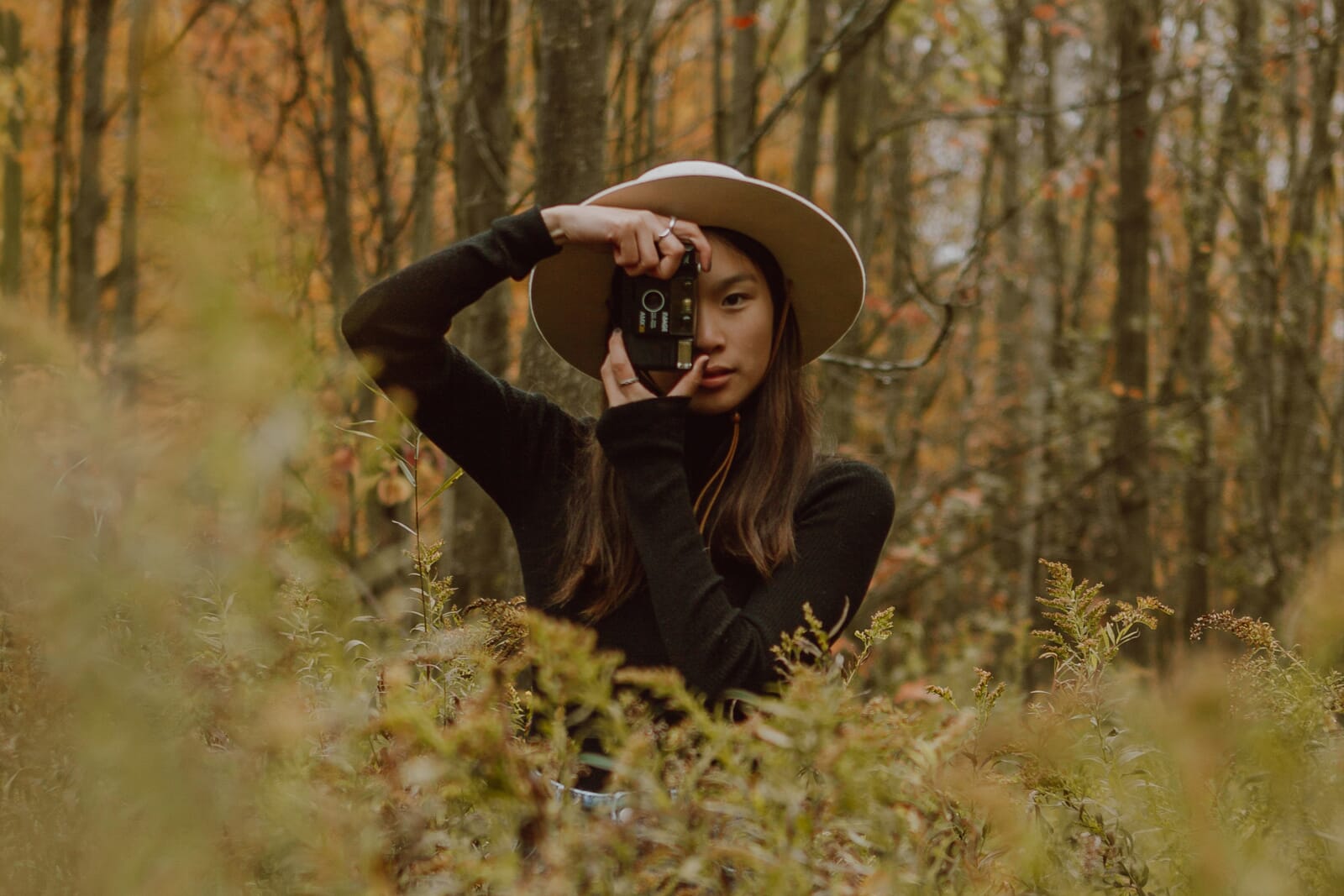 8 of the Best Point-and-Shoot Cameras Under $300 in 2021
1. Panasonic Lumix DMC-ZS70K
Our Pick
Compact superzoom with 4K video capability
The Lumix is an excellent choice for both beginners and more advanced photographers
20MP High Resolution Sensor
4K (UHD) video
RAW shooting
Electronic built-in viewfinder
Max ISO sensitivity is relatively low
If you want the best point-and-shoot camera under $300 that is easy enough for beginners to pick up and use, while still having more advanced features to keep experienced photographers happy, the Panasonic Lumix DMC-ZS70K really fits the bill.
At just a hair under $300, the ZS70K manages to pack a whole lot of advanced features that most of its competitors do not. These include 4K (UHD) video, touch screen, the option to switch from autofocus to manual focus, image stabilization, focus bracketing, focus stacking, and, most importantly, the ability to shoot in RAW instead of JPEG.
The ZS70K also features 4K video, which many competitors lack. This makes it a great all-rounder for both photo and video shooting. It also has an impressive 1/16000s max electronic shutter speed and can manage 10 frames per second when using the mechanical shutter.
Top if off with 380 shots per battery charge, an electronic built-in viewfinder, face detection focusing, built-in Wi-Fi, and a 24-720mm equivalent zoom length to a 35mm camera, and this little compact offers more than many other point-and-shoots at this price.
This is an excellent and unobtrusive camera for street photography, travel, or general all-around shooting, and macro photographers will love the focus stacking feature, too. It's at the top end of our budget, but in our opinion is the best digital camera under $300 currently out there.
2. Canon Powershot IXUS 185
A great beginners compact from Canon
The Ixus is reasonably priced and very simple to operate
8X optical zoom lens
Very easy to use
1cm macro focus
20MP sensor
Doesn't have Full HD/4K video
Not great for shooting in low light
The Canon Powershot IXUS 185 is one of the picks on the best point-and-shoot camera under $300 list.
Those who use a smartphone camera won't find the IXUS difficult to use, as the camera automatically switches on into Easy Auto mode. It's slimline and lightweight, and also features an 8X optical zoom lens. This gives an equivalent of 28-244mm focal range, which goes from wide-angle to mid-range zoom. This makes it a versatile choice for many types of photos from landscape to portrait.
You can record 1280 x 720 video on this compact camera, which isn't bad but it's not 4K. If you plan to shoot more professional video, we recommend looking at other options.
There isn't much here to attract more advanced users as there are very few manual features. But, those who want a smart-looking, pocket-sized compact that is easy to use won't go far wrong with the IXUS 185.
3. Canon PowerShot ELPH 190 IS
Best for shooting in daylight
This fast-focusing compact is budget-friendly and fits easily into a purse or pocket
20MP sensor
Wi-Fi and NFC enabled
Optical image stabilizer
10X optical zoom
Not great in low light
No real manual mode
The Canon PowerShot ELPH 190 IS makes it onto the list of the best point-and-shoot camera under $300 for several reasons.
The optical image stabilizer helps you to take sharper photos when you're hand-holding the camera. Team that with a 10X optical zoom that gives you extra flexibility while shooting and you're going to love this little camera. If you are looking for a simple compact option that lets you take photos easily, then this camera may be of interest to you.
It's small and lightweight, yet sturdy, and it feels nice and solid in the hand despite the budget price point.
The ELPH really shines when used outdoors in the daytime, and you can get some lovely sharp and contrasty results from it. It's not so great indoors, though – photos can seem quite noisy and blurry unless you use the flash.
Video performance is disappointing on the ELPH 190, with only 1280×720 resolution. So, if shooting video is important to you, the ELPH 190 just won't cut it. For those who primarily want an inexpensive point-and-shoot under $300 it's ideal.
4. Kodak PIXPRO Friendly Zoom FZ152
Lots of auto features for a good price
This camera is inexpensive, has a decent optical zoom range, and a large LCD screen
15X optical zoom
Optical image stabilization
3-inch LCD screen
HDR mode
No Full HD/4K video
No advanced features
If you want a compact camera that looks a little more like a DSLR, then the Kodak PIXPRO Friendly Zoom FZ152 fits that bill and makes the list of the best point-and-shoot camera under $300.
The PIXPRO is inexpensive and while a 16MP sensor isn't the largest one out there compared to some other compact cameras, it's more than enough for a point-and-shoot. Besides, it's not the size of the sensor that matters – it's how you use the camera!
Although it's heavier than other compacts, it feels nicely balanced and solidly made for a camera at this price point.
It's very simple to use straight out the box with tons of automatic scene selections covering all sorts of common scenarios.
There's nothing for more advanced photographers, who want complete manual control, but most inexpensive compact cameras aren't aimed at them. The PIXPRO offers a 15X optical zoom, which will allow you to get close to the action. It also has a wide-angle 24mm lens so you can capture landscapes or group photos with ease.
This is a great point-and-shoot for taking on holiday, hiking, or for a family day out. It would also make a good older child's first camera, and seniors will find it easy to use too.
5. Kodak PIXPRO AZ421 Astro Zoom
Great for astrophotography, wildlife, and bird photography
Great performance and value for money bridge camera
42X optical zoom
Outstanding image quality even at higher zoom ranges
Facial detection
Beginner-friendly
Only takes memory cards up to 32GB
no Full HD/4K video
The Kodak PIXPRO AZ421 Astro Zoom is considered by many astrophotography enthusiasts and wildlife shooters to be the best point and shoot camera under $300. There are more expensive versions of the Astro Zoom out there, but this budget model more than holds its own against other bridge cameras at this price point.
It's solidly built, with an easy-to-view 3″ LCD screen and an awesome 42X optical zoom for getting very close to your subject. It has a relatively small 16MP sensor, but the image quality is still pretty darn good. The AZ421 also features decent image stabilization, which isn't common on cameras at this price.
The lens offers a great wide-angle focal length of 24mm when the lens is fully retracted, making it great for group shots and landscapes. You can also choose the aspect ratio in-camera after taking the image, to suit the image dimensions of various social media sites.
The AZ421 is easy to use straight out of the box, so even a complete beginner can start shooting in no time.
6. Minolta MN12Z-R
Feature-packed point-and-shoot
With 26 unique scene modes and Wi-Fi connectivity, this is a great camera for those on the go
Optical image stabilization
20MP sensor
12X optical zoom
Face detection
No full manual mode
Not great in low light
Next on the list of the best point-and-shoot camera under $300 comes the Minolta MN12Z-R. This colorful compact has 26 auto scene modes, offering more flexibility than you can imagine!
This makes it a great camera for those who don't want to fiddle with settings, but quickly choose a mode and shoot instead. It's beginner-friendly and would be a great little compact to do some vacation photography with.
Like most compacts at this price point, it lacks Full HD/4K video capabilities, but it does have Wi-Fi connectivity. The 20MP sensor is a decent size, and the MN12-ZR offers 12X optical zoom for getting tighter shots of your subject.
7. Sony Cyber-Shot DSC-H300
Basic but reliable point-and-shoot with a manual mode option
The Cyber-Shot is a decent camera with a good zoom range and large LCD screen
Optical image stabilization
35X optical zoom
Long battery life
Face detection focusing
No full HD video
Only shoots JPEG
The is a bridge-style point-and-shoot camera that has the looks of a DSLR combined with the ease-of-use of a compact camera.
One of the biggest selling points is the 35X optical zoom, combined with Sony's image stabilization. The zoom range is equivalent to 25mm-875mm on a 35mm camera, which allows you to get closer to the action, while the image stabilization helps to reduce camera shake when you shoot handheld.
The build quality is good, and the Cyber-Shot fits nicely in your hands thanks to the ergonomic design. The LCD screen is big, which makes it much easier to view images on the back of the camera
The Cyber-Shot offers an assortment of auto shooting modes making it great for those who just want to shoot straight out of the box. However, this camera does offer a Program and a Manual mode for those who like more control over the camera settings.
8. DJI Osmo Action
Great for underwater and adventure photographers and videographers
Shoot unique and unusual stills and video with this waterproof 4K action cam
JPEG or RAW file format
Easy to use
Dewarp images feature
Waterproof to 11 meters/36 feet
You may be wondering why an action cam like the DJI Osmo Action makes it onto the list of the best point and shoot cameras under $300!
Well, that's because it is literally a point-and-shoot straight-out-the-box camera!
It's waterproof to 11 meters/36 feet, built to withstand all the knocks and bumps an action camera gets, and it shoots images in either RAW or JPEG, it even offers good-quality 4K video footage.
All of this makes it an ideal companion for more adventurous photographers to take on a climb or tough hiking expedition. You can even take it underwater and use it in inclement weather.
The electronic shutter has an impressive range from 120 seconds through to 1/8000 second, so you can take a long exposure shot through to freezing action in its tracks. It comes with Face-Oriented exposure so that faces don't end up in shadow, and it has a handy burst mode for taking image sequences of the action.
The Osmo Action also comes with a handy Dewarp function. It has a wide fisheye lens that covers 145 degrees of perspective, but that does add a lot of distortion to still images. That leads to bulging walls and curved horizons, so there is software in-built to the Osmo Action that will fix that warp.
This is a great little camera that you can take literally anywhere and capture images a traditional camera cannot.
Choose The Best Point And Shoot Cameras Under $300 Available Today
The options for choosing the best point-and-shoot camera under $300 are narrowing. The world is moving towards smartphone and mirrorless cameras, but you still have some really solid choices.
The best all-round value for money compact is, in our opinion, the Panasonic Lumix DMC-ZS70K, while those who want to do astro-photography and wildlife may prefer the Kodak PIXPRO AZ421 Astro Zoom. For photographers who are looking for something a little different, the DJI Osmo Action might just fit the bill.
Once you've established your budget, look for options in that range that are suitable for what you're going to be shooting.
For example, want to shoot far away objects? Don't forget to factor in the zoom length. The same goes for shooting close-ups. Some of the cameras we listed today perform exceptionally well as a macro setup.
---
As an Amazon Associate we earn from qualifying purchases. Certain content that appears on PhotoWorkout.com comes from Amazon. This content is provided 'as is' and is subject to change or removal at any time.