The Best Compact Cameras with Viewfinders
Whether you're a seasoned professional or a newcomer to the world of photography, it's impossible to ignore the changes happening within the industry. Some of the most basic elements of our cameras – such as the internal mirror and external viewfinder – are being reduced to vestigial structures that many manufacturers consider to obsolete and unnecessary. Luckily, these changes are serving to simultaneously make cameras more accessible and offer a stronger demand for devices of all shapes and sizes that cater to a variety of different users.
Related Post: Best Tablet Cameras
A decade ago, serious photographers would not have considered using a compact camera for any sort of serious work. Today, however, cameras of all shapes and sizes have made the strides necessary to take quality images. Companies even offer attributes beyond what's necessary to sweeten the deal for potential customers. Today, we'll be getting down to the nitty gritty behind some of the most popular compact viewfinder cameras on the market today.
✔ The Best Compact Cameras with a Viewfinder
1. Sony Cyber-Shot DSCHX80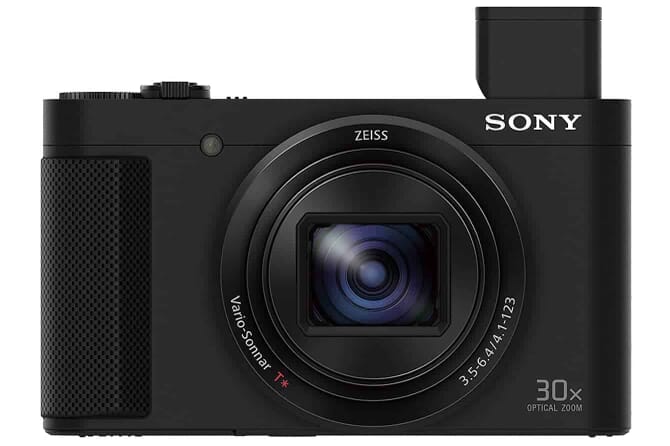 The Good News:
The biggest asset the Cyber-Shot DSCHX80 has going for it is its convenience. For a relatively low price, users can harness all of the capabilities of a traditional DSLR. Yet, this particular model still manages to measure in around the size of an iPhone.
The camera itself contains a pop-up viewfinder, meaning that the feature is included without adding to the overall amount of space the device occupies. Equipped with an 18.2-megapixel sensor, the Sony can capture up to 10 frames per second at full resolution, making it a formidable competitor in the compact camera market. Furthermore, the camera's firmware comes with Wi-Fi and Near Field Communication capabilities included.
Related Post: Best Selling Point and Shoot Cameras (Updated Daily)
The Bad News:
Unfortunately, this camera has its downsides. Some sacrifices had to be made in order to keep costs of this model down – unlike many of its competitors; the DSCHX80 is unable to capture RAW images and 4K video footage. It also lacks the manual zoom functions and touchscreen capabilities that come standard on many other compact cameras. Though its small size is advantageous in many ways, some users are frustrated by the difficulty that comes with maneuvering the camera's tiny buttons. Evidently, it's quite easy to accidentally "bump" dials and switches, which can subsequently impact images in ways not intended by the photographer.
Final Verdict:
If you're looking for a camera that's easy to carry along for any occasion, the Cyber-Shot is an excellent choice because of its small size and ergonomic design. However, the sacrifice in a superior image and video quality makes it a tough sell for users seeking out a new primary camera.
Sale
Sony DSCHX80/B High Zoom Point & Shoot Camera (Black)
30x Optical/60x Clear Image Zoom ZEISS Vario-Sonnar T* Lens, 18.2MP Exmor R CMOS Sensor for superb low light images,...
Versatile video w/ high-quality XAVC S, AVCHD & MP4 formats, Simple connectivity to smartphones via Wi-Fi w/NFC, 5-axis...
Selfie-ready 3" Extra Fine LCD multi-angle display, P/A/S/M modes, customizable settings and Memory Recall mode, Enhance...
Focus Range Wide: 1.97" (5 cm) - Infinity Telephoto: 8.20' (2.5 m) - Infinity.Adjustable Angle Up by approx. 180...
In-The-Box: Rechargeable Battery Pack NP-BX1; AC AdaptorAC-UUD12; Micro USB cable; Wrist Strap; Instruction Manual
Related Post: A Review of the Best Bridge Cameras
2. Fujifilm X100F
The Good News:
Critics have praised Fuji's X100 series for quite some time, and the most recent release has not disappointed.
The X100F packs a powerful punch with a 24MP CMOS sensor – a huge boost in resolution compared to previous iterations within the series. With over 325 autofocus points accessible via joystick, an additional dial added for ISO compensation, and much more, one of the Fuji's biggest selling points is its refined, updated control system. Specifically, customers have noted that this particular camera performs especially well in low light scenarios.
The Bad News:
Some users have complained that the camera's overall design is a bit awkward. The viewfinder can be a bit confusing for new compact camera owners to utilize properly, especially when the photographer is wearing glasses. One user commented that there was "no good way to grab hold of it," and the fact that the sensitive controls are "easy to accidentally trigger" further backs up this sentiment.
The camera layout aside, one of the biggest complaints to come forward has been that the Fuji's autofocus capabilities aren't always as reliable as they should be (although once the device is properly calibrated, the images produced are razor sharp).
Final Verdict:
The Fujifilm delivers a refined experience overall in comparison to its trendsetting predecessors. However, its awkward layout takes a bit of getting used to for even the most experienced photographers.
Sale
Fujifilm X100F 24.3 MP APS-C Digital Camera-Silver
24.3MP X-Trans CMOS III APS-C sensor with no low-pass filter and X-Processor Pro
8 way focus lever + the number of focusing points has been expanded from 49 in previous models to 91 (up to 325 points)
Built-in Iso dial, incorporated into the shutter speed dial and operating temperature is 0 degree Celsius to 40 degree...
AF mode(single / Zone / wide-tracking).Hot shoe:Dedicated TTL Flash compatible
New np-w126s lithium battery. Focus distance- Approx. 10cm - Infinity / 3.9in. - Infinity
Related Post: Best Point and Shoot Cameras under $500 (Top 10 Picks)
3. Nikon COOLPIX P900
The Good News:
The Nikon COOLPIX P900 is a force to be reckoned with. Among its most impressive attributes is the superzoom technology implemented within the lens itself. With an astounding 83x zoom, it's possible to attain the equivalent of an 8000mm lens in a convenient 35mm format. Even when shooting from such far distances, the Nikon maintains decent image integrity.
The camera also does an excellent job at stabilization, further cementing it as an excellent choice for telephoto photographers. Finally, the COOLPIX comes bundled with state of the art Wi-FI and GPS capabilities, making it easy and convenient to transfer images and useful data across devices.
Related Post: Best Coolpix Cameras
The Bad News:
This camera is a bit on the bulky side in comparison to similar models on the market, meaning that it lacks the convenience of being tucked away into a pocket for safe keeping. While the COOLPIX has plenty to offer, there are a few areas in which it's lacking. Especially when working at maximum resolution, many users have noticed that there are some serious delays in shutter recovery time.
The Nikon cannot process RAW file formats, and it lacks a manual focus option. Besides, the battery life drains quite quickly – for any extended shooting endeavors, you'll want to pack backups.
Final Verdict:
Although the COOLPIX is on the larger side of the compact camera spectrum, its superior zooming capabilities make it an easy choice for any photographers that prefer to shoot from a distance.
Related Post: Choosing the Best Lavalier Mic
Sale
4. Sony A7 Mirrorless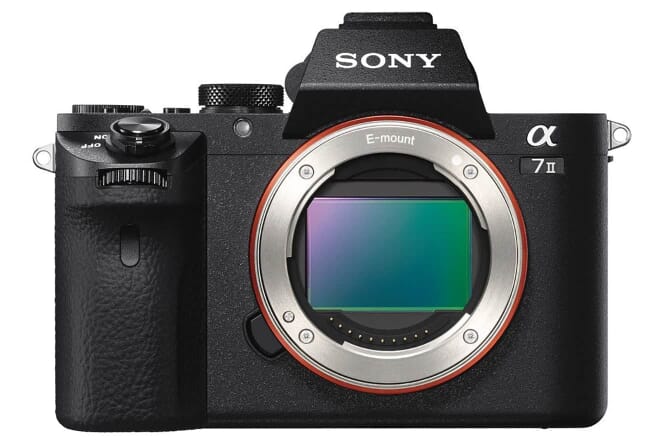 The Good News:
Despite the fact that many mirrorless cameras manufacturers opt to nix viewfinders, the makers behind the Sony A7 incorporated an electronic viewfinder for those who find that old habits die hard.
Complete with a full frame sensor, this is an excellent option for those looking for a step up in quality and a step down in size. It contains advanced software capable of managing and manipulating full resolution RAW images in camera, it can capture HD video, and the 14-bit RAW output captures great tonal and color ranges.
For the majority of photographers out there, it goes above and beyond when it comes to getting the job done.
The Bad News:
The biggest drawback to the a7 is the simple fact that Sony's products are still very much a work in progress – with frequent releases, the resale on this camera is likely to go down significantly as time passes.
Although mirrorless cameras are popular at the moment, it's important to consider that removing the internal mirror leaves the camera's internal sensor more exposed to the environment. Even simple actions such as switching out a lens should be done with great care.
Like every camera, the a7 is not void of it minor flaws and quirks. In particular, some users claim that the software sometimes falls short in that it can be difficult to navigate and customize.
Final Verdict:
This mirrorless camera still has its kinks to work out. However, the full frame capabilities and excellent image quality the Sony provides despite its small size are hard to argue against.
Sale
Sony a7 Full-Frame Mirrorless Digital Camera with 28-70mm Lens
24.3 MP full frame CMOS sensor. Compatible OS - Windows Vista SP2*4, Windows 7 SP1, Windows 8, Mac OS X (v10.6-v10.8)
Up to 4 FPS in Speed Priority Continuous shooting
ISO 100-25600(AUTO ISO 100-6400), 1080/60p/24p HD video (AVCHD/MP4)
3" tiltable LCD with 921,600 dots. 1/2-inch XGA OLED color electronic viewfinder with 2.4M dots
Raw and Raw + JPEG shooting. Multi-interface shoe (optional external flash sold separately)
5. Canon PowerShot G5 x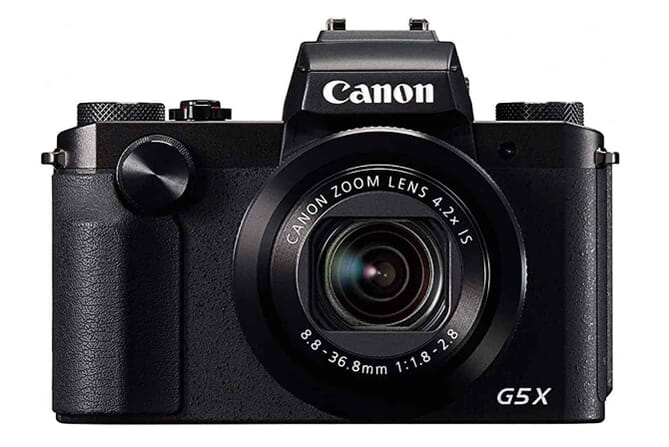 Despite some hangups, the Canon Powershot G5X is a compact camera worth looking into.
The Good News:
There's a lot to love about the latest iteration of the Canon Powershot. With a large EVF as well as a touchscreen LCD, it's easy to ensure that you're getting just the shot that you want. Despite being relatively light and compact, it retains a fairly large sensor. It can combine multiple photos into a single composition.
Its Wifi connect-ability and USB charging port make it convenient to use for professionals and hobbyists alike.
Best of all, its relatively low cost make it a popular competitor against similar compact camera models.
The Bad News:
The Powershot's Achilles heel has got to be the quality of its lens. Given the current industry standards, the results it yields are simply too soft for most serious photographers. Another major hitch for Powershot users is the camera's poor battery life. Averaging only 210 shots per charge, the battery can hardly make it through a photo shoot, and multiple backups are a must-have for any potential customers.
The camera's additional flaws are much easier to forgive – the addition of the viewfinder makes it a bit bulky in comparison to some of its competitors, and the camera can become a bit sluggish when shooting RAW in continuous shooting modes.
Final Verdict:
As far as electronic viewfinders go, the Canon Powershot G5x offers one of the best. However, the plethora of technological innovations Canon offers doesn't completely blot out some serious issues this camera faces with battery life and overall speed.
Sale
Canon PowerShot G5 X Digital Camera w/ 1 Inch Sensor and Built-in viewfinder - Wi-Fi...
1.0-inch, 20.2 Megapixel* High-Sensitivity CMOS sensor combined with Canon's powerful DIGIC 6 Image Processor creates...
Convenient controls include an exposure compensation dial, front dial, control ring and control dial that helps provide...
Multi-angle capacitive 3.0" touch panel LCD with a screen resolution of 1.04 million dots for a sharp, clear display and...
Capture stunning 1080p Full HD video (60p/30p/24p options) for lifelike images and convenient playback on an HDTV via...
Easily transfer images and videos to a compatible smartphone, tablet or Canon Connect Station CS100 device with built-in...
6. Leica D-Lux (Type 109)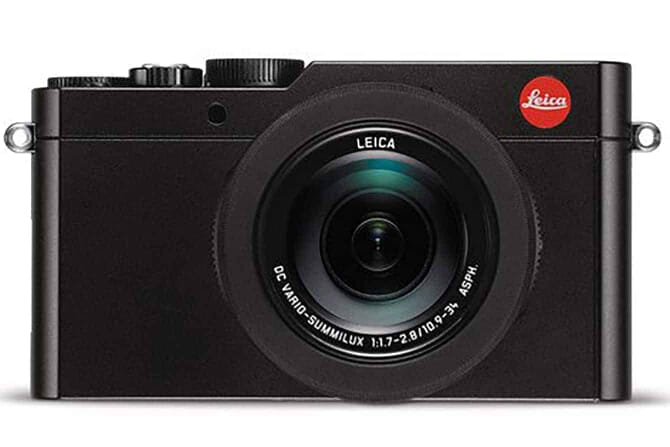 The Good News:
Leica is synonymous with quality in the camera industry for a reason. Going about and beyond of the traditional point and shoot, the Leica D-Lux offers features including 4K videography, Wi-Fi, and NFC capabilities, and easy to use manual settings for photographers of all skill levels. On top of that, it comes bundled with an adorable yet powerful portable flash accessory. It's small enough to take with you nearly anywhere, making it an easy camera to love.
If for some reason you're unsatisfied with this camera, the brand name helps this model retain a high resale value.
The Bad News:
Ironically, one of the biggest drawbacks to this camera is its status as a Leica. For what it offers, it falls outside of the range of what the average photographer is willing to spend on a camera.
Though it is a fine product, there are a few areas that could use small improvements. Notably, it lacks a "sleep mode" that can be manually accessed. As far as the hardware goes, the build could be a bit sturdier – the camera has a lot of plastic parts to it, which leaves it vulnerable to scratches and cosmetic damage.
Final Verdict:
As a Leica, you're guaranteed a certain amount of quality as a customer. However, the price of this model is a bit overinflated when examined side by side with similar competitors.
Sale
Leica D-Lux (Type 109) 12.8 Megapixel Digital Camera with 3.0-Inch LCD (Black)...
Fixed Lens perfectly matched to the sensor for the picture quality
Integrated high resolution 2. 8 MP OLED EVF for full control of the presets
Comprehensive manual operation enriched with a touch of the Leica operation philosophy
Focus Peaking for marking the Ares that are in focus and Leica CF D flash in the scope of delivery
7. Panasonic Lumix DMC-LX100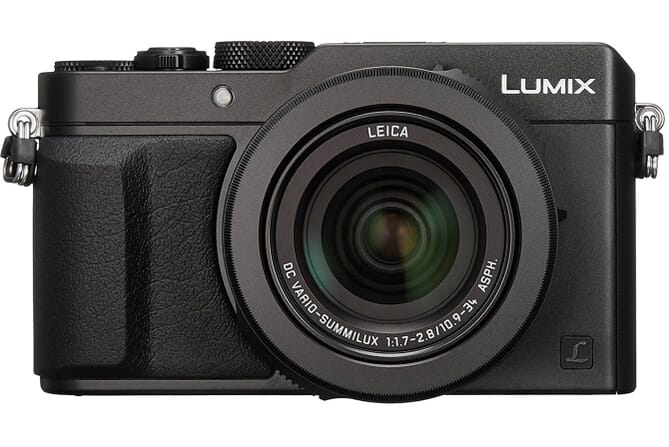 The Good News:
One of the biggest deterrents professional photographers faces when taking into consideration, a compact companion is the potential loss of creative control. Luckily, this is not an issue for Panasonic Lumix DMC-LX100 owners.
As one of the most popular compact cameras currently available, it has a full range of manual controls allowing for easy control of aspects including aperture, shutter speed, and zoom. In other words, it has all of the features and functions you would expect in a DSLR.
In recent years, Panasonic has begun to collaborate with Leica. This particular model features the DC Vario-Summilux lens, which masterfully handles wide angled landscapes and up-close portraiture alike. Users have praised the camera's high overall image quality and accurate back display.
The Bad News:
There are a few areas Panasonic can stand to improve upon when it comes to this camera.
Firstly, it lacks the articulating LCD view and touch-to-focus features that have become increasingly commonplace on similar cameras.
Secondly, its' stabilization capabilities could use some improvement, and the camera itself is not weather sealed the way it should be.
Additionally, the firmware itself reportedly has a few harmless yet nonetheless irksome bugs, though these will likely be corrected in later releases.
Finally, the camera sacrifices a flash feature for the sake of its EVF, which frankly does not compare to other electronic viewfinders according to Panasonic user testimonies.
Final Verdict:
Like any camera, the Panasonic isn't perfect – it still has its fair share of bugs to work out. However, the control and quality offered by this camera make it a tempting purchase.
Sale
PANASONIC LUMIX LX100 4K Point and Shoot Camera, 3.1X LEICA DC Vario-SUMMILUX...
Legendary LUMIX LX Series with manual controls -- Designed to Inspire Creativity
Superior light capture with large, multi-aspect micro four thirds sensor
Fast f1.7-2.8, 24-75mm, Leica DC zoom lens, for producing shallow depth of field (DOF) and out of focused, blur effect...
Clear and stable framing thanks to eye-level EVF (2,764k-dot). Optical Image Stabilizer POWER O.I.S.
Full hybrid photo experience with 30p 4K Ultra HD video and 4K photo mode. Please Refer User Manual before use.
---
Note: Amazon.com prices, reviews, and ratings were updated on 2019-07-23 - Product prices and availability are accurate as of the date indicated and are subject to change. Some product prices may refer to used/refurbished items. Any price and availability information displayed on Amazon sites at the time of purchase will apply to the purchase of the product. As an Amazon Associate we earn from qualifying purchases. Certain content that appears on PhotoWorkout.com comes from Amazon.com. This content is provided "as is" and is subject to change or removal at any time. For more information refer to our Affiliate Disclosure and Disclaimer.