Compact viewfinder cameras are hardly a thing of the past. However, it's becoming more difficult to find them at a reasonable price point.
The fact of the matter is that many small cameras go far beyond your standard point-and-shoot model. They offer stunning image and video quality. Plus, they take up less space than their bulkier and pricier siblings, and they often weigh less, too.
So what's not to love?
Today, we'll be exploring some of the most popular compact viewfinder cameras on the market.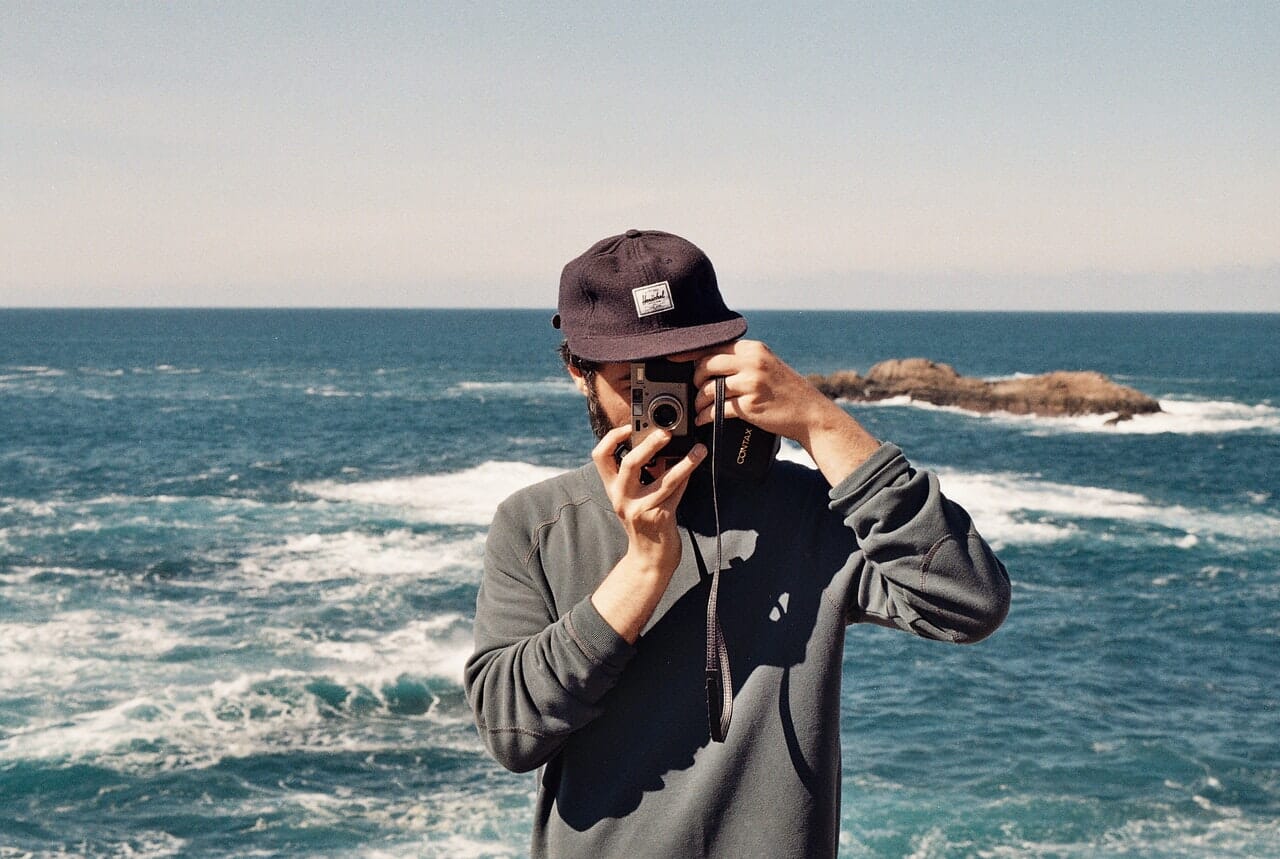 Best Compact Cameras with Viewfinder:
When you buy through links on our site, we may earn a commission at no cost to you. We evaluate products independently. Commissions do not affect our evaluations.
1. Panasonic LUMIX DC ZS70K
Budget Choice
Great for beginners and more experienced photographers
The ZS70K is inexpensive yet packed with features.
Pros
Image stabilization
Electronic built-in viewfinder
Long battery life
RAW shooting available
Cons
Fairly heavy
Viewfinder is quite small
Compact cameras are generally more expensive than they used to be, but if you're looking for a relatively inexpensive compact camera with a viewfinder, the Panasonic LUMIX DC ZS70K may be the perfect model for you.
Panasonic is one of the strong players in the compact camera arena, and the LUMIX range is very well regarded. The ZS70K packs a 20.3 MP MOS sensor and a Leica DC VARIO ELMAR zoom lens. So despite its lower price, you're still getting a really great product!
The zoom range covers a 24-720mm equivalent on a 35mm camera, so you've got the reach for both wide-angle landscapes and close-up action shots.
Beginners and casual users will be able to use this camera with ease thanks to its user-friendly interface and automatic shooting modes. But this camera also caters to advanced users, offering manual exposure and RAW-format shooting along with manual focus and focus-stacking options.
For video shooters, there is 4K (UHD) video with a high video bit rate of 100 Mbps and an articulating touchscreen LCD. You can also capture some stunning timelapse footage with this camera.
The built-in electronic viewfinder is quite small but does its job in a more than adequate way. All in all, this is a great camera that has something to offer for photographers and videographers who don't want to spend a ton of money on their cameras.
2. Minolta ProShot MN67Z
Inexpensive beginners option from Minolta
A powerful zoom and optical stabilization help produce good images.
Pros
Relatively inexpensive
20 MP sensor
67X optical zoom
Lots of auto scene modes
Cons
Not much here to tempt serious photographers
Those who want a simple compact camera with a viewfinder that doesn't cost the earth may be interested in the Minolta ProShot MN67Z.
It's not the smallest of point-and-shoot cameras out there, but it's relatively inexpensive. It also features a whopping 67X optical zoom and is styled to look like a mini DSLR camera.
Optical stabilization technology helps keep photos sharp when a camera shake is detected. It's got beginner-friendly features like face, smile, and blink detection, and it boasts a variety of scene modes, including Night, Portrait, Panorama, and Sunset.
There is an electronic viewfinder as well as a 3-inch (7.62cm) articulating LCD screen so you can evaluate what you're doing. The viewfinder features an amplified signal from the sensor to give you a brighter image – this makes it easier to see the preview. The viewfinder also has an adjustable diopter, which you can change to suit your vision.
Other features include built-in Wi-Fi, optical image stabilization, and 27 intelligent shooting modes to cover a variety of shooting scenarios. This makes it perfect for the beginner or casual photographer.
The wide-angle lens lets you capture pretty much anything, from landscapes, group shots, and street photos to wildlife and nature shots. It's the perfect companion to take on vacation or to a party.
3. Fujifilm Instax Wide 300
Great little Instax Wide film camera
A great-looking Instax camera for those who want to shoot instant film instead of digital.
Pros
Great photo quality
Easy to use
Good adjustment to lighting conditions
Cons
Film can be quite expensive
In the age of digital compact cameras, this Fujifilm Instax Wide 300 may seem a bit ancient, but there's something special about the nature of instant photos you can hold in your hand (just like the old Polaroids).
The Instax Wide 300 produces some of the most consistently good-quality prints with spot-on exposure, color saturation, and clarity. While many other instant film cameras have headed toward the smaller Instax Mini film format, the Instax Wide is the better choice as the photos are similar in size to classic Polaroids.
The Instax Wide 300 can create images 2.4 x 3.9 in (9.91 x 6.1 cm) in size on a 3.4 x 4.3 in (10.92 x 8.64 cm) piece of film. It also features a retractable 95mm f/14 lens with a two-range focus zone setting. This is great for making sure your images are sharp. It also sports a 0.37x optical viewfinder with a target spot to help you compose images.
Although the Fujifilm Instax Wide 300 is somewhat lacking in fancy features, it does have exposure compensation, which allows you to adjust the shots according to the subject.
This film camera produces excellent quality instant images and costs much less than most digital compact cameras with viewfinders.
4. Sony Cyber-shot DSC-RX100 III
A powerful, pocketable camera with a viewfinder
The RX100 III offers image quality for such a small camera, and it sports a fast lens, too.
Pros
Good in low light
Super compact
High-quality sensor
The Sony Cyber-shot DSC-RX100 III is small enough to fit in a pocket, yet it boasts a high-quality 20 MP sensor. It's not the newest compact camera with a viewfinder in the Sony RX100 line, but it still offers a lot for the price.
The RX100 III boasts an impressive ISO range of 125-12,800, with a 25,600 ISO available in the multi-frame noise reduction mode. The large maximum aperture throughout the zoom range makes this a good camera for shooting in low light.
Images can be captured in JPEG or RAW format (or in both formats simultaneously). There are advanced manual controls like Shutter and Aperture Priority as well as Manual mode. There are also options for those who are less experienced.
The RX100 III has a 5-axis image stabilization system and a manual-focus assist option. It features a zebra highlight clipping warning. Video fans will enjoy the 4K output, and there is Wi-Fi connectivity and an NFC chip.
The electronic viewfinder is collapsible. However, putting it up is a two-stage process that some may find a bit irritating.
5. Sony Cyber-shot DSC-HX99
Great for versatile shooting
The HX99 is a superb compact camera that has a pop-up EVF, a high-quality sensor, and a flexible touchscreen for taking selfies.
Pros
BIONZ X image processor
Eye-AF feature for improved portrait photography
Lens control ring for quick settings changes
Cons
Some may not like the pop-up EVF
Sony has a seemingly endless array of compact cameras, and another excellent option with a viewfinder is the Sony Cyber-shot DSC-HX99. This portable camera has some fantastic features, including its sensor, zoom lens, display screen, and image processor. If you are looking for a versatile device that can take great-quality images, this is a top option.
The viewfinder uses a pop-up design that some people may not like. However, the design ensures that the camera retains its compact shape and that you can use the large touchscreen for composing if needed. The viewfinder is positioned on the left-hand side of the camera for improved convenience.
Aside from the adaptability of the screen and EVF, the Sony HX99 also has an excellent 18.2 MP sensor and uses the BIONZ X image processor (one of the latest processors from Sony).
We like the Zeiss Vario-Sonnar T* lens, which provides an equivalent focal range of 24-720mm. This gives you the flexibility to capture wide-angle landscape photos, close-up wildlife shots, and everything in between. The lens has a control ring, which is usually a feature reserved for pro cameras and lenses. This makes quick settings changes a breeze as you can program the ring to adjust different functions like shutter speed, aperture, and exposure compensation.
6. Canon PowerShot G5 X
Great for portrait photography
The Canon PowerShot G5 X has a central EVF that looks great and shows image settings.
Pros
Fantastic 20.2 MP sensor
Multi-angle touchscreen
Wi-Fi and NFC connectivity for file transfers
Cons
Does not have 4K recording capabilities
Canon has a solid range of compact cameras – although most of the PowerShot range do not have viewfinders. That's where the Canon PowerShot G5 X excels. It is a high-quality device that has an EVF, which is centrally located and has a great resolution of 2.36 million dots. It also offers edge-to-edge clarity and 100% image coverage.
The camera has a 20.2 MP sensor and uses the DIGIC 6 image processor. It's an older image processor and other Canon cameras utilize better technology; however, it still does a decent job.
The PowerShot G5 X has a zoom lens with an 8.8-36.8mm equivalent range. This may not offer telephoto capabilities, but the lens has an excellent maximum aperture range of f/1.8 to f/2.8, which makes it ideal for capturing beautiful bokeh.
Another useful feature is the beautiful 1.04M-dot multi-angle LCD touchscreen. And if you want to use the camera for recording, it can capture HD footage at 60p. It offers decent connectivity, too (with both Wi-Fi and NFC capabilities). This means you can download photos and video directly to an external device like a smartphone or laptop after shooting.
7. Sony Cyber-shot DSC-RX100 VII
Great for video recording
Its 4K recording capabilities and eye-AF modes make the Sony RX100 VII a powerful option for photographers, vloggers, and hybrid shooters.
Pros
20 FPS blackout-free burst mode
Real-time AI autofocus tracking
20.1 MP sensor
Cons
Some may not like the EVF positioning
The RX100 range of cameras continues to feature some of the best compact cameras with viewfinders, including the Sony Cyber-shot DSC-RX100 VII. This is the latest model in Sony's RX100 series and has some incredible features for photography and video recording. For instance, the viewfinder pops up and provides you with a high-resolution real-time display.
So that you can take different types of photos, this camera has a Zeiss Vario-Sonnar T* 24-200mm zoom lens. Although it doesn't have the same zoom capabilities as the DSC-HX99, at 200mm you still get very nice reach. Additionally, it has a fantastic maximum aperture range of f/2.8 to f/4.5.
You can expect superior image quality due to the 20.1 MP sensor. Pair this with the BIONZ X image processor, and you have a potent point-and-shoot camera capable of taking professional-grade photos. We like that it has an ultra-fast (20 FPS) burst mode with no display blackout.
The AF uses AI technology that helps improve tracking. The autofocus has an eye-AF mode for humans and animals, which makes it a great portrait and pet photography camera.
Finally, the RX100 VII can record 4K video and can capture very smooth footage thanks to its image stabilization.
Compact Viewfinder Cameras Are Making a Comeback
If you're considering upgrading your kit, downsizing your kit, or want a second camera, then a compact camera with a viewfinder will fit the bill. Technology moves fast and newer models are coming out frequently, but the Panasonic LUMIX DC ZS70K will still serve you well, and the Sony Cyber-shot DSC-RX100 III is a great higher-end alternative.
---
Disclosure/Disclaimer: As an Amazon Associate, we earn from qualifying purchases. Certain content was provided "as is" from Amazon and is subject to change or removal at any time. Product prices and availability: Amazon prices are updated daily or are accurate as of the date/time indicated and are subject to change. Any price and availability information displayed on Amazon.com at the time of purchase will apply to the purchase of this product.