Compact viewfinder cameras are hardly a thing of the past!
Why Switch To Compact Viewfinder Cameras?
A decade ago, serious photographers wouldn't have considered using a compact camera for any sort of serious work. Today, however, cameras of all shapes and sizes have made the strides necessary to take quality images.
Companies even include added attributes to make "downsizing" a sweeter deal for hesitant customers.
The fact of the matter is small camera models go far beyond your standard point and shoot. They take up less space than their bulkier brothers, and they often weigh significantly less, too.
So, what's not to love?
Today, we'll be getting down to the nitty-gritty behind some of the most popular compact viewfinder cameras on the market today.
Sony A7 III
Our Pick
Switch between the electronic viewfinder and the LCD screen via a custom button.
Fujifilm X100F
The optical viewfinder has elements of analog and EVF technologies.
Canon PowerShot G5X
Affordable and one of the most promising compact viewfinder cameras available.
Leica Q
Pro Pick
The Q's automatic viewfinder activates the moment the camera makes contact with your eye. With a resolution of 3.68 MP, it's one of the best electronic viewfinders money can buy.
Panasonic Lumix FZ2500
The viewfinder has an adjustment dial and a user-selectable grid system.
Sony Cyber-shot DSC-RX1 RII
The retractable electronic viewfinder pops up to reveal every detail with eye-level accuracy.
Best Compact Viewfinder Cameras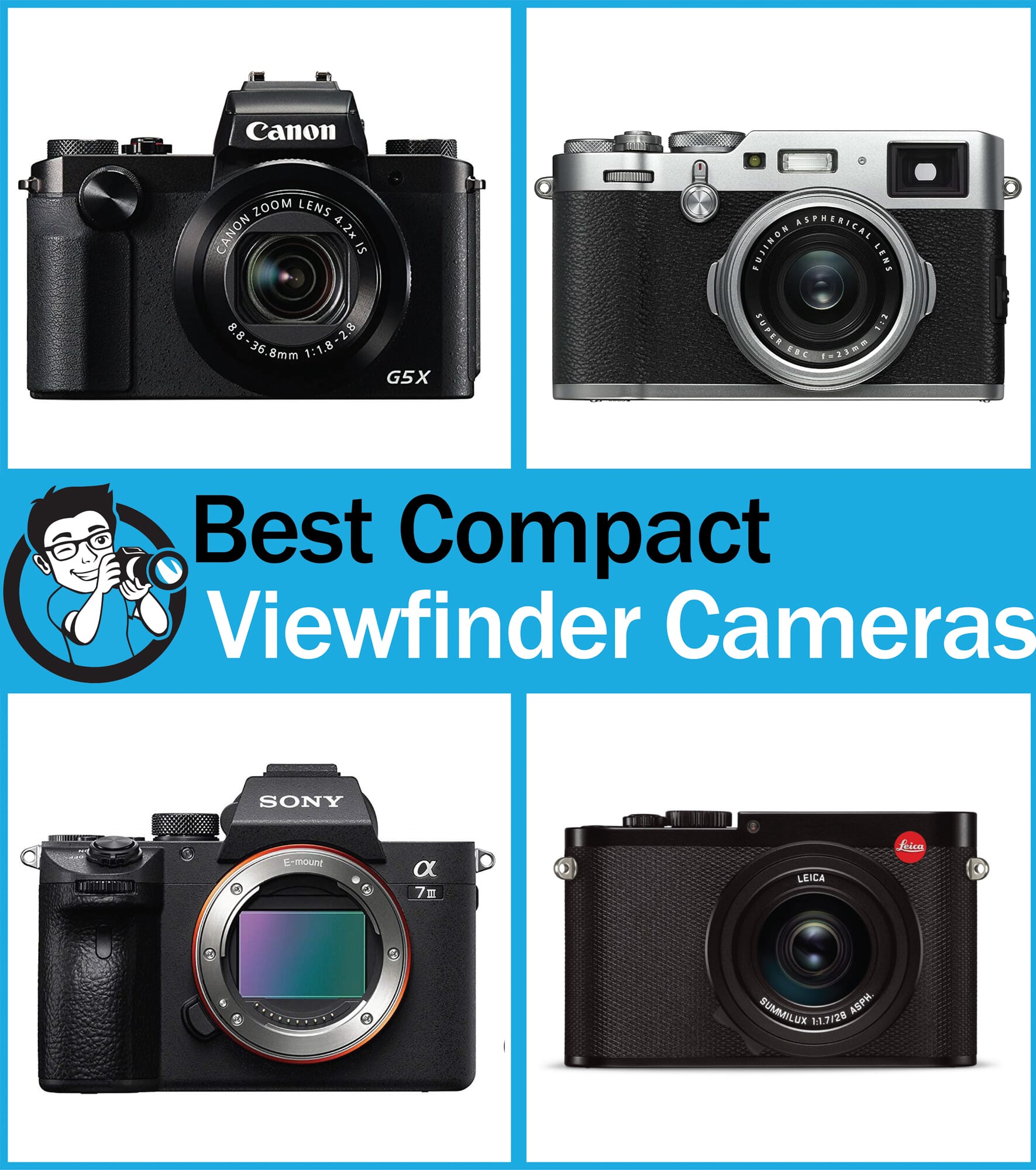 The A7 III has a whole lot to love for those seeking a step up in quality and a step down in size.
As the A7 III proves, 'compact' isn't necessarily synonymous with point and shoot. Thanks to an advanced 24.2 MP full-frame sensor, the camera boasts a 14-bit RAW output as well as a dynamic range of 15 stops. That means that every photograph is filled with rich colors, tones, and details.
If that weren't enough, this camera is packed with the most advanced autofocus technology the A7 series has seen. With 425 contrast AF points as well as 693 phase-detection spots, it's possible to focus just about anywhere.
It's true that previous iterations of the A7 series experienced a few kinks. However, it seems Sony has overcome most of its growing pains.
With added features like 4K video and broader ISO ranges, there's more to love about this trailblazer than ever before.
Sony a7 III ILCE7M3/B Full-Frame Mirrorless Interchangeable-Lens Camera with 3-Inch...
Advanced 24.2MP BSI full frame Image Sensor w/ 1.8X readout speed
15 stop dynamic range, 14 bit uncompressed RAW, ISO 50 to 204,800. Compatible with Sony E mount lenses. Can be connected via...
Up to 10fps silent or mechanical shutter with AE/AF tracking. Battery life (Still Images): Approx. 610 shots (Viewfinder) /...
693 phase detection / 425 contrast AF points w/ 93 percent image coverage. Focus sensor: Exmor R CMOS sensor
In the box: Rechargeable battery (NP FZ100), AC adapter (AC UUD12), shoulder strap, body cap, Accessory shoe cap, Eyepiece...
Critics have praised Fuji's X100 series for quite some time, and the X100V is no exception. Though it weighs in at just 2 lbs, behind the X100's unassuming exterior hides a powerful punch.
First, its 24.3 MP CMOS sensor offers a huge resolution boost from previous X100 iterations. What's more, the camera's processing engine delivers each outstanding reproduction with incredible speed.
Though the camera comes with a lens fixed in place, conversion pieces (sold separately) allow photographers to get more versatile images from the X100V.
The hybrid technology that went into the product's viewfinder is especially impressive. Retaining the best of both worlds, the optical viewfinder has elements of analog and EVF technologies. This includes a magnification feature in the bottom corner of the eyepiece for enhanced accuracy when focusing.
Despite Fujifilm's technological innovations, X100V is stylistically reminiscent of familiar film cameras. Nostalgic photographers will immediately feel at home with this compact viewfinder camera in hand.
Fujifilm X100V Digital Camera - Silver
Great photography every day, everywhere: X100V features a newly designed, incorporated 23 millimeter F2 lens, ensuring you...
Designed for quality and speed: From fleeting holiday moments and family celebrations to hard-hitting visual stories and...
Two ways to see an Image: To truly convey the magic of a scene, you need to be immersed in the moment and X100V's advanced...
Frame the perfect image: X100V has been specifically tailored for photographers who are never without a camera by their side...
Movies on the move: The X100V allows you to explore a whole new world of image making with the ability to create stunning 4K...
RELATED POST: Canon EOS M100 Mirrorless vs. Fujifilm X-A5 Mirrorless Camera
Despite a few hangups, the Canon Powershot G5X is one of the most promising compact viewfinder cameras available.
At a more affordable price than many of the higher-end best compact camera options, the PowerShot still offers a lot.
A large EVF works in conjunction with a touchscreen LCD to ensure that get the shot you want. Despite its small size, it retains a fairly large sensor for high-quality imagery.
In addition, this particular compact viewfinder camera has all the bells and whistles professionals and hobbyists have come to expect.
RELATED POST: Top 10 Canon PowerShot Cameras
WiFi connectivity, customizable controls, and the ability to create HD video are all selling points for the PowerShot.
Its Achilles heel has got to be the quality of its lens. Given current industry standards, the results it yields are simply too soft for most serious photographers. Another major hitch for PowerShot users is the camera's poor battery life, which averages just 210 shots per charge.
Canon PowerShot G5 X Digital Camera w/ 1 Inch Sensor and Built-in viewfinder - Wi-Fi...
1.0-inch, 20.2 Megapixel* High-Sensitivity CMOS sensor combined with Canon's powerful DIGIC 6 Image Processor creates the...
Convenient controls include an exposure compensation dial, front dial, control ring and control dial that helps provide for...
Multi-angle capacitive 3.0" touch panel LCD with a screen resolution of 1.04 million dots for a sharp, clear display and easy...
Capture stunning 1080p Full HD video (60p/30p/24p options) for lifelike images and convenient playback on an HDTV via the...
Easily transfer images and videos to a compatible smartphone, tablet or Canon Connect Station CS100 device with built-in...
There's a reason why Leica's brand has become synonymous with quality performance. The Leica Q2 comes at a hefty price, but those lucky enough to be able to afford it will argue that it's worth every penny.
The Q2's automatic viewfinder activates the moment the camera makes contact with your eye. With a resolution of 3.68 MP, it's one of the best electronic viewfinders money can buy. In turn, that makes getting the most nuanced details in focus easier to do than ever before.
But that's far from the only feature that the Q2 has to offer…
Intuitive and flexible controls and a fast processor work together to focus on subjects in as little as 0.15 seconds. When you get the perfect shot, built-in WiFi syncs with your smartphone or social media accounts. And, as if that weren't enough, it captures 4k footage in brilliant detail.
Finally, it comes together in an attractive package. Leica's cameras are famous for their craftsmanship, and only the most effective housing materials are used. A back thumb rest makes it easy to grip, and every individual adjustment wheel is laser engraved.
When it comes to compact viewfinder cameras, it doesn't get much better than the Leica Q2.
Leica Q2 Waterproof Dustproof High Speed Compact Black Anodized Digital Camera...
47.3 MP SENSOR - The Leica Q2 features a newly developed 47.3 megapixel full frame sensor that captures both richly-detailed...
OLED VIEWFINDER - the newly developed, high-resolution OLED viewfinder has a resolution of 3.68 megapixels that provides an...
4K VIDEO FUNCTION - a 4K video mode with 3840 x 2160 pixels and frame rates of 30 or 24 frames per second provides brilliant,...
HIGH SPEED PERFORMANCE - the Leica Q2 boasts an autofocus system that sharply focuses on your subject in 0.15 seconds, the...
WEATHER SEALING - The Leica Q2 features IP52* protective sealing against dust in damaging quantities and dripping water when...
The Panasonic Lumix ZS200 is another candidate well worth your consideration. A hybrid camera, it fits the needs of photo enthusiasts and burgeoning videographers alike. While the 2,330K dot Live Viewfinder is impressive, it's far from this camera's only worthwhile feature.
Though the Lumix doesn't offer users the ability to switch lenses, you likely won't want to once you've tried the Leica Vario-Elmar lens.
As you'd expect, the lens meets all the stringent expectations of a Leica product. It's got a huge range, with a 24-360mm range and 15x optical zoom.
The Lumix also has excellent video capabilities for a compact camera. This in part is due to the camera's 5-axis Hybrid image stabilizer, which helps suppress shakes and minimize blurring.
The Lumix also includes some added features for adjusting your content after you've hit the shutter button. For instance, a post focus function allows users to layer multiple images and adjust the focal point after shooting. In addition, any 4K video frame can be converted into a 4K still image.
PANASONIC LUMIX ZS200 15X Leica DC Lens with Stabilization, 20.1 Megapixel, Large 1...
[Larger 1 Inch Sensor] 20.1 Megapixels large sensor for brighter and more colorful photos (12800 Max ISO).
[LEICA DC 15x Lens] Leading class optical zoom performance with a bright F3.3 ? 6.4 aperture for soft defocus background...
[Creative Control] Scene modes, filter modes, adds creativity while traditional aperture and shutter priority modes allow for...
[4K Features] 4K Video 30p, 4K PHOTO, and 4K Live Crop turn 4K frame capture into photography. Focusing Area - Normal: Wide...
[Electronic Viewfinder] plus a touch-enabled LCD for greater control and easier image viewing.
RELATED POST: How To Sell Video Clips Online
Don't mistake then Sony Cyber-shot DSC-RX1 RII for any old point and shoot. With some impressive specs and a price tag to match, it's one of the most promising compact cameras with a viewfinder that we came across.
For starters, it's backed with an incredible 42.4MP full-frame CMOS sensor. This translates to broad dynamic ranges and excellent resolution.
What's more, it boasts fast output speeds for the most efficient shooting experience possible.
For the CyberShot, Sony teamed up with Zeiss to produce an impressive fixed lens. Unlike most fixed models, the 35mm can handle apertures as wide as f/2.0.
The impressive lens also comes with a macro shift ring that caters to closer subjects.
If that isn't enough to whet your appetite, the CyberShot has incredible autofocus features. The expand flexible spot feature sets to focus on any selected point – even if it isn't positioned directly on your subject.
There are 399 focal-plane phase-detection points, covering the majority of the camera's field of view.
Sony Cyber-shot DSC-RX1 RII Digital Still Camera
42.4MP Full-frame back-illuminated Exmor R CMOS sensor
35mm F2.0 ZEISS Sonnar T lens with macro capability
World's first user-selectable optical variable low-pass filter
Fast Hybrid AF with 399 focal plane phase-detection AF points
Retractable 2.4-million dot XGA OLED Tru-Finder w/ ZEISS T coating
RELATED POST: 6 Best Cameras For Vlogging
Compact Viewfinder Cameras Are Making A Comeback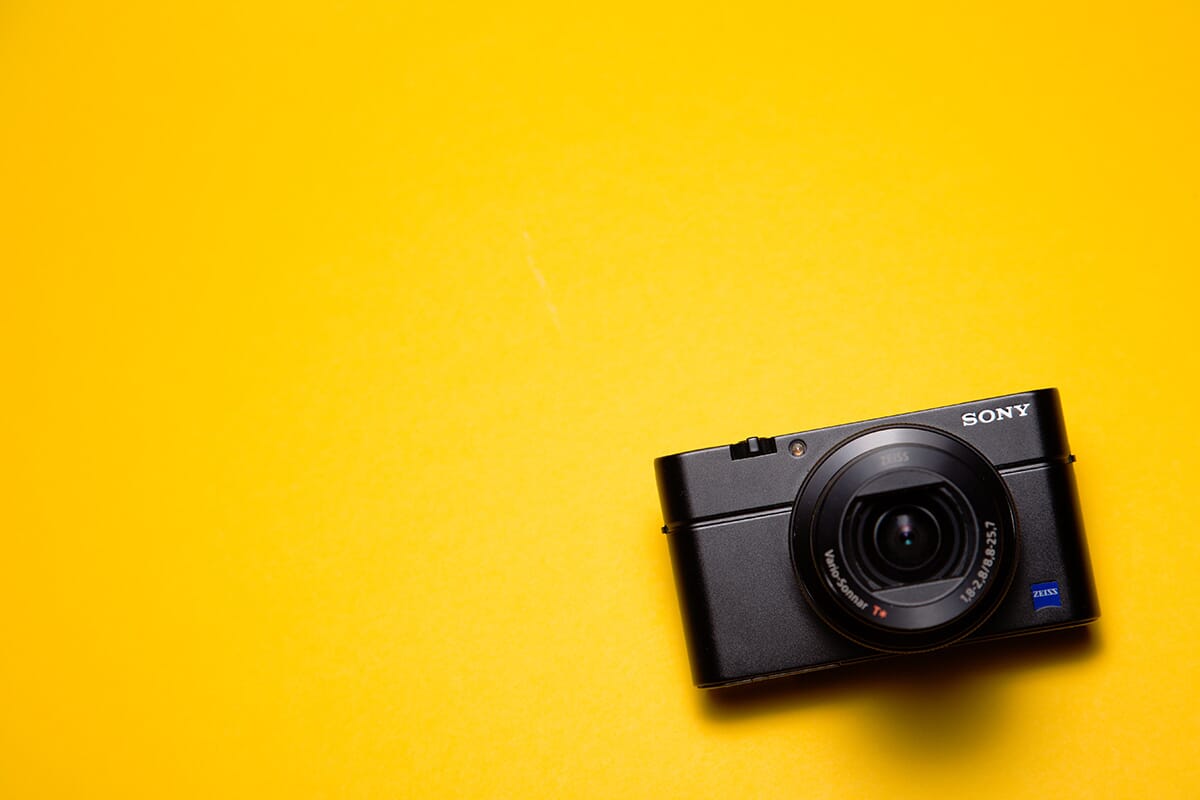 As you can see, the quality of these compact viewfinder cameras trumps even that of many DSLRs. The A7 III and Leica Q2 are, in fact, the choice of many professional photographers. For enthusiast we recommend the X100V and for price conscious, budget buyer, the Canon Powershot G5X.
If you're considering upgrading your kit to include a compact viewfinder Camera, there's never been a better time.
---
As an Amazon Associate we earn from qualifying purchases. Certain content that appears on PhotoWorkout.com comes from Amazon. This content is provided 'as is' and is subject to change or removal at any time.