Compact viewfinder cameras are hardly a thing of the past. However, it's becoming more difficult to find them at a reasonable price point.
The fact of the matter is, many small camera models go far beyond your standard point and shoot. They offer stunning image and video quality. Plus, they take up less space than their bulkier and pricier siblings, and they often weigh significantly less, too.
So, what's not to love?
Today, we'll be getting down to the nitty-gritty behind some of the most popular compact viewfinder cameras on the market today.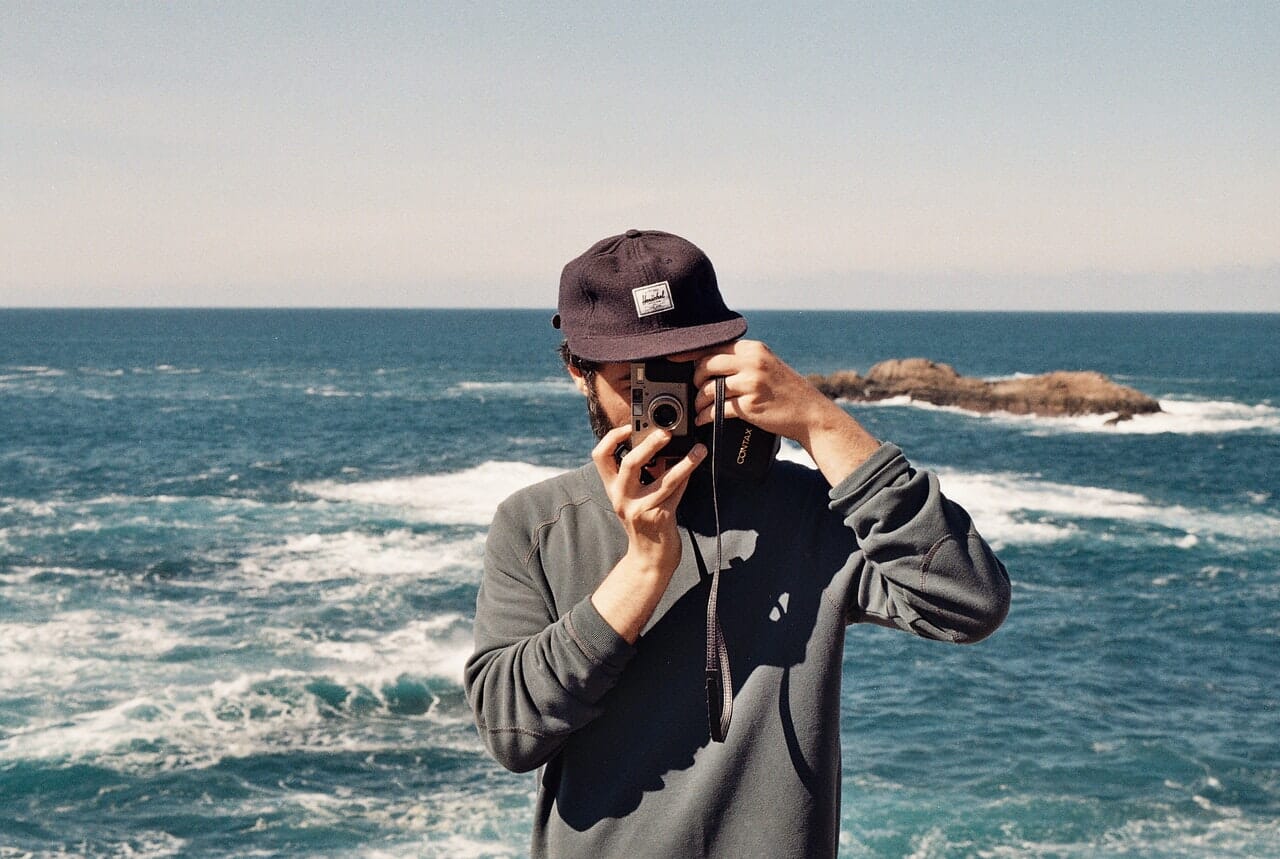 Best Compact Cameras with Viewfinders: Top 6 Picks
1. Sony DSC-HX80 Bundle
Our Pick
Great for traveling
Powerful zoom and compact size combined with an 18MP sensor
Pop-up electronic viewfinder
Good images in low light
Relatively inexpensive
Very compact
The Sony DSC-HX80 is a very small camera with superzoom capabilities, an 18 MP sensor, and a handy pop-up electronic viewfinder, which makes it the top compact camera with a viewfinder on our list. It also comes with a whole bundle of useful accessories!
The HX80 really is a pocket camera – it will fit easily in either pocket or purse, and weighs in at a featherlight 8.64 oz. It comes with built-in Wi-Fi and NFC connectivity and offers a range of features including face detection focusing, panorama shooting, and exposure bracketing.
One of the main features of the HX80 is the massive 30X optical zoom, which gives an equivalent focal range of 24-720mm on a 35mm camera. It also comes with optical image stabilization, which is great for shooting in lower light situations.
While it's very easy for beginners to use, it even caters to more advanced shooters with manual exposure control. With this, you can really tweak your images to capture exactly what you had in mind, allowing for lots more creative freedom. The LCD screen is tilting, and is a decent size at 3 inches (7.62cm).
The retractable electronic viewfinder is an alternative to the LCD screen, and it offers 100 percent coverage. This means that what you see in the viewfinder while shooting is exactly what you'll get in the image.
On the downside, there is no true 4K video capability, and no RAW image capture. However, the HX80 is a feature-rich and relatively inexpensive compact camera with viewfinder.
Related Post: RAW vs. JPEG: 5 Reasons Why You Should Shoot in RAW
2. Panasonic LUMIX DC-ZS70K
Budget Choice
Great for beginners and more experienced photographers
Relatively inexpensive yet packed with features
Image stabilization
Electronic built-in viewfinder
Long battery life
RAW shooting available
Fairly heavy
Viewfinder is quite small
Compact cameras are generally more expensive than they used to be, but if you're looking for a relatively inexpensive compact camera with a viewfinder, the Panasonic LUMIX DC-ZS70K may be the perfect model for you.
Panasonic is one of the strong players in the compact camera arena, and the LUMIX range is very well regarded. The ZS70K packs a 20.3 MP MOS sensor plus 30x zoom Leica DC VARIO ELMAR lens. So despite its lower price, you're still getting a really great camera!
The zoom range covers a 24-720mm equivalent on a 35mm camera, so you've got plenty of scope for both wide-angle landscapes and group shots through to a telephoto zoom that will get you very close up to the action.
Beginners and casual users will be able to use this camera with ease thanks to its user-friendly interface and automatic shooting modes. But this camera also caters to advanced users, offering manual exposure and RAW format shooting along with manual focus and focus stacking options.
For video shooters, there is 4K (UHD) video with a high video bit rate of 100mbps and an articulating touch screen LCD. You can also capture some stunning timelapse footage with this camera.
The built-in electronic viewfinder is quite small but does its job in a more than adequate way. All in all, this is a great camera that has something to offer for photographers and videographers who don't want to spend a ton of money on their camera.
3. Minolta Pro Shot 20
Inexpensive beginners option from Minolta
A powerful zoom and optical stabilization help produce good images
Relatively inexpensive
20MP sensor
67X optical zoom
Lots of auto scene modes
Not much here to tempt serious photographers
Those who want a simple compact camera with viewfinder that doesn't cost the earth may be interested in the Minolta Pro Shot 20.
It's not the smallest of point-and-shoot cameras out there, but it's relatively inexpensive. It also features a whopping 67X optical zoom, and is styled to look like a mini DSLR camera.
An optical stabilization feature helps keep photos sharp when camera shake is detected. It's got beginner-friendly features like face, smile, and blink detection, and a variety of scene modes including Night, Portrait, Panorama, and Sunset make it easy to use in these situations.
There is an electronic viewfinder, as well as a 3 inch (7.62cm) articulating LCD screen so you can see what you're doing. The viewfinder features an amplified signal from the sensor to give you a brighter image – this makes seeing the preview easier. The viewfinder also has an adjustable diopter, which allows you to change it to suit your vision.
Other features include built-in Wi-Fi, optical image stabilization, and 27 intelligent shooting modes to cover a variety of shooting scenarios. This makes it perfect for the beginner or casual photographer.
The wide-angle lens lets you capture all from landscapes, group shots, and street photos, to telephoto wildlife and nature shots. It's the perfect companion to take on vacation or to a party.
4. Panasonic LUMIX LX100K
A great compact option for serious photographers
Small, but powerful, with manual controls and RAW shooting
Large sensor and bright lens
Image stabilization
Excellent image quality
Good video capabilities
16 MP sensor may not be enough for some
The Panasonic LUMIX LX100K may not have the same image quality is other cameras but it is still a top option.
Keen photography fans will like the classic looks and handling, along with the choice to shoot RAW and manually control the exposure, but beginners and those who just want an auto mode compact camera may not like it so much.
This camera has a large Micro Four Thirds sensor – more like those in mirrorless cameras, which allows for great image quality, especially in RAW format. The wide aperture gives more creative control over the depth of field than most compact cameras, and it also comes with 4K video capabilities.
While this camera will fit on the palm of your hand, it's not exactly pocketable, which may put some people off. It has a metal body, is well made, and looks and feels a little like the more expensive Fujifilm X100S.
The lens on the LX100K is excellent, with a maximum aperture of f/1.7. This makes it a very good low-light camera. The zoom range is 24-70mm, which makes it an ideal choice for landscape, portrait, and street photography.
5. Fujifilm Instax Wide 300
Great little Instax Wide film camera
A great-looking Instax camera for those who want to shoot instant film instead of digital
Great photo quality
Easy to use
Good adjustment to lighting conditions
Film can be quite expensive
In the age of digital compact cameras, this Fujifilm Instax Wide 300 may seem like an anomaly, but there's something special about the nature of instant, physical photos you can hold in your hand, just like the old Polaroids.
The Instax Wide 300 produces some of the most consistently good quality prints with spot-on exposure, color saturation, and clarity. While many other instant film cameras have headed towards the smaller Instax Mini film format, the Instax Wide is the better choice in my opinion, as the photos are similar in size to the classic Polaroid photos.
The Instax Wide 300 can create images 2.4 x 3.9″ (9.91 x 6.1cm) in size on a 3.4 x 4.3″ (10.92 x 8.64cm) piece of film. It also features a retractable 95mm f/14 lens, with a two-range focus zone setting. This is great for making sure your images are sharp. It also sports a 0.37x optical viewfinder with a target spot to help you compose images.
Although the Fujifilm Instax Wide 300 is somewhat lacking in fancy features like long exposures, it does have exposure compensation from ±2/3 EV, through a lighten-darken control, which allows you to adjust the shots according to the lighting situation.
This film camera produces excellent quality instant images, and costs much less than most digital compact cameras with viewfinders.
6. Sony RX100 III
A powerful, pocketable camera with viewfinder
Great image quality for such a small camera and a fast lens too
Good in low light
Super-compact
High-quality sensor
The Sony RX100 III is small enough to fit in a trouser pocket, yet it boasts a high-quality 20MP sensor and processing engine. It's not the newest compact camera with viewfinder in the Sony RX100 line, but it still offers a lot for the price.
The RX100 III offers an impressive ISO range of 125-12,800, with 25,600 ISO available in the multi-frame noise reduction mode. The large maximum aperture throughout the zoom range makes this a good camera for using in low light without having to push the ISO up too much.
Images can be shot in JPEG or RAW format, and even both formats simultaneously. There are advanced manual controls like shutter and aperture priority as well as manual mode. That being said, there are options for those who are less experienced.
It also has a 5-axis image stabilization system, and a manual focus assist option. It also features a zebra highlight clipping warning. Video fans will enjoy the 4K output, and there is Wi-Fi connectivity and an NFC chip.
The electronic viewfinder is a collapsible unit. However, putting it up is a two-stage process that some may find a bit irritating.
Compact Viewfinder Cameras Are Making A Comeback
If you're considering upgrading your kit, downsizing, or want a second camera, then a compact camera with viewfinder will fit the bill. Technology moves fast, and there are newer models coming out frequently, but our pick of the Sony DSC-HX80 and the budget choice of the Panasonic LUMIX DC-ZS70K will still serve you well.
---
As an Amazon Associate we earn from qualifying purchases. Certain content that appears on PhotoWorkout.com comes from Amazon. This content is provided 'as is' and is subject to change or removal at any time.