We recently published an article on the topic of the best camera for blogging.
This second part deals with the best vlogging camera systems you can buy in 2021.
Blogging and vlogging are two different pursuits. They are worlds apart though the spelling is pretty similar. There are some major differences when it comes to camera requirements too.
Bloggers could work with almost any camera. As long as it takes acceptable pictures it is fine to work with. But vloggers need video capabilities as their primary requirement. They also need a flippable screen which can aim at them while they speak to the camera. This is so that a vlogger can keep himself/herself in the frame and in focus.
Additionally, vloggers may need an external mic port. A lot of vloggers prefer to use an external noise-cancelling mic which allows them to capture better quality sound.
Vloggers need the best vlogging camera that they can afford. But beyond just the subjective term 'best,' there are some specific necessities. We will be going through some of these requirements here.
So, without further ado, here is the list of the best vlogging camera systems that you could buy right now:

1. Canon PowerShot G7 X Mark III – The Best Vlogging Camera

Best Pick
The Best option for Vloggers
Improved 4K shooting functionality. Lightweight and extremely powerful. Perfect for on the go vlogging.
Newly designed stacked CMOS sensor for faster performance
DIGIC 8 image processing engine for quicker image capture
Built-in mic port for better quality sound recording via external mic
180 degree tilting LCD touchscreen, perfect for vlogging
Extremely lightweight, easy to use
4K 30p recording is limited to only 10 mins in a single clip.
What makes the PowerShot G7 X Mark III so popular? Because it is feature loaded and it is extremely easy to use. Two attributes which vloggers dig. Let's quickly run through some of its best features.
Sensor
The camera is powered by a 1" stacked CMOS sensor capable of producing 4K/UHD videos at 30p. Additionally, when shooting full-HD the camera is able to process images at a maximum of 120 frames per second. Image processing is powered by Canon's DIGIC 8 image-processing engine.
Lens
Yes, the camera has a fixed lens. In other words, you cannot unmount it and mount another one in its place. But that said, you will never need a reason to do so. The 35mm format equivalent zoom length is 24-100mm. It is more than enough for vlogging purposes.
At a shade under $700, it is hard to find a camera and lens combo in the DSLR segment that would be this good and this versatile. For anything else, you'll usually have to fork out more.
Other Features
One aspect that needs to be mentioned is image stabilization. Optical Image stabilization on the G7 X Mark III is very helpful for the purpose of overcoming jittery video issues.

Another big advantage of the G7 X Mark III is that it comes with a time-lapse feature built-in. This comes in handy at times when you want to create a B-roll for your vlog, such as a time-lapse or hyper-lapse sequence. The applications are many.
Additionally, the camera comes with a Live-Streaming functionality. That means you can shoot and share instantaneously over YouTube. That is a big bonus especially for vloggers who hold Live Sessions.
In terms of connectivity, the camera comes with Wi-Fi and Bluetooth technologies. Pairing and transferring videos to your laptop or smartphone is very easy. No wonder this is our pick as the best vlogging camera, even in 2021.
2. Sony Cyber-shot DSC-RX100 VII
Also Great
Lightweight and powerful camera for vlogging
Powered by a 20.1-MP 1-inch stacked CMOS sensor

4K/UHD internal recording without the need for an external recorder
Clean output using a HDMI recorder with sampling rate 4:2:2 (better color information and wider grading options)
Supports S-Log2 Gamma and S-Log3 Gamma supported for larger editing freedom for color grading etc.
Built-in microphone port for better audio quality
Eye tracking focus technology for better autofocusing response
Manual control ring is a big bonus for adjustment of camera settings.
There is no external flash shoe on the camera
The Sony Cyber-shot DSC-RX100 VII is an advanced compact point and shoot camera with a fixed built-in sensor.
Sensor
The DSC-RX100 VII is powered by a 20.1 megapixel 1" Exmor RS BSI CMOS sensor. It is paired with a BIONZ X image processor with front-end LSI technology. The stacked sensor design produces fantastic low light videos and stills.
Lens
The built-in lens has a focal length that's 24-200mm in 35mm format equivalence. It means you get a wide-angle and a telephoto lens all built into one. And that's just a start. Let's take a look at the other features of the camera.
Other Features
The rear LCD screen can flip all the way; 180-degrees, to give you a clear view of the frame as you record yourself. This is immensely useful for vlogging purposes. There is also a built-in microphone port. A stereo mic input ensures high-quality audio input.
Related Post: Sony DSC-RX100 Comparison
But the greatest USP of the camera is definitely the 4K/UHD video recording ability, using the full width of the sensor (without any cropping). That suggests that the sensor oversamples for recording 4K videos. For those of you who might be wondering what oversampling is, it actually helps in capturing a higher amount of detail than when the camera uses only a crop of the sensor.
Another important feature of the camera is the 357-point hybrid AF feature. Add the various connectivity options and it's easy to see why this camera is a solid choice for vlogging.
3. Canon EOS Rebel T8i
A majority of vloggers prefer not to use a DSLR. And it is for the simple reason that these cameras are bulky and are difficult to be transported, set up, and used at a location. They are also unwieldy if you are planning to hand-hold and record for 10 minutes or so at a time. That said, entry-level DSLRs are lighter and these are the only exception. The EOS Rebel T8i is one of these cameras.
4K/UHD video recording capabilities augers well for future-proofing your vlogs
Gets a microphone port for better sound quality using an external mic
45 all cross-type autofocusing points
3-inch articulating touchscreen for better view of what's been recorded.
Video recording time limit is limited to only 30 mins. You will have issues recording long footages.
Dual pixel autofocusing does not work when shooting 4K/UHD which suggests autofocusing in live-view mode will be a challenge
4K recording is actually a 1.6x crop of the sensor

Sensor
The sensor inside the Canon EOS T8i offers a resolution of 24.1 megapixels. Please note this is a crop camera and is powered by an APS-C CMOS sensor. The sensor is paired with a DIGIC 8 image processor.
The image processor is directly responsible for things like actual image processing, meaning from analog to digital signal conversion, continuous shooting speed, etc. The more powerful the image processing engine the better are all these functions. Though DIGIC 8 has now been superseded by the more powerful DIGIC X image processor, DIGIC 8 still remains a relevant and powerful unit.
The camera is capable of recording UHD /4K videos. Canon's dual pixel CMOS auto-focusing technology is available on this camera. This technology is useful when shooting in live-view mode when you are shooting videos.
Dual-pixel CMOS autofocusing uses a larger number of on-chip phase-detection AF sensors to lock focus. The technology is very reliable and is ideally suitable for the purpose of shooting videos. However, on this camera dual-pixel autofocusing is not available when shooting 4K. This can be a big 'no' since 4K shooting is the current standard with a lot of content creators preferring to give their users a better, crisper, and more detailed look. So, this is definitely one area where the EOS T8i loses out.

Lens
Being a DSLR system you have the option to attach any lens with the Rebel T8i to shoot vlogs. The standard choices would be a 35mm and a 24-70mm which should cover the standard range. You can also use the 50mm prime. And of course, there is the highly-regarded 18-55mm kit lens. But the 35mm (or any shorter focal length fast aperture prime) should be the best option if you are recording yourself at home.
When recording outdoors the 24-70mm would come in handy. You will rarely need anything longer than 100mm for vlogs as the composition would be too tight. Plus it would be difficult to manage for a one-man team to keep the subject in the frame as he or she speaks and moves within the frame.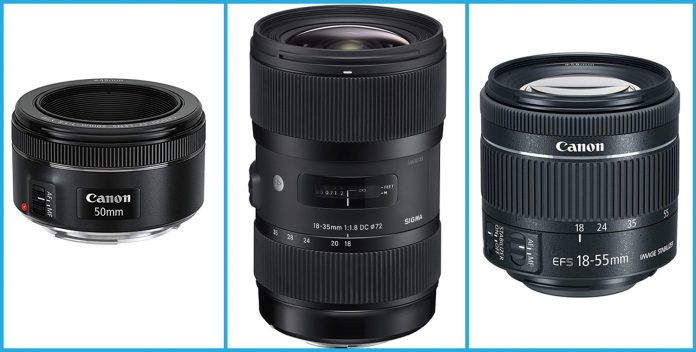 Other Features
The EOS Rebel T8i is capable of shooting 4K/UHD videos at 24 fps. External microphone input allows you to capture better quality sound along with the footage. However, there is a catch. The maximum recording time frame is limited to only 30 minutes.
In the connectivity department, the camera comes with built-in Wi-Fi and Bluetooth. However, NFC has been eliminated. Please note the older Rebel T7i had NFC connectivity. Pairing the camera with your smartphone was easy. Plus, you could control basic operations such as transferring images and videos wirelessly.
Related Post: Best Compact Cameras with Viewfinder
A smartphone recording interface with wireless control comes in handy when recording. You can start and stop recording by using a controller on your smartphone. You won't have to physically reach out and press the video record button and then press it again when you want it to stop.
Plus, this particular camera has a special Movie IS feature. This is designed specifically for stabilization across 5 axes when recording videos hand-held.
Oh, and how can you forget the vari-angle touchscreen? This is something that assumes critical importance when recording yourself. The EOS Rebel T8i has a 3″ 1.04m-dot vari-angle touchscreen display. It can be swiveled all the way to face you when you are recording yourself.
4. Canon EOS 90D
The EOS 80D was a firm favorite for vlogging but as technology has progressed, even this camera has had to make way for the newer EOS 90D.
32.5-MP sensor
4K/UHD videos using the full-sensor width
Vari-angle touchscreen
Dual-pixel CMOS autofocusing
45 All cross-type AF points
External recording limited to 4:2:2 at 8-bit

If we're being honest, this is not the most practical choice if you like moving constantly and making vlogs on the move. That said, if you are the 'tripod-type', in other words, you love shooting at home or in a small studio on a tripod, you will love the power of the EOS 90D. And with it the advantage of a reliable optical viewfinder.
Sensor
The 90D is powered by a 32.5 megapixel APS-C CMOS sensor paired with a DIGIC 8 image-processing engine. The 90D is capable of producing 4K/UHD videos at 30p. Plus it can shoot full HD videos at a frame rate of 120p. The sensor is equipped with Canon's dual pixel CMOS auto-focusing technology.
Lens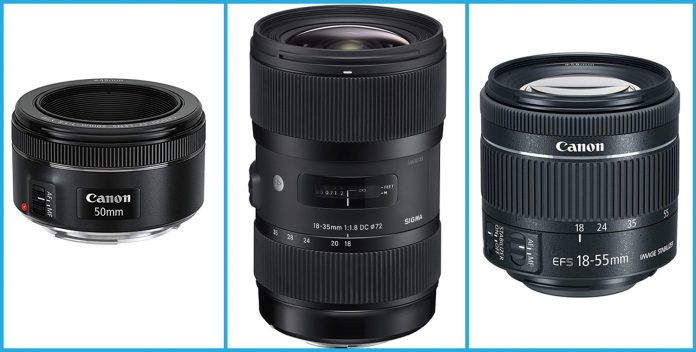 This is a DSLR so you can practically use any lens as long as it is compatible with the mount. We have already listed a number of lenses under the EOS Rebel T8i. These lenses are also usable on the EOS 90D as well.
Other Features
The back of the camera is dominated by a 3" 1.04m-dot vari-angle touchscreen. The touchscreen can swivel all the way to face whatever is in front of the camera. This is something that makes the EOS 90D a practical choice for vlogging purposes. Because, with the front-facing LCD screen, you can see what you are recording, whether you in the frame and in focus while the footage is being recorded.
You can always monitor where your face is in the composition using the touchscreen.
Connectivity, too, is an important parameter. The EOS 90D comes with both built-in Wi-Fi and Bluetooth. This has become a sort of a mandatory thing these days. It helps to pair the camera with a compatible smartphone or tab and transfer images and video seamlessly.
One of the highlights of this new camera is the 32.5-MP sensor and the ability to shoot 4K/UHD videos using the full-sensor width. That means the video footage is oversampled and then scaled down. That also means there is a lot more detail captured in the footage.
5. Canon EOS RP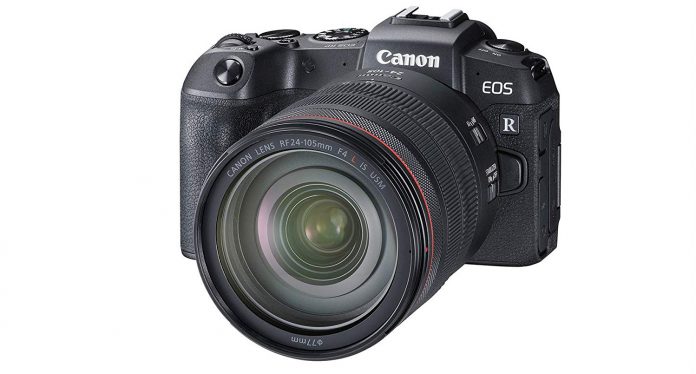 Compact option for Vloggers
A compact budget option for vloggers
Built in 4K / UHD recording, with fully articulated screen and compact design.
Lightweight body structure
Built-in 4K / UHD video cabilities
Full articulated screen
Full-frame design
Dual pixel CMOS autofocusing
4:2:2 8-bit output when recording to external recorders
4K /UHD recording at a maximum of 24 fps.
In-camera 4K/UHD recording bit-depth 8- bit
Mirrorless cameras combine the best of both worlds. They are compact just like the point and shoot systems and they have the same functionality as DSLRs. At least in the sense that they are able to use interchangeable lenses. Therefore they are able to combine the advantage of several focal lengths on demand.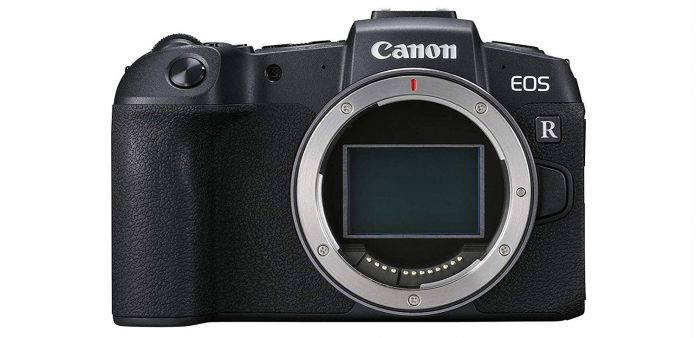 The Canon EOS RP is a mirrorless camera that is ideal for vlogging. We rate this as the best vlogging camera in the mirrorless field. Being a small camera the other major advantage is that it is extremely lightweight. Weighing just 485 grams with the battery and memory card inserted and without a lens, it can be easily transported.
Sensor
At the heart of the EOS RP is a 26.2 megapixel full-frame CMOS sensor and a DIGIC 8 image-processing engine. The mirrorless camera gets Canon's dual pixel CMOS auto-focusing mechanism as well. This comes in handy when shooting vlogs. As you move in and out of focus the camera will slowly focus return the focus. Not the usual jerky focus but a more cinematic, slow, and smooth focus. The camera shoots UHD/4K at 25p and Full HD at 60p.
Lens
Canon's newly launched RF mount is being provided with new lenses. You can also use legacy lenses using the Canon Mount Adapter EF-RF. Rest assured you will have a lens that's right for you. All EF and EF-S lenses will become compatible with your EOS RP.

Honestly, you need one or maybe two lenses for vlogging. Most people shoot with a basic 18-55mm lens. Many shoot with a 35mm. and that's the limit of what you have to invest in lenses.
Other Features

The other features of the EOS RP include a 3" 1.04m-dot vari-angle touchscreen display. In terms of connectivity, the EOS RP has Wi-Fi and Bluetooth. This is the best vlogging camera in the mirrorless segment.
6. Canon EOS Rebel SL3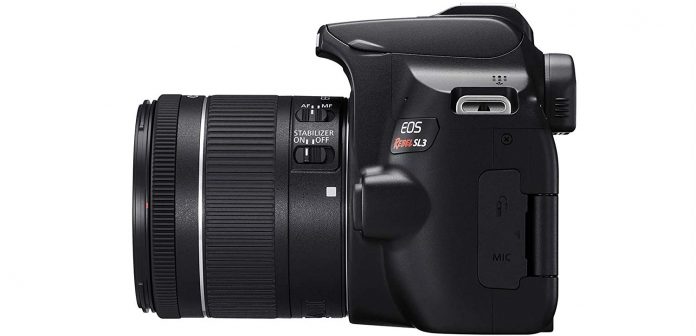 Entry level DSLR for vlogging
Excellent budget option
One of the cheapest DSLRs in the market that can shoot 4K/UHD .
24.1-MP APS-C CMOS sensor
UHD 4K24p Video
DIGIC 8 image processor
Dual Pixel CMOS AF
Articulating touchscreen LCD
Only 9 AF points which can severely limit your abilities to lock focus, especially in off-center compositions.
4K footage is subject to a crop of the sensor.
The EOS Rebel SL3 is a great budget option. It captures 4K/UHD and is the cheapest DSLR camera capable of 4K recording.

Sensor
The built-in sensor is 24.1-megapixel one which is paired with a DIGIC 8 image processor.
Lens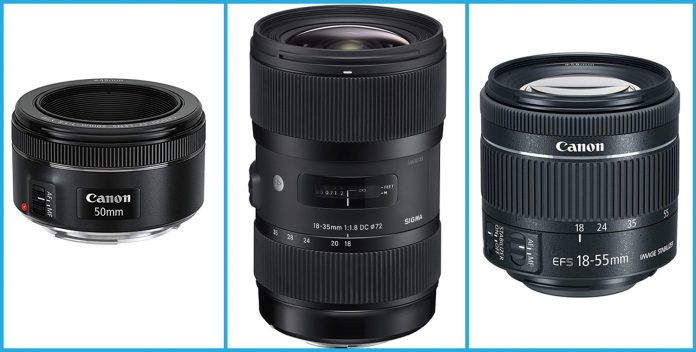 Similar to many of our other best vlogging camera choices, this DSLR unit allows you to select from a range of lenses offering you flexibility in your vlogging needs.

Other Features
The SL3 comes with built-in Wi-Fi and Bluetooth.
Aside from that there is not really anything significant offered by this camera. Don't let that deter you from considering this in your search for the best vlogging camera. It is a fine system at an incredibly reasonable price.
7. Sony a6400
Fantastic entry level option for Vloggers
Comes with Sony's real-time EYE-AF along with real-time tracking. Includes 425 phase-detection AF points and 425 contrast-detection AF points with a fast AF lock in 0.02 sec.
Sony's real-time Eye-AF technology for better autofocusing performance
Real time subject tracking
425-point phase detection and 425-point contrast detection AF mechanism
S-Log2 and S-Log3 for larger amount of info for post-processing.
Zebra functionality for accurate exposure control
No time limit for recording.
No in-body image stabilization.
Sensor
The Sony a6400 is powered by a 24.2-MP APS-C Exmor CMOS sensor.
Lens
This being an interchangeable lens camera will work with all OEM and third-party lenses designed for the Sony E mount. So, you have the option to shoot with a wide range of fast-aperture lenses depending on the project.
Other Features
The Sony Alpha a6400 is a synergy of a number of features that have filtered through from Sony's high-end camera systems.
One of the major USP's of the camera is that it uses the same sensor that the a9 uses. That translates among other things improved 'Real-time Tracking' autofocus.
As a vlogger, it is pertinent that your face or your eye is in focus at all times. Even when you might be moving around. And this is where the a6400 and Sony's Eye-AF technology works so well.
Video performance is exceptional. The footages are detailed and contain a lot of information even though they are eventually down-sampled from a high-resolution capture.
The world has moved on to 4K and if you prefer to shoot in the cinematic 24p format, then you will love the no-crop mode.
The built-in time-lapse mode is also very useful. It comes as an opportunity to create B-rolls for your project and use that as a voice over in your production.
That said, the lack of image stabilization is something that is going to disappoint some vloggers. But if you are shooting indoors and always using a tripod, this is not a deal-breaker.
8. Panasonic Lumix GH4
Excellent for video work
Capable of capturing cinematic DCI 4K 4096×2160 (24p/30p) as well as UHD 4K 3840×2160 (24p)
DCI 4K (4096×2160) shooting capability for higher resolution footages
4:2:2 8-bit or 4:2:2 10-bit color sampling can be done using an external recorder.
Built-in focus peaking functionality for accurate focusing.
Zebra pattern for better control over exposure
Built-in time-stamp feature. Comes in handy when using multiple cameras.
Weather sealed magnesium alloy construction for better control over the vagaries of nature.
Internal recording happens in 4:2:0 color sampling and 8-bit color only.
Sensor
The Panasonic Lumix GH4 is powered by a 16.05-MP Digital Live MOS sensor.
Lens
This is an interchangeable lens camera. It works with all lenses that are designed for the Micro Four Thirds mount.
Other Features
The DMC-GH4 is a favorite among video shooters and vloggers. For the simple reason that the camera is capable of shooting DCI 4K internally at 24p.
Along with 4K internal recording, the GH4 comes with a focus peaking feature for better manual focusing accuracy and twin zebra settings for better control over the exposure. This also ensures that the camera can avoid clipping the highlights which is a real problem when manually adjusting exposure shooting videos.
Focus peaking is a feature that works by highlighting areas in the frame which are tack sharp in focus and giving them a pre-specified color.
The advantage with the GH4's focus peaking system is that you can assign a color from a choice of three – blue, white, and orange. The camera will highlight areas that are in focus using the color of your choice.
A majority of vloggers probably won't do much color grading or editing of their footages except make the odd cut here and there and compile their videos in post-production. But if you feel like doing a bit of color grading of your footages then you will love the flexibility that the camera offers.
You can record to an external recorder and output 4:2:2 10-bit feed. The only issue is that when you are doing a 4:2:2 output you wouldn't be able to record anything to the memory card.
9. Canon EOS M50
Powerful vlogging kit
Budget pick for vloggers
UHD 4K video recording at 24p and full-HD video recording at 60p. The camera also features Canon's Dual-Pixel CMOS Autofocusing technology.
UHD 4K video recording at 24p
Full-HD video recording at 60p.
DIGIC 8 image processor
Extremely lightweight
10 fps still recording
Built in 5-Axis image stabilization
Dual-pixel CMOS AF
Dual-pixel CMOS AF not available in 4K mode
4K video gives you a 1.6x crop of the sensor.
The smaller sampling area results in softer 4K performance
Number of buttons and dials are not that many compared to other M models.
Sensor
The Canon EOS M50 is powered by a 24.1-MP APS-C CMOS sensor.
Lens
Interchangeable lens camera with a Canon EF-M mount. Compatible OEM and third-party lenses are usable.
Other Features
The Canon EOS M50 is a budget APS-C camera designed for vloggers. Considering the advent of the Canon RF camera systems, the EOS M series has taken a back seat.
But that said, the EOS M50 is not a pushover by any means. Even though the EOS M50 Mark II has been announced. The EOS M50 is a lightweight camera and can be easily used with a selfie stick or a monopod held in hand. This is the ideal sort of camera you would like to take with you if you are planning to shoot on the go.
At the time of writing this the EOS M50 Mark II is available for pre-order.
The other major features of the EOS M50 are UHD / 4K recording and dual-pixel CMOS autofocusing. That said, dual-pixel autofocusing will not work when your shooting resolution is set to 4K. And that is a big disappointment. But if your vlogs are only full-HD you won't mind using the EOS M50 as your secondary camera or even the primary camera.
Also, the EOS M50 comes with a 5-axis image stabilization system. The Combination IS system ensures that the camera is capable of shooting stable footage even when you are moving about. However, you will need to use a compatible lens for Combination IS to work effectively.
But the major thing that works in the favor of the camera is the fully articulating touch-screen.
10. Sony ZV-1
Purpose-build camera for vloggers
Purpose-build lightweight camera for vlogging. Real-time EYE-AF, UHD/4K 30p with HLG and S-Log3 Gammas.
Directional 3-capsule microphone for better recording ease.
Multi-interface shoe for using different accesories.
Built-in 24-70mm lens (35mm format equivalent)
Bright f/1.8 – 2.8 aperture lens to capture a proper exposure
Built-in Hybrid Image Stabilization for shake-free footages
Excellent Human and animal eye-tracking
Battery life is shorter than expected.
Very limited application apart from video shooting
No electronic viewfinder
As a vlogger, you need a lightweight non-sense setup that allows you to shoot footage on the fly for at least an hour or so on a single charge. As a vlogger, you don't need fancy stuff that is more geared towards still photography. You need a video camera without making things too complicated. Enter the Sony ZV-1.
The USP of the camera is definitely the ease of use and the ability to produce 4K / 30p and full-HD 120p footages without fuss on demand.
Sensor
The Sony ZV-1 is designed around a 1-inch 20.1MP Exmor RS BSI CMOS sensor.
Lens
The ZV-1 comes with a built-in lens with a focal length of 9.4mm to 25.7mm. 35mm format equivalent focal length of 24-70mm.
Other Features
The camera benefits from the presence of HLG (Hybrid Log Gamma) and S-Log2/3. The first one helping to produce content that are suitable for HDR displays. The second one ideally suitable for someone who is looking to further color grade and fine tune their footages before publishing.
But most vloggers would be happy shooting on the Auto mode. In that regard the camera does a fine job.
11. Canon EOS R6
Small but powerful
Lightweight video option.
Full-frame lightweight mirrorless camera designed for video work. Good 4K capabilities and built in image stabilization.
Full-frame camera capturing a wider frame
UHD / 4K 4:2:2 10-bit internal recording at 60p. Greater scope for editing
Built-in 5-axis stabilization
Dual-pixel CMOS autofocusing
C-Log and HDR shooting modes
Video super-sampled from 5.1K
Major heat issue. Especially when shooting 4K
Time limit for shooting videos. Limited to 30 mins
Extremely pricey, for the specs and when you consider the image/video quality
Sensor
The Canon EOS R6 is built around a 20-megapixel full-frame sensor.
Lens
This is an interchangeable lens camera and you can use any compatible lens OEM or third-party that fits the canon EF mount.
Other Features
The EOS R6 is an improvement over its older siblings (EOS R) in terms of the frame rate when shooting 4K. however, you will find that Canon hasn't improved the total time-frame for a single clip recording. It is still stuck at 30 minutes (for 60p and 40 mins for 30p).
If you don't record longer than 30 mins in a single take then this issue should not be a bother for you.
Even though the 30-min clip duration limit set may not be a deal-breaker to everyone, the heat issue might. And especially if you continue shooting 4K at higher frame rates. The camera shuts down to prevent damage to the internal sensors due to overheating. And you won't be able to revive the thing in ten minutes to resume shooting.
What it means is that this camera requires frequent 'rests' between shoots which can be a problem if you are shooting with a single camera setup. For multi-camera setups too, this camera may have issues performing the role of the B-Camera.
But if you are an amateur, and you have meticulously planned out your shoot you may be able to get around this problem. Such as using an external recorder. I know this might be an issue for someone shooting on the go, such as a travel vlogger or someone shooting as a one-man unit. But for those shooting indoors, this may still be a possibility.
But on the flip side there are many sure winners with this camera. And one of those winning features is the built-in image stabilization. The five-axis sensor-shift image stabilization technology ensures that the sensor is capable of countering hand-movements and producing beautiful steady footages.
---
As an Amazon Associate we earn from qualifying purchases. Certain content that appears on PhotoWorkout.com comes from Amazon. This content is provided 'as is' and is subject to change or removal at any time.