The Best Vlogging Cameras
Today we are going to discuss the best camera for vlogging.
In the past few years video blogging, or "vlogging," has boomed.
Moreover, social media video platforms such as Youtube and Vimeo have made this a lot easier. More and more bloggers have ditched the keyboard and opted to go the video route. As they say, a picture says a thousand words. And in that sense, a 5-minute video would say 9 million words!
For the impatiant reader → Go straight to our detailed review of the best camera for vlogging in 2018, the PANASONIC LUMIX GH5 Body 4K Mirrorless Camera here, or see review of the GH LUMIX on Amazon.
The thing is a vlog (video log) is a much easier and quicker way to express what one has to convey without forcing the audience to spend several minutes reading a page of written text. Whatever might be the subject, a particular recipe, a magic trick or a quick camera review, a 5-minute vlog would accurately convey the message faster than an actual page.
The Best Cameras for Vlogging (2018)
Related Post: Best Point & Shoot Cameras in 2018 (under $500)
Now, before we delve head first into the discussion of the best camera for vlogging let's take a quick look at some of the relevant parameters.
Video Resolution
The first important consideration is the video resolution. These days 4K is fast becoming a standard.
Sure you need full HD as that is the current standard, but built-in 4K / UHD is great to have.
With more and more of your audience preferring to watch their favorite content by casting to their favorite large screen TV, going forward this is going to be the new standard.
Video Frame Rate
The frame rate doesn't matter so much because all cameras can shoot at a minimum of 24 frames and that is what you need at the bare minimum.
But having said that, 24 fps isn't always the best in the business.
24 fps is the preferred frame rate for cinematographers. But it can sometimes produce jittery results.
30 fps is a better frame rate and will create smoother quality videos.
Tripod Mount
Tripod mount is a must have. You probably wouldn't want your camera in hand while you are shooting. Leaving it on a chair or desk while recording isn't an option either. The best alternative is to use a tripod.
Related Post: Best Tabletop Tripods
Tilting & Vari-Angle LCD Screen
Thanks to newer improved designing, the tilting/vari-angle screen is a boon for vloggers.
It is easier to see if you are in the frame and if auto-focusing is working correctly or not.
The vari-angle screen has made it possible for vloggers to shoot on their own without the need to employ an assistant.
Touchscreen
The second requirement is touchscreen. This allows for the camera settings to be changed without having to take the camera in hand.
Just leave the camera on the tripod, swivel the LCD screen in front and adjust the settings.
Wide Angle Lens
Having a wide angle lens is important.
Wider the angle of coverage the larger is the scene that would be captured.
Ideally, you would want to sit back a few feet and allow the camera to capture a bit of space either side of the frame.
A lot of vloggers prefer to shoot outdoors. A wide angle lens allows them to capture a bit of the environment as well.
Related Post: The Best DSLR Wide Angle Lenses
Lightweight
Finally, the best camera for vlogging must also be lightweight.
Lightweight allows the camera to be easily operated and shot with for longer stretch of time without any discomfort.
If the location of the shoot is outdoors a lightweight camera makes good sense.
1. Sony Cyber-Shot DSC-RX100 V Digital Camera
We start this list with the Sony Cyber-Shot DSC-RX100 V. Don't fall for its slim size and lightweight frame.
Under the hood, this is a fantastic camera with powerful features. It checks almost all of the boxes.
It is powered by a 20.1 megapixel 1" EXMOR RS BSI CMOS sensor with Sony's highly acclaimed BIONZ X image processor handling the image processing. BSI sensors are fantastic for low light photography.
There are many exciting features in the DSC-RX100 V but what makes it one of the best cameras for vlogging is the internal UHD 4K video capability.
The camera has S-Log2 Gamma for producing a larger dynamic range than what is possible with traditional gamma.
The frame rate for the UHD / 4K resolution is a maximum of 30 fps. At a scaled down full HD video resolution you can shoot at a maximum frame rate of 60 fps.
Sound quality on the DSC-RX100 V is stereo.
Auto-focusing on the DSC-RX100 V is powered by a 315-point phase detection system that covers almost 65% of the frame and gives fast and reliable focus lock at all times.
The DSC-RX100 V comes with a Zeiss Vario-Sonnar T* lens with a focal length that is the equivalent of 24-70mm on 35mm format. The lens has a maximum wide aperture range of f/1.8 – f/2.8.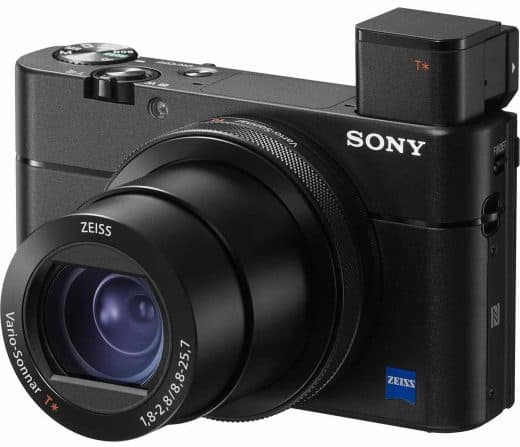 Plus, the rear LCD screen can flip up and point straight front. This comes in handy for shooting without any assistants.
The only things missing are touchscreen properties on the LCD.
Related Post: Best Compact Cameras with Viewfinder
2. Our Pick: Canon PowerShot G7 X Mark II
Just like the Sony DSC-RX100 V that we just finished reading about, the Canon PowerShot G7 X Mark II is yet another formidable camera.
Both these cameras are built around a 1″ sensors. 1″ sensors are smaller than APS-C sensors.
Compact cameras with fixed lenses are significantly smaller than full-frame sensors. However, they are just perfect for handholding are great cameras for shooting vlogs.
You can carry it practically anywhere you go and quickly set it up with all types of tripods.
The G7 X Mark II is powered by a 20.1-megapixel sensor (1″).
Image processing is powered by Canon's DIGIC 7 image processor.
The built-in fixed lens offers a focal length range of 24 – 100mm (35mm format equivalent).
The maximum focal length range of the lens is f/1.8 to f/2.8.
Video capability on the G7 X Mark II is full HD only and at a frame rate of 60 fps. Thus, video mode on the camera is below par.
But in case you don't ever need to shoot full HD this camera will do an excellent job. The built-in microphone records stereo sound quality audio.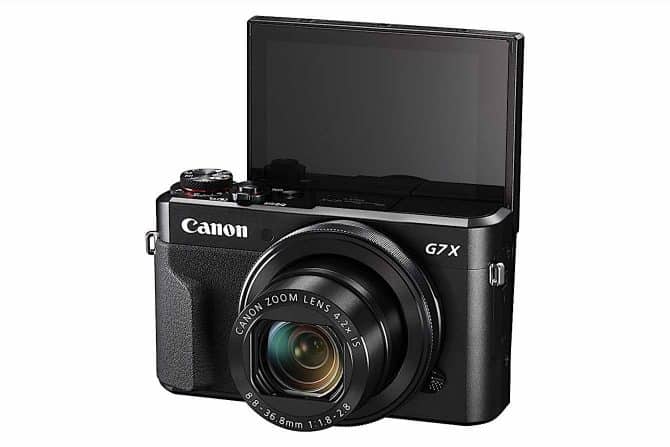 Additionally, at the back of the camera is a 3″ LCD touchscreen with a resolution of 1.04m-dots.
The screen can be tilted, which allows it be faced front to assist you in maintaining the right frame when shooting.
Thus, the LCD screen of the G7 X Mark II is a better one compared to the one on the DSC-RX100 V.
Related Post: DJI Spark Review (A Mini Drone You'll Love)
3. GoPro Hero 5
You can't keep a GoPro out of a list of the best camera for vlogging. After all, it is the world's most popular action camera, and if your vlogs are all about action and adventure, then this is the camera that you need.
When it comes to all-weather performance, the GoPro Hero 5 is the brand that comes to one's mind right away.
The GoPro Hero 5 is built around a 12-megapixel sensor and supports 4K / UHD video recording at a frame rate of 30 fps.
The back LCD screen has touchscreen ability but is tiny (only 2″). Realistically, the touchscreen is not exactly the one you would enjoy using.
Overall the GoPro Hero 5 will probably not be the only camera for vlogging in your arsenal. You will need at least one more camera with a tilting screen and a few additional features.
But having said that this camera will do the job of shooting in hazardous conditions which other cameras will find it hard to negotiate.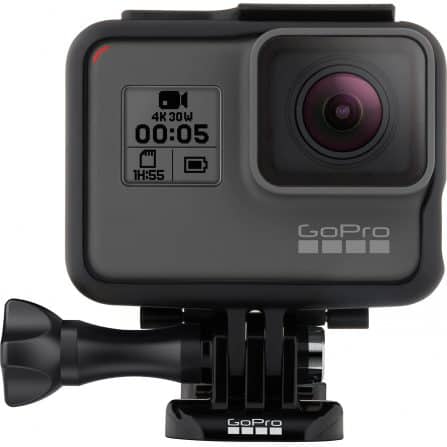 On the plus side, however, the GoPro Hero 5 has microphone input via an adapter, for recording better quality sound.
It weighs a shade over one pound making it very easy for you to carry it wherever you go. Finally, the best feature of the camera – an excellent weather-sealed design that allows it to be used in all types of weather.
Related Post: Review of the Best Slave Flash (Non-TTL Flash)
4. Nikon D500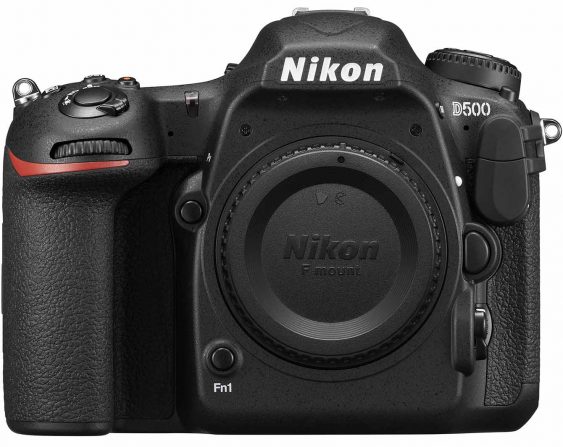 Yes, I remember that I wrote lightweight cameras would do a better job for vlogging. And yes I am also aware of the fact that the D500 is not the lightest camera around.
Yet, I have considered the D500 on this list of the best camera for vlogging.
There are a few reasons for that.
First, the D500 is not a heavy camera. It weighs just about 1.892 pounds. Plus, being a DSLR means it has a proper tripod mount and an excellent build quality.
On the plus side, you get a camera that is good enough to be a professional DSLR. The only probable reason for that is because the camera has a crop sensor.
The D500 is capable of shooting 4K / UHD video with the option to either record the videos on to a plugged in memory card or to an external hard drive in uncompressed format.
The drawback to the D500's 4K / UHD video recording capability, however, is that the camera samples a smaller 1.5x cropped surface of the sensor to produce the videos.
A 1.5x cropped sensor has a few ramifications:
First, the effective focal length of a lens becomes 2.25x its actual focal length (1.5 for the APS-C sensor size multiplied by the 1.5x sampling size). You will need a slightly wider lens to compensate for this.
Second, when you shoot under low light situations, this smaller sampling area will severely affect the low light performance of the sensor.
However, if you use the right lenses, and concentrate on accurate focusing by employing an assistant, you can still have a lot of success, despite the reduced sampling area.
Plus, there is a tilting LCD screen as well.
The D500 comes with a built-in stereo mic for recording great quality sound, and there is the option to plug in an external stereo mic as well. That ensures you can record even better sound quality.
5. Canon EOS 80D (Our Pick for Best DSLR)
The Canon EOS 80D is a fantastic camera for video work.
Canon cameras have always been a step ahead regarding video work and the EOS 80D, successor to the EOS 70D, does not disappoint in that regard.
Related Post: Canon EOS 80D vs Canon EOS 70D
There are many exciting features on the EOS 80D which would make any vlogger or video enthusiast drool. Let's discuss a few of them.
The 80D shoots full HD videos at a maximum frame rate of 60 fps.
The camera has a fully articulated LCD screen, which ensures that you can swivel the screen all the way to the back and face the subject.
It is the easiest way to shoot without the help of an assistant while ensuring that you are in the frame all the time.
Additionally, the screen has a touch to focus feature, much like your smartphone, which will come in handy when you take the help of an assistant to shoot.
Dual pixel CMOS auto-focusing is the primary feature that makes this camera a great tool to shoot videos. Dual pixel CMOS auto-focusing uses a new technology.
It involves split pixels on the sensor. Each of these divided pixels senses light coming in from two different sides of the lens. Just like a rangefinder camera, this information is then used to focus the image.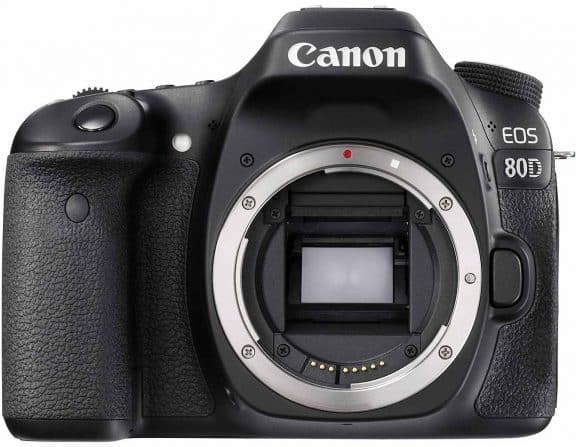 To add to all this is an interesting built-in feature on the EOS 80D: the HDR movie mode.
HDR movie mode takes two exposures, one normal and the other one underexposed rapidly one after the other at a frame rate of 60 fps. The dual exposures are then combined to ensure a greater dynamic range and a frame rate of 30 fps.
Related Post: EOS 80D Digital DSLR (Great for Video)
6.
Our Pick:

Panasonic Lumix DC-GH5 Mirrorless M43

The Panasonic Lumix DC-GH5 is a wonderful camera ideal for vloggers.

But let's not take my word on it. Let's check out some of its videography centric features.
A 20.3-megapixel sensor and Venus Engine Image processor powers the Panasonic Lumix DC-GH5.
Built-in capability to shoot 4K video with no crop. Note this is true 4K and not UHD.
The frame rate is 25 (maximum).
The camera is capable of sampling internal 4:2:2 10-bit clips.
Another advantage of the Panasonic Lumix DC-GH5 is its built-in sensor-shift image stabilization. Any lens that is compatible with the camera will be able to shoot steady images. Plus, the camera has a tilting rear touchscreen LCD screen with a resolution of 1.62m-dots.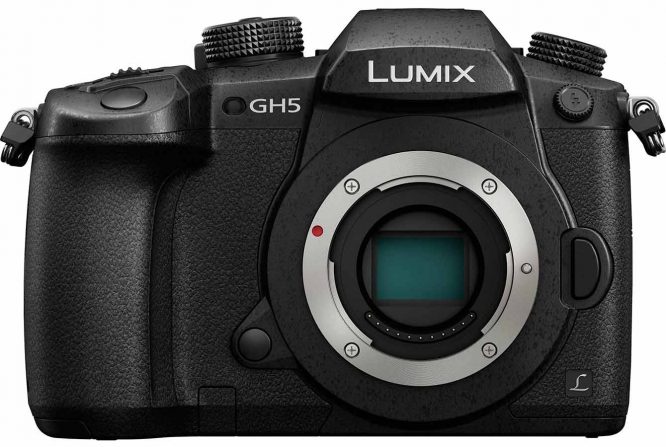 Additionally, the camera has excellent weather sealing and a solidly built body. Though this is not a requirement that is an absolute must, if you routinely produce your vlogs outdoors, this is a feature that's nice to have. Just as an insurance against inclement weather.
The Panasonic Lumix DC-GH5 also has Bluetooth connectivity.
If you are a one man production team, you would love the ability to control your camera from a distance remotely. It works like a charm and saves you from having to run to your mark after you hit the record button.
Also, it allows you to control the focusing much more accurately.
Best Cameras for Vlogging Compared
Related Post: Best Cameras for Blogging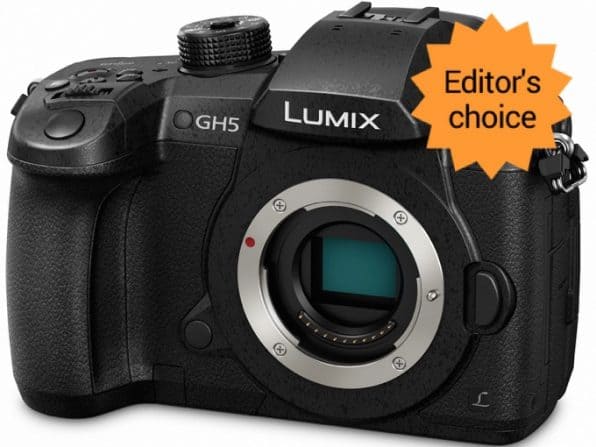 ---
Note: Last Amazon.com Price Update: 2019-01-19 | Refer to our Affiliate Disclosure and Disclaimer.