Are you looking for the best low light mirrorless camera for your needs?
You've come to the right place.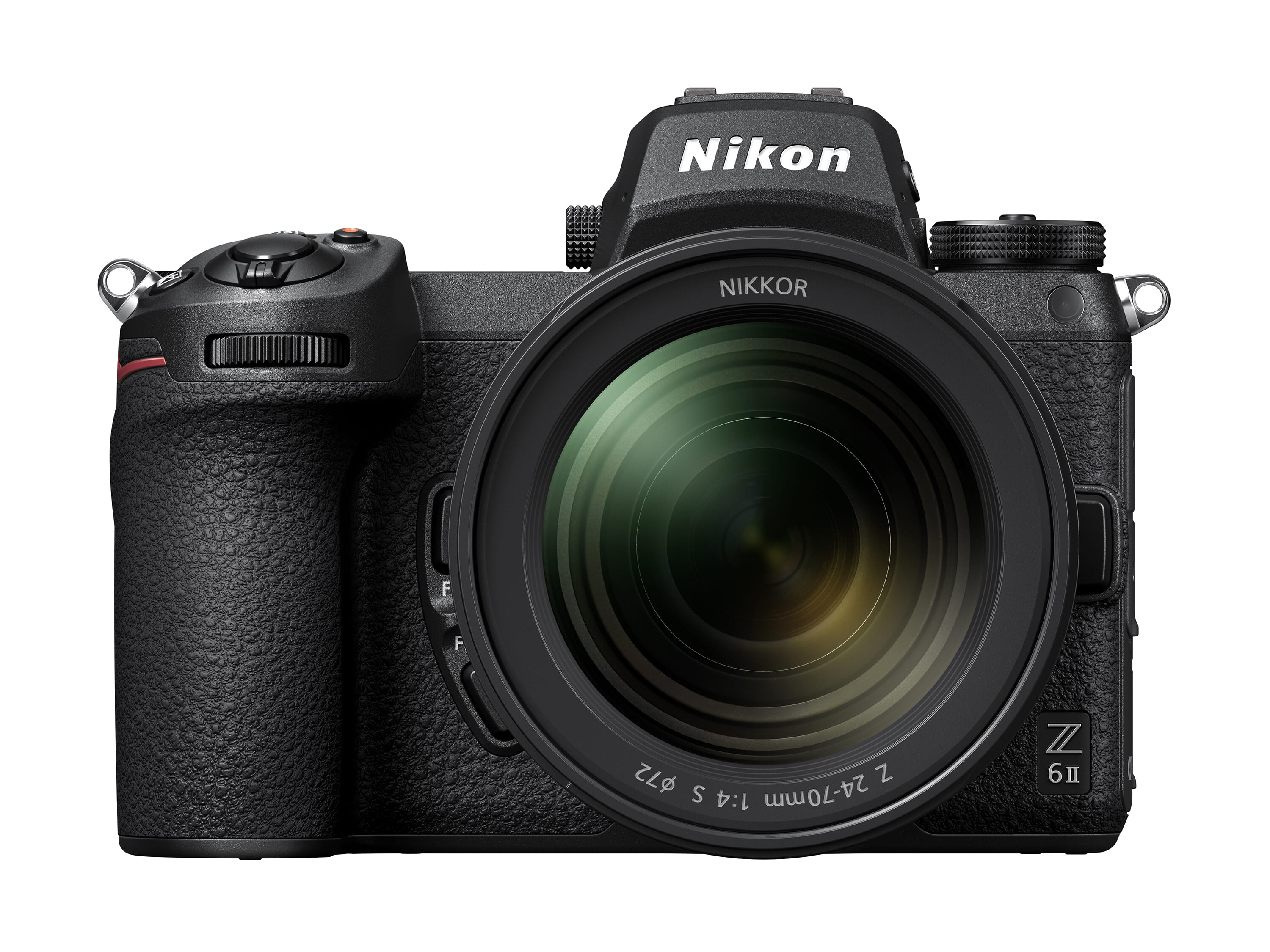 Because this article is going to give you everything you need on low light mirrorless cameras. I'm going to explain how to pick the perfect mirrorless camera—and then I'm going to show you the absolute best low light options out there, including options from all major manufacturers and all price ranges.
Are you ready to discover your next camera model?
Then let's get started. The first five mirrorless options are full-frame, followed by three budget crop-sensor mirrorless cameras.
Best Low Light Mirrorless Cameras in 2023:
When you buy through links on our site, we may earn a commission at no cost to you. We evaluate products independently. Commissions do not affect our evaluations.
Full Frame Picks
Now let's take a look at the best full-frame low-light mirrorless cameras out there, starting with:
1. Nikon Z6 II
Our Pick
The all-around best mirrorless camera for low light photography
The Nikon Z6 II offers stellar low-light image quality, plus a whole host of other useful features, including in-body image stabilization and impressive low-light AF.
Pros
Stunning images even at high ISOs
Focusing down to -4.5 EV
Beautiful EVF for low-light photography
Stabilization
The Nikon Z6 II is, hands down, the best low light mirrorless camera on the market in 2023, combining class-leading high-ISO performance, in-body image stabilization, an exceptional shooting experience, and powerful autofocus capabilities all in one model. The price isn't unreasonable, either, which makes the Nikon Z6 II a potent option for both hobbyists and professionals.
More specifically, the Nikon Z6 II offers quite possibly the best high-ISO performance I've ever seen in a camera, beating out (to my eye) Sony's low-light monster, the a7S III, as well as the new Canon EOS R6. The Z6 II's ISO range goes from ISO 100 to ISO 51200, and you get clean images almost every step of the way. Noise is hardly present at ISO 6400, somewhat noticeable at ISO 12800 to ISO 25600, and images at ISO 51200 are still borderline usable – truly the mark of a top-of-the-line low light performer.
The Nikon Z6 II also packs one of the highest resolution sensors on this list, offering 24 megapixels of beautiful image quality. The Z6 II hits that resolution sweet spot, offering reasonable file sizes with genuine cropping and printing capabilities, certainly enough to satisfy even more serious photographers.
As for autofocusing in low light, the Nikon Z6 II goes all the way down to -4.5 EV, so you can shoot in near blackness. If you're looking to do night street photography, event photography, or low-light wildlife photography, this is essential, and will often be the difference between a successful and a failed photoshoot – and the Z6 II's autofocus system is also pretty darn impressive overall, even if it can't beat out its Canon or Sony rivals.
Finally, the camera is a dream to use, thanks to Nikon's stellar design, plus a beautiful 3.69M-dot electronic viewfinder that former DSLR shooters will love. If you're a serious hobbyist or professional photographer and your goal is to grab the best low-light mirrorless body available, then the Nikon Z6 II is the way to go.
2. Sony a7S III
Also Great
Best for videographers and hybrid shooters
The Sony a7S III is designed specifically for low-light videography, so it's no surprise that the camera offers clean images at ridiculous ISOs. For videographers recording in low light, the a7S III is a must-have.
Pros
Can autofocus in near darkness
Class-leading electronic viewfinder
Astonishing high-ISO performance
4K/120p pro-level recording
For hybrid stills and video shooters, as well as customers primarily interested in (low light) video, the Sony a7S III is truly your best option, thanks to its superb image quality, standout video features, capable low-light autofocus performance, and mindblowing electronic viewfinder.
Yes, it's expensive, and it's certainly not the optimal choice for stills photographers, but for those who need a low-light video camera, it's the camera to beat.
And here's why:
First, the video features; the Sony a7S III can record beautiful 4K/120p footage, plus you get a fully-articulating screen (for shooting from odd angles), in-body image stabilization (for smooth footage at all times), and a host of video special features, including S-log, 240 frames per second when shooting in HD, and more.
The a7S III is a video camera that can occasionally work for stills, which is why its major stills weakness is its greatest low-light strength. With a full-frame sensor packing just 12 megapixels of resolution, you can't crop and you can't print large, but you can capture photos or videos that look great up to ISO 12800, and even into the ISO 51200 range. If you're frequently shooting footage indoors or at night, the a7S III opens up a lot of opportunities, especially when combined with a wide-aperture lens.
Then there's the low-light autofocus, which lets you shoot at a whopping -6 EV. And while you should expect the autofocus to struggle somewhat as you descend into near darkness, Sony's cameras are equipped with the best autofocus available, and will keep you hitting that record button long after other shooters have headed home.
No summary of the a7S III is complete without mentioning the electronic viewfinder – because it is astonishing. With an insane 9.4M-dots of resolution, the photography (and videography) world has never seen anything that comes close to its level of detail, which will make any low-light EVF shooting easier than ever before.
For videographers in need of a serious low-light video body, or hybrid shooters willing to accept the 12 MP stills resolution, the Sony a7S III is the perfect choice.
3. Canon EOS R6
Pros
Can autofocus in darkness
Excellent high-ISO performance
Blazing-fast autofocus
Image stabilization
Cons
Only 20 MP
Not as clean high-ISO images as competitors
For low-light action photographers who don't want to break the bank, there's a new king in town:
The Canon EOS R6, which offers many standard tools, plus a few standout features where it counts.
As you might expect from a 20 MP, cutting-edge mirrorless camera, ISO performance is superb; you can nail noiseless shots at ISO 3200, still beautiful shots at ISO 6400, and even usable images at ISO 25600. While this isn't quite as good as the Nikon Z6 II or the Sony a7S III, the EOS R6 manages to push past the high-ISO capabilities of former low-light aficionados such as the Sony a7 III (below), and will certainly dazzle all but the most demanding low-light photographers.
And while 20 MP may seem small compared to the EOS R6's 45 MP sibling, bear in mind that it packs the same number of megapixels as Canon's flagship 1D X Mark III DSLR, a camera used by many of the best action photographers in the world.
Megapixel count aside, the Canon EOS R6 is quite possibly the most well-rounded low-light mirrorless camera on this list. It packs all the features you'd want in a low-light body, including the aforementioned high-ISO performance, excellent in-body image stabilization (for handholding indoors and after sundown), and a nice (3.69M-dot) electronic viewfinder. Plus there's the 4K/60p recording capabilities for stills shooters who also require video, as well as dual card slots for professionals who require redundancy in their work.
And I haven't even mentioned the EOS R6's autofocus, which is insanely fast in nearly every situation, and can shoot down to -6.5 EV (on a near-moonless night!), for unmatched low-light photography.
Honestly, the autofocus alone makes the EOS R6 a worthy low-light camera, and if you're an action photographer, or even a more all-around photographer who shoots action, you can't go wrong with the R6.
4. Sony a7 III
Best for budgeters
The Sony a7 III shoots clean high-ISO photos, plus it boasts IBIS and Sony's pathbreaking AF technology. If you're after a top-notch low-light body but you can't afford the competition, the a7 III is a stellar choice.
Pros
Excellent image quality in low light
Decent autofocus
Reasonable price
Cons
Low-resolution EVF
Autofocuses down to -3 EVLow-resolution EVF
Like the Canon EOS R6, the Sony a7 III is very much an all-around camera, one that performs well in every area, including low-light shooting. And while I'd hardly call the Sony a7 III a budget model, these days – several years after launch and outclassed only by the Nikon Z6 II and the Canon EOS R6 – the a7 III's $2000 price tag seems very reasonable indeed.
In fact, the Sony a7 III appeals to hobbyists, semi-professionals, professionals, and videographers alike, and can satisfy pretty much all of them, thanks to its outstanding autofocus and low-light prowess.
First, there's ISO, where the a7 III excels. While I do think the Canon EOS R6's and the Nikon Z6 II's ISO performance has crept past the benchmark originally set by the a7 III, it's able to deliver very nice images at ISO 6400, ISO 12800, and even ISO 51200 (if I had to put a number on it, I'd say the a7 III is only a half-stop worse than the Nikon Z6 II, and only a hair worse than the Canon EOS R6, which means that the gains from grabbing one of these other options are negligible).
If you're an event photographer, a night street photographer, or an astrophotographer, this is exactly the type of low-light sensitivity you're looking for. You'll also appreciate the a7 III's in-body image stabilization, helpful for those who like to handhold past sundown.
Related Post: Best Cameras for Astrophotography (6 Top Choices for Stellar Photos)
Then there's the autofocus, and while the a7 III doesn't pack Sony's latest algorithms, it still manages to track subjects with ease, making this a very capable low-light wildlife or action camera. Unfortunately, the a7 III can only autofocus down to around -3 EV, but this should be enough for most situations (including images lit by streetlights or car headlights).
The a7 III also offers 4K/30p recording, plus a fully-articulating screen for composing photos and videos in the field (useful for low-light and standard shooters alike).
The biggest drawback to the Sony a7 III is its electronic viewfinder; at just 2.36M-dots, you'll start to struggle with a muddy feed as the light fades. This isn't a dealbreaker, but if you're used to an optical viewfinder, you may find the a7 III's electronic viewfinder inadequate as the light lowers.
Ultimately, I do think the Sony a7 III is a powerful low-light contender. And while it does offer the high-ISO chops of some of its competitors, its well-rounded specs make it a great do-anything model.
5. Nikon Z5
Another excellent budget full-frame option
The Nikon Z5 may not be the flashiest model around, but it'll get the job done (and won't cost a premium). For under $1500, you get an excellent Nikon sensor, a beautiful EVF, and more.
Pros
Relatively inexpensive
Nice high-ISO performance
24 MP sensor
Cons
Autofocus struggles in low light
If you're looking for a budget low-light option but you're not willing to compromise on capabilities, then the Nikon Z5 is the way forward.
Here's what you get, all for $1400 USD:
In-body image stabilization, for capturing sharp images handheld in low light.
A full-frame 24 megapixel sensor that produces gorgeous images (with plenty of room for cropping or printing large). As I explained in a previous section, 24 MP is in the resolution sweet spot, where you get plenty of detail without huge file sizes or processing requirements.
Beautiful high-ISO performance, only slightly below that of the Sony a7 III. Noise creeps in around ISO 3200, but images only start to go downhill in the ISO 12800 to ISO 25600 range. This leaves you plenty of room to shoot street photos at night, images of the night sky, indoor portraits, and even some low-light wildlife photos (though see my comments on autofocus below).
A very nice electronic viewfinder, packing 3.69M-dot resolution, which will keep you shooting long after dark. For me, at least, 3.69M-dots is a great place to be (and I consistently use a 3.69M-dot EVF in near darkness without too much noise).
There's also dual card slots and 4K/30p video (albeit with a 1.7x crop).
The Nikon Z5's biggest weakness is its autofocus. While it focuses fast enough during good light, it only works down to -2 EV (or -3 EV with low-light autofocus active) – so if you're looking to photograph action at night or in dark interiors, I'd recommend you look to one of the other options on this list.
Otherwise, the Nikon Z5 is an excellent camera – and one that will rise to the occasion for slower-paced low light photoshoots, be it architectural photography, landscapes, astrophotography, or indoor portraits.
Plus, at just $1400 USD, it's a bargain!
Budget Crop-Sensor Options
For those who don't want to pay a premium for a full-frame sensor, we've included several APS-C models.
While low-light performance isn't on the same level as the full-frame cameras listed above, these options are very respectable, and will do an outstanding job, especially once you factor in the price.
Related Post: The Best APS-C Cameras You Can Buy Right Now
6. Nikon Z50
Best APS-C Pick
Best for beginning photographers
The Nikon Z50 takes beautiful images in low light, plus you can focus even in darkness. It's also pretty darn cheap!
Pros
Great price
Excellent high-ISO performance for an APS-C camera
AF works in ultra-low light
These days, Nikon is producing class-leading sensors – which is why our pick for best low-light APS-C mirrorless camera goes to the Nikon Z50, Nikon's only crop-sensor mirrorless body, and one sporting an impressive sub-$900 price tag.
Compared to full-frame cameras, crop-sensor cameras are at an immediate disadvantage. The smaller sensor leads to smaller pixels, which leads to worse high-ISO performance. Yet the Nikon Z50 still manages to hold its own, holding off noise until around ISO 3200, and still capturing usable images to ISO 12800 or so. If you've read my reviews of the best full-frame low-light cameras (above), you'll know that this is a very respectable performance, even if it's not on the same level as, say, the Nikon Z6 II.
This high-ISO performance is better than the other two APS-C cameras on this list, the Fujifilm X-T4 and the Sony a6600. Though it is worth noting that the Nikon Z50 uses a 20.9-megapixel sensor, compared to the 26 MP of the Fujifilm X-T4 and the 24 MP of the Sony a6600.
On the other hand, anything north of 18 megapixels is acceptable for most professional use. So unless you're planning to do huge crops or create wall-sized prints, 20+ megapixels will be just fine.
Then there's the low-light autofocus, which is good, but not great. The Z50 generally focuses quickly, and it can shoot down to -4 EV, helpful for those who photograph action indoors or at night. Unfortunately, the Nikon Z50 doesn't offer in-body image stabilization, so handholding at night is tough, but for landscape photographers, architectural photographers, and astrophotographers, that shouldn't be an issue, as you'll need to work with a tripod regardless.
As for other Z50 features, you get 11 frames per second shooting (highly useful for anyone who likes to capture action), plus 4K/30p video. My major gripe is the 2.36M-dot viewfinder, which isn't bad, but may frustrate you, especially in low light.
All in all, the Nikon Z50 is a very nice camera at a great price. It delivers gorgeous image quality – and as long as you don't expect pro-level autofocus performance, you'll be very satisfied – and maybe even impressed.
7. Fujifilm X-T4
Best advanced APS-C low-light camera
The Fujifilm X-T4 truly is a professional camera in an APS-C body, offering IBIS, unrivaled low-light focusing, plus a nice EVF. If you're after a great low-priced camera but you want to push your equipment to the max, you've come to the right place.
Pros
Stunning images
Nice EVF
Autofocus works in near-darkness
Well-priced
IBIS
Cons
ISO performance can't compete with full-frame models
The Fujifilm X-T4 is a gorgeous camera all-around – from the design, to the ergonomics, to the low light performance, and more. For any low-light shooter drawn in by the design and handling of Fujifilm models, the X-T4 is an excellent choice – and one that won't disappoint.
I've spent quite a few days in the field testing the Fujifilm X-T4, and I can confidently say that its image quality is tremendous. While its high-ISO performance isn't quite on par with the Nikon Z50, I felt comfortable pushing the X-T4 to around ISO 6400 – and even ISO 12800 were usable, if not quite as clean as the Z50's files.
This is in part thanks to the X-T4's resolution; instead of the 20.9 megapixels offered by the Nikon Z50, the X-T4 packs 26 MP of quality. This will give you a bit more latitude when cropping or printing, and slightly edges out every other camera on this list, including the Sony a7 III and Nikon Z6 II (which both come in at 24 MP).
Fujifilm's low-light prowess continues into the autofocus arena. Honestly, Fujifilm isn't known for its autofocus performance, but I think the X-T4 does a surprisingly good job in good light. Astonishingly, the X-T4 is also rated to focus down to a whopping -7 EV, which is what you'd find on a near moonless night. I haven't tested this myself, but if Fujifilm's claim is even close to correct, low-light shooters are going to have a blast focusing long after dark.
Plus, the Fujifilm X-T4 offers some of the most impressive continuous shooting capabilities on the market, allowing up to 20 frames per second using the electronic shutter (this drops down to 15 fps if you switch over to the mechanical shutter). If you plan to do low-light action photography of any type, the X-T4 will have you covered.
Unlike its predecessor, the Fujifilm X-T4 does include in-body image stabilization, which is just another feature to love; you'll be able to handhold in low light and still come away with sharp images (though you'll want to bring a tripod for low-light landscape or astrophotography). And the 3.68M-dot electronic viewfinder offers a very nice shooting experience, even as the light drops.
The X-T4 is pricier than other APS-C options, including the Nikon Z50. But for that price, you get a pro-level all-around performance, plus some nice extras (dual card slots, 4K/60p video, and a fully-articulating touchscreen among them). Not to mention the general Fujifilm aesthetic and handling, which has tempted many a photographer into grabbing Fujifilm cameras instead of more conventional – potentially cheaper – alternatives.
Ultimately, the Fujifilm X-T4 isn't going to work for everyone, and it doesn't have the high-ISO performance of the cheaper Nikon Z50. But it manages to check most of the low-light boxes, while also offering a few features you just won't find on a standard Nikon, Sony, or Canon camera.
8. Sony a6600
Best for walkaround photographers
The Sony a6600 is a small camera, but it packs a lot of punch. If you're looking for in-body image stabilization and good high-ISO capabilities for a low price, the a6600 is a perfect choice.
Pros
Excellent AF system
Nice high-ISO performance
IBIS
Compact
Cons
Pricey
Lower-quality EVF
The Sony a6600 is our final pick for best low-light mirrorless camera, but don't let that deceive you; it's still a powerful performer, and one that'll do a great job in pretty much any situation (low light included!).
Regarding image quality, the a6600 isn't top of the line, but it's hardly poor – you get clean images through ISO 1600, a slight amount of noise at ISO 3200, and can even push the ISO to 12800 in a pinch. The 24 MP images on the a6600 look nice, and as I've said before, 24 MP sensors are right in the sweet spot (even if I do prefer the 26 MP on the X-T4!).
Related Post: Best Lenses for Sony a6600
Then there's the autofocus, which is truly stellar and puts a number of other cameras on this list to shame. If you're looking for a low light action camera, then the a6600 is a fantastic choice, especially when you consider its 11 fps continuous shooting speed and relatively deep buffer (46 RAWs or 99 JPEGs).
Also important is the in-body image stabilization, which will let you shoot handheld in low light; this is perfect for portrait photographers and even street photographers who may find themselves working at dusk.
The Sony a6600's viewfinder is disappointing, especially for the price. And the a6600 handling is a bit cramped for my liking.
But if you're after a lower-priced mirrorless camera with in-body image stabilization, fast autofocus, and decent low-light performance, the a6600 is the model to beat.
Factors to Consider When Buying a Low Light Mirrorless Camera
When it comes to picking a low light mirrorless camera, you're going to want to consider a few key features, starting with:
Image Quality
First, the image quality. No matter what your photographic application, you're going to want at least decent resolution (e.g., 16 MP or more) and decent low light capabilities.
But if you're going to be using this camera frequently in low light…
…then you're going to need a camera that's exceptionally powerful.
You'll want to be able to shoot up to ISOs of 3200 and 6400 without significant noise, and even shoot at ISO 12800 if necessary. This requires a cutting-edge sensor, one that's probably full-frame, and not of the prosumer variety.
That said, you can find some nice budget options—which may come with a bit of noise at high ISOs but do a good job for the price.
A secondary consideration is the camera's dynamic range: How well it can record both highlights and shadows in the same scene. Depending on the type of low light photography you do, this may matter a lot—or it may matter very little.
Build and Handling
If you're going to be using this mirrorless body as your primary camera, then you need to get the ergonomics right.
By that, I mean that you should pick a camera that fits well in your hand and feels easy and comfortable to use.
Not everyone likes the same style camera, so there's no one best camera, ergonomically speaking. But some cameras tend to be easier to hold than others, especially for those photographers with big hands.
You'll also want to make sure the camera's size fits your needs. If you're going to be doing street photography in low light and at night, something small and unobtrusive is important, compared to, say, a serious sports shooter who might not particularly care about camera size. If you're going to be traveling frequently with the camera, then you'll want to consider whether it can pack away into a travel bag, a purse, or a backpack.
In terms of handling, you'll want to look for features such as touchscreen capabilities, an articulating screen, and an electronic viewfinder. If a viewfinder is important to you (and it's important to 99.99% of photographers), you'll want to make sure it's a good one, because low light shooting requires a high-resolution screen—without it, you'll have a very unpleasant shooting experience.
Finally, the importance of build quality depends greatly on the user. If you're the type of photographer who shoots in all forms of weather without compromise, then you'll want the most weather-sealed camera you can find. On the other hand, if you're looking for a camera for casual shooting, you'll probably be fine without weather sealing (or, at least, with a more consumer-style body).
Autofocus and Speed
Cameras vary significantly in terms of their autofocusing capabilities, especially in low light.
Some cameras lose the ability to focus once things start to get mildly dark—and others can focus down to near blackness.
It's also important to realize that cameras have varying numbers of autofocus points, with more- or less-capable algorithms.
For the low-light landscape photographer (e.g., an astrophotographer), this matters little. Landscape photographers will often focus manually in low light anyway, so AF is mostly unimportant.
But if you do low-light action shooting, such as wildlife or sports, then your autofocus capabilities matter a great deal. Look for a camera with speedy focus, many AF points, and good sensor coverage. That way, you'll be able to lock focus even in low light—and you'll be able to get that once-in-a-lifetime shot.
One other consideration when it comes to action shooting is continuous shooting speed. You don't want to photograph birds in flight with a camera that fires bursts at 5 fps; it'll be too slow. Instead, action-focused snappers will want at least 8 frames-per-second continuous shooting, with 10 fps, 12 fps, and above becoming incrementally more useful.
Video Capabilities
Mirrorless cameras tend to be pretty capable when it comes to video recording—but not all mirrorless bodies offer the same features, nor do they all offer professional-quality resolution.
If you're going to be doing serious video work, 4K recording capabilities are a good idea, and 60p would be the icing on the cake. But 30p will do the job just fine.
Also, check for other features, such as focus peaking; these are extremely useful for low light videography, and they have a place in low light still photography, as well.
The Best Low Light Mirrorless Camera: Your Next Steps
Now that you've finished this article, you an expert in low light mirrorless bodies.
And you know all about the best low light mirrorless camera for your needs.
Just remember that there's a number of excellent low-light mirrorless options, so you don't need to get hung-up on top-of-the-line, high-resolution bodies.
You'll be able to capture stunning photos with any of the cameras on this list.
So pick one, get it, and get out shooting!
Are mirrorless cameras better in low light?
Mirrorless cameras can perform very well in low light, depending on the type of low light shooting you plan to do. Most of the mirrorless cameras on this list are better at autofocusing than their DSLR counterparts, simply because mirrorless technology has now moved beyond DSLR tech. And mirrorless cameras do offer in-body image stabilization, which is a feature not included on standard DSLRs.  The main low-light drawback for mirrorless shooters is the lack of an optical viewfinder. While all the mirrorless cameras on this list include an electronic viewfinder, you'll often struggle with a noisy feed after dark – hence the reason why DSLRs are sometimes preferable for night photography. But ultimately, the choice is yours, and there are certainly some standout mirrorless low-light performers worth checking out.
Which mirrorless camera is best for low light?
I'd recommend the Nikon Z6 II as the best all-around mirrorless camera in low light. High-ISO performance is class-leading, autofocus performance is very nice, and you get in-body image stabilization, dual card slots, and much, much more. If you're looking for a more video-focused camera, I'd recommend the Sony a7S III, however. And if you're after a more action-oriented model, then the Canon EOS R6 is tough to beat.
Are mirrorless cameras good for night photography?
Absolutely! Mirrorless cameras do a great job when doing night photography, thanks to their often impressive in-body image stabilization, high-ISO performance, and low-light focusing capabilities. Certainly, there are a number of non-mirrorless cameras that are great for night photography, but a mirrorless camera is a great choice.
What is the best mirrorless camera for low light videography?
The best mirrorless camera for low light videography is, without a doubt, the Sony a7S III. The camera is a low-light powerhouse, boasting outstanding high-ISO capabilities, exceptional autofocus, and 4K/120p recording.
What mirrorless camera is best for low light action photography?
I'd recommend the Canon EOS R6 for low light action photography. It balances price, autofocus capabilities, and high-ISO sensitivity for a truly outstanding low light action camera.  If the Canon EOS R6 is a bit too pricey for your needs, you might also consider the Fujifilm X-T4 or the Sony a6600, both of which are very capable action shooters.
---
Disclosure/Disclaimer: As an Amazon Associate, we earn from qualifying purchases. Certain content was provided "as is" from Amazon and is subject to change or removal at any time. Product prices and availability: Amazon prices are updated daily or are accurate as of the date/time indicated and are subject to change. Any price and availability information displayed on Amazon.com at the time of purchase will apply to the purchase of this product.