Canon is a leading producer of high-quality cameras and equipment. Together with Nikon, Canon has a major stake in the photography industry and is renowned as a market leader. If you are looking for a camera that is not as cumbersome and heavy as a full DSLR, Canon does provide an alternative. This article looks at the best Canon compact cameras with Wi-Fi.
This producer offers a superb range of Compact cameras that are slimline and much smaller than DSLR's. Furthermore, this type of camera still offers great functionality and the image quality is still spot on. If you want to start out in the world of photography, a compact camera from canon could be a perfect choice.
Moreover, a camera with Wi-Fi capabilities could also prove highly beneficial. A camera with built-in Wi-Fi connectivity can provide you with a world of new possibilities. You can connect your camera to other devices such as your smartphone or laptop.
From there, you can then upload your beloved pic directly from your camera to your device. Usually, you would have to transfer photos back home via a USB cable – Wi-Fi cameras allow you to upload, edit and share on the go! In the paragraphs below, we discuss the best Canon compact cameras with Wi-Fi – enjoy!
The 6 Best Canon Compact Cameras with Wi-Fi
1. Canon PowerShot SX740 HS
2. Canon PowerShot G9 X Mark II
3. Canon PowerShot SX730 HS
4. Canon PowerShot SX60 HS
5. Canon IXUS 285 HS
6. Canon PowerShot G3 X
1. Canon PowerShot SX740 HS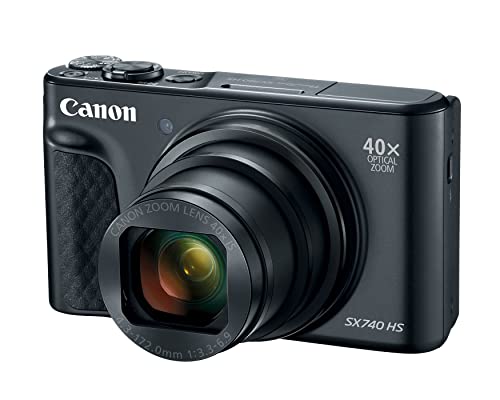 Dimensions: 110x63x39mm
Megapixel Resolution: 20.3mp
Zoom: 40x Optical Zoom / 4.0x Digital Zoom
Maximum/Minimum Aperture: f/3.3 – f/6.9
Amazon Rating
The Canon PowerShot SX740 HS has favorable reviews on Amazon. Out of a possible 5-star rating, the average for this compact camera is 4.5 – this is for the standard black model. Looking at the sample shots that people have taken with this camera, it is clear that the quality is superb. Furthermore, after reading the reviews, the SX740 HS is obviously a fantastic piece of kit. To summarize, the reviews and comments say this camera is the next best thing to a DSLR. Additionally, user's state how the Wi-Fi and Bluetooth connections are easy to use.
Review
The PowerShot series is Canon's pioneering range of compact cameras. The size and weight of this camera make it perfect for traveling, and for those who love the great outdoors. It can simply be stored away in your pocket, ready to pull out when the perfect photo opportunity presents itself. In terms of ease of use and convenience, the SX740 HS is certainly one of the best Canon compact cameras with Wi-Fi.
So what specs and features does this model have? Firstly you can benefit from the whopping 20.3mp resolution and the powerful DIGIC processor. This means your shots will be crystal clear. Secondly, the 180-degree flip screen is a nice touch that makes taking photos that much easier. Thirdly, the Wi-Fi feature allows you to seamlessly transfer your photos to external devices such as a smartphone or laptop in a flash.
2. Canon PowerShot G9 X Mark II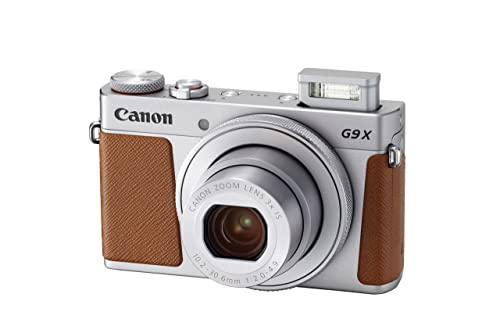 Dimensions: 98x57x31mm
Megapixel Resolution: 20.9mp
Zoom: 3x Optical / 4x Digital
Maximum/Minimum Aperture: f/2.0 – f/4.9
Amazon Rating
Once again we find that Canon cameras really do resonate with the Amazon user base. We looked closely at the G9 X Mark II ratings and found an average of 4.5. Customers absolutely loved the small compact size and the style of this model. Likewise, they also loved the touch screen and the Wi-Fi connectivity.
The only negative reviews we found were due to defects or a faulty part on the camera – for example, one review had an issue with the memory card slot – certainly nothing groundbreaking.
Review
If you want a small and stylish camera, the G9 X Mark II is a standout choice. The silver model of this camera looks beautiful. It features a stylish light brown grip and is reminiscent of retro style film cameras. Besides this, the camera is ultra-compact and you will hardly notice that you are carrying it. The sensor is not as powerful as the PowerShot SX740 but the CMOS 1.0 can still produce fantastic images at 20.9mp.
When using the Wi-Fi, we found the G9 X Mark II worked really well – we could easily transfer photos live to our laptop and the connection speeds were more than adequate. The G9 really is one of the best Canon compact cameras with Wi-Fi due to its small size, high-quality photos, and no-nonsense features.
3. Canon PowerShot SX730 HS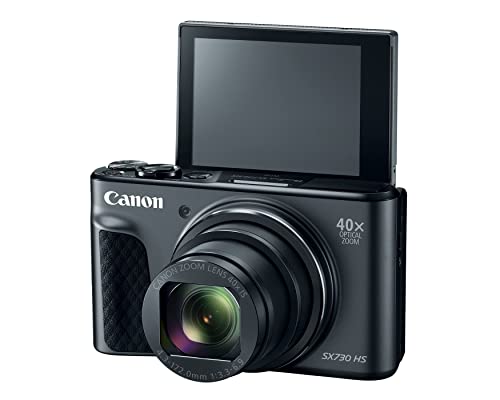 Dimensions: 110x63x39mm
Megapixel Resolution: 20.3mp
Zoom: 40x Optical Zoom / 4.0x Digital Zoom
Maximum/Minimum Aperture: f/3.3 – f/6.9
Amazon Rating
Much like the SX740 HS, the Canon SX730 HS also has outstanding reviews on Amazon. The average rating for this product is currently 4.5 stars which is exceptional. After flicking through over 30+ reviews, the only downside we could see was the battery life. To us, this is not a huge issue – most photographers will carry 1-2 spare fully-charged batteries anyway. The optical zoom appeared to be a favorite feature, together with the flip screen.
Review
The SX730 HS is essentially the older version of the newer SX740 HS. So why would you bother buying an older camera model? Basically, if you want to save a little cash then this model is ideal. It costs on average $100 less than the SX740 which is quite a difference considering the other accessories you could purchase too.
Concerning specifications, the PowerShot SX730 HS is almost identical to the SX740 HS – this is another reason why it could be a suitable alternative. You can still benefit from the magnificent image quality and the super optical zoom. The SX740 HS has improved video capabilities so if you aren't bothered about taking video, the SX730 is a perfect choice.
4. Canon PowerShot SX60 HS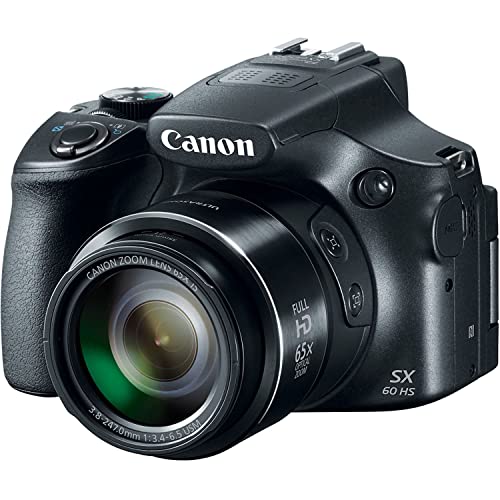 Dimensions: 127x93x114mm
Megapixel Resolution: 16.8mp
Zoom: 65x Optical Zoom
Maximum/Minimum Aperture: f/3.4 – f/6.5
Amazon Rating
This is the first Canon camera we have found that actually has a 4-star rating on Amazon. For the most part, the reviews are fantastic. User's comment on the comfortable feel of the camera and its button layout. Furthermore, the extensive settings appear to be on par with what a full DSLR camera has to offer. From what we can see, the SX60 only has one small issue and that was the image quality. At the higher end of the camera's capabilities, some people say that the images become soft and lose quality – from the examples we looked at, this didn't appear to be a huge problem.
Review
The PowerShot SX60 HS is a bridge camera that operates somewhere between a full DSLR and a truly compact camera. One of the main features of this camera is the amazing 65x zoom which really does allow you to get up close – this is perfect for wildlife photos. Furthermore, the lens allows you to shoot sweeping wide-angle shots at 21mm which is essential for landscape photography.
The Wi-Fi connection on the SX60 HS is also the main selling point. Using Wi-Fi you can upload your photos directly to social media accounts such as Facebook and Twitter – this is perfect for professional photographers and travel bloggers.
Canon Powershot SX60 16.1MP Digital Camera 65x Optical Zoom Lens 3-inch LCD Tilt...
Built-in Wi-Fi connectivity with NFC allows wireless transferring of images and video ; Power Source :Battery Pack NB-10L, AC...
16.1 megapixel 1/2.3-inch high-sensitivity CMOS sensor combined with DIGIC 6 image processor (Canon HS SYSTEM)
65x optical zoom, 4x digital zoom and 260x combined zoom with Optical Image Stabilizer.Video Clip Length Up to 29 Min 59 Sec
Bright 3-inch vari-angle LCD plus an electronic viewfinder. Operating temperature: 32-104°F/0-40°C
Capture stunning 1080p HD video in MP4 format with a dedicated movie button and zoom while shooting
5. Canon IXUS 285 HS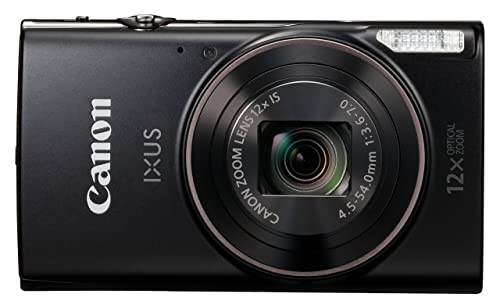 Price Range: Currently not available in the US, check on Amazon UK.
Dimensions: 99x58x22mm
Megapixel Resolution: 20.2mp
Zoom: 12x Optical Zoom / 4x Digital Zoom
Maximum/Minimum Aperture: f/3.6 – f/7.0
Amazon Rating
The IXUS 285 HS has innumerable reviews on Amazon and has an average rating of 4 stars (on Amazon UK). The main benefits of this camera appear to be its ease of use and size. User's simply loved the fact that they could take quality photos with little technical knowledge. Furthermore, the reviewer's felt that the compact size makes the 285 easy to carry. The main downside we found was the lack of USB charging support when transferring photos – users felt that this was quite a drawback and something Canon could improve on.
Review
The IXUS series from Canon represents a budget compact camera that is perfect for photography beginners. This model, in particular, is easy to use and basically provides a "turn on and shoot" interface. If you do want advanced features, you can change settings such as aperture and exposure, however. We felt that this was the perfect camera for someone who is starting out in photography, or as a secondary backup to a DSLR. The Wi-Fi was fine – it certainly wasn't as stable as some of the other models listed above, but it was more than adequate.
6. Canon PowerShot G3 X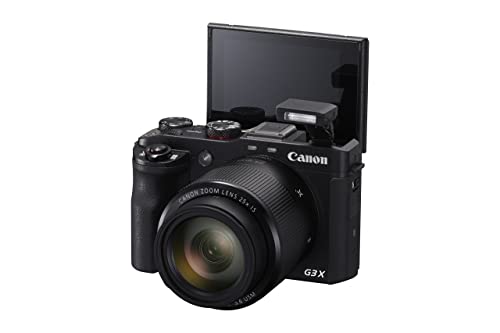 Dimensions: 123x76x105mm
Megapixel Resolution: 20.9m
Zoom: 25x Optical Zoom / 4x Digital Zoom
Maximum/Minimum Aperture: f/2.8 – f/5.6
Amazon Rating
After scouring Amazon for reviews, we found that the PowerShot G3 X had a 4.0-star rating. Most of the ratings were either 4 or 5 stars and there were only a couple of lower ratings. The two poor reviews we saw commented on the lack of a view-finder and the video quality – we felt these were issues that weren't relevant – you buy a compact camera knowing it has no viewfinder!
The positive reviews really did sparkle and users commented on the superb image quality and the lightweight frame of the camera. Not to mention, the quality of the build appeared to be robust and sturdy – customers felt it was extremely high quality.
Review
This is the most expensive compact camera on our list, but it is also one of the best. The G3 X features outstanding zoom and photo capabilities. Additionally, the camera features the DIGIC 6 processor and the CMOS 1.0 type sensor – this provides superb quality and high-definition images that are crisp even at lower lights.
We found the Wi-Fi connection to be a brilliant quality – we could connect to different devices easily such as our smartphone and tablet. From there, it was an easy process to retrieve photos from the camera and even upload them to social media. One thing to point out is that this camera has actually won the 2016 Traveler's Choice award through Tip Advisor which is certainly something to brag about!
Which are the Best Canon Compact Cameras with Wi-fi?
So which compact camera would you choose? Your choice really boils down to several factors:
– What type of photography you intend to undertake
– What budget you have
– How serious you are about photography (i.e. is it a hobby or potential career)
The type of photography you intend to take will play a part in which camera you use. For example, the Canon G3 X would be more suited for taking portraits due to its higher aperture range. Alternatively, the PowerShot SX730 HS could be your camera of choice if you simply want high-quality pics with minimal effort.
Budget obviously plays a large part too – if you want a cheap model simply for family events, the IXUS 285 is your camera of choice. Alternatively, if you have more cash to splash, the PowerShot G3 X could be a prime model.
Finally, if you simply want a camera to use for fun, or if you intend to start photography professionally, your camera choice will differ. The IXUS 285 or the Canon PowerShot SX730 HS could be stronger choices as a hobby camera. Alternatively, the G3 X is certainly the best Canon compact camera with Wi-Fi if you intend to take up the hobby as a profession.
---
As an Amazon Associate we earn from qualifying purchases. Certain content that appears on PhotoWorkout.com comes from Amazon. This content is provided 'as is' and is subject to change or removal at any time.