With such an extensive range of lenses, finding the best canon lenses can be a challenge, especially for those new to photography or the Canon market. And not only that, what makes a lens the best combines a number of factors and involves striking a perfect balance. We've trawled through Canon's lenses to give you seven of the best Canon EF lenses you can buy right now. There's a lens for everyone!
When you buy through links on our site, we may earn a commission at no cost to you. We evaluate products independently. Commissions do not affect our evaluations.
The 7 Best Canon EF Lenses: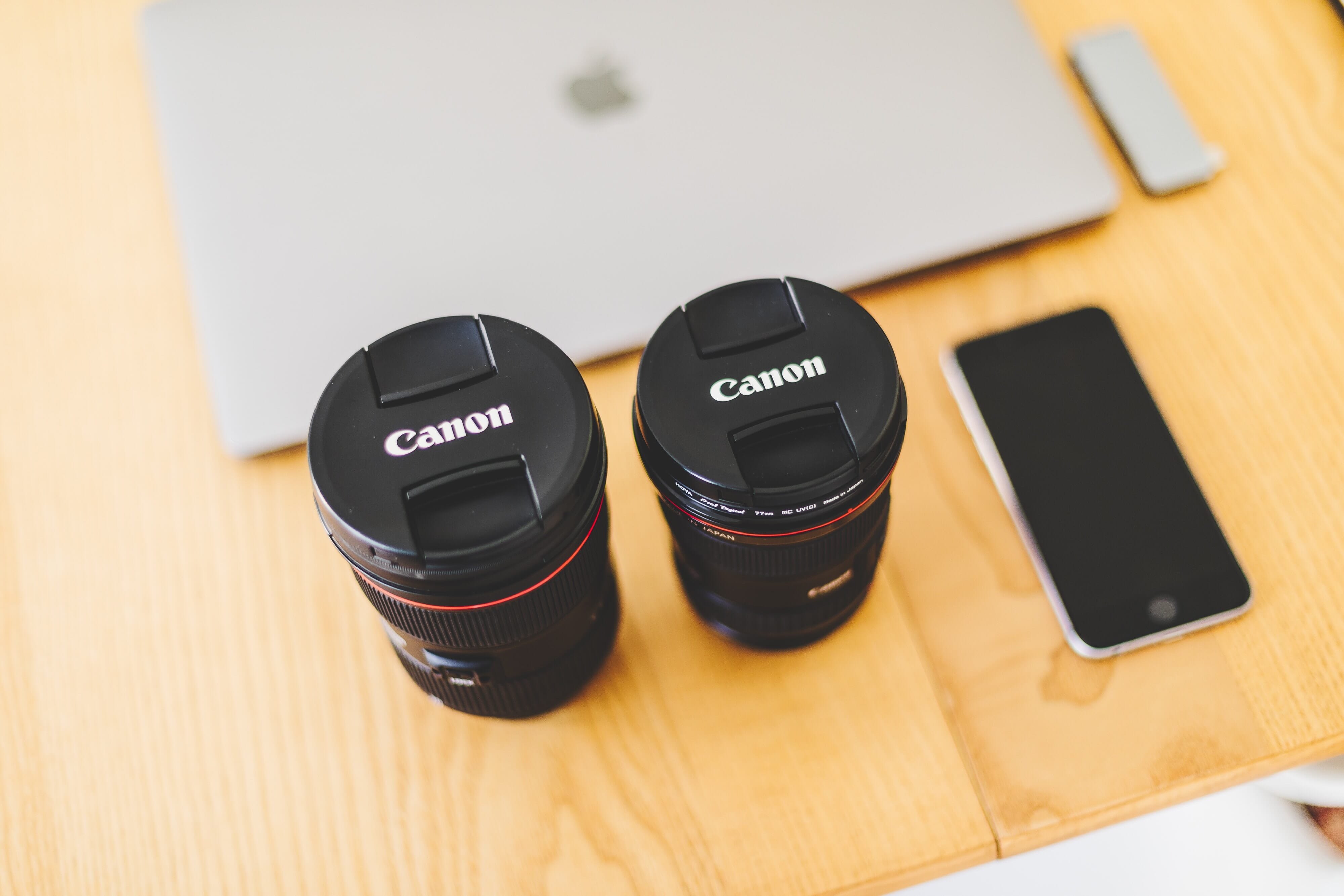 One of the most popular lenses sold by Canon is the EF 70-200mm f/2.8. There are many versions of this lens but we have selected the IS III version of this lens for our discussion. This model packs the latest technological advancements along with the classic, high-performing design of the past 70-200mm lenses made by Canon.
This lens comes with Super Spectra Coating which promises better suppression of flares and ghosting. A fluorine coating has also been added which minimizes the transfer of dirt and oil to the front element through handling. This makes the lens a great low-maintenance option.
The optical performance of this lens is high, and the overall design is robust and makes for easy handling.
It is worth noting, however, that the predecessors to this lens are not far off in terms of quality, so if the cost is a barrier, you can opt for the cheaper options. Though the price difference isn't all that significant, there may be options on the used market for a fraction of the price.
Who Should Use This Lens?
This Canon lens boasts versatility, the working range is perfect for those who do portrait photography, as well as landscape photography, and sports photography. For those more interested in travel photography and having a lightweight gear bag, this lens is one you might want to glance over and take a look at some of the other options instead.
Great for portraits, landscapes, and all your low-light needs
The Canon 70-200mm f/2.8 offers a combination of versatility, optical quality, and low-light prowess that few lenses can match.
Though there is a more costly 24-70mm model produced by Canon, the Canon 24-70mm f/4L IS USM gives you the best bang for your buck. Aside from the aperture difference, performance of these lenses is virtually on par.
But that's not all. The f/4L lens features optical image stabilization. Four stops of it. And in hand-held shooting situations, this comes in extremely handy.
Related Post: Best Canon 24-70mm Lenses
Also, the f/4 lens is much lighter when compared to the f/2.8. This has an important bearing on the final scheme of things. A lighter lens is definitely a lot easier to wield for a longer period of time.
You might be wondering why anyone would opt for the pricier lens then. Truth is, the f/4 lens has some issues with vignetting and the extra stop of light might be needed for some photographers. Of course, these setbacks can be overcome with a clever bit of lighting and post-processing which ultimately means the f/4 lens makes more sense.
Who Should Use This Lens?
For those who shoot with a full-frame camera and capture landscapes, architecture, and weddings, this is the best lens you can get. This is the ideal sort of lens that you can mount on your camera and use as an all-purpose lens, rarely having to take it off. Also, if you are traveling and want to keep things simple then this is a perfect walkaround lens you can use.
An all-around zoom for enthusiasts and professionals
The Canon 24-70mm f/4 features excellent optics and the most useful set of focal lengths you can buy. It also comes at a great price.
This 35mm f/1.4 lens is one of the sharpest Canon lenses ever made. A solid prime lens that works in a number of situations including interior, street, wedding, and landscape photography opportunities.
For professionals, this is a lens you definitely want in your gear bag.
The EF 35mm f/2.8L is very well built. While it might seem like the lens is just a plasticky body, the materials have been selected to keep the overall weight down. On the inside, there are moisture sealing gaskets that keep things weatherproof, meaning your gear will withstand the elements.
The one downfall to this lens is its USM motor, for videographers they'll need to use manual focussing methods over the autofocus to avoid noise disruption in the footage. That being said, if you can overcome this barrier, the lens will allow you to take advantage of a wide aperture with stunning picture quality.
Who Should Use This Lens?
As I mentioned above this lens is perfect for everyday photography. You can shoot interiors, weddings, street and everything in between. The wide aperture is perfect for blurring the background. And if you are planning on shooting videos with your DSLR, then this is a great lens to boot.
Wide, fast, and sharp; there's nothing this lens can't do for a casual photographer
The 35mm f/1.4 is one of those general primes that every photographer can use. Slip it in your bag for portrait, wedding, interior, and landscape shots and it'll always deliver.
The 85mm prime is arguably the best portrait lens that you can add to your camera bag.
Canon sells three 85mm primes at this time. The Canon 85mm f/1.4 is a perfect middle-ground between the other two lenses. It offers a wide aperture, excellent build quality, and a reasonable price relative to its more costly counterpart, the 85mm f/1.2 lens.
Another welcomed bonus is the built-in image stabilization, it's rated at four stops which should work out well for handholding shooters whilst still giving low light shooters an upper-hand.
All in all, this lens is an excellent balance for those not desperate for a top of the line 85mm lens (and its associated price tag) but still striving for Canon's top-quality design and performance.
Who Should Use This Lens?
As with any 85mm lens, this is a portrait lens through and through. If you prefer to use prime lenses, this is definitely a lens any portrait photographer should have in their kit bag.
A great portrait lens for a bargain price
This lens had everything a serious portrait photographer needs. It's fast, it's sharp, and the bokeh is stellar.
A 50mm prime lens is perfect for virtually any photographer looking for their first top-notch glass, or those looking for a lens to fill the gap. The Canon EF 50mm prime lens steals the show and consistently produces high sales. The model we recommend is the best of all the Canon 50mm options out there and it'll cost you less than $150.
STM stands for Stepper Motor and this technology of adjusting the focus is synced with the new dual-pixel CMOS autofocusing technology that Canon has been integrating into all of its DSLRs and Mirrorless cameras. This kind of autofocusing tech is somewhat slow but very accurate. It's great for videography when smooth focus transitions are needed.
This 50mm prime, along with a few other lenses, like the 40mm f/2.8 STM and the 35mm f/1.4, are great for shooting everyday photos.
Despite being a powerful tool, with a fast accurate focus, fast wide aperture, lightweight, and ease of use, not many photographers use this lens to its fullest potential. You can really get some amazing shots with this kind of lens.
Who Should Use This Lens?
A street photographer, a wedding photographer, and a documentary-style photographer would make great work of this lens. Any hardworking photographer who is looking to make images rather than pluck them from thin air would appreciate the EF 50mm f/1.8 STM.
A nifty fifty that won't let you down
If you're looking for a kit lens upgrade, this is the lens to go for. It can do it all and comes at a great price!
Macro photography is an art that requires skill. However, you can do macro photography year-round, so you should have plenty of time to practice this photographic pursuit. A lens like the EF 100mm f/2.8L Macro IS USM, is the perfect macro lens. With a minimum focusing distance of 11.8" you have ample working room to produce some stunning macro visuals.
The EF 100mm f/2.8L Macro IS USM also features up to two stops of image stabilization. Image stabilization is useful in situations where you are shooting hand-held. Though for the best results you would be best off switching off image stabilization and shooting from a tripod.
The autofocusing technology on this lens is powered by a USM motor which is both smooth and accurate. However, for most macro photographers, manual focusing will be essential. The autofocus just can't cut it for more advanced macro shooters. Thankfully, this lens allows you to override the autofocus settings. This means you can quickly hone in and adjust the focus accordingly.
A macro lens really comes into its own when outdoors. And this is where the need for weather sealing comes into the equation. And the EF 100mm f/2.8L Macro IS USM has weather sealing.
Who Should Use This Lens?
This is the perfect lens for an outdoor photographer, who specializes in macro photography. You can capture flowers, insects, and other small features. That said, a macro lens is also suitable for shooting products such as watches, rings, etc. in a small studio setup.
Canon's best bang-for-your-buck macro lens
Macro photographers of all stripes will appreciate this lens' superb image quality. Small subjects never looked so good!
Telephoto lenses are powerful pieces of kit for any photographer. But it will come as no surprise that getting your hands on a telephoto lens costs a lot of money. Getting the best telephoto lenses is out of reach for most photographers, even for some pros. Finding a middle ground is tricky. The Canon EF 100-400mm f/4.5-5.6L IS II USM is one of the few lenses you can find that's good for most photographers.
The range on this lens is extensive and ideal for photographers who like to dip their toes in a bit of everything. The maximum aperture of f/4.5 isn't the fastest in the business, but there are ways to overcome this challenge. In any case, f/4.5 isn't too bad. Especially in a good light. And when it comes to 400mm, the f/5.6 maximum aperture is at par with the other super-telephoto zoom lenses in the market.
It's also worth mentioning that this sort of lens is small when compared to other tele lenses, so it would be perfect for a travel photographer who wants to capture every bit of adventure.
With all things considered, this is a great telephoto lens for those on a budget. Offering high-performance optics and a robust design for a lower cost than some of the competition out there.
Who Should Use This Lens?
If you want a budget telephoto zoom lens with a reasonably fast aperture, this is the lens for you. This lens will suit someone who does a bit of wildlife photography as well as takes a fair bit of interest in portrait photography. This is a neat little lens for those who always travel with their DSLR.
A versatile telephoto zoom that you'll never want to leave behind
A high-quality 400mm zoom is hard to come by. But the Canon 100-400mm manages to combine a great focal length range and stellar optics with a pretty low price to boot!
---
Disclosure/Disclaimer: As an Amazon Associate, we earn from qualifying purchases. Certain content was provided "as is" from Amazon and is subject to change or removal at any time.