If you already own a kit lens and you're looking for an upgrade, then I highly recommend purchasing a 50mm prime. The 50mm focal length is incredibly versatile, and Canon's 50mm units are some of the best prime lenses you can buy.
In my experience, 50mm is perfect for portrait photography, but it can also work for street photography, landscape photography, and much more. Most 50mm lenses also have a large maximum aperture, which makes them great for low-light shooting.
For those in need of a high-quality 50mm lens for Canon, we share our five favorite models, including picks for both DSLR and mirrorless cameras.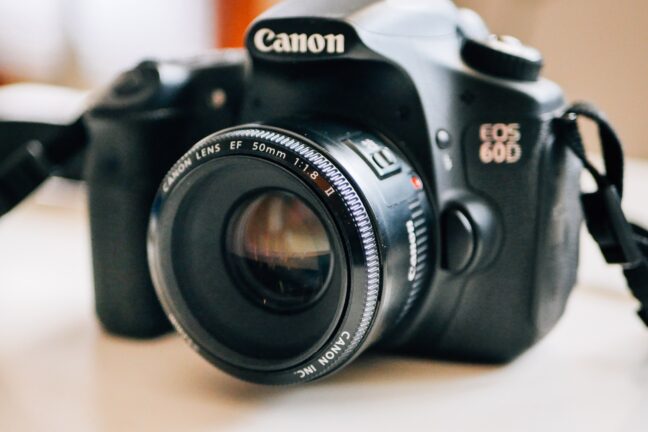 The Best 50mm Lenses for Canon:
When you buy through links on our site, we may earn a commission at no cost to you. We evaluate products independently. Commissions do not affect our evaluations.
1. Canon RF 50mm f/1.2L USM
Our Pick
Great for professional portraits
The Canon RF 50mm f/1.2L USM is one of the best RF options for high-end portrait photography due to its large maximum aperture and impressive optical quality.
Pros
Programmable control ring
Maximum f/1.2 aperture
Fast and accurate autofocus
Cons
Extremely expensive
The next evolution of 50mm lenses is here in the form of the Canon RF 50mm f/1.2L USM. It's currently the best 50mm prime lens available for Canon RF cameras and one of the top RF lenses on the market. If you want to capture pro-level portraits with your RF-mount mirrorless camera, then this is the lens to buy.
The f/1.2 maximum aperture gives you so much flexibility; it helps create stunning bokeh effects and amazing background separation. You can also take some fantastic photos at f/1.2, which is hugely helpful if you plan to capture naturally lit portraits indoors or at night.
The lens feels robust, and the metal mount provides a secure connection to your RF camera. The build is on the heavier side, and the RF 50mm f/1.2 is certainly bulkier than the f/1.8 budget option (shared below), but you can still comfortably use it handheld.
The control ring is invaluable for those who like to make settings changes on the fly. You can program it to adjust a number of different camera settings, including aperture, exposure compensation, and ISO. This means you should never miss an opportunity, and you won't have to constantly check your camera as you make changes.
2. Canon RF 50mm f/1.8 STM
Also Great
Great as a budget option
The Canon RF 50mm f/1.8 STM doesn't cost much, but it still has great features like a control ring and large maximum aperture.
Pros
Lightweight and compact design
Optimized lens coatings for improved sharpness
Fast and quiet STM autofocus motor
Cons
Not as sharp as the f/1.2 model
Not everyone wants to jump in and buy an expensive L-series lens, which is where the Canon RF 50mm f/1.8 STM comes in handy. It's significantly cheaper than the f/1.2 model shared above, yet it's a powerful little option (it's essentially the RF version of the iconic EF 50mm f/1.8 STM). What's not to love about this lens? It weighs virtually nothing, it's extremely compact, and it still has fantastic optics and features.
For first-time photographers or those wanting to get into portrait photography, it offers a great starting point. It has a large maximum aperture of f/1.8, which is more than enough to create bokeh effects and to separate subjects properly from the background. The wide aperture also gives you solid low-light capabilities so you can produce some stunning nighttime portraits and street photos.
Sure, the STM autofocus isn't incredibly fast, but it's both accurate and virtually silent; when you combine that with the impressive AF system included in Canon's cameras, you shouldn't have any problems.
Like the f/1.2L, this lens has a control ring. Therefore, you can program it to quickly change the aperture or exposure compensation. At the end of the day, the RF 50mm f/1.8 is nearly as good as the 50mm f/1.2 – it just has a cheaper build, a smaller maximum aperture, and slightly reduced optical capabilities. For the serious beginner, it's an absolute no-brainer.
3. Canon EF 50mm f/1.2L USM
Great for low-light photography
The Canon EF 50mm f/1.2L USM performs beautifully in low-light situations, and it's highly durable, too.
Pros
Weather-resistant body
Fast and accurate autofocus
Lightweight and compact compared to other L lenses
Cons
It does not have any image stabilization
The EF 50mm f/1.2L USM is the best standard prime you can purchase for Canon DSLRs. It's a great buy, and due to the release of Canon's full-frame mirrorless lineup, it's comparatively less expensive; therefore, while it's perfect for professionals, it's also a good choice for dedicated hobbyists.
The L-series build makes this lens fantastically durable, and you can easily use this lens outdoors due to its weather-resistant body. Compared to many other L lenses, it is quite compact and doesn't add too much to the overall size of your kit. It's lightweight, too, so you can use it as a walkaround street photography lens without issue.
The f/1.2 maximum aperture makes it a great low-light lens for Canon cameras. If you want to explore the city streets at night, this lens will help you capture superb shots time and time again. And it also excels at portrait and event photography (and can even perform well when you're faced with dim lighting at wedding receptions and other parties).
The autofocus is especially fast and accurate, so you should be able to track moving subjects like pets and sports players. The only downside is that the lens doesn't have any image stabilization, but due to the wide maximum aperture, it won't be too much of a problem.
4. Canon EF 50mm f/1.8 STM
Great for Canon DSLRs
The Canon EF 50mm f/1.8 STM is one of the best budget lenses available and can handle a variety of scenarios with ease.
Pros
Lightweight and easy to carry
Quiet AF
Large maximum aperture of f/1.8
Cons
Optical performance is only decent
If you don't want to pay thousands for a Canon 50mm lens but you need a good model that can get the job done, the Canon EF 50mm f/1.8 STM is the best option available.
You can grab this 50mm prime lens for less than $100, which is astonishing given the quality it provides. If you need to do a lot of traveling or prefer more active types of shooting, it's perfect; because it weighs virtually nothing and is one of the smallest EF lenses available, you can carry it all day long.
The 50mm f/1.8 may be affordable, but it also offers decent optical performance. No, it's not as good as most Canon L lenses, but you will be able to get reasonably sharp photos. Due to the f/1.8 maximum aperture, you can work indoors and at night, and you can create beautiful background bokeh effects that look highly professional.
The AF motor is incredibly quiet and you should be able to focus on objects quickly, even in low-contrast situations. For beginners with a Canon DSLR, this is our top 50mm pick, and with the appropriate adapter, you can use it on RF cameras, too.
5. Sigma 50mm f/1.4 DG HSM | Art
Great value for money
The Sigma 50mm f/1.4 DG HSM | Art offers a cheaper alternative to expensive L-series Canon lenses, yet it doesn't sacrifice much on quality.
Pros
Fantastic maximum aperture of f/1.4
Amazing optics
Lens caps and lens hood are included
Cons
Larger than the budget 50mm options
If you're in need of a top-notch 50mm lens that won't break the bank, take a look at the Sigma 50mm f/1.4 DG HSM | Art, which doesn't cost nearly as much as Canon's wide-aperture 50mm options yet offers an array of great features.
The lens can be used on Canon EF cameras or on RF and EF-M models with the appropriate adapter. Just remember that on an APS-C camera, the effective focal length will actually be 80mm due to the crop factor.
The 50mm f/1.4 DG HSM boasts consistent sharpness and clarity, and the inclusion of three special low-dispersion elements means that your photos won't suffer from ugly chromatic aberration.
Thanks to the f/1.4 maximum aperture, you'll be able to capture outstanding low-light shots. In fact, with this lens, you can create well-exposed files after dark, so if you've ever wanted to do nighttime street or portrait photography, this lens is a great buy.
If you don't want to pay for an L-series lens but require truly high-quality glass, the Sigma 50mm f/1.4 DG HSM | Art is a good alternative. You can also comfortably use this 50mm for Canon outside due to its durable build quality – and since it's not especially heavy, it's a decent travel option, too!
Get Shooting with a 50mm Lens!
If you want a versatile lens that can be used in many situations, a 50mm prime is a fantastic choice – and there are some amazing Canon 50mm lenses to suit every type of photographer.
For beginners who want a high-quality model, the Canon RF 50mm f/1.8 STM and the Canon EF 50mm f/1.8 STM are the best options available.
Alternatively, if you want to take professional-grade portraits and street photos, the Canon RF 50mm f/1.2L USM and the Canon EF 50mm f/1.2L USM offer superior optics, autofocusing, and better maximum apertures for low-light images.
---
Disclosure/Disclaimer: As an Amazon Associate, we earn from qualifying purchases. Certain content was provided "as is" from Amazon and is subject to change or removal at any time. Product prices and availability: Amazon prices are updated daily or are accurate as of the date/time indicated and are subject to change. Any price and availability information displayed on Amazon.com at the time of purchase will apply to the purchase of this product.