Listen up DSLR video enthusiasts–we wrote this comparison for you! Today we're comparing the best Canon lenses for video to make it easier for you.
Our Picks As The Best Canon Lenses For Video Shooting: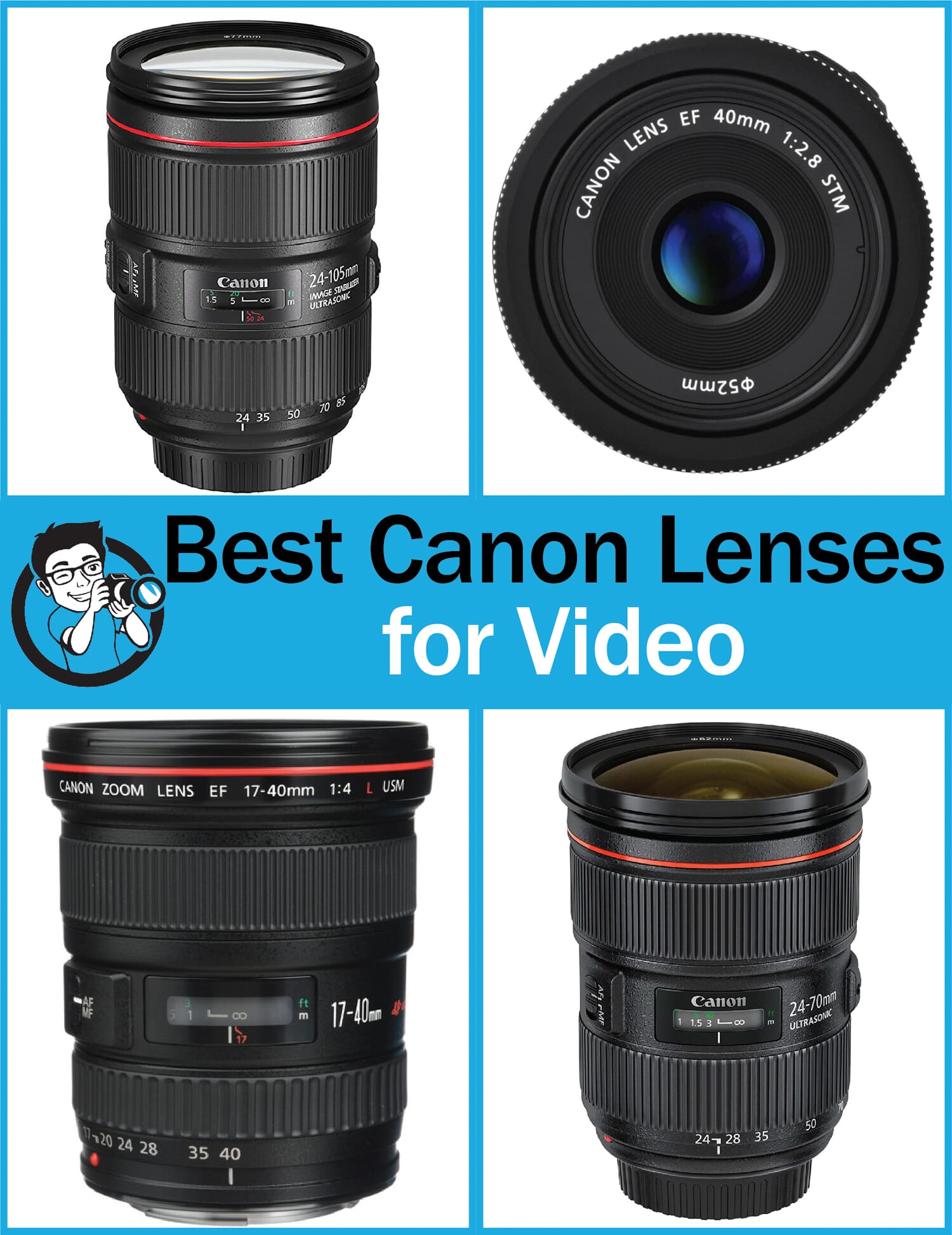 How To Choose The Best Canon Lens For Video Shooting
Auto-focusing:
Still vs. Video
Auto-focusing is the key to great video lenses.
Back in the days when DSLRs were meant to shoot only stills a fast accurate auto-focus (AF) motor was the need of the day.
However, the primary requirements for still imagery are slightly different for shooting video…
When shooting movies, you want the lens to ease into focus slower and smoother.
You don't want jerky movement for videos.
Video shooting requires slower yet precise focusing. But how do you know which lenses perform best for video with no jerky movements?
Especially when the majority of lenses are designed for still photography…
Well, I've got some good news for you Canon shooters!
Enter Canon's New Auto-

F

ocusing Technology

Canon has always been a pioneer when it comes to DSLR video shooting. And it's no wonder they came up with the brilliant idea of dual pixel CMOS auto-focusing.

A technology specifically designed to assist live-view shooting. Mainly video making.

To assist videographers, even more, they came up with the STM autofocusing technology. A number of the best Canon lenses for video have this new AF motor.
What Is An STM Auto-focusing Motor?
Short answer: STM stands for Stepping Motor.
This is the latest auto-focusing technology from Canon. The technology provides smooth and silent auto-focusing.
There are actually two different types of STM motors.
One which powers the smaller lenses and is a gear-type STM technology.
The other is the Lead-screw type STM which

is used

in larger lenses. This produces even smoother and quieter AF performance compared to the gear-type.
No wonder the best Canon lenses for video we are going to discuss are all STM lenses!
One More Thing
A small thing to mention here before we move on to detailing each of our picks…
To make the most of these new STM technology lenses, you need to have a camera that's equipped with Canon's dual pixel CMOS auto-focusing technology.
Any STM lense works with cameras equipped with the dual pixel CMOS technology. So, double-check the manual that came with your camera to make sure your camera does.
Cine vs. DSLR Lenses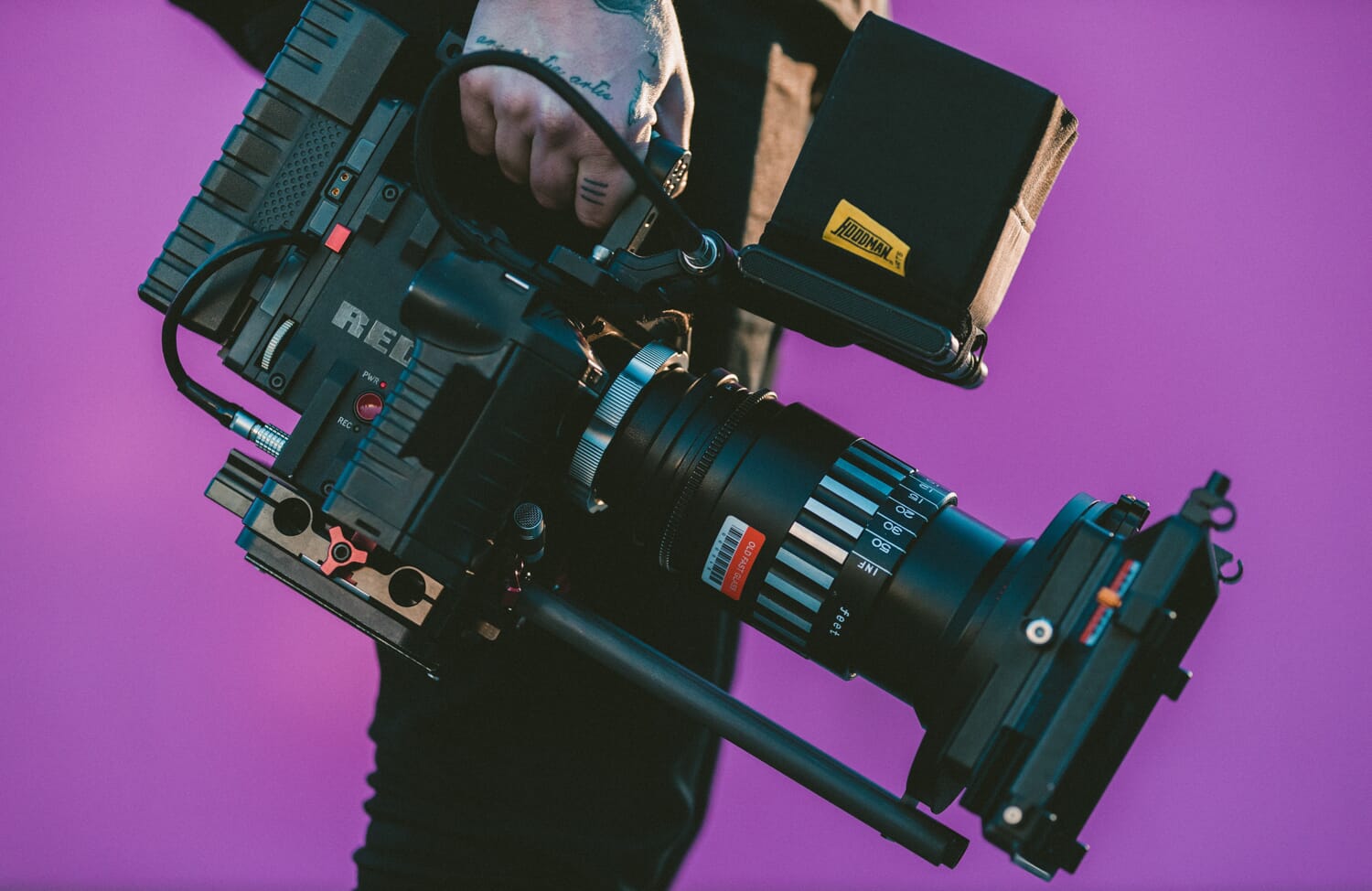 DSLR lenses can't really compete against proper cine lenses.
Especially, when it comes to focusing.
Videographers prefer to have longer throws between the closest and farthest focusing distances. This gives them more time to properly rack focus.
Focus tracking is smoother between one point of focus to another in the frame. This is something DSLR lenses lack.
The focusing ring on DSLR lenses has a very short traveling distance. That is, between the shortest and the farthest focusing points.
Even then, the STM lenses perform admirably well. Especially, when used together with Canon's latest dual pixel CMOS auto-focusing sensors.
Lenses such as the EF 50mm f/1.8 STM are ideally suitable. No wonder, this is our top pick as the best Canon lenses for video (standard prime).
Speaking of which, let's get to the best Canon lenses for video!
The 5 Best Canon Lenses For Video
The 50mm f/1.8 STM is small and lightweight. Yet it still features a large maximum aperture of f/1.8.
With 7 rounded blades forming the aperture diaphragm, the lens is great for isolating your subject and obscuring the background in bokeh goodness.
Canon's Super Spectra Coating is also provided. This ensures ghosting and flares are suppressed.
Canon EF 50mm f/1.8 STM Lens
50 millimeter focal length and maximum aperture of f/1.8
Great for portraits, action, and nighttime photography; Angle of view (horizontal, vertical, diagonal): 40º, 27º,46º
Minimum focusing distance of 1.15 feet (0.35 meter) and a maximum magnification of 0.21x
Stepping motor (STM) delivers near silent, continuous move Servo AF for movies and smooth AF for stills
80 millimetre effective focal length on APS C cameras, 50 millimetre on full frame cameras. Lens construction: 6 elements in...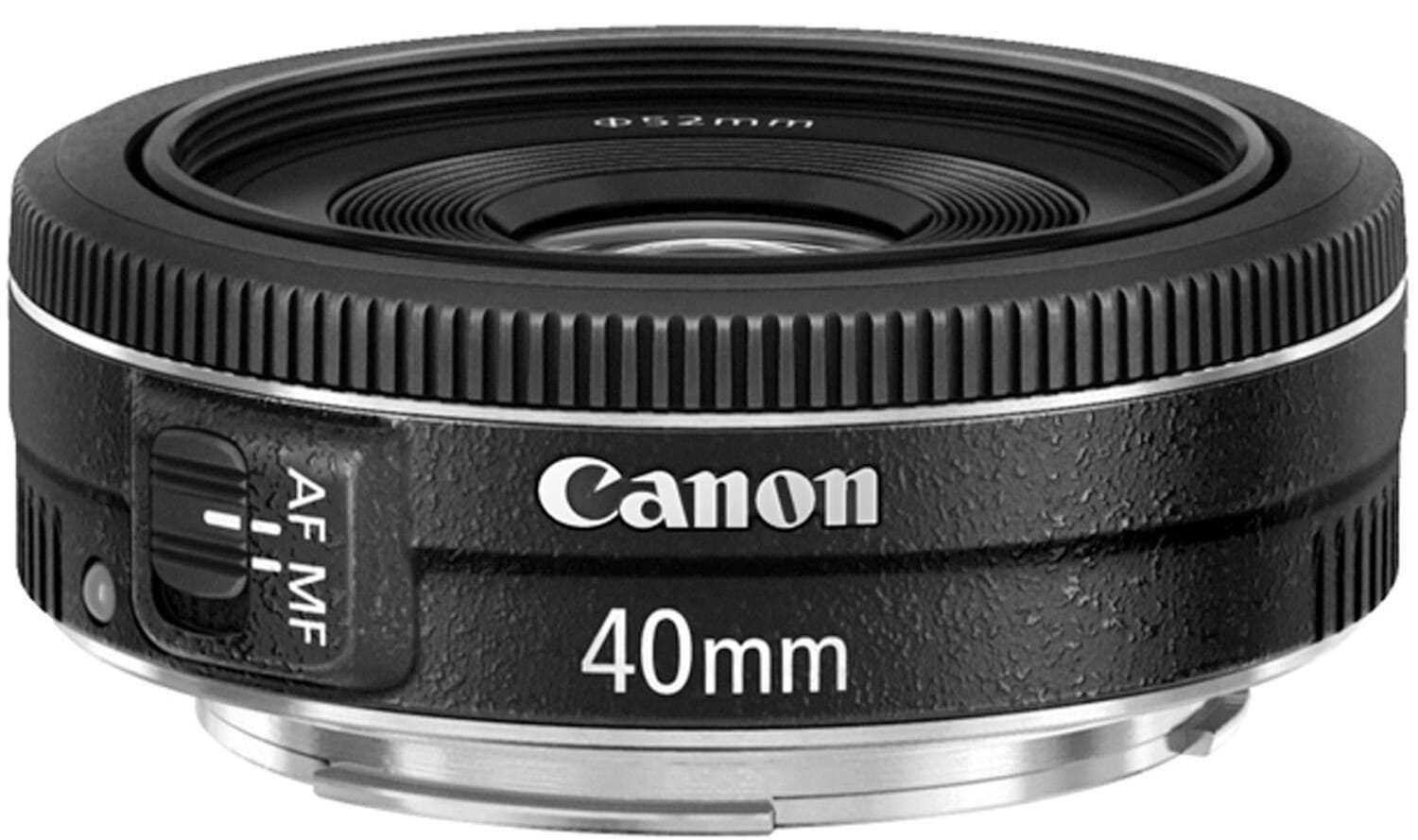 A true pancake lens in terms of size and form and handling, the Canon EF 40mm is a demure piece of optical technology.
It's designed as the ultimate street photography lens, but when mounted on a DSLR with dual pixel CMOS auto-focusing technology it works as a great video lens.
This is a very simple design–functional and direct. It has one aspherical element which suppresses spherical aberrations. Plus it has Canon's super Spectra Coating which suppresses lens flares and ghosting.
Auto-focus is powered by Canon's latest STM motor.
A 7 rounded blade aperture diaphragm makes up the final list of features.
Canon Cameras US 6310B002 EF 40mm f/2.8 STM Lens - Fixed Black
40mm focal length, Lens not zoom able, 64mm equivalent focal length on Canon APS-C Cameras
Minimum focus distance at 0.30m/11.81 inch, F2.8 maximum aperture, F22 minimum
Stepper type AF motor with full time manual focusing
52mm Filters, Lens Construction: 15 Elements in 12 Groups
Focal Length and Maximum Aperture: 100mm 1:2.8
The 24-70mm f/2.8L II USM is a standard zoom lens.
This is the sort of lens you attach to your camera and never need to take it off. The 24-70mm is the quintessential focal length range. It covers almost every kind of shooting situation you may come across.
However, this lens too is good for shooting videos because of its focusing technology…
Focus Breathing In The Canon EF 24-70mm f/2.8L II USM
This lens has some focus breathing at the tele end but it is very marginal. Though not perfect this helps videographers who are looking for a stable lens. This lens does not change focus across the focusing distance.
Focus breathing is the (albeit very minor) change in focal length resulting from the lens being rotated to meet the desired focus.
In other words, when you rotate your lens to focus, the focal length is inadvertently changed to a different angle.
This is also one of the primary reasons we did not pick the cheaper option the Canon EF 24-70mm f/4L IS USM. That lens has a problem of focus breathing at all focal lengths. The picture gets smaller as the focus is pulled closer.
This lens has Canon's USM AF motor.
Though not as smooth as the STM motor (and it can be jerky at times), it still falls into an acceptable range on this particular lens. Especially considering most videographers would use manual focusing for focus tracking.
This is our top pick overall for the best Canon lenses for video listed here.

Canon EF 24-70mm f/2.8L II USM Standard Zoom Lens
24 70 millimetre focal length, 38.4 112 millimetre equivalent focal length on Canon APS C cameras
F2.8 constant maximum aperture; F22 minimum, ring type ultrasonic type AF motor with full time manual focusing
82 millimetre filters, closest focusing distance: 0.38 meter/1.25 feet
Image Stabilization : No. Focus adjustment: Inner focusing with USM. Diagonal angle of view: 84° - 34°. Weight 1.7 pound
Purchase this product between May 1, 2016 and July 30, 2016 and get 13 months of free damage protection from Canon. The...
We've selected the newer Canon 24-105mm Mark II lens in this review and left out the older 'Mark I'.
This new lens has a quieter auto-focusing. Plus, it also has improved corner illumination.
The EF 24-105mm f/4L IS USM has an impressive zoom. Starting from 24mm going all the way to 105mm.
It's a great walk-around lens for shooting stills. But you can also use it for shooting videos, using the zoom range to your advantage.
As the lens has a fixed maximum aperture across its focal length the depth of field remains the same. You won't have to swap lenses every time you need to zoom in.
Other features include excellent weather sealing and a rounded 10-blade aperture diaphragm. The lens also has a ring-type USM auto-focusing motor, not the STM we love so much for shooting video. Still, this Canon lens has earned a spot on this list.

Canon EF 24–105mm f/4L IS II USM Lens, Black - 1380C002
All-new optical design with significant improvements in peripheral brightness.
High-performance standard zoom lens with constant f/4L aperture and a broad angle of view covering from wide angle to...
Air Sphere Coating (ASC) helps to significantly reduce flare and ghosting. Diagonal Angle of View:84°00' - 23° 20'
Image Stabilizer performance at up to 4 stops* of shake correction helps capture sharp images. Lens Construction: 17 elements...
Circular Aperture (10 blades) helps deliver beautiful, soft backgrounds.
Canon EF 17-40mm f/4L USM is yet another interesting optic to shoot videos with. This too is an L lens.
Which means the build quality includes exceptional weather sealing. This is a well-built unit all around.
The focal length has a range of 17mm to 40mm, perfect for getting wide angle shots. But only when you need an expansive frame. For a majority of the shots, you would probably stay within the 35 – 40mm focal length range.
A good thing about the lens is the constant aperture of f/4. Regardless of the composition, your depth of field will remain the same throughout.
Auto-focusing on the lens is powered by Canon's USM AF motor.
USM AF motors are jerky and noisy when you compare them to STM lenses. This, however, should not be a major issue here if you plan on using manual focus.
Speaking of manual focusing, the lens' manual focusing ring is very smooth. Plus the lens has full-time manual focusing override. But the one thing that it lacks is image stabilization.
The lens consists of a total of 12 elements arranged in 9 groups. It includes one super ultra-low dispersion element and three aspherical elements. Super Spectra Coating has also been applied on the lens. This prevents lens flare and ghosting from affecting the images.
Canon EF 17-40mm f/4L USM Ultra Wide Angle Zoom Lens for SLR Cameras
17 40 millimeter ultra wide angle zoom lens with f/4 maximum aperture for Canon SLR Cameras. Diagonal angle of view 104°...
3 aspherical lens elements and super UD glass element create superior optics in all conditions, Closest focusing distance:...
Powerful ring type ultrasonic monitor (USM) produces fast and silent autofocusing, Focuses as close as 11 inches, supports...
Suitable for Wedding/Nature Photography, Weather resistant construction, Water and Dust Resistant, measures 3.3 inches in...
Purchase this product between May 1, 2016 and July 30, 2016 and get 13 months of free damage protection from Canon. The...
---
As an Amazon Associate we earn from qualifying purchases. Certain content that appears on PhotoWorkout.com comes from Amazon. This content is provided 'as is' and is subject to change or removal at any time.