Canon produces plenty of great video lenses for their DSLR and mirrorless cameras. But given the huge number of options, finding the right lens can be tricky.
Here is our list of the best Canon lenses for video, all of which are great for both video and hybrid shooters.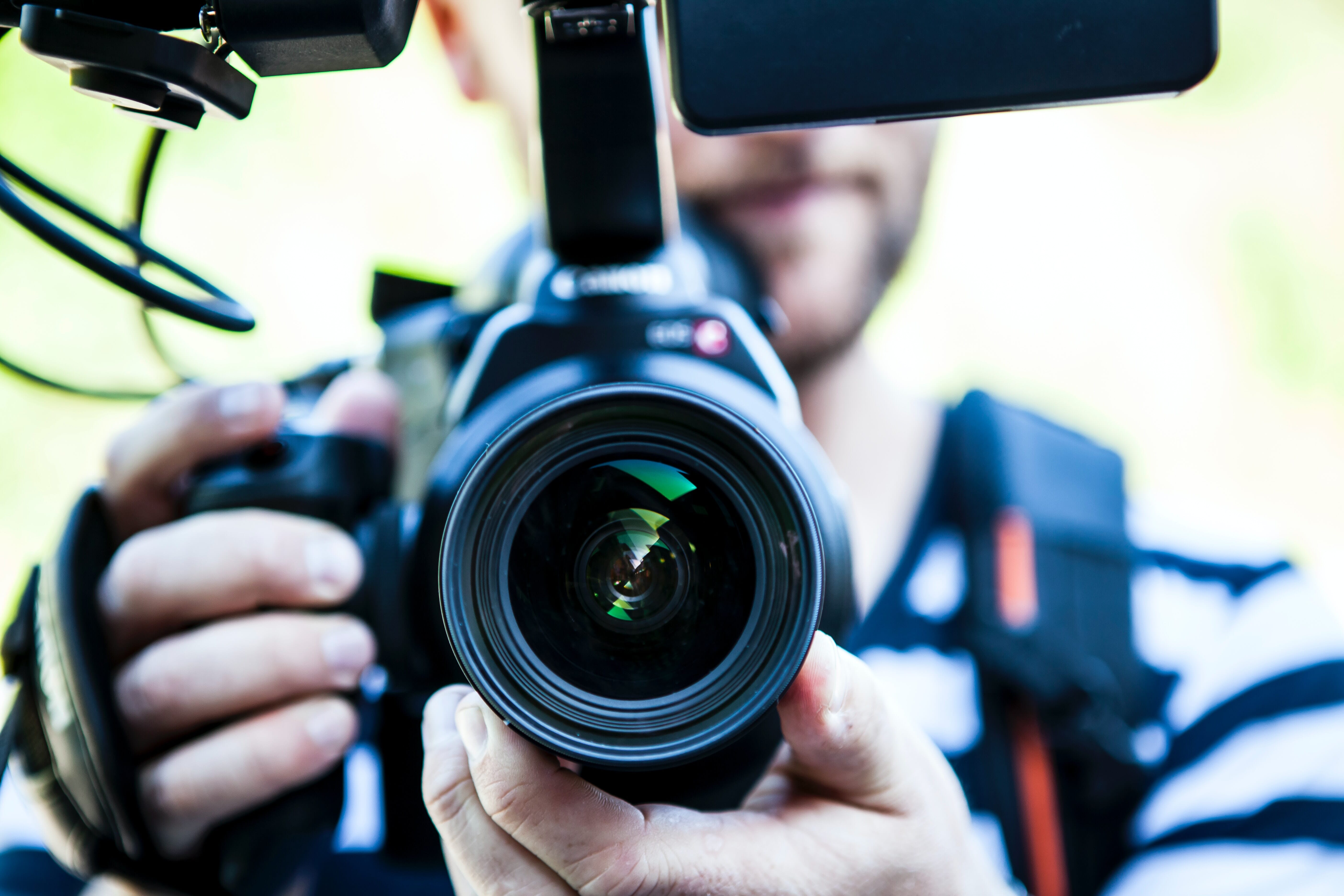 Best Canon Lenses for Video:
When you buy through links on our site, we may earn a commission at no cost to you. We evaluate products independently. Commissions do not affect our evaluations.
1. Canon RF 28–70mm f/2L USM
Mirrorless Pick
The perfect walkaround video lens
This brand new lens is perfect for most types of videography.
Pros
Wide f/2 maximum aperture
Durable all-weather construction and sealing
Good flourine coating on the lens glass
Adaptable
Cons
No stabilization
Expensive
Clicks when changing certain settings
The Canon RF 28–70mm f/2L USM is a riff on the traditional Canon 24-70mm lens, and it sacrifices 4mm on the wider end for a better maximum aperture.
For video, this focal length is quite superb. You can easily go from a wider angle of view to a tight crop with just one twist of the zoom ring. The f/2 maximum aperture provides lots of light for videography in dimly lit interiors.
The all-weather build and durable construction makes this lens perfect for outdoor situations, and the glass is coated with fluorine, which offers UV protection and glare resistance. The autofocus is quite smooth and fast, which is also great for video.
The noisy controls aren't ideal if you need to retain sound, but for those who frequently film music videos and the like, this lens is a great pick.
2. Canon RF 85mm f/1.2L USM DS
Also Great
Best for videos of people
This lens will make people look great thanks to the magic of focal length compression.
Pros
Amazing f/1.2 maximum aperture
Great sharpness
Beautiful compression
Durable build
Cons
Heavy and bulky
Expensive
For those needing to record portrait-style video, the Canon RF 85mm f/1.2L USM DS is a great choice. Although the telephoto focal length requires a bit of distance between the videographer and the subject, you'll get such beautiful subject compression that everyone will look like a supermodel in front of the glass.
The f/1.2 aperture is the widest available on an autofocus lens, and it just can't be beat! This is also the only 85mm lens with such a wide maximum aperture. The f/1.2 aperture not only lets in a lot of light, but it also creates really beautiful, dream-like footage with tremendous bokeh.
This lens does have a control ring and focus limiter, which makes it a lot easier to utilize when recording video. And the sharpness is truly impressive.
3. Canon RF 15-35mm f/2.8L IS USM
A wide-angle beauty
The 15-35mm f/2.8L is the ultimate wide-angle Canon lens for videography.
Pros
Impeccable image quality
Consistent f/2.8 maximum aperture throughout the zoom range
Weather protection
Cons
Requires a color correction profile for editing software in order to render proper colors
Expensive
If you're a videographer who prefers wide-angle lenses, the Canon RF 15-35mm f/2.8L IS USM will knock your socks off. The 15mm wide end is more than enough to make small rooms feel large, while the 35mm end is great for capturing faces and living subjects.
Thanks to the close focusing distance, videographers can wedge themselves into tight spaces when filming. The lens is also light and easy to carry.
The weather protection and fluoride coating helps keep the lens pristine in the worst conditions. Although the lens is a bit pricey, it's well worth the cost (and is certainly built to last).
4. Canon RF 24-240mm f/4-6.3 IS USM
A jack-of-all-trades lens
You can record pretty much any situation with this impressive zoom lens.
Pros
Incredible zoom
Very sturdy construction
Quiet autofocus
Cons
No weather protection
Has some chromatic aberration
The Canon RF 24-240mm f/4-6.3 IS USM really is the ultimate zoom lens. Videographers who like to record on the fly and look for spontaneous moments will really love the zoom range, and while the maximum aperture isn't the widest, it should be fine for most situations.
Autofocus is quiet, which means that you can comfortably zoom in your videos even while capturing audio. And the AF is also fast, perfect for recording sports players or even wildlife on the move.
The construction is quite durable and can withstand pretty much any kind of bump or tumble. After all, when you're shooting outdoors, anything can happen!
5. Canon RF 35mm f/1.8 Macro IS STM
Great for close-up and wide videography
The RF 35mm f/1.8 boasts beautiful optical quality and plenty of versatile features.
Pros
Super sharp and clear
Great aperture
Has macro abilities for close-up video
Moderate price
Cons
No weather sealing
Some vignetting at wider apertures
If you prefer to work with small, lightweight primes, the RF 35mm f/1.8 Macro IS STM is a great Canon video pick. The lens features almost no distortion but still offers a wide-enough field of view to capture a more environmental perspective.
The f/1.8 maximum aperture allows in plenty of light, which means that you can film indoors without trouble. The subject separation produced by the shallow depth of field is also a plus, especially for those filming concerts and other hectic events. And the macro capability is perfect for capturing close-ups of nature and even people.
6. Canon EF 24-70mm f/2.8L II USM
DSLR Pick
Best for walkaround videography
This is a classic lens that works great for both photography and videography.
Pros
Sharp throughout the zoom range
Great lens coatings
Includes Canon's USM AF motor
Cons
Expensive
Some vignetting
The Canon EF 24-70mm f/2.8L II USM is a standard zoom, and it's the kind of lens you attach to your camera and never remove. It covers almost every kind of shooting situation you'll ever come across.
At 24mm, you can record landscapes and wide-angle shots of event venues, while at 50-70mm, you can capture beautiful footage of people interacting.
This lens has some focus-breathing issues at the telephoto end, but they're very marginal.
The Canon 24-70mm f/2.8L also has Canon's USM AF motor. Though not as smooth as the STM motor, it still does a decent job (plus, most videographers use manual focus when recording, anyway).
7. Canon EF 50mm f/1.8 STM
Also Great
The ultimate budget option
For Canon users just starting with video, this lens is the way to go.
Pros
Bright f/1.8 maximum aperture
Very lightweight and compact
Standard, easy-to-use focal length
Inexpensive
Cons
Slow focus
Can have some glare
The Canon EF 50mm f/1.8 STM is small and lightweight, yet it still features a large maximum aperture of f/1.8. Therefore, the lens is great for isolating subjects and giving the background a dreamy blur effect.
There's a reason that the best Canon 50mm lenses are referred to as "nifty fifties" – the focal length is closest to the human eye, so you know exactly what to expect even before you raise the camera to your eye.
The Canon 50mm f/1.8 is the least expensive option on this list. But don't let the price fool you because the lens still packs some premium features, including Canon's Super Spectra Coating to suppress ghosting and flare.
8. Canon EF 17-40mm f/4L USM
Perfect for ultra-wide videography
If you do lots of wide-angle videography, this lens is an outstanding pick.
Pros
Ultra-wide field of view
Great sharpness in the center of the frame
Nice focal length range
Cons
Lacking edge sharpness
Color fringing issues
The EF 17-40mm f/4L USM is yet another interesting Canon DSLR lens. It's well built and features weather sealing, which makes it ideal for recording outdoor events and even landscape videography.
The focal length range is perfect for wide-angle videography, but beware: It's not good for capturing tighter footage of people. So make sure that you definitely need this lens before you buy.
The autofocus is powered by a USM AF motor, and while it can be jerky and noisy compared to STM options, it shouldn't be an issue if you plan to use manual focus.
The 17-40mm f/4L consists of 12 elements arranged in 9 groups, including three aspherical elements to reduce optical issues. Super Spectra Coating has also been added to the lens, which reduces lens flare and ghosting.
9. Canon EF 40mm f/2.8 STM
Best for on-the-go videography
The 40mm f/2.8 is small enough to fit in your pocket, and it performs well in many situations.
Pros
Small and light
Budget friendly
Good STM focus motor
Cons
Has distortion issues
Not super durable in comparison to other lenses
A true pancake lens, the Canon EF 40mm f/2.8 STM is both incredibly light and very flat. It was designed as the ultimate street photography lens, but it works great for videography, too!
The 40mm f/2.8 is relatively durable, yet it's amazingly small; you can keep it on the front of your camera and you won't even notice. It has one aspherical element to suppress spherical aberration, and it has Canon's Super Spectra Coating to suppress lens flare and ghosting.
Autofocus is powered by Canon's latest STM motor, so you know that focus will be decently fast and very quiet. The price is amazing, too, so if you're a beginner on a budget, the lens is definitely worth a look.
10. Canon EF 24-105mm f/4L IS II USM
An ultra-adaptable pick
The 24-105mm is incredibly versatile, and it offers optics that will satisfy even serious videographers.
Pros
Incredible focal length
Consistent f/4 maximum aperture
Includes stabilization
Cons
Expensive
Can have some vignetting
The Canon EF 24-105mm f/4L IS II USM offers an amazing range of focal lengths; after all, it goes from a wide 24mm to a telephoto 105mm (and passes through the highly useful 35-85mm range along the way!). Therefore, it's a great walkaround lens for videography, and it's also perfect for generalist shooters.
Other features include excellent weather sealing and a rounded 10-blade aperture. The lens also has a ring-type USM autofocus motor, which isn't as quiet as we like, but is still usable for video.
Unfortunately, the 24-105mm f/4L is on the expensive side, but it's far more affordable than some of the other lenses on this list. And it's versatile, too, so you essentially get several lenses for the price of one.
Pick the Perfect Canon Video Lens
Although choosing a lens for video can be tough, this list should offer a good starting point.
Our favorite mirrorless lens is the Canon RF 28–70mm f/2L USM, which is highly versatile (plus it offers a beautiful f/2 maximum aperture). The Canon RF 85mm f/1.2L USM DS is another great option; while it's not as versatile, the f/1.2 maximum aperture can't be beat.
Canon DSLR users will like the EF 24-70mm f/2.8L II USM, though if the price is a bit high, the Canon EF 50mm f/1.8 STM is the perfect budget option.
---
Disclosure/Disclaimer: As an Amazon Associate, we earn from qualifying purchases. Certain content was provided "as is" from Amazon and is subject to change or removal at any time. Product prices and availability: Amazon prices are updated daily or are accurate as of the date/time indicated and are subject to change. Any price and availability information displayed on Amazon.com at the time of purchase will apply to the purchase of this product.