There are a number of ways to shoot macro photos, but if you want professional-quality results, a dedicated macro lens is the best option. A macro lens offers superior optics, top-notch ergonomics, and high magnification levels so you can capture ultra-detailed images of flowers, insects, and so much more.
Picking a good macro lens, however, can be tough. There are dozens of options at all different price points; it's enough to make anybody overwhelmed!
Fortunately, we've spent long hours researching the best macro lenses for Canon cameras. In this article, we share our top 10 picks, including choices for Canon's DSLRs and mirrorless models. No matter your budget or your system, there's a stellar macro lens here for you.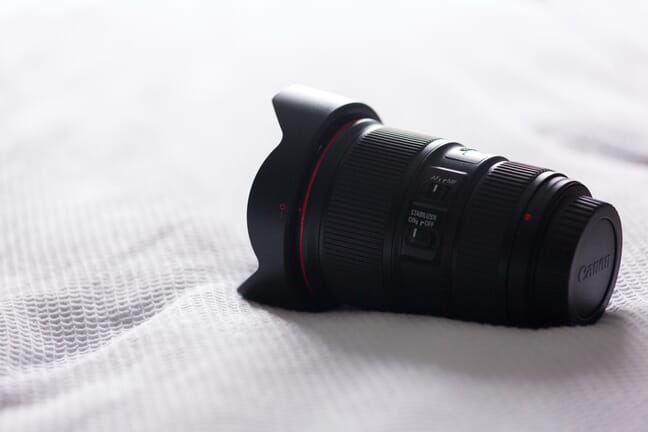 Best Canon (incl. 3rd party) Lenses for Macro Photography:
When you buy through links on our site, we may earn a commission at no cost to you. We evaluate products independently. Commissions do not affect our evaluations.
Best Canon Macro Lenses
1. Canon EF 100mm f/2.8L Macro IS USM
Our Pick
Best for all types of macro photography
This dedicated macro lens is superbly built, and the optical quality is beautiful.
$1099.00 at time of publication
Pros
Excellent color reproduction
Weather sealed
Image stabilization
Internal focusing mechanism
The Canon EF 100mm f/2.8L Macro IS USM is a lens that most macro photography enthusiasts have seen in action. It's one of Canon's more popular special-purpose lenses, and at 100mm, it offers the right balance between focal length and magnification.
The 100mm f/2.8L produces a 1:1 reproduction of close-up subjects. It features powerful image stabilization and a quiet, reliable AF motor (as well as a full-time manual-focusing override option).
The lens features internal focusing to ensure the barrel length doesn't change when focusing. This is helpful for macro photographers because a barrel that extends when focusing can scare away insects and other creepy-crawlies.
The "L" moniker means that the lens is well-designed, and the 100mm f/2.8L comes with weather sealing and should be able to handle light rain without issue.
2. Canon RF 35mm f/1.8 Macro IS STM
Also Great
Best for close-ups and general photography
The RF 35mm f/1.8 is great for flower close-ups, but it's also flexible enough to appeal to street, portrait, and travel photographers.
$499.00 at time of publication
Pros
Image stabilization
Compatible with Canon's range of macro speedlights
Good optical quality
Cons
Magnification ratio is only 0.5x
The Canon RF 35mm f/1.8 Macro IS STM may only have a magnification ratio of 0.5x, but it's highly versatile and deserves a place on our list. Designed for the EOS R range of mirrorless cameras, it's a lightweight, compact lens that packs a big punch in terms of image quality.
The 35mm focal length is useful in many situations, so this lens is also a good choice for street, travel, and portrait photography. Of course, the close-focusing capabilities ensure that it can also take great macro shots of flowers, jewelry, food, and even (if they're tame enough!) insects. The minimum focusing distance is an impressive 6.6 in (17 cm), and the bokeh effect is good, too.
Another handy feature of the Canon RF 35mm: It's compatible with Canon's macro speedlight flashes. This flash range includes the Macro Twin Lites and Macro Ring Lites and enables you to create high-quality, controlled lighting for your macro subjects.
Image quality and sharpness are excellent although there can be some vignetting and barrel distortion when shooting wide open.
The Canon RF 35mm provides a lot of versatility and good image quality for the money. It won't suit a dedicated macro shooter who requires extreme magnifications, but it's great for most everyday macro and close-up photography scenarios, and it's also an excellent walkaround lens.
3. Canon EF-M 28mm f/3.5 Macro IS STM
Best for extreme magnification
The Canon 28mm f/3.5 is small, inexpensive, and capable of capturing stunning macro images.
Pros
Outstanding magnification
Built-in LED lights
Excellent image quality
Cons
Maximum aperture is only f/3.5
If you own a Canon EOS M mirrorless camera, then the Canon EF-M 28mm f/3.5 Macro IS STM is a great choice.
The lens is technically 28mm, but when it's mounted on an EF-M body, the effective focal length reaches around 45mm. This length almost perfectly replicates the human eye, so what you see through this lens equates to how you see the world.
The 28mm f/3.5 Macro is great for most types of general photography, but make no mistake: It is a genuine macro lens, which means it can produce life-size images of small objects. This lens even takes it one step further; thanks to its Super Macro Mode, you can shoot at magnifications of 1.2x.
This lens is almost unbelievably tiny and very light, and it has a pair of LED lights built into the front of the barrel. One limitation is that the front element is around 1 cm (0.3 in) from the subject when working at high magnifications, which makes it hard to photograph insects (they'll be spooked by the closeness of the lens!). At the lens's highest magnifications, you'll also want to use the built-in macro lights to avoid shadows.
That said, image quality and color rendition are excellent, and the macro capabilities on this tiny, inexpensive lens are spectacular. Add in the small size and light weight, and you have a lens that suits standard situations and macro applications.
4. Canon EF-S 35mm f/2.8 Macro IS STM
Best for those who want built-in macro lighting
The Canon EF-S 35mm f/2.8 is an excellent 1:1 macro lens that also works great for walkaround photography.
Pros
Impressive image quality
Good bokeh
Built-in macro lights
Cons
Some barrel distortion
If you want a good prime macro lens for your Canon APS-C DSLR, then the Canon EF-S 35mm f/2.8 Macro IS STM is a great pick, offering life-size (1:1) magnification and an integrated LED on the front of the lens.
This lens is ideal for traveling light and can also be used on Canon's mirrorless (EOS M) cameras with an adapter. Most experienced macro photographers won't want to do much handheld shooting, but the image-stabilization technology makes it easier to create sharp macro shots without a tripod. This makes the 35mm macro lens a good choice if you want to quickly capture close-up snaps while out walking.
The biggest feature of this lens is the built-in Macro Lite LEDs. These lights can be adjusted to light only the left or right side of the scene (as well as both sides). The brightness can be adjusted, too, and the lights really do make a difference when shooting up close as they bring back some of the light that's lost at macro distances. Note that these lights are specifically designed for macro work, so don't expect them to light up your portraits!
Sharpness at wider apertures and color rendition are both excellent. The bokeh is good quality, which is important when you have a lens that is capable of creating a strong background blur like this one.
5. Canon RF 85mm f/2 Macro IS STM
Best for beginners who want a versatile lens
This lens offers everything a beginner macro shooter could want: good value for money, a compact design, and great optics.
$499.00 at time of publication
Pros
Well-priced for an RF lens
Excellent image stabilization
Outstanding sharpness even at f/2
Cons
Not a true macro lens
The Canon RF 85mm f/2 Macro IS STM is smaller, lighter, and much more affordable than many other RF lenses. While it may not carry the Canon "L" stamp, it can do something most other RF lenses can't: shoot macro images.
No, the Canon RF 85mm f/2 is not a true macro lens. The maximum image reproduction ratio is less than life-size (it's 1:2), but for close-ups of flowers, wedding decor, food, and products, it's ideal.
The minimum focusing distance is a decent 13.7 in (35 cm), and when it comes to image quality, the RF 85mm f/2 is superb (even when shooting wide open). Bokeh is smooth and looks great, and there's minimal distortion and chromatic aberration.
This lens comes at a bargain price compared to other high-end 85mm lenses. It's fast, has great image stabilization, and packs impressive macro capabilities, plus it's a superb portrait lens for Canon users. What's not to like?
Best Third-Party Macro Lenses for Canon
6. Sigma 17-70mm f/2.8-4 DC Macro OS HSM for Canon (EF-S Mount)
Best for flower and food photography
Inexpensive yet well-built, this lens offers solid close-up capabilities.
Pros
Image stabilization
Generally good sharpness
Lightweight and compact
Cons
Only 1:2.8 maximum image reproduction
If you're looking for an inexpensive zoom lens that can focus close, then the Sigma 17-70mm f/2.8-4 DC Macro OS HSM may be the right third-party macro lens for you.
It won't suit those looking for extreme magnification – the maximum magnification is only around 0.3x – but the lens is great for close-up flower and food photography. It's also a great little walkaround lens, and when used on a crop-sensor camera, it offers a handy 25.5-105mm focal length range.
The Sigma 17-70mm Macro is compact and featherlight, and the build quality is impressive given the price point. The lens doesn't feature a fixed aperture, though. If you like to shoot with a tripod or macro rail, then this shouldn't be an issue as you can compensate for the smaller aperture by reducing your shutter speed, but f/4 isn't so great for handholding, especially in lower light. However, Sigma's image stabilization technology is a big help here, reducing camera shake so you can work at extremely slow shutter speeds without support.
Sharpness is excellent at 17mm and remains generally good across the focal length range, though edge sharpness does start to suffer a bit at 70mm. At the end of the day, the Sigma 17-70mm Macro boasts very good value for the money and is a versatile walkaround lens, too. Note that this is an EF-S lens, so it's only compatible with APS-C cameras.
7. Lensbaby Velvet 85 f/1.8 for Canon (EF Mount)
Best for creative macro photography
The Velvet 85 is a great choice for those who are looking for something a little different. The soft-focus glow is amazing!
Pros
Soft, ethereal glow at maximum apertures
Sharp when stopped down
Beautiful bokeh
All-metal construction
Cons
Manual-focus only
A very niche lens
If you're looking for a creative macro photography lens that offers a soft-focus glow at wider apertures yet is capable of producing razor-sharp images when stopped down, the Lensbaby Velvet 85 f/1.8 might be your thing.
This is a lens that photographers either love or hate thanks to the soft, velvety glow it creates when used at f/1.8. The glow can look amazing with subjects like flowers and insects (and you can use it when capturing portraits for that old-style Hollywood look).
But stop down the Lensbaby Velvet 85, and the glow is gradually replaced by a supreme center sharpness. (Although the glow becomes extremely subtle, it never vanishes completely, even at f/16.)
The bokeh produced by the Velvet 85 is beautiful due to the 12 diaphragm blades. The minimum focusing distance is 9.5 in (24.1 cm), which is sufficient for most macro applications. The maximum image reproduction ratio is 1:2, so this isn't a true macro lens, but it'll still get you plenty close for beautiful detail photos.
The all-metal build makes the lens very robust but also fairly heavy. There are no fancy electronics here, either, like image stabilization or even autofocus, so the Velvet 85 might not be the best choice for beginners who have never tried manual focusing.
The Velvet 85 is primarily an artistic and creative lens. It's not as versatile as some other third-party macro lenses on this list, but if you like the soft-focus look, then you'll fall in love with the Velvet 85!
8. Tokina atx-i 100mm f/2.8 FF Macro for Canon (EF Mount)
Best for experienced macro photographers
The Tokina 100mm features high-precision manual focus and full 1:1 macro capabilities.
Pros
Image quality is excellent
Very precise manual focusing
True macro magnifications
Cons
Not weather sealed
The Tokina atx-i 100mm f/2.8 FF Macro isn't as pricey as other options on this list, but don't let that fool you; it delivers 1:1 magnification with a respectable working distance of 4.5 in (11.5 cm), along with outstanding image quality, excellent ergonomics, and more.
The 100mm focal length is popular for macro lenses as it allows you to shoot just about any small subject (and it doubles as a good focal length for portraits, too). To change from autofocus to manual focus, you simply push the focus ring, which makes switching from one mode to the other a breeze. And those who prefer manual focus will love the long-throw focus ring, which has been engineered for extremely precise adjustments.
The Tokina atx-i 100mm is impressively sharp throughout most of its aperture range, both in the center and in the corners. And it's generally well-built, too, though it does lack weather sealing, so you'll only be able to shoot on dry days (unless you have a camera raincoat). All in all, it offers good value for the money and is an excellent macro lens for serious shooters.
9. Sigma 70mm f/2.8 DG Macro Art for Canon (EF Mount)
Best for smaller subjects and abstracts
The Sigma 70mm offers excellent image quality and good value for money. Beginners will also appreciate the versatile focal length.
Pros
True 1:1 image reproduction
Smooth bokeh
Small and lightweight
Cons
Autofocus can be slow
If you're after a versatile macro lens that you can slip in your camera bag or leave on your camera while traveling, check out the Sigma 70mm f/2.8 DG Macro Art model.
The Sigma 70mm f/2.8 macro lens reproduces subjects at life-size (1:1), so it's ideal for capturing tiny flower details and macro abstracts (and the 70mm focal length is also perfect for portrait photography). The lens delivers a reliable autofocus performance, but it can be somewhat slow, so if you're hoping to shoot insects, I'd recommend looking elsewhere.
The lens diaphragm is made of nine rounded blades, which will help you create beautiful bokeh. Wide-aperture lenses are often plagued by flare and ghosting, but these issues are suppressed very well on the 70mm f/2.8 thanks to a special Sigma coating.
Sigma has utilized Thermally Stable Composite materials, which do not expand or contract when the temperature fluctuates. Therefore, this lens can be used in extreme temperatures without much of an issue, though there's no weather sealing, so you'll definitely need to be careful!
10. 7artisans 60mm f/2.8 Macro for Canon (EF-M Mount)
Best for serious macro photographers on a budget
This 60mm f/2.8 lens is insanely affordable, plus it comes with a rock-solid build and a fast maximum aperture.
Pros
Solid metal build
1:1 reproduction ratio
Amazing bokeh
The 7artisans 60mm f/2.8 Macro might be the best budget macro lens on the market. There's a lot of buzz about this no-frills lens, and I'm happy to say that it's a great choice for a dedicated macro fan.
The 7artisans 60mm f/2.8 features a heavy, all-metal build, so it's certainly not a lens you'll want to carry around all day. And it only offers manual focusing, which may frustrate beginners. However, the focusing ring is well made and allows for precise adjustments, plus the lens is amazingly sharp, even at f/2.8.
Additionally, bokeh quality on the 60mm f/2.8 is fabulous, and although there can be haloing and flare issues when shooting into the light, the overall image quality is far better than you would expect given the lens's price tag.
The maximum image reproduction ratio is life-size (1:1), and you can always buy extension tubes to reach 2:1 or 3:1 magnifications. One of the unique features of this 7artisans lens is the retracting hood. The lens barrel itself is 60 mm in diameter, but the front element is smaller and retracts into the lens body. 7artisans created a 39 mm screw-in lens hood to protect this element for travel, and when you focus at macro distances, the lens hood extends from the front of the lens.
One thing to note about this lens: There are no electrical contacts, so you won't get EXIF data and you'll need to use it in Manual mode. Because of this, it's not a lens for complete beginners. However, the 7artisans 60mm macro lens really is a bargain and should appeal to more serious macro shooters.
Start Capturing Beautiful Macro Photos!
Hopefully, you now know which macro lens to choose! But if you're still struggling to decide, our top pick has to be the fabulous Canon EF 100mm f/2.8L Macro IS USM.
If your budget doesn't stretch that far, consider one of our less-expensive options, like the Tokina atx-i 100mm f/2.8 FF Macro or the bargain-priced 7artisans 60mm f/2.8 Macro.
Best Macro Lenses for Canon FAQ
What is the best Canon macro lens?
The Canon EF 100mm f/2.8L Macro IS USM is definitely a highly rated lens and is incredibly sharp. It offers a nice balance of price, performance, and focal length.
What is the best third-party macro lens for Canon cameras?
The Tokina atx-i 100mm f/2.8 FF Macro is a great third-party option!
What is the cheapest OEM Canon macro lens?
The Canon EF-S 35mm f/2.8 Macro IS STM is the cheapest Canon-made macro lens.
Can I use a 50mm prime lens for macro photography?
A 50mm prime is a versatile lens for everyday shooting situations. However, it's not an ideal lens for shooting macro photos due to the limited close-up focusing capabilities.
---
Disclosure/Disclaimer: As an Amazon Associate, we earn from qualifying purchases. Certain content was provided "as is" from Amazon and is subject to change or removal at any time. Product prices and availability: Amazon prices are updated daily or are accurate as of the date/time indicated and are subject to change. Any price and availability information displayed on Amazon.com at the time of purchase will apply to the purchase of this product.