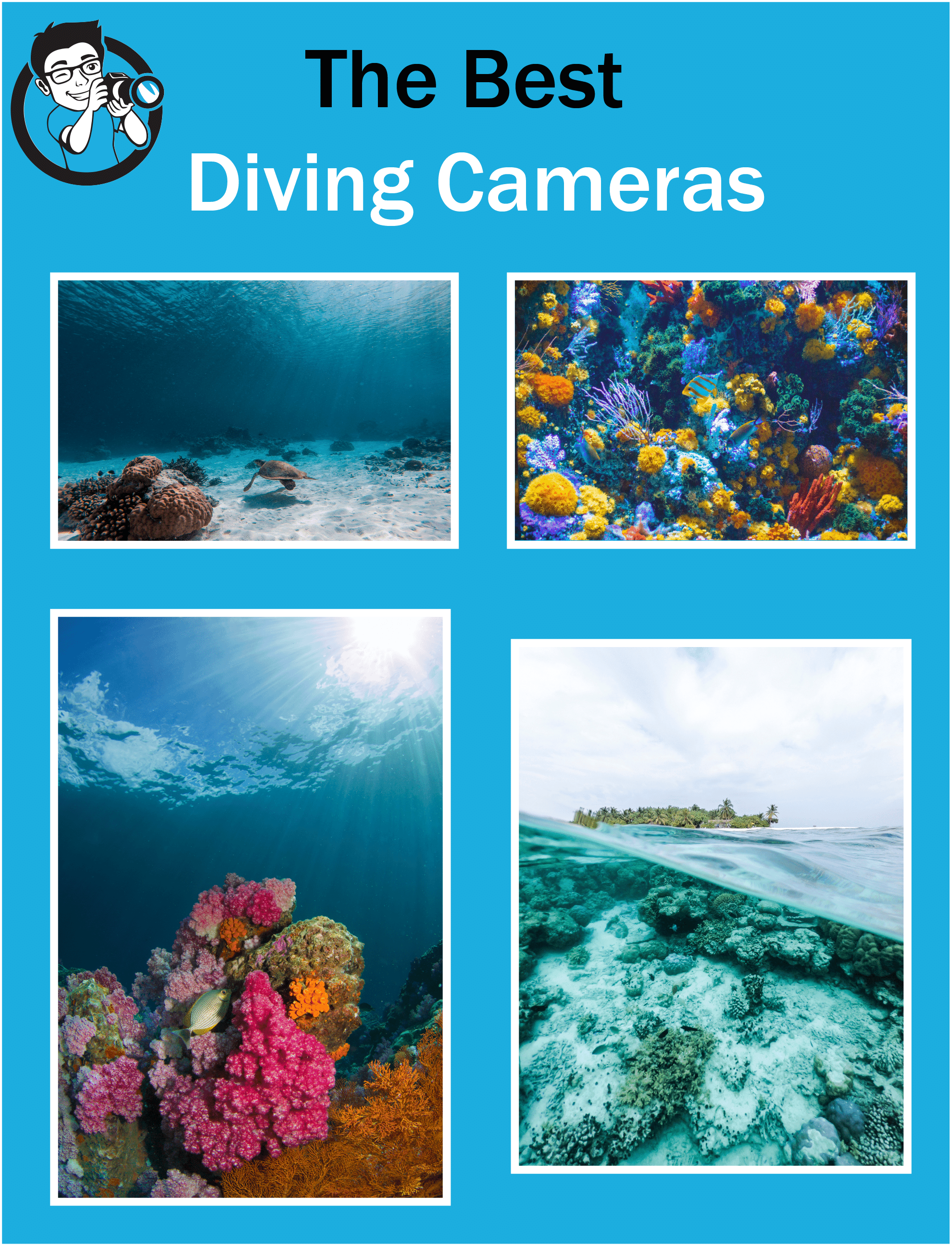 With around 72% of the Earth submerged underwater, it makes sense that we're curious to see what lies beneath. For a long time, these views were only portrayed through paintings and drawings. But now, we get to see the world down below, thanks to our cameras. For people eager to capture the depths, read on for our pick of the best diving cameras.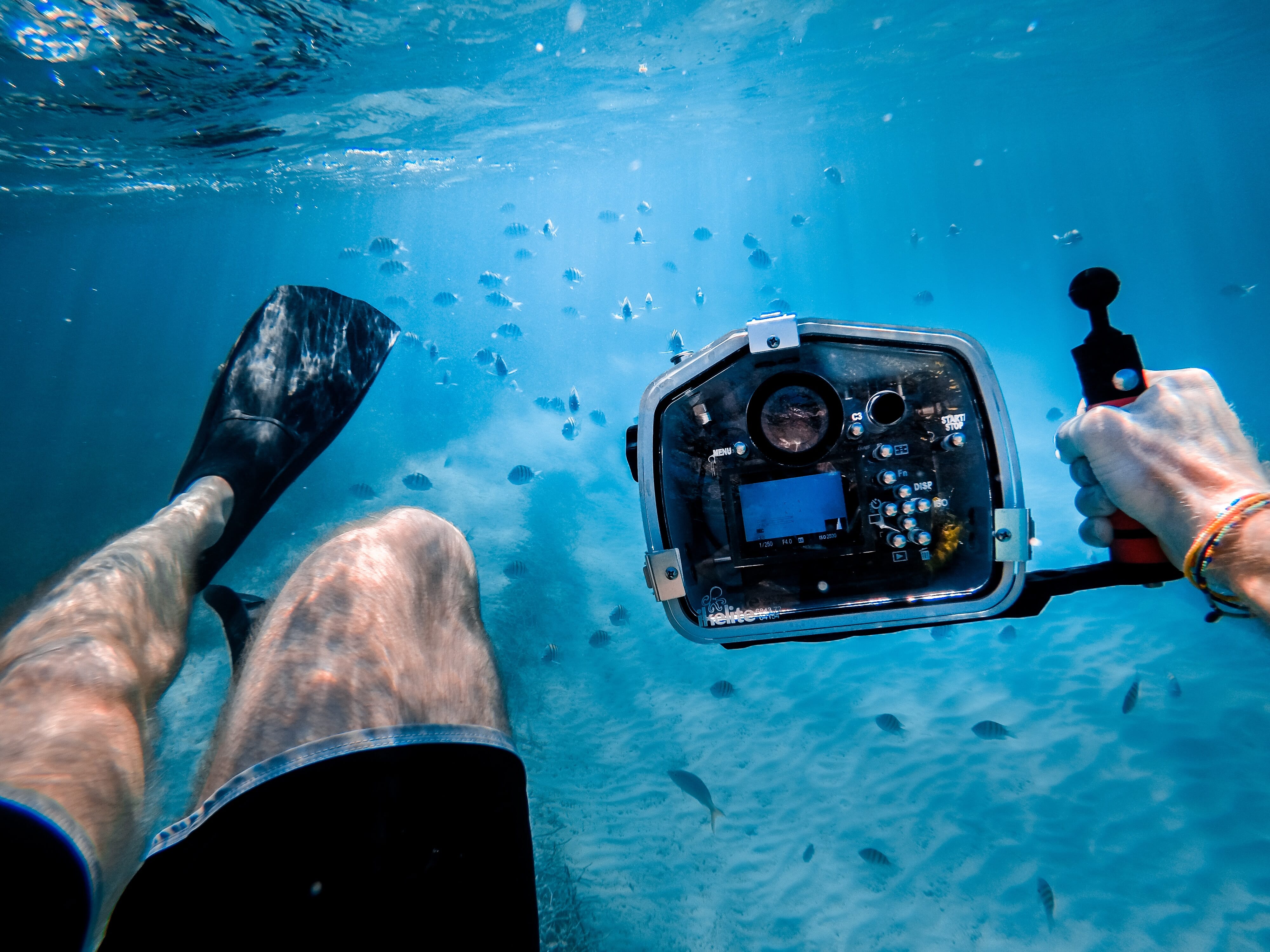 The Sealife DC2000 is an obvious choice for any underwater photographer and not only because of its name. There's a lot more to this little device than a convincing title.
Powered by a 20MP sensor capable of capturing both RAW and JPEG files, the DC2000 is an excellent choice for photography and videography. It sports a perfect balance of automatic and manual functions for easy use underwater. With an aperture range of f/1.8 to f/11 paired with ultra-fast autofocus capabilities, its easy to grab shots that fall in line with your specific style
What sets the DC2000 apart is that it's built specifically for underwater photography. With housing, the camera functions at depths of up to 200 feet (though, if you'd prefer to nix plastic, the camera alone can withstand dives up to 60 feet). Aside from that, all of the functions can be accessed using large back panel piano keys, ideal for those working with bulky dive gloves.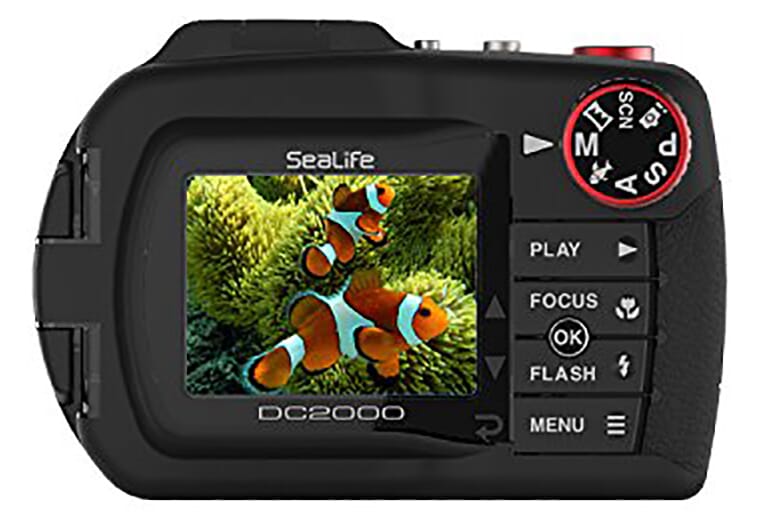 If you want something a bit more advanced than what the base SeaLife has to offer, no problem. The DC2000 is compatible with multiple underwater lenses. Pro flash sets are also available to increase visibility and improve overall image exposure
SeaLife DC2000 Underwater Camera
SONY 1" back-illuminated 20MP CMOS image sensor for sharp, stunning stills and videos
4 underwater shooting modes with built-in color correction (dive, snorkel, external light, and external flash)
25 Land Scene modes for various shooting environments
Full 1080p 60fps HD video with picture-in-video capture
Optional manual control from F1.8 to F11 in 0.3 stop increments
Related Post: Best Cameras for Nature Photography
GoPro is perhaps the most recognized brand name in the action photography niche. So, it should come as no surprise that they've molded their cameras to fit the necessary parameters for underwater photography.
The latest release, the HERO7 Black, is inherently waterproof at depths up to 33ft. However, thanks to the camera's wide range of accessories, you can easily pick up housing that allows the device to travel as far down as 196 ft.
What really convinces photographers to grab a GoPro of their own is the image quality offered by the small unassuming box. The HERO 7 Black offers 4k resolution video and 12MP still photographs. Creative shooting modes – such as 8x slo-mo and moving time lapse – allow for experimentation. Internal stabilization features further improve the flow of your videos, regardless of what it is you capture.
Related Post: Best Vacation Cameras
The GoPro doesn't stop short there. The HERO7 can be connected to certain social media platforms and stream your adventures in real time to followers. Alternatively, you may transfer videos directly to your phone with little fuss. As you go, the GoPro will track data including speed, distance, and elevation to show off the full scope of your adventures.
Related Post: Cameras Like GoPro (But Cheaper)
GoPro HERO 7 Black
HyperSmooth Video Stabilization Get gimbal like stabilization without the gimbal. HERO7 Black predicts your movements and...
Time Warp Video Capture super stabilized time lapse videos while you move about a scene. Increase the speed up to 30x to turn...
Super Photo: Get the best photos automatically. With Super Photo, HERO7 Black intelligently applies HDR, local tone mapping...
Rugged + Waterproof: Share experiences you can't capture with your phone. HERO7 Black is rugged, waterproof without a...
Voice Control: Stay in the moment. Control your HERO7 Black hands free with voice commands like "GoPro, take a photo" and...
Related Post: Best Hidden Cameras
While Garmin may not be the first name that comes to mind when thinking of underwater cameras, the VIRB Ultra certainly shows a lot of promise.
Beautiful 4k footage is bolstered by three-axis image stabilization. As you are filming, data such as speed, altitude, g-force, and even heart rate can be recorded. A GPS is built into every device, which continues to function at depths of up to 130 ft.
The mobile app shows off the VIRB's full range of connectivity. Like the GoPro, you may live stream footage thanks to built-in wireless capabilities. You may also use the app to control your camera remotely and sync the VIRB with a huge range of compatible Garmin devices.
Best of all, it functions just as well above land as it does in the water. Once you've dried off, you can try all of the Garmin's features, including a microphone capable of recognizing voice commands.
Garmin VIRB Ultra 30 Action Camera
ULTRA HD VIDEO - Crystal clear 4K/30fps footage, 1080p/120fps, or slow motion capability at 720p/240fps
G-METRIX - Built-in GPS and external sensors with connectivity to Garmin devices to capture performance data like speed,...
LCD COLOR TOUCHSCREEN - 1.75-inch display is easy to operate; fully functional in and out of waterproof case
VOICE CONTROL - Shoot hands-free by using voice commands to start/stop recording, take a photo or tag footage
3-AXIS IMAGE STABILIZ3-AXIS IMAGE STABILIZATION - Captures steady footage up to 1080p/60fps
You may be wondering why we included an average-looking flashlight to our list of underwater cameras. What many don't realize is that there's far more to this product than meets the eye.
The Tovatec Mera is far from an ordinary light source. Incorporated into the dive light is a 1080p camera capable of braving depths of 200 feet. With an impressive 1000 lumen output, it offers light for practical navigation while exposing subjects in front of the lens.
For those looking to work big, bulky cameras out of their dive equation, the Mera is a winner. It has just three buttons – one to activate the lamp, one to record video, and finally one to capture still images. Only taking one hand to operate, it's a genius design that doesn't take divers out of the moment.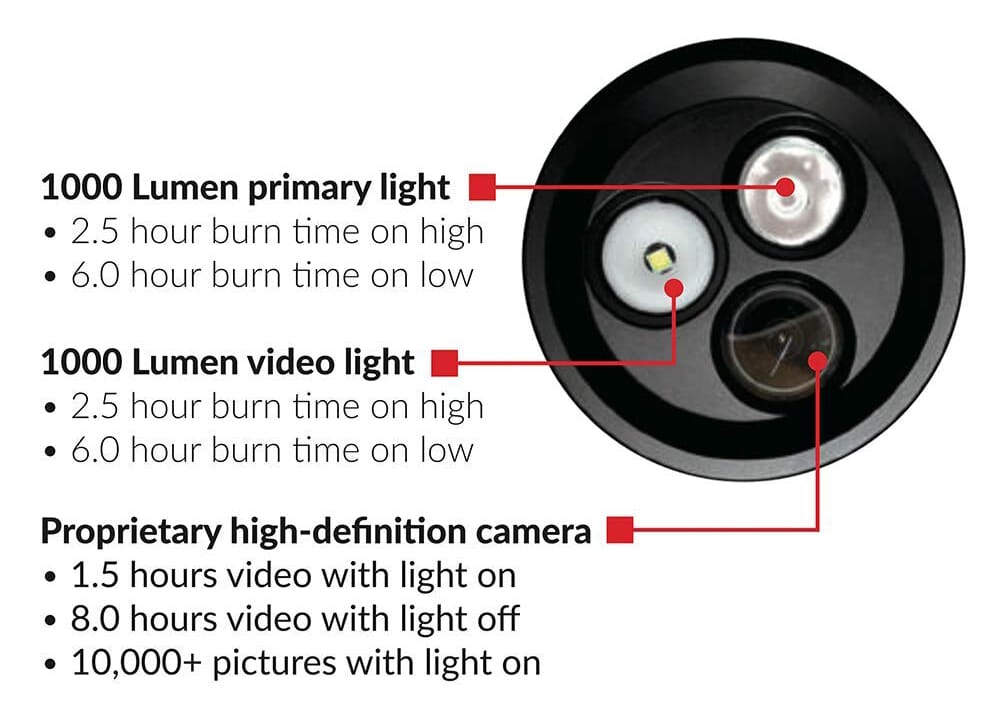 Admittedly, it lacks some of the bells and whistles that some advanced action cams boast. Camera settings can't easily be adjusted, and aren't any comprehensive apps involved. Nevertheless, its fully capable of grabbing awesome footage without requiring a lot of thought or effort.
Tovatec MERA1080 1000 Lumen Divelight with Integrated 1080P HD Underwater Camera,...
1000 Lumen primary light 2.5 hour burn time on high 6.0 hour burn time on low
Second 1000 Lumen video light 2.5 hour burn time on high 6.0 hour burn time on low
Proprietary high-definition camera 1.5 hours video with light on 8.0 hours video with light off 10,000+ pictures with...
3 Buttons allow simple, one-handed operation of both lights and camera
Eliminate Bulky Camera, Arms, Lights and Trays
Related Post: Best Cameras for Safari
It may not seem like there's much to the Paralenz Dive Camera. At 5.5 oz, it's small enough to clip directly to a dive mask. However, this tiny underwater camera packs a powerful punch.
Made with military-grade aluminum for a tough, durable build, this camera functions at depths of up to 820ft without housing. By a wide margin, this far surpasses any of the other dive camera's we've come across. What's more, it has real-time pressure and temperature sensors.
Despite outputting high-resolution 4k video, the Paralenz can keep going for more than 3.5 hours. Furthermore, footage is automatically color-corrected according to the depth you were recording at. These aspects ensure not only that you capture every moment of your dive, but that its appearances are true to life.
Best of all, despite the advanced features Paralenz has included, it doesn't take much effort to work the dive camera. In fact, you can set it to automatically record as soon as you dive into the water thanks to the internal pressure sensors. Once you've resurfaced, the accompanying app makes it easy to share footage and dive overviews wherever you'd like.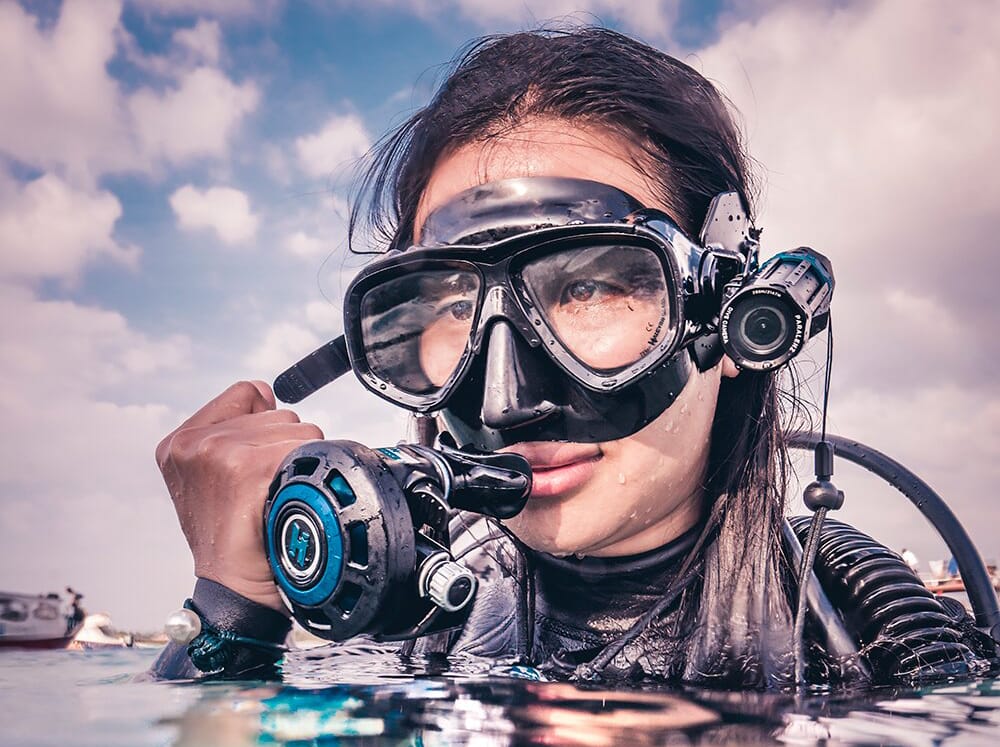 Paralenz Dive Camera+ - Waterproof, Underwater Camera, Military Grade Aluminum...
Depth rating of 250m / 820 ft. - No need for extra housing
Long batterylife - 3+hours in 1080p/30fps or 2+hours in 4K/30fps
DCC feature (Depth Color Correction) - No need for extra filters + depth & temperature video overlay option
Streamlined and built like a tank, that fits in the palm of your hand - 155g/5.5oz, 116mm/4.5''
Upload and share your dives with your divingbuddies directly from the Paralenz Dive App
Understandably, some photographers aren't eager to invest hundreds of dollars into underwater cameras. Luckily, with a little bit of protection, most standard interchangeable lens cameras can be modified to brave the water.
In particular, we're fond of the Sony a7 series as a dive camera alternative. The a7 family encompasses several different cameras each with different features and prices. However, there are some major similarities between the models.
Firstly, they all sport full-frame sensors capable of capturing a lot of information. The latest release in the series, the a7R IV, sports an incredible 61MP image sensor, far surpassing those in most underwater cameras.
Aside from that, Sony's a7 series cameras all accept interchangeable E-mount lenses. Being extremely accessible, they open up a wider range of creative possibilities than a fixed lens would. Lastly, the mirrorless cameras are smaller and lighter than almost every available DSLR on the market.
Of course, you won't be able to just dive in without some sort of protective housing. Luckily, the popularity of the Sony a7 series makes finding a viable solution pretty easy to find. A few options worth considering include: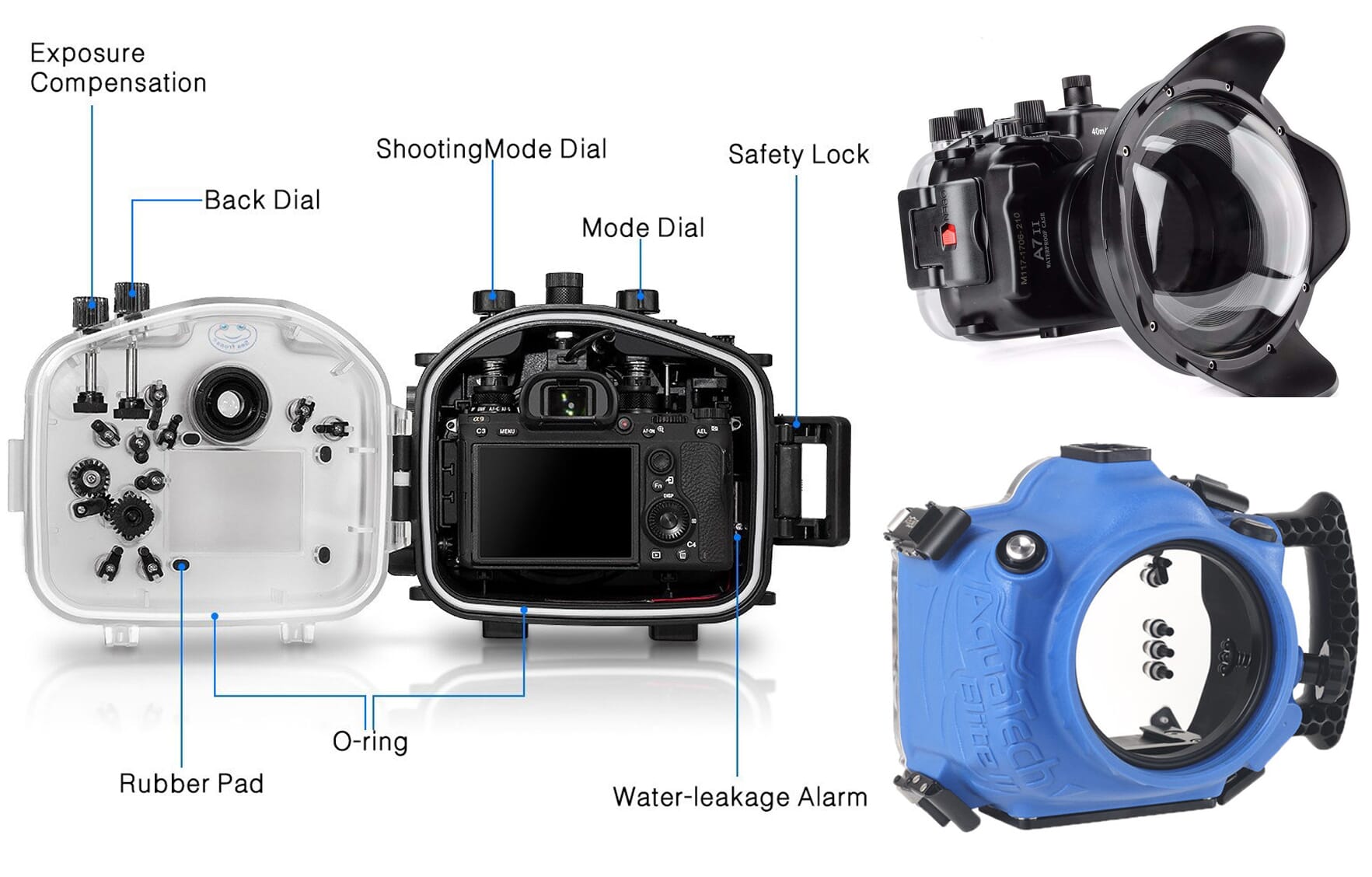 Sony a7R III Mirrorless Camera: 42.4MP Full Frame High Resolution Mirrorless...
INCREDIBLE DETAIL: Shoot high speed subjects at up to 10fps with continuous, accurate AF/AE tracking
OPTIMAL LIGHT: A back illuminated Exmor R CMOS sensor with gapless on chip lens collects more light. Operating Temperature:...
FASTER IMAGE PROCESSING: An updated BIONZ X processing engine boosts processing speeds up to 1.8x
STUNNING HD VIDEO: Sony Alpha 7R 3 mirror less cameras record clear 4K video for editing and viewing
BUNDLE INCLUDES: Power cord, charger, cable protector, shoulder strap, body/shoe caps, eyepiece cup. Metering Type:1200 zone...
Last but certainly not least, we can't round off this list without mentioning the Olympus Tough TG-6. By far the most promising point-and-shoot option available, it truly lives up to the title of being 'tough'.
Underwater photographers will be glad to know that the Olympus can withstand depths of up to 50 ft without housing. But it accomplishes far more than that. It can also survive falls of up to 7 ft and withstand as much as 220 lbs of weight. The sealed lens prevents fogging and creates a barrier to keep out dust. Double-lock construction keeps out elements and allows operation at temperatures as low as 14°F.
None of that stands in the way of the camera's technical capabilities. The 12MP image sensor captures high-def 4k video with ease. Also included are in-camera focus stacking capabilities and multiple underwater white balance modes.
Related Post: Best Camera for Cruising Vacation
Despite being a point and shoot, the Tough TG-6 spares no luxury and proves to be a solid choice for any serious diver. Olympus has even added creative modes formulated for underwater action. Whether you want to go wide or capture macro details, the TG-6 can pull it off!
Olympus Tough TG-6 Waterproof Camera, Red
Waterproof (50 feet / 15 meter ), dust proof, shockproof (7 feet / 2. 1 meter), crush proof (100kgf), freeze proof (14 degree...
High resolution F2. 0 lens, maximum 8x zoom, true pic VIII, back illuminated CMOS Image Sensor
Variable macro system comprised of 4 macro shooting modes, magnified shooting up to 1centimeter from the end of the lens
5 underwater shooting modes including underwater microscope, 3 underwater white balance modes
4K movie and full HD 120 fps high speed movies can be recorded
---
Note: As an Amazon Associate we earn from qualifying purchases. Certain content that appears on PhotoWorkout.com comes from Amazon. This content is provided 'as is' and is subject to change or removal at any time.