With around 72% of the Earth submerged underwater, it makes sense that we're curious to see what lies beneath. For a long time, these views were only portrayed through paintings and drawings. But now, we get to see the great deep, thanks to our cameras. For people eager to capture the depths, read on for our pick of the best diving cameras in 2023.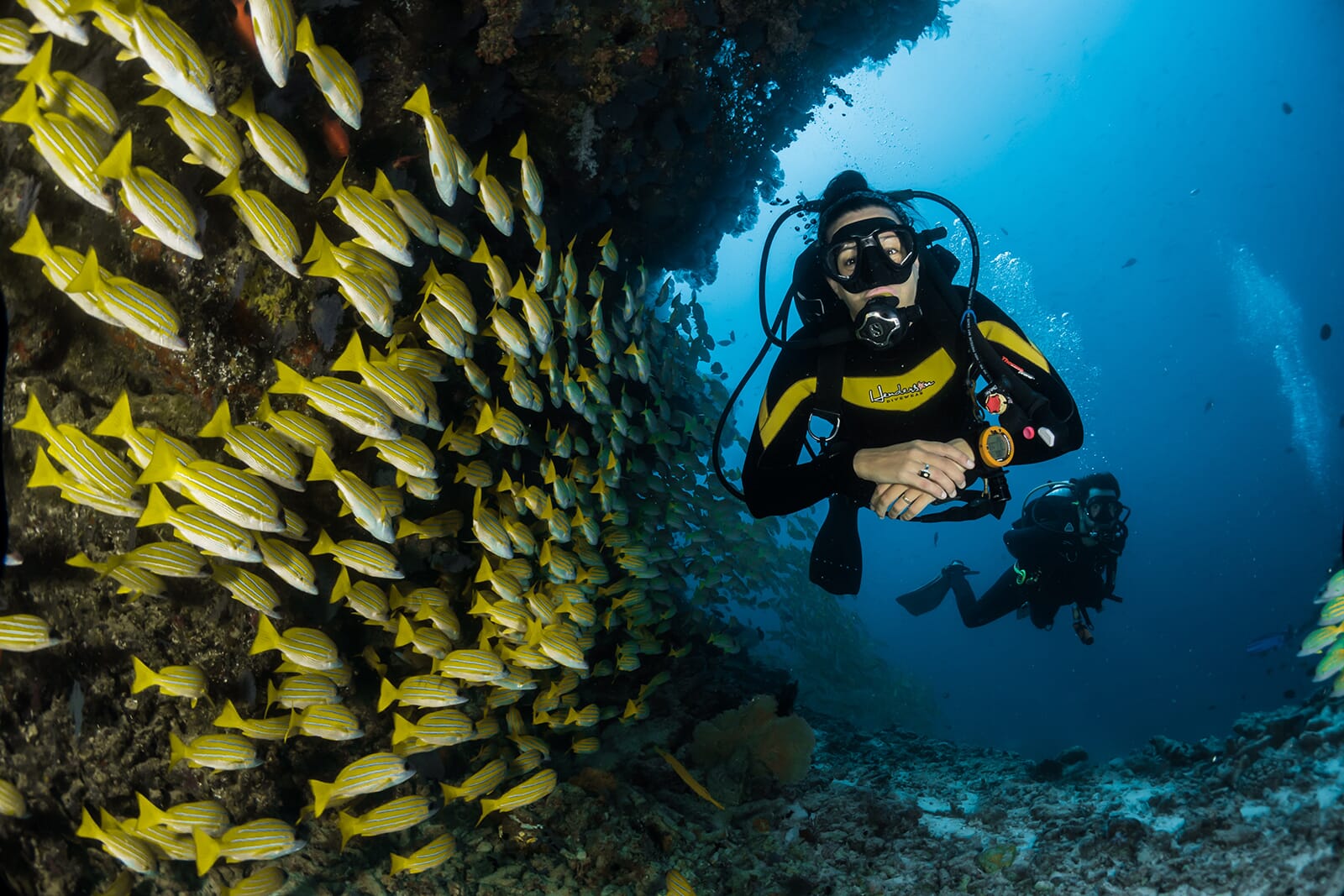 Images from Amazon
SeaLife Micro 3.0 Underwater Camera
Our Pick
Waterproof up to 60m / 200ft with a great 16MP sensor and 4K recording.
GoPro HERO9 Black
Also Great
Highly compact with excellent recording quality and stabilization.
Paralenz Vaquita Underwater 4k Camera
Deep Diving
The best choice for deep dives with a depth resistance of up to 350m / 1150ft.
When you buy through links on our site, we may earn a commission at no cost to you. We evaluate products independently. Commissions do not affect our evaluations.
1. SeaLife Micro 3.0 Underwater Camera
Our Pick
Durable with 4k video recording
The Micro 3.0 is waterproof up to 60m / 200ft, and has a solid construction.
Pros
Leak-proof with no O-rings
16MP resolution and 4k recording
Waterproof up to 200ft
Cons
Larger than other diving cameras
The SeaLife Micro 3.0 Underwater Camera is a great underwater camera and has a sturdy and durable frame. It has no O-rings which means that water cannot leak inside. If you're looking to take a camera scuba diving or snorkeling, the depth rating of this camera should be ample at 200ft/60m.
In terms of image quality, the SeaLife Micro 3.0 has a 16MP Sony CMOS sensor that can provide excellent quality underwater photos. If you fancy trying your hand at some underwater video footage, it can even record 4k at 30fps or 1080p at 120fps. These specs are pretty good and should allow you to get some decent photos and videos.
The camera has a burst shooting mode setting which allows you to capture 10 16MP frames per second. This means you can easily capture pictures of moving marine life in sharp detail. You can also make use of the 5 land and sea scene modes that help select the best settings for the current composition. This is one of the best diving cameras and, as standard, it also comes with a case and wrist strap.
2. Olympus Tough TG-6
A tough and sturdy design
The Tough TG-6 is built to resist tricky underwater conditions and waterproof to 15m / 50ft.
Pros
Waterproof to 60ft
Shockproof, crushproof, and dustproof
5 underwater shooting modes
Cons
Not the best resolution
The OLYMPUS Tough TG-6 Waterproof Camera is also featured on our list of the best skydiving cameras. It is a versatile point-and-shoot action camera that is durable. The red casing is waterproof up to 50ft/15m, dust proof, shock proof, crush proof, and freeze proof! This means you can use it under various extremes, including underwater, without it getting damaged.
The image sensor is a 12MP CMOS sensor and it also has a 4x optical zoom. The lens offers great resolution and sharpness and has a maximum aperture of f/2.0. You can expect sharp photos with great clarity from this camera, although it is not amazing for really low-light shots. For underwater usage, it also features 5 different shooting modes including a unique microscope mode.
The camera is a little larger than some other models, but it can easily be held and used in one hand and secured via a wrist strap. If you want to capture underwater video, it also shoots in 4k at 30fps and 1080p at 120fps so you can create slow-motion footage, too.
3. Nikon COOLPIX W300
A great budget option
The W300 offers simple operation for basic underwater shots.
Pros
Waterproof to 100ft
16MP CMOS sensor
GPS tracking and Wi-Fi
Cons
Not great for advanced underwater photography
The Nikon COOLPIX range of cameras has some great compact options, and the Nikon COOLPIX W300 is a specialist camera for underwater usage. It features a decent level of depth resistance at 100ft/30m. This should be more than enough for exploring coral reefs and coastlines.
The casing is generally well-built and aside from being waterproof, it is also freezeproof, shockproof, and dustproof. When it comes to capturing images, it features a 16MP CMOS sensor, and a 5x optical NIKKOR lens. Your images will be in focus and sharp thanks to the built-in hybrid image stabilization.
We also like the connectivity this underwater camera offers. As one of the best diving cameras, it has Wi-Fi, Bluetooth, and even GPS tracking. This means you can quickly transfer your photos after a diving session to a smartphone or laptop. The camera is also relatively easy to use and features a minimalistic control panel that is easy to use underwater. You can also easily preview images using the large LCD screen.
4. Paralenz Vaquita Underwater 4k Camera
Built for deep diving
The Paralenz Vaquita can be used up to 350m / 1150ft for extreme diving adventures.
Pros
Amazing depth range of up to 1150ft
On the smaller side
12MP sensor and 4k recording
Cons
Relatively expensive
For serious and experienced divers, the PARALENZ Vaquita Underwater 4K Camera is one of the best diving cameras available. By serious diving, we mean those who explore the depths and venture into more open waters. This is because the Paralenz Vaquita has a been depth tested up to a fantastic 1150ft/350m! It is made from marine-grade aluminum and is incredibly tough without the need for any additional housing.
In terms of usage, this underwater camera is best used attached to a snorkel or head mount. Alternatively, it comes with a range of accessories that mean you could mount it onto a dive stick.
A great feature of this camera is that it has a built-in GPS sensor so you can track your movements underwater. The camera has a 12MP sensor, and it can also record in 4k at 60fps! To ensure your photos look realistic, it also has an automatic depth-controlled color correction feature. Although this camera is a little expensive, it is definitely one of the best diving cameras for professionals who dive regularly.
5. GoPro HERO9 Black
Versatile with various mounts.
The GoPro HERO9 Black remains a solid choice due to its stabilization and excellent mount choices.
Pros
Great image stabilization
Waterproof up to 33ft
Simple operation
Cons
Doesn't offer the same depth as other cameras
Although there are many alternatives, the GoPro HERO9 Black remains one of the best action cameras available. It is also a useful camera for diving and has been depth tested to 33ft/10m. Although this isn't as much as some of the other cameras in this list, it is still a great option for snorkeling and diving in shallower waters.
For photography and video, this camera has an amazing 20MP sensor, and is capable of 5k video recording! You can also be assured that your photos will because this camera has HyperSmooth 3.0 technology, GoPro's image stabilization tech. For people who just want to shoot and not have to worry about settings, the GoPro is great. It is capable of automatically picking the best settings for your photos.
We also love the versatility in terms of mounting options for this camera too. There is a range of GoPro accessories such as a chest mount, head mount, or dive pole. You can therefore attach it in a variety of ways depending on the type of dive you are undertaking. If you want a versatile camera that can be used for a variety of extreme sports, the GoPro HERO9 Black is a top option.
6. Tovatec MERA Divelight
A great dual-purpose torch
This divelight can aid your visibility, but also has a built-in camera.
Pros
Depth rating of 200ft
Compact and easy to use
Excellent run time from the rechargeable battery
Cons
Not the best quality camera
We move to something slightly different with the Tovatec Divelight. This unique device has a dual purpose and is both a dive torch and a camera. As a torch, it offers an excellent lighting solution for your underwater adventures. It offers 1000 lumens of light and has a 2.5-hour burn time. It also has a secondary 1000 lumen light.
This quirky device also has a camera capable of recording at 1080p HD. Although this isn't as high-quality as some other cameras, it is depth tested up to 200ft/60m. This means it has far better waterproofing and can be used on longer diving expeditions.
We also like the simple operation. It does not have a display screen, but it has just three buttons for its controls. You can take photos with a single button, or start/stop recording with another button.
7. Akaso Brave 4 4K Action Camera
Compact and easy to use
The Akaso Brave 4 is a brilliant camera for underwater usage with a depth rating of up to 30m / 100ft, and a host of useful accessories.
Pros
A great budget option
Waterproof up to 100ft
Great image stabilization
Cons
Not a recognized brand
If you are looking for something different and don't want to spend a fortune, look no further than the AKASO Brave 4 4K Action Camera. This is a compact action camera similar in style and shape to GoPro HERO models. However, it comes with a reduced price tag whilst still offering great recording quality and features.
Some people may be reluctant to go with this brand as it is not as universally known as GoPro. However, the Brave 4 has great reviews on Amazon and excellent feedback. For underwater recording, it can record at 4K/24fps, 2k/30fps, and 1080p/60fps. At the 1080p/60fps setting, you can slow your footage down for amazing slow-motion underwater movies.
For waterproofing, it has been depth tested to 100ft/30m and also has an IPS waterproof screen. There is also an optional waterproof case that can greatly improve its depth rating and allow you to explore further underwater. You can expect smooth footage with this camera thanks to the built-in gyroscope and image stabilization features. Its lens is also wide-angle so you can capture excellent detail in the underwater worlds you explore.
Explore the Deep Seas With the Best Diving Cameras Today
We hope you have found this guide on the best diving cameras in 2023 useful! As you can see, there is a great selection of specialist cameras available. Models such as the Tovatec Divelight and PARALENZ Vaquita Underwater 4K Cameraare built for deeper diving adventures and can allow you to record the depths like never before. Alternatively, for snorkeling and less intense operations, models like the GoPro HERO9 Blackand AKASO Brave 4 4K Action Camera can make excellent choices too.
---
As an Amazon Associate, we earn from qualifying purchases. Certain content was provided "as is" from Amazon daily and is subject to change or removal at any time.