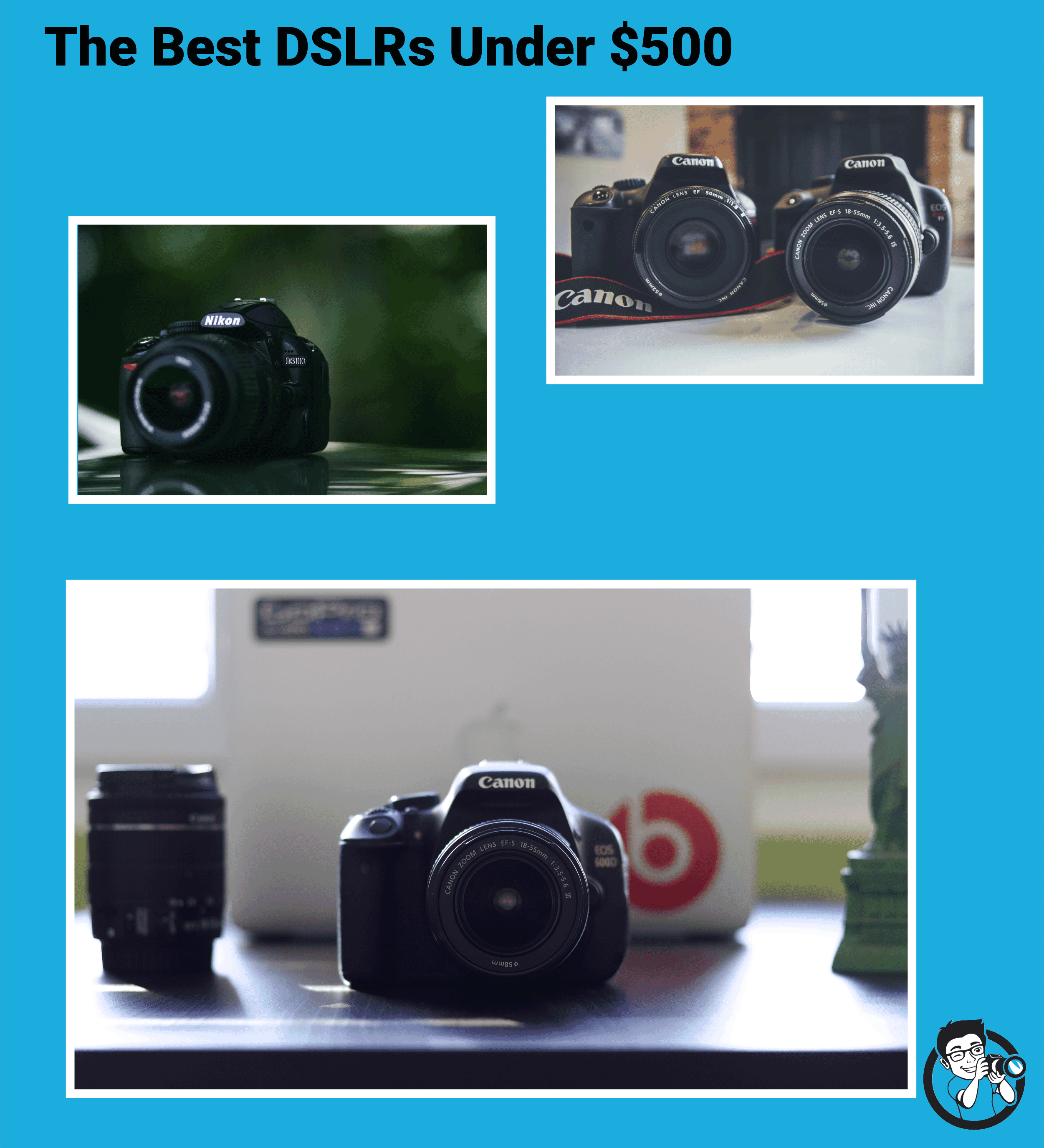 Today, we're going to take a look at the best DSLRs you can buy for under $500. This price point is perfect for those looking to get their first DSLR. It is possible to get a great quality DSLR at a low price. We have compiled this list of the best DSLRs under $500 in 2020 so you can unleash your creativity on a low budget:
The first camera we will discuss in this list of the best DSLR under $500 is the Nikon D3500. This is an entry-level camera that boasts a 24.2 megapixel APS-C CMOS sensor. That translates into an image size of 6000 x 4000 pixels.
To help the D3500 produce sharper images the optical low pass filter has been removed. But that connotes there is an increased chance of moiré and false colors in your images. The native ISO range of the camera is from ISO 100 all the way to 25600.
Continuous shooting speed is only 5 fps. While that is good enough for most everyday shooting requirements, it is not the sort of camera you could take to an indoor sporting event or even a birding expedition. The reason? Well, at 5 fps you will only get a few keepers.
When it comes to video shooting this Nikon camera ticks a few boxes. But not all. While it does shoot full HD at up to 60 fps, there is no built-in stereo mic. Neither is there is a stereo mic input. Additionally, there is no 4K shooting option either. That means this is not the sort of camera that you could shoot professional videos with.
On the bright side, however, you get Bluetooth. That allows you to capture images and share them with your mobile device instantaneously. Speaking of which, automatic sharing between your smartphone and the camera can be turned on using SnapBridge. This will transfer 2 MP images immediately when shot.
With this package, you also get the 18-55mm f/3.5 – 5.6G VR lens. This is an all-purpose kit lens designed to work in most everyday shooting situations.
Related Post: The Best Nikon DSLR Lenses for Beginners
Nikon D3500 W/ AF-P DX NIKKOR 18-55mm f/3.5-5.6G VR Black
A DSLR that's as easy to use as a point and shoot camera
Compact, comfortable design that's great for travel and special events
Image sensor that's 15x larger than those used in typical smartphones for sharper, clearer pictures
Works with Nikon's snap bridge app for sharing photos with a compatible smartphone or tablet
1080p full hd videos with monaural sound at the touch of a button. Bluetooth version 4.1
The Canon EOS Rebel SL2 is another entry-level DSLR from the house of Canon. It is known by different names in different countries (the same as the other EOS Rebel cameras from the Canon stable). The EOS 200D or the Kiss X8 depending on where you are based in.
True to its entry-level tag the SL2 is powered by an APS-C CMOS sensor that produces an effective 24.2-megapixel resolution. The native ISO range of the SL2 is 100 to 25600. Just like the D3500 detailed above the SL2 comes with a continuous shooting speed of 5 fps. Great for everyday photography.
The SL2 also shoots videos in full HD. The maximum frame rate it can shoot at is 60 fps. That is the same as the D3500. For all practical purposes that is more than enough.
An added bonus that the Nikon D3500 lacks is a built-in stereo mic. This means that sound recording is going to provide more realistic effects. Plus, there is the option to add an external microphone just in case you wish to plug one in and record better sound quality. This makes the SL2 a better option compared to the D3500 for video shooting.
Related Post: 20 Tips for Photography Beginners
Canon EOS Rebel SL2 Digital SLR Camera Body - WiFi Enabled
242 Megapixel CMOS (APS-C) Sensor
Fast & Accurate Dual Pixel CMOS AF with Phase-detection
Vary-angle Touch Screen, 30-inch LCD
Built-in Wi-Fi, NFC and Bluetooth Technology
Use the EOS Utility Webcam Beta Software (Mac and Windows) to turn your compatible Canon camera into a high-quality webcam
It is easy to confuse the Rebel T6 with the Rebel T6i. These are two completely different cameras. Though they are both essentially entry-level cameras, the T6 sits lower than the T6i in the hierarchical chain. The T6 is also known as the EOS 1300D.
The EOS Rebel T6 is powered by an 18 MP APS-C CMOS sensor capable of producing images of the size 5184 x 3456 pixels. It is supported by Canon's DIGIC 4+ image processing engine. The native ISO range of the sensor is 100 – 6400.
The 3 fps continuous shooting speed is really good only for everyday stuff. You can shoot a maximum of 6 frames in RAW or unlimited frames in JPEG. We wouldn't recommend using it for any moving subjects.
The T6 does capture full HD videos though! The maximum frame rate it can achieve is 30 fps.
In regards to connectivity, the T6 comes with both Wi-Fi and NFC. Connecting with your smartphone and transferring images is very easy. This allows you to share your images on social media in a jiffy.
Related Post: How to Select the Best Lenses for Canon DSLRs
The Nikon D5600 is again another entry-level camera. But it is slightly better than the D3500 series in the sense that it has a few more features that put it at a slightly higher rank.
At the heart of the D5600 is the 24.2 MP DX-format CMOS sensor. Supporting the sensor is an EXPEED 4 image processor. The camera has a sensitivity range of ISO 100 to 25600.
The D5600 has a respectable 5 fps continuous shooting speed. That means you can shoot everyday photos easily. You can also shoot a fair number of keepers even with the subject moving around.
In terms of video shooting the D5600 is a capable unit. Though you can only shoot full HD videos at 60 fps. There is no 4K option. The camera has a built-in stereo mic. That allows you to capture stereo sound with your footages. Plus, there is support for an external mic via the 3.5mm input jack. This makes the D5600 the best DSLR under $500 in an overall assessment.
In terms of connectivity, the D5600 comes with SnapBridge, Wi-Fi and NFC. Pairing a compatible smartphone is very easy. Once connected you can share images from the camera to the smartphone speedily before sharing with the world on social media.
Plus, this pairing also gives you the option to use your smartphone as a shutter trigger. Simply set up your camera on a tripod or a flat platform and use your smartphone to fire the shutter release.
D5600 DX-format Digital SLR Body
24.2MP DX format CMOS sensor
Ex peed 4 image processor; approx.; 0.82 x (50 millimeter f/1.4 lens at infinity, 1.0 meter (1))
3.2 inches 1.037 meter dot VARI angle touchscreen. Max video clip length: 1920 x 1080: 29 minutes, 59 seconds
Full hd 1080p video recording at 60 fps. Bluetooth version 4.1
Snap bridge Bluetooth and Wi-Fi with NFC
The Canon EOS Rebel T7 is the final entry rounding up the list of the best DSLR under $500. Needless to say that this is yet another entry-level camera. It is powered by a 24.1 MP APS-C CMOS sensor and paired with the DIGIC 4+ image processing engine.
The sensitivity of the Rebel T6 is between ISO 100 and 6400. Again, entry-level DSLRs don't always offer insane high ISO shooting. They don't respond well to extreme low light situations.
The continuous shooting speed of the camera is 3 fps. Enough said.
The EOS Rebel T7 is capable of recording full HD videos at a maximum frame rate of 30 fps. While that may not be as high as some of the other cameras that we have listed here, it is sufficient for practical everyday use.
The Rebel T7 comes with an array of connectivity features. Built-in Wi-Fi and NFC. Transferring images to your smartphone and sharing online is extremely easy.
If you're not necessarily ready for buying a your first DLSR camera, why not take a look at some of the best point and shoot cameras under $300?
Rajib is an avid travel photographer and an overall shutterbug. He loves to test and review new photography gear. He has been writing about cameras and lenses for over 10 years now. You can consider him as your "master guide" here at PhotoWorkout.
---
As an Amazon Associate we earn from qualifying purchases. Certain content that appears on PhotoWorkout.com comes from Amazon. This content is provided 'as is' and is subject to change or removal at any time.