The 4 Best DSLR Cameras under $500
This is a discussion on the best DSLR camera under $500.
When it comes to the ultimate freedom to indulge in creative photography there is nothing quite like a DSLR.
A DSLR, as opposed to a mirrorless or even a medium format camera, comes with the widest choice of lenses and accessories and combines with its performance a reasonable pricing.
It's no wonder that most compact point & shoot users look to upgrade to a DSLR. Increasingly, more first-time camera buyers looking for a DSLR rather than a mirrorless. I am sure mirrorless camera users would disagree with me but DSLRs are still ahead, just by a bit.
DSLRs come in different, shapes, sizes and price points (e.g. read our post on the Best Canon DSLRs under $1,000 or the Super High-End DSLR: the Nikon D5, costing close to $6,500 just for just the body!).
But the beauty of all of these cameras is that even the cheapest ones are compatible with a wide array of OEM and third party lenses. If you choose a DSLR manufactured by one of the 'big two' you will have access to the widest selection of lenses and accessories to choose from. That, in essence, is what makes DSLR users a contented lot.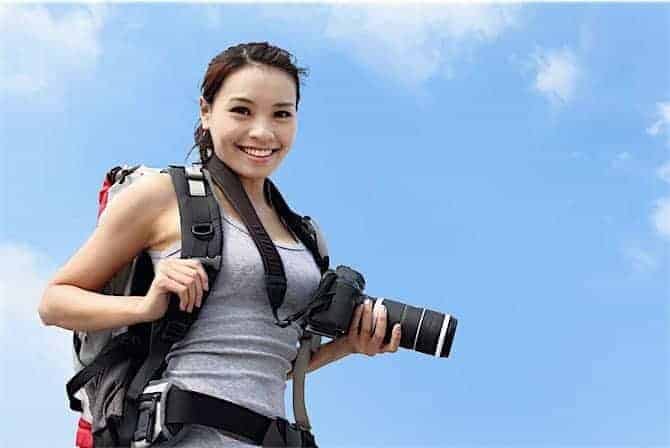 Coming back to the pricing bit. You can buy an entry level DSLR for just about $400 (body only) and then go all the way up to $12,995 to pick something like the special DSLR edition of Hasselblad the X1D-50c 411 Edition.
Today, however, we are going to limit ourselves to the bottom of the pool. As a matter of fact, we have a budget of only $500 and we are going to find the best DSLR camera for under $500:
The Best Beginner DSLR
Canon vs. Nikon vs. Pentax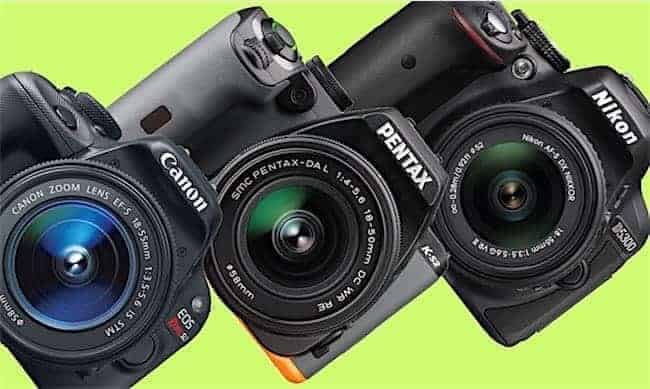 1. The Canon EOS Rebel SL 1
The Canon Rebel SL1 is the smallest, lightest and cheapest DSLR in the market.
At just 370 grams, it is lighter than even some of the mid-range telephoto zoom lenses that Canon makes.
It is no wonder that the camera feels a bit lopsided when it is paired with a long lens, like the EF-S 18-135mm f/3.5 – 5.6 IS STM or the EF-S 55-250mm f/4 – 5.6 IS STM. See all buying options on Amazon here (Note: in Asia, e.g. in India the EOS Rebel SL1 is selling as EOS 100D).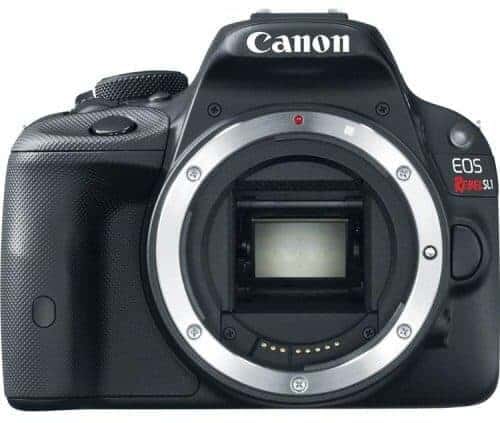 The Rebel SL1 does not have weather sealing, it has only 9 AF points compared to some of the other semi-pro DSLRs loaded with AF points and has a burst speed (if you can call it that) of only 4 fps.
The thing is the Rebel SL1 isn't tailor-made for any of the fancy stuff that you would normally associate with a pro-grade or even a semi-pro grade DSLR. And it is not pompous.
What you can do with the Rebel SL1, however, is shoot creative photography; something that every DSLR camera allows you to do. This is something you would not be able to with a point & shoot or even a smartphone camera.
The Rebel SL1 is powered by an 18.5 (18 effective megapixel) megapixel APS-C CMOS sensor. The sensor is capable of producing images of the maximum size 5184 x 3456 pixels.
Related Post: Best Canon DSLRs under $1000 in 2018 (5 Amazing Picks)
Unlike some of the pro models, it has a built-in flash. It comes in handy in less than perfect lighting. You can change lenses, and that means change the perspective from which you shoot, chose to melt the background and the foreground using a wide angle fast aperture prime, or zoom in using a telephoto lens and take advantage of the focal length multiplier aspect of crop cameras,
This is an APS-C sensor powered camera. That means it is much smaller to a full-frame camera. That also means you get a larger depth of field for the same lens – aperture value combination when compared to a full-frame camera, and a longer focal length because of the crop factor.
Crop factor is basically a measurement. Since smaller cameras with smaller sensors are using only the middle portion of the image coming through a lens, it appears as if the image is zoomed in.
Which is, in reality, not the case. But the effect is something that compels wildlife photographers to use a crop camera with their full-frame lenses. With a Canon crop camera, the crop factor is 1.6x. You multiply the lens focal length with the crop factor and you get the effective focal length.
The other features of the Rebel SL1 include a 3" rear LCD screen with touchscreen features and a resolution of 1040,000 dots. Screen coverage is 100% of the frame but the viewfinder gives only about 95% coverage of the frame.
The Rebel SL1 is priced at $399 which makes it the cheapest DSLR in the market (brand new).
To read the latest reviews, the ratings, and product details, visit the product page of the Canon EOS Rebel SL on Amazon. Update: The EOS Rebel SL2 is Now Available
2. The Nikon D5200
Next up is a very popular entry level DSLR from Nikon. The D5200. Nikon's D5000x is an upper entry-level camera series. It has a slightly better build quality and more features compared to the entry level Nikon cameras and certainly when compared with something like the Rebel SL1 that we read just about.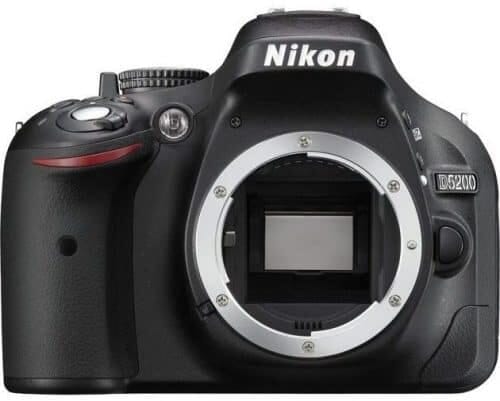 The Nikon D5200 is built around a 24.1-megapixel DX-format CMOS sensor. Larger quantity megapixel means the camera is capable of producing 6000 x 4000-pixel images quite easily.
Its image processing is powered by EXPEED 3 image processor.
It has a 3" 921k-dot vari-angle LCD monitor and a full HD video capability. Plus, an advanced 2016 pixel RGB metering sensor takes care of the scene recognition. This system is what measures the ambient light in a scene, set the exposure meter indicators, adjust white balance settings and also adjusts focus settings.
Related Post: Best Nikon DSLR Cameras under $1000
This upper entry-level camera is positioned higher than Nikon's entry-level D3000x series cameras like the D3100 and the D3200. All these, cameras are, however, powered by crop sensor (DX format) CMOS sensors.
Being an upper entry-level DSLR has its own benefits. The camera has distinctly better features.
There are 39 auto-focusing points, 9 out of which are cross-type AF points. That means you have better control over your compositions, better leeway when you want to make off-center compositions and better subject tracking when shooting moving subjects.
The presence of cross-type AF points means auto-focusing in low light is going to be much easier.
The D5200 has a faster continuous shooting speed as well. It can shoot at 5 fps compared to the Rebel SL1 above. Faster continuous shooting speed allows you to get more captures when your subject is moving.
More captures mean you are likely going to get at least a few keepers if you shoot a dozen or so frames. Though, technically speaking 5 fps is not something to be proud off, but it is better than 4 fps.
All entry and semi-professional camera come with a built-in flash and the D5200 is no exception. It has a pop-up flash that has a guide number of 39' at ISO 100.
The D5200 is capable of shooting full HD video 1920 x 1080p at a maximum of 60 fps. The LCD screen at the rear of the camera measures 170 ˚. The 3" vari-angle LCD screen has a resolution of 921,000 pixels and gives 100% frame coverage.
Slightly heavier than the Rebel SL1 and slightly more expensive too. The D5200 weighs 555 grams and is priced at $470. To read the latest reviews, the ratings, and product details, visit the product page of the Nikon D5200 on Amazon.
3. The Pentax K-S2
Let me clear something first up about the next camera. The Pentax K-S2 is priced at $527 (as on 11 October 2016).
Well, then why am I even talking about it in this discussion about the best DSLR camera under $500?
Because the Pentax K-S2 is a solid camera. If you can increase your budget by just a few dollars you will get a weather resistant camera loaded with features.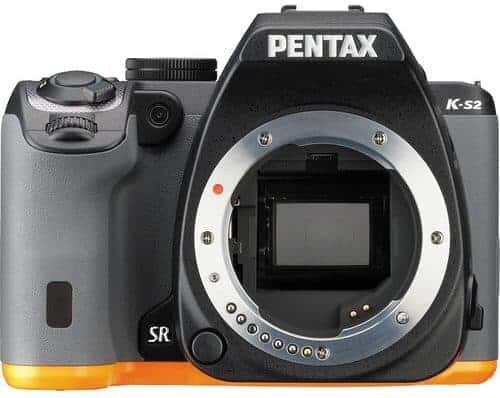 The Pentax K-S2 is built around a 20.1 megapixel APS-C CMOS sensor and a PRIME M II image processing engine. It gives the camera a better image processing capability than anything we have discussed so far. Continuous shooting speed, as well, is better. It is 5.5 fps.
Related Post: Best Mirrorless Cameras for Traveling (under $500)
Pentax, like Sony, has developed an image sensor based image stabilization system. This system, also known as sensor-shake image stabilization automatically makes all OEM and compatible third-party lenses stabilized. Come to think of it this is an incredible advantage.

Another feature on the Pentax K-S2 is the absence of an Anti-Aliasing filter. This makes the frames captured by the camera to be ultra-sharp.
Having said that, there is also an AA filter simulator. For really fine patterns and textures, you can trigger the AA filter simulator. This allows the sensor sharpness to be toned down and in the process avoid false colors and moiré.
The SAFOX X AF system has an 11-point AF system. 9 out of those AF points are cross-type. This is where the Pentax K-S2 loses out to the likes of the D5200 and the D5300.
The rear LCD screen of the camera is a vari-angle with 921k-dot pixel resolution. Both NFC and Wi-Fi modules are integrated with the camera. NFC assists in faster seamless pairing with compatible mobile devices. Wireless, on the other hand, allows for easier handling of image and video transfer.
The Pentax K-S2 is capable of shooting full HD videos at 1920 x 1080p at up to 30fps. There is also a built-in time-lapse video mode that can shoot at 4K resolution at 24 p.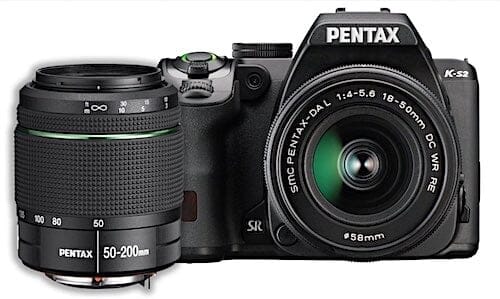 Another feature of the camera is the pentaprism viewfinder. This is unlike the other cameras we have discussed here. Pentaprism viewfinders are brighter compared to pentamirror powered viewfinders.
The Pentax K-S2 also has weather resistance properties. But to complete weather resistance you need to pair the camera with an equally weather resistant lens.
To read the latest reviews, the ratings, and product details, visit the product page of the Pentax K-S2 on Amazon.
Related Post: Bestselling Mirrorless Cameras under $1,000
Refurbished Choices
In this discussion of the best DSLR camera under $500, we now move on to refurbished products.
A Certified Refurbished Product is tested and certified by the manufacturer or by a third-party refurbisher to look and work like new, with limited to no signs of wear. The product ships with relevant accessories, a minimum 90-day warranty, and may arrive in a generic white or brown box. For more information read our tips on buying Amazon Warehouse Deals.
For a large number of budding photographers, this is a good way to buy quality products backed by manufacturer warranty at a price that is significantly less than the MSRP.
Related Post: Amazon Warehouse Deals for Photographers
Refurbished products refer to those which have been repaired for manufacturing defects and or replaced with original spares. The whole work is done at the manufacturer's premises and the products are backed by manufacturer warranty.
Since there is a bit of gray cloud around refurbished products and not many people are open to the idea these are heavily discounted. You get the full warranty, though. We now look at a few options from popular online retailers.
4. The Nikon D5300 (Refurbished)
The D5300 is the successor to the D5200. Both these cameras are from the D5000x line-up and have a dedicated fan following. At first looks, you wouldn't find much of a difference between the two cameras. They look identical. There are, however, slight differences.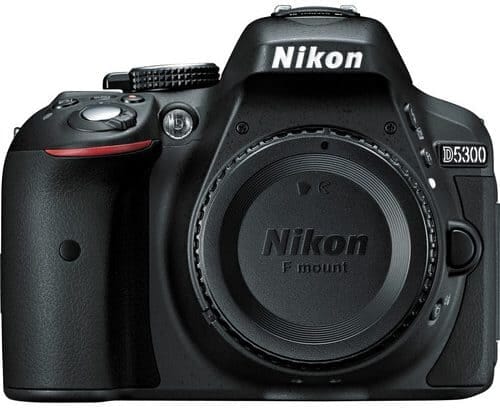 The D5300 is powered by a 24.2-megapixel DX-format CMOS sensor capable of producing 6000 x 4000-pixel images.
Image processing is powered by EXPEED 4 image processing engine.
The absence of an optical low-pass filter ensures that the camera is capable of producing ultra-sharp frames. But on the downside, you will likely capture a lot of moiré and false color in your images as well. The OLPF slightly blurs the image when fine repeating patterns in the frame is likely going to throw the sensor into a tizzy.
EXPEED 4 image processing promises a better low light image performance when compared to the D5200 above. However, a more efficient image processing engine does not result in better continuous shooting speed. It is the same as the D5200 we had discussed above. That being said there are a number of new features in this camera.
Notable among them being the Wi-Fi and the GPS modules. Wi-Fi enables the camera to be connected to an available Wi-Fi network and transfer images and videos seamlessly.
The GPS module enables you to integrate GPS details in the image. While the Wi-Fi module really makes sense. You can use it to pair the camera with your Android or iPhone device and use it as a remote control.
The GPS module is not quite a feature that you should use too often. Geo-tagging your images makes it easy for others to spot where you are located or where you frequent. Plus, GPS hogs a lot of battery.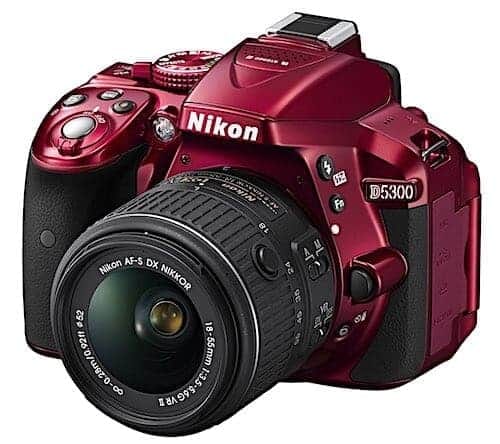 Another feature upgrade and apparently easily identifiable is the 3.2" 1037k-dot vari-angle LCD monitor. The D5300 shares a majority of the features that we have already read above. A 2016 pixel RGB sensor for scene recognition, 39-point AF sensor.
A refurbished D5300 retails at just $500 on Amazon.com when the normal price of the brand new item is a shade under $600.
For my money, this is the best DSLR camera under $500. You can see some sample images of the Nikon D5300 here.
To read the latest reviews, the ratings, and product details, visit the product page of the Nikon D5300 on Amazon.
If you want to know how the Nikon D5300 compares to the Nikon D3300 (available on Amazon with lens for under $500) you can watch this YouTube video, which explains the differences: