When you buy through links on our site, we may earn a commission at no cost to you. We evaluate products independently. Commissions do not affect our evaluations.
Let's Pit the Canon EOS T5 Against the T5i
The Canon EOS Rebel T5 (also known as the EOS 1200D) and the Canon Rebel T5i (also known as the EOS 700D) are two entry-level APS-C cameras from the Canon stable.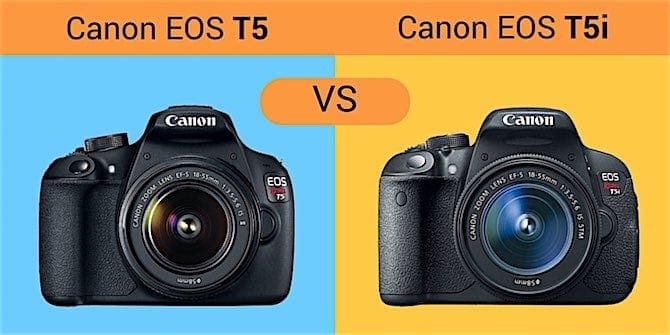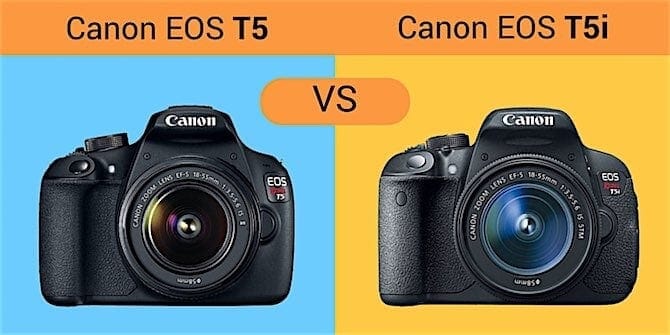 They are both built around an 18-megapixel CMOS sensor. The maximum image size produced by these sensors measures 5184 x 3456 pixels.
The exact size of these sensors measures 22.3 x 14.9 mm. Both systems have a similar 9-point AF system, making the performance and output of the two cameras pretty similar. The similarities, however, end about there.
These two systems are meant for two distinctly different segments of the market. While the T5 is a true entry-level camera with features that would be reminiscent to the older EOS 1100D, a camera that it replaces; the T5i is the next generation of Canon's Rebel series cameras.
Needless to say, there are many differences between the two systems. The T5i has the DIGIC 5 image processing engine. The T5, on the other hand, has the older DIGIC 4 image processor.
There are differences in the type of AF points as well. Let's take a closer look at the features of these two entry-level cameras from the Canon stable.
Canon Rebel T5 vs T5i Specs
Camera
Canon EOS-a EF-S 18-55mm is II Kit
Canon EOS Rebel T5i 18.0 MP CMOS Digital SLR with 18-55mm EF-S is STM Lens
Image
Camera
Canon EOS-a EF-S 18-55mm is II Kit
Image
Camera
Canon EOS Rebel T5i 18.0 MP CMOS Digital SLR with 18-55mm EF-S is STM Lens
Image
Sensor Size
No difference in the image processor size. Both cameras have an 18-megapixel APS-C CMOS sensor capable of churning out stills the size of 5184 x 3456 pixels. Both sensors measure 22.3 x 14.9 mm. The T5i supports 14-bits of information.
Image Processing
The T5i is the better of the two cameras in terms of image processing. It has a DIGIC 5 image processing. Compared to the T5i, the T5 has the slightly dated DIGIC 4 image processing system. This does impact the continuous shooting speeds of the two cameras, along with image processing and noise handling. The burst rate on the T5i is 5 fps. Compared to it, the burst rate on the T5 is 3 fps.
Shutter
Both systems come with the same shutter mechanism that has a top speed of 1/4000 of a second and the slowest 30 seconds. There is also the bulb mode on both systems, where you can keep the shutter open for as long as you may want. It is ideal for shooting light trails and other creative photography pursuits.
Stills
If you look inside the Canon Rebel T5 vs T5i, both cameras are powered by evidently the same sensor. That means they both capture the same resolution RAW and JPEG frames – 5184 x 3456 pixels.
Burst Rate
The T5i with its better image processor and distinctly better auto-focusing mechanism can shoot at a higher frame rate than the T5. At 5 fps compared to only 3 fps, you get those extra two frames during crucial moments. 5 fps is not something that is out of this world, though.
For sports, wildlife and other high-action requirements, in general, you need a camera like the EOS 7D Mark II to really make enough frames. But at least five is better than three.
Videos
Both systems are capable of shooting at full HD. Canon systems are probably the best of the available lot when it comes to shooting videos.
While the T5i has the option to use an external stereo microphone for better sound recording, the T5 does not have that option. The built-in mic on the T5i records stereo audio while that on the T5 records monoaural sound.
Auto-Focusing
Latest models like the 7D Mark II come with the dual-pixel CMOS auto-focusing system which has on-chip phase detection for accurate auto-focusing even when shooting videos. This is something that has been lacking in DSLR systems for a while.
These two systems, however, lack that advanced auto-focusing system. Both systems have what is the standard continuous auto-focusing (or Continuous-servo AF-C), single-servo (single-shot auto-focusing) and the manual auto-focusing.
However, what the T5i does have is a hybrid auto-focusing system. Though not as efficient as the dual-pixel CMOS auto-focusing system, this is still a good system for an entry-level DSLR camera. This system works in tandem with the newly launched STM (Stepping motor technology) powered lenses.
These lenses have a smoother auto-focusing performance compared to the slightly faster (and jerkier) auto-focusing performance of the older USM lenses).
Some photographers have argued that the STM lenses are not conducive to fast action situations. This is because these lenses are slower. However, for video work their auto-focusing performance is perfect. For video work, you need lenses that are smoother.
Both the T5 and the T5i have nine AF points. But, where the T5 has only one cross-type AF point, which is the center one, all the AF points on the T5i are cross-type.
In addition to that, the center cross-type point of the T5i is a dual cross-type f/2.8 one. Dual cross-type increases the sensitivity of the sensor, allowing it to focus more easily even in low light conditions.
Both systems shoot full-HD (1920 x 1080p) with 30, 25 and the more cinematic 24 fps. You can also shoot at a slightly lower resolution of 1280 x 720p HD, but at a higher frame rate of 60 fps and 50 fps. This is ideal for shooting fast action when you need to play it back in slow motion for stunning effects.
Related Post: Essential Photography Gear List
Viewfinder and LCD Screen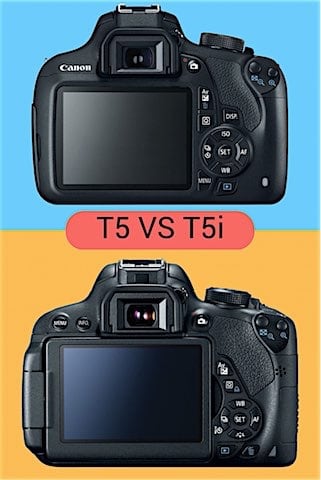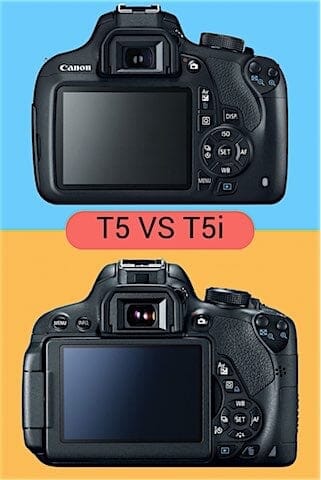 Essentially entry-level cameras, both the T5i and the T5 has penta mirror powered viewfinders. Both offer only 95% frame coverage.
The T5 has a fixed 3" LCD rear screen with a resolution of 460k-dots. Comparatively, the T5i has a 1040k-dots LCD screen that tilts and has touchscreen functionality. The ability to tilt gives the T5i an additional creative edge over the T5. Plus, the ability to operate on a touch allows the camera to be controlled more or less like a smartphone.
Weight & Size: The T5i Is Heavier
The T5i weighs 525 grams, body only, without the battery and the memory card.
The T5 comparatively weighs 434 grams. Thus, there is a good bit of difference between the two cameras in terms of weight.
While the T5 measures 5.1 x 3.9 x 3.1", the T5i measures 5.2" x 3.9" x 3.1".
Price: The T5i is More Expensive
You can check today's used prices on KEH (a great online store to safely buy used cameras and lenses):
Where Does That Leave Us?
The two cameras are not targeted at the same segment of the market, but the price is different. While one is definitely an entry-level camera with basic manual shooting features, the other one is a better, more robust camera with better features for shooting videos.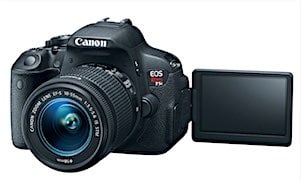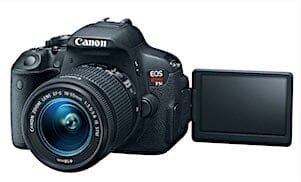 The T5i has a faster frame rate, better auto-focusing and better video making features. None of the cameras have weather sealing. Thus, none of them are any better than the other for professional sports or action photography.
If you are just getting started into manual photography and have a tight budget, you could opt for the T5 and save the extra cash to buy good lenses.
If you are finicky about low light photography and would want to take advantage of the better AF system and or plan to shoot videos, you should buy the T5i. If you already have a Canon APS-C DSLR, there is no point in upgrading to the T5i.
Still confused?
Watch this Video Review comparing the Canon Rebel T5 vs T5i:
CanonT5 vs Canon T5i
CanonT5 vs T5i Comparison Video
Canon Rebel T5 vs T5i (Specs & Amazon Price)
Canon T5 Specs Summary and Current Price
Canon EOS Rebel T5i 18.0 MP CMOS Digital SLR with 18-55mm EF-S is STM Lens
18.0 Megapixel CMOS (APS-C) sensor, 14-bit A/D conversion, ISO 100-12800 (expandable to H: 25600) for shooting from bright to...
9-point all cross-type AF system (including a high-precision dual-cross f/2.8 center point) for exceptional autofocus...
High speed continuous shooting up to 5.0 fps allows you to capture all the action.
EOS Full HD Movie mode with Movie Servo AF for continuous focus tracking of moving subjects, manual exposure control and...
Vari-angle Touch Screen 3.0-inch Clear View LCD monitor II (approximately 1,040,000 dots) with smudge-resistant coating...
Canon T5i Specs Summary and Current Price
Canon EOS-a EF-S 18-55mm is II Kit
18.0 Megapixel CMOS (APS-C) image sensor and high-performance DIGIC 4 Image Processor for excellent speed and quality.
ISO 100–6400 (expandable to H: 12800) for shooting from bright to dim light.
EOS Full HD Movie mode helps you capture brilliant results.
Scene Intelligent Auto mode helps deliver expertly optimized photos and offers improved scene detection for amazing results...
9-point AF system (including one center cross-type AF point) and AI Servo AF help provide necessary options for impressive...
---
Disclosure/Disclaimer: As an Amazon Associate, we earn from qualifying purchases. Certain content was provided "as is" from Amazon and is subject to change or removal at any time.