If you're just starting to explore photography or videography, it's important to grab a decent-quality camera, but you probably don't want to spend thousands of dollars on a professional model with dozens of unnecessary (and difficult-to-understand) features.
That's where cameras like the Canon EOS Rebel SL2 and the Canon EOS Rebel SL3 come in handy. They take great pictures and they capture nice video, yet they're easy to use and they're reasonably priced, too.
However, deciding between the Rebel SL2 and the SL3 is tough. The Rebel SL3 packs a few extra features, but the Rebel SL2 costs less and is still very powerful – so which camera should you pick? In this article, I discuss the pros and cons of both models, and I explain why you might choose one over the other.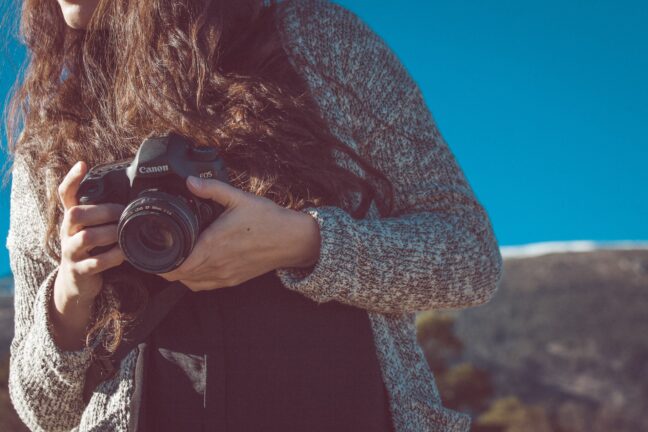 Canon Rebel SL2 vs SL3 Key Features and Comparison:
When you buy through links on our site, we may earn a commission at no cost to you. We evaluate products independently. Commissions do not affect our evaluations.
Canon SL2 vs SL3 Overview
The Canon EOS Rebel SL2 debuted back in 2017 as an ultra-light, ultra-compact DSLR for stills and video beginners.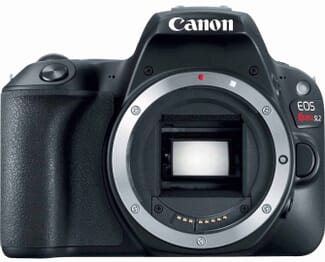 It offered a well-rounded set of features, including decent image quality, Canon's usual (excellent) ergonomics, a fully articulating screen, 1080p recording, and impressive Live View autofocus.
The best budget DSLR for walk-around and travel shooters
The Canon EOS Rebel SL2 is compact, it feels great, and it takes beautiful images. If you're on a budget and want a small DSLR, it's a solid choice.
Pros
Relatively small body
Decent image quality
Great ergonomics
The Canon EOS Rebel SL3 launched approximately two years later, and it offered near-identical features to the Canon EOS Rebel SL2 – with a few key differences that are discussed below.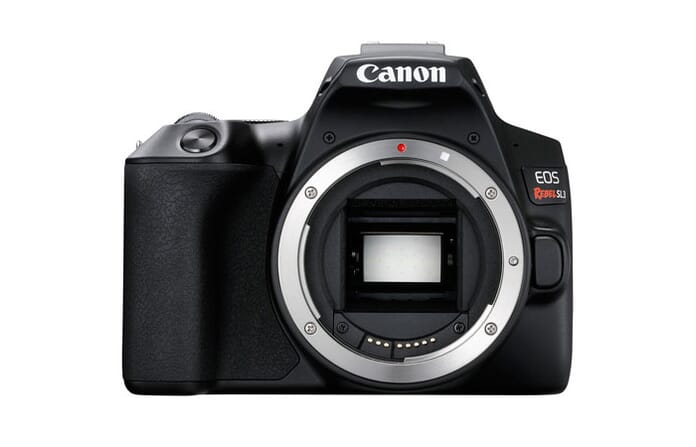 The ultra-compact frame was still there, as was the reasonable price point, excellent image quality, and fully articulating screen. But the SL3 featured a new processor, and with this came an improved buffer and enhanced autofocus. The SL3 also boasted 4K recording (though with a frustrating crop).
The best compact DSLR for content creators
The Rebel SL3 is a great choice for vloggers and other content creators thanks to the articulating screen, nice image quality, 4K video, and portable design.
Pros
Compact build
4K video
Fully articulating screen
Cons
Mediocre standard autofocus
So which is better, the Rebel SL2 or the Rebel SL3?
That depends on the type of photography you do. As I explain below, the SL2 offers quite enough camera for most beginners – but if you're interested in video, or if you shoot action more than the average photographer, you might want to consider grabbing the SL3.
Build Quality and Handling
Since the rise of mirrorless technology, "small" and "light" have taken on new meanings – but the SL2 and SL3 genuinely are lightweight, compact cameras, clocking in at 453 g/15.98 oz and 449 g/15.84 oz, respectively. They also feature identical 122x93x70 mm/4.8×3.66×2.76 in dimensions.
Honestly, while the SL2 is technically heavier than the SL3, I'd be astonished if you could tell the difference. Both models are supremely travel-ready, and you can comfortably carry them in a backpack, in a purse, or around your neck without ever breaking a sweat. The builds aren't bad, either; while neither camera is weatherproof and both are made of plastic, you'll never feel like you're carrying junk.
In other words, both models are perfect for frequent travelers, hikers, and bikers, as well as anyone who simply wants a camera they can carry with them to events, both indoors and out.
In terms of ergonomics, both models feel great, and while they're certainly smaller than their DSLR competitors, the front grips are meaty enough that you shouldn't run into any problems.
Both models also offer fully articulating touchscreens. This is one of the areas where Canon consistently beats Nikon and the reason why the SL2 and SL3 work well for vlogging. The ability to flip the screen and see yourself while recording is a huge deal, and you'll also appreciate the articulating LCDs if you like to shoot macro or architecture, where the need to get low will often cause a stiff neck.
As for the ergonomic differences: While the SL2 and the SL3 are practically indistinguishable, the SL3 loses the depth of field preview button. (This lets you view the depth of field before taking a shot. Honestly, I've been doing photography for over a dozen years, and I can count the number of times I've used the DOF preview button on one hand.)
That's about it for the differences. Both cameras offer a single SD card slot, 1040K-resolution LCD screens, and wireless capabilities for transferring images on the fly. In other words, when it comes to build and handling, it's essentially a tie.
Autofocus and Continuous Shooting
The Canon SL2 and SL3 offer identical autofocus capabilities when using the optical viewfinder for still photography. The nine AF points don't offer much coverage, making subject tracking difficult, but they're perfect for photographing stationary subjects, such as standard portraits and landscapes.
So while I wouldn't recommend either of these cameras for frequent sports or wildlife photography, you'll be perfectly satisfied if you're looking to capture pretty much any other subject.
Things get much more interesting when you switch over to Live View. Both cameras feature Canon's Dual-Pixel AF technology, which dramatically boosts focusing speeds. As you can imagine, this is a big deal for users who like to compose via the LCD, especially those who frequently photograph action.
Note that the SL3 does add Eye Detection AF, which allows you to nail focus specifically on subjects' eyes. If you like to shoot portraits, events, or people in the street, then this is a major selling point because keeping the eyes sharp is tough even under the best conditions.
Regarding continuous shooting: Both the Rebel SL2 and the SL3 can capture up to 5 frames per second. This isn't great, and it certainly won't make for a stellar sports photography experience. But for casual photography and the occasional action scenario, 5 FPS is more than enough.
The Rebel SL3 improves on the SL2's buffer (in other words, you can shoot more photos at high speeds without the camera freezing up). While the SL2 could shoot only 5 RAW photos in a burst, the SL3 can now shoot up to 15 (and if you switch over to JPEGs, you can shoot until your battery dies).
All in all, if you plan on regularly using Live View or you plan to do portrait or action shooting, then the SL3 is the better buy. Otherwise, the SL2 will work just fine.
Image Quality
As far as I can tell, image quality on the Canon SL2 and the Canon SL3 is identical.
Photos offer great colors and clarity (though this depends heavily on the lens you purchase; make sure you don't skimp on glass!).
Low-light performance is decent on both cameras without really managing to impress. If you plan to take photos indoors or outside after dark, you'll be able to crank up the ISO to around 1600 and capture very usable images. Whether you can shoot at ISO 3200 or ISO 6400 will depend on your personal noise-tolerance levels, but I'd argue that ISO 3200 files look pretty passable.
Honestly, both these cameras offer what most users want in their images. You get 24 MP of resolution, which is very nice, but it's not so high that file sizes become unwieldy. You'll be able to make large prints and do a bit of cropping without too much trouble. And what's great about a camera like the SL2 or the SL3 is that it gives you room to grow. Images aren't just good for an entry-level camera; they're all-around good, so you can use the camera for years without needing to upgrade.
Battery Life
If you like to travel or you're a big backpacker or camper, then battery life matters more than you might think.
Sure, you can purchase several batteries, but they're a pain to keep track of, and you'll always need to have them on charge. It's much simpler to purchase a camera that can work for hours (or days) without stopping. Fortunately, the Canon Rebel EOS SL3 is that kind of camera.
The SL3 is rated at 1070 shots, which is excellent for a DSLR and miles better than even the best mirrorless cameras on the market. And in practice, you'll often get many more shots than this rating suggests, which means that you can use the SL3 for plenty of photoshoots without needing a single recharge.
Note that the battery life does drop substantially if you shoot via the camera's rear LCD (all the way down to around 300 shots). But for a photographer who wants to keep recharges to an absolute minimum, the SL3 is an excellent choice.
The Canon Rebel EOS SL2, on the other head, serves up 650 shots on a single charge, which is fine (and better than most mirrorless cameras), but nothing spectacular. So if you're looking for a camera that'll last for days without issue, the SL3 is the better choice.
Video
The Canon SL3 features one video improvement over its predecessor, and it's a big one: Instead of the SL2's 1080p maximum, you get 4K (up to 24p).
This is a serious selling point over the SL2; 4K is today's video standard, so for vloggers and videographers looking to keep up with current trends, the SL3 is the better pick.
Unfortunately, the SL3's 4K does come with a notable crop, which limits your ability to record using an ultra-wide field of view. Whether this matters depends on your shooting style; if you don't mind working with a tighter frame, there's no need to worry.
Additionally, you don't get Dual-Pixel AF when recording in 4K, so the SL3 will struggle to capture scenes in 4K that feature action. And unlike the SL2, the SL3 loses the ability to record 1080p video at 24 FPS. So if you do want to shoot in 1080p, you'll need to use 30p or 60p instead.
(Is this a problem? That depends. Cinema-minded users may want to work in 24p, but converting from 30p to 24p isn't difficult, just slightly inconvenient.)
Price
The Canon SL3 currently goes for around $750 USD, a price that includes the camera body and Canon's 18-55mm f/4-5.6 IS STM kit lens.
It's pretty reasonable, though it's not quite as cheap as Canon's most entry-level cameras (the T7 and the T100).
Unfortunately, the Canon SL2 is pretty tough to locate these days. You can grab it renewed on Amazon for around $700, though you can also find it used for significantly less (in the $300-$400 range). In other words, it'll save you a few hundred dollars, assuming you can find a good used model.
Pick the Better Canon DSLR!
The Canon EOS Rebel SL2 and the Canon EOS Rebel SL3 are both excellent cameras. And as you now know, they're very similar, though the SL3 does include a few upgrades, while the SL2 costs substantially less when purchased used.
For most vloggers and content creators, it's probably worth grabbing the SL3, given the 4K video, Eye Detection AF (in Live View), and double the battery life.
But if you prefer to shoot using the optical viewfinder and you don't really work with video, the SL3 probably isn't worth the increased price. Get the SL2, and spend the extra money on a 50mm lens.
Canon EOS Rebel SL2 vs SL3 FAQ
Which is better, the Canon SL2 or the Canon SL3?
The Canon SL3 is technically the better camera. But it does cost more and the improvements won't be significant for some shooters, so the SL2 is still worth considering. 
What is the difference between the Canon SL2 and the SL3?
The SL3 features Eye Detection AF in Live View, as well as a 15-shot RAW buffer (versus 5 shots on the SL2), a better battery, and 4K video (versus 1080p video on the SL2). It's also more expensive.
Is the Canon SL3 worth it?
That depends! If the better battery life, the 4K video, and the improved Live View autofocus matter to you, then it probably is.
Is the Canon SL2 a good camera? 
Yes! The Canon SL2 is an excellent camera, perfect for beginners looking to do photography, videography, or both.
---
Disclosure/Disclaimer: As an Amazon Associate, we earn from qualifying purchases. Certain content was provided "as is" from Amazon and is subject to change or removal at any time. Product prices and availability: Amazon prices are updated daily or are accurate as of the date/time indicated and are subject to change. Any price and availability information displayed on Amazon.com at the time of purchase will apply to the purchase of this product.