When you buy through links on our site, we may earn a commission at no cost to you. We evaluate products independently. Commissions do not affect our evaluations.
Best Canon Lenses for Shooting Stills & Videos
A lens that is good for shooting both stills and videos with the Canon EOS 80D has to be a wide angle zoom. You could opt for a tele-lens but they would be great for shooting wildlife, sports and those sort of things. A mid-range tele like the 85mm or even the 105mm would be great for shooting portraits. But a tele-lens is not exactly the most sought after lens for video work.
A wide angle zoom, on the other hand, is a great piece of optical glass for shooting both videos and stills. It offers a lot more creative possibilities that you could explore. But then again, this is not a definitive rule. A photographer shouldn't be expected to follow the 'rules' at all times. You should, on the contrary, try to experiment with whatever you could lay your hands on and explore the possibilities.
This discussion is centered around the lenses that serve the dual purpose of shooting stills and videos. And they reflect a personal preference – wide angle zooms mostly. You are free to add your own set of lenses to this list.
5 TOP Lenses for Canon 80D
1. Sigma 18-35mm f/1.8 DC HSM Art Lens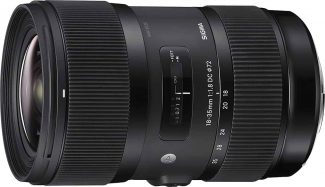 The Sigma 18-35mm f/1.8 DC HSM is an Art series lens by Sigma designed for the Canon EF mount systems. That makes it compatible with the EOS 80D. Being an APS-C camera, there is a crop factor associated. The 1.6x crop factor makes the lens' focal length the equivalent of a 28.8mm – 56mm on the 35mm format.
DxOMark rates this lens very high. It accumulates 28 points overall on the DxOMark score, with an effective sharpness of 16 megapixels on the EOS 70D (the report for testing on the EOS 80D is not yet out at the time of writing this article).
This standard zoom makes for a great piece of glass for everyday photography, street, landscape, architecture, low light, urban landscape etc. Thanks to the wide open aperture, you can take advantage of the extra amount of light intake capacity, especially in low light situations.
The lens in actual real-life shooting conditions is extremely sharp. You get fantastic image sharpness even when shooting wide open at f/1.8. It has very little distortions and no chromatic aberrations. Vignetting, which is a major problem in some wide angle lenses is also well suppressed. Even when you are shooting wide open. Stopping down the lens practically takes away that problem.
Related Post: Best Canon Lenses for Video Shooting
Auto-focusing is powered by Sigma's Hyper Sonic AF motor. This is a ring-type auto-focusing motor. Unlike the ziffy and fast AF that we normally see on some of the other lenses, these are smoother and therefore produces better results when shooting videos. One word of caution though. Auto-focusing on the lens does produce some noise. It is not absolutely silent.
A problem with budget lenses is lens diffraction. This is something that sets in pretty quickly as you stop down the lens. This affects image sharpness. There is no noticeable diffraction on this lens on smaller apertures. At 28.8mm this lens is decent enough for shooting landscapes. The lack of diffraction makes this a fantastic lens to shoot landscapes. No wonder the lens enjoy the 'Art' moniker from Sigma, which signifies that this is one of their best offerings.
Sigma 18-35mm F1.8 Art DC HSM Lens for Canon, Black (210101)
F1.8 maximum aperture
F16 minimum
Ring-type ultrasonic-type AF motor with full-time manual focusing, 72mm filter size
Minimum focusing distance 28 cm/ 11.0 in. USB Dock compatible, MC-11 compatible.
Available in Canon EF (EF-S), Sony Alpha (dot), Nikon f (DX) mounts
2. Canon EF-S 24mm f/2.8 STM Lens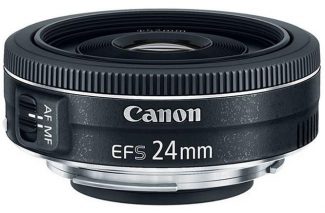 A lot of people will be surprised to see this lens on this list. We reviewed this lens previously on our website.
This is an inexpensive lens which you can own for less than $150. And it is very sharp. This lens comes under the category of pancake lenses, because it is very thin. But make no mistake about the fact that this is a very capable lens.
The maximum aperture of the lens is f/2.8. Which is handy when shooting in low light and particularly useful when attempting a shallow depth of field. A wide open aperture allows you to use a fast shutter speed, which prevents image blur. Further, a wide open aperture negates the need for using high ISO. That is helpful for reducing image noise.
The angle of view of the lens is 59 ˚ 10′. Remember this is an EF-S lens and therefore compatible with only the APS-C camera such as the Canon EOS 80D. Therefore, the lens will be affected by the 1.6x crop factor. That makes the focal length an effective 38mm. Even then, the focal length being close to 35mm is just perfect for a wide range of everyday photography pursuits – street, everyday life, architecture and so on.
The lens has an uncomplicated design. A total of 6 elements including one aspherical element arranged in 5 groups. There are no image stabilization elements on the lens. But the lens does have a STM powered auto-focusing mechanism. STM stands for Stepping Motor and is the new AF technology introduced by Canon.
Related Post: Best Canon Landscape Lenses Compare
The lens also comes with full-time manual focusing override. This technology is available in the One Shot AF mode only. This allows for constant manual focusing even when auto-focusing is engaged.
This technology is compatible with the new movie-servo mechanism of Canon's new age DSLRs including the EOS 80D. Therefore, you are going to get a lot of smooth auto-focusing result when shooting movies and using the auto-focusing mechanism.
Having said that, this will probably not be very exciting for still shooters, as the AF motor can be a little too slow for the snap-happy segment of photographers. If you wish to use this as predominantly a still lens and don't like slow auto-focusing then don't go for it. You are better of using a comparable USM lens.
DxOMark rates this lens as 20 with a sharpness of 13 megapixels. That is at the middle end of the list. They also rates that the lens is at its best when used wide open. Tests however shows that results are better when the lens is stopped down to about f/5.6.
Canon EF-S 24mm f/2.8 STM Lens
Wide angle lens for Canon APS C cameras (equivalent to 38 millimeter on a full frame camera)
Focal length & maximum aperture: 24 millimeter 1:2.8, maximum magnification of x0.27
Slimmest and lightest lens of the EF S series
Circular aperture (7 blades) delivers beautiful, soft backgrounds
Full time manual focus allows manual focus adjustment while in One Shot AF mode
3. Tokina AT-X 14-20mm f/2 Pro DX Lens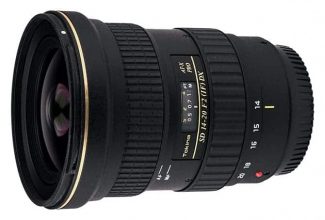 The AT-X 14-20mm is a third party lens designed by Tokina for the Canon EF mount camera systems. Thus, it fits the Canon EOS 80D without issues but with a crop factor of 1.6x. With that crop factor the lens becomes an effectively 22 – 32mm wide zoom (35mm format equivalent). The maximum aperture of the lens is f/2. That is good enough for a wide variety of imagery including street, architecture, landscape, everyday shots, events and so on. This lens has been rated 20 by DxOMark with an overall sharpness based on results on a Canon 7D Mark II at 11 megapixels.
There is something about Tokina and wide angle lenses. A majority of their current lenses are wide angle. Wide angles are the best when it comes to shooting movies. Because they tend to give a bigger perspective of the scene. Also, wide angle lenses give shallower depth of field compared to their zoom brethren. Plus, with wide angle lenses slow shutter speed shots tend to suffer less from image shake.
Another reason I love wide angle zooms is that they tend to show the background in the right perspective. Unlike tele lenses where much of the background is sucked in and show up larger than they actually are.
The lens construction includes a total of 13 elements arranged in 11 groups. This includes the focusing elements and the aspherical and super low dispersion elements. The focusing mechanism on the lens is internal. Additionally, the lens also comes with a multi-layer anti-reflection coating.
The 9-blade circular aperture diaphragm promises great bokeh as well as great star-bursts. Especially when you have set the lens to a wide aperture (or stopped down as the case may be) and there are small sources of light in the frame which you wish to play with.
Tokina uses a unique focus clutch mechanism that they say is a 'one-touch' focus adjustment which allows you to get from auto-focusing to manual focusing very easy. It can, however, come across as something of a handicap for some photographers. To be honest it needs some getting used to.
Optically, this is a very sharp lens. There is little complain in terms of the lens' sharpness or its abilities to render colors and retain details.
Tokina ATXAF140DXC 14-20mm f/2 Pro DX Lens for Canon EF
Canon EF Mount Lens/APS-C Format. 22.4-32mm (35mm Equivalent)
Aperture Range: f/2 to f/22. One Plastic-Molded Aspherical Element
Two Glass-Molded Aspherical SD Elements. Two Super Low Dispersion Elements
Multi-Layer Anti-Reflection Coating. Internal Focus; One-Touch Focus Clutch
Nine-Blade Diaphragm
4. Sigma 17-50mm f/2.8 DC OS HSM Zoom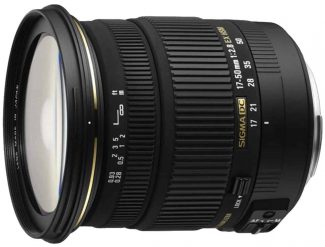 Another third party lens and this time from my favorite third party lens manufacturer Sigma.
The Sigma 17-50mm is a wide angle zoom lens that goes from the standard 50mm all the way to 17mm. The lens has a fixed aperture of f/2.8 across its zoom range.
This lens is designed for the Canon's EF mount APS-C cameras. Therefore the lens will not work without excessive vignetting with full-frame Canon systems. The front element of the lens is quite large. Considering that it takes 77mm filters. This ensures that at least on smaller cameras vignetting is down to a bare minimum.
The 17-50mm may appear as if a small improvement over the 18-55mm lens. But the significant thing that you are likely miss if you only consider the focal length is the maximum aperture of the lens. When shooting at 55mm with a traditional kit lens, you get a maximum aperture of f/5.6. That means this lens is a whole 2 stops faster at f/2.8. That is an incredible advantage, especially when you consider low light situations.
I have already stressed on the advantages of a fast wide aperture and this is nothing new here. The lens works really great for movie work as you are able to create those beautiful out of focus effects see in movies.
Auto-focusing on the lens is powered by Sigma's HSM motor. This is a dampened well. There is no full-time manual focusing override. You will have to switch from auto to manual focusing before you attempt at moving the manual focusing ring. This is probably the one thing that I did not like about this lens.
Having said that the front element of the lens will not move when you engage manual focusing. This is ideal for using grad NDs and circular polarizers. This lens being ideal for landscapes and for shooting movies, you would want to have this feature.
The lens has optical image stabilization as well. It is rated to give around 4 stops of image shake correction. This again is an advantage when shooting in low light conditions as well as in day times when you need to increase the shutter speed to capture a fleeting moment.
This is quite a substantial lens. At 565 grams it is quite heavy. The lens construction includes a total of 17 element that are arranged in 13 groups. The lens diaphragm consists of 7 blades.
Finally, about the sharpness test, the lens is quite sharp at f/2.8 around the center of the frame. But not so sharp at the corners. Having said that sharpness increases when you stop down the lens to f/4 and to f/5.6.
5. Sigma 35mm f/1.4 DG HSM A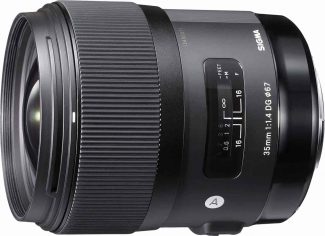 There are two f/1.4 35mm lenses that rivaled for this position and the one I chose is the one made by Sigma. Not because I love Sigma and they are my favorite third party lens manufacturers, but because this lens does almost everything that the Canon does at less than half the price.
The Sigma 35mm f/1.4 DG HSM A happens to be the first lens Sigma ever made in the Art series. Both these lenses have a fairly good fan following of their own and they are both extremely capable lenses. Both the lenses shoot at a maximum wide aperture of f/1.4. Both handle chromatic aberrations well, but the Sigma does a better job overall. Plus, the price point which kind of makes this as no brainer.
The lens comes with Sigma's patented Hyper Sonic Auto-focusing motor. It is fairly quiet and thus does not scare away subjects that are conscious of a camera. Floating internal focusing elements ensure that the lens' barrel length never changes. The lens also has fulltime manual focusing for manual control over focusing even in auto-focusing mode.
The lens has excellent build quality including the use of Thermally Stable Composite materials for less affect under extreme temperatures. Superior build quality, however, is nothing if it is not backed up by optical quality. And this is where the presence of a series of F Low Dispersion elements, Special LD glass elements and lens coatings are useful.
6. Canon EF 24-70mm f/2.8 L II USM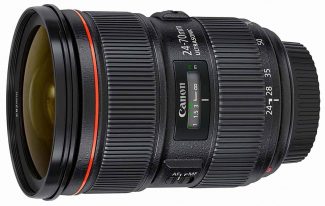 Finally a lens that every Canon user looks up to and revers. The 24-70mm is probably one of the most popular after the Nifty-Fifty. It is another thing that not many photographers are able to afford this lens.
Why am I interested in this lens? The lens has a decent quick maximum aperture of f/2.8. This is an extremely well made lens from the Canon stable. It is a fantastic walk around lens thanks to the great focal length coverage. Also, this lens is compatible with full-frame systems. So, when you upgrade to a full-frame camera this lens will still be usable.
The internal construction of the lens includes 18 elements that are arranged in 13 groups. These include two aspherical elements, one super UD lens element and two UD lens elements.
Related Post: Best Portrait Lenses for the Canon
The EF 24-70mm is an L series lens. Canon marks only its top of the line well-made lenses as L. So there is some confidence to be taken from that fact. Fluorine coating has been used both in the rear and the front of the lens. The lens has been designed to resist water seepage, dust and dirt and is thus usable in some of the most demanding conditions.
Auto-focusing on the lens is powered by Canon's ring-type USM motor. This AF motor is reliable and quick. The lens also comes with the full-time manual focusing override. The only thing that's probably missing on the lens, and we would have loved to see it is image stabilization.
Canon EF 24-70mm f/2.8L II USM Standard Zoom Lens
24 70 millimetre focal length, 38.4 112 millimetre equivalent focal length on Canon APS C cameras
F2.8 constant maximum aperture; F22 minimum, ring type ultrasonic type AF motor with full time manual focusing
82 millimetre filters, closest focusing distance: 0.38 meter/1.25 feet
Image Stabilization : No. Focus adjustment: Inner focusing with USM. Diagonal angle of view: 84° - 34°. Weight 1.7 pound
Purchase this product between May 1, 2016 and July 30, 2016 and get 13 months of free damage protection from Canon. The...
---
As an Amazon Associate, we earn from qualifying purchases. Certain content was provided "as is" from Amazon daily and is subject to change or removal at any time.