For most photographers, mirrorless cameras are the way forward. They're lighter and smaller than traditional DSLRs, yet they offer fantastic image quality, outstanding autofocus, and plenty of other handy features.
I invested in a mirrorless camera myself, and I can't imagine going back to my bulkier DSLR; the size and weight really do make a huge difference. Additionally, most camera manufacturers – including Canon, Nikon, and Sony – are investing heavily in mirrorless technology and moving away from traditional DSLRs.
Therefore, by grabbing a mirrorless camera as your first device, you get all the latest technological benefits while also futureproofing your setup so that it'll remain relevant for years to come. After careful research, I've selected eight fantastic options for anyone looking to get started capturing photos and videos. In my view, these are the best mirrorless cameras for beginners in 2023; they're highly capable little units, and they don't cost a whole lot, either.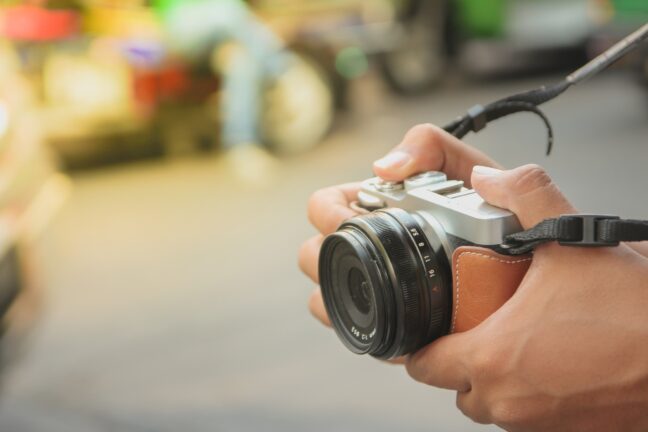 The Best Beginner Mirrorless Cameras in 2023:
When you buy through links on our site, we may earn a commission at no cost to you. We evaluate products independently. Commissions do not affect our evaluations.
1. Canon EOS R100
Our Pick
Great for learning camera settings
The Canon EOS R100 provides a gentle introduction to advanced photography. It makes it easy to adjust settings like exposure, aperture, and ISO, helping you learn how mirrorless cameras work.
Pros
Lightweight and small camera body
24.1 MP APS-C sensor
Fast and accurate autofocus system
It can accept a wide range of Canon RF and RF-S lenses
Low price
Cons
The LCD touchscreen is fixed in place
My top mirrorless pick for beginners is the Canon EOS R100. If this camera had been around when I first got into photography, I would've grabbed it in a heartbeat! It stands out due to its ease of use, portability, and lens compatibility. And don't worry, it doesn't skimp on features or quality.
You get a 24.1 MP APS-C sensor, which means the basic image quality the EOS R100 can produce is really impressive. Plus, everything is quite responsive and the menus are very user-friendly.
The rear controls are simple to use, and you get a lot of flexibility when it comes to composing your shots. You can use either the EVF or the LCD touchscreen to frame your picture, and you can change settings using the touchscreen or the buttons and dial.
The Dual Pixel CMOS autofocus system is another plus. It's known for its speed and accuracy, allowing you to focus on objects quickly and capture sharp photos without much effort. The one minor drawback is that it doesn't have a rotatable LCD screen, so I wouldn't recommend it for vloggers, but other than that, it's an excellent choice for beginners, and you'll get great results using nearly any of Canon's excellent RF lenses.
2. Nikon Z 30
Also Great
Great for travel use
The Nikon Z 30 is perfect for aspiring travel photographers or active vloggers thanks to its compact size and lightweight body.
Pros
20.9 MP APS-C sensor
Compatible with all Nikon Z lenses
High-quality flippable LCD touchscreen
Live-streaming capabilities and can be used as a webcam
Cons
It does not have a viewfinder
The autofocus is not as advanced as other Nikon Z-series cameras
The Z 30 is currently Nikon's smallest mirrorless camera, so if you're looking for an excellent travel model to take along on your adventures, it's a great pick.
Weighing in at just 0.99 lb (450 g), it's incredibly light for a mirrorless camera. You'll hardly notice it when you're carrying it in your luggage or camera bag. Plus, it can easily be mounted on a selfie stick for those travel selfies, and the 4K/30p recording quality makes it a solid option for aspiring vloggers, as well.
The rear controls are straightforward, and I particularly like the control dial, which lets you quickly scroll through camera settings and menus. The LCD touchscreen is also top-notch; it flips sideways and can rotate 180 degrees for live previews.
What's more, you can explore different photography techniques and styles thanks to the Z 30's lens compatibility. This beginner camera works with all Nikon Z lenses, so you can experiment with many types of glass – from portrait and macro lenses to telephoto and super-telephoto models.
3. Sony Alpha 6100
Great for former point-and-shoot users
The Sony Alpha 6100 has a design similar to a point-and-shoot camera, making it a solid pick for P&S photographers looking to upgrade to mirrorless.
Pros
Excellent autofocus system
Lightweight camera body that is easy to use
Great image quality
Compatible with Sony E-mount lenses
Excellent price
Cons
The LCD touchscreen cannot be flipped out sideways
Some may not like the pop-up viewfinder
The Sony Alpha 6100 is an older model, but it's still one of my favorite mirrorless cameras for beginners. It's especially great if you want something that looks and feels more like a traditional point-and-shoot camera. I really like its sleek, rectangular design, and once you start using it, you'll find it has fantastic functionality.
To help you start taking high-quality photos right away, the camera features a 24.2 MP APS-C sensor and a versatile ISO range that goes up to 51,200. As a result, you can use faster shutter speeds in low light.
Even though the A6100 is a budget mirrorless camera, it boasts an impressive autofocus system; this includes a variety of real-time tracking features, making it much easier to focus on moving subjects like kids, pets, and wildlife. The camera also shoots at an impressive 11 FPS.
I'm not a huge fan of the pop-up viewfinder, and I wish the LCD screen could flip out sideways. However, both do increase flexibility when composing your shots, and the camera's controls are pretty straightforward to learn.
4. Fujifilm X-T30 II
Great for nighttime photography
The Fujifilm X-T30 II comes with a back-illuminated sensor and an expansive ISO range so you can dive into nighttime photography without worrying too much about background noise.
Pros
26.1 MP APS-C sensor
Retro design
Both a viewfinder and an LCD touchscreen
Cons
The rear controls can sometimes feel awkward
The design might seem strange if you are used to traditional DSLRs
The Fujifilm X-T30 II is an incredible little model, and if you're into retro designs, you'll be so impressed. This camera offers the best of both worlds: it has the look of a product designed in the '80s but with all the features you'd expect from a camera in 2023, including a high-res sensor, fast autofocus, and amazing low-light capabilities.
The camera body is blocky, and I love the dual silver and black casing – it really is iconic! Aside from its looks, this camera has an LCD touchscreen, a high-quality viewfinder, and straightforward controls. If you're used to shooting with an older camera, transitioning to the X-T30 II should be a breeze.
In terms of image quality, you get a 26.1 MP sensor, which is slightly better than the other mirrorless cameras on this list. The sensor excels at higher ISOs, making it great for all forms of indoor and nighttime photography.
The quad-core CPU and autofocus system are super fast, which makes the camera so much easier to use; you won't have to stress about settings or focus and can instead concentrate on composing your shots and improving your photography skills.
5. Canon EOS R50
Great for action photography
The autofocus system in the Canon EOS R50 ensures you can quickly lock onto moving subjects, resulting in sharp photos without motion blur.
Pros
Flippable LCD touchscreen and viewfinder
Compact and lightweight camera body
Uncluttered controls
Great image quality
Cons
There is no 4K/60p recording mode
I've been using the Canon EOS M50 Mark II for a while, and I plan to upgrade to the Canon EOS R50 sometime soon because I love its combination of features, quality, and usability.
Like other EOS R mirrorless cameras, the R50 has a compact body. I'm a fan of its simple controls and button layout; they're easy to understand, allowing you to effortlessly change your camera settings, preview images, and switch between camera modes as needed.
The image quality is excellent thanks to the 24.2 MP APS-C sensor and the DIGIC X image processor. This means you can expect sharp images, fast previews, and great performance in all lighting conditions. The Dual Pixel CMOS autofocus is also a standout feature – I really can't praise it enough. It's intuitive and allows you to focus quickly on any object, even in low-contrast situations.
If you're interested in video recording, the R50 can capture footage at 4K/30p, which is oversampled from 6K for improved quality. You can also record in slow motion at 120 FPS if you drop the resolution to 1080p. And this mirrorless camera is compatible with Canon's ever-expanding range of RF and RF-S lenses, which can add even more versatility to your photographic journey.
6. Nikon Z 50
Great for serious beginners
The Nikon Z 50 offers a bit more in terms of quality, features, and autofocus, making it a great choice if you're serious about taking your photography to the next level.
Pros
Large touchscreen and EVF
Compact and ergonomic camera body that is easy to hold
Compatible with Nikon Z lenses
Nice EXPEED 6 image processor
Cons
The LCD touchscreen can't be pulled out sideways
There may be an updated Nikon Z 50 II released soon
The Nikon Z 50 may be an older model, but it's still a great choice for new photographers. Just like the EOS R10, which I'll discuss below, it can help you improve your photography skills to an intermediate or even professional level.
I really like the design of this mirrorless camera; it has a bit of a retro feel. The electronic viewfinder at the top is perfectly positioned, making it easy to compose your photos. The camera is comfortable to use for hours on end, and the textured body and grip ensure that you always feel like you have a firm hold on it.
With a 20.9 MP APS-C sensor, this camera consistently delivers crisp photos full of beautiful detail, color, and contrast. Thanks to the EXPEED 6 processor, you can expect excellent responsiveness, and the advanced autofocus means you won't have any trouble nailing sharp shots, even when photographing moving subjects like people and wildlife.
This kit comes with a DX 16-50mm starter lens, so you can start taking photos right away. And because it has a Z lens mount, you'll have access to Nikon's wide range of interchangeable Z lenses. This means you can specialize in whatever type of photography you enjoy most.
7. Sony Alpha ZV-E10
Great for both vlogging and photography
The Sony Alpha ZV-E10 is an excellent choice for beginners who haven't yet decided between vlogging or photography thanks to its high-resolution sensor and 4K video recording capabilities.
Pros
Incredibly compact and lightweight
Simple rear controls to change photo settings
Rotatable LCD touchscreen for selfies and previews
Real-Time Eye AF
Great price
Cons
The rear control panel can feel a little small
It does not have a viewfinder
If you're looking for a starter camera that's great for both vlogging and photography, the Sony Alpha ZV-E10 is a fantastic choice. Though it's mainly advertised as a vlogging camera, it takes beautiful photos, too. Plus, it's incredibly compact; in fact, it's one of the smallest mirrorless cameras on the market.
When it comes to portability, this camera is hard to beat. Even with a compatible Sony E-mount lens attached, you can easily fit it in your pocket or mount it on a selfie stick. The fully rotatable LCD screen is a nice touch for selfies and vlogging as it lets you see a live preview while you work.
The ZV-E10 features a 24.2 MP APS-C sensor, so you'll get sharp and detailed images right from the start. Although the rear control panel is a bit small, the touchscreen and buttons make it easy to set up your shots. For instance, you can use the control wheel to quickly adjust the ISO or exposure as needed.
One of the major perks of this camera – compared to other beginner vlogging models – is its interchangeable lenses. It's compatible with Sony E-mount glass, which ensures that you can specialize in various types of photography such as macro, landscape, or portrait.
8. Canon EOS R10
Great if you want to develop your photography skills
The Canon EOS R10 is an intermediate mirrorless camera for a budget price. It's easy to use and delivers great image quality while giving you the flexibility to further develop your skills!
Pros
15 FPS continuous shooting mode
Compact camera with excellent controls
Compatible with both RF and RF-S lenses
Can also record 4K video
Cons
A little expensive for beginners
Recording action videos may result in shaky footage
Last but not least, I've included the Canon EOS R10 as an option for those who not only want a beginner-friendly mirrorless camera but also a tool to help develop their photography skills for professional work.
The R10 boasts a compact and comfortable body that's easy to hold. One feature I really appreciate is the small directional joystick on the back. It's a nifty little tool for moving the autofocus points around, among other things, and I find that it makes composing sharp photos much easier.
Powered by the DIGIC X processor and featuring a 24.2 MP APS-C sensor, this camera offers incredible image quality and performs well in low-light settings. This makes it a great choice for anyone interested in exploring astrophotography, nighttime cityscape photography, or indoor photography where natural light is limited.
The EOS R10 also offers an impressive 23 FPS continuous shooting mode, which is ideal for capturing breathtaking sports photos as well as images of wildlife on the move. The advanced Dual Pixel CMOS AF comes with a variety of tracking modes to help you get the perfect shot.
While you can purchase the EOS R10 with the basic 18-45mm kit lens, I'm not a huge fan of that package; instead, I'd recommend you spend a bit more to get one of Canon's better beginner lenses such as the RF-S 18-150mm. The extra investment should mean you won't need to upgrade to a more professional lens for quite some time!
Get Started with the Perfect Mirrorless Camera for Beginners
Any of these mirrorless cameras would be an awesome starting point for your photography journey, and I hope I've provided some useful insights into each camera, highlighting their benefits and why they might be a good fit for you.
If you're interested in both vlogging and photography, I recommend either the Sony Alpha ZV-E10 or the Nikon Z 30. These two affordable mirrorless cameras are designed for recording as well as photography and offer a range of video modes in a compact and portable body.
On the other hand, if you're just looking for a budget starter camera that delivers good-quality images, check out the Canon EOS R100, the Sony Alpha 6100, the Fujifilm X-T30 II, or the Canon EOS R50. These four beginner-friendly mirrorless cameras won't break the bank, but they still pack some awesome features and offer a lot of flexibility.
Lastly, if you want a powerful mirrorless camera that's still suitable for beginners, the Canon EOS R10 and the Nikon Z 50 are both ideal. These cameras offer a bit more in terms of image quality, autofocus, and burst mode capabilities, yet they're easy to use and won't break the bank.
---
Disclosure/Disclaimer: As an Amazon Associate, we earn from qualifying purchases. Certain content was provided "as is" from Amazon and is subject to change or removal at any time.