The growing world of mirrorless cameras is becoming more exciting by the day. An influx of resources and an increase in market demand has heightened their capabilities. Now, a high-end mirrorless can effectively accomplish everything that a high-end DSLR can. But if you're looking for something with a smaller price tag, you can still get some seriously impressive results from mid-range mirrorless cameras!
One advantage that the emerging field has over its single reflex predecessor? They generally tend to cost a little less.
Keep reading to find out more about the best budget mid-range mirrorless camera options!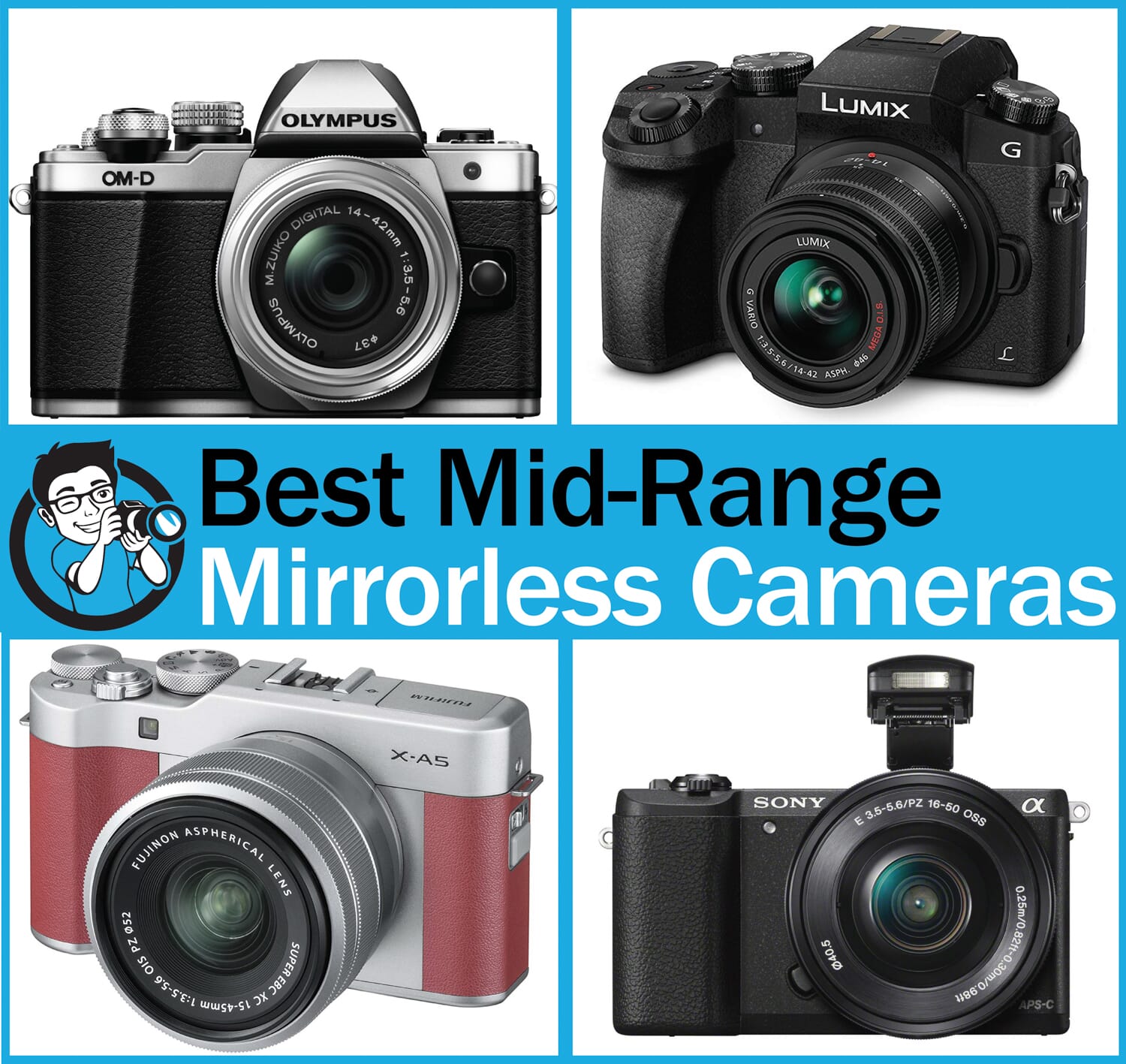 When you buy through links on our site, we may earn a commission at no cost to you. We evaluate products independently. Commissions do not affect our evaluations.
From the get-go, Sony has been a leader in the mirrorless camera market. In fact, their Alpha full-frame series is one of the most extensive series of mirrorless cameras to date. With seven camera bodies and thirty lenses to choose between, it blows the limited selection of other competitors out of the water.
However, if you're looking for a bargain, it might be worthwhile checking out options outside of Sony's highly acclaimed Alpha series. Specifically, the Sony a5100 can be purchased for just $448 USD through amazon.
Related post: The Best Zoom Lenses for Sony Mirrorless Cameras
The a5100 trades out the full-frame sensor for a smaller APS-C model. Even so, it still packs a powerful 24.3MP punch. What's more, Sony did not cut out some of its most impressive features despite the price cut on this product.
Like many of the most advanced mirrorless models, the a5100 employs fast-working hybrid autofocus. Thanks to 179 phase-detection points that cover 92% of the camera's frame, it's easy to track and hone in on moving objects.
In turn, it's an excellent low-budget pick for those interested in videography. The sharp detail and smooth motions captured by the a5100 beat out even some high-end cameras.
Reviewers have praised the a5100's stellar image quality. The camera also sports above-average low-light performance. Even ISO settings as high as 26,000 are said to leave behind very little noise.
Of course, the camera isn't perfect. One of its biggest downfalls is its lack of a multi-interface shoe. That means you won't be adding any lights or mics. However, the a6000 upgrade has a shoe and retains the 5100's awesome features.
Panasonic cameras don't have the same clout as brands like Canon and Nikon, but the Lumix line has been producing solid DSLRs for about two decades. Naturally, we had to include an entry from the brand's mirrorless G-Series.
For those in the mid-range mirrorless camera market, the G7 is worth taking into consideration.
The G7 looks and feels like a professional-grade DSLR. However, it still manages to sport a lightweight build like many of its fellow mirrorless competitors.
Like the Sony a5100, the G7 is more than capable of capturing stellar video footage. With stunning 4K resolution, it often beats out other comparable alternatives.
An AF system capable of subject tracking and continuous focus adjustments makes its output all the better. A fully articulating touch screen allows for real-time focus adjustments with a single press. Previews render at 1.04 million dots across the 3″ screen. You can be sure that what you're seeing in the back of your camera matches up with the file you upload.
Included with your purchase, customers will receive a 14-42mm lens. However, there are options if this particular piece of glass isn't your cup of tea. The G7 camera has the advantage of accepting lenses from third-party manufacturers like Olympus.
Panasonic LUMIX G7 4K Digital Camera, with LUMIX G VARIO 14-42mm Mega O.I.S. Lens, 16 Megapixel Mirrorless Camera, 3-Inch LCD, DMC-G7KK (Black)
Professional photo and video: Performance: 16 megapixel micro four thirds sensor with no low pass filter to confidently...
4K video Capture: 4K QFHD video recording (3840 x 2160) with 3 unique 4K ultra HD video pause and save 4K photo modes...
Intuitive Controls: Easily control aperture and shutter settings with the front and rear dials while making White balance and...
High Resolution Viewfinder and LCD Display: High resolution (2,360K dot) OLED live view finder and rear touch Enabled 3 inch...
Connectivity and Ports: 3.5 millimeter external mic port, 2.5 millimeter remote port, USB 2.0 and micro HDMI Type D;...
Traditionally, Canon finds itself playing catch up when it comes to its mirrorless products. The company has a strong following among DSLR users. For that reason, it's been hesitant to deviate from what it does best. Nevertheless, Canon's M100 is a great mid-range mirrorless camera for buyers on a budget.
This camera's emphasis is on simplification. Are you looking for something that produces better results than your phone? Yet is still just as easy to use? If you are, the M100 is a dream come true.
Gone are the intimidating dials to manually change camera settings. Instead, the device primarily relies on precisely calculated auto settings. The lack of an electronic viewfinder forces users to depend on the LCD display.
Related Post: Best Compact Cameras with Viewfinders
For beginners, it's a great segway into bigger and better things. Unfortunately, experienced photographers may grow frustrated with the camera's cuts.
That being said, don't underestimate the M100. Just because this camera seems simple it doesn't mean that there isn't anything impressive brewing on the inside. The camera has a powerful 24.2MP sensor which boasts excellent resolution and impressive dynamic range.
For those eager to share their work, the M100 is a perfect fit. Connecting to WiFi or Bluetooth is simple. So you can transfer shots online with ease. In addition, smartphone savvy users can download an app that works as a remote control shutter release.
Fujifilm has some of the most promising mirrorless camera options out there. So, our list wouldn't be complete if we didn't spend some time talking about their critically acclaimed X-Series.
The X-A5 is among the most affordable options, and there's a lot to love about it. For starters, the 24.4MP CMOS sensor holds up when compared to competing models. The X-A5 also offers some of the best color and tonal reproductions available in its price bracket.
Some may be turned off by the camera's lack of a viewfinder. However, Fuji has made sure to add all the other bells and whistles a person might expect from a mid-range mirrorless camera. The X-A5 can capture 4K video and even includes a microphone input for improved sound quality. In addition, extras like WiFi and Bluetooth connectivity are included.
Did we mention you can order this camera in pink? No matter how you slice it, the X-A5 is a standout.
Olympus is something of an underdog. In camera discussions, it's often overlooked as an option. However, there's a real deal to be had with the Olympus E-M10 Mark II.
As far as mid-range mirrorless cameras go, the controls on this camera make it approachable for beginner photographers. However, the camera retains some more advanced shooting options for more experienced users. In short, it's an option that can appease customers regardless of skill level.
Olympus has gone above and beyond to ensure that their images are of the highest quality. It's equipped with an impressive 5-axis internal image stabilization system. That means regardless of the conditions you find yourself in, the camera can deliver HD photos and videos.
Another added bonus? Olympus systems are compatible with a wide selection of Zuiko interchangeable lenses. With nearly lens 20 options, the variety available seriously outranks that of competitors like Nikon and Canon.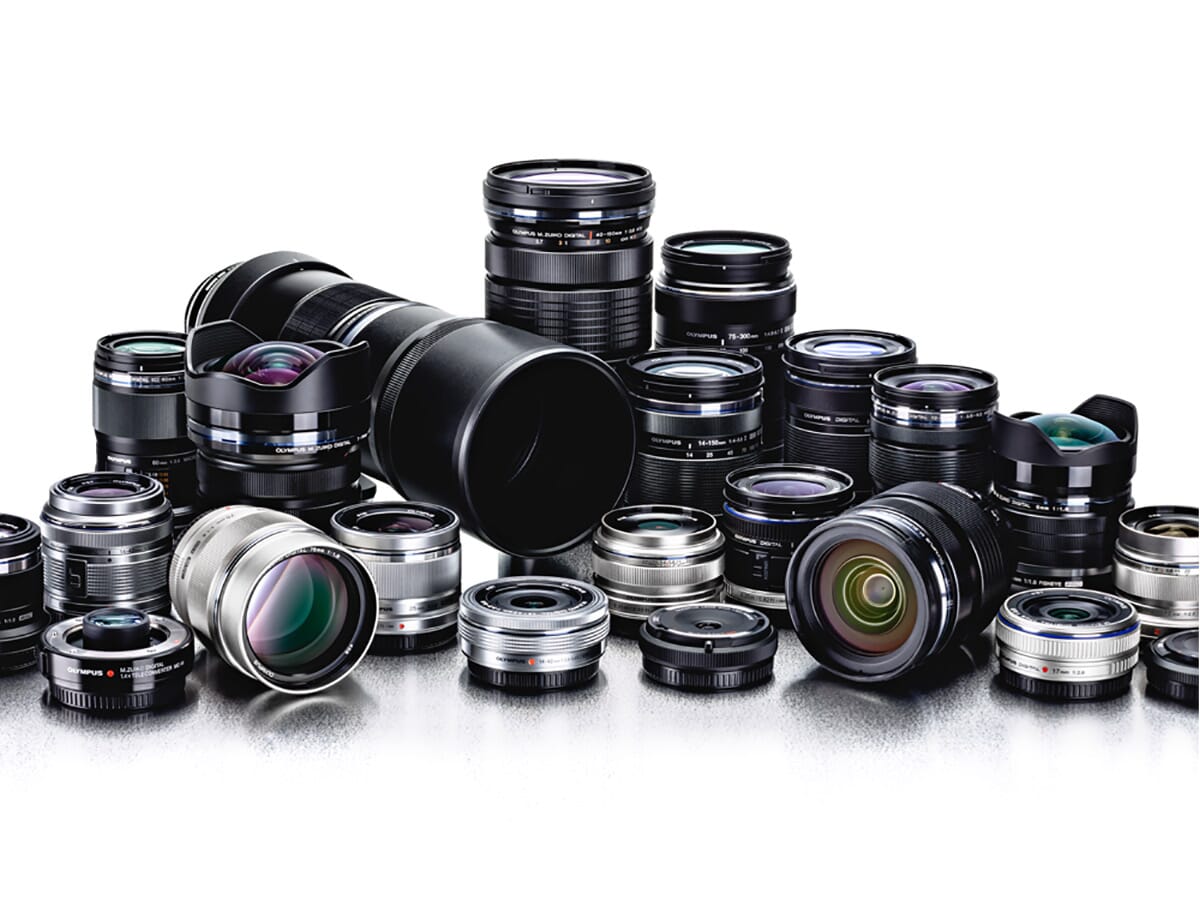 In particular, the E-M10 Mark II is an excellent option for travel photographers. It has a silent mode for subtle, discreet shots, as well as touch autofocus to quickly hone in on subjects.
Olympus OM-D E-M10 Mark II Mirrorless Camera with 14-42mm II R Lens (Silver)
Built-in 5 axis image stabilization for sharper images
2.3 million dot OLED electronic viewfinder with 0.62X magnification
Silent mode (disables all shutter sounds)
8.5 frames per second burst shooting
Focusing points/Focusing points selection mode 81 area multiple AF (Contrast detection AF), 37 area multiple AF (Phase...
---
As an Amazon Associate, we earn from qualifying purchases. Certain content was provided "as is" from Amazon daily and is subject to change or removal at any time.