Scotland is one of those destinations that you can't quite believe is actually real. The landscapes are so scenic and the buildings so historic that it's hard to imagine a place any more incredible to take your camera.
I did a ton of research on the best photography locations in Scotland before my road trip around the country in 2018. Venturing from the crowded city streets filled with wide-eyed tourists to the vast empty spaces of the highlands, I discovered many places that look absolutely magical in photos.
If you're hoping to seek out some amazing Scotland photo spots, here's my suggestions on where you should go!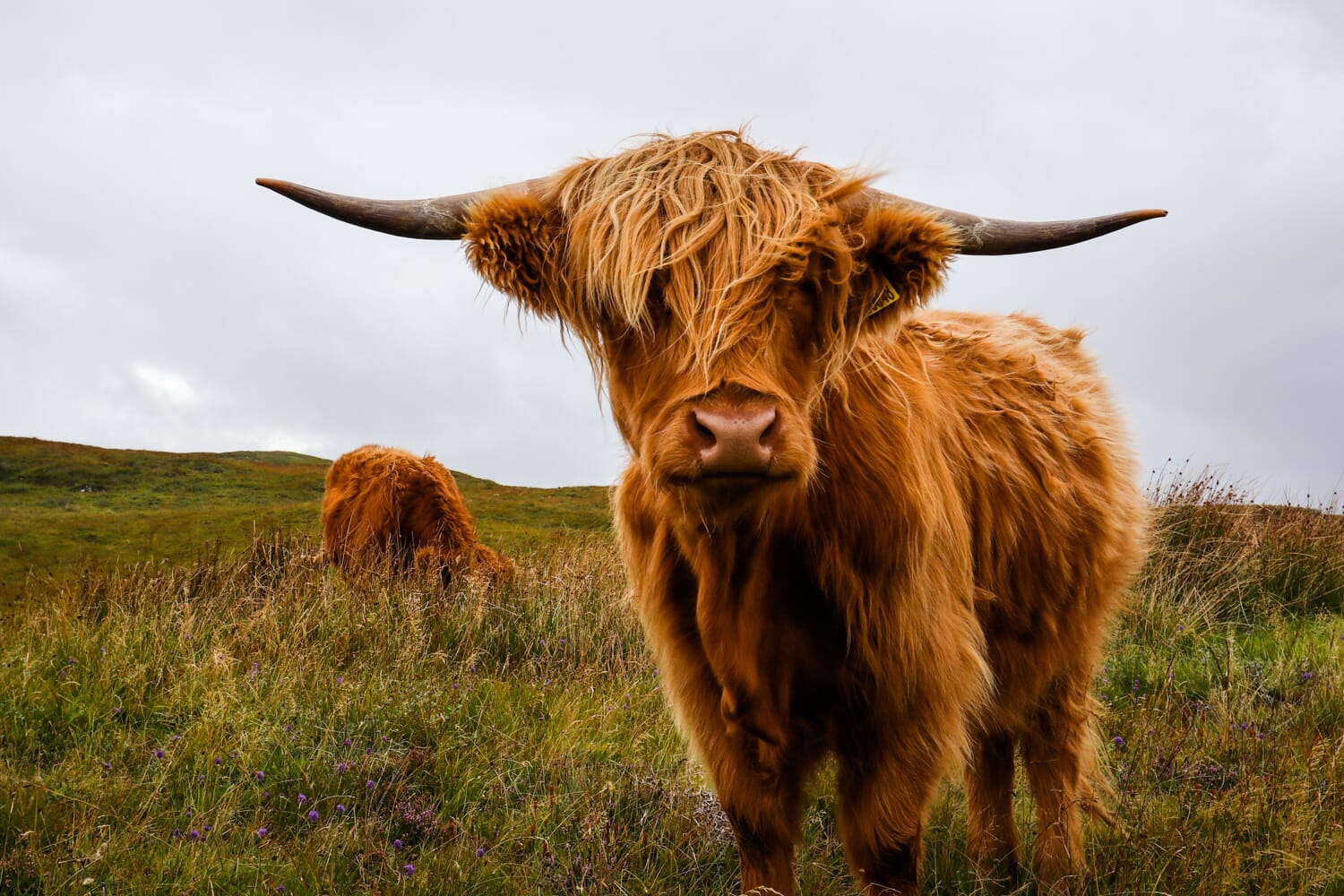 Scotland photography tips:
Prepare for all weather. It can start raining at any time! I got caught out by an unexpected shower which drenched me as I climbed to one of these locations. Protect your photography gear accordingly in a waterproof bag and take a windbreaker jacket to keep yourself warm.
You'll need to do some hiking to access certain locations, especially the ones on Isle of Skye. Waterproof hiking boots are a must for many of these photography spots in Scotland.
Highland cows are a popular subject for photographers travelling around Scotland. I haven't included them in the list as you don't find them at any one particular location, but you're sure to see them in fields beside the road on any road trip. Keep your eyes peeled for their bushy ginger fur and prominent horns.
Scotland photography locations are often landscapes, so lens filters may be useful for enhancing your photos. Take a neutral density filter so that you can experiment with longer shutter speeds and a polarizing filter for depth and saturation in the green hills and cloudy sky.
Photography locations in Scotland:
Glenfinnan Viaduct
Glencoe Valley
Neist Point
Old Man of Storr
Mealt Falls
Eileen Donan Castle
The Kelpies
High Street – Glasgow
Dean Village – Edinburgh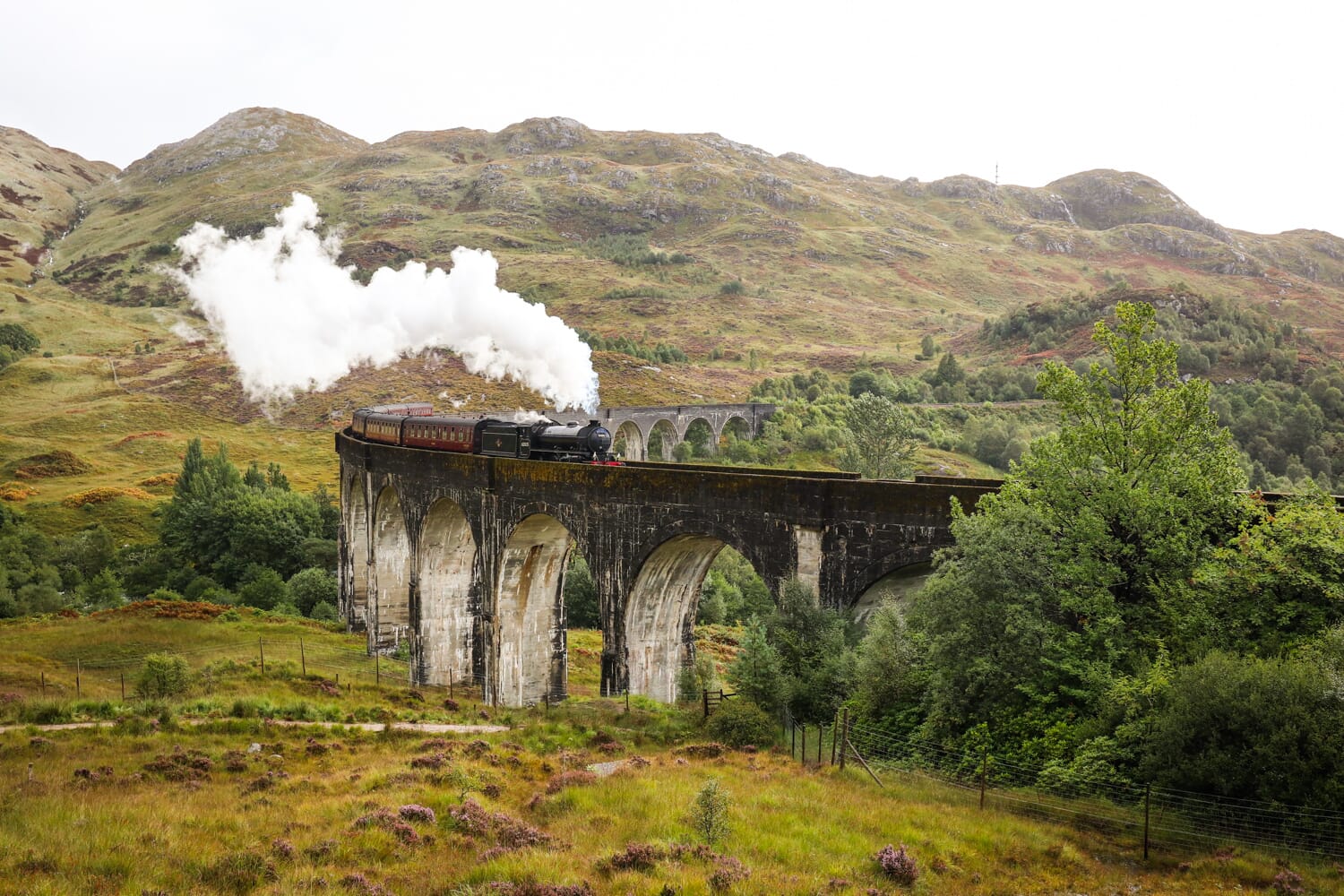 1. Glenfinnan Viaduct
Almost everyone has seen images of Glenfinnan Viaduct before. This movie-famous structure is popular with photographers because of its dramatic stone arches that curve through the lush green landscapes of the Scottish Highlands.
This photography location requires a little planning if you're wanting to capture it as the Jacobite Express steam train makes its way across. The train travels back and forth a few times per day, depending on the season. There are a number of viewpoints to watch this event, but the best vista is from the hill on the west end which can be accessed via a walking trail from the road.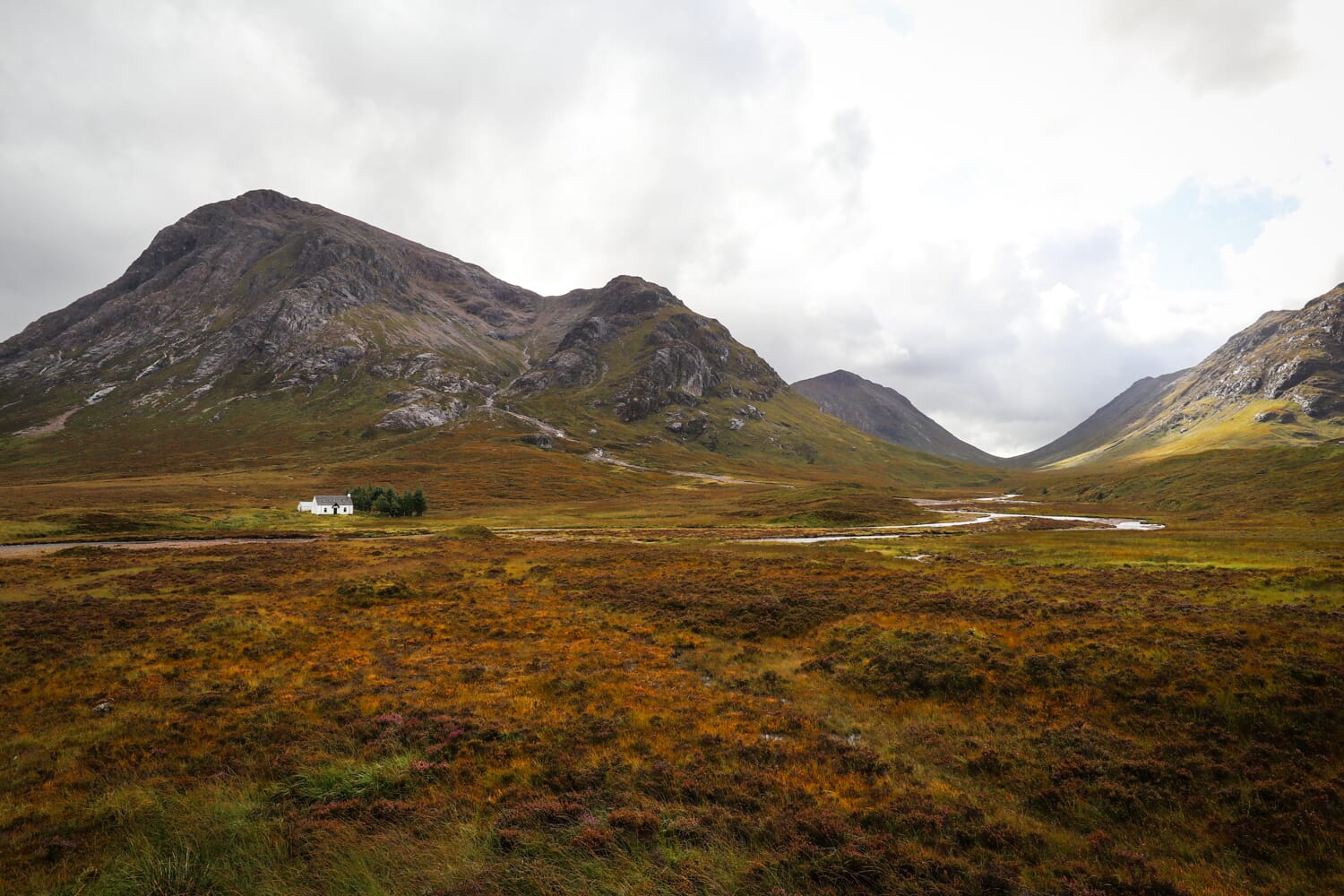 2. Glencoe Valley
Lagangarbh Hut in the Glencoe Valley is famous for its location in a spectacularly photogenic landscape. The white walls of the lonely hut contrast with the vast field that it sits in and the ominous mountain behind it. If photographed from a distance, the whole scene looks somewhat surreal.
Access is from the Buachaille Etive Mor car park where there is a walking trail that winds towards the hut, though the hut itself can't be photographed up close as its on private property. When I was photographing the hut, the sky was a spooky grey which is a common occurrence in this part of the world. This might be a good opportunity for some HDR photography to capture some of the detail in the landscape and the sky.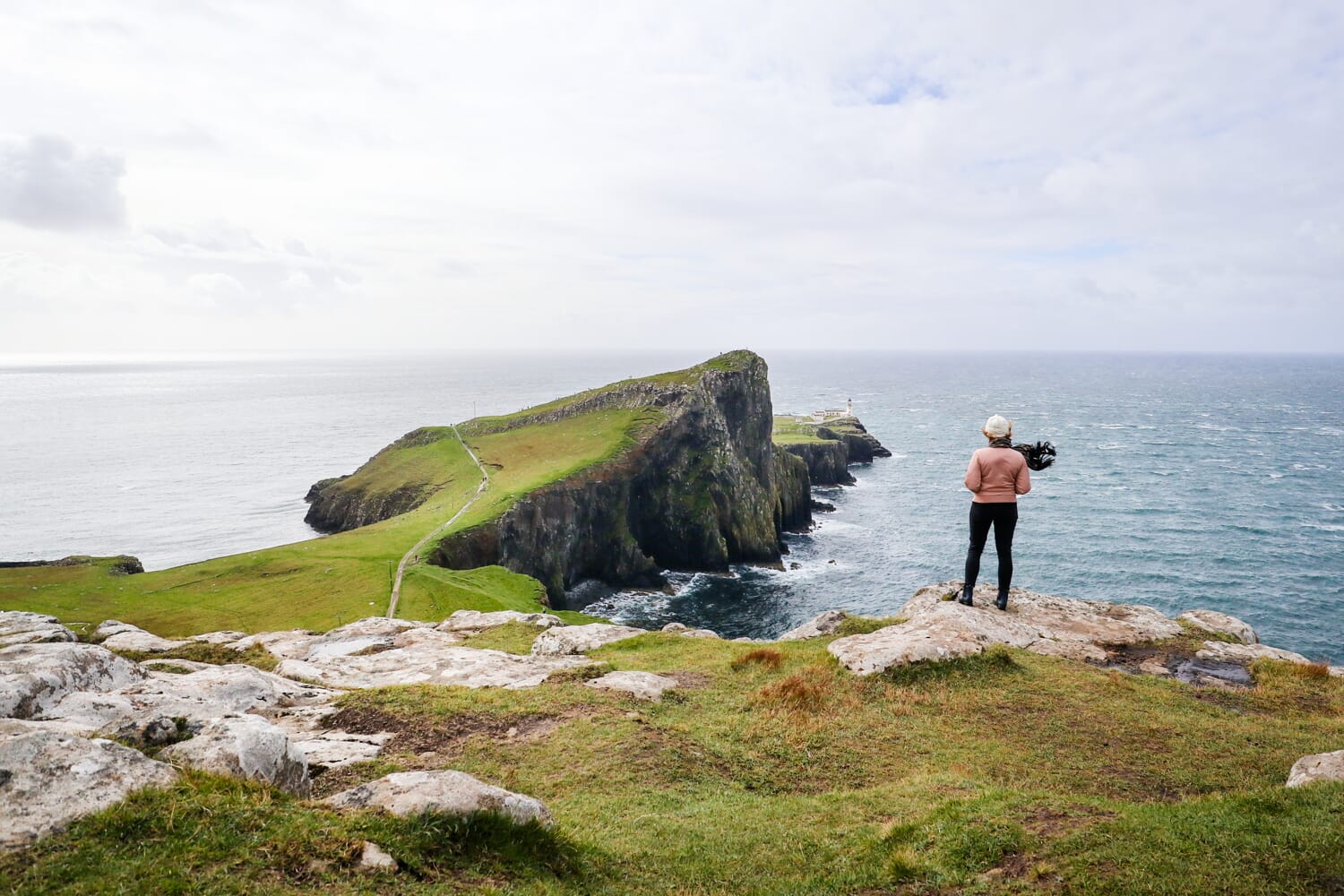 3. Neist Point
Isle of Skye on the Inner Hebrides holds some of Scotland's best photography spots. Neist Point sits on the island's western tip and features a grassy peninsula with rolling hills, towering cliffs, and a distant lighthouse.
The walking path leading out to the peninsula is particularly photogenic as it travels over the hills towards the sea. The best way to capture Neist Point is by walking along the grass along the cliff edge from the car park. It can be extremely windy and very muddy out there, so be sure to take appropriate footwear and clothing.

4. Old Man of Storr
The hike up to Old Man of Storr is not particularly easy, but it sure is rewarding. An hour of uphill trekking across the rocky terrain is worth it for the awesome vista that you'll get from the top. The massive jagged rock formations poking out of the hilltop create a truly wild scene. It's the perfect spot to play with some landscape photography techniques.
Due to the nature of this trek, I'd suggest that you should only venture to this spot if you're reasonably fit and able-bodied. Travel light and only take the photography gear that you're happy to have on your back during a few hours of hiking.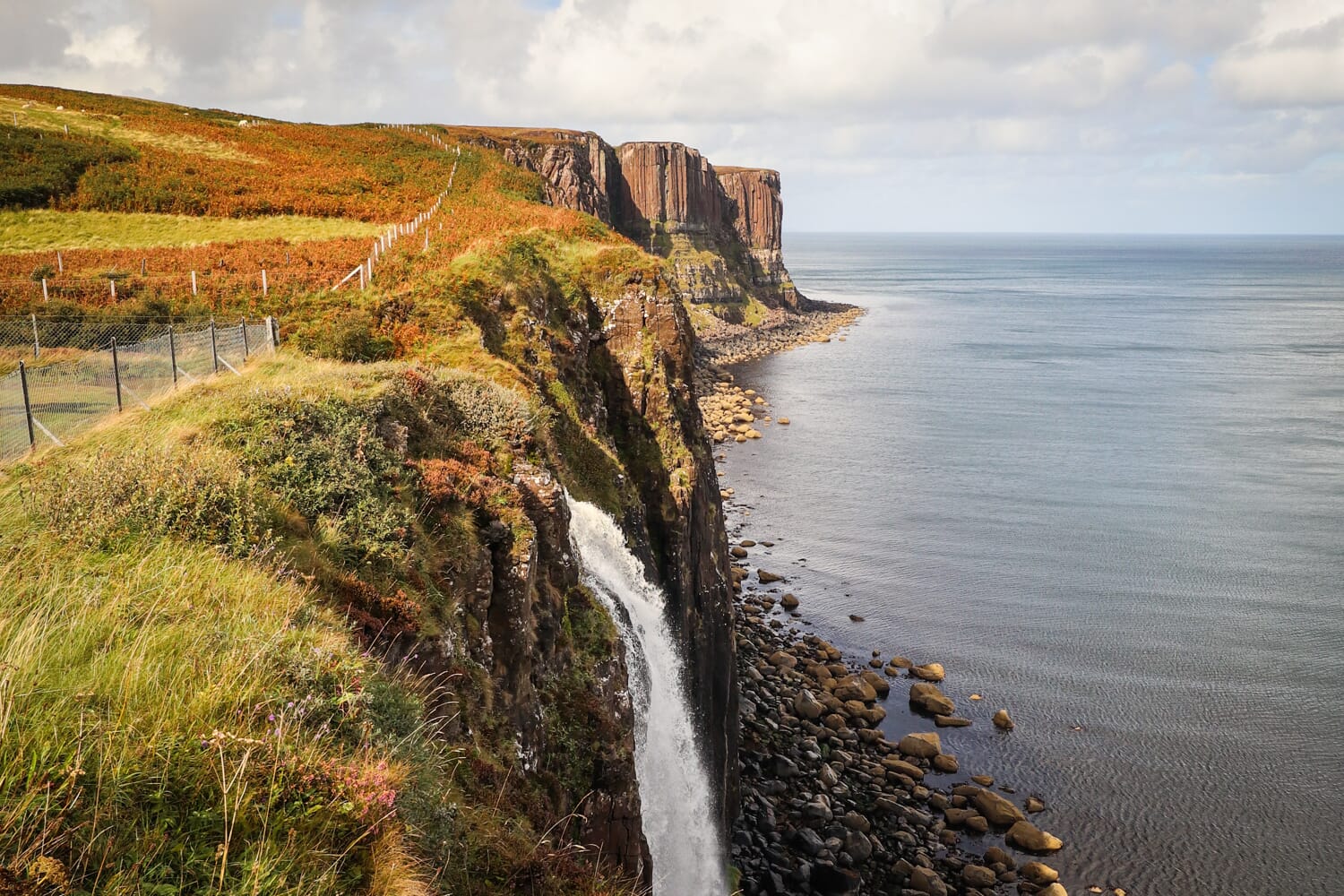 5. Mealt Falls
Mealt Falls is a unique waterfall on the Isle of Skye that draws tourists at the Kilt Rock viewpoint. The falls cascade right off the edge of a cliff and into the ocean below, and behind it are towering columns of rock in the distant cliffs. Pretty neat!
It can be difficult to capture these falls as they require leaning against the barricade to get the best view, so a tripod may not be practical, especially if there are other people around. Golden hour after sunrise may be the best time to visit this location as you'll beat the crowds and can use a fast shutter speed in the natural light of early morning.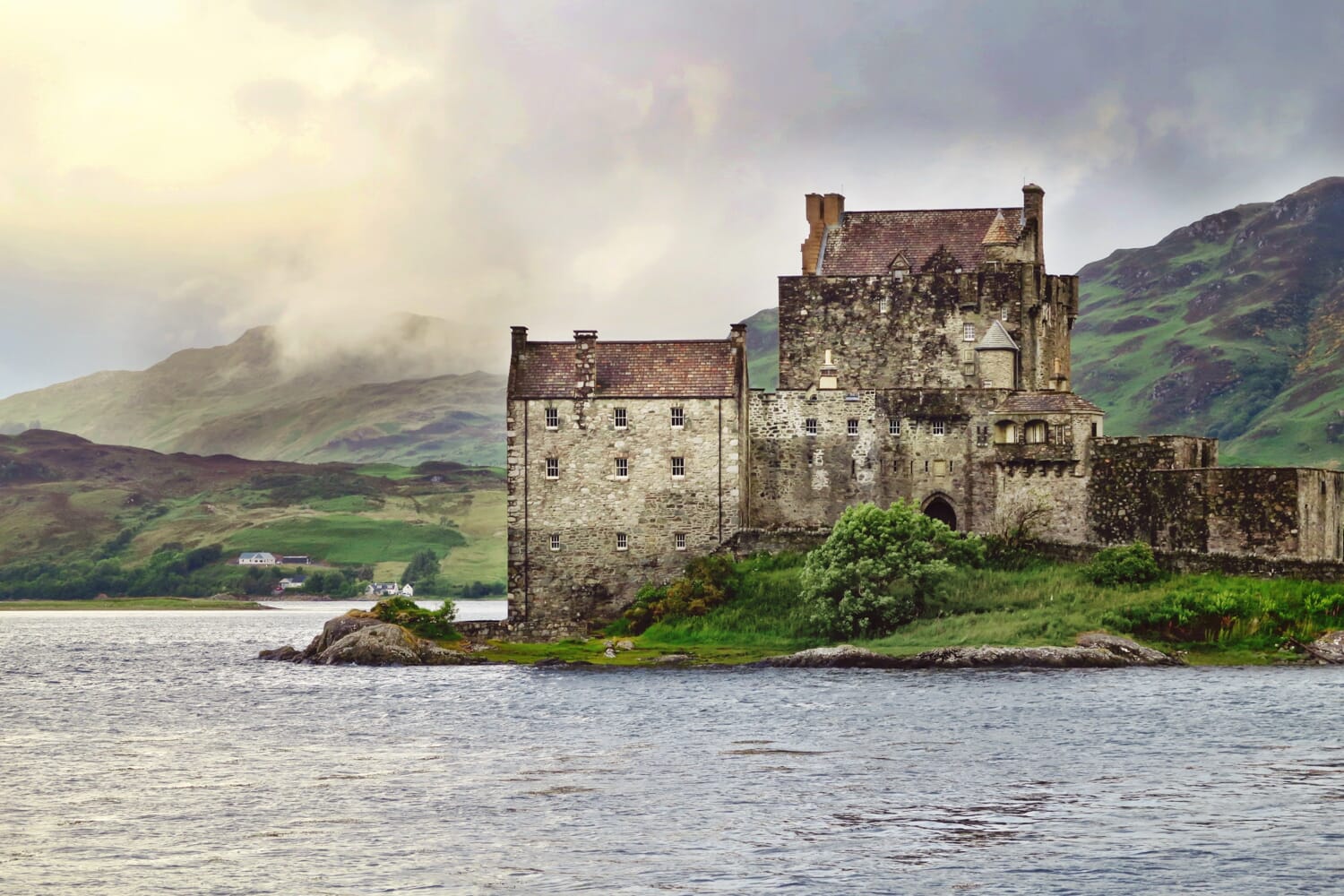 6. Eilean Donan Castle
There are plenty of castles in Scotland, but Eilean Donan stands out as one of the most photographed in the country. The historic 13th century castle juts out into a Loch and features a majestic mountainous backdrop.
The towering stone walls look good at any time of the year, but if you're photographing it in the winter, you may see snow dusting the mountain peaks in the background. Eilean Donan Castle looks great from many angles but is particularly nice from a distance with a telephoto lens.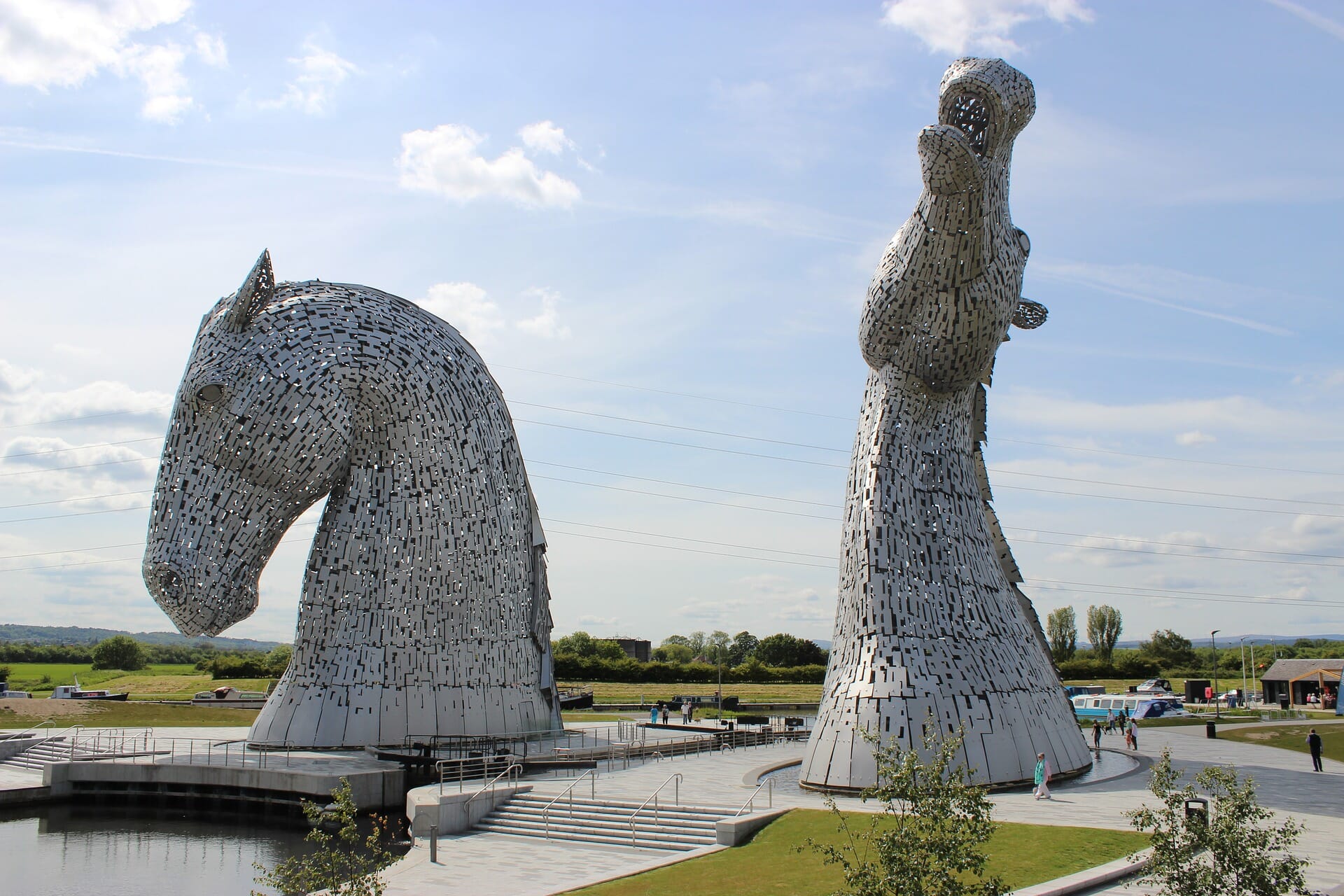 7. The Kelpies
The Kelpies are steel sculptures that stand 30 metres (98 ft) tall and are shaped to represent the giant horse-like heads of mythical water spirits. An amazing example of public art, The Kelpies look exceptional when photographed up close and from afar.
An extreme wide angle lens would be a solid choice for some close up shots. The sculptures also light up at night so blue hour may be a good time to capture these huge creatures.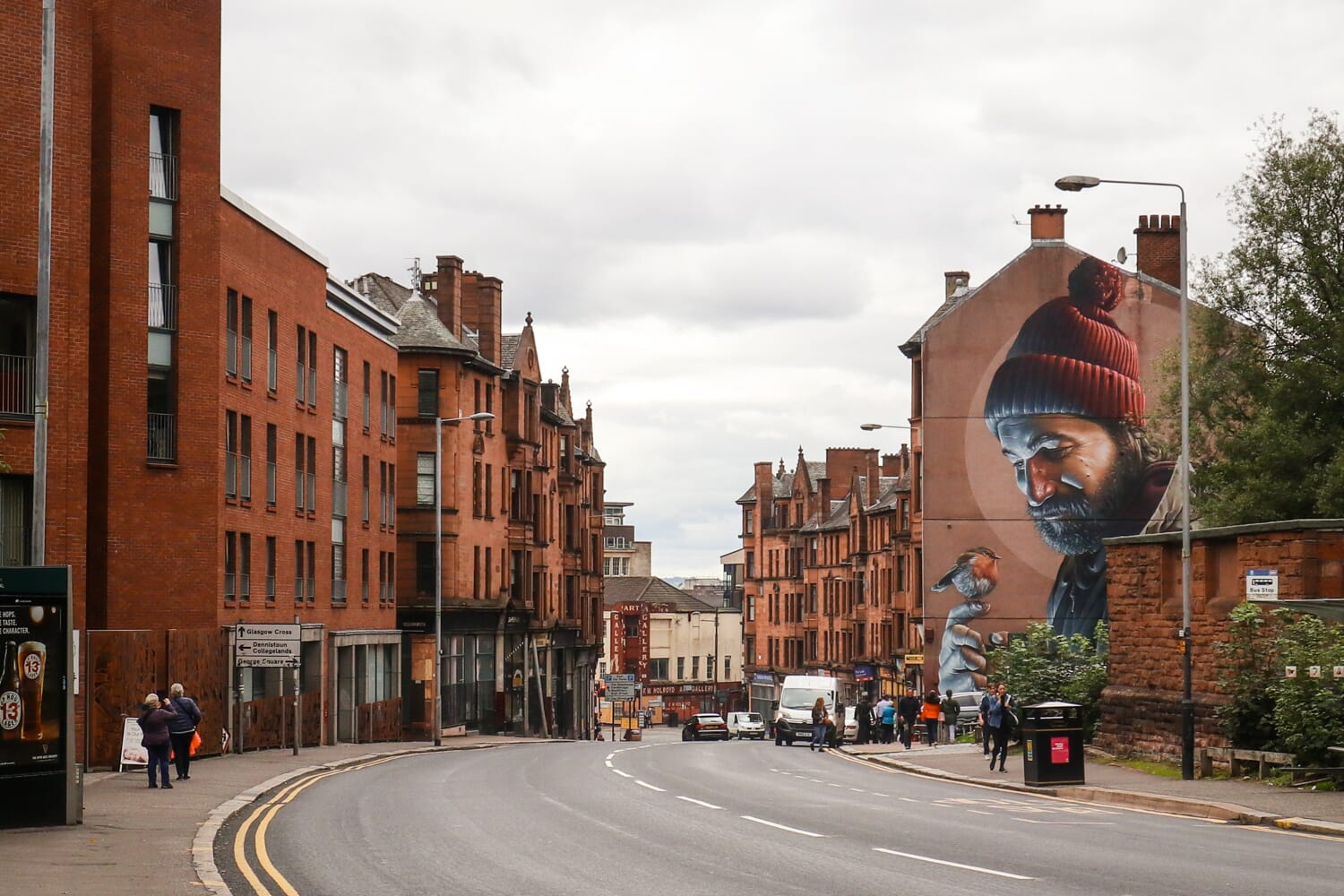 8. High Street, Glasgow
Scotland's photography opportunities go further than its landscapes. The big cities also have architectural locations that are worth seeing through your camera lens.
On Glasgow's High Street, you'll find rows of red-brown brick buildings that line up beautifully, making it a great place for street photography. I'd recommend seeking out the Saint Mungo mural for a great local art piece to feature in your photos.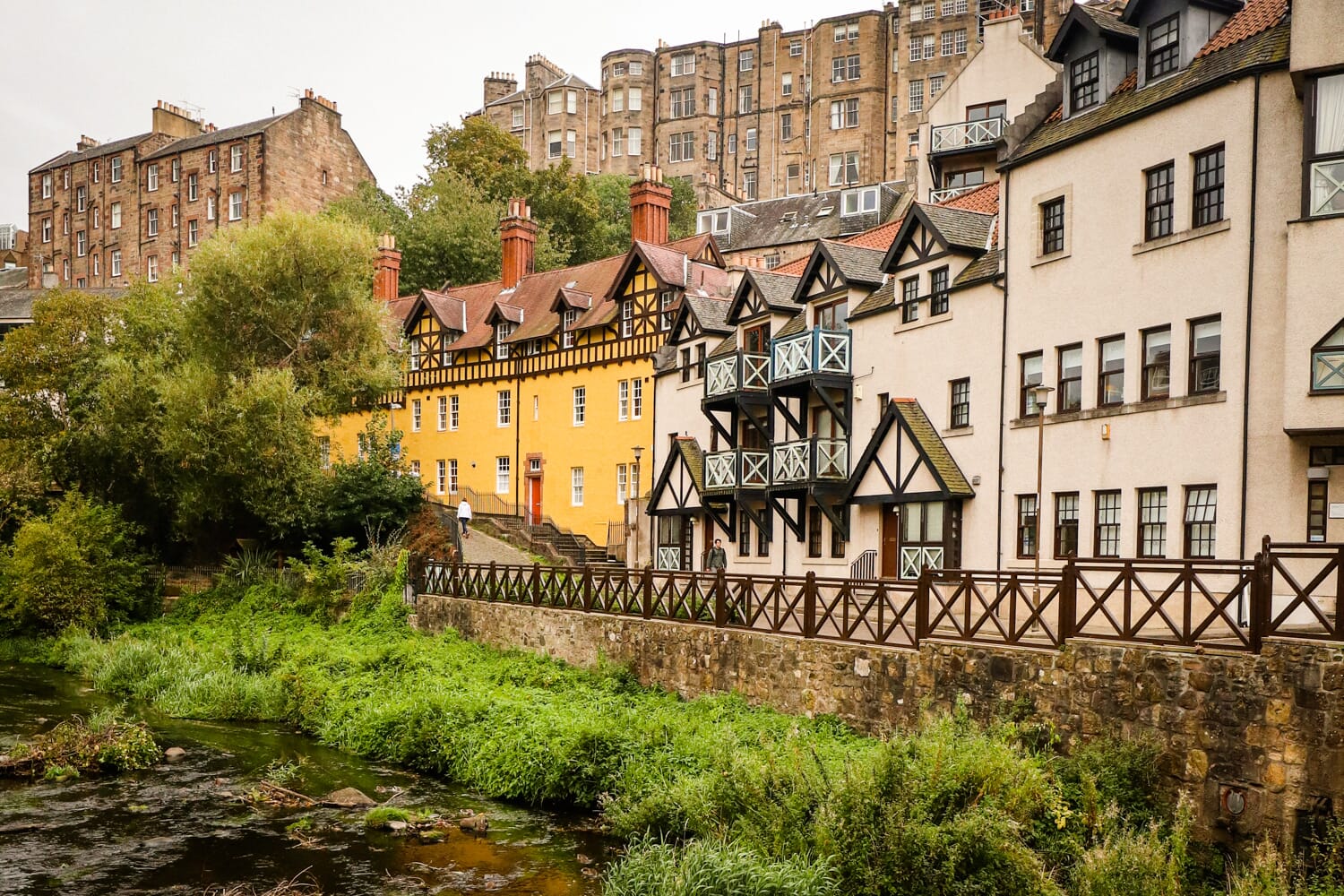 9. Dean Village, Edinburgh
In Edinburgh, you'll find a truly gorgeous collection of historic buildings hidden in Dean Village. The 12th century town sits on the Water of Leith and has the aura of a fairytale setting. To capture it, just walk along the rivulet and around the cobblestone alleys until you find some pretty spots. There are plenty of angles where the village looks dreamy.
There are plenty of amazing photography locations in Scotland and it would be impossible to name them all, but I think this list covers many of the best ones! Do you have any Scotland photo spots to share?