Recently, we came across a question on a digital photography forum. An enthusiast photographer was looking to buy the best portrait lens for his Canon EOS Rebel Series (Rebel T3).
He says he owns two kit lenses but wants to invest in a third lens, which would help him make better and sharper infant photography/portrait images. He also expressed his desire to shoot more macro photography.
In this article, we will make an attempt to answer his questions.
Best Portrait Lenses Overview
(for EOS Rebel/Crop Factor DSLRs)
Best Prime Lenses for Portraits
Best Telephoto Lenses for Portraits
Best Macro Lenses for Portraits
EOS Rebel T-Series and Crop-Factor
The Canon Rebel is a crop sensor camera which has a sensor size of 22 x 14.7mm. A crop sensor only uses the center area of the image coming through a 35mm lens. Thus, with lenses that are designed for 'normal' 35mm cameras, the Canon Rebel Cameras and other such crop-sensor cameras use the center area of the image while discarding the rest.
The effect is similar to using a slightly longer focal length. This is referred to as the 'crop-factor'. Different crop sensor cameras have different crop factors. Using the crop-factor it is possible to establish the 'effective focal length' of a lens when it is mounted on a crop-sensor camera. For Canon crop cameras the factor is 1.6x.
Lenses for the Canon EOS Rebel
There are also lenses which are tailor-made for these crop cameras. These have smaller image circles, optimized for the smaller sized sensor behind them. Canon calls these lenses EF-S mount. Where S stands for short back focus.
Crop cameras from Canon, at least the ones that are released in the last decade, tend to enjoy a wider choice of lenses. These cameras are compatible with both Canon EF (full-frame) and EF-S lenses.
Which Lenses are Suitable for Portraitures?
Traditionally, any lens that has a focal length of 85mm or longer is suitable for portraitures. A lot of photographers prefer the 70-200mm zoom. This lens covers what is known as the 'prime focal length range'.
A 70-200mm lens, when mounted on a Canon Rebel, will give the equivalent focal length coverage as that of an 112-320mm lens mounted on a 35mm camera.
At this stage, you might ask why do you need a long lens such as a 200mm for shooting portraits?
Distortion with Wide Angle Lenses
The reason is primary to do with distortion. No lens is optically perfect and distortion is evident in all lenses, albeit in varying degrees. Typically, a wide angle lens (by that I mean any lens that has a focal length under 50mm), will distort facial features. This happens because with a wide angle lens you cover a wider area of the scene. For portraitures, a tighter crop is preferred.
To do that you will need to move forward; and when you move forward, barrel distortion prevalent in wide angle lenses start to take effect. Facial features get elongated and distorted. It's a mess. With longer focal lengths, this problem never happens.
Depth of Field
The next question he asked: How to get a little more Depth of Field (DoF).
I presume he meant a bit more of the shallow depth of field which is often used in portrait photography.
In case, he meant a larger DoF, all he needs to do is to stop down the lens to a smaller aperture. Something like f/8 or f/11 and automatically a lot of the frame will be in focus.
You could also shoot at the hyperfocal distance and much of the frame will be acceptably sharp. Shallow DoF is the exact opposite. The shallow depth of field depends on a number of factors. But primarily it depends on the aperture being used.
Wide aperture equals smaller aperture number and narrow aperture equals higher aperture number.
With kit lenses, the maximum aperture that you can use is f/3.5. But that is too when the lens is zoomed out all the way. When zoomed in, at the end of the zoom, the maximum aperture stops down to f/5.6, even f/6.3 (depending on the specific lens). This is no good for those beautiful shallow DoF that you see in professional portraitures.
You may have heard about the term 'bokeh'. It is often used in conjunction with shallow DoF. Bokeh is not the same as shallow DoF. It refers to the quality of the out of focus area and not simply the out of focus area itself.
In no way am I hinting that aperture alone is responsible for getting a shallow depth of field. If there is a considerable amount of gap between the subject and the background, you are likely to get a similar effect. But by far aperture is the prime factor that governs depth of field.
Relates Post: Wide vs Narrow Aperture Examples
So what Aperture should you Shoot Portraits in?
To start off anything that is f/2 or wider. Kit lenses don't have that, but expensive zoom lenses, as well as inexpensive primes, do.
So here we are going to look at some of the best kit lenses alternatives.
Best Portrait Lenses And Upgrades From Your Kit Lenses
1. EF 50mm f/1.8 STM
Lenses such as the EF 50mm f/1.8 STM has a maximum aperture of f/1.8. With lenses such as this, you can create a much shallower DoF than what is possible with kit lenses.
Related Post: Best Canon Prime Lenses Reviewed
2. 85mm f/1.8 USM
Another choice would be the 85mm f/1.8 USM. This is a cheaper version costing less than $375.
3. EF 85mm f/1.2L II USM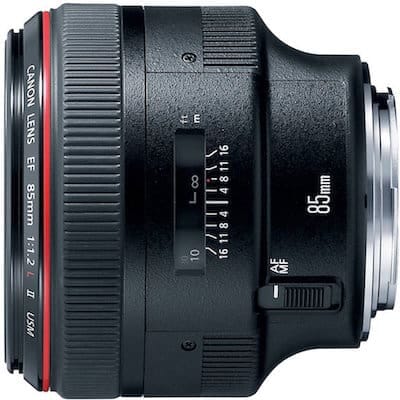 For those with a bigger budget, the EF 85mm f/1.2L II USM is a far better choice.
Both these Canon 85mm lenses are designed for the full-frame 35mm cameras. Thus, with a Canon Rebel cameras, you get an effective 35mm focal length equivalent of 136mm.
There are plenty of zoom lenses which offer a wider aperture compared to a kit lens.
Related Post: Find the Best DSLR Lenses for Your Canon 80D
Best Telephoto Zoom Lenses To Shoot Portraits
1. Canon 24-70mm f/4 L IS USM
Canon makes an excellent 24-70mm f/4 L IS USM lens which has a fixed f/4 maximum aperture.
This lens gives a 35mm format equivalent focal length of 38 – 112mm, ideal for portraits as well as landscape photography.
The wide f/4 aperture allows you to blur out the background and capture that beautiful bokeh.
Plus, this lens has something that none of the other lenses I mentioned thus far (barring the kit lenses) has – image stabilization. Image stabilization allows you to use a much slower shutter speed than you would normally be able to when hand holding a lens. This is a big advantage when shooting portraits in low light.
2. The EF 70-200mm f/4L IS USM
The final telelens that I will recommend is the EF 70-200mm f/4L IS USM.
This lens gives an effective 35mm format equivalent focal length range of 112-320mm. A slightly longer telelens is what this lens is when mounted on a crop sensor camera like the Rebel T-Series.
But it is worth the price because at times you would want to shoot from a distance instead of close-up.
Shooting from a close distance makes the model conscious. E.g., in the case of a baby she would be looking directly at.
A slightly longer focal length makes it possible to shoot candid images as the subject does not feel observed and will not make unnatural poses.
3. Sigma 18-35mm f/1.8 DC HSM Art Lens
There many other third party lenses that would work wonderfully well with the Canon T3.
Sigma has a bunch of Art lenses that are prime candidates.
My pick would be the 18-35mm f/1.8 DC HSM Art. Why a wide angle lens? You don't always need to zoom in tight. Even with a wide angle lens if the subject is placed towards the center of the frame distortions would be at its minimum.
Thus, if you are stuck with a wide angle lens don't feel disappointed. Forget the rule of thirds and place the subject at the center of the frame and fire away.
What About Lenses For Macro Photography?
When we talk about macro lenses we invariably talk about products, butterflies, and flower. But do you know that you can shoot a whole bunch of other images with macro lenses?
I'll explain. Let's say that you are photographing a baby. Why focus on her face only? Use a macro lens, get close and focus on her tiny hands, fingers and her eyes.
In a group photo when photographing the newborn with her parents, try to get some interesting perspectives. E.g. composing only three pairs of hands, with the little ones' at the top safely nestled between her parents' hands.
Related Post: The Best Macro Lenses for Canon (10 Top Picks)
Best Macro Photography Lenses
If you are not sure if a macro lens is the best lens for portrait photography, read the ups and downs here.
1. EF-S 60mm f/2.8 Macro USM
So, which are the best lenses for the job? At just about $400 the EF-S 60mm f/2.8 Macro USM is a popular choice for beginners.
It has a wide aperture, something you would need when working at extremely close distances, has USM or Ultra-sonic motor based auto-focusing and is designed for crop sensor cameras.
2. EF 100mm f/2.8 L Macro IS USM
For almost double the budget, the EF 100mm f/2.8 L Macro IS USM gives you a lot more features. It has image stabilization, a longer focal length, allowing you to shoot from further away and is an L lens, meaning it is better built than the previous non-L lens I mentioned.
---
As an Amazon Associate we earn from qualifying purchases. Certain content that appears on PhotoWorkout.com comes from Amazon. This content is provided 'as is' and is subject to change or removal at any time.