Skydiving is a thrilling sport, and often one that you only do once in a lifetime (or a few times at most). If you're a regular skydiver, or you're planning your first jump, you might be curious to know how best to document such an exciting venture. For this, you need the best skydiving cameras!
We've done all the research and hard work, determining the best specs and value for money so that you can just get your gear and jump!
Best sky-diving cameras in 2023:

When you buy through links on our site, we may earn a commission at no cost to you. We evaluate products independently. Commissions do not affect our evaluations.
Our Top Seven Skydiving Cameras
We have scoured the web and chosen a list of the seven best skydiving cameras on the market. Each model has a high-quality camera and is suitable for use when skydiving.
1. GoPro Hero 9
Our Pick
5K recording and excellent features
The Hero 9 is a brilliant action camera for skydiving with image stabilization and 5k resolution recording.
Pros
5K video recording.
A versatile range of mounts.
SuperPhoto automatic recording.
Cons
The Hero 9 is a brilliant action camera for skydiving with image stabilization and 5k resolution recording.
Our top pick is the GoPro Hero 9. This is the latest iteration of the popular action camera series, and it is undoubtedly one of the best skydiving cameras available. This compact camera is capable of recording in 5K – this means your skydiving clips will look incredible. The resolution is great, and the camera also has a 20MP resolution for still photos. To make capturing photos easier, the GoPro Hero 9 also has the SuperPhoto feature – this automatically chooses the best settings depending on the current composition conditions.
To keep your recordings smooth whilst skydiving, this action camera also features the latest version of GoPro's HyperSmooth technology – GoPro's form of video stabilization. As a result, you can expect easy focusing and smooth recordings without any jarring. The GoPro Hero 9 is also compact and lightweight. It can easily be attached to your helmet, wrist, or body via one of the various GoPro attachments. You can also create fun videos with various effects. For example, you can record in up to 8x slow motion, or shoot amazing time-lapse footage.
2. Sony HDR-AS50
Also Great
A durable design that is easy to use
The HDR-AS50 has some great features and can record at 1080p/120fps for slow motion footage.
Pros
Durable housing.
A variety of HD recording options.
11MP Exmor R sensor.
Cons
A little larger than some other cameras.
Sony has been a long-standing manufacturer of quality video cameras and the Sony HDR-AS50 is a great option for skydiving. This compact action camera has durable housing that is built to withstand various weather conditions (and the hefty falling speeds you'll experience when skydiving).
In terms of image quality, it has a decent 11MP Exmor R sensor, and can also record in full HD. You can also record at 1080p/120fps for high-quality slow-motion skydiving footage. To ensure your skydiving footage is clear and smooth, it also has excellent image stabilization with Sony's SteadyShot technology. This should help reduce motion blur, making for crisp frames of your skydiving adventures.
The interface is also relatively easy to use. You can quickly access the different menus to change your camera settings before your jump. And once you have landed, you can use the built-in Wi-Fi to quickly transfer your footage and images to your smartphone, tablet, or laptop to review them. You also get an excellent battery life that can last for up to 150 minutes of recording time.
3. Akaso Brave 4 4K Action Camera
4K quality and a durable case
The Akaso Brave 4 is a compact camera with some excellent features for skydiving such as a smart gyroscope to minimize shaking.
Pros
A great budget option.
4K recording quality.
A good selection of accessories and mounts.
Cons
The brand is not as well-known
Did you know that you can find a host of other action camera manufacturers aside from GoPro? There are some decent competitors that have similar compact action cameras for a fraction of the price. Akaso is one such manufacturer and features the AKASO Brave 4 4K Action Camera. This is a portable and compact camera that is perfect for skydiving due to its small size and utility.
For video quality, it can record at 4K/24fps, 2k/30fps, and even 1080p/60fps for slow-motion sky diving footage. It also has an excellent wide-angle lens and will help keep your recordings sharp with its built-in smart gyroscope. This works as a form of image stabilization and will ensure your recordings and photos are smooth.
This action camera is also fully connective and has Wi-Fi capabilities. We also like that it comes with a range of accessories, including 2 rechargeable batteries, a remote-control wristband. If you want a budget skydiving camera, this is an excellent option.
4. Olympus TG-Tracker
Great for GPS-tracking
The TG-Tracker has advanced GPS features for skydiving tracking.
Pros
A solid range of tracking sensors.
4K/30p recording.
204-degree wide-angle lens.
Cons
Not fantastic for still photos.v
The Olympus TG-Tracker is another quality action camera that is suitable for skydiving. For its basic quality, it can record at 4K/30p. We also really like the wide-angle lens this camera provides. It has a viewing angle of 204-degrees. Therefore, when shooting, you can capture great detail from your skydive. It has electronic 5-axis image stabilization which will greatly help reduce vibration and jarring.
This camera also has GPS tracking and a range of sensors. These sensors include an eCompass, accelerometer, thermometer, and barometer. This means you can record various data relating to your jumps. With this extra tech, you can add an extra level of excitement and detail to your skydiving adventures.
The design of the Olympus TG-Tracker is slightly larger than other cameras. However, it is still relatively compact. You may have to consider holding it whilst skydiving as it does not have any mounts. It does, however, have Wi-Fi so you can quickly connect to an external device like a smartphone to download and view your skydiving footage. Finally, this camera also works in conjunction with the Olympus Image Track App so you can see detailed information about your skydive jumps.
5. DJI Osmo Action
Incredibly small and lightweight
This compact action camera is easy to use and will add hardly any extra weight to your skydiving gear.
Pros
RockSteady image stabilization.
12MP CMOS sensor and 4K HDR videos.
Wide-angle lens at 145-degrees.
Cons
Not as high resolution as some other cameras.
DJI might specialize in drones, but they also have a fantastic action camera – the DJI Osmo Action. This is one of the best skydiving cameras because of its small size and portability. You can easily attach this camera to your helmet via a head mount. It features simple controls so you can easily start recording before your jump.
In terms of image quality, it has a 12MP CMOS sensor. This is decent and should allow you to capture great photos. You can record at 4K and you even have the option to record slow-motion footage at 1080p/240fps. This gives you plenty of versatility for your skydiving recordings.
The casing is also durable. It is waterproof up to 11m, and temperature resistant up to 14F. Given the altitudes you'll be at when skydiving, these specs should offer some extra peace of mind. In the basic package, you get the camera together with a frame, adhesive mount, case, and locking screw among other accessories.
6. Insta360 ONE X2
Compact quality for skydiving
This compact camera has great 360-degree recording capabilities.
Pros
360-degree recording.
Self-stick removal feature.
5.7K resolution at 30p.
Cons
Only suitable for video.
Insta360 have a great range of action cameras, and one of their latest designs is the Insta360 ONE X2. This is an upgrade compared to the previous version and is capable of 5.7K 360-degree video recording. As one of the best skydiving cameras, the Insta360 ONE X2 is incredibly small and compact. It can easily be mounted on a helmet, wrist, or body, and weighs in at just 4.9 ounces.
For skydiving, the 360-degree functionality will allow you to create immersive recordings with excellent detail. It has a steady cam mode and FlowState stabilization. These features mean you can capture steady and smooth footage with no jarring. There is also the useful invisible selfie stick mode which means you can hold the camera with a selfie stick, and it will automatically crop the stick like a green screen.
The Insta360 ONE X2 also has a good battery life and great connectivity. It has Wi-Fi and Bluetooth connections, and charges via a USB-C cable (included). If you want a portable action camera that takes minimal effort to use for skydiving, this is one of the best options available.
7. GoPro Hero 8 BLACK
Budget Choice
Versatile mounting options
The HERO 8 Black remains a quality action camara for sky diving.
Pros
Versatile mounting options
4K UDH and 1080p/240fps recording.
Various mounts and attachments.
Cons
Doesn't have the latest image stabilization.
If you don't want to pay for the latest GoPro Hero model, the GoPro HEO 8 Black is still a viable alternative. This is the previous version, but it still one of the best skydiving cameras. As you would expect, this camera has excellent connectivity and utility. It can be attached via a range of fixtures and mounts, and you should be able to easily secure it for your skydiving.
In terms of basic recording, the Hero 8 BLACK can record at 4K or 1080p at 240fps. This means that you could also experiment with slow-motion footage of your skydiving jumps. Although this camera does not have the latest image stabilization tech, the HyperSmooth 2.0 technology is still impressive. You can expect smooth footage with no jarring. This is a great affordable action camera and perfect for use with skydiving jumps.
Key Factors to Look Out For When Choosing the Best Skydiving Camera
Because skydiving involves jumping from high in the sky and descending at top speeds, there are certain factors you need to consider when choosing your skydiving camera. Certain things you need to take into account include the cost, camera resolutions, mounting methods, and overall size.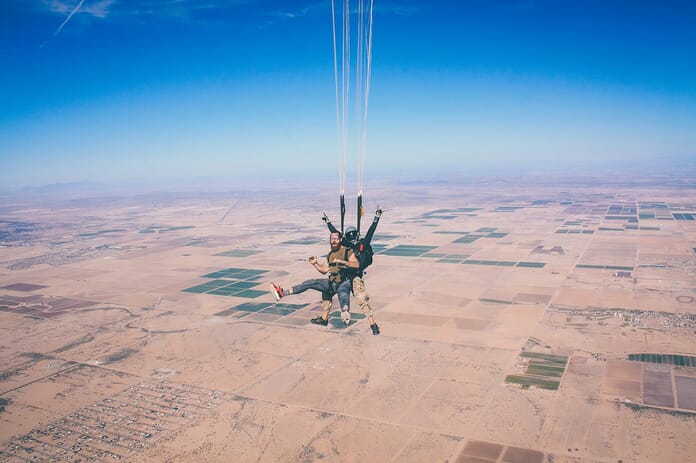 Cost
While cost shouldn't be the determining factor in choosing a camera, it often is. Budgets are limited and cameras on the market are only going to take you so far. Other factors, such as resolution, will likely be compromised to fit your budget. Thankfully, the best skydiving cameras aren't ridiculously expensive.
Camera Resolution
The resolution of both the photo and video is one of the biggest concerns. Imagine purchasing a camera and testing it out. You have paid money for the camera and skydive. On uploading the video to your computer, you find the footage is pixelated and out of focus! This would be hugely disappointing. Hence, why the resolution is important. Ideally, a camera that can record in full 1080p HD format would be suitable. You'll also want to look at the framerate and megapixel quality too.
Mounting Methods
When skydiving, you cannot hold a camera in your hand. This would be unsafe. You also run the risk of dropping it. This is why you should consider mounts and attachments. Different cameras have a variety of attachments. Some, for example, may have a head strap. Additionally, others may have wrist straps or even chest straps. Look at what options are available. Consider what you would actually be comfortable wearing.
Size and Weight
Finally, when choosing the best skydiving cameras, size and weight play an important role. Obviously, carrying a large DSLR camera when skydiving would be impractical. You must look at the overall dimensions and weight. Can you easily carry the camera? Is it comfortable to be held for longer durations?
Consider these above pointers and you should have no issue choosing the best skydiving cameras.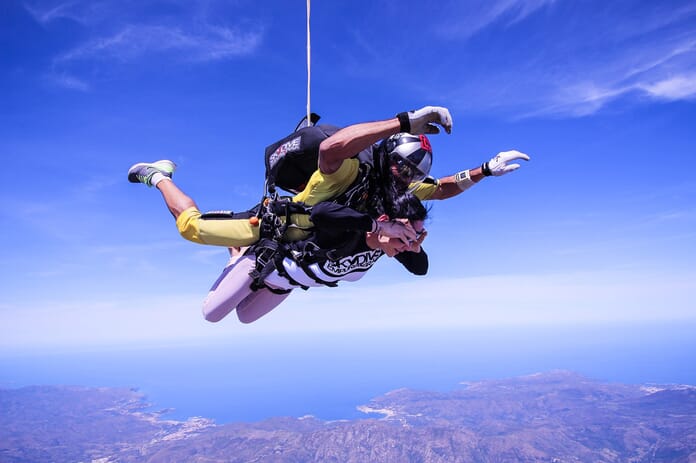 Wrap Up
If you have a skydiving trip upcoming, these cameras are perfect for capturing some remarkable shots. Any of the above 7 models will give you excellent quality video whilst falling through the sky.
GoPro's models are obviously a top choice, like the GoPro Hero 9. This company is renowned for creating magnificent quality recording devices. But many of the other options here are great choices too, like the Sony HDR-AS50, and the Insta360 ONE X2.
Skydiving Camera FAQs
How many skydives must you take before wearing a camera?
This depends on your country and regulations. However, in the US, for example, it is advised that you should have completed 200 jumps before using any type of recording device.
Can you record audio when skydiving?
Of course, however, it is unlikely that you will be able to hear anyone speaking. The audio will most likely be composed of noise from the falling and wind.
---
Disclosure/Disclaimer: As an Amazon Associate, we earn from qualifying purchases. Certain content was provided "as is" from Amazon and is subject to change or removal at any time.