Skydiving is a thrilling sport, and often one that you only do once in a lifetime (or a few times at most). If you're a regular skydiver, or your planning your first jump, you might be curious to know how best to document such an exciting venture. For this, you need the best skydiving cameras!
We've done all the research and hard work, determining the best specs and value for money so that you can just get your gear and jump!

Key Factors to Look Out For When Choosing the Best Skydiving Camera
Because skydiving involves jumping from high in the sky and descending at top-speeds, there are certain factors yo need to consider when choosing your skydiving camera. Certain things you need to take into account include the cost, camera resolutions, mounting methods, and overall size.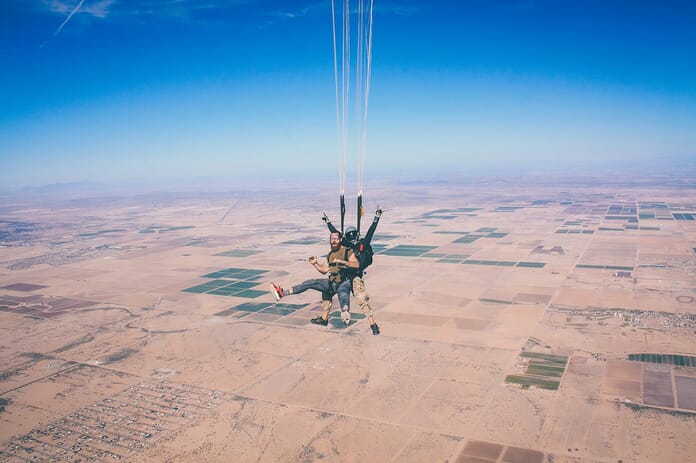 Cost
While cost shouldn't be the determining factor of choosing a camera, it often is. Budgets are limited and cameras on the market are only going to take you so far. Other factors, such as resolution, will likely be compromised to fit your budget. Thankfully, the best skydiving cameras aren't ridiculously expensive.
Camera Resolution
Resolution of both the photo and video is one of the biggest concerns. Imagine purchasing a camera and testing it out. You have paid money for the camera and skydive. On uploading the video to your computer, you find the footage is pixelated and out of focus! This would be hugely disappointing. Hence why the resolution is important. Ideally, a camera that can record in full 1080p HD format would be suitable. You'll also want to look at the framerate and megapixel quality too.
Mounting Methods
When skydiving, you cannot hold a camera in your hand. This would be unsafe. You also run the risk of dropping it. This is why you should consider mounts and attachments. Different cameras have a variety of attachments. Some, for example, may have a head strap. Additionally, others may have wrist straps or even chest straps. Look at what options are available. Consider what you would actually be comfortable wearing.
Size and Weight
Finally, when choosing the best skydiving cameras, size and weight play an important role. Obviously, carrying a large DSLR camera when skydiving would be impractical. You must look at the overall dimensions and weight. Can you easily carry the camera? Is it comfortable to be held for longer durations?
Consider these above pointers and you should have no issue choosing the best skydiving cameras.

Best Skydiving Cameras
We have scoured the web and chosen a list of 5 best skydiving cameras. Each model has a high-quality camera and is suitable for use when skydiving.
Recording Quality: 4K HD
Price: $349.00
Size: 1.1 x 1.9 x 2.6 inches
Weight: 0.8 ounces
Attachments: Head strap, chest strap, wrist strap
The GoPro Hero 8 is the latest model in the Hero range and is undoubtedly one of the best skydiving cameras. GoPro is renowned for creating high-quality action cameras and the Hero 8 is no exception. The device is ultra-compact and one of the smallest in this list – it is lightweight and has an amazing design. An added bonus is that you can use a wide range of official GoPro accessories and mounts.
Video quality is 4K 60FPS and the Hero 8 also features the patented HyperSmooth 2.0 image stabilization. The basic quality of the video and photos is amazing on this device and is difficult to be beaten. The Hero 8 has a high-quality digital lens that is distortion-free and offers a brilliant wide-angle recording perspective. If you want a reliable device, that is robust and can withstand the pressure of skydiving, the GoPro Hero 8 is a top choice.
Our Top Choice
Best quality skydiving camera
This is the latest GoPro Hero model offering exceptional quality and functionality
Recording Quality: 4K HD
Price: $369.99
Size: 1.2 x 1.9 x 3.3 inches
Weight: 4.2 ounces
Attachments: N/A
The Sony FDR-X3000 is primarily an underwater camera, but it works fantastic as one of the best skydiving cameras too. Firstly, it can record at 4K HD quality. And for photography, it has a 12MP resolution sensor and uses the latest Exmor R sensor from Sony that is used in many DSLR cameras. The Zeiss Lens is crystal clear and allows for the creation of beautiful wide-angle photography and video.
The design looks superb, and the white casing is stylish but robust. It is ultra-compact and easy to mount when used during skydiving sessions. In addition to this, you can set 3x different zoom lengths which give you greater flexibility for your skydiving footage.
Finally, the Sony FDR-X3000 has a built-in GPS, and WiFi connectivity so that you can track your movements, and quickly download media to your handheld devices after your skydiving session.
Best Photo Quality
Sleek design and brilliant connectivity
With a 12MP Exmor R sensor, this camera is capable of producing excellent photos. It also looks superb and has a high-quality Zeiss lens.
Recording Quality: 4K HD at 30FPS
Price: $278.00
Size: 2.4 x 1.2 x 1.6 inches
Weight: 3.2 ounces
Attachments: Protective case
Garmin has produced a brilliant compact action camera that has excellent performance for skydiving. The raw video footage has a maximum quality of 4K UHD, at 30fps. In addition to this, if you have a particularly bumpy skydiving session, the 3-axis image stabilization will ensure your footage is smooth.
If you want to look at advanced metrics and information about your skydiving missions, the Garmin VIRB Ultra provides a host of statistics. You can look at GPS data, and other G-Metrix relating to your skydive. This information can be overlaid on top of your video footage.
There are three versions available of this device – VIRB X, VIRB XE, and the VIRB Ultra. The Ultra model provides the best video quality and image stabilization. Overall, this is a high-quality camera, with a compact design, and some useful features specifically for skydiving.
Advanced Tracking Option
Allows for the overlay of skydiving stats
Aside from the excellent video quality, the Garmin BIRB Ultra 30 is a treat for those who want to record statistics relating to their skydiving jumps.
Recording Quality: 4K HD
Price: $128.00
Size: 3.7 x 1.4 x 2.2 inches
Weight: 6.4 ounces
Attachments: N/A
The Olympus TG-Tracker is a robust camera that looks like it can withstand the rigors of skydiving. It has a tough exterior shell that provides protection and improves stability. It also features a fixed, fish-eye lens that allows you to take ultra-wide-angle photos and have excellent viewing fields when recording video footage.
In terms of quality, video recordings are 4K HD, and photos have a resolution of 8MP. Although the resolution of photos is not one of the highest, the quality is still great. This camera has several different settings and you can capture excellent slow-motion footage of your skydiving.
The design is functional and despite the tough casing, the camera is still lightweight and ultra-compact. One of the best features of the Olympus TG-Tracker is the data log mode. This allows you to look at real-time data on the screen like altitude, location, speed, and distance – this is brilliant for advanced stats relating to your skydiving trips.
Robust Camera Design
Data-log mode allows you to track real-time statistics
This camera has a brilliant combination of functionality and quality. The 4K HD video records smoothly, and the data-log feature offers advanced stats if you require them.
Recording Quality: 4K HD (30FPS)
Price: $129.99
Size: 2.56 x 0.83 x 1.65 inches
Weight: 2.12 ounces
Attachments: Waterproof case, selfie stick mount
Yi is an emerging company that produces a variety of high-quality action cameras. The Yi 4K Action and Sports Camera offer a host of useful settings and brilliant image quality. This particular model can record in 4K HD, and also 720p at 240 FPS – this means that you can create awesome slow-motion footage of your skydiving adventures.
To ensure your skydiving footage is smooth, the Yi 4K has advanced video stabilization (EIS). This EIS uses multi-axis gyroscopes and accelerometers to detect movement and adjust accordingly. It uses the advanced Sony IMX377 image sensor which provides 12MP photo quality. There is three different versions of this device – each of which provides different image quality – we advise purchasing the 4K/60 model which has the best quality video.
Aside from the brilliant quality, the Yi 4K also has WiFi connectivity, and a supporting app you can use to download files straight from the camera.
Advanced EIS Option
Capable of super slow motion at 720p and 240 FPS
The YI 4K has a simple design but is a powerful device. Expect 4K recording, advanced image stabilization, and a range of slow-mo options.
Recording Quality: 5.3K HD
Price: $199.99
Size: 2.85 x 1.68 x 1.45 inches
Weight: 3.84 ounces
Attachments: Wrist strap, head mount, protective case
The Rylo 360 Action Camera is a tiny device that packs a punch! The spherical design is robust and easy to handle.There is a standard attachment case, and a range of mounts that make it perfect for skydiving. In addition to this, the device actually features two lenses – one each side of the camera. This means that you can capture more action without having to move the device, or continually adjust your positioning whilst skydiving.
We also applaud the connectivity of this camera – you can connect to it using the Magical Rylo App – this allows you to upload videos and photos straight to your smartphone or tablet. Finally, we have to mention the quality – this device is capable of recording at 5.3K HD – your video footage and photos will look amazing and have excellent clarity.
Finally, this device has high-quality image stabilization meaning that you can pull off some awesome mid-air twists and turns without reducing the smoothness of the recording. If you want to veer away from the GoPro brand, the Rylo 360 Action Camera is a brilliant alternative.
A Twin Lens Choice
Brilliant connectivity via the Magical Rylo App
The twin-lens of this device is perfect for capturing as much skydiving action as possible.
Recording Quality: 4K UHD
Price: $194.49
Size: 1.75 x 2.44 x 1.1 inches
Weight: 4.13 ounces
Attachments: Head Strap, Wrist Strap, Helmet Mount
We couldn't create this article without including more than one GoPro camera! GoPro remains the top choice for action cameras, and although other manufacturers are gaining popularity, it is still the go-to brand. If you aren't bothered about purchasing the latest model, maybe the GoPro Hero 7 could be a great choice for the best skydiving cameras?
This compact device looks superb and features an easy-to-use design. It also allows you to record in full 4K HD quality and use a myriad of shooting settings. For skydiving, Hero 7 provides video stabilization which means that despite the huge effects of gravity, your photos and footage should still look smooth.
Although the photos are only 10MP resolution, the quality still looks fantastic. In addition to this, you can benefit from the range of superb GoPro accessories to mount the camera in a suitable position when skydiving. If you don't want to pay the price of the newest GoPro Hero 8, Hero 7 is still a brilliant camera for skydiving.
Best Older Model
Outstanding image and recording quality
The GoPro Hero 7 is still a top pick and features all the design traits and quality you would expect from this brand.
The Best Skydiving Camera: Wrap Up
If you have a skydiving trip upcoming, these cameras are perfect for capturing some amazing shots. Any of the above 7 models will give you excellent quality video whilst falling through the sky. GoPro's models are obviously a top choice. This company is renowned for creating magnificent quality recording devices. But many of the other options here are great choices too.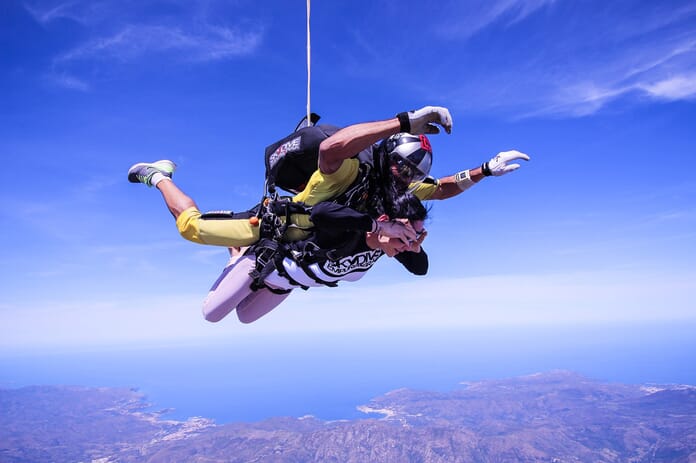 ---
As an Amazon Associate we earn from qualifying purchases. Certain content that appears on PhotoWorkout.com comes from Amazon. This content is provided 'as is' and is subject to change or removal at any time.