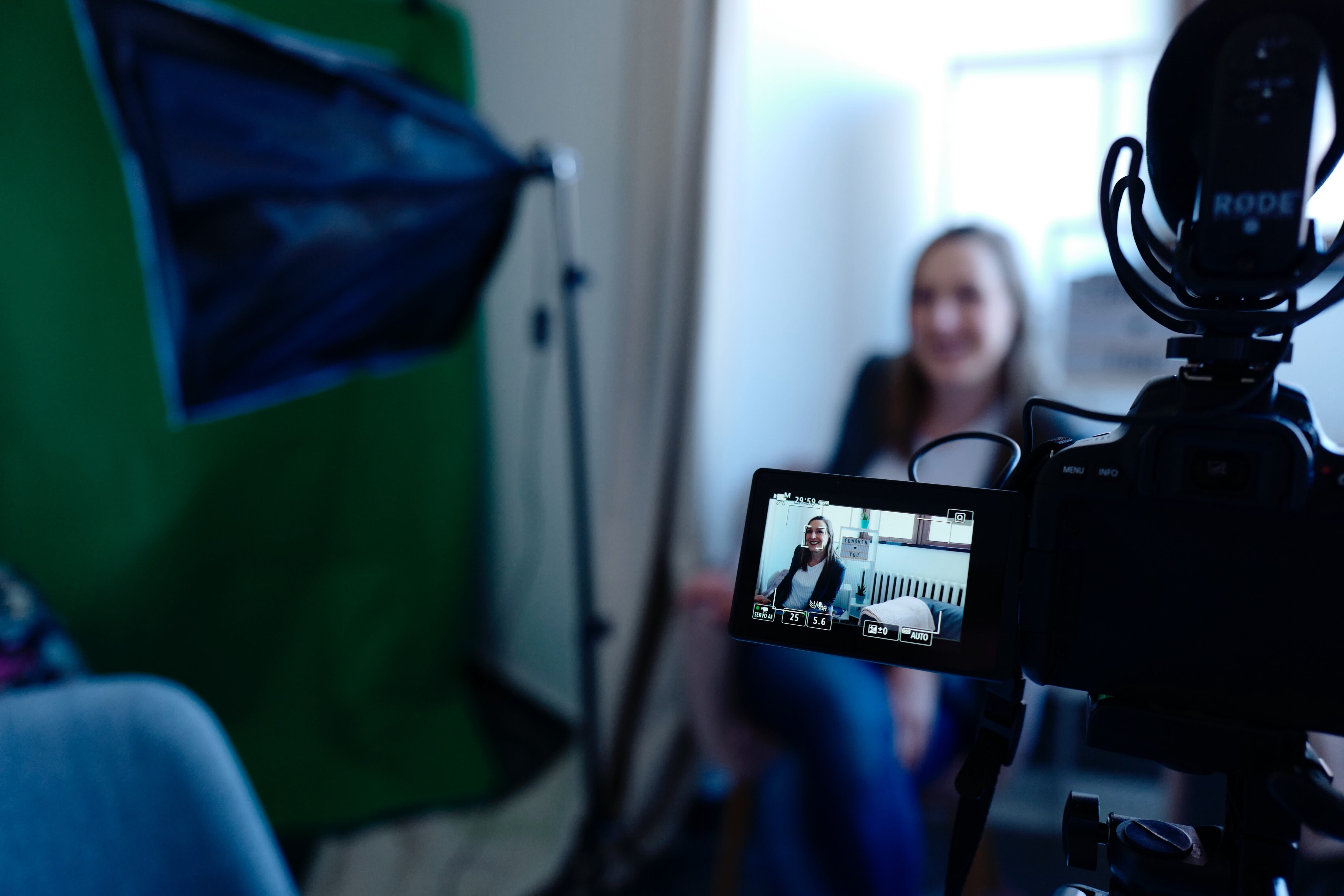 Sharing your life on YouTube, Facebook, and other social media platform is becoming increasingly popular. You might be looking to start your own vlogging series, documenting events in your own life or just sharing something you're good at. If this is something you're considering, you're going to need some high-quality gear. In this article, we look at the best Sony vlogging cameras available.
We chose Sony because they offer something for everyone. If you're looking for something more serious, their impressive line of mirrorless cameras is sure to fit the bill. If you're interested in something lower-cost, or smaller in size, then some of the Sony Cyber-shot models are amazing for vlogging purposes.
"A compact device with exceptional video functionality"
Specifications
Sensor – 20.1MP 1.0-type Exmor CMOS sensor
Image Processor – BIONZ X
Lens – Zeiss 24-70mm f/1.8 – f/2.8
Optical Zoom – 11x
EFV – Yes
Max ISO – 25,600
Video Quality – 4K HD
Dimensions – 101.6 x 58.1 x 41.0 mm
Weight – 290g
Overview
First, we have the Cyber-shot DSC RX100 III. This is the third version of the popular RX100 model and has a great set of features for video recording. You can record footage at 4K HD quality, and the Zeiss lens provides excellent clarity and sharpness.
In addition to this, the camera supports numerous top recording formats including XAVC S, and AVCHD. These video formats offer ultimate quality – the camera can also record in MP4 which is one of the formats often used for videos uploaded to the web.
This is clearly one of the best Sony vlogging cameras when it comes to video recording capabilities. The body itself also has a stylish and ergonomic design. The device is small and easy to hold and the buttons are logically placed. The LCD display screen is crystal clear and able to flip 180-degrees.
Related Post: Best Compact Cameras with Viewfinders
A small, yet mighty camera perfect for any vlogger
This camera offers 4K recording with a crisp optical element for stunning footage. The flippable LCD screen is an added bonus!
"Lightweight, stylish, and astounding video quality"
Specifications
Sensor – 20.1MP 1.0-type stacked CMOS sensor
Image Processor – BIONZ X
Lens – Zeiss 24-70mm f/1.8 – f/2.8
Optical Zoom – 11x
EFV – Yes
Max ISO – 25,600
Video Quality – 4K HD & super slow motion
Dimensions – 101.6 x 58.1 x 41.0mm
Weight – 290g
Overview
The RX100 IV is the next version of this Cyber-shot point and shoot camera after the RX100 III. This device is essentially the same but provides some additional video features including 40x super slow motion. If you envision recording any slow-motion footage, this camera could be a perfect choice.
The slow-motion capabilities allow you to record at a staggering 960fps. The slow-motion recording also offers various settings giving the user great control and flexibility. In addition to this, the Cyber-shot RX100 IV has a standard shooting feature called Clip 4K – this allows users to quickly create short videos with minimal effort. If you do want advanced vlogging capabilities, the XAVC S codec is available.
This camera is great for vlogging – it is compact and weighs just 290g – it can easily fit in your pocket. The different video settings and recording features are able cater for both beginner and professional vloggers.
A powerful compact camera with slow-motion technology
If you're looking to get an edge on your vlogs, the slow-motion feature on this camera might be just what you need. The compact design of the camera makes it great for any vlogger.
"A minute device with epic recording capabilities, suitable for action vlogging"
Specifications
Sensor – 15.3MP 1.0-type CMOS RS Sensor
Image Processor – BIONZ X
Lens – Zeiss 24mm f/4.0
Digital Zoom – 4x
EFV – No
Max ISO – 25,600
Video Quality – 4K HD up to 16fps continuous
Dimensions – 59.0 x 40.5 x 29.8mm
Weight – 110g
Overview
Now we look at the best Sony vlogging camera that is similar to a GoPro. This device is completely different from the Cyber-shot series and offers something different. Instead of a point and shoot device, this is a small camera that should be mounted or used for remote recording. It can be used for action shots and sports vlogging.
This camera also has great potential for set-piece recording – you can position this camera as a secondary recording device and capture fluid scenes. The recording capabilities really are fantastic, and the Zeiss lens with a 24mm focal length provides awesome quality.
In addition to the above, the camera is both shockproof, and waterproof up to 2.0m. We don't recommend heavy usage of this device, but it is robust and can withstand a great deal of action!
A camera without limits
This camera is made for action and sports vloggers. It has a waterproof and shockproof design and can be mounted to equipment for a new point of view!
"A powerful mirrorless camera with interchangeable lenses"
Specifications
Sensor – 24.2MP Exmor CMOS sensor
Image Processor – BIONZ X
Lens – Sony E-mount lenses
Optical Zoom – N/A (dependant on lens)
EFV – Yes
Max ISO – 25,600
Video Quality – 4K 3840 x 2160
Dimensions – 120 x 66.9 x 48.8mm (without lens)
Weight – 361g (without lens)
Overview
Now we have our first mirrorless camera suitable for vlogging with interchangeable lenses. The camera utilizes the E-mount lens system and you can purchase a range of different lenses to enhance your video recording. The quality of the video is excellent with 4K recording. This is enhanced by the exceptional auto-focus system which works well in various lighting conditions.
The Alpha a6300 also benefits from its relative lightweight size. Even with a lens attached, it is still easy to carry when vlogging on the move. Moreover, the camera has enhanced video features that improve the basic recording quality such as an S-Gamut/S-log, and XAVC S codec formats.
Finally, the device has a beautiful LCD screen that can be tilted and rotated – you can easily record from various different angles. If you have additional funds and want to purchase a high-end mirrorless camera for recording, the Alpha a6300 is an amazing choice.
An entry-level mirrorless camera for anyone looking for a little bit more
If you want an interchangeable lens camera and are perhaps hoping to dip your toes into photography, the a6300 is a great entry-level mirrorless camera.
Related Post: Best Lenses for the Sony Alpha a6300
"Impressive full-frame camera with stunning video features"
Specifications
Sensor – 42.4MP Exmor R CMOS Sensor
Image Processor – BIONZ X
Lens -Sont E-mount lenses
Optical Zoom – N/A
EFV – Yes
Max ISO – 320,000
Video Quality – 4K HD
Dimensions – 126 x 95 x 73mm
Weight – 657g
Overview
This full-frame camera is the most expensive on this list, but it represents some of the best quality photo and video capabilities in this list. If you intend to make vlogging your profession, consider splashing out on this amazing camera. The max ISO of 320,000 combined with the exceptional auto-focus, and sensor mean that video looks superb; even in low-light situations.
Furthermore, the device is compatible with Sony E-mount lenses giving you great flexibility. In terms of video features, you can utilize 5K oversampling, and even create HDR movies. The fast hybrid autofocus system means that capturing action and moving objects, or switching focal lengths is a breeze with this device. The aR7 III is certainly the best of the Sony vlogging cameras, and a brilliant camera for photography too.
A full-frame beast for serious vloggers
For those looking to upgrade or really take vlogging seriously, the a7RIII is the best camera on the list. Offering full-frame resolution, you will not be disappointed with this camera.
"An affordable camera suitable for beginners in the world of vlogging"
Specifications
Sensor – 18.2MP Exmor R CMOS sensor
Image Processor – BIONZ X
Lens – Zeiss Vario-Sonnar T
Optical Zoom – 30x
EFV – Yes
Max ISO – 12,800
Video Quality – 4K
Dimensions – 102 x 58 x 35mm
Weight – 245g
Overview
To conclude, we have listed a basic point and shoot model that is a great entry camera for those starting out in vlogging. The DSCHX80 is compact and lightweight, and easy to use as a vlogging device. If you're wanting to get high-resolution footage, this camera still boasts 4K video capabilities, and an impressive 30x optical zoom. In addition to this, the device records in a host of video formats including XAVC S, and AVCHD.
The auto-focus of the HX80 is also adequate for recording action footage, and the 180-degree tilting LCD screen allows you to record from various angles without compromising your control.
An affordable option perfect for beginners
If you're just looking to have some fun making vlogs then this budget option is a great choice. Offering 4K video, you don't have to compromise on quality with this camera.
Get Vlogging Now!
We hope you have found this information useful. You can now choose the best Sony Vlogging camera and start recording your own footage today. When choosing a suitable camera, we advise considering the following:
Purpose
Portability
Video format
First and foremost, identifying the purpose is important. You may, for example, need a camera for extreme sports vlogging. In this instance, using a camera like the RX0 could be preferable – this camera is durable, shockproof, and waterproof. Alternatively, if you need a camera for studio vlogging, you could use something larger like the Sony AR7 III which can be mounted on a tripod. Consider the purpose, and choose a vlogging camera accordingly.
You should also look at the required video quality and the level of portability that you need. As you have seen above, different Sony cameras have varying recording quality, maximum frame rate, and the ability to record different formats. We advise understanding what video format and quality you require – this will greatly impact which camera you choose.
Finally, it is advisable to look at zoom requirements and focal length. For example, a travel vlogger may need video recording functionality with enhanced zoom. They may need to zoom on different landscapes or parts of a city, for example.
Whatever camera you choose, make sure to learn some vlogging essentials before getting started!
---
As an Amazon Associate we earn from qualifying purchases. Certain content that appears on PhotoWorkout.com comes from Amazon. This content is provided 'as is' and is subject to change or removal at any time.