Are you struggling to choose between the Canon EOS 800D vs Nikon D5600?
It's a common problem.
But in this article, we break down both cameras. We give you the pros and cons of each–and explain which is right for you.
Are you ready?
Let's dive right in.
When you buy through links on our site, we may earn a commission at no cost to you. We evaluate products independently. Commissions do not affect our evaluations.
Canon EOS 800D vs Nikon D5600: First Look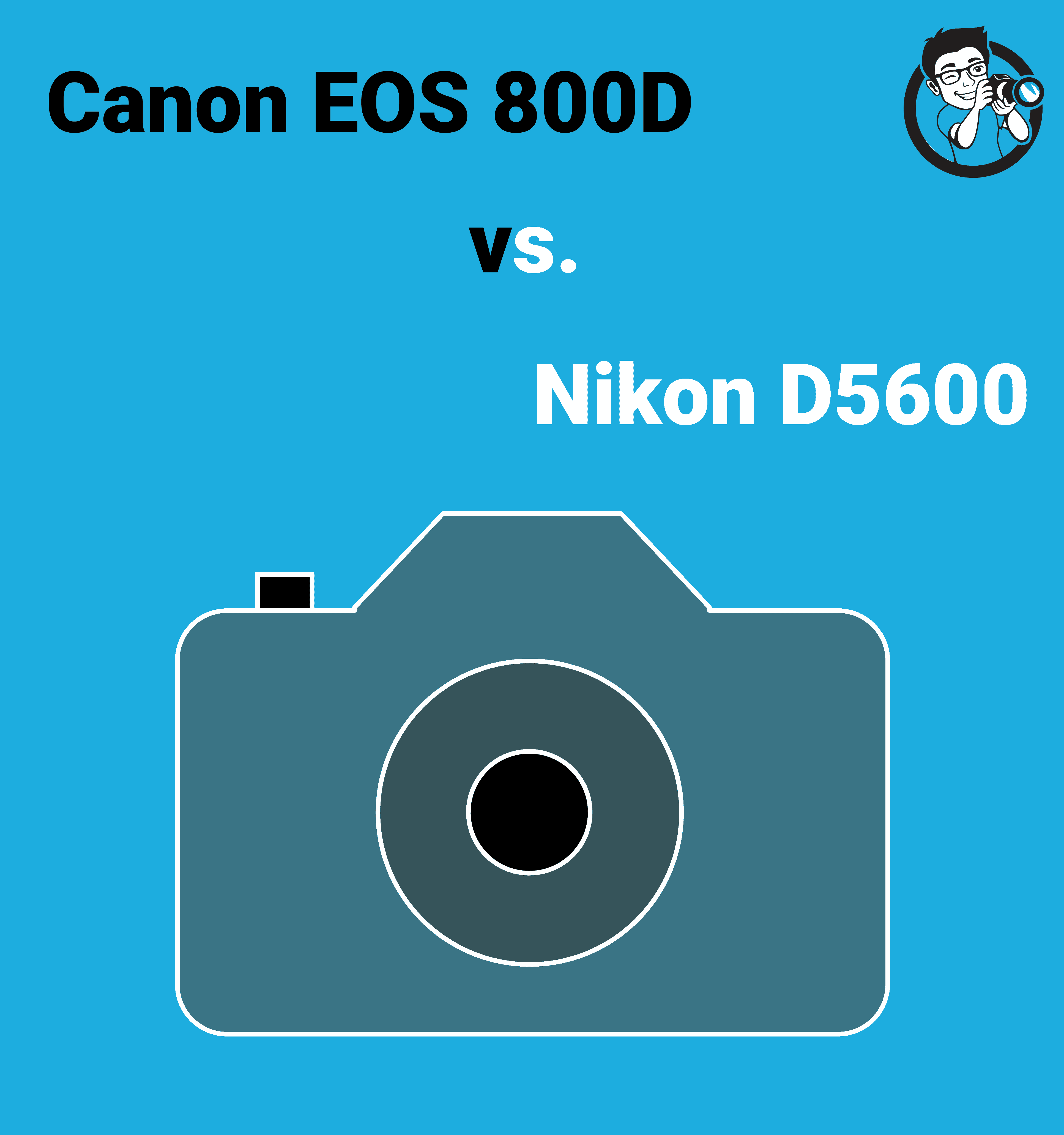 On the surface, the Canon EOS 800D (also known as the Canon Rebel T7i) and the Nikon D5600 are full of similarities.
Both the Canon 800D and the Nikon D5600 offer 24.2 MP APS-C sensors.
Both the Canon 800D and the Nikon D5600 offer impressive image quality, especially for the price.
And both the Canon 800D and the Nikon D5600 have articulating touch-screens.
But there are some key differences between these two options.
For one, the Canon 800D includes Canon's dual-pixel autofocus, making for ultra-fast Live-View focusing.
And the Canon 800D possesses 45 autofocus points, all cross-type, compared to the Nikon D5600's 39 points (with only 9 cross-type sensors). This makes the Canon 800D a faster, better option when it comes to autofocusing.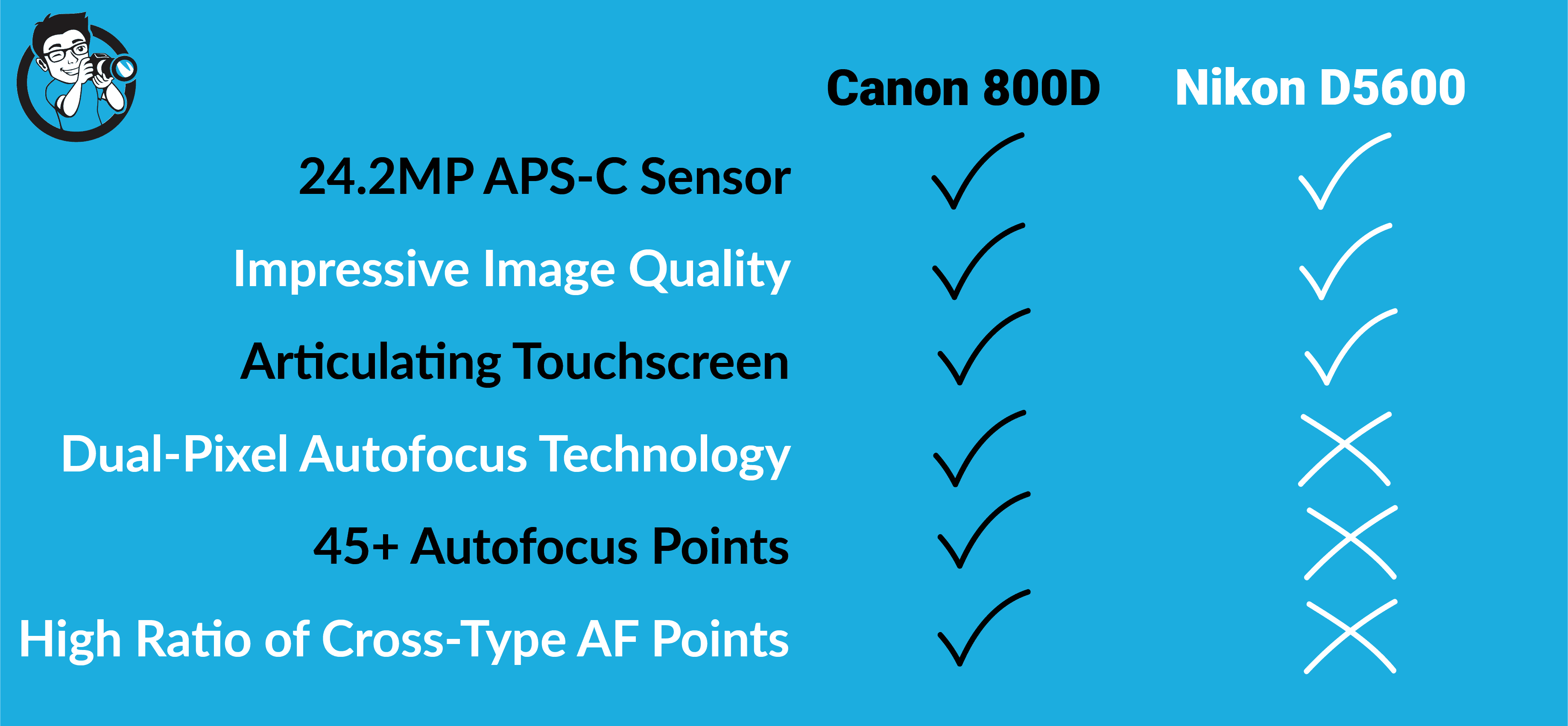 Yet the Nikon D5600 is cheaper than the 800D. And while both cameras are fairly compact, the Nikon D5600 comes in as both lighter and smaller–which will suit beginners who need a more portable camera.
Which brings us to our verdict: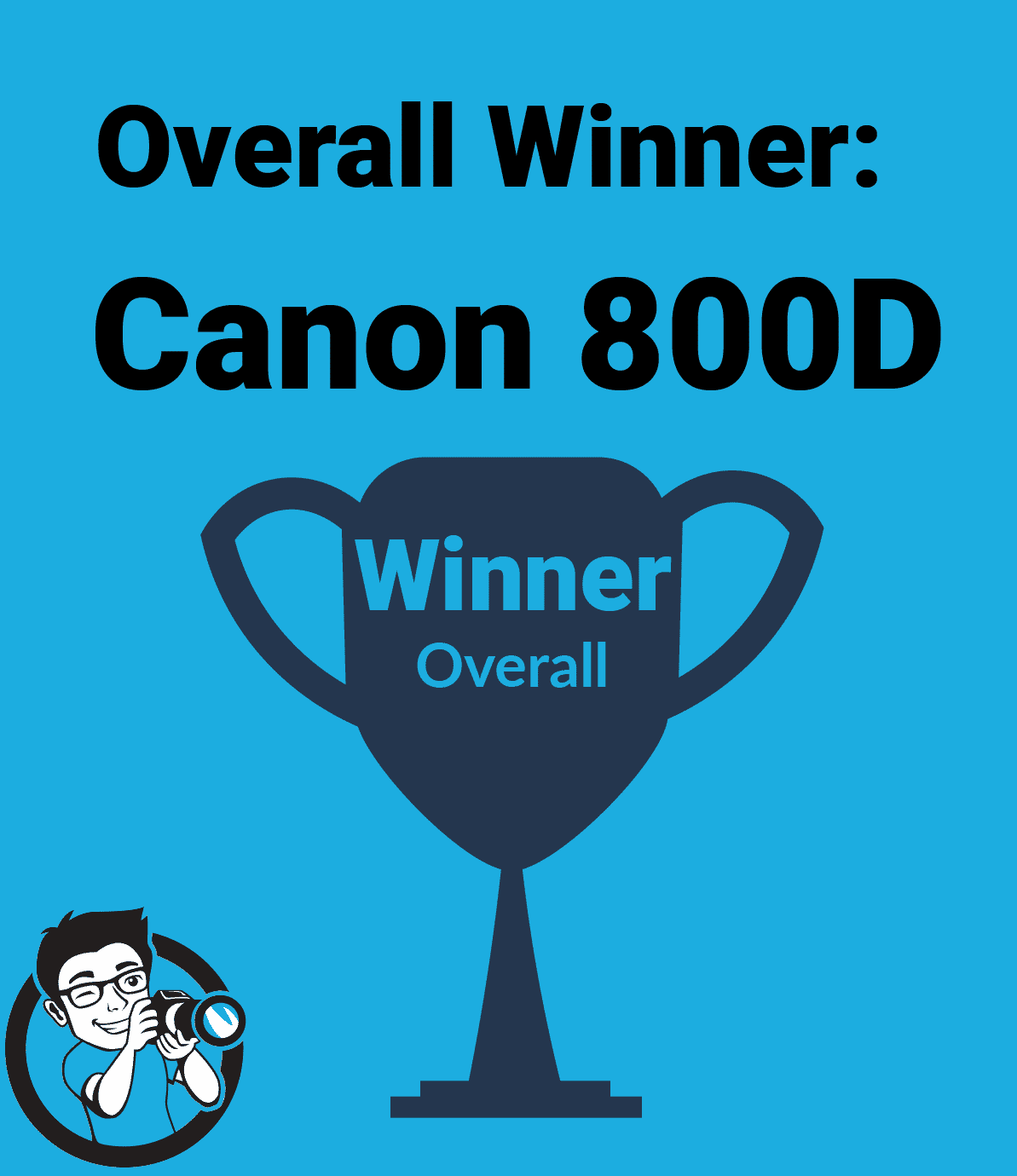 The Canon 800D is a better camera overall, especially for those looking to shoot faster subjects, such as sports games or active children.
But the Nikon D5600 performs just fine and is worth a look–chiefly for those who don't want to fork out the extra cash.
Now let's take a closer look at these two cameras:
Canon EOS 800D vs Nikon D5600: Build Quality and Handling
As mentioned above, both of these cameras are decently compact.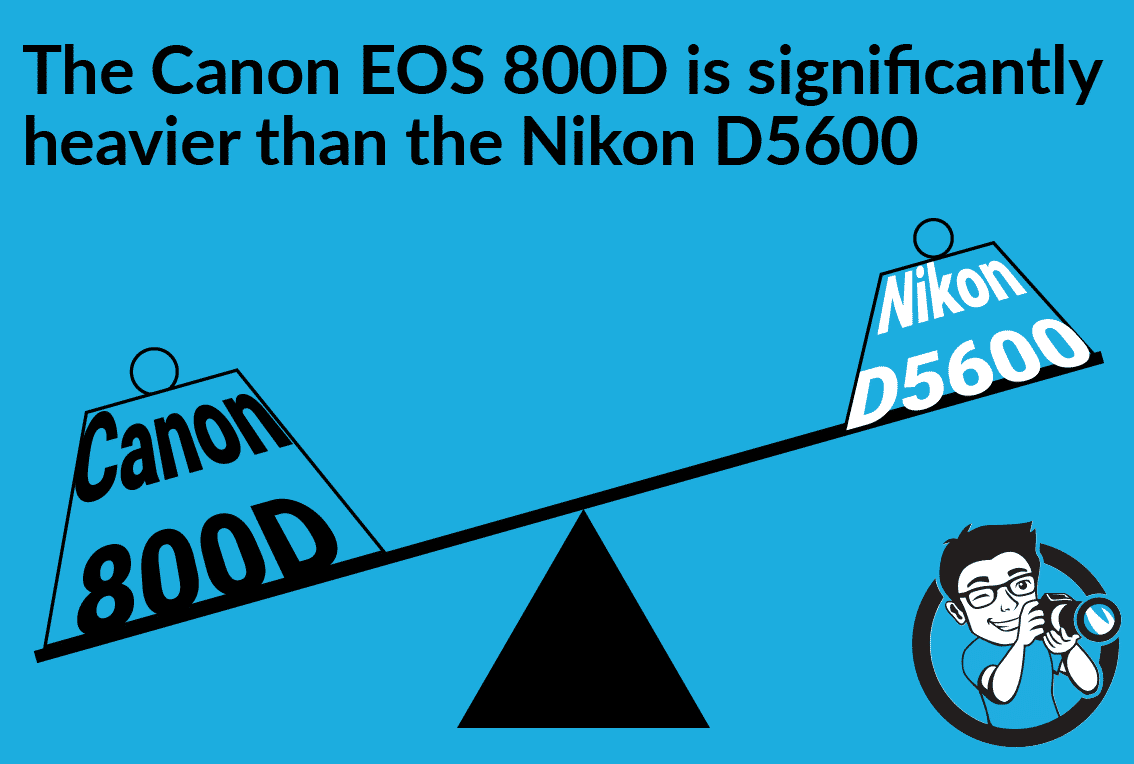 Yet the Canon EOS 800D is significantly heavier than the Nikon D5600, weighing 415g (0.91 lbs) to the D5600's 532g (1.17 lbs). This will make a difference for folks who love to carry their cameras and need to shave as much weight as possible–such as travel photographers.
Unfortunately, the additional weight on the 800D doesn't come with a robust build. The 800D feels plastic to the touch, due to an outer polycarbonate shell. Whereas the D5600 feels nice and solid. (Though the 800D does feature an aluminum alloy body underneath, making it able to handle a bit more rough-and-tumble than you'd expect.)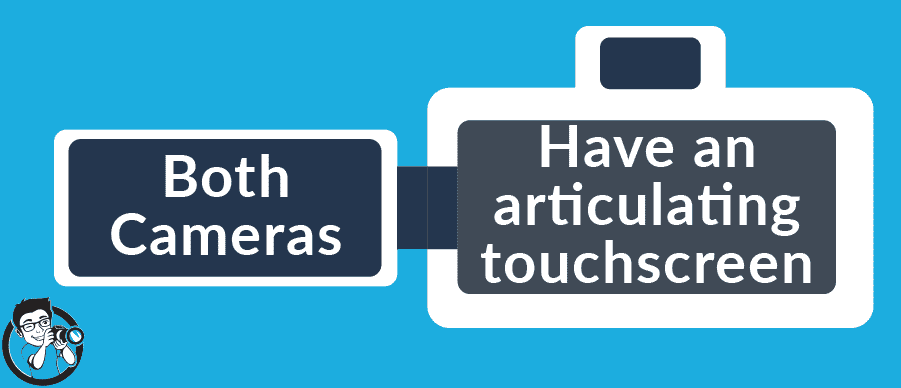 Both cameras sport crisp, articulating touch-screens. This means that Live View is nice and easy to work with–you can use it from multiple angles and won't have to worry about missing your shots. The D5600 LCD is a tiny bit larger, at 3.2 inches (compared to the 800D's 3-inch LCD).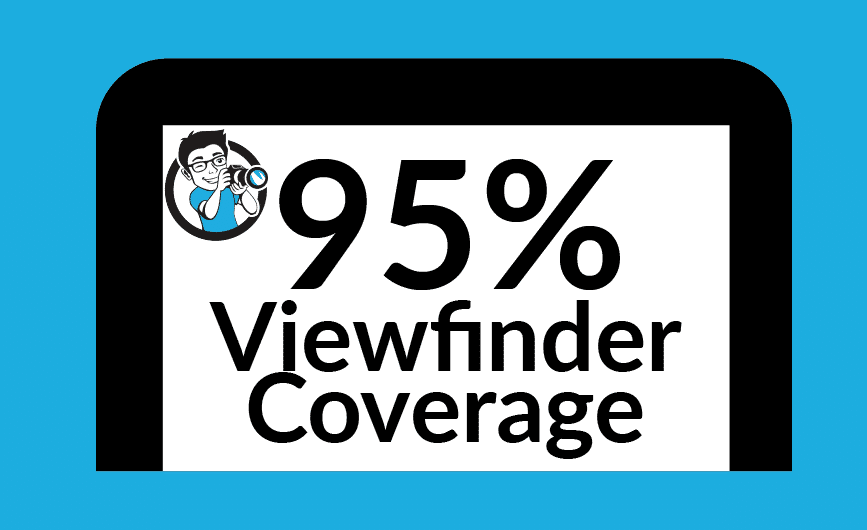 Slightly more serious photographers will be frustrated by the 95% viewfinder coverage on both cameras.
Why?
This means that it's easy for distracting objects to slip into the corners of your shots without you noticing. Fortunately, you can use Live View to compensate for this–because Live View coverage is 100%.
Finally, I should mention a nice Canon bonus: Guided mode, meant to instruct beginners about different camera features. Guide mode will show you the purpose behind settings such as aperture, shutter speed, and more–while you go to set them. It's great for photographers not entirely comfortable with various camera settings. And once you've leveled up your knowledge, you can go ahead and switch guide mode off.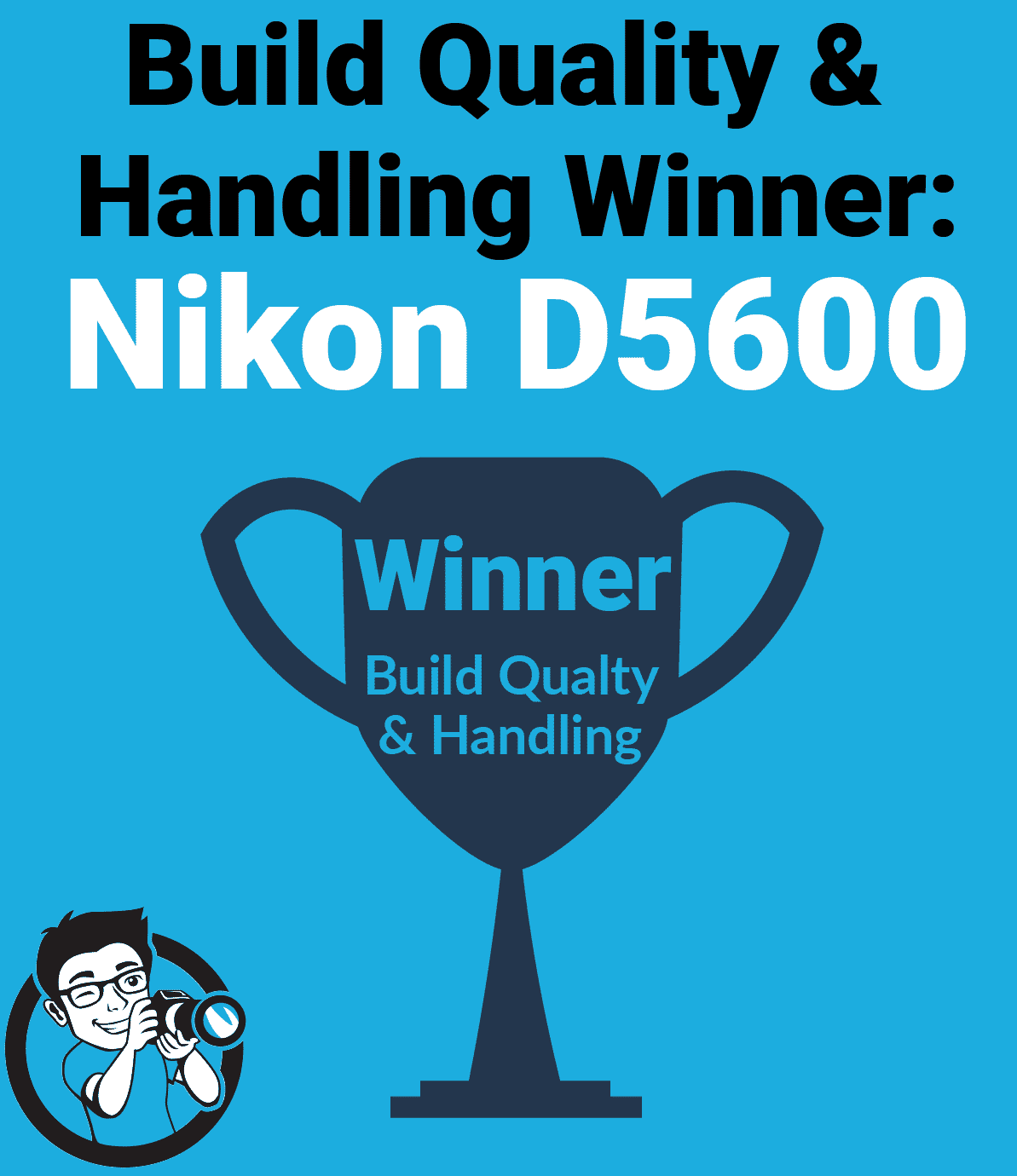 Build Quality and Handling Winner: Nikon D5600
Related Post: How to Select the Best Canon DSLR Lenses (for Beginners)
Canon EOS 800D vs Nikon D5600: Autofocus
DSLR autofocus systems are improving all the time, and both these cameras are excellent examples of high-performing autofocus for a great price.
But does one camera outperform the other?
Yes.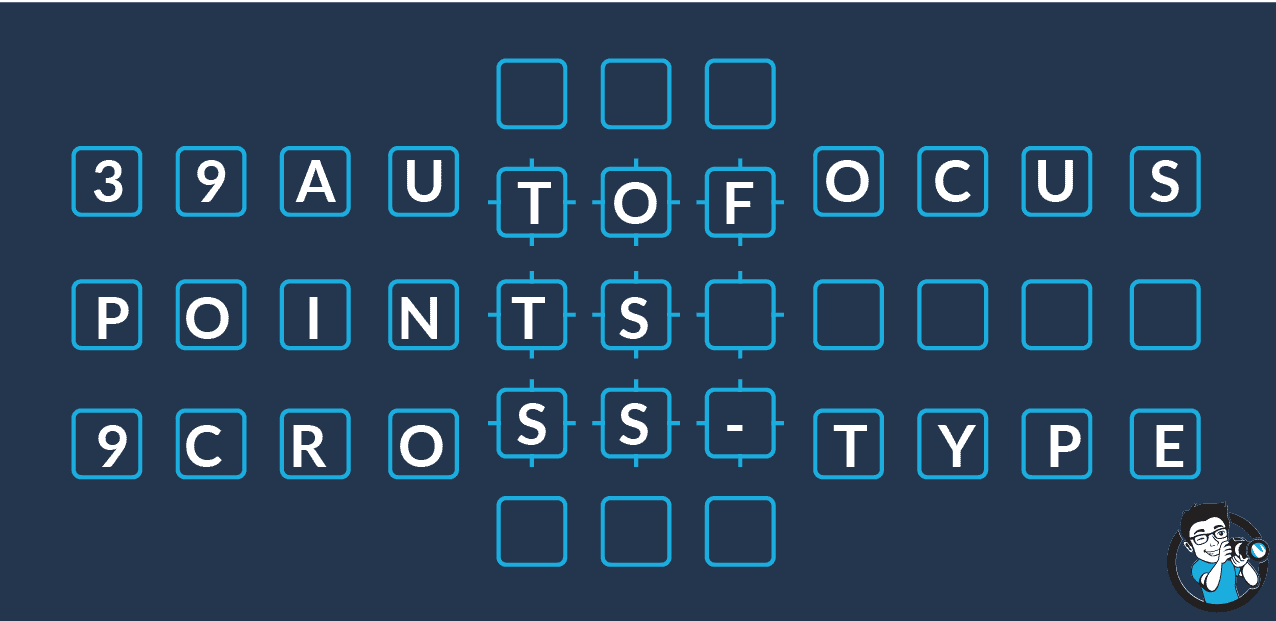 While the Nikon D5600 has a decent number of autofocus points (39) and equally decent coverage, only 9 of its points are cross-type.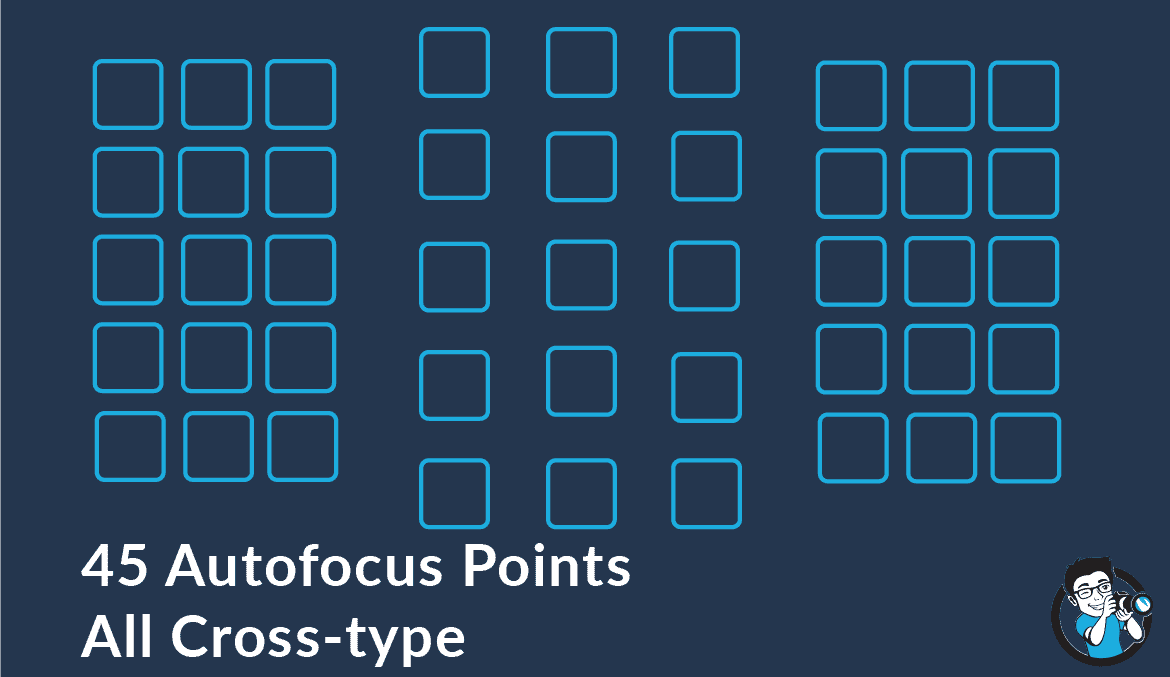 Contrast that with the Canon 800D, with its 45 autofocus points, all cross-type. This gives the Canon 800D a critical edge when it comes to autofocus speed.
And field tests bear this out. Autofocus speed on the EOS 800D isn't on par with professional cameras such as the 1DX Mark II, especially when it comes to tracking, but it does an excellent job for an entry-level DSLR.
Where the Canon 800D really distinguishes itself, however, is with its dual-pixel autofocus. This allows for ultra-fast focusing in Live View, and is a true step up from the contrast-detection autofocus of the Nikon D5600. If you're going to be using Live View frequently, then this should be a major Canon 800D selling point.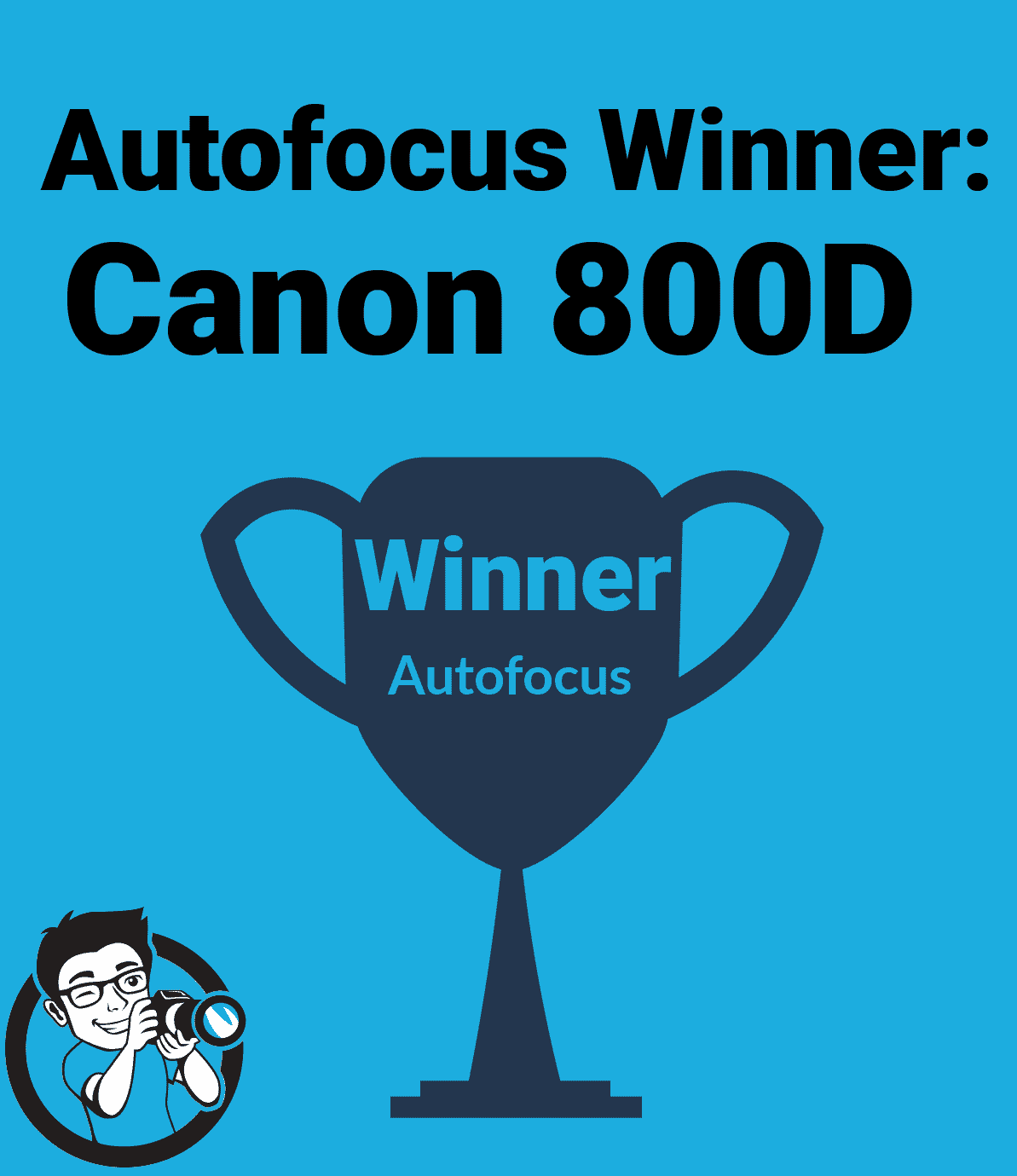 Autofocus Winner: Canon 800D
Canon EOS 800D vs Nikon D5600: Image Quality
When it comes to image quality, these two cameras look pretty similar on the surface.
Both the Canon 800D and the Nikon D5600 feature 24.2 megapixels, which is more than enough for large prints or large crops.
And both cameras feature crop sensors. On the 800D, this means you gain a 1.6x increase on all of your lenses. On the D5600, the increase is a slightly smaller 1.5x.
ISO ranges on both cameras are identical, spanning ISO 100 to 25600. The Canon 800D does include an ISO expansion of 51200, but there is no reason you'd ever want to use this–noise levels at ISO 51200 are obscene.
Despite the identical ISO ranges, high-ISO performance is where the D5600 distinguishes itself. Tests indicate that while both cameras display decent performance at higher ISOs, the D5600 slightly outperforms the 800D.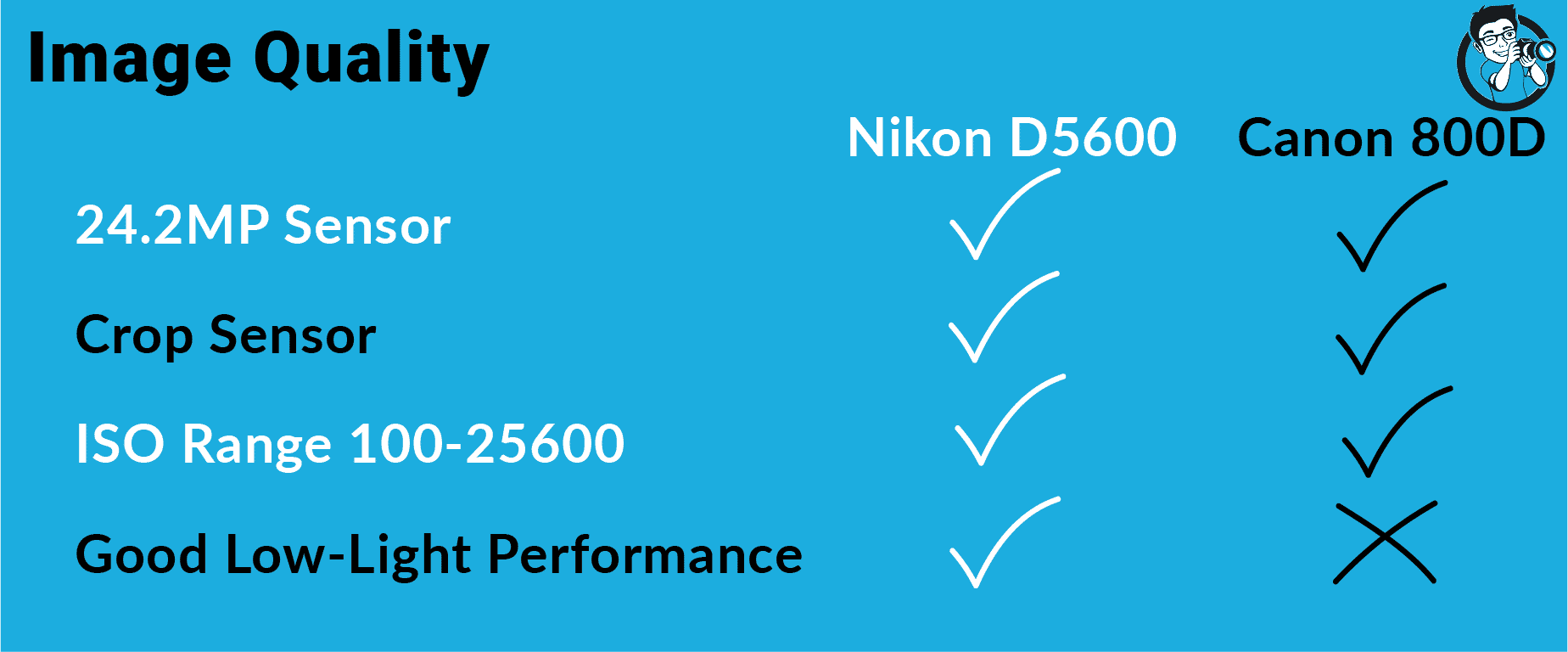 So if you often shoot in low light, the D5600 is going to be the camera you want to have.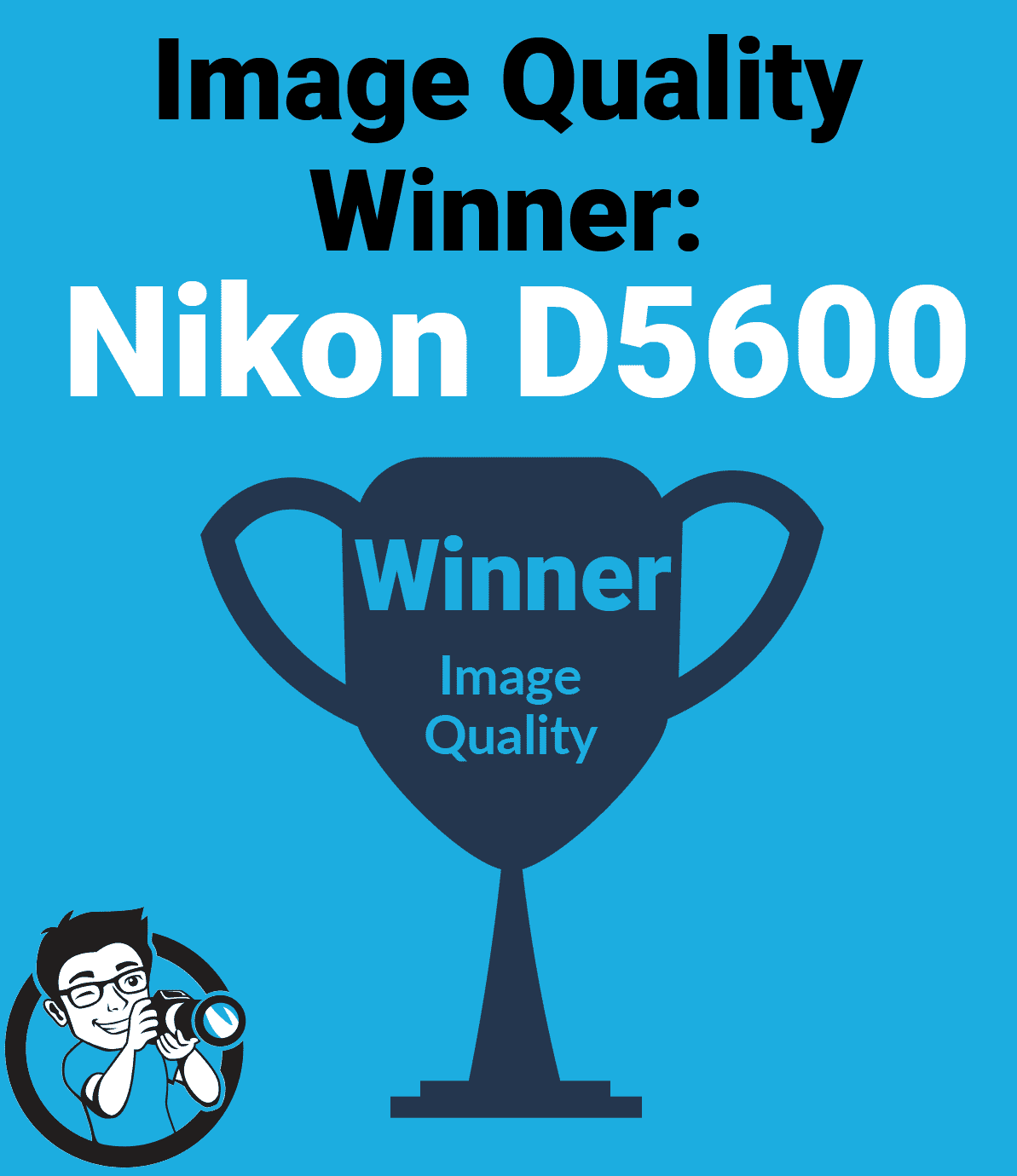 Image Quality Winner: Nikon D5600
Related Post: Best Nikon FX DSLR Lenses (The Ultimate Full-Frame Selection)
Canon EOS 800D vs Nikon D5600: Video
A quick word about video capabilities:
Neither the Canon 800D nor the Nikon D5600 offer standout video performance. Both shoot Full HD video, though the Canon 800D does have an edge, due to its dual-pixel autofocus capabilities.
Disappointingly, neither camera features 4K video shooting. But both cameras include a microphone port for adding an external microphone.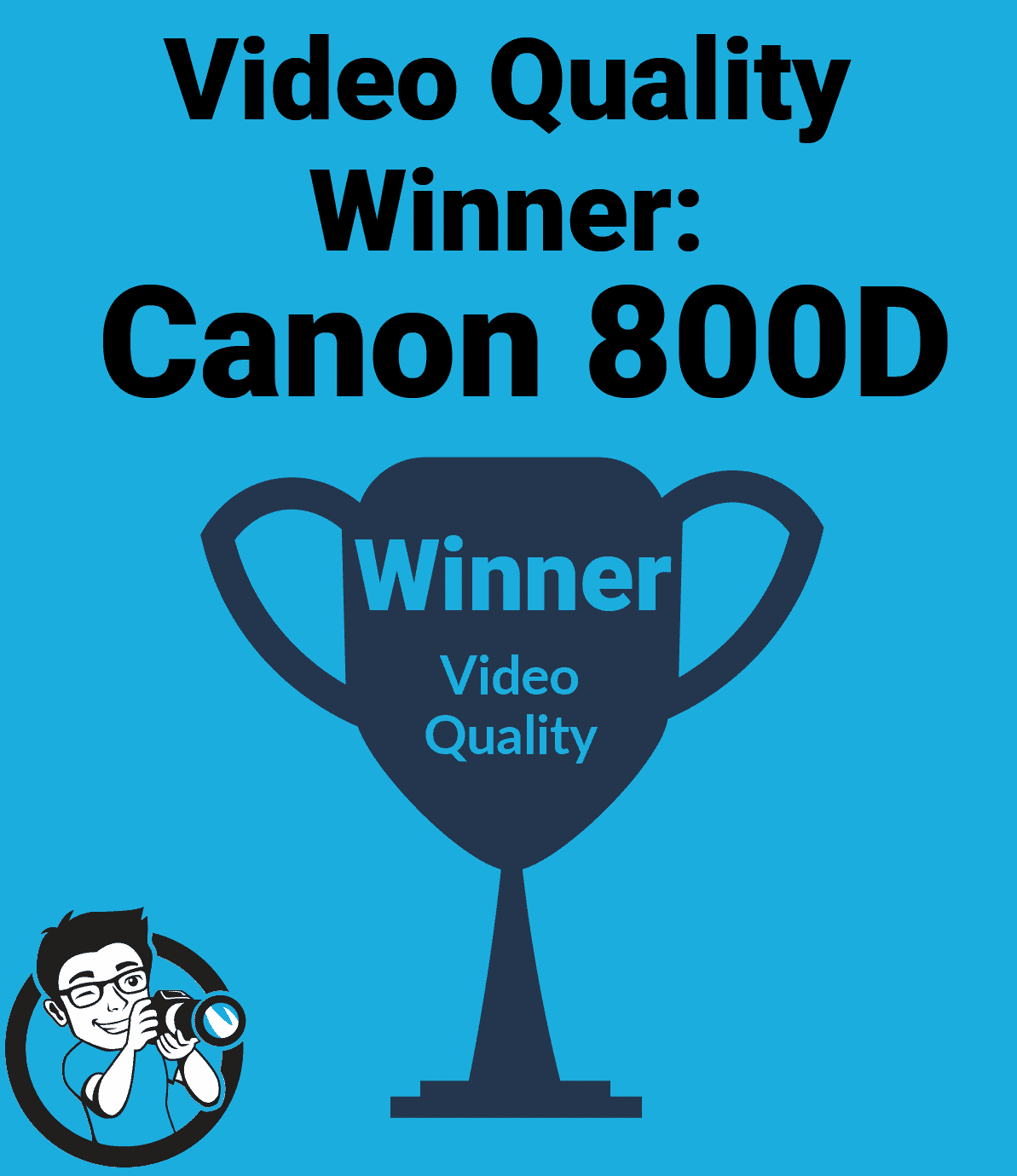 Video Winner: Canon 800D
Related Post: Best Video Lenses for Canon Mount Cameras
Canon EOS 800D vs Nikon D5600: Which Camera Is Right For You?
The Canon EOS 800D and the Nikon D5600 are both strong entry-level cameras, albeit it at a high price point.
So who should purchase these cameras?
If you're just getting your first DSLR and you're looking to shoot a bit more action, the Canon 800D is a good option. The 45 cross-type autofocus points, combined with the dual-pixel AF, means that the 800D will perform well in faster-paced situations.
On the other hand, the Nikon D5600 is both cheaper and more compact. So go with this camera if portability is more of a priority.
Which is better, the Canon EOS 800D or the Nikon D5600?
Overall, the Canon EOS 800D performs better. It's especially strong if you're looking for an entry-level DSLR that'll give you fast autofocusing for both photography and videography. However, the Nikon D5600 is slightly cheaper, and it's also more compact–making it better for travel photography.
Is the Nikon D5600 better than the Canon EOS 800D at high ISOs?
Yes. Both the Nikon D5600 and the Canon EOS 800D perform decently well at high ISOs, but the Nikon D5600 comes out on top. This makes it a better camera for low light photography, be it night photography, indoor portrait photography, or event photography.
Is the Nikon D5600 better for video than the Canon EOS 800D?
No. The video capabilities on these two cameras are equal. Both shoot full HD video, but neither go up to ultra-HD resolutions (4K). Note, however, that Canon's dual-pixel autofocus helps the Canon 800D focus faster while shooting video–so you'll probably prefer the 800D when shooting action scenes.