Canon launched two new DSLRs in the mid-range and upper entry-level segments back in 2017. The first is the mid-range EOS 77D, and the other is the Rebel T7i. Today, we are going to learn more about the Rebel T7i.
First Look: Canon | EOS Rebel T7i
Introducing Canon's latest entry in the Rebel line, the T7i. Photographer Marzena Stergiou and her kids explore the creative features of the T7i.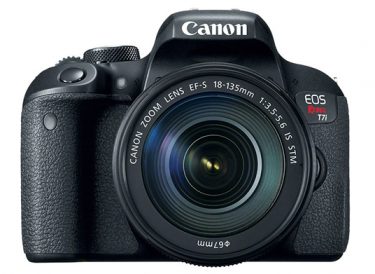 When you buy through links on our site, we may earn a commission at no cost to you. We evaluate products independently. Commissions do not affect our evaluations.
Sensor
Both these cameras are powered by a 24.2 megapixel APS-C CMOS sensor.
This sensor is capable of capturing fine JPEGs and RAW images of the size 6000 x 4000 pixels.
Canon's crop sensor cameras have a crop factor of 1.6x. That means when you mount a lens designed for the full-frame sensor on to the Rebel T7i (or for that matter any Rebel series camera) the effective focal length will become longer. (I.e., a 50mm lens will become the 35mm equivalent of 50 x 1.6 = 80mm).
Image Processing
Both the Rebel T7i and the EOS 77D have the latest DIGIC 7 image processing engine. DIGIC 7 gives the Rebel T7i improved low light performance, better image processing and other improvements.
Auto-Focusing
Auto-focusing on the Rebel T7i is powered by a 45 point (all cross type) auto-focusing mechanism. Cross-type AF points are much better when it comes to auto-focusing when compared to line sensors. 45 sensors points spread across the viewfinder means the system is powerful enough for most practical purposes.
The sensor also features Canon's highly popular dual-pixel CMOS AF system. The Rebel T7i happens to be the first Rebel series camera that comes with this wonderful technology. This focusing system is extremely useful for live-view still recording as well as video recording.
Auto-focusing performance is very smooth. But having said that it is slightly on the slower side. It helps that the camera has a touchscreen LCD at the back. You can simply tap on an area of the frame to fine tune focusing.
This feature works in tandem with Canon's new STM technology powered lenses. STM stands for Stepping Motor. Lenses fuelled by this technology focuses much smoothly than traditional ring-type ultrasonic motor powered lenses. Overall the camera is very useful for shooting videos.
ISO Sensitivity
The improved image processor on the Rebel T7i results in better ISO sensitivity. The native ISO range of the camera is 100-25600. In the extended mode, you can shoot from 100 to up to 51200.
Viewfinder
An entry-level camera wouldn't have a pentaprism-powered viewfinder. And rightly, the Rebel T7i does not have one either. The viewfinder on the Rebel T7i is powered by a pentamirror.
Frame coverage is only 95%, though. That means when making your composition, give particular attention to the fringes of the frame for any elements that might be there.
Rear LCD screen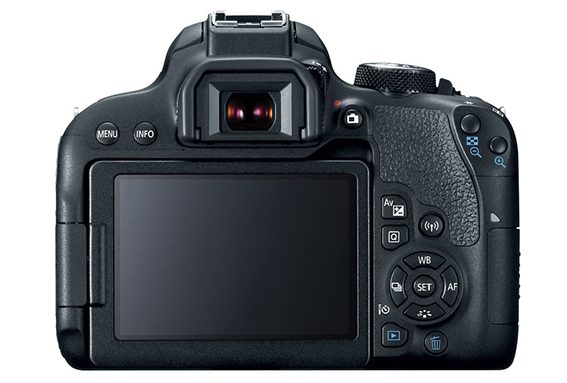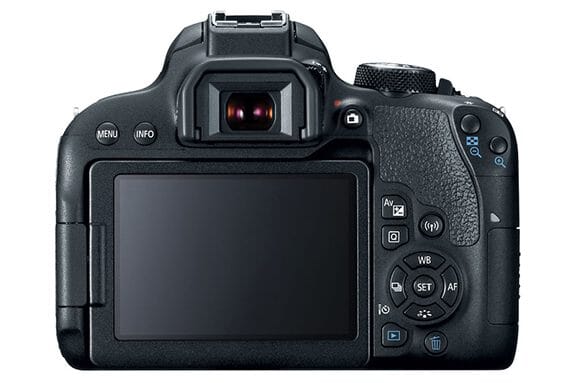 The 3" rear touchscreen LCD can swivel. Swiveling gives you a lot of options to shoot. For example, you can shoot from the top of the head of a crowd. You could also shoot from low down while retaining the ability to focus precisely.
These are angles that cannot be utilized if you are forced to shoot with the viewfinder. Having the ability to swivel the screen plus the touchscreen functions mean you can compose and focus without having to use the viewfinder or any of the mechanical controls of the camera. The LCD screen has a resolution of 1040,000 dots. It offers 95% frame coverage.
Video Shooting
Video recording is a major requirement for DSLR cameras. You cannot simply sell a camera that shoots great stills only. You also need the ability to shoot great videos as well. Speaking of which Canon has always been at the forefront with this. Their DSLRs have mostly been great video shooters as well.
The T7i shoots full HD videos (1080p) at a maximum of 60 frames per second. The format for recording the videos is mp4. You can opt for the 30 fps MOOV format if you want to. But the maximum frame rate for the MOV format is only 30 fps. The T7i has a built-in stereo mic that records decent quality audio. For better quality recording you can opt for an external sound recorder.
Continuous Shooting Speed with the Rebel T7i
Rebel T7i is capable of shooting at up to 6 frames per second for up to 21 RAW frames. In JPEG format that shoots up to 190 frames before the buffers fill up.
All these are when you are shooting in full resolution. A maximum of 29 mins and 59 seconds can be recorded in a single go. Canon's highly rated dual-pixel CMOS AF system assists movie shooting in particular and live-view shooting in general.
Connectivity
The Rebel T7i comes loaded with a series of connectivity options.
It does have built-in wireless connectivity which ensures that the camera can be hooked on to any available wireless network for backing up images and video files.
It has NFC which means pairing the camera with a compatible smartphone or tablet device is very easy too.
You can share your JPEG images in an instant for further upload to social media.
Finally, Bluetooth connectivity ensures that the camera can be controlled using a smartphone or a tablet using remote access option.
External Control Dials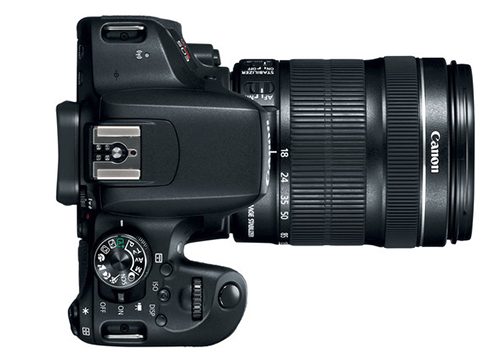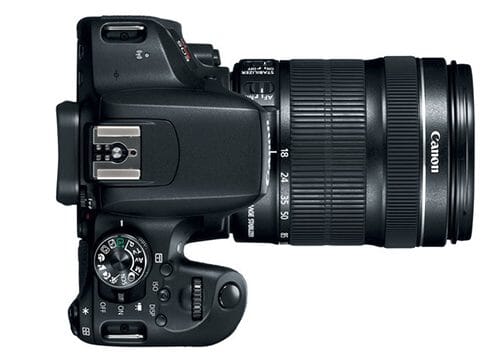 The design of the T7i is standard Rebel series type. It has similar controls to that of the T6i and the ones before that. At the top panel, it has the same PASM (Program, Aperture priority, Shutter priority and Manual mode) dial, the same DISP button and the same switch that toggles between Off, On modes and Video Mode.
The back of the camera is dominated by the large 3" LCD screen. Apart from that, it has an array of buttons and dials that include White Balance, Autofocus, Scenes Modes, Menu and Exposure Compensation.
Overall Build Quality
Bit plasticky, as you would no doubt come to expect from a budget DSLR. If you want weather sealing better build quality, then this is not the camera for you.
Conclusion
The Canon EOS Rebel T7i was announced together with the EOS 77D. Two cameras that are powered by the same sensor and share many of the same features. However, these two cameras will appeal to two different types of users.
For those who are looking for something with a bit more professional build quality, a top LCD panel and more controls and dials, the EOS 77D might be something to look at.
For those who want smartphone style connectivity, similar features, a lighter camera, the Rebel T7i makes more sense.
Canon Cameras US 24.2 Digital SLR Camera with 3-Inch LCD, Black (1894C001)
242 Megapixel CMOS (APS-C) sensor Multimedia cards (MMC) cannot be used
Built-in Wi-Fi, NFC and Bluetooth
High-Speed continuous shooting at up to 60 fps
Color Filter System:RGB primary color filtersColor Filter System:RGB primary color filtersPixels:Approx 104 million dots
Use the EOS Utility Webcam Beta Software (Mac and Windows) to turn your compatible Canon camera into a high-quality webcam
---
As an Amazon Associate, we earn from qualifying purchases. Certain content was provided "as is" from Amazon daily and is subject to change or removal at any time.