Do you love nature and take hikes with your camera, but aren't satisfied with your pictures? Then I have some hiking photography tips for you that will improve your photographs next time you head out for the mountains.
On my journey, I visited Mount Ijen in Indonesia to photograph the sulfur miners and document one of the hardest jobs on the planet.
In the following post, I want to share my experiences and describe, how you can create better photographs yourself.
Related Post: Travel Photography Tips
The Mount Ijen & the Sulfur Miners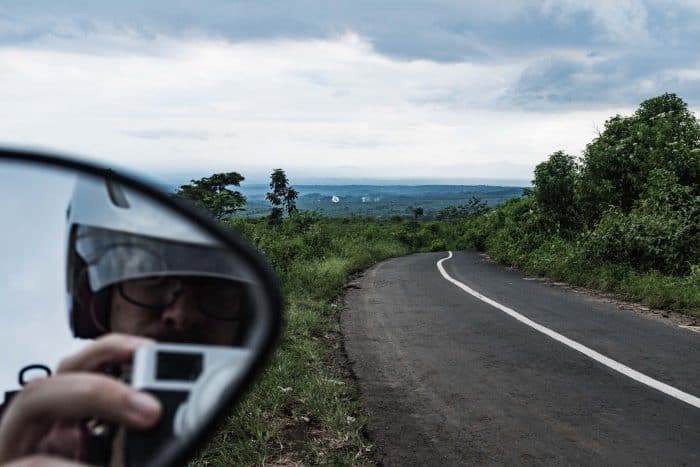 If You haven't heard about the sulfur miners, I hope the pictures in this article will make you curious to explore the mountainsides of Indonesia.
Usually, Mount Ijen is known for its Blue Fire. The Blue Fire is a phenomenon that is visible during the night and is created by the local sulfur gases. During the summer, the Blue Fire attracts more than a thousand people every night. They hike through the night to spectate the Blue Fire.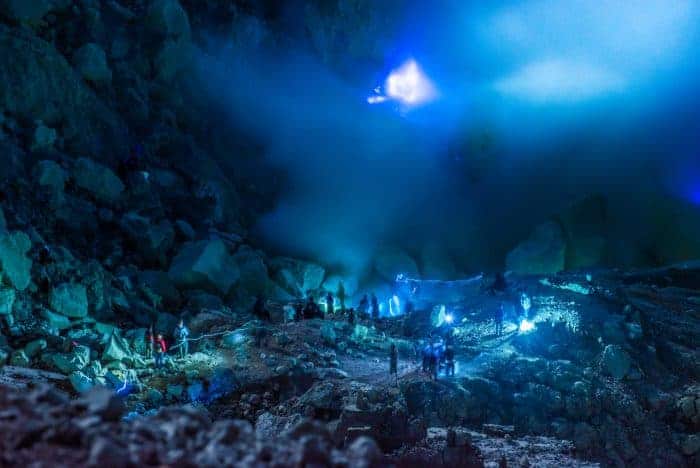 I wanted to do it differently. The Blue Fire isn't my first interest, and instead, I tried to focus on what is happening there during the day. While the night belongs to the tourists, the day is reserved for the local sulfur miners.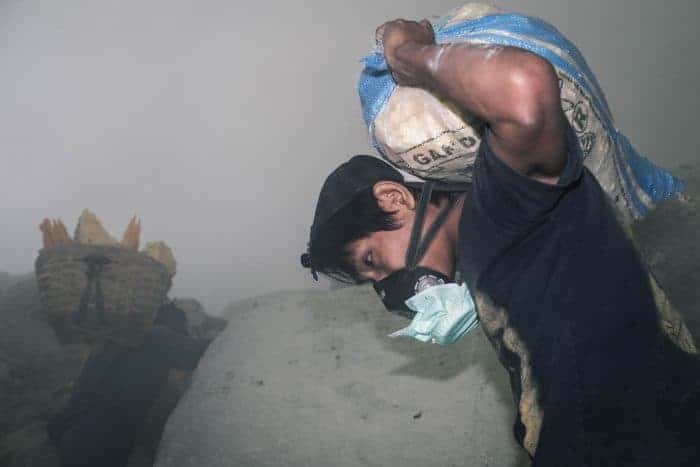 They are carrying more than 70 kg of sulfur on their backs and ascend from the bottom of the volcano crater not only once, but up to 4 times per day. The way from the bottom to the very top took already half an hour without the additional weight.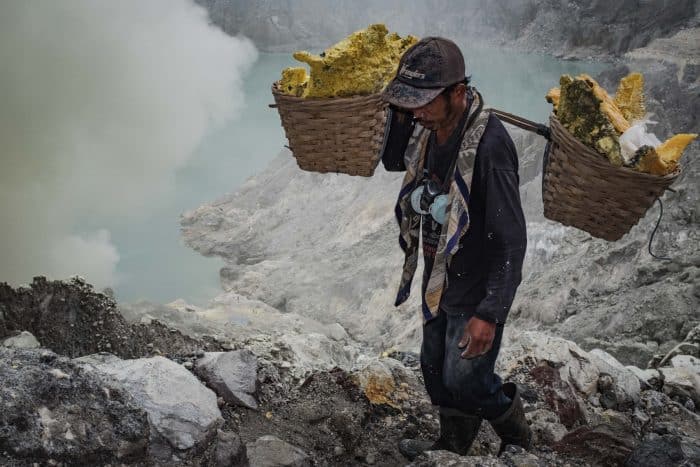 Carrying the sulfur is not only very tedious but just spending the day there can be harmful to your health. The sulfur smoke is highly toxic, and the gas masks are not helping much when you are standing in the middle of the smoke.
Following are a few tips, that can make hiking and photography more pleasurable for you.
Related Post: How to Become a Travel Photographer
Picking the Right Camera for Hiking
Let's start the hike with the right camera. The group of hikers and photographers isn't very uniform. Some want to focus more on the hike and the outdoor adventure, while others are going out with the primary focus on photographing nature, or the wildlife.
For every group, there is the ideal camera, but a straightforward guideline should be to take a few pieces of equipment with you as possible.
Which Lenses and Cameras Should I Use?
Some hikers make a mistake and carry along a wide-angle lens: a telelens, zoom lens, a prime lens, etc., and they are still worried they could miss a shot.
I just went out with the Fuji X100F and was happy with the way the camera worked. It is a non-interchangeable lens camera, which means that the 35mm full-frame equivalent lens had to capture it all.
Fujifilm X100F 24.3 MP APS-C Digital Camera-Silver
24.3MP X Trans CMOS III APS C sensor with no low pass filter and X Processor Pro
8 way focus lever plus the number of focusing points has been expanded from 49 in previous models to 91 (up to 325 points)
Built in ISO dial, incorporated into the shutter speed dial and operating temperature is 0 degree Celsius to 40 degree...
AF mode(single / Zone / wide tracking). Hot shoe: Dedicated TTL Flash compatible. Exposure control: TTL 256 zone metering,...
New np w126s lithium battery; Focus distance Approx. 10 centimeter Infinity / 3.9 Inches Infinity
From landscape shots to portraits and documentary pictures. If I missed a shot, it was not because of the missing gear part, but because of my inability as a photographer.
When you are going for a hike, go as lightweight as possible. It doesn't benefit you much when you can choose between five lenses and two cameras, but you are exhausted from walking and carrying the equipment all day. You shouldn't underestimate, that the level of exhaustion has a significant influence on the quality of the pictures.
Related Post: What to Photograph in Thailand
For Hikers & Hobby Photographers: Pick a Point & Shoot Camera
Therefore I would recommend to those who are primarily going on the hike for the outdoor experience (and wants to capture some photographs on the side), to take a small compact camera with them. There are great compact cameras available for less than $300. They can be waterproof so that you can make some pictures in the streams of the landscape.
Furthermore, they are so tiny that they fit in every pocket, which will make it easier for you to carry it around. You won't have that doubt if you should bring your camera with you or rather keep it at home. A compact camera isn't very restrictive, but are a considerable improvement compared to your smartphones.
For Hikers & Enthusiast Photographers: Pick a Mirrorless Camera
For the enthusiast photographers, that is more focused on taking pictures, I recommend either taking the Fujfilm X100F, just as I did, or going with another mirrorless camera and a maximum of two lenses. Those could be one zoom lens, which covers a vast area of focal length and a 35mm prime lens, that is great for most photography subjects anyway.
Related Post: 50mm VS 35mm Prime Lenses
Hiking Photography Tips
Apart from the right equipment, there are a few tips that you can follow on your hikes, that will help you to create better pictures. Photography doesn't change its' rules depending on the location you are, which means that the following tips apply to every genre of photography.
1. Change Perspectives
Excellent photography isn't for the lazy hiker. If you want to create some outstanding pictures, you should search for new perspectives, apart from the standard eye-level. Get down low to the ground, or even search for a little ledge that can give you a different point of view. We see the world from the eye level in our daily life. Changing this perspective does make a picture a lot more interesting.
2. Include some Object in the Foreground
Do your pictures appear to be very "flat"? Then your photographs are lacking some subtle details that you include in the foreground, to emphasize how impressive the mountains are.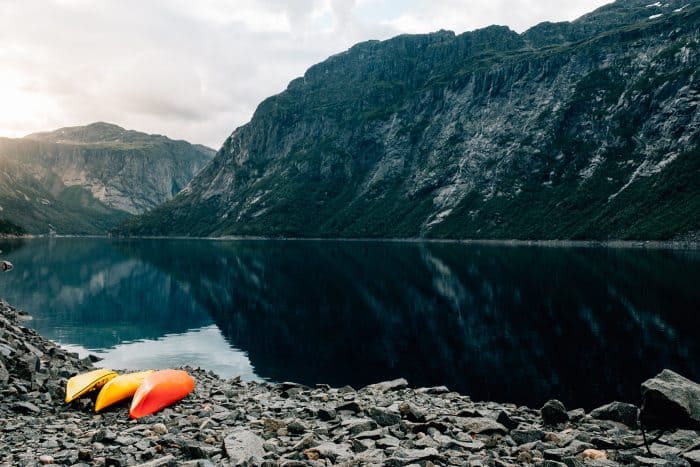 On its own, the mountains may look like gigantic stones that are far away. The real scale isn't evident. But when you put some object in the foreground, like a rock, a small tree then you are creating depth in your pictures. It becomes easier to see a three-dimensional perspective in the photograph, just by using this little trick.
Related Post: Sikkim Photography Tips
3. Shoot during the Goldne Hour
It's no secret that the sun does play an essential part in creating beautiful pictures. Especially when hiking on a mountainside, seeing the sunset is quite impressive and is a lovely event that you should capture.
Not only during the sunset, but also the hour before (the so-called "golden hour"), is the best time to take pictures. The sun isn't high above the location but is shining down from a lower angle. This creates better less harsh shadows and photographing against the sun can work quite well too. So if you are planning your hike, try to catch the sunset and avoid the harsh light during noon.
Related Post: Best Time To Take Pictures Outside (Blue and Golden Hour)
With these tips, you should be able to enjoy both: a good hike in nature and some quality photography!
—
About the Author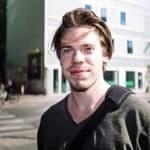 Sebastian Jacobitz is a travel photographer and blogger. He has been traveling through Southeast Asia with his camera for recently. You can read more about his stories on his travel photography blog.
---
As an Amazon Associate we earn from qualifying purchases. Certain content that appears on PhotoWorkout.com comes from Amazon. This content is provided 'as is' and is subject to change or removal at any time.