Nikon and Canon are head-to-head when it comes to their camera line-ups. If you're looking for an entry-level DSLR, choosing between the two can be difficult. In this article, we give you the rundown of the Nikon D3500 vs Canon T7, two of the most popular cameras in the entry-level segment.
When you buy through links on our site, we may earn a commission at no cost to you. We evaluate products independently. Commissions do not affect our evaluations.
Technical Differences Between the Nikon D3500 vs Canon T7
| Features | Nikon D3500 | Canon T7 (EOS 2000D) |
| --- | --- | --- |
| Megapixels | 24.2 MP (Effective) | 24.1 (Effective) |
| Bit Depth | 12-Bit | 14-Bit |
| ISO | 100-25600 | 100-6400 (Extended 100-12800) |
| Exposure Compensation | -5 to +5 EV in 1/3 EV Stops | -5 to +5 EV in 1/3 or 1/2 EV Stops |
| Metering Range | 0 to 20 EV | 1 to 20 EV |
| Continuous Shooting | 5 fps | 3 fps |
| Video Resolution | Full HD 1920 x 1080p at 59.94p | Full HD (At maximum 29.97p) |
| Built-in Mic Type | Mono | Stereo Mic |
| AF Points | 11 Phase-detection AF points | 9 AF points |
| Cross-type AF Points | None | 1 |
| Monitor resolution | 921,000 | 920,000 dots |
D3500 vs Canon T7 Comparison Table
Ergonomics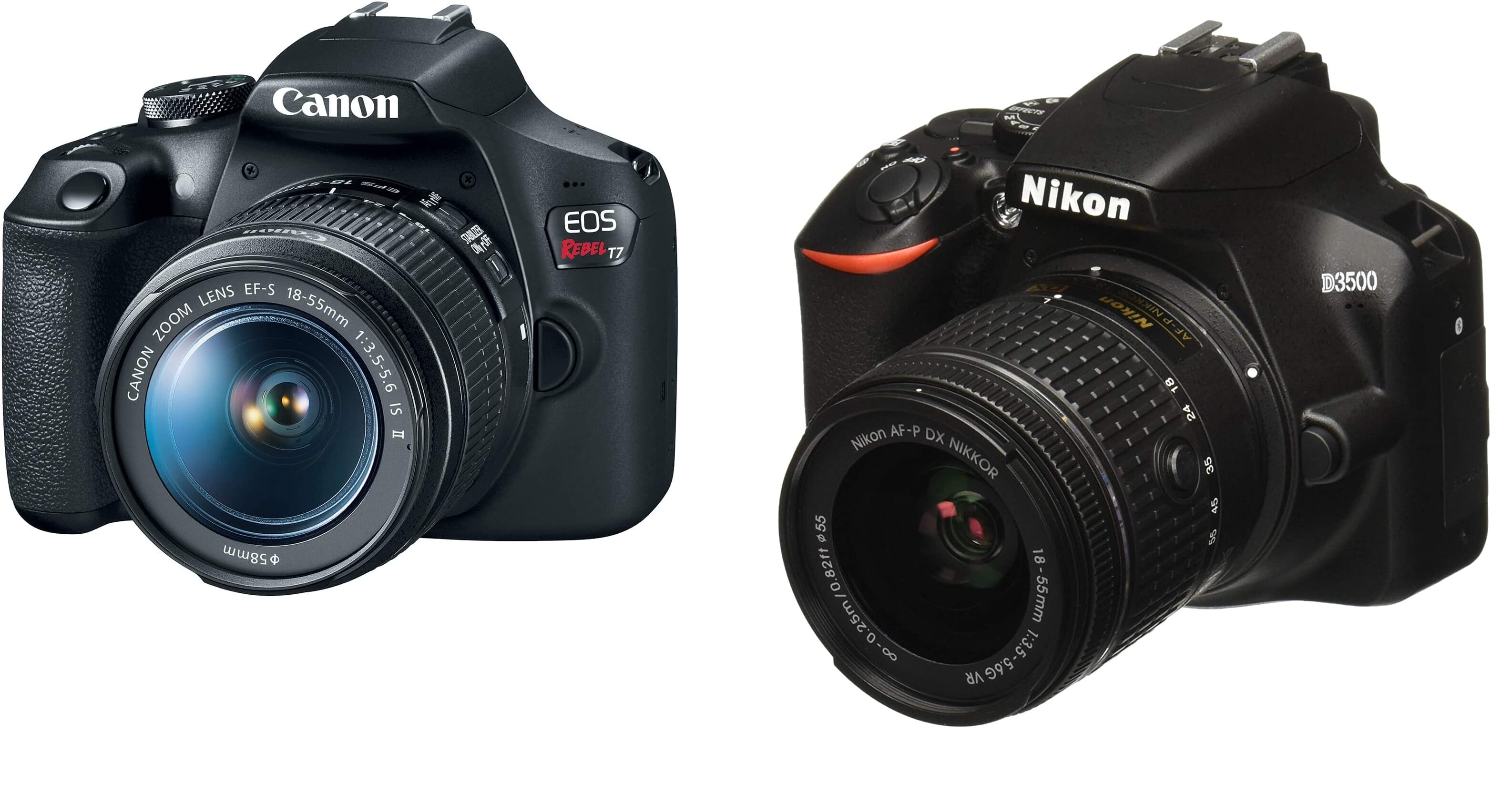 While it might not seem like an important feature, ergonomics is key to getting the most enjoyment out of using your camera.
If we're being honest, the whole concept of how something feels in your hands is very subjective and personal. Someone with smaller hands might find something that's bulkier uncomfortable to hold, whereas someone with bigger hands might appreciate not feeling like their hands are cramped together.
What I'm getting at here is that there can't be a true winner in this department that will suit everyone. Sure, the design of the Nikon D3500 differs to the Canon T7 but what feels good depends on your preference.
The D3500 has a much deeper grip, offers a light body, and compact size. Whereas the Canon T7 offers a heavier, bulkier build. If you know your preferences already, great! If you don't we seriously recommend going out to try these cameras and find out which one feels best in your hands.
Result: Tie
Ease of Use of Controls/Buttons
Apart from the ergonomics which we just discussed, the layout of the buttons and dials can also impact your buying decision. Ideally, you should be able to reach out to most of the important buttons and dials on the camera with your index finger and your thumb. In that regard, the T7 and the D3500 both do a great job. But, the D3500 loses out to the T7 due to the absence of a dedicated ISO button and a White Balance button.
Result: Canon EOS T7
Sensor Resolution
The single largest advantage of using a DSLR is that the sensor inside the camera is pretty big when you compare that with the sensor inside a smartphone. Even if you compare with an APS-C camera. So an average image is going to be a lot cleaner and sharper pixel for pixel.
Between the Nikon D3500 vs Canon T7 there really is not much of a difference. Both the Nikon D3500 and the EOS T7 have APS-C sensors. But the sizes are slightly different. The Nikon measuring 23.5mm x 15.6mm and the Canon measuring 22.3mm x 14.9mm. This has a marginal effect on the resolution though.
Result: Tie
Overall Shooting Performance
Both cameras are great when it comes to shooting. They're easy to use and offer all the essential features an amateur photographer would want/need.
You should note that glass is the most important factor in whether you're going to get good quality images from these cameras. A high-quality lens is a must if you want stunning shots.
It is worth noting that a crop factor exists on both cameras. The Nikon D3500 has 1.5x crop factor and the Canon T7 has 1.6x crop factor. So, let's say you get a 50mm prime lens, this is effectively a 75mm lens on a Nikon and an 80mm lens on a Canon.
Result: Tie
Related Post: Beginner Photography Tips
Auto-Focus Points
Entry-level DSLRs are infamous for the lack of adequate AF points. Plus, the AF points are not well spread out which also hampers subject tracking and off-center compositions like portraits. The Nikon D3500 comes with 11 phase-detection AF points. None of them are cross-type. The Canon EOS T7, on the other hand, comes with 9 autofocus points and 1 of them is cross-type. While we like the fact that the Canon has at least one cross-type AF point the thing is both the cameras have entry-level AF systems and have very little to choose between them in this regard.
Result: Tie
Viewfinder
Entry-level DSLRs have viewfinders that don't offer 100% of the view looking out. At most, they offer only 95% of the frame that the sensor sees. And that is where the problem is. Invariably you end up capturing something that is unintended. A bush, or a fence or a person appears out of nowhere in the final capture. Both the T7 and the D3500 has a viewfinder that offers only 95% of the view looking out. So, you have to careful when you are composing through the viewfinder. Make sure you leave out some space around the frame so as not to capture anything unwanted.
Result: Tie
Video Shooting
For obvious reasons, entry levels DSLRs cannot be content with shooting just high-quality stills. They must shoot full HD videos. With an increasingly large number of smartphones that are capable of shooting 4K and then sharing it seamlessly on social media, the pressure is on DSLR cameras to match.
Both the T7 and D3500 shoot full HD videos. But while the D3500 shoots at 60p maximum the T7 shoots at a maximum of 30p. That said the Canon T7 comes with a built-in stereo mic while the built-in mic on the D3500 is monaural.
Result: Canon T7 (Just!)
Continuous Shooting Speed
Quick continuous shooting speed is very useful when shooting fast-moving subjects. You not only need to have great focus tracking but the ability to fire a large number of frames to make sure at least one of them is tack sharp.
Unfortunately, entry-level DSLRs never have the same kind of fast continuous shooting speed as professional cameras. The T7 shoots at 3 fps for a maximum of 11 RAW files before the buffer overflows. But if you are going to shoot JPEGs only it can be more than enough. It shoots 150 JPEGs in one go. But in this match-up between the Nikon D3500 vs Canon T7, the Nikon wins with its higher frame rate of 5 fps.
Result: Nikon D3500
Communication
Because entry-level DSLRs find the stiffest competition from smartphones, they have to incorporate a lot more than just a large sensor to be relevant. And this includes an array of communication features.
The D3500 comes with SnapBridge Connectivity. This allows easy pairing with up to five devices and you can send smaller 2 MP files as you shoot. This technology works seamlessly and allows you to share what you shoot with the world on the go. Although not the same as shooting on a smartphone and sharing at the same time, this is the next best thing.
The Canon EOS T7 comes with built-in Wi-Fi and NFC. This is also great for sharing with compatible devices. Additionally, the presence of built-in Wi-Fi means that you would be able to use a smartphone or a tablet to remotely control the functions of the camera.
Winner: Canon T7
Rear LCD Screen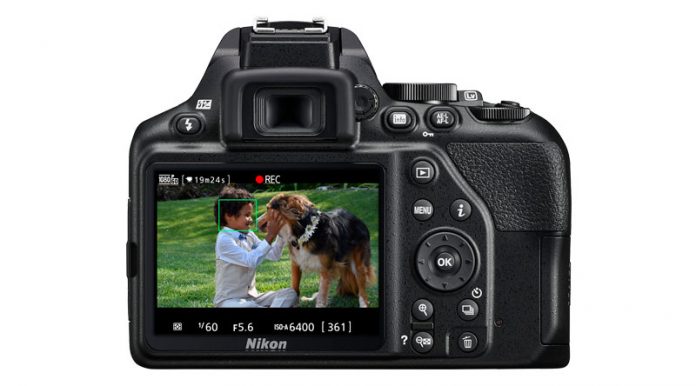 Both the EOS T7 and the Nikon D3500 have a fixed rear LCD screen. In that respect both are similar. But if you talk about the interface then the Nikon wins hands-down. We love the interface of the Nikon camera more than the Canon T7. It is geared towards entry-level users with large interactive graphics.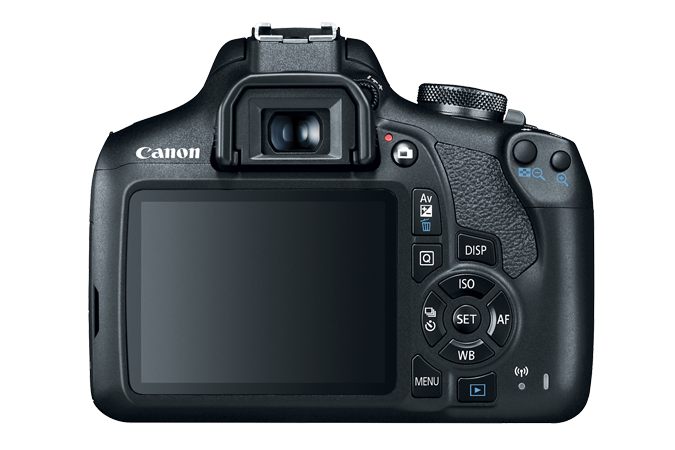 Winner: Nikon D3500
Conclusion Nikon D3500 vs Canon T7
This is actually a tie. Both the Nikon D3500 and the Canon T7 are equally matched with each one winning on even counts and matching the other on the rest. It is hard to pick one over the other. And that is why two things will matter to you. One is the price and the other is ergonomics.
Ergonomics is a subjective thing. You would be best off visiting a store, then you could actually pick both these cameras up in your hands and figure out which one feels right in your hands.
The other deciding parameter is the price. The Canon T7 is a good 100 bucks cheaper. Both the cameras come with a kit lens. The 18-55mm wide zoom. Both Nikon and Canon have established a lens lineup. Plus countless other compatible lenses are available from third-party manufacturers. There is no real reason to believe you have a distinct advantage over the other if you go with one brand. You will find plenty of lens options to choose from regardless of the brand you go for. And in the right hands, both these cameras are equally good at capturing great images.