The talking point in town since CES 2016 Nikon announcements is the new Nikon D5, the flagship behemoth that will make rival camera companies go back to the drawing board and come out with an answer, and real quick.
The new Nikon D5 in all probability will be ruling the roost for the next few months at least. Let's take a look at the features.
Related Article: Nikon D500 Review
Build Quality
Fully weather sealed. That's what Nikon and for that matter, all pro-quality bodies must have these days. The D5 is no different. Initial reactions from those who have tested the D5 have all vouched for its superior build quality and impeccable weather sealing. The chassis is made of out of magnesium alloy with ample attention to weather sealing needs of wandering protogs. The D5 is rated to 400,000 shutter cycles.
Going with the standard requirement for professional DSLRs, there's a vertical grip complete with the shutter release and control dials. One more thing – the viewfinder of the new Nikon D5 is detachable. Surprise!
Sensor
The D5 is powered by a newly developed sensor. The full-frame sensor has an effective resolution of 20.8 megapixel.
It produces large RAW and JPEG files of size 5568 x 3712 pixels. Yes, not much joy here in terms of resolution. Even something like the D3300 has higher resolution.
However, this being a full-frame camera the individual pixel size is larger, meaning better low light performance.
Auto-focusing Points and AF System
While the D4 and the D4S has 51 AF points, the D5 has a whopping 153 AF points. 99 of which are cross-types and 15 of which support f/8.
Spread across the viewfinder it theoretically means nothing escapes focus anymore, not even that Peregrine Falcon swooping to make a kill from the corner of the frame. In reality, however, you can select only 55 points.
Metering
Compared to the 91K pixel metering system on the D4S, which this camera replaces the new Nikon D5 uses a 180K pixels RGB sensor metering system.
ISO
The second most talked about feature of the new D5 is its low light sensitivity. The rumor mills were correct for once. The D5 does come with a native ISO sensitivity of 100-102,400. Nikon boasts that it can be tweaked another five steps and at Hi5 it can shoot at a mind-boggling 3.28 Million – a first for Nikon.
Initial reactions are however mixed and we have to wait and see when the first pictures emerge shot with a production camera. Certainly, the high ISO capabilities has some interesting applications in low light photography.
Continuous Shooting Speed
The D5 is capable of shooting at 12fps with AE/AF. It can shoot continuously for up to 200 frames. With the mirror locked up it shoots 14 fps. The D4S that it replaces could shoot at 11 fps with AE/AF.
4K Video Shooting
For the first time in Nikon history, one of their cameras (actually two, the D500 also has 4K capability) now has the capability to shoot in 4K. This is great news for all Nikon shooters and budding DSLR videographers.
Related Post: Best DSLR for Video Production
Erstwhile Nikon guys, those sitting on the fence contemplating moving to greener pastures, would be happy to hear this. This is not true 4K just UHD (3840 x 2160). Additionally, the recording is done in 3-minute bursts (unlike the D500). There's a built-in stereo sound recorder. Alternatively, you can add an external stereo microphone for better sound quality.
Watch this sample video shot by a Nikon D5 in 4K:
Storage
Two different versions of the camera are offered by Nikon. One that uses dual CF cards and the other which uses dual XQD cards. Make sure you specify which one's you need when pre-ordering.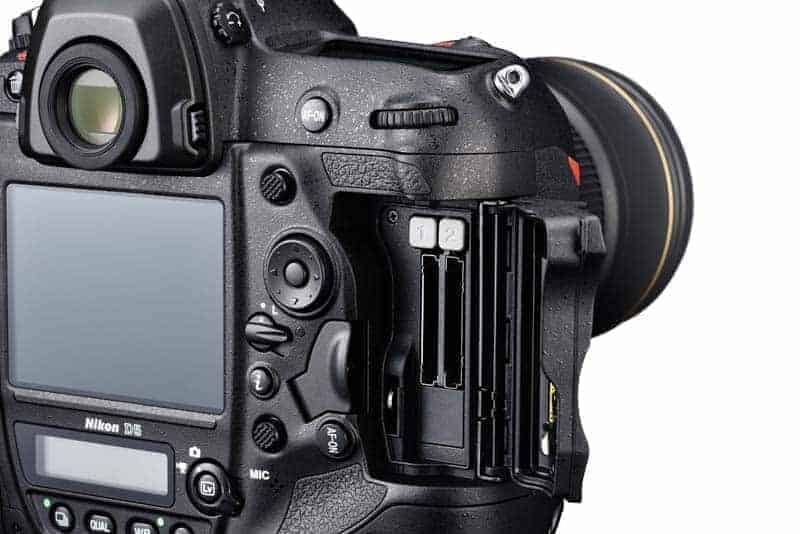 Touch Screen
The D5 gets a touch screen. That's a welcome change for those who missed it on the D4 and the D4S. It still isn't anywhere near the same degree of operability as some of Canon's touchscreens but at least it is here now.
Hopefully Nikon will upgrade this in later iterations. The screen is 3.2" diagonal in size, with a resolution of 2359 k dots, a viewing angle of 170˚ and five brightness adjustment levels.
Power
The D5 is powered by the same EN-EL 18a Lithium-ion battery pack the D4S uses. No more inter-operability issues
Price
The D5 is priced at $3,685.99.
Would it Make Sense to Buy the New D5?
Well, it depends on what you shoot and how deep your budget is.
Reason # 1 – If you are a professional photographer and absolutely must have the best camera in its class then the extra ISO, higher resolution, faster AF, and other improvements will is hard to resist. It definitely is a better professional camera in all sense.
Reason # 2 – If you shoot videos the 4K ability will make sense except that there is not much that you can do with the LCD screen in terms of control. So, if 4K is the only requirement then this is not the best choice.
Reason # 3 – Upgrading, if you already have the D4S, then it really does not make that much of a sense. Then again for a pro photographer, someone who shoots commercially and must have the latest and the greatest, especially someone with a deep budget, then it does make sense.
Reason # 4 – First-time full-frame buyers with a godfather. Absolutely! This is the best full-frame camera that money can buy. It's great for fast action, sports, low light and anything else you may fancy shooting.
The only area where it loses out is the sensor resolution. This is where the Canon EOS 5DS R with its 50.6 megapixel sensor (!!) wins hands down.
So for resolution go for the Canon, for everything else the new Nikon D5 wins! The release date of the new Nikon D5 is the 15th of March 2016.
Nikon D5 vs Nikon D610
---
As an Amazon Associate we earn from qualifying purchases. Certain content that appears on PhotoWorkout.com comes from Amazon. This content is provided 'as is' and is subject to change or removal at any time.