Planning to go to Japan? The island nation is on the top of many photographer's bucket lists for its iconic, unforgettable views. However, when tickets are booked and it comes time to plan out an itinerary, choosing how to spend your time can be an intimidating feat. Even photographing Tokyo alone can be overwhelming for many.
Luckily, we're here to help. We can't go over all the must-see spots in the country, but we did the next best thing. In this article, we've determined a few areas in Tokyo that every visiting photographer should hit.
Some areas feature great deals on gear. Others offer a peek into the local art scene. All offer incredible photo opportunities that inspire visitors worldwide– if you know where to look, that is. Let's get to it.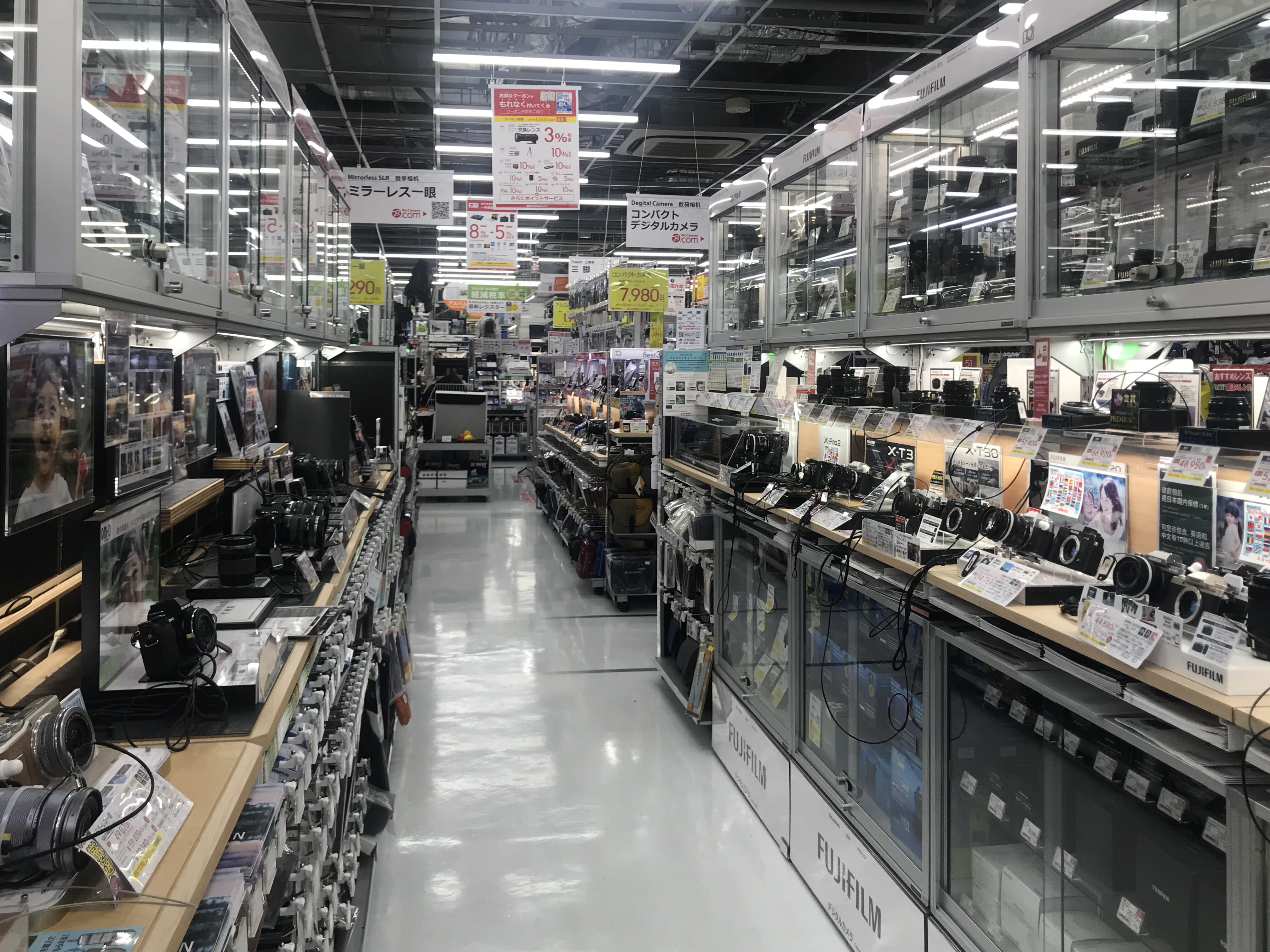 If you want to buy gear in Tokyo, jump down to buying gear at the Tokyo Sony showroom.
1. Akihabara
Smack in the center of Tokyo, you'll find this bustling neighborhood, nicknamed the "Electric City". A hub for all things electronic, it's a great place to hunt for camera gear, unlike anything you'd ever find in Western shopping districts. Here are a few must-stop camera destinations you won't want to miss.
PhotoWorkout's Must-Stop Akihabara Spots:
Yodobashi Camera
I didn't get the chance to check out Yodobashi's Akihabara location, and it's one of the biggest regrets of my entire visit. It's always ranked among the top photo retail destinations in the area, and for good reason.
Like BIC, this retailer stocks a large variety of electronics ranging from cameras to PCs. Towering 9 stories tall, this behemoth of a store goes above and beyond what you'd expect out of a "camera store". Outside of electronics, you'll find a full floor food court as well as a double-decker driving range!
Lemon (Akihabara Branch)
Lemon is a high-quality consignment chain, stocked with curiosities like fountain pens and model trains. The Akihabara location, however, deals with photographic gear exclusively.
Because of the nature of their business, you never know exactly what you'll find in their stocks. That being said, they've been known to carry imported products from acclaimed brands like Leica and Hasselblad. It's conveniently located in Akihabara station, making it the perfect pit stop for those just passing through the area.
BIC camera (Akihabara Branch)
It's practically impossible to miss BIC Camera, even in this flashing technicolor neighborhood. Here, you'll find lenses, camera bodies, tripods, darkroom supplies, and almost any other photo accessory you can imagine.
Make a point to stop at BIC, even if you're not looking to make a purchase. It's truly astounding to see their electronics packed (quite literally) floor to ceiling among dozens of narrow aisles. If you can't make it to Akihabara, don't worry. There are other BIC locations scattered throughout Tokyo, as well as in other major cities like Osaka.
Nisshin Camera
Though not nearly as large as BIC or Yodobashi, Nisshin's bright yellow sign is another Akihabara staple that's difficult to miss. Nisshin's specialty is secondhand supplies, meaning that prices on gear may vary. You'll just have to stop in to find savings for yourself!
One thing we love about Nisshin? It's both tax-free (exempt from Japan's consumption tax) and duty-free (exempt from other government taxes). So, at the very least, you'll save a bit on that front.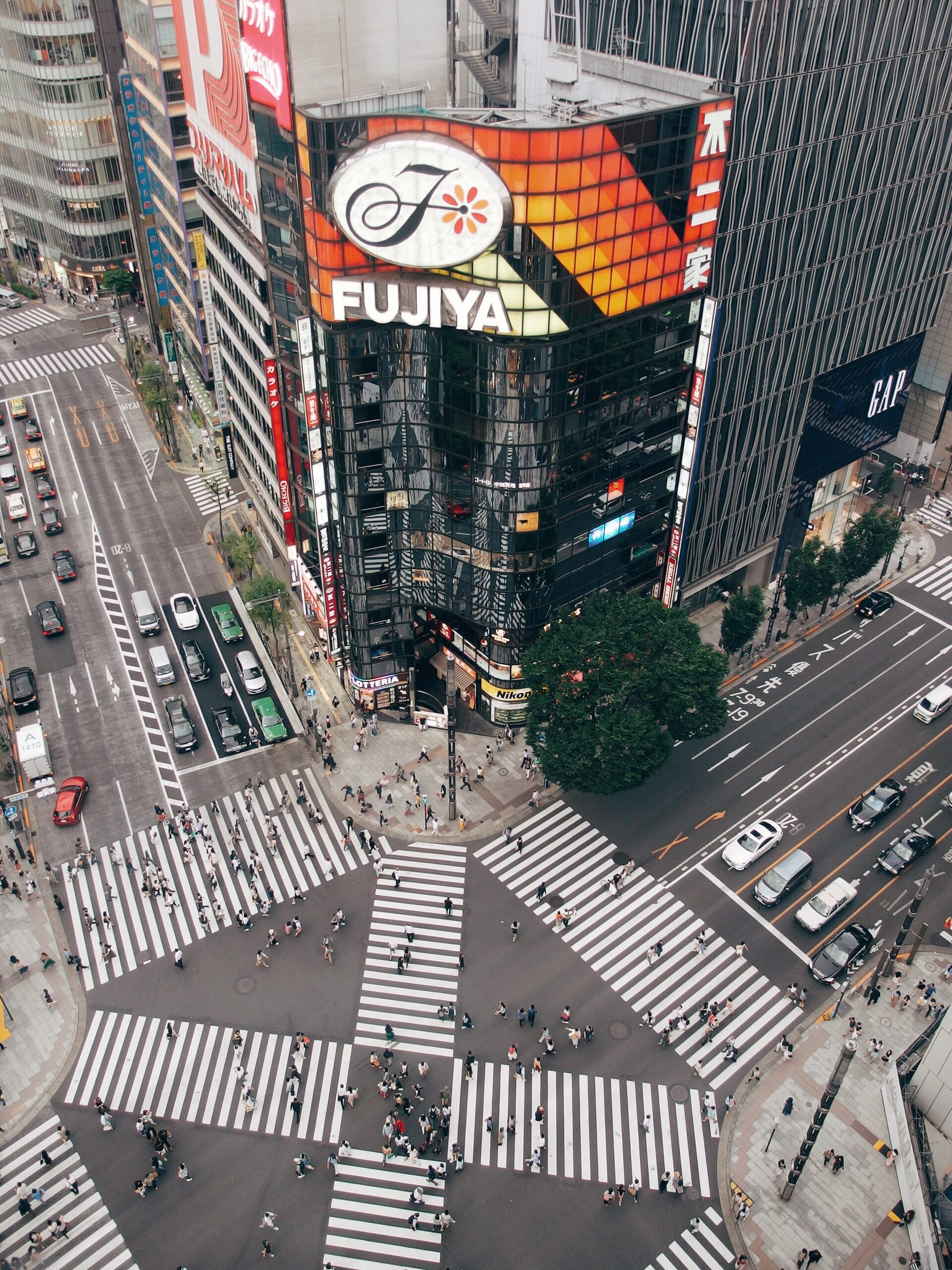 2. Ginza
In short, Ginza is a shopaholic's dream come true. Home to dozens of designer retailers, this polished upscale area may not seem like it has much in store for visiting shutterbugs. However, this neighborhood has plenty to offer photographers willing to get a little creative.
PhotoWorkout's Must-Stop Ginza Spots:
Sony Flagship Store (and more!)
Even if you're not into luxury clothes, handbags, or watches, there's some serious shopping to be had in the Ginza neighborhood. For photographers, the biggest draw is without a doubt Sony's Flagship Store (read more below). Just around the corner, you'll also find one of two Leica stores in Ginza.
However, there's plenty more to the area for those not looking to spend a small fortune. In particular, I got a kick out of photographing the elaborate storefront displays outside and around the Sony store. Filled with texture and color, they're actually pretty great for capturing poppy, abstract shots.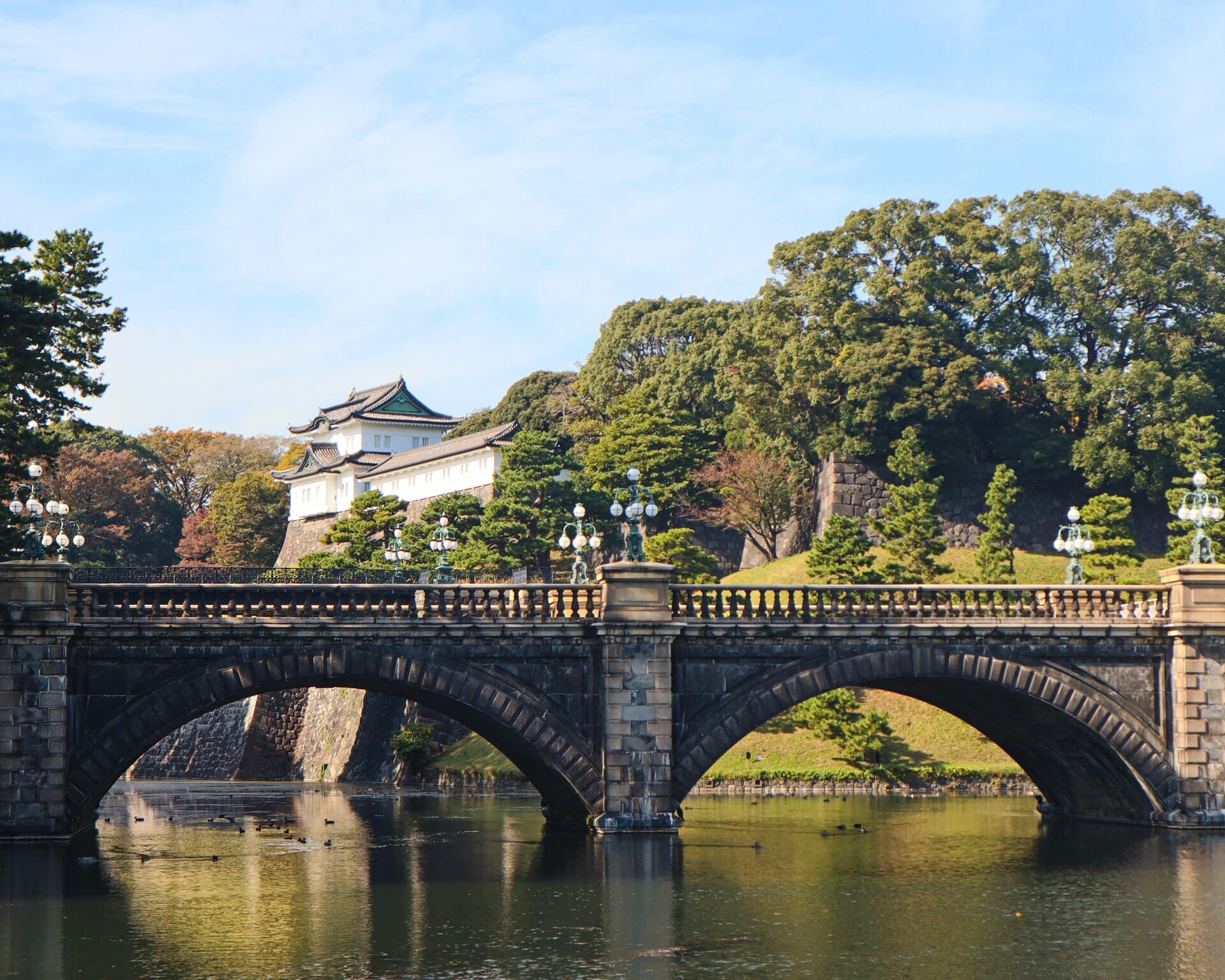 Imperial Palace
Japan's Imperial Palace is not to be missed by any visitor photographing Tokyo. Surrounded by a beautiful reflecting pool, it's a great place to grab a cityscape that captures old and new structures alike. The palace itself is gorgeous, making it an obvious draw for architectural photographers.
But, surprisingly enough, I found myself most focused on people-watching more so than anything else. Tourists from around the world of all ages shuffled around, nearly all of whom were trying to get their own images of the impressive structure.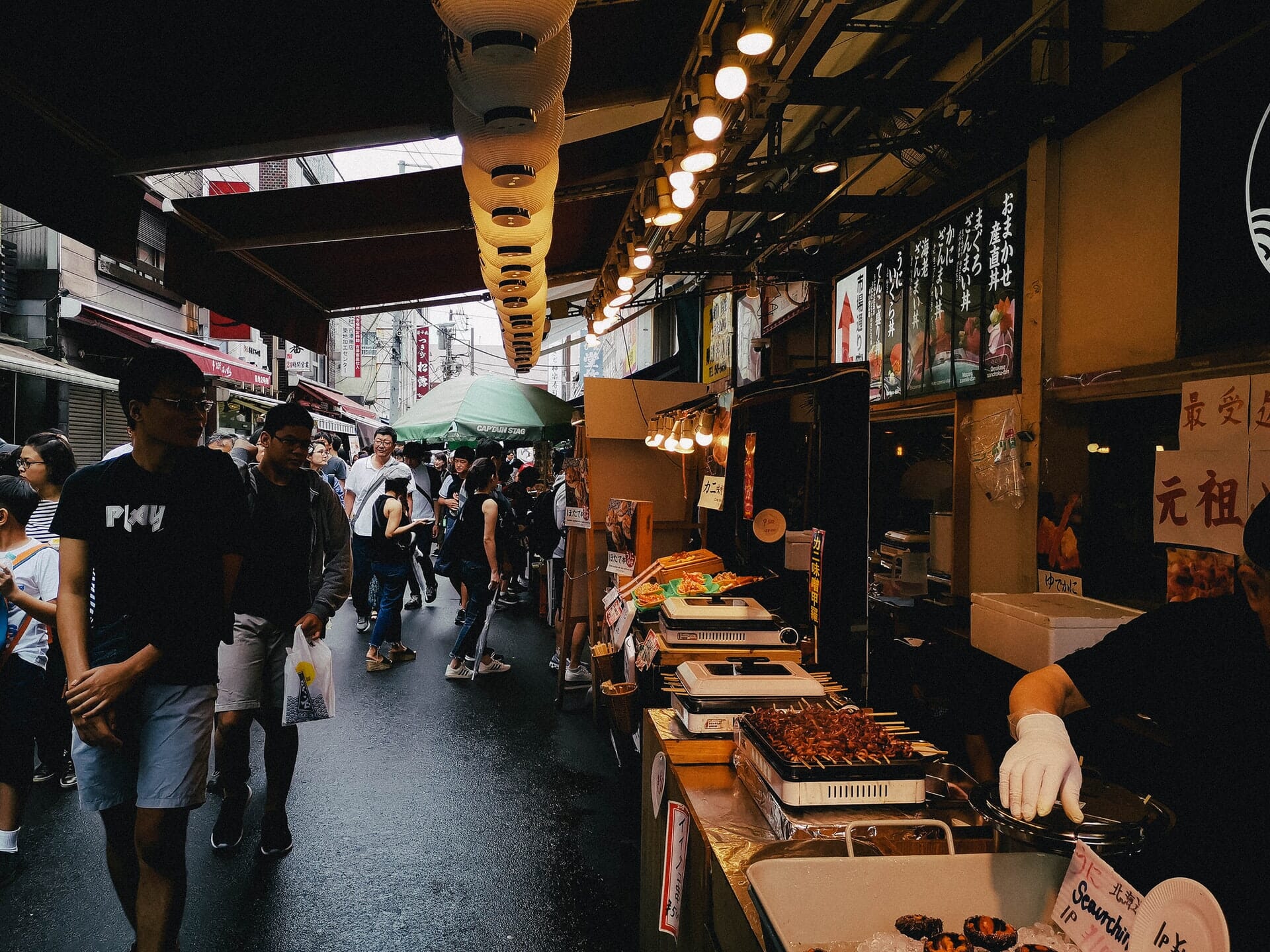 Tsukiji Market
If Louis Vuitton and Chanel aren't really your style, head south to Tsukiji Market for an entirely different scene. The fish market is less cosmopolitan but packed to the gills with tiny makeshift vendors. You'll find Japanese delicacies at every corner ranging from octopus tentacles to fresh wasabi root.
Whether you stop by for a quick snack or you're committed to getting some candid street portraits, you won't leave Tsukiji disappointed.

3. Shibuya
An epicenter for commerce, entertainment, and beyond, Shibuya is a force to be reckoned with. Especially popular with young people, the area is buzzing 24 hours a day, 7 days a week. For this reason, it's one of our top picks for photographing Tokyo street culture and generally making portraits.
PhotoWorkout's Must-Stop Shibuya Spots:
Shibuya Station
Have you really been to Tokyo at all if you haven't witnessed the Shibuya Scramble? As one of the busiest railway stations in the world, a near-constant flow of people heads in every direction in and outside of Shibuya Station
If you have the time, try grabbing a seat at a coffee shop in any of the square's towering buildings. You'll have a better vantage point for capturing the iconic pedestrian crossing than you would in the thick of the crowd.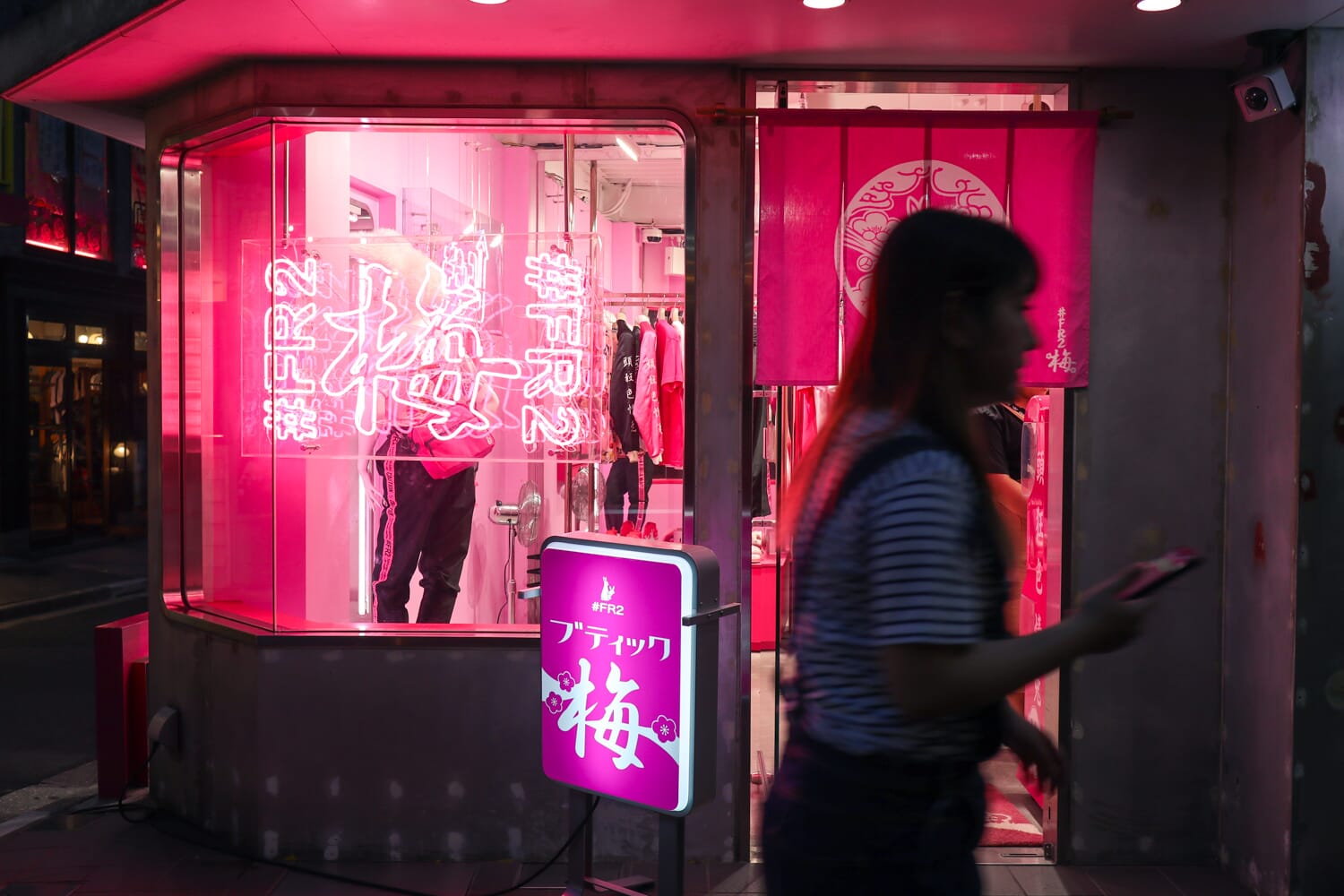 Harajuku
For fashion photographers, Harajuku can't be beaten. As the cute capital of the universe, it's unlike any other neighborhood on earth. And, if you can get over the initial sensory overload, it's a haven for outrageous photographs
Everywhere you look, there's cosplay and contemporary fashion. Pastel storefronts blare J-pop as endless vendors peddle cotton candy and crepes. Together, it melds to create the perfect conditions for compelling, edgy street portraits.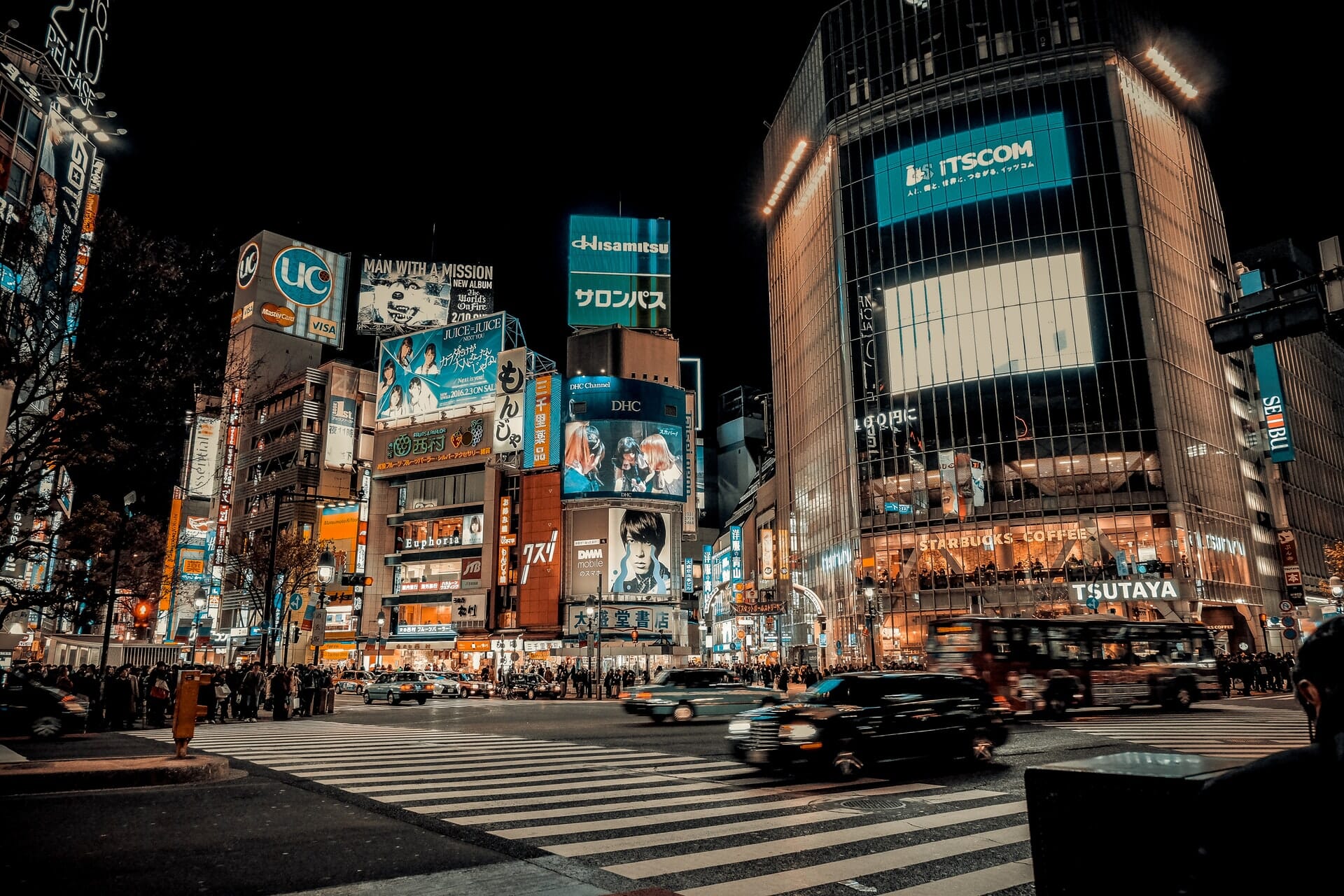 Just About Anywhere.
Shibuya is chock full of interesting little corners that would make any photographer drool. It's hard to find a place that doesn't have something exciting going on.
Though the district is easy to get around by rail, I actually found myself walking much of the time that I was in Shibuya. This was a great way to get acquainted with the area, but it also opened up a ton of small shooting opportunities I would have overlooked otherwise.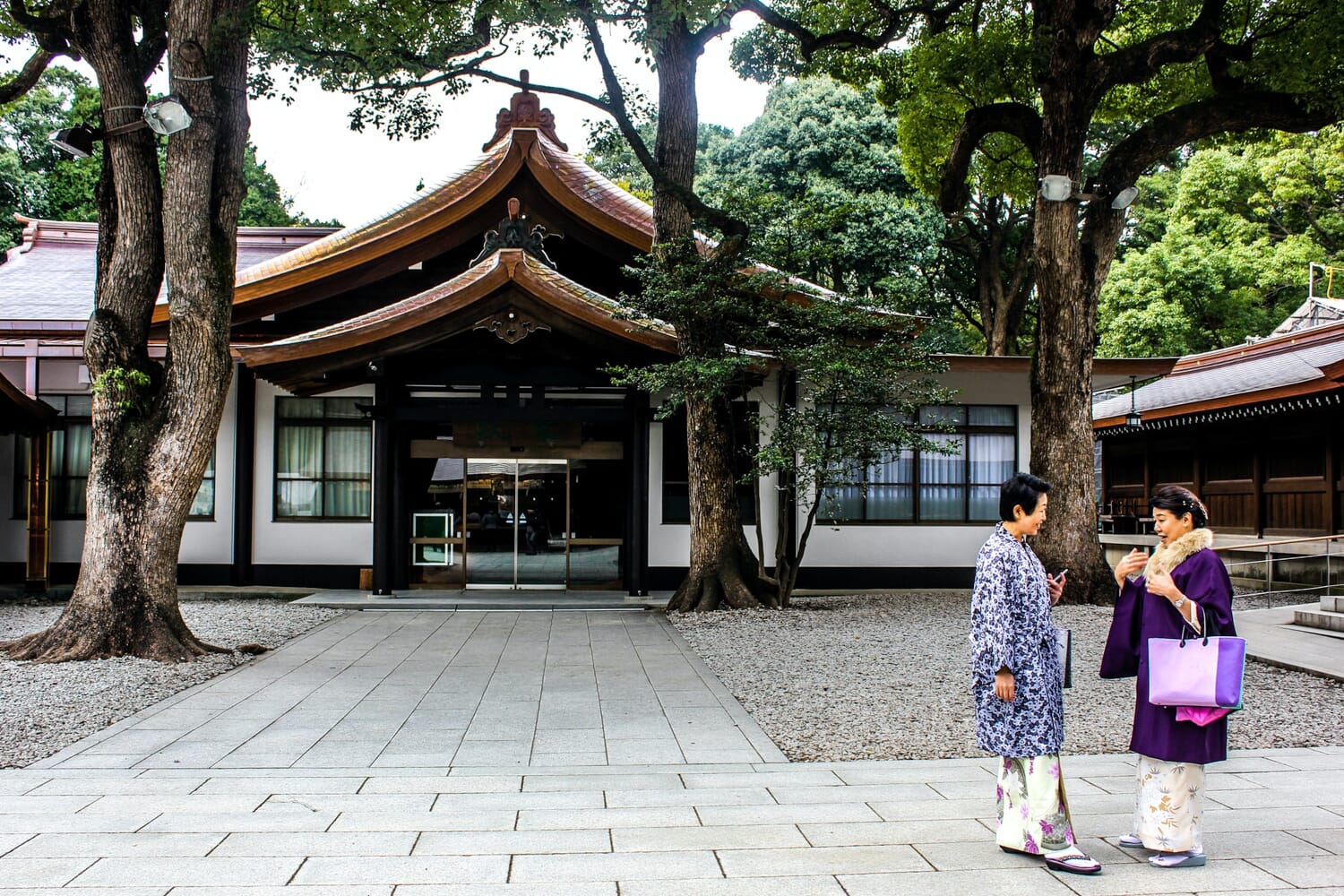 4. Shinjuku
By a long shot, Shinjuku was my favorite place to explore while photographing Tokyo. While it has the life of Shibuya in many areas, it also houses some sleepier neighborhoods with an entirely different vibe. The strange juncture of residential and commercial structures even has some nature and greenery, if you know where to look.
PhotoWorkout's Must-Stop Shinjuku Spots:
Meiji Temple (and surrounding area)
Being in a drastically different country, I struggled for some time to determine where my first stop should be. Finally, I settled on wandering to the attraction nearest my hotel – Meiji Temple. So, still jetlagged from the flight, I wandered there on foot as the sun came up on our first day out.
For a metro sporting a massive population, you'd be surprised to see just how much nature thrives in Tokyo. With a wooded path and vast park surrounding the area, I took full advantage of the dappled light that flowed between tree branches. Meiji (as well as other large green spaces) offers a refreshing break from the neon lights and skyscraper's the city is famous for.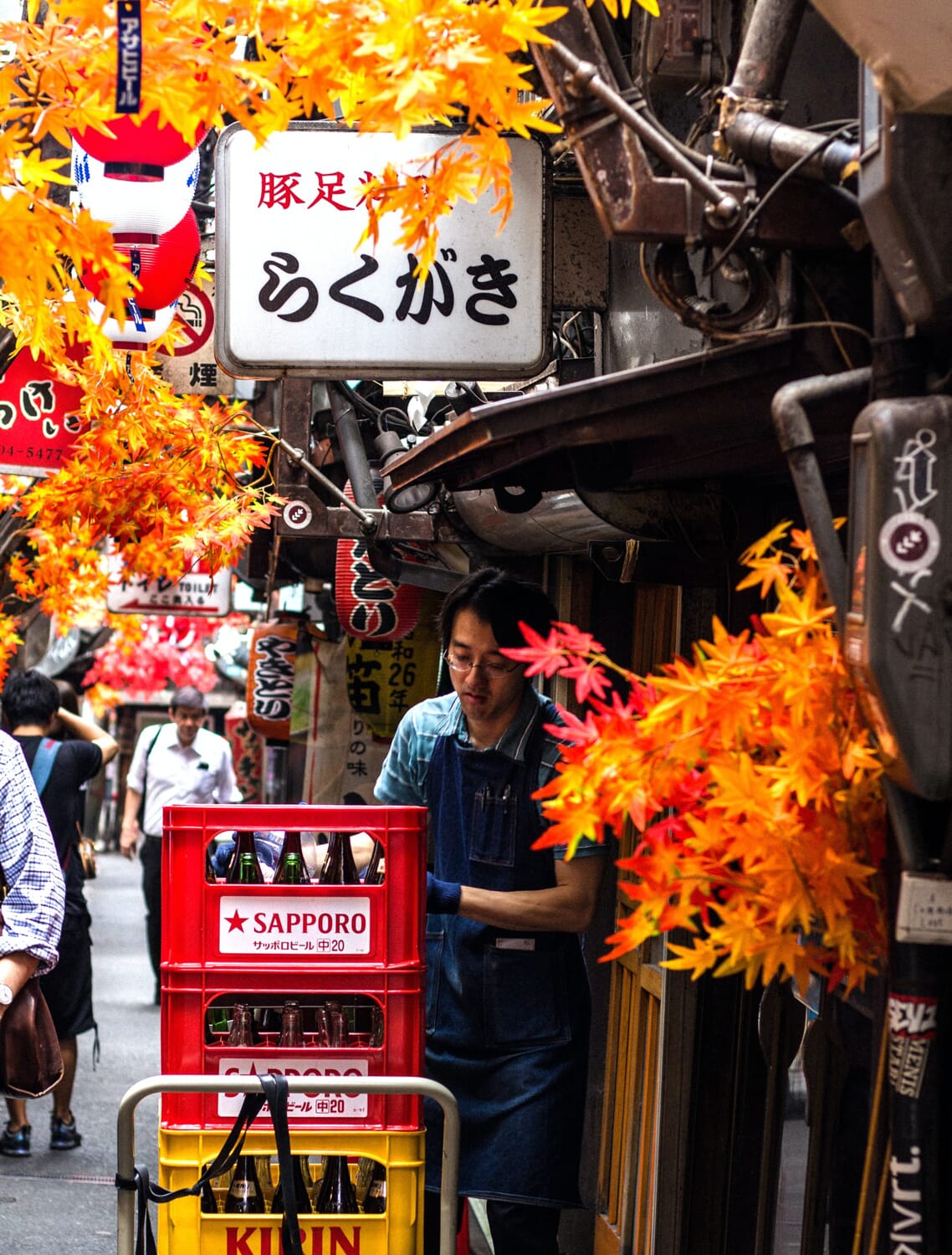 Golden Gai
One of Tokyo's nicest qualities is its vibrant nightlife. Golden Gai – a string of bars and izakayas jammed down a narrow alley – is no exception. I was far from the only photographer out on the three separate nights I went out.
Dim lights illuminated the night as smoke and steam poured out of sardine-sized eateries, making for some strong, moody images. The greatest challenge you'll face in Golden Gai? Finding the space to take a shot without pedestrians blocking your view!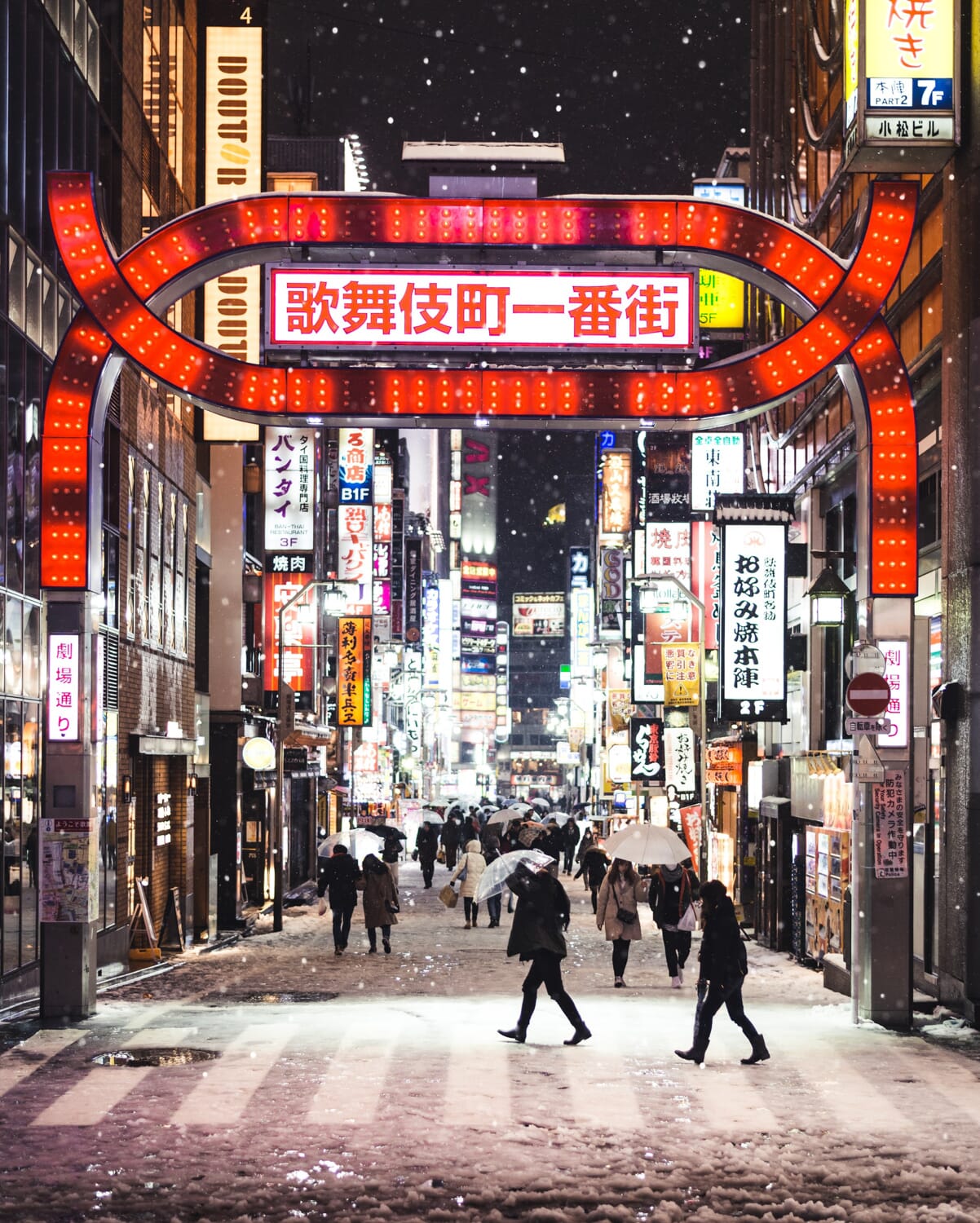 Kabukicho
Once you escape the labyrinth of micro-bars in Golden Gai, you'll find yourself smack in the middle of Kabukicho. As one of the city's most iconic entertainment hubs, you never know exactly what you'll find wandering the heart and soul of Shinjuku.
Featuring live robot shows, "love hotels", and much more, Kabukicho encapsulates what makes Japan such a unique place. Filled with colorful neon lights, it's one spot you won't want to overlook while photographing Tokyo.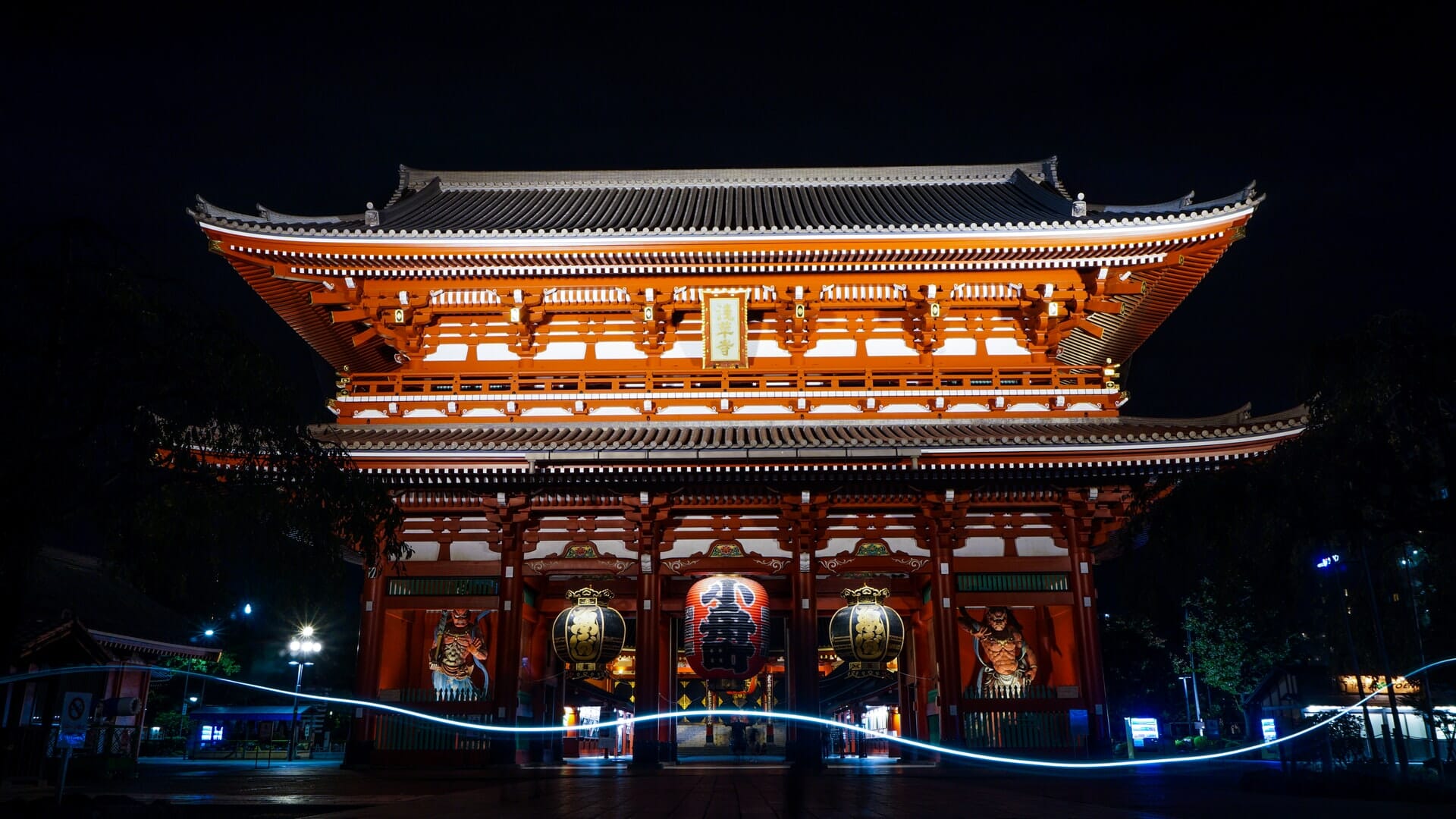 5. Asakusa
If you're looking to get a sense of what Tokyo once was, head to Asakusa. In some spots, every available inch is filled with traditional crafts for sale or tasty local delicacies. While it may not be as "hip" as Shibuya or Shinjuku, ancient temples collide with modern tourists for eyecatching, almost surreal shots.
PhotoWorkout's Must-Stop Asakusa Spots:
Senso-Ji Temple
Asakusa's biggest draw, without a doubt, is the massive Senso-Ji Buddhist Temple. Adjacent to a five-story Shinto shrine, this sacred space attracts visitors from around the world. Dozens of booths sell everything from keychains to soft-serve ice cream flank temple's entrance.
Even if you're not very interested in photographing Tokyo's history or architecture, this temple is a worthy detour. Seeing people from all walks of life interact with this surreal environment is fascinating. Some things can't be replicated outside of Japan. Senso-Ji is one of those things.
Sumida River
If you spend too much time among the towering buildings and racing railways of Tokyo, you're liable to forget that the city is actually on the water. A walk along the Sumida is the perfect place to decompress and remind yourself of the area's humble beginnings as a fishing village.
Unfortunately for us, our visit got cut short thanks to some torrential downpours. But if you're lucky enough to visit during more agreeable weather, you might run into some fireworks or festivals. At the very least, the river is an excellent spot to capture some images of the city skyline.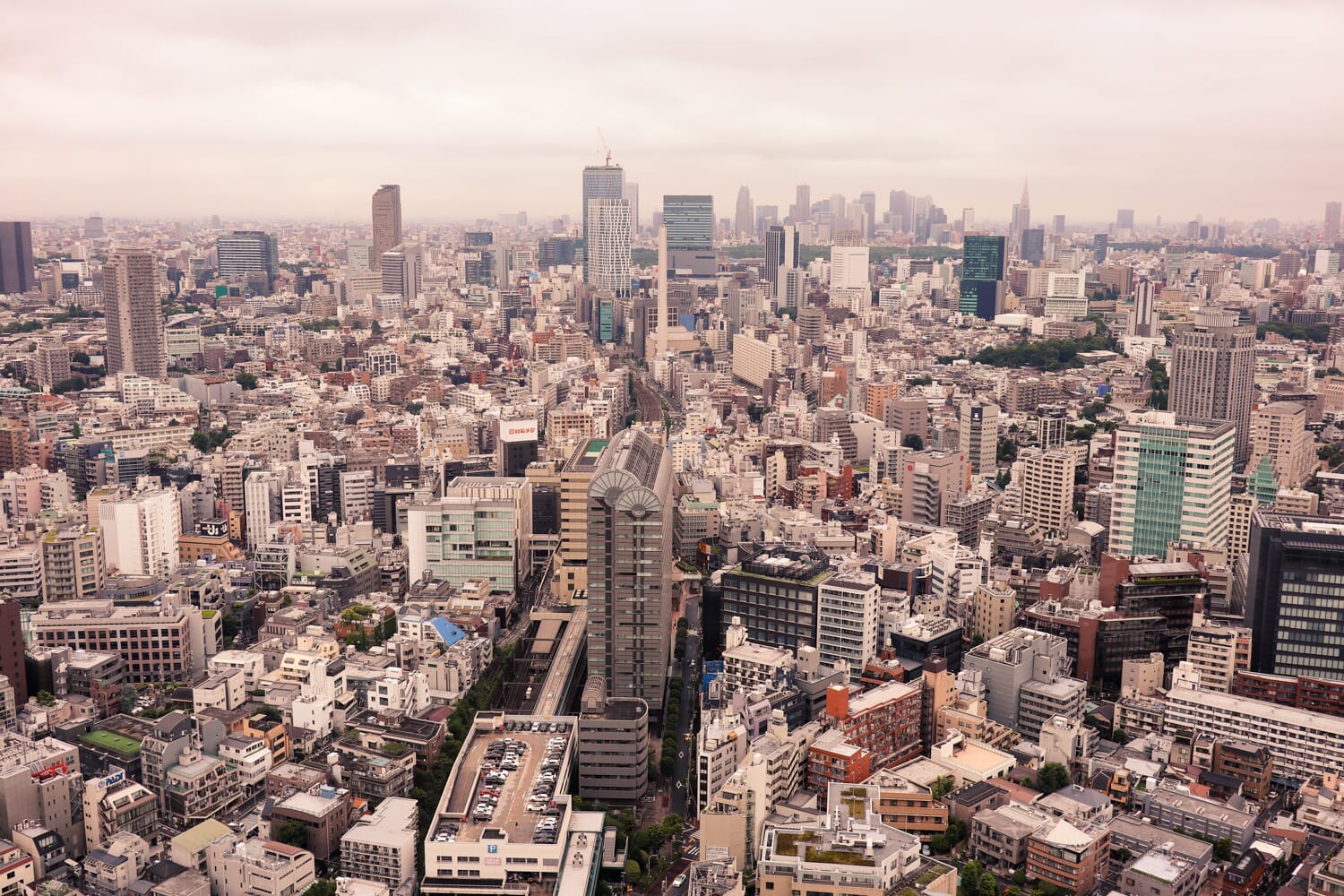 6. Ebisu
As headquarters to the Sapporo Brewery, a vivid food and drink scene has developed in the Ebisu district over the years. Yet, this area has much more to it than good eats. This underrated, artistic neighborhood is a place where any photographer can find inspiration.
PhotoWorkout's Must-Stop Ebisu Spots:
Tokyo Photographic Art Museum
Nestled in the Yebisu Garden Place (which has a lounge on the upper floors offering free views over Tokyo), you'll find the Tokyo Photographic Art Museum. It's a little easy to miss if you're not actively looking for it. Nevertheless, the galleries here offer a refreshing mix of old and new photography that makes it well worth the visit.
From hand-colored snapshots to expansive video displays, the museum fits in a little of everything. The museum also features works by renowned artists like Rinko Kawauchi and Hiroshi Sugimoto. Not to mention dozens of other moving works from photographers that haven't yet made their way across the sea.
Our tickets were about $6 USD each, barely making a dent in our trip's budget. If you're looking for a little bit of motivation while you're abroad, spend an hour or two visiting this hidden gem.
NADIFF A/P/A/R/T
All of us have seen impressive, beautiful photographs from Japan. Yet, many are unaware that Japan is also a hub for photo books. As such, Tokyo is one of the best places in the world to be if you're looking to expand your photographic library. There are a few great book shops scattered throughout the city, but NADIFF A/P/A/R/T may have been my favorite.
Located a few blocks away from the Photographic Art Museum, this shop has a wide range of publications that you won't be able to find outside of Japan. If you have a photo book fanatic to shop for or just want to grab a souvenir for yourself, it's a stop that's both convenient and cool.
Megu Tama Photo Book Cafe
Unfortunately, I found out about this incredible spot once I made it back to the US. However, I'd like to include Megu Tama on this list so that readers won't make the same mistake I did.
The only thing that rivaled exploring Japan with my camera was the delicious food. Megu Tama combines both, serving up full course meals for under $20 USD while hosting one of the largest private photo book collections. While I may be a bit biased as a photo book nerd, anyone remotely interested in photography should spend an hour or two browsing their selection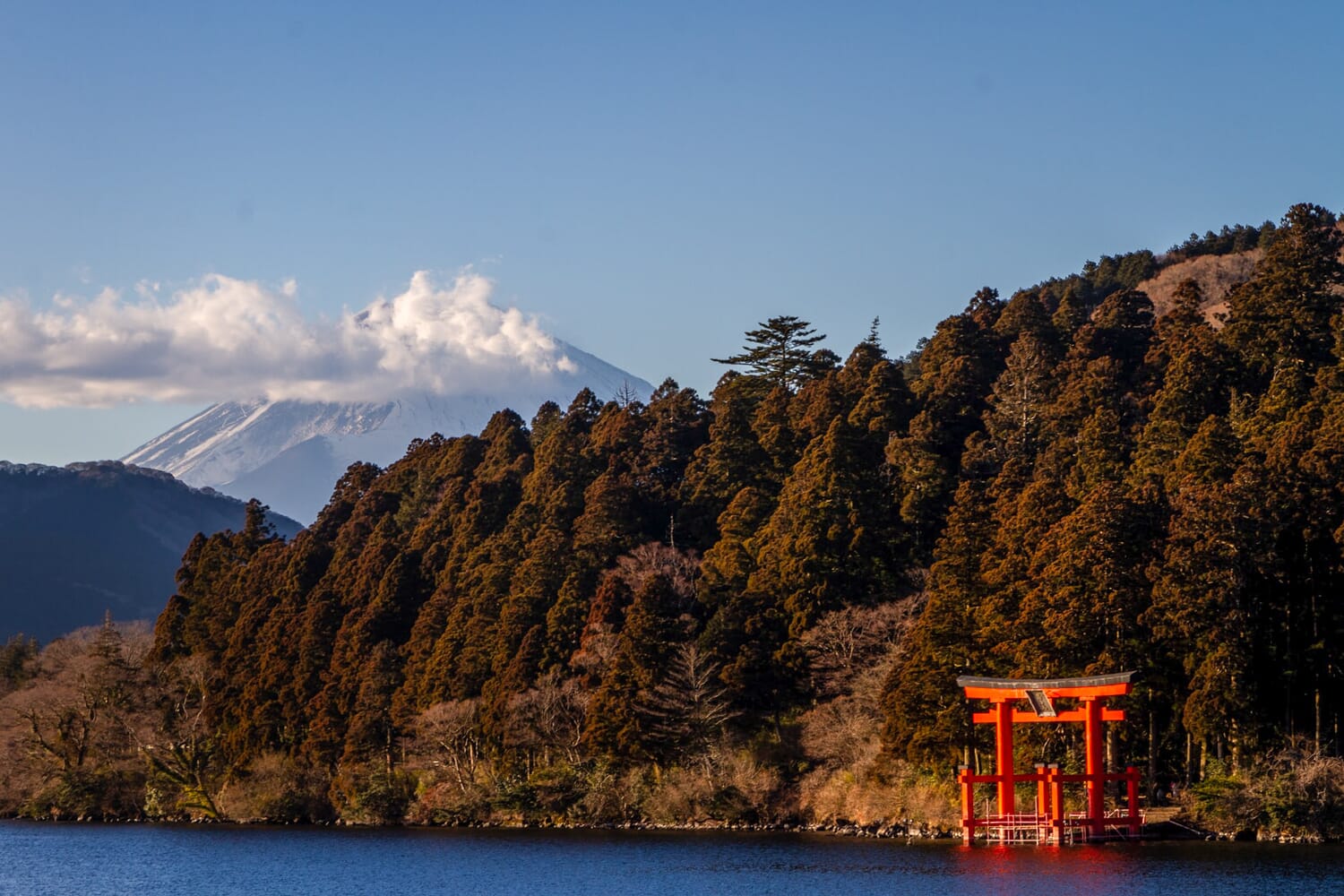 7. Beyond Tokyo
There's a lot to love about photographing Tokyo, but Japan is jam-packed with unique photo opportunities. And thanks to the country's stellar public transit, it's pretty easy to see what lies beyond the city.
Photographers looking to make the most of their stay should consider snagging a JR Rail Pass. For about $270 USD, you can grab a 7-day unlimited pass that grants you access to the shinkansen (bullet train) as well as local lines. This makes it possible to get just about anywhere you'd like in the country within a matter of hours.
While I loved Tokyo, I absolutely recommend getting out and exploring a bit off of the beaten path. Here are a few fantastic areas you can reach within a few hours.
Tokyo Day Trips for Visiting Photographers:
Hitachi (or whatever happens to be in season)
Japan's incredible biodiversity offers unique shooting opportunities year-round. Do your homework ahead of time to see what you can capitalize on – even if it lies a little out of the way.
Case and point: between all the southern cities and the majesty of Mt. Fuji, many tourists never make it too far north of Tokyo. But, as it turned out, our short October stay happened to overlap with the peak bloom of the local Kochia bush. So, we hopped on a train one Tuesday morning to check them out for ourselves at Hitachi Seaside Park, located on the country's east coast.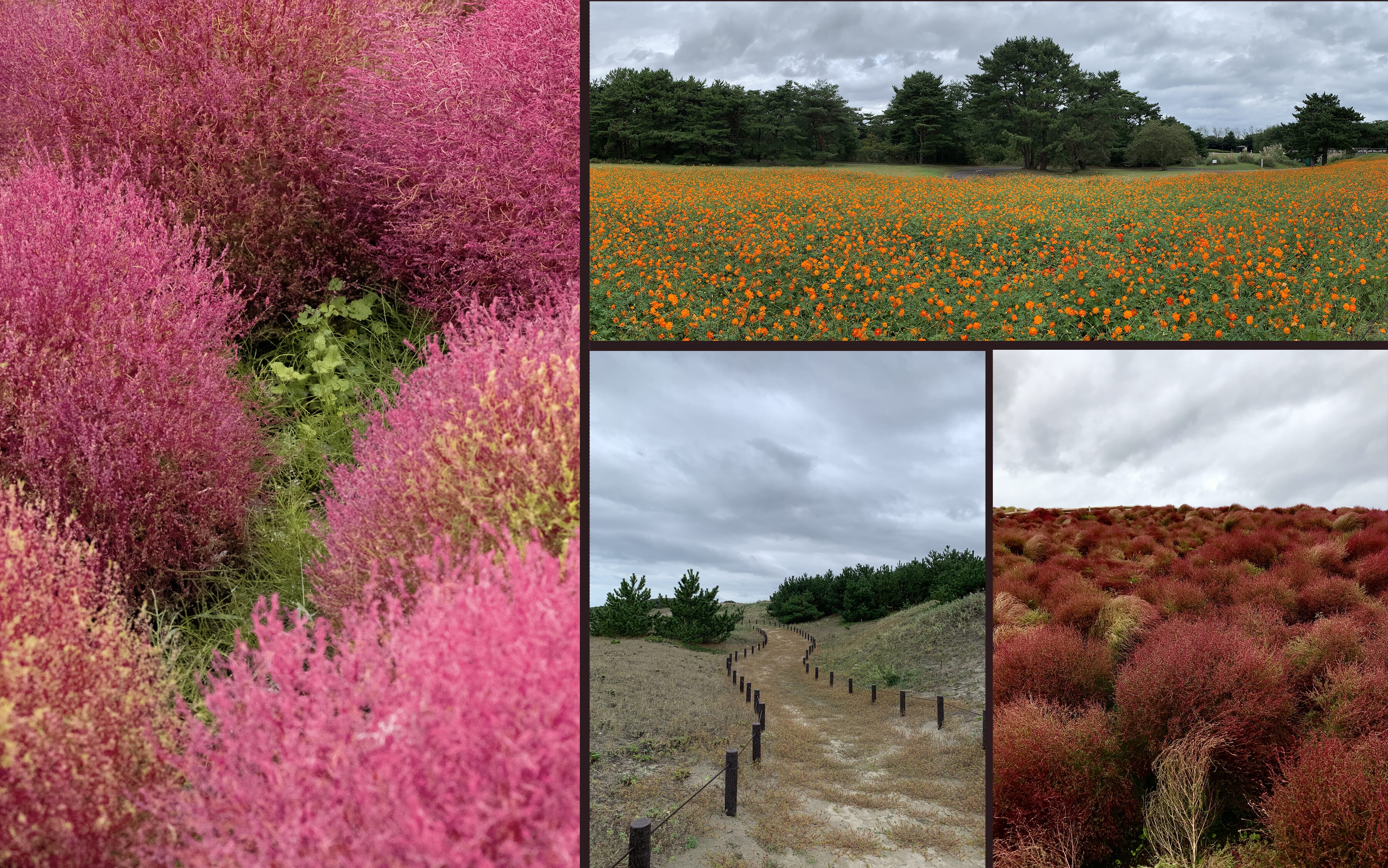 The extra effort provided us the chance to catch a scene that very few people get to witness in person, let alone photograph. Don't get me wrong – grabbing a stellar shot of a famous landmark or an interesting city dweller can be rewarding. However, taking the initiative to photograph something out of the ordinary will really make for memorable work.
Hakone
If you have the time, visiting any of the towns surrounding Mt. Fuji is a must. Hakone is a particularly charming mountain town, far enough out of the city to feel remote but far from lacking amenities or attractions.
Nearby Lake Ashi provides some great views of Fuji dotted with swan boats, and couldn't be a more perfect way to spend an afternoon. Getting there involves taking a ropeway over the Owakudani volcanic valley. If you can withstand the area's sulfuric fumes, you can get some equally beautiful (yet very different) shots.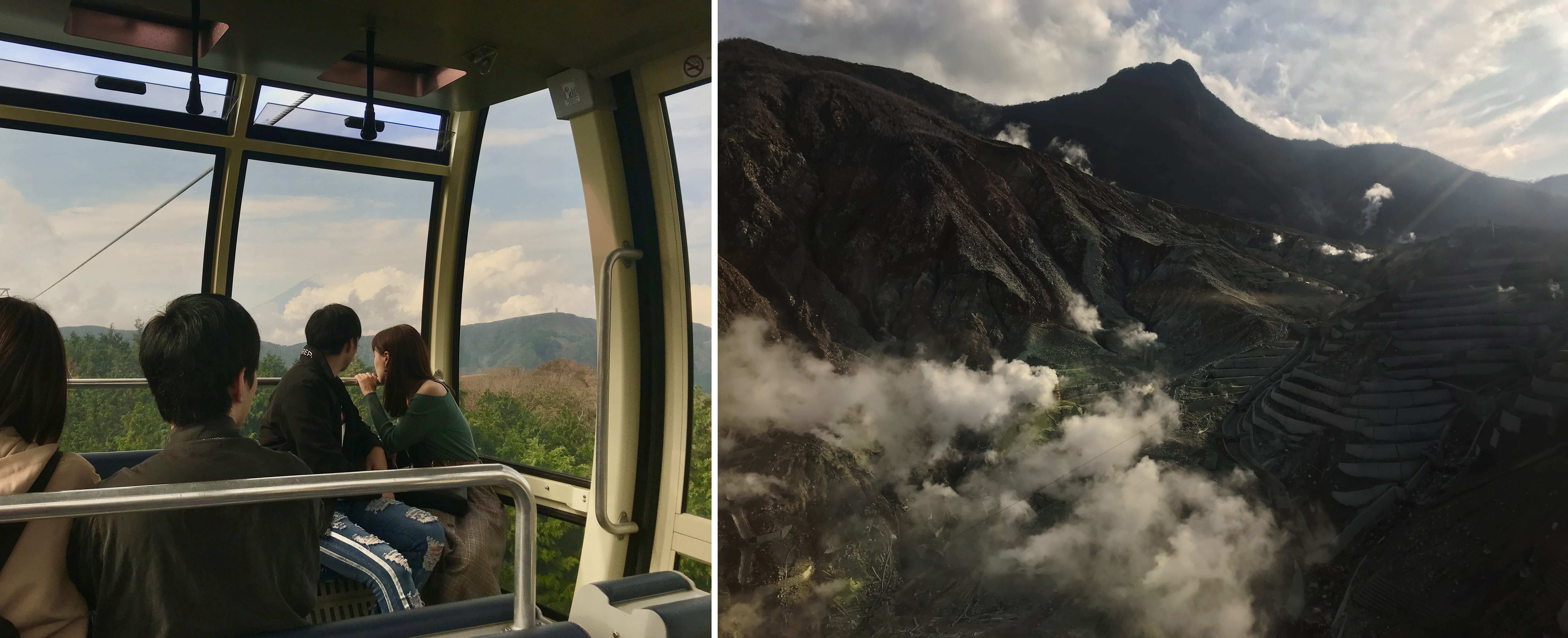 Some more great photo opportunities lie in Hakone's open-air museum. Filled with 1000 sculptures, it's an easy way to fill a morning or afternoon. Plus, it's a fun place to take pictures outside the cityscapes and street portraits you'll find photographing Tokyo.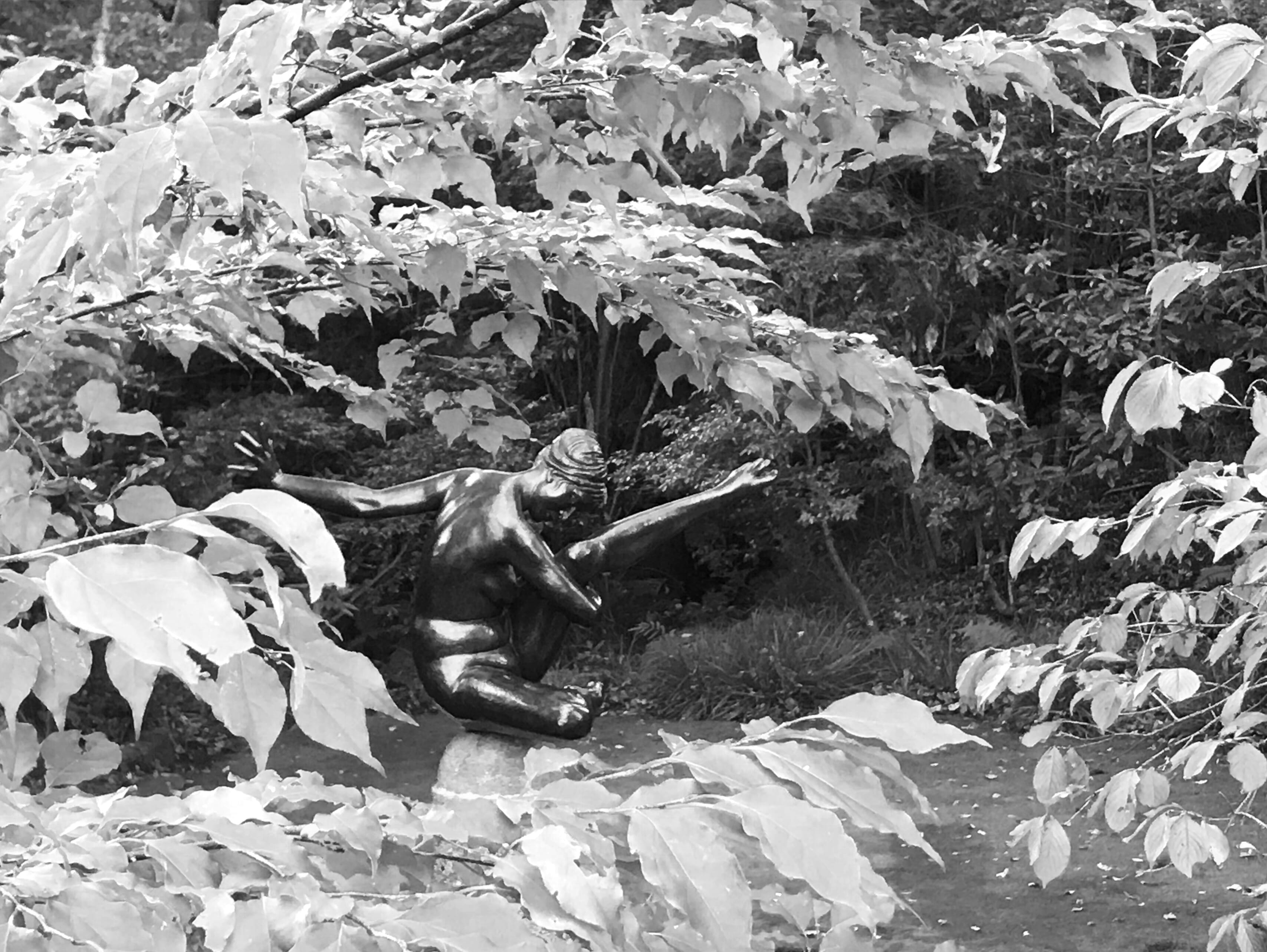 Matsumoto
Japan's Nagano prefecture is absolutely gorgeous, and at most times easy enough to access from Tokyo. We opted to spend a few evenings in the small sleepy city of Matsumoto, but a person could easily cover the area over the course of a single day.
The biggest draw to the area is the historic Matsumoto castle. This should be a mandatory stop for photographers interested in the ancient structures of Japan. Much like the Imperial Palace or Senso-Ji, it doubles as a prime people-watching spot.

Speaking of which, I found that the people of Matsumoto were genuinely pleasantly surprised to meet visitors from far away. If you want to photograph locals, you might have more luck finding a cooperative model here than you would in Tokyo or other high-volume areas.
Hopefully, these tips have given you a real flavor for what Tokyo has to offer for photographers. Whether you're looking to bag a good deal on some new gear or just want to capture some stunning images, Tokyo has something for everyone. If you've visited Tokyo or have plans to, why not let us know in the comments?
Bonus Tip: Ginza's Sony Showroom!
In Tokyo's upscale Ginza district, it's easy to feel overwhelmed. The towering skyscrapers, dazzling neon lights, and an endless stream of pedestrians are enough to sweep anyone off of their feet. But there's one place all photographers should make a point to visit: the flagship Sony Showroom!
Sprawled across three floors, the store is nestled just above Nissan's showroom at Ginza Place. An 11-story behemoth fitted with over 5,000 aluminum panels, the structure is almost impossible to miss.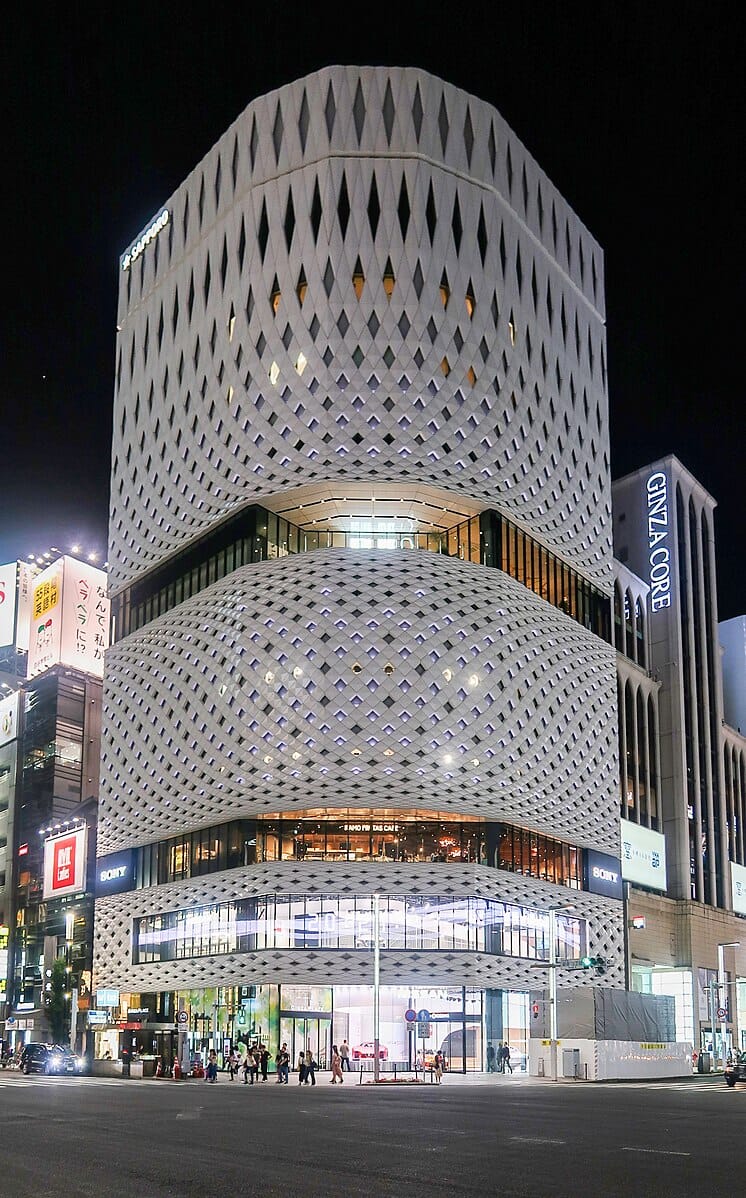 Recently, I had the opportunity to check out this photographer's heaven for myself. Here's what you can expect – and how much you can expect to pay – should you find yourself in the neighborhood.
Sony Store Highlights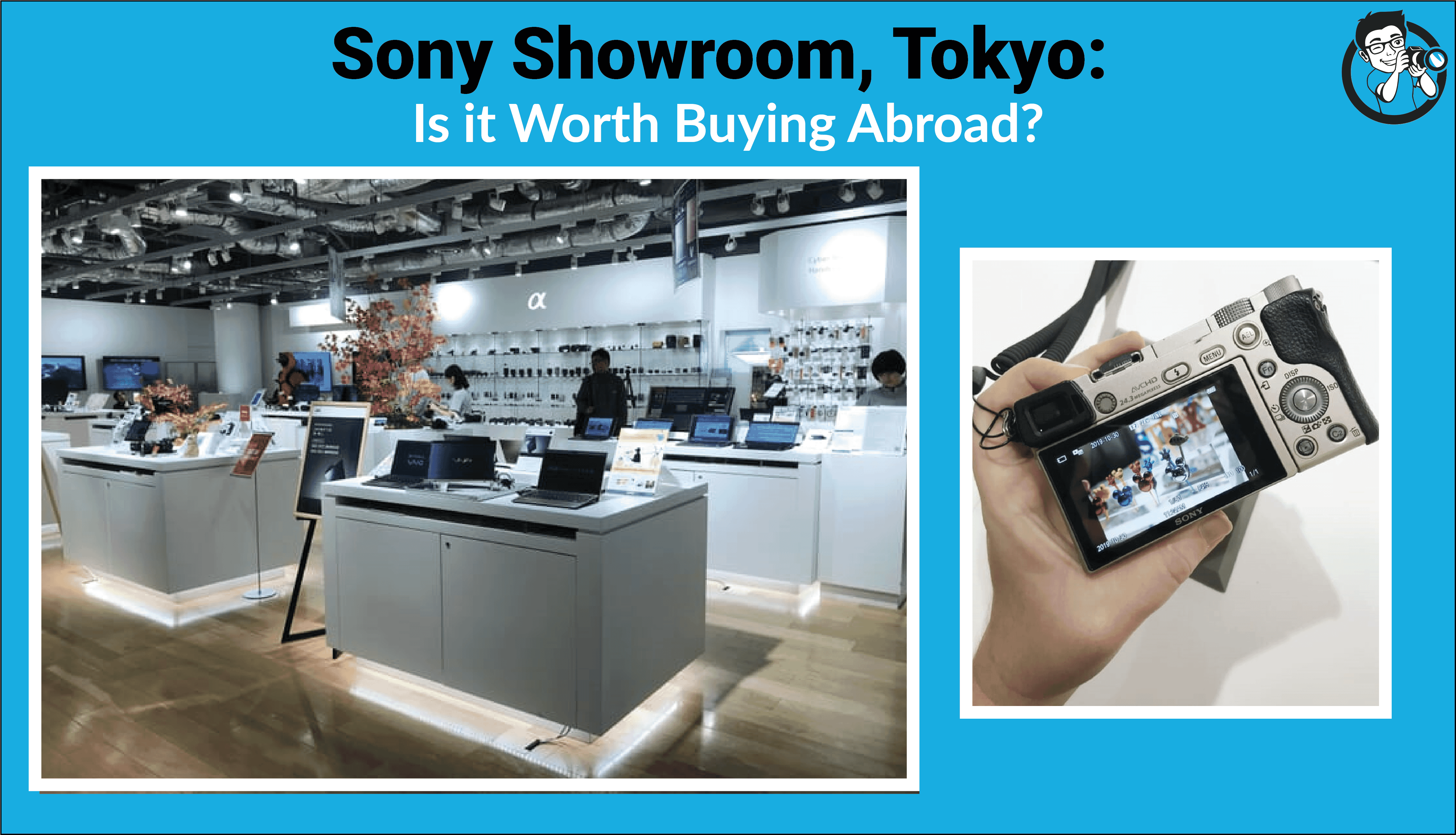 A few days prior, I had stopped into one of Tokyo's twenty-five Bic Camera locations. Navigating through the endless narrow aisles, I felt like I was drowning in electronics. This was not at all the case with Sony.
Slick and modern, it's easy for photographers to feel like kids in a candy store when perusing the Sony Showroom. The store had plenty to keep me occupied. However, it was also organized in a way such that I wouldn't miss out on any of the showroom's most popular products. Because of the floor's open design, customers never have to worry about clamoring over one another to get a look at a camera.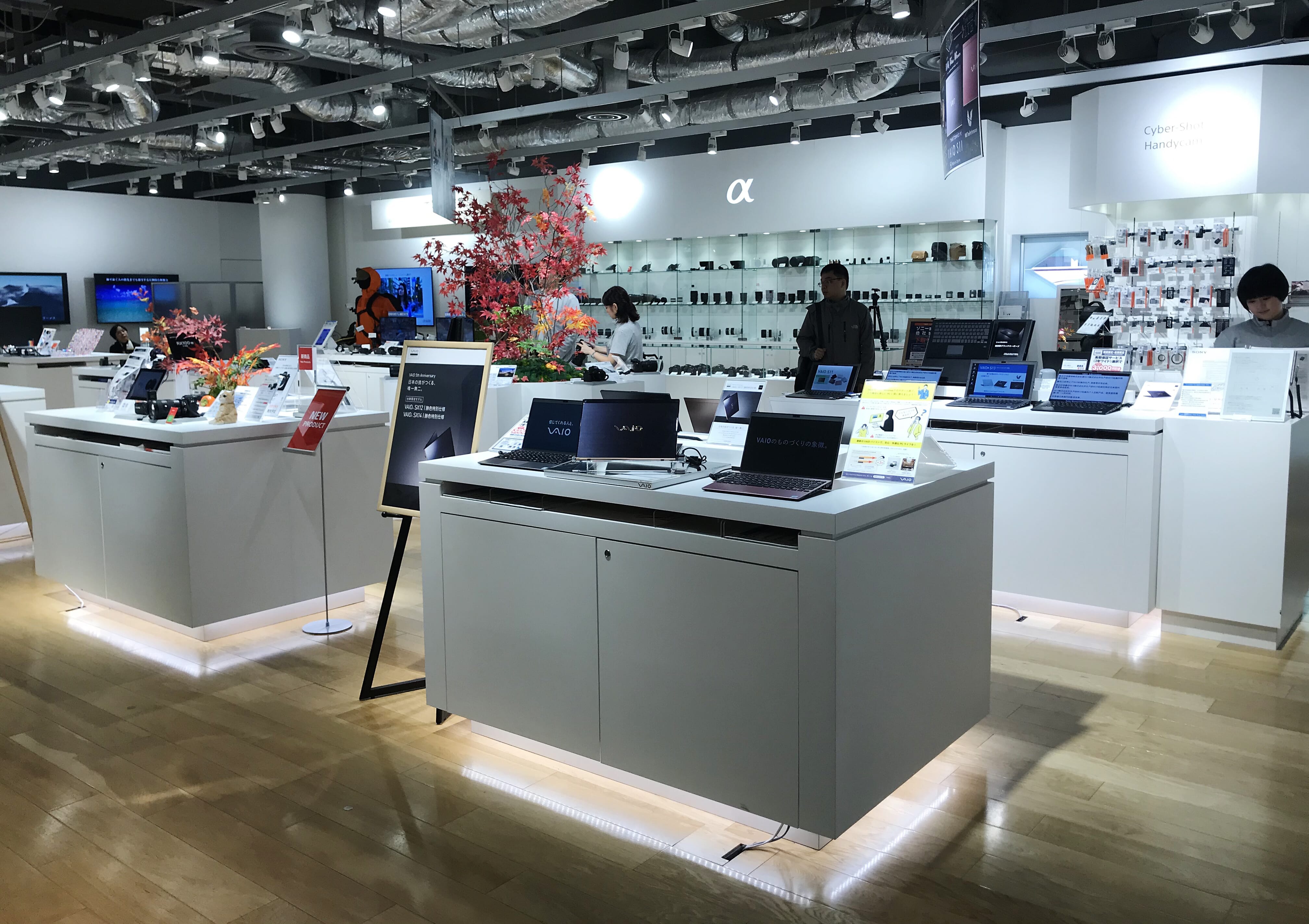 As such, I spent quite a bit of time exploring everything the store had to offer. Here's are just a few things that blew me away during my visit.
Tax-Free Merchandise
The main draw of Sony's top floor is its selection of tax-free merchandise. For all those visiting from abroad, this section is a must-visit spot.
In short, Japan enforces a flat consumption tax of 10% on almost everything outside of food and drink. However, tourists making purchases over ¥5000 (about $50 USD) may shop free of tax at certain locations so long as you bring your passport along. That means that you can avoid paying unnecessary fees for any gadgets you plan to bring back home with you!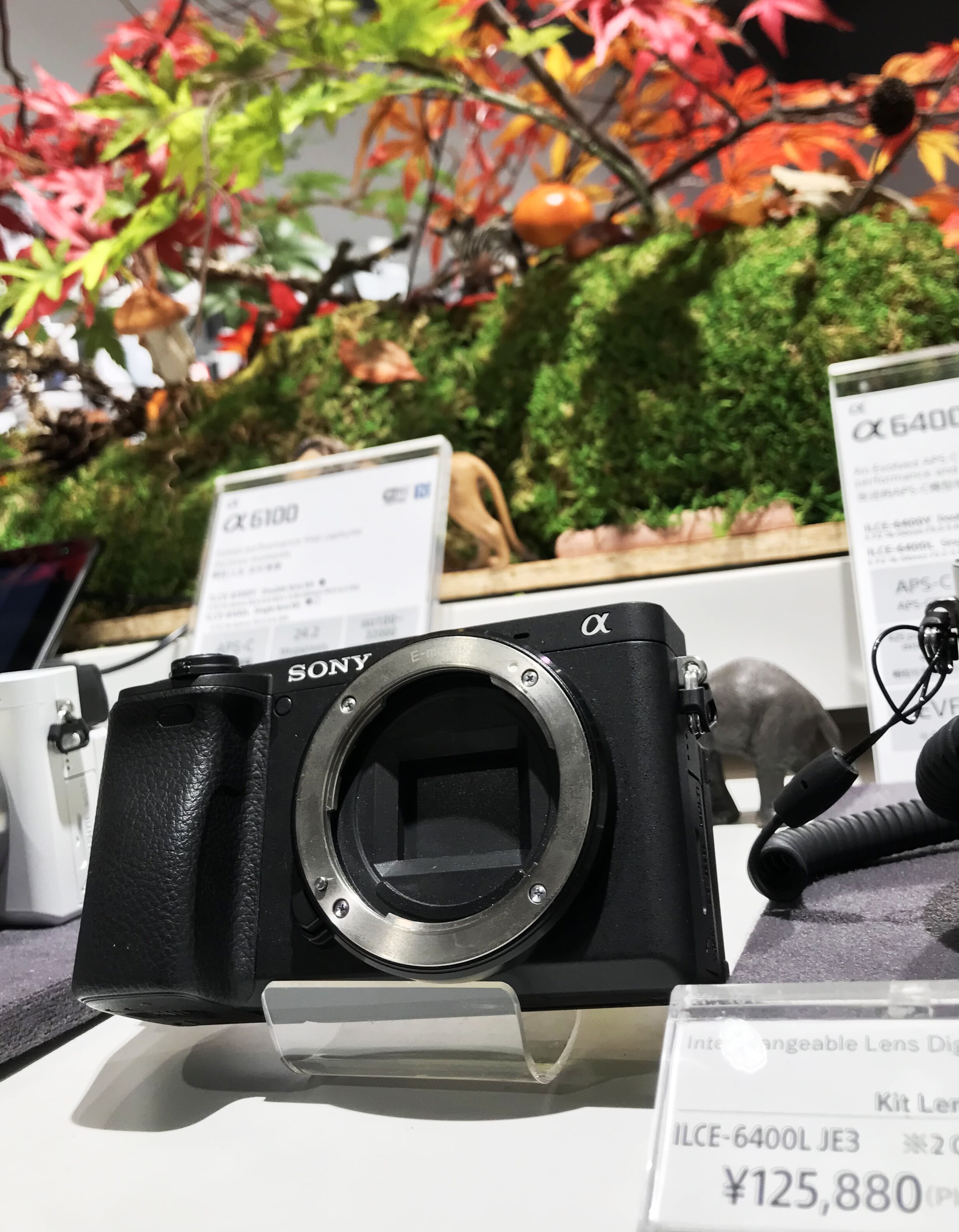 While the tax-free selection is a bit limited compared to what you'll find throughout the rest of the store, it's still worth taking a look into. With any luck, you may even stumble upon brand new products not yet released in your home country!
Sony Imaging Gallery
Not a Sony loyalist? The in-store imaging gallery is dead-set on changing your mind.
Featuring rotating exhibitions, this sizable gallery displays all that Sony imaging is capable of. During my visit, an artist by the name of Masashi Mitsui was showing. In the form of large, vibrant prints, Mitsui's body of work displayed just what a skilled hand armed with Sony equipment could accomplish.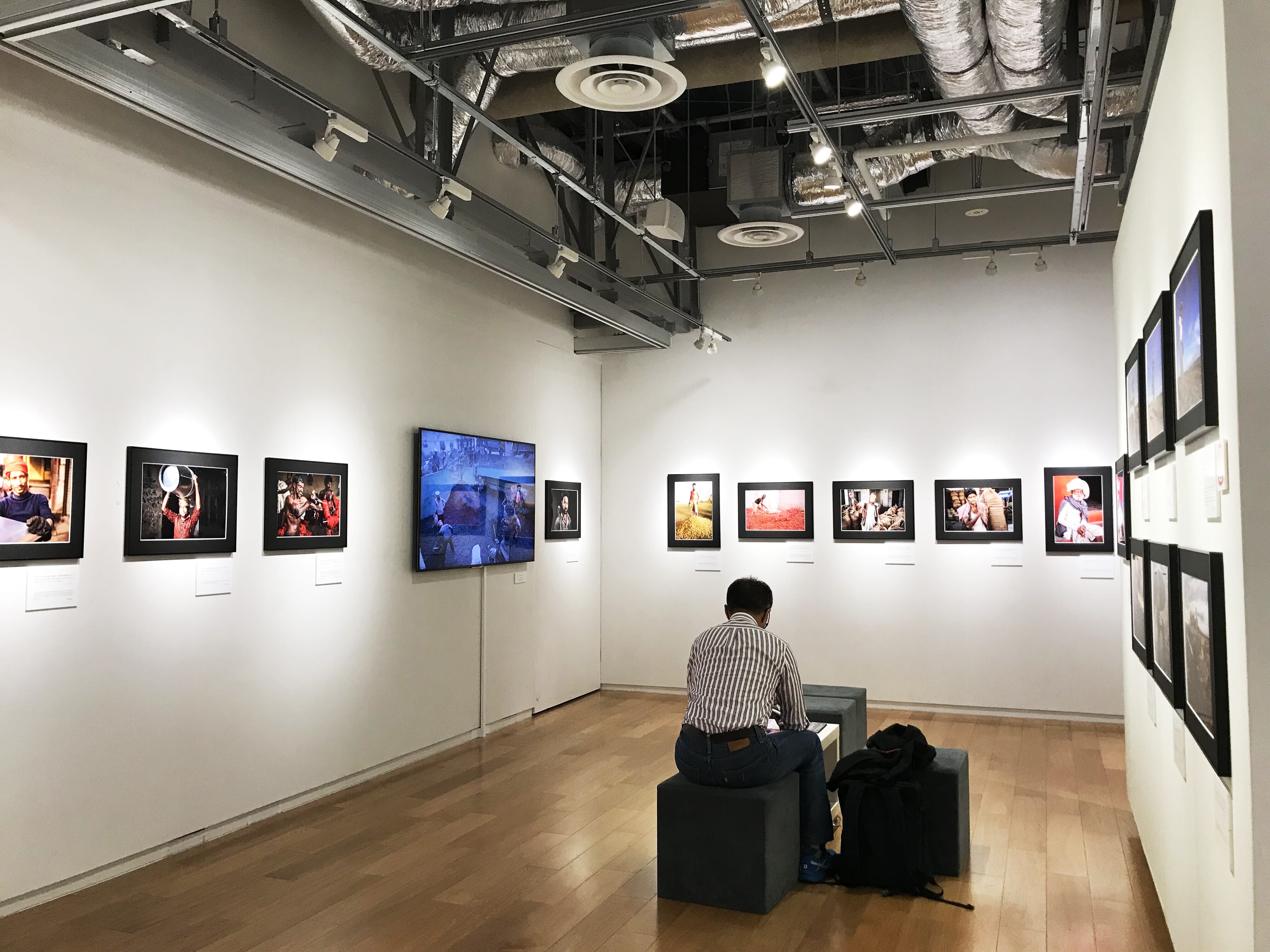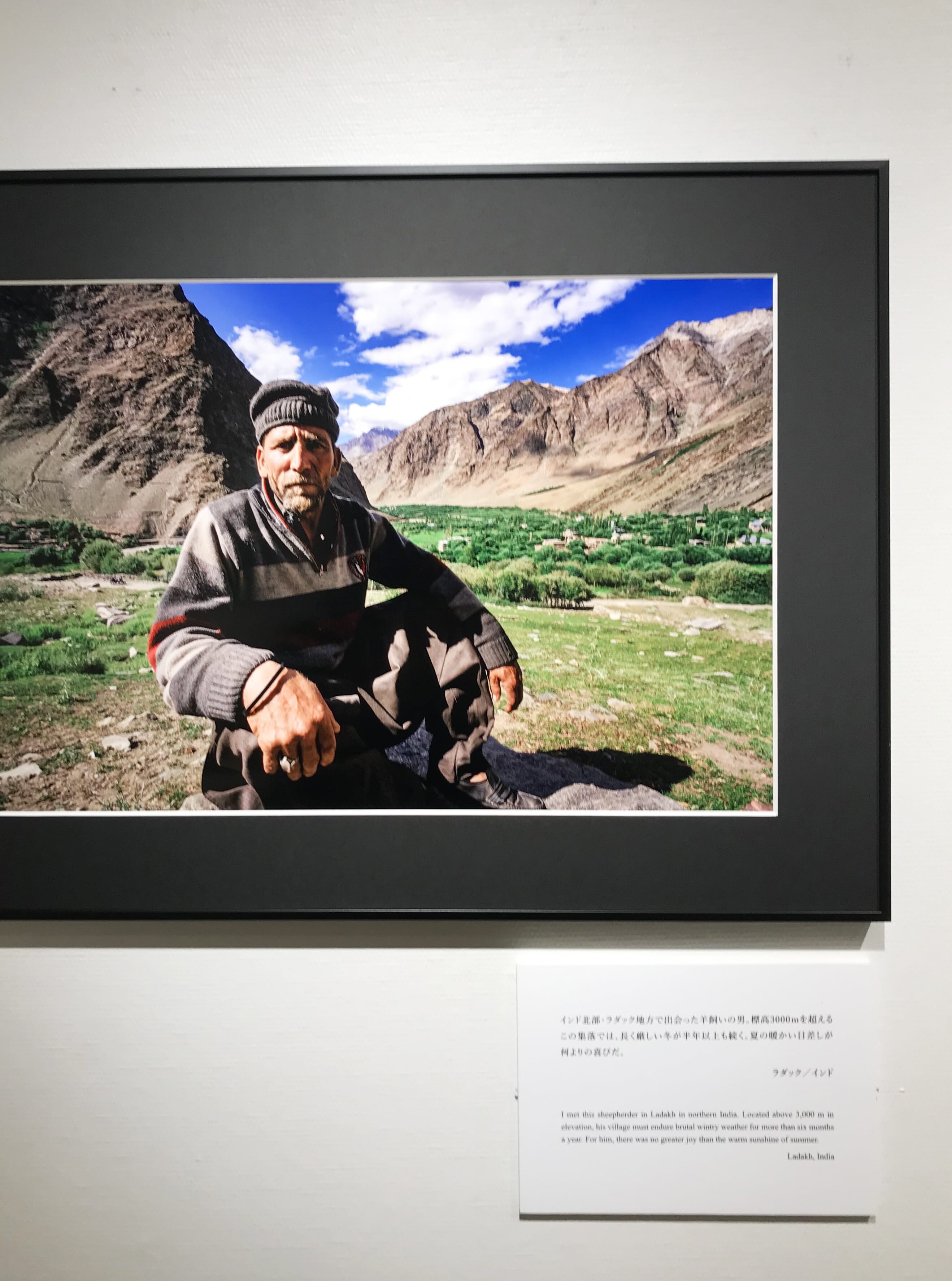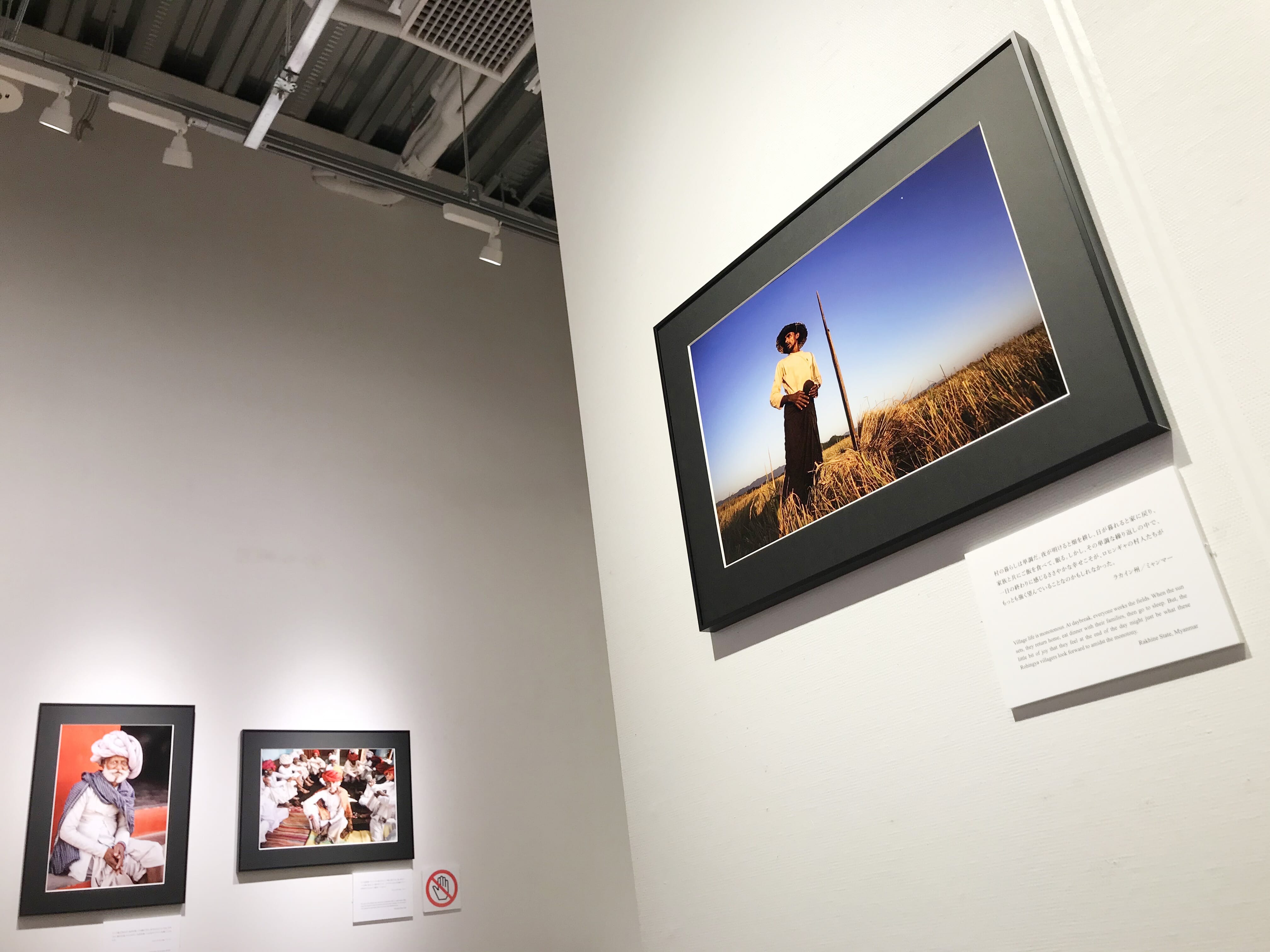 In particular, I enjoyed this brief reprieve because it provided a chance to learn about an artist I likely wouldn't have encountered. But I'd be lying if I said I didn't spend a minute or two wondering whether the gear Mitsui used to make his portraits was going for a good price a few feet away. No matter how you slice it, Sony's strategy of showing what its products can do is an effective one.
Theater Room
Sony has so much to offer in terms of photography that it's easy to forget that the electronics giant sells plenty outside of cameras and lenses. Their middle floor is devoted to the likes of headphones, gaming accessories, and of course, televisions.
Not everything on this floor is a realistic purchase for buyers traveling from overseas. When push comes to shove, it's just not worth it for most people to try getting a large smart TV through customs. Nevertheless, it's still a cool area to check out if you need to step away from temptation for a moment.
Interactive Product Demonstrations
Just showing customers what Sony has to offer is enough to get most photographers drooling. But what truly gets visitors excited is the hands-on experience the showroom floor has to offer.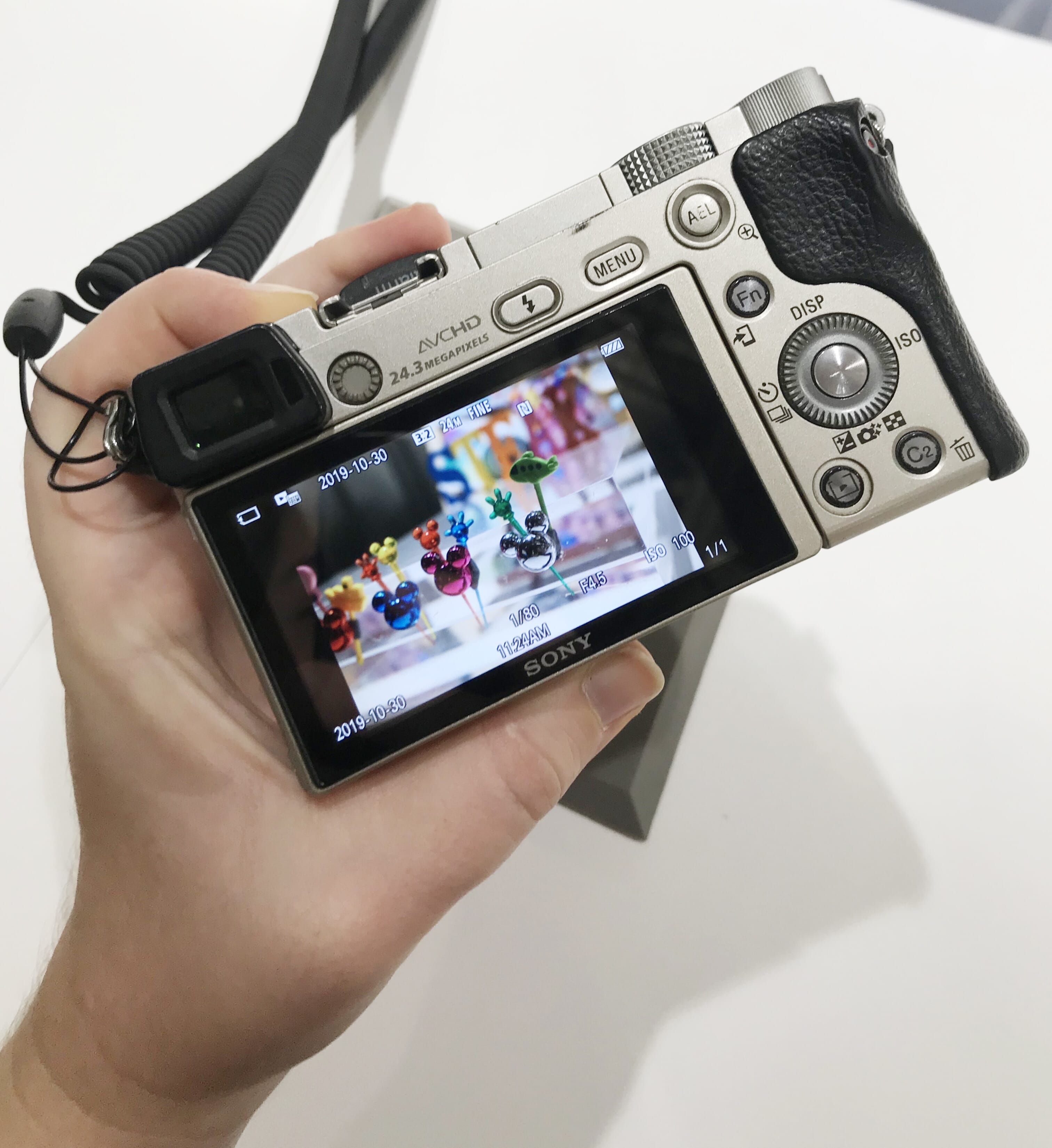 There are several stations set up where you can pick up a camera on your own and experiment. At the time of my visit, there were areas for customers to test out the following features:
A motion simulator illustrating internal stabilizers for video recorders
"Curtained" scenes for showcasing low light capabilities. 
Still lifes for illustrating lens focal length differences and bokeh. 
And that's not including displays outside of the photo supplies. If you're interested in testing out some earbuds, there's an array of headphones connected to MP3s ready to peruse. You can even take some time to play with Aibo, a mechanical dog on prominent display!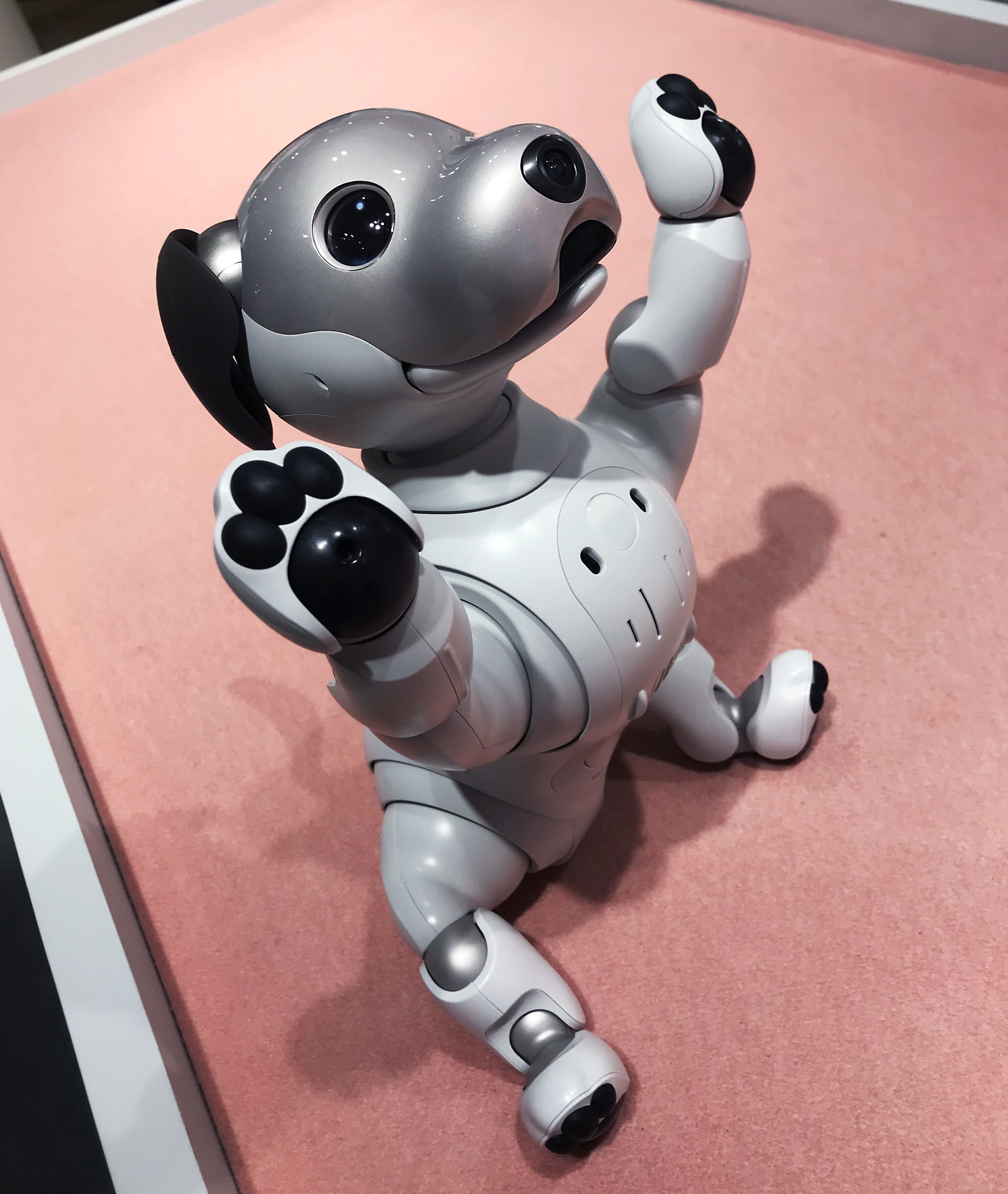 Is it Worth it?
The big question on every photographer's mind upon walking through the doors of the Sony store?
"HOW MUCH CAN I SAVE FROM A VISIT TO THE SHOWROOM?"
Unfortunately, the answer isn't all that straightforward. In fact, in some cases, you may be in better shape ordering online from the comfort of your couch. Here's the breakdown of what I found from my visit and a little bit of outside research.
Tip #1: The more recent the release, the less you're likely to save.
It's easy to get fired up about your brand's most recent release. After all, it's only natural to want the latest and greatest for ourselves. But if you're seeking exclusive offers on in-demand products, you'll leave feeling disappointed.
The majority Sony's newest camera bodies sport price tags in-store comparable to what you'll find online. However, if you're in the market and willing to settle for older camera models, shopping at Sony may be a worthwhile endeavor. With markdowns as much as 15% off, you can easily save a few hundred dollars on a camera body or bundle purchase.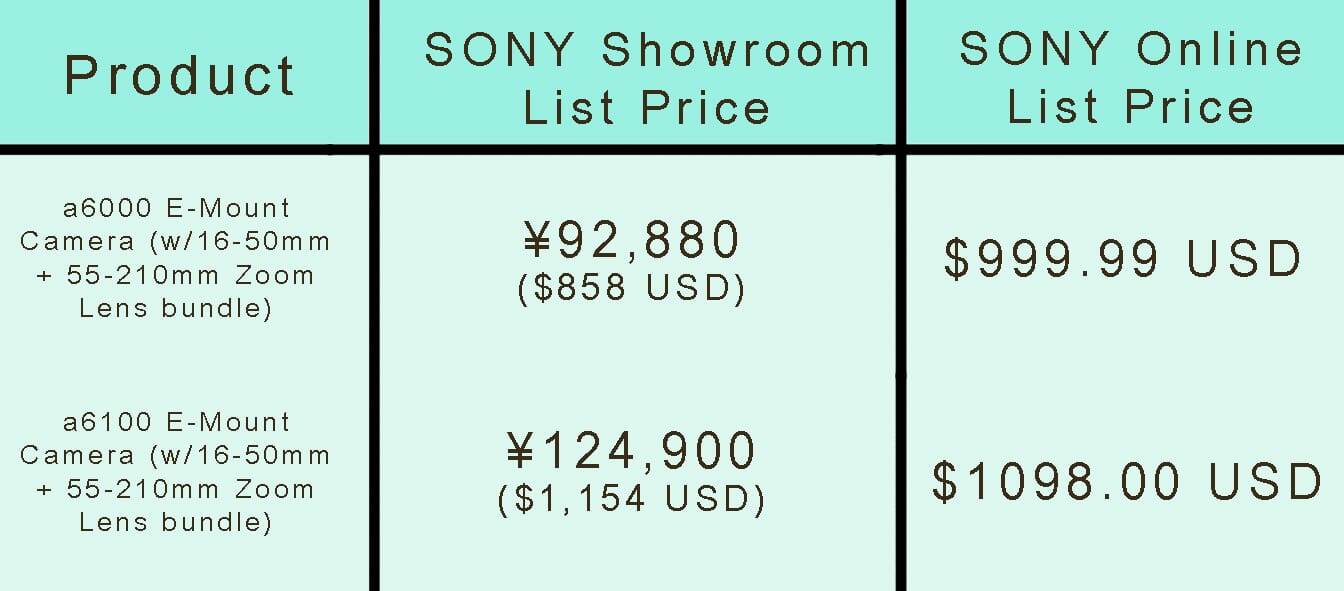 Tip #2: Stock up on lenses!
When it comes to photography gear, many of the best deals you'll find are among the lenses. Not every line of Sony lenses are available at a sales price. However, you can find everything from basic prime lenses to high-quality Zeiss models available at a discounted price.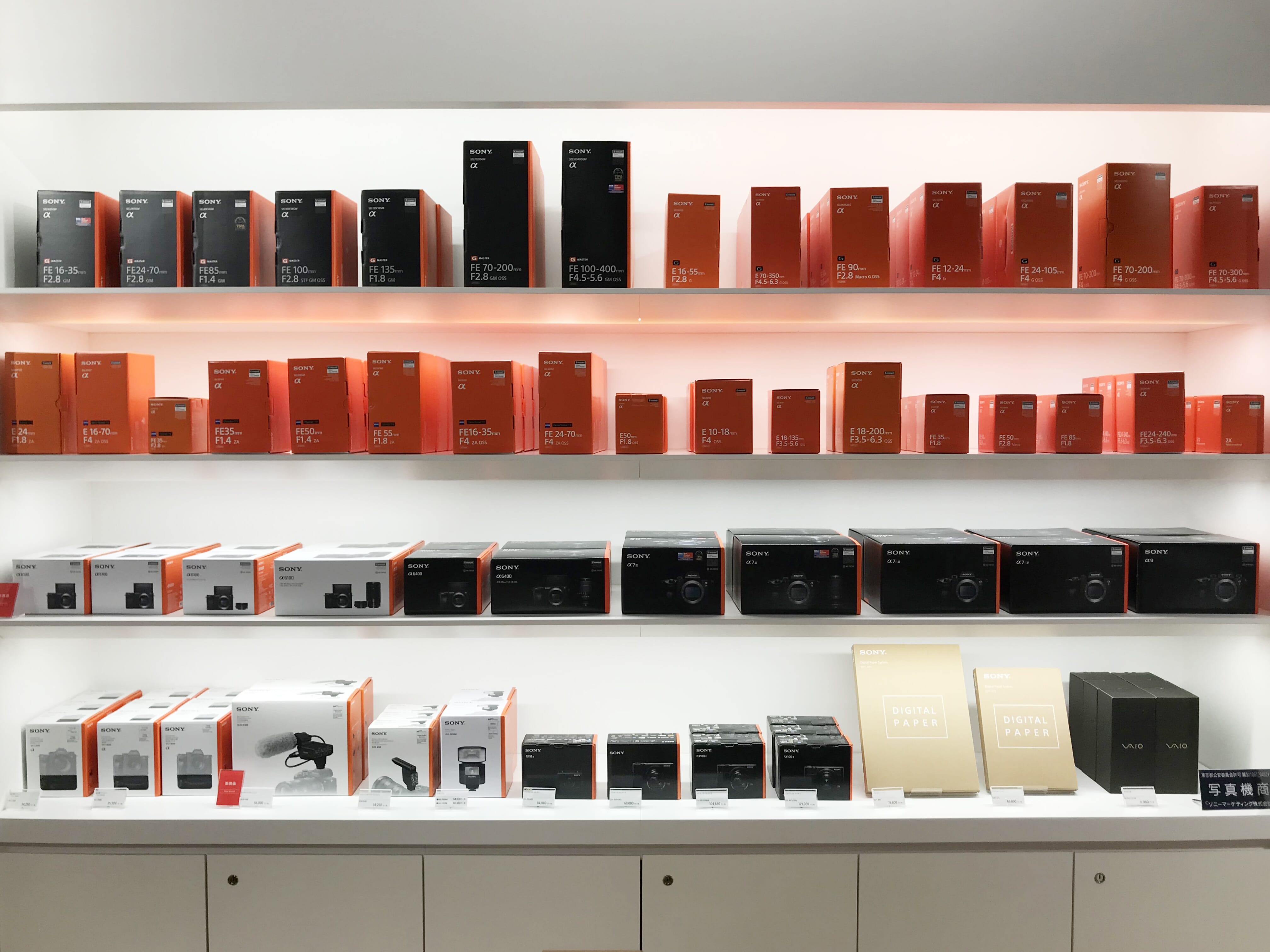 When you do find a deal, markdowns can be as high as 26% off. For example, I stumbled upon a Zeiss Sonnar 24mm lens for ¥89,100 (apx. $825 USD). With an online listing of $1099.99 USD, that's nearly $275 off!
Tip #3: Not all potential purchases are a bargain.
Filled with bright lights and shiny equipment, it's tempting to get your wallet out and make a purchase. However, there are certain products that actually cost more at the store than they do online.
Of course, there are always exceptions. However, I found camcorders and action cams were consistently priced 10-15% higher than US listing prices. Accessories such as speed lights, adaptors, and radio receivers often don't yield any savings, either.
Tip #4: Do your homework ahead of time.
If you have something that you're specifically in the market for, take the extra time to look up its price online. Without some idea of what Sony's usual asking price is, you may end up overpaying for certain items or completely bypassing great deals.
For foreign tourists, converting Japanese yen to another currency can further complicate things. Keeping a currency converter on hand for price comparisons can help browsers come to a quicker conclusion on whether a purchase is worth it.
My Take on Buying Gear in Japan:
Without a doubt, Tokyo's Sony Showroom is an impressive feat. Whether you're a seasoned photographer or an avid enthusiast, there's plenty to keep image-makers interested. If you want a close look at the latest releases or test-drive some of Sony's incredible features, it doesn't get much better than this tech cornucopia.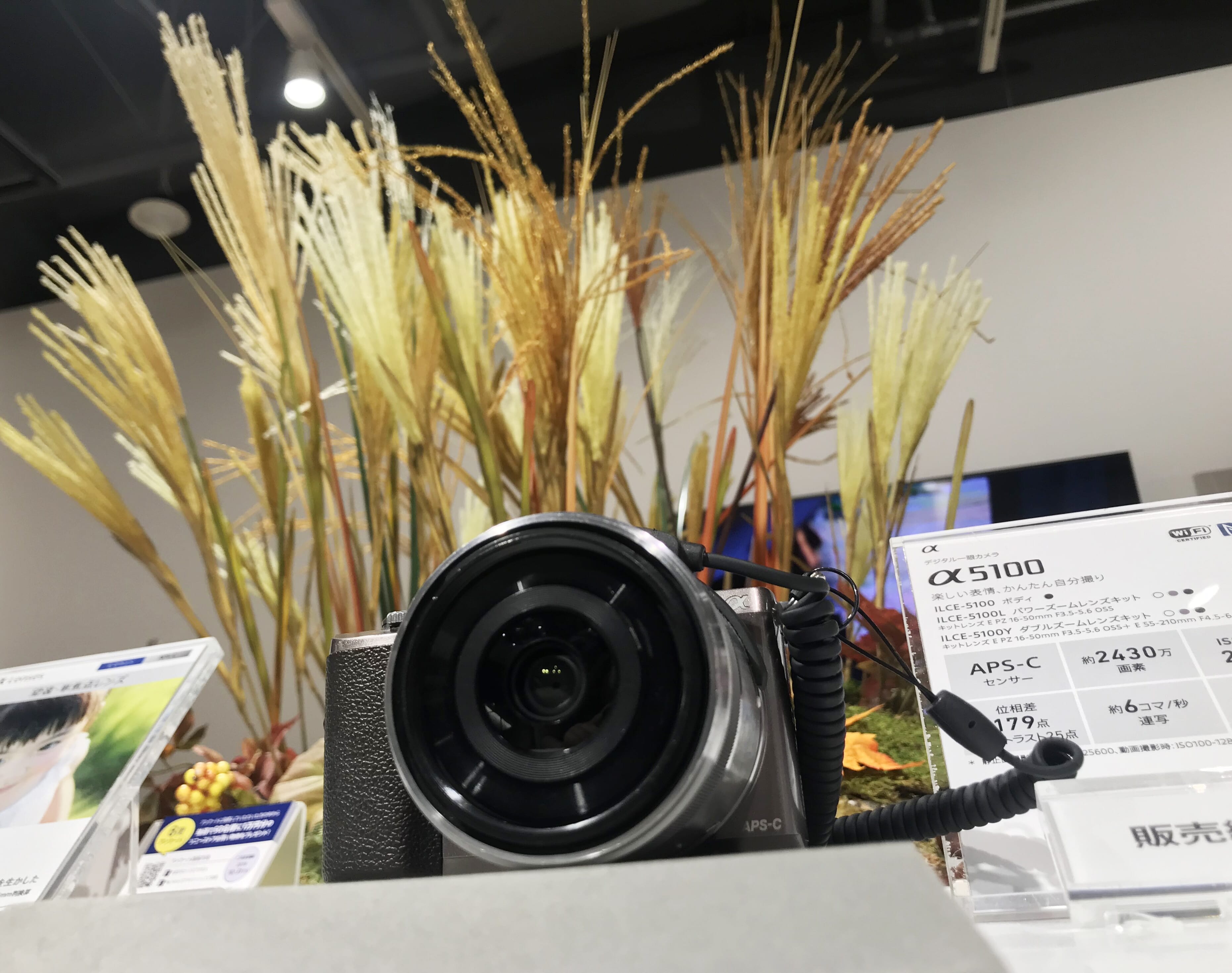 However, if you're actually looking to make a purchase, buying from the Sony Showroom isn't always the most frugal choice.
Even with bonuses such as tax-free merchandise, not every item is available at a discount. Customers can potentially save hundreds on gear by shopping at the showroom. However, finding those savings requires a little bit of foresight and homework on the customer's end.
That being said, it's worth popping into Sony just to window shop. Flaws aside, the store is one of the establishments that defines Ginza as a world-renowned shopping district. Whether you walk away with a bag of goodies or just want to see innovative technology firsthand, Sony has it all for electronic lovers.
---
As an Amazon Associate we earn from qualifying purchases. Certain content that appears on PhotoWorkout.com comes from Amazon. This content is provided 'as is' and is subject to change or removal at any time.