Ahhhh, Barcelona, such a magnificent city! Did you know Barcelona is the second largest city in Spain? Its total population is over 5.4 million within the greater metropolitan area alone. That's good news if you're looking for the best places to photograph in Barcelona! You're going to have some options!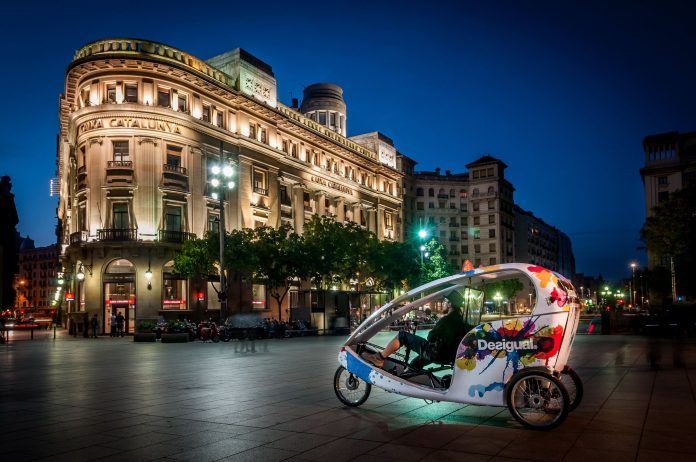 What To Expect When Visiting The Best Places To Photograph In Barcelona
For thousands of years, this location has played an important role in history. It has played host to the Romans, Visigoths, and has remained a major city during the reign of the Spanish monarchy.
Regardless of what you enjoy photographing, there's something to suit your tastes.
If you love architecture you'll simply drool over La Sagrada Familia and Casa Batllo. Those who love nature can snap the beautiful beaches and Park Guell. And the bustling streets such as Las Ramblas are ideal for people photography.
In this article, we explore this gorgeous city and look at the best places to photograph in Barcelona.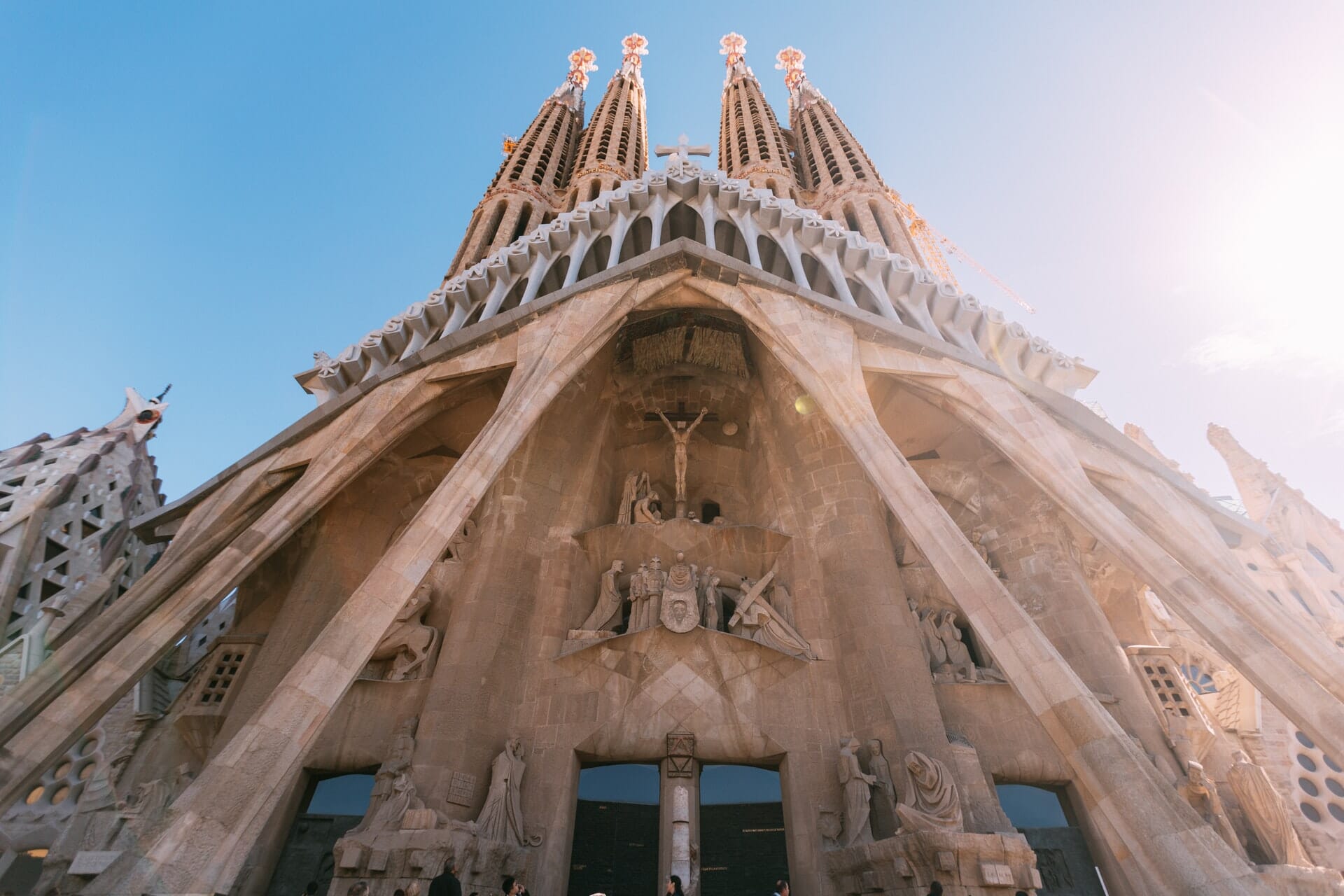 Simple Tips To Improve Your Barcelona Photography
Before we jump into the best places to Photograph in Barcelona, we want to give a little advice. Taking photos in Barcelona is relatively easy. Thanks in big part to the great weather! As a result, cloud cover is usually minimal.
Plus, Barcelona is situated on the Mediterranean Sea and benefits from warm temperatures.
Plus, Barcelona sits on the Mediterranean Sea and benefits from warm temperatures. It really is a pleasant city to explore.
Here are some tips to ensure you take the best shots:
Use Filters
Due to the sunshine and warm temperatures, Barcelona can often look bright. If the sun is beaming, your photos can look overexposed or have too much glare.
To offset this, use either a neutral density filter (ND) filter. An ND filter can help reduce glare and balance the brightness of the sky.
Also read: 3 Must Have Filters for your DSLR
Or you could try your hand at HDR composition. An HDR shot can combine three different exposures together so you get a more balanced photo.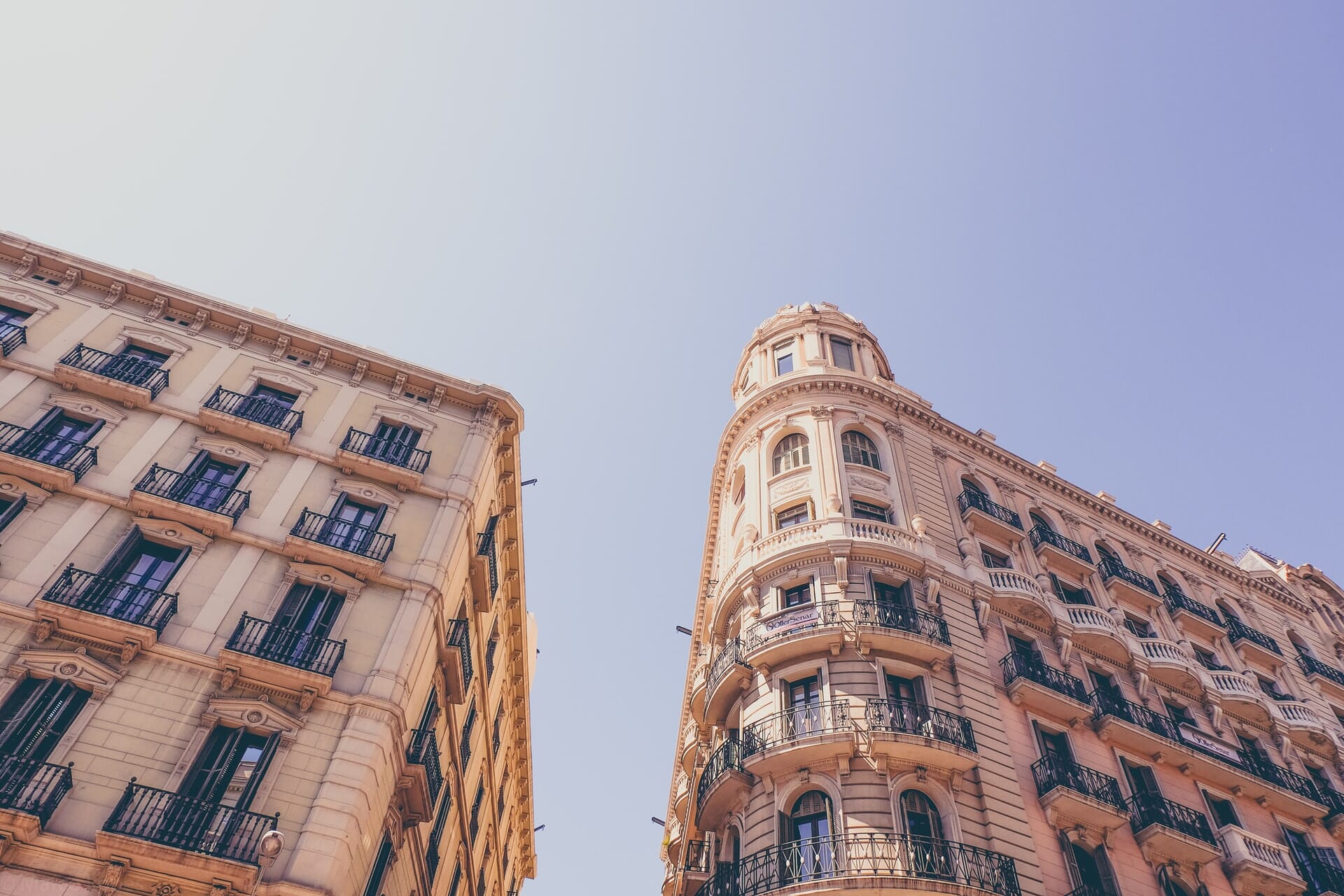 Thinking About Light Temperatures
The bright weather could also affect the color temperature of your photos. You can set the desired temperature on your camera manually before taking photos.
Or edit the pics during post-production using software such as Lightroom or Luminar. For example, you can change the temperature if your photos look too warm and have an "orange" glow.
Make use of the sublime sunshine!
Although we've said the weather can have an adverse effect, it can also work wonders for your photos. The sunshine can provide awesome contrast as well. It's great for creating a beautiful lens flare and deep shadows. Your photos will look bold, bright and have fantastic detail.
Now we let's get to the star of the show…
The Best Places To Photograph In Barcelona
We've hand-picked 11 different locations for your enjoyment. These places really provide exceptional photographs, bringing out the best in your creativity!
Hospital de la Sant Pau
Casa Batllo & Casa Amatler
La Sagrada Familia
Las Ramblas
La Barceloneta Beach
Casa Mila
Montjuic Castle
Passeig Maritim
Palau de la Música Catalana
Park Guell
Catedral de Barcelona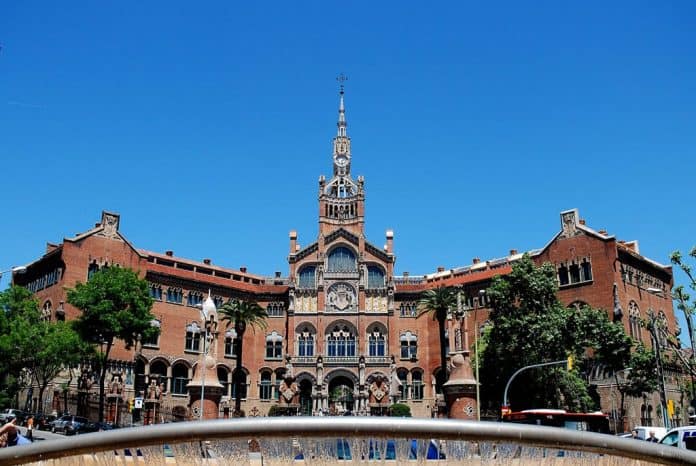 Hospital de la Sant Pau
Who would have thought that a hospital would be listed as a UNESCO World Heritage Site?
This hospital was fully operational but now stands as a museum of culture.
Sant Pau is like no other hospital in the world. It's more like a palace rather than a place of healing and medicine. The buildings are opulent and laced with decoration. The main entrance is impressive and topped with a gorgeous tower.
There's plenty to photograph throughout the grounds of the hospital. Look for details like colorful mosaics and the large bright colored glass windows. And enjoy the Art Nouveau style within the aisles and corridors.
It really is quite astounding!
It's easy to spend several hours walking through the grounds. Photo opportunities of the minute details and grand design are endless.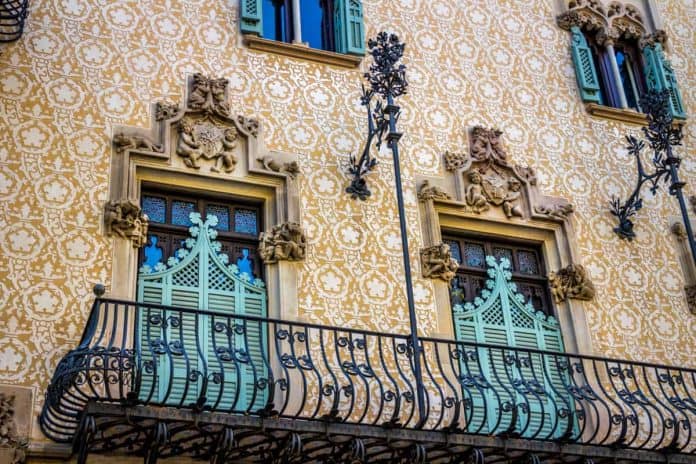 Casa Batllo & Casa Amatler
Together with Casa Mila, Casa Batllo is one of two renowned buildings designed by Antonio Gaudi. You'll see Gaudi's influence throughout Barcelona. And none more so in these structures and La Sagrada Familia.
You'll see Gaudi's influence throughout Barcelona. And none more so in these structures and La Sagrada Familia. The exterior of this building is mesmerizing! The bright colors and the sweeping shapes of the roof and balconies are tantalizing.
As with most of Gaudi's work, there is no set pattern. The whole exterior and interior combine many different designs and features. This is why it is one of the best places to photograph in Barcelona.
Next to Casa Batllo is another interesting structure – Casa Amatler.
Designed by Josep Puig I Cadafalch, this building forms a stark contrast to the neighboring Gaudi creation.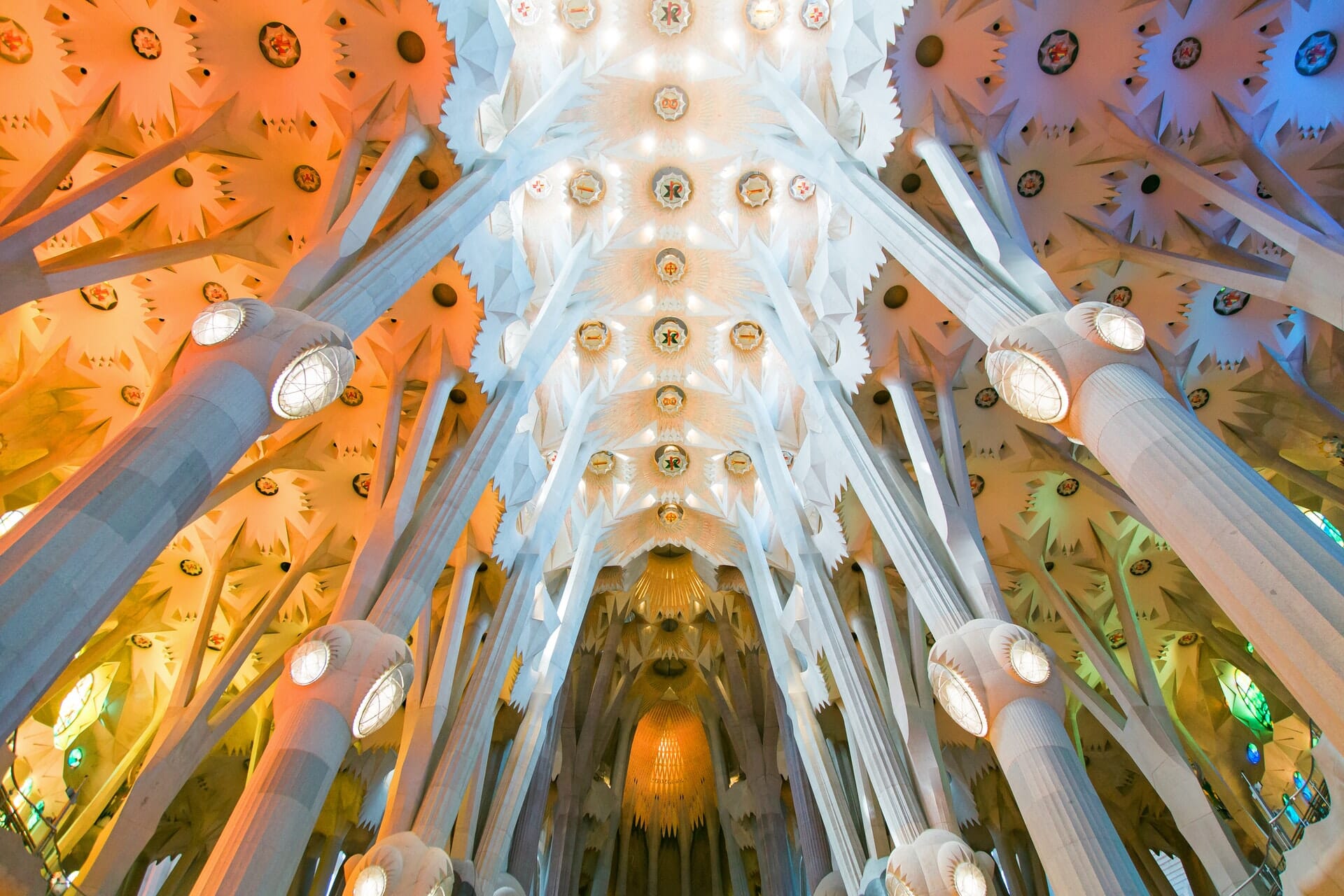 La Sagrada Familia
Antonio Gaudi's masterpiece – the unfinished cathedral. This monumental and striking structure is one of the icons of Barcelona.
Construction started in 1882 and still isn't complete!
No other building can compare in the world. It's truly unique and easily one of the best places to photograph in Barcelona.
It also gains polarizing opinions…
Some absolutely love it while others despise its gaudiness and brash opulence.
Love it or hate it, La Sagrada Familia provides limitless photographic opportunities. From the intricate sculptures and fruit-topped towers of the exterior to the bright colors and hundreds of fantastic columns of the interior.
Practically every aspect of the cathedral could create a photographic masterpiece. It really is awe-inspiring! We'd advise spending time photographing both the interior and exterior.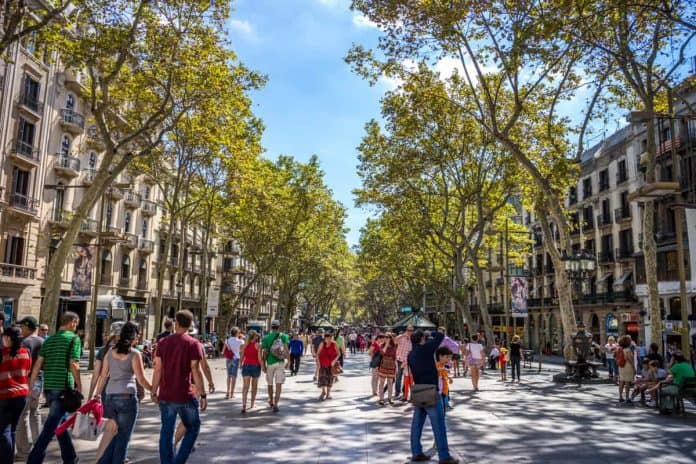 Las Ramblas
Las Ramblas is the main pedestrian walkway in Barcelona. This immense, wide street starts at the epic Placa de Catalunya and ends at the Mirador de Colom.
No matter what time of day, this street is busy!
It's the main attraction for tourists, but also the main shopping street. It's regularly packed full of market stalls and stands. Lined with two rows of gorgeous trees, this is also one of the most beautiful streets in the city.
So, why is this street one of the best places to photograph in Barcelona?
As we mentioned it's always busy. If you want an action shot with plenty of people, this is a great spot.
The beautiful trees and classy architecture of the surrounding buildings are just photogenic.
Dotted around Las Ramblas are a myriad of interesting sights. Things like side streets, parks, squares, and public spaces. Walking down Las Ramblas will present you with plenty of interesting shots. And at any time of the day!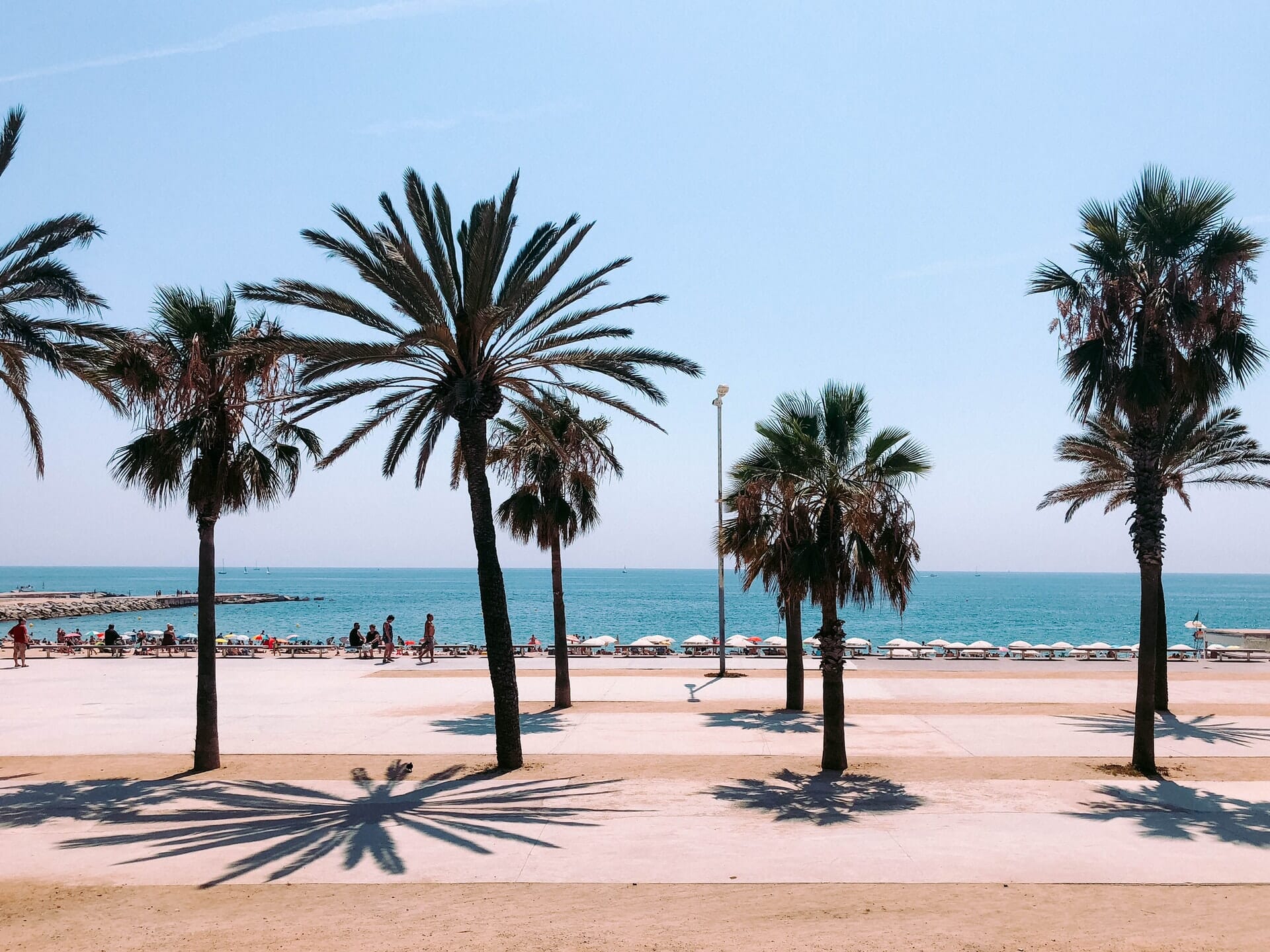 La Barceloneta Beach
Beaches are generally photogenic. You can create simple but impressive shots of the golden sand framed against the bright blue sea.
Try shooting detailed compositions of things like shells, seaweed, and sea creatures.
And… beaches are usually bursting with people. This is the most popular beach in Barcelona and is usually packed full on a sunny day. Try capturing interesting shots of people and their brightly colored beach equipment.
All of this is true of La Barceloneta Beach.
This beach also features some cool architecture such as L'Estel Ferit. It's an unusual stacked tower made from several cuboid shapes. Interesting additions such as this and the various promenades create striking photos.
RELATED POST: Best Travel Cameras in 2023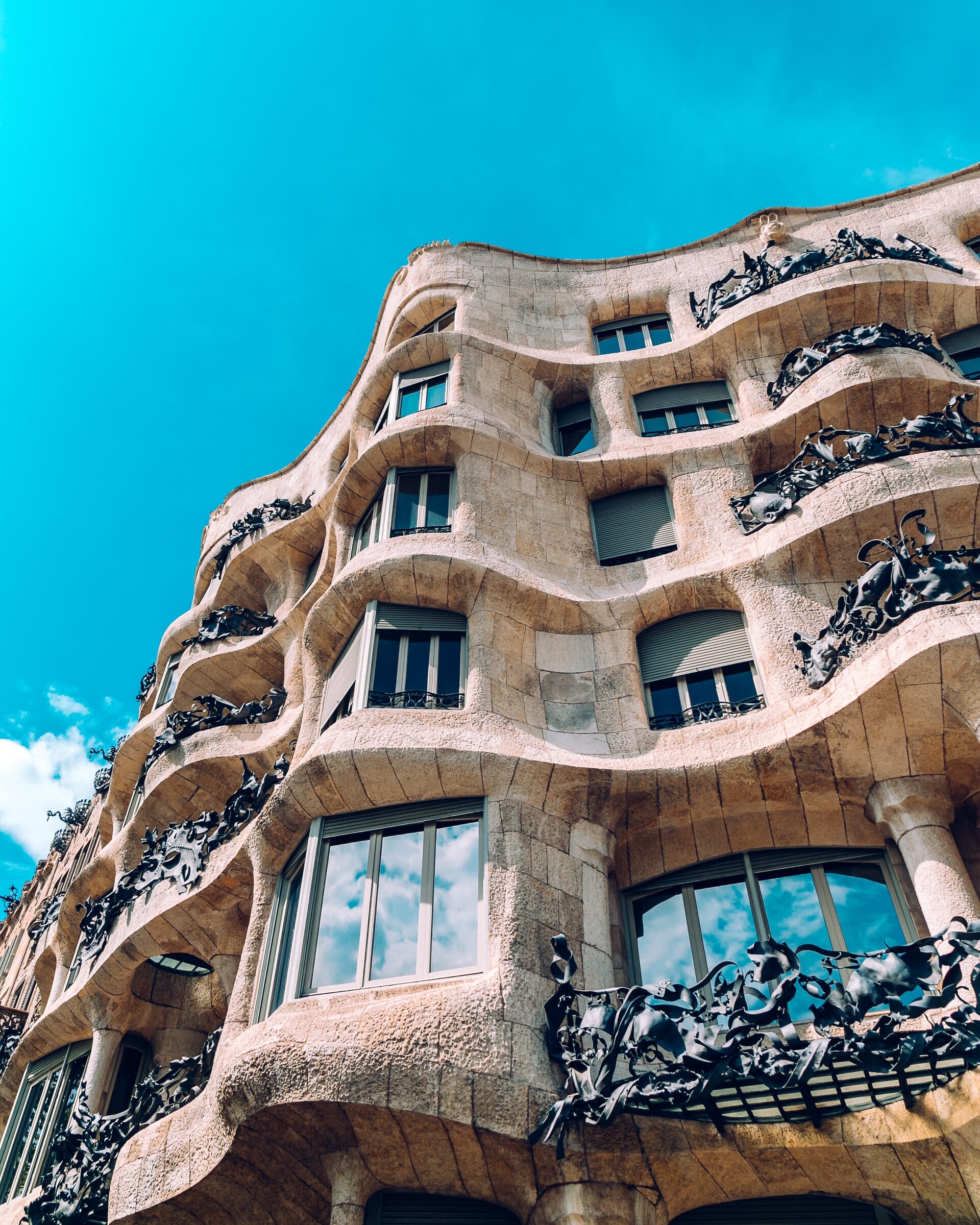 Casa Mila
Casa Mila takes the honor of being the last residence designed by legendary architect Antonio Gaudi. This building is like nothing else.
It features a rough stone façade with great curves and a rounded roof. And speaking of the roof, its waves and curves are topped with decorative towers and tiny windows.
I recommend climbing to the rooftop and walking around the secured terrace. That is if you want to really see one of the best places to photograph in Barcelona.
Related Post: 8 Rooftop Photoshoot Ideas
The symmetry of the front façade is wonderful. Its sweeping curves and bold iron railings create awesome photographs. Plus, the interior is what you'd come to expect from a Gaudi creation. It's bursting with bold colors and unusual lines.
Casa Mila really is a bold masterpiece and a tantalizing structure to photograph.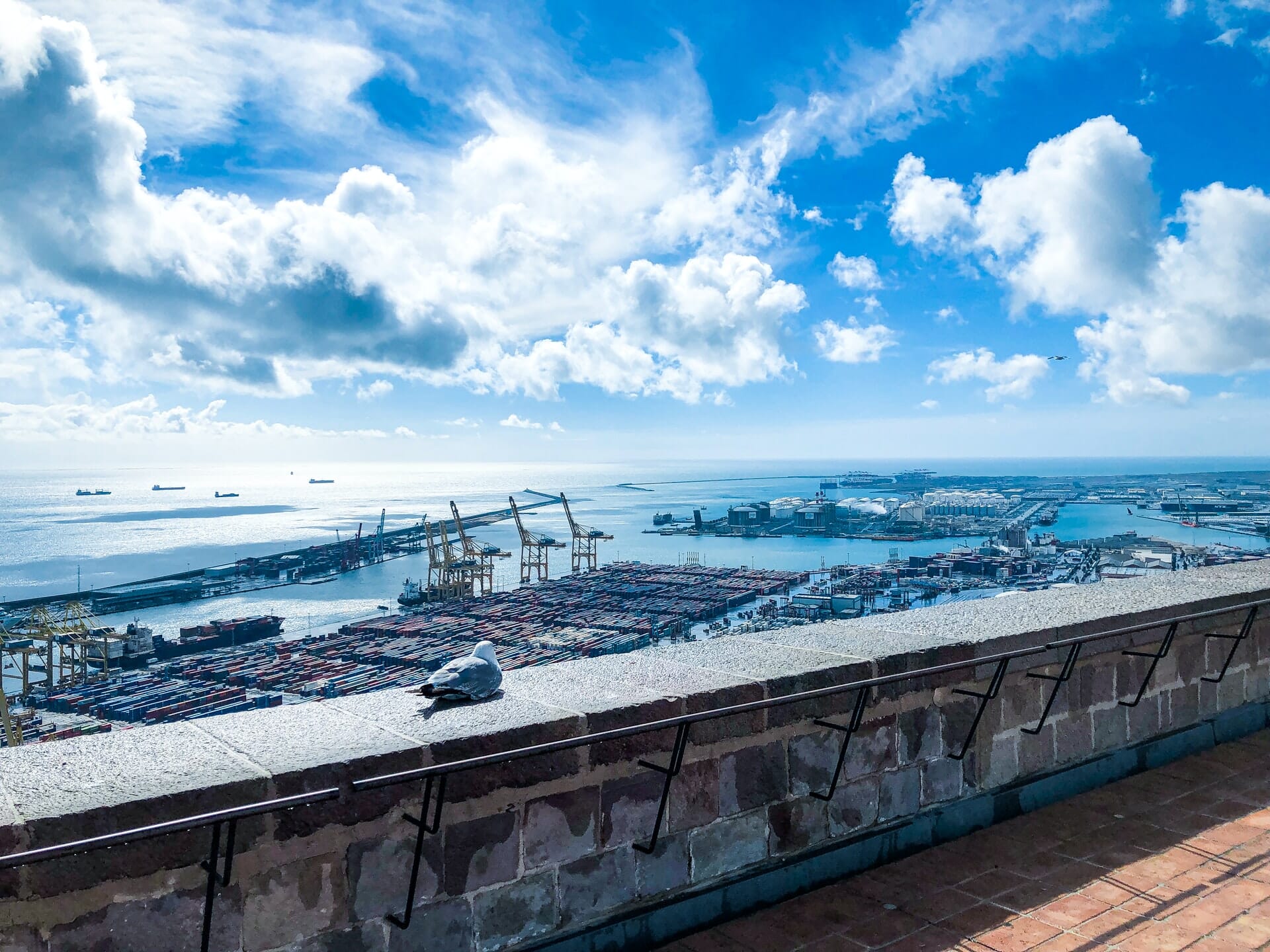 Montjuic Castle
The Montjuic area of Barcelona is set back from the main city. And it's one of the highest areas in the vicinity.
Here you can find a myriad of gardens, parks, and of course the impressive Olympic Stadium. Perched high on the hill is the historic Montjuic Castle. This beautiful military fortress has stood since the 17th century. It was an active form of defense during the Catalan Revolt.
In terms of photography, Montjuic Castle offers a variety of shots.
First, it boasts unparalleled views from this vantage point. Want to see the whole port of Barcelona and the expansive city sprawled out beneath you? You can when you're standing on the battlements!
Panoramic shots from here can look absolutely jaw-dropping. It's especially stunning at sunrise and sunset.
The castle itself offers numerous interesting compositions. Capture shots of the relic gun emplacements and angled castle walls.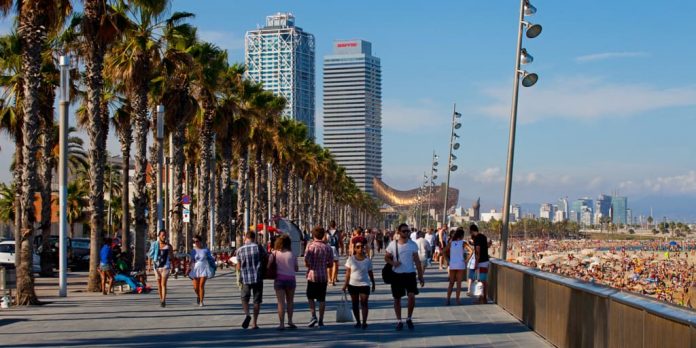 Passeig Maritim
The maritime promenade runs the whole length of Barceloneta Beach. This is one pleasant promenade! It certainly deserves a spot on our list of best places to photograph in Barcelona.
But, it's also a nice place to just take a stroll and enjoy the beautiful Mediterranean weather. Starting at the Placa del Mar, walk along this tree-lined pedestrian area. It will take you right through to the charming Port Olympic.
As you walk, you can photograph the glorious golden beach and its inhabitants.
Don't forget to snap the various buildings that line the promenade. Moreover, there's a handful of small squares that are always alive with hustle and bustle. They're great for getting some cool shots of people.
Enjoy portrait photography and capturing human activity?
Like Las Ramblas, the Passeig Maritim really is one of the best places to photograph in Barcelona.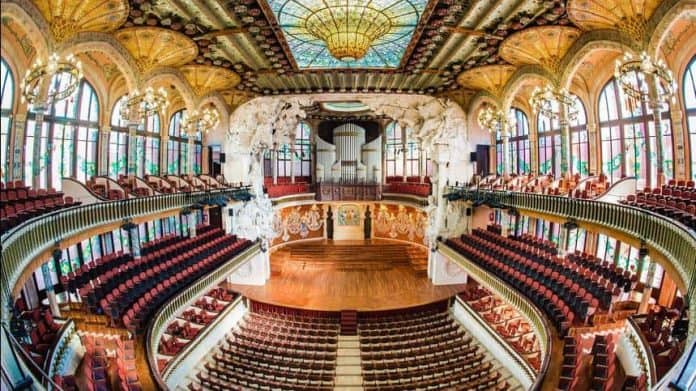 Palau de la Música Catalana
Barcelona is packed full of gorgeous architecture. Another of the best places to photograph in Barcelona is the Palau de la Musica Catalana. This stunning concert hall was designed by Lluis Domenech I Montaner. It's part of the UNESCO World Heritage site together with the Hospital of Saint Paul.
Why is this a great place to photograph?
The details you'll find here are unbelievable. The exterior features decorated columns complete with floral mosaics.
But the true delight is the interior.
Every aspect of the concert hall features gorgeous decorations. There's a stunning stained glass roof, beautiful arches and more floral designs throughout. The symmetry of the seats and stage make for great photographs. Plus, the individual details offer macro opportunities.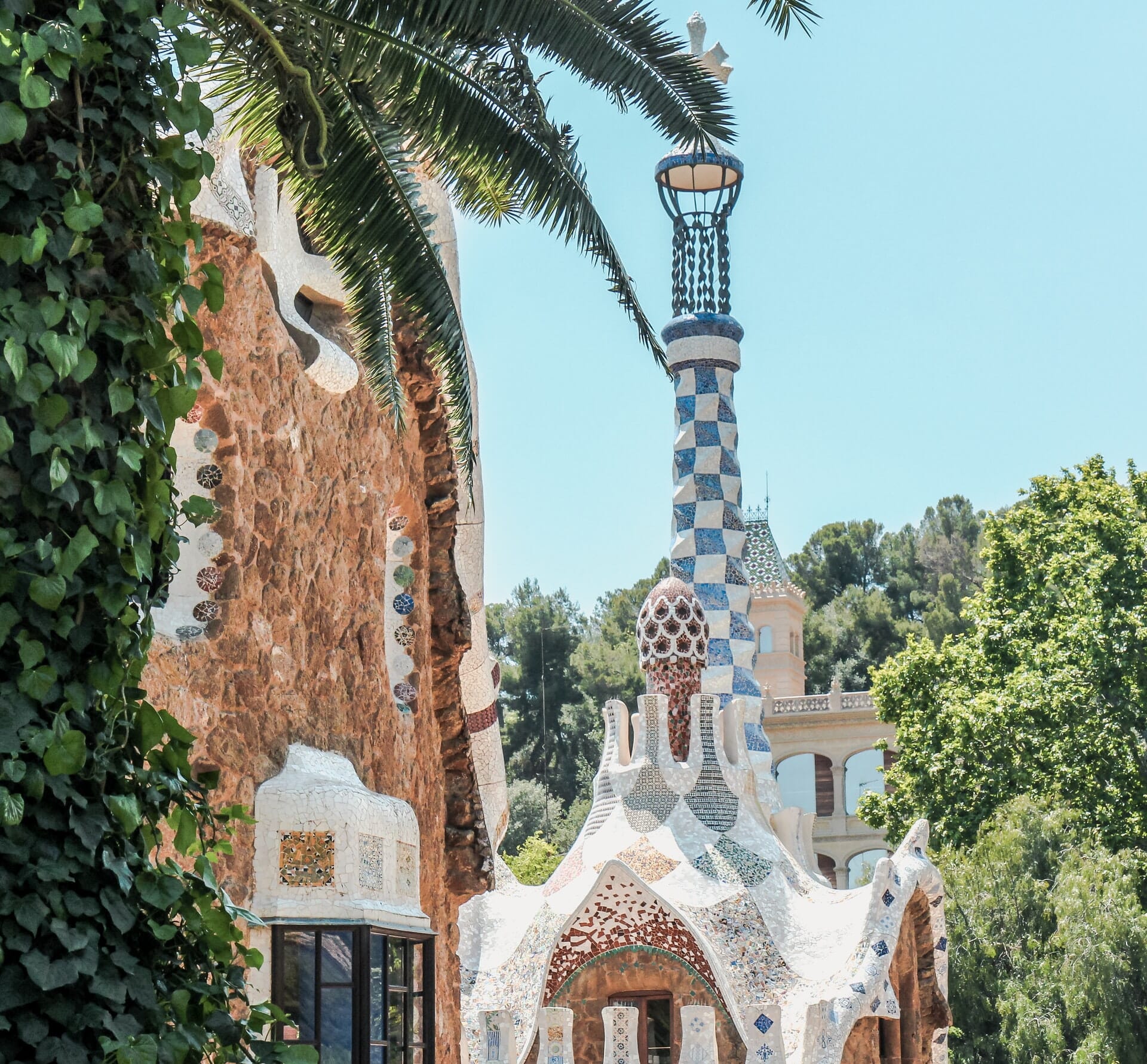 Park Guell
No list of the best places to photograph in Barcelona would be complete without mentioning Park Guell. Yet another of Antonio Gaudi's designs. This impressive parks architecture is nothing short of extraordinary. It's a naturally beautiful space.
The various buildings, towers, and architecture are stunning. You can find gorgeous mosaic designs with gorgeous colors. Don't forget to photograph the iconic mosaic lizard that's become a symbol of Gaudi's work.

Catedral de Barcelona
Barcelona Cathedral is overshadowed by La Sagrada Familia but it's an awe-inspiring building in its own right. This cathedral was constructed in the 14th century and features a Gothic front façade.
You can take some unbelievably detailed photos of the various towers, decorations, and stained glass windows. The huge arched doorway creates an impressive central framing for any composition.
Within the hallowed halls of the Cathedral, the photographic opportunities continue. The aisles and columns create fantastic shadows that look great when the light is falling.
RELATED POST: Master Light: Metering Modes, Angles, and Moods
On top of that, the decoration is beautiful. Everything is laced with gold.
Finally, small features such as the Fountain of Santa Eulalia and Santa Eulalia's Crypt offer interesting angles and unique shots.
---
Barcelona really is bursting with culture, life, and vibrancy. You can wander through the streets and find something different around each corner. Want to experience everything this Catalonian jewel has to offer? Plan on spending a solid week here to visit all the sites.
If you have visited this Spanish city, leave a comment and share your photos with us?